Motorcycles are a fun way to move around from one place to the other. But even the smallest distance can get boring if there is no music to listen to.  
In today's guide, we'll describe various ways you can use to listen to music with a motorcycle helmet. Moreover, you can also check the guide for various tips and tricks.
Quick Summary
---
We'll discuss the following topics:
Ways to listen to music with a helmet on
Recommendations for music products
Frequently asked questions
Let's dive right into it. 
Ways to Listen to Music with a Motorcycle Helmet
Sometimes you might feel that your motorcycle rides are monotonous and just uninteresting in all aspects. You can change this with the help of music. 
However, it is not easy to listen to music if you have a helmet on your head. It hinders the use of normal headphones. 
So, how do I get around this problem?
As it turns out, there are multiple ways you can solve the music problem. Here's a list for your convenience:
Bluetooth helmets
Bluetooth earbuds
Wired hands-free
External speakers
Now, let's discuss them one by one. 
The first solution is to get a helmet with built-in Bluetooth technology. You can connect your phone on the go and listen to music with ease. 
Bluetooth speakers have earbuds on each side for crystal clear quality. Moreover, these helmets are rechargeable and can perform for 6-8 hours. 
How do I connect my phone with a helmet?
The majority of Bluetooth helmets come with a one-touch feature. All you have to do is turn on the Bluetooth on your phone and press this button. 
The helmet will automatically find the nearest available device and connect to it. Besides that, you can also play/pause your music with the same button. 
Bluetooth Earbuds
By far, the easier solution in the list is the usage of Bluetooth earbuds. We assume that you already have a pair of Bluetooth earbuds with you.
Just simply put them on and enjoy your bike rides. However, if you don't have a pair, buy any Bluetooth earbuds that fulfill your requirements. 
Is there enough space inside the helmet for earbuds?
Bluetooth earbuds are quite small in size and can easily fit inside your helmet. Besides that, the soft padding will ensure that they stay in the same place throughout your motorcycle ride. 
Moreover, you can find different earbuds with varying battery timings. In our opinion, 8-10 hours is the most viable option. 
Wired Hands-free
Another way to get around the music problem is through the use of wired hands-free. It may sound old school at first but they are highly convenient to use. These are very cool motorcycle accessories to have.
You don't have to worry about the battery life of your helmet or the earbuds. Just plug in the hands-free and enjoy your rides throughout the day. 
Aren't wires a problem on long drives?
Wires can be a problem because they can get all over the place and interrupt your driving. We suggest that you wear a motorcycle jacket and tuck the wires inside it. 
Moreover, you can also carry a shoulder bag with hands-free utility. It enables you to place your phone inside the bad and all the wires alongside it. 
External Helmets
You can also mount Bluetooth speakers on your motorcycle as well. This solution is not as low-profile as the other ones we mentioned above but it works. 
You can purchase specialized motorcycle speakers from any online store and mount them on your motorcycle handlebar. 
What about the sound quality?
Compared to earbuds, external speakers are quite powerful and have clean sound quality. Moreover, they are designed to project the sound directly toward you. 
Another thing we must mention is that these speakers are also Bluetooth enabled. So you have to keep the battery life in mind before going on a ride. 
What's the best option for you?
We'll answer this question with two parameters. You can either go for personal preference or choose the convenience of use. 
Some people like loud music and mount external speakers. While on the other hand, some prefer the wireless experience that can be carried anywhere. 
Which option is more convenient? 
As far as convenience is concerned, wireless is the way to go. We recommend that you get a pair of Bluetooth earbuds. 
They are easy to wear and you can carry them anywhere. Moreover, earbuds can last longer compared to Bluetooth helmets. 
Plus, earbuds are a cool way to present yourself. 
You can also install an intercom in your helmet by following this guide.
Recommendation for Bluetooth Products
We have compiled multiple lists of suggestions for you. Let's check them out. 
For Bluetooth Helmets
SENA Impluse Modular Helmet
RUROC Atlas 4.0
ICON 100 Airframe
For Bluetooth Earbuds
SkullCandy Sesh Evo
ANKER Soundcore Liberty
BossBud Bluetooth 5.0
For Wired Hands-free
Sennheiser CX 300S
Sony MDRX
Shure SE425
For External Speakers
Sound Storm C95B
Boss Audio K420B
Pyle KT4B
You can find the aforementioned products on Amazon at affordable prices. We must also mention that you do your research before buying any product.  
Personal experience varies from person to person. Select what is comfortable and convenient for you.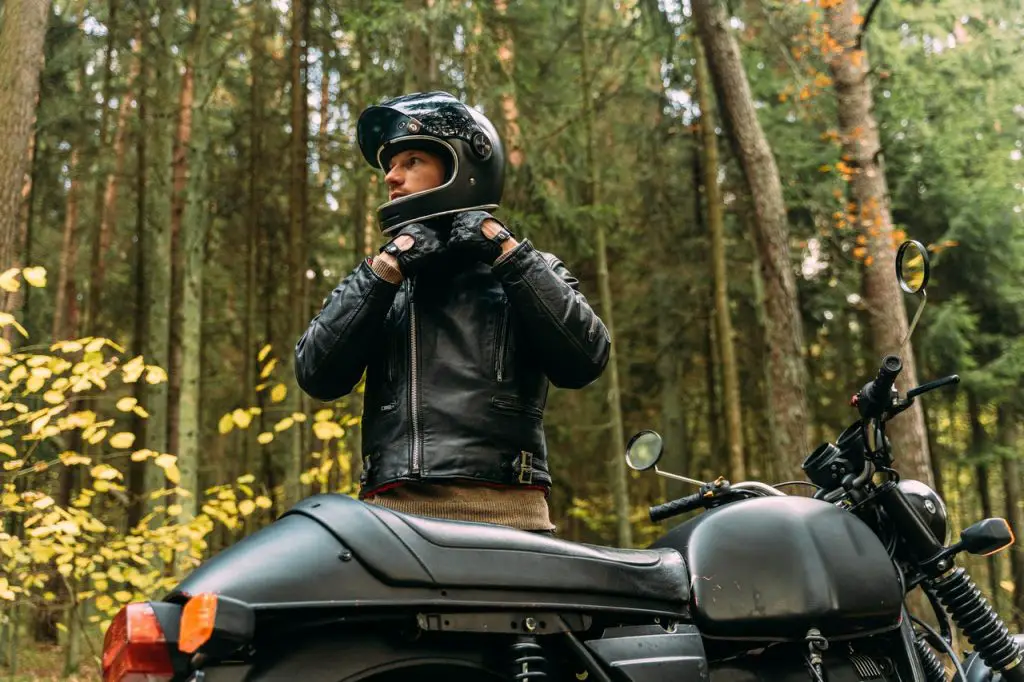 Frequently Asked Questions (FAQs)
We have gathered some commonly asked questions from numerous people around the web. Let's take a look. 
Is it comfortable to wear earbuds with a helmet?
It depends on the padding of your helmet and the size of your earbuds. If the padding is made from soft foam then you can wear any earbuds regardless of the size. However, if the padding is thick, we recommend that you use low-profile earbuds for maximum comfort. 
How do I charge my Bluetooth helmet?
You can charge your Bluetooth helmet just like a phone. Simply find the charging port on the backside or bottom side of your helmet and plug it in. Some helmets use USB-A cables while newer models are designed for USB-Type C cables. 
Where do I mount the external speakers?
The most obvious place to mount speakers is the handlebar. It is directly located in front of you and has enough room for at least 2 speakers. You can also mount speakers on the back seat but that will compromise the sound quality at high speeds. 
Is it safe to wear earbuds while driving?
It is safe as long as you are aware of your surroundings. You have to be extra cautious and keep track of the traffic around you. Moreover, keep the volume at a moderate level so you can hear the incoming traffic. 
Is it illegal to wear Bluetooth earbuds?
In the United States, Bluetooth earbuds are not illegal. This is because they can also be used as a means of communication. However, traffic wardens highly suggest that you avoid the use of such objects for personal safety. 
Wrapping Things Up…
Motorcycles rides are an enjoyable experience for almost everybody. You can further enhance this experience with the help of your favorite music. Bluetooth earbuds and helmets enable you to listen to your favorite tracks while on your outdoor adventures. 
With this, we come to the finish line of your guide on how to listen to music with a motorcycle helmet. We hope this information proves to be useful for you. 
Do let us know how you listen to music on your motorcycle drives. CLICK HERE for more helmet guides.