Do you wonder what the best Bluetooth motorcycle helmet is and what purposes can it serve other than safety? Adding a Bluetooth feature to helmets makes them a lot more useful, something you may have never guessed before this article.
For many years, we all recognized helmets as an essential piece of safety gear for bike riders. Its primary purpose has been to protect motorcyclists from severe or fatal head injuries in the event of an accident. As years advanced, along with other innovations, we saw many modifications occur in this safety gear.
This post contains affiliate links. If you make a purchase, Motoprove.com may receive a small commission at no additional cost to you.
5 Best Bluetooth Motorcycle Helmet
Today, just like Bluetooth dominates a large part of our tech-savvy lives, our helmets enjoy this technological blessing. Primarily, Bluetooth adds a communication system to your health. Bluetooth came into our lives as a revolutionary evolution: first eliminating the need for wire connections for two devices. Then it helped us pair devices to transmit documents easily.
Bluetooth helmets today offer the convenience of rider-tor-rider communication. It offers the availability of a GPS to connect and stream music. All of the innovations that have come about with the advent of the Bluetooth communication system blend into harmony in the product we are discussing today.
1. GDM Ghost Mark II – Motorcycle Helmet Bluetooth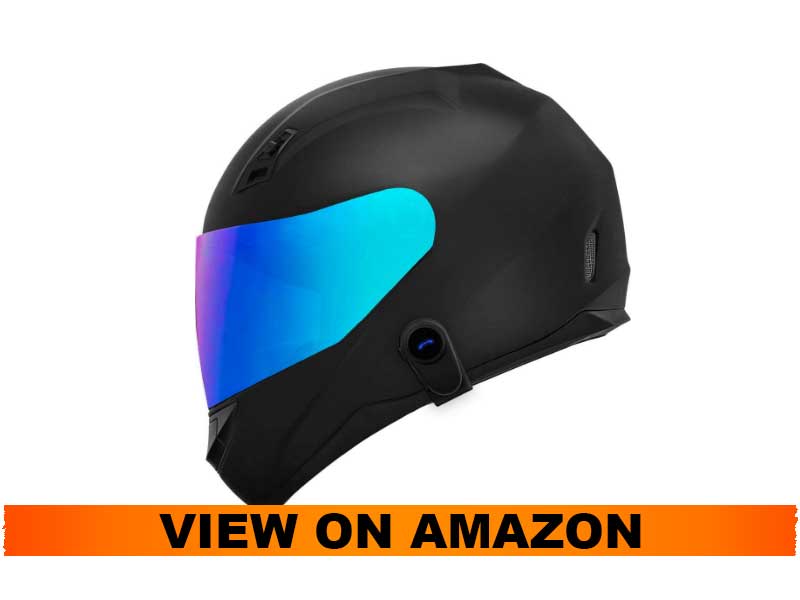 This Bluetooth helmet has an aerodynamic shell design. It uses lightweight and advanced Polly-allow shells and washable and removable liner, interchangeable shield, and cheek pads.
This particular design provides maximum comfort and safety as you navigate streets, road networks, and even highways. The single-button control means riders can call, answer, reject incoming, listen to music, and whatnot.
The product features a noise-canceling, wind-resistant microphone and built-in stereo speakers. So you can use multiple actions while your hands remain free to navigate the bike as you go.
A fully charged battery will provide you with twelve hours of talk time and a hundred and ten hours of standby.
Budget Benefits
You can purchase this helmet for around $160 and make use of multiple features for better riding experiences.
Pros
Good sound quality
Long battery life
Cons
The helmet weighs on the heavier side
Verdict
If you are looking for the best Bluetooth motorcycle helmet that will offer extended talk time and longer battery life, you may consider the GDM model. However, it might not be too compatible with those riders who prefer lightweight helmets.
2. Sena Cavalry CL-MB-S Bluetooth Helmet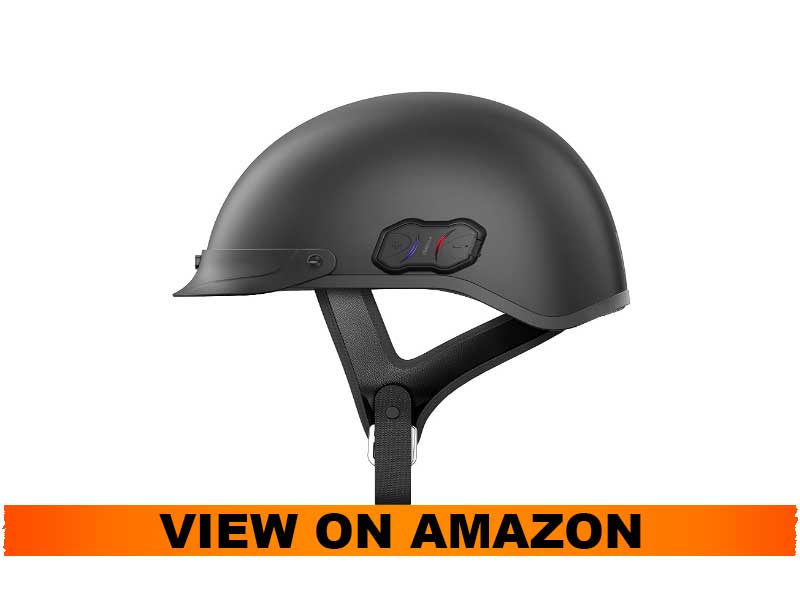 This Bluetooth helmet comes in matte black, composite, and half-shell fiberglass. It has a low profile and aerodynamic removable visor with a nylon strap and D-rng retention system. You get 4.1 Bluetooth with this model and a hands-free profile.
This helmet works conveniently for street and sport motorcycles and comes complete with ear plates, ear pads, a cavalry helmet pouch, data cable, and USB power.
Budget Benefits
It comes at an approximate cost of around $170 and is suitable for most riding experiences.
Pros
The integrated and seamless spears provide loud and clear audio
It offers versatile capabilities with versatile connectivity
Gives optimal fit and look
Cons
You cannot use this product while it is charging
The music lasts only three hours of drive time, so you will not have music streaming beyond three hours if you have a longer journey
3. FreedConn  – Best Motorcycle Helmet with Bluetooth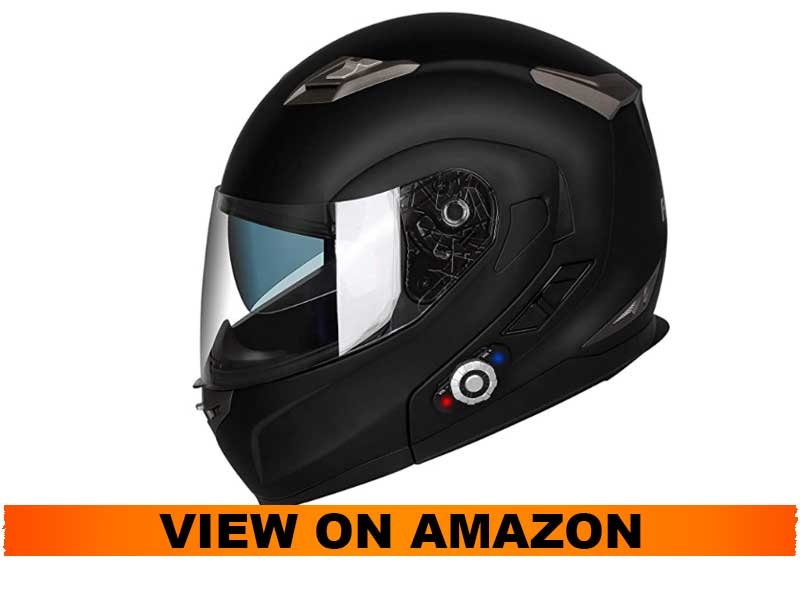 FreedConn Bluetooth motorcycle helmet encompasses one of the best Bluetooth technologies in the motorbike industry. It makes communication with two more riders a cinch where you can update each other about directions or sudden plan changes. The voice quality it produces is crystal clear as long the other riders are within the maximum range.
Features
The 500m range is an adequate line of sight for a small group of riders to have efficient communication with minimal interference such as winds. What's interesting about this helmet is that it features noise suppression and echo cancellation. However, at high speeds over 70mph, the audio quality can be affected.
The helmet's Bluetooth headsets come pre-installed, and so users should not worry about installations. It features Bluetooth 3.0 which can make connectivity an absolute breeze.
Not only will you be able to communicate with fellow riders, but also use the helmet as a multimedia device to enjoy music. Isn't that great? Well, considering how boring it can get to ride for many hours with only highway noise irritating your ears, I consider that a great feature.
The maximum talk time is 12 hours with the phone and 9 hours with the intercom. And when on standby, it can last up to 120 hours. The technology is powered by a powerful polymer rechargeable 600mAh battery.
Connectivity with other devices
Moreover, you can enjoy GPS transmissions via your helmet with Bluetooth capability. If your GPS system is compatible with Bluetooth, which I think is, you can sync with the helmet to get a live transmission, even the voice prompts for total hands-free operation. Again, you can enjoy a hands-free selection of songs while also increasing the volume with ease.
That's not all: the helmet can also make it easy to answer, redial, or reject calls. With a simple button control, all these are achievable. It also features a blue LED. One can also enjoy favorite radio stations with the built-in FM tuner to listen to the news or get traffic updates live. There's actually more to this helmet. For safety reasons, it has DOT and ECE certifications.
Design
Aside from Bluetooth features, FreedConn BM2-S has the superb features of a traditional motorcycle helmet. Design-wise, it has a durable ABS lightweight shell. Included with the shell is the ventilation that ensures that there is enough air circulation to get rid of moisture build-up. The interior lining, such as the cheek pads, is removable to clean.
More on the design, it is sunproof and waterproof. That said, riding in the sun or amid heavy downpours will not be a problem for you. Bluetooth handsets are water-sensitive, so choosing a waterproof helmet should be a priority. Thanks to this durable plastic injection molding technology for the waterproof features. The built goggles will play a significant part in providing 95% protection against sun rays.
Other worth considering features include the frequency of 2.4 GHz and the total weight of 4.05 pounds. Again, the helmet is available in a variety of colors.
In your package, you will get the helmet bag, microphone & speaker, USB cable, Bluetooth helmet, and user manual. However, the adapter has not been included, but any phone's adapter can be used.
Pros
Intercom for 3 riders
Latest Bluetooth version
Waterproof, lightweight and sun-proof helmet
Cons
Audio affected at high speeds
Adapter not included
Verdict
This Bluetooth motorcycle helmet has what it takes to make one's riding a pleasurable moment. From the latest Bluetooth version to the unique engineering design with waterproof and sun-proof, it combines a whole host of great features which I would recommend to every enthusiast out there. However, its 500m range is more suited for a small group of 3 riders.
Its capabilities of synchronizing with the GPS system for live transmission of navigations made it worth an investment. There will no longer be road accidents caused by distractions. You can also talk via phone or intercom. And again, it has a durable polymer battery of 600mAh that can last for 12 hours of talk time over the phone and 9 hours over the intercom. I think that's a plus advantage.
4. HJC Helmets HJ-17 – Best Modular Bluetooth Motorcycle Helmet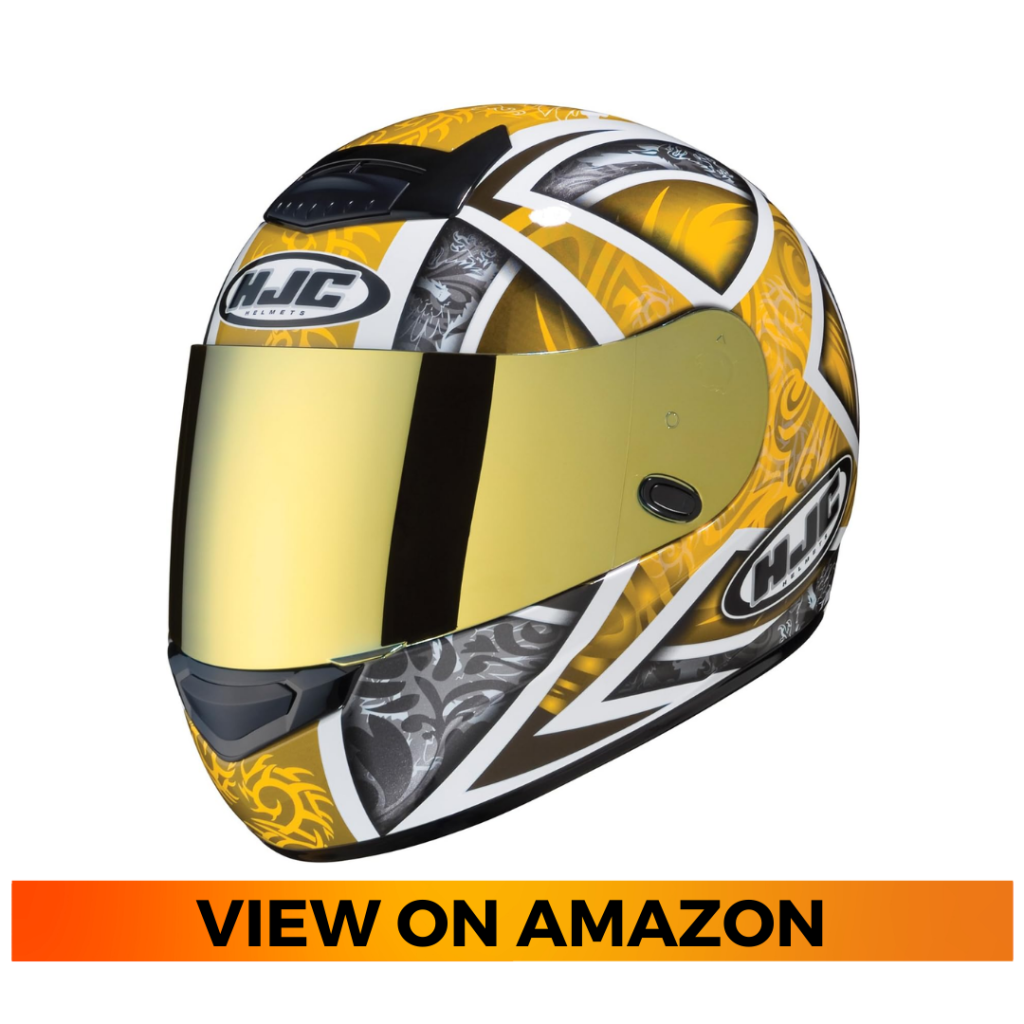 Experience the perfect blend of style and safety with HJC's dynamic shield. Coated with metallic compounds in a high vacuum chamber, this shield boasts a unique rainbow appearance that adds a touch of individuality to your helmet. But it isn't just about looks; the metallic coating significantly enhances eye protection through its high surface reflection.
Moreover, it's designed to fit various helmet models, including CL-Max II, IS-MaxBT, and Symax III, making it a versatile addition to your riding gear. With HJC's dynamic shield, you're not just investing in safety, but also in style and compatibility.
Design
HJC's dynamic shield is a marvel of design and functionality. Crafted meticulously in a high vacuum chamber, it's coated with metallic compounds to create an enchanting rainbow effect that sets it apart from traditional shields. But this vibrant design isn't its only standout feature; the reflective coating also significantly enhances eye protection.
This DOT FMVSS No. 218 Certified shield is not just about aesthetics—it's about safety and compatibility too. Designed to fit CL-Max II, IS-MaxBT, and Symax III helmets, it's a versatile addition that brings style, safety, and functionality to your riding experience.
Recommended Bluetooth Headset
In the realm of motorcycle accessories, finding the perfect Bluetooth headset can be a daunting task. But fret no more, as we introduce you to the gold standard in this category – HJC Helmets' dynamic shield. This innovative product, with its Gold Pinlock Ready color, isn't just a feast for the eyes.
It's a lightweight wonder, tipping the scales at just 0.25 pounds, and crafted from durable Polycarbonate material. The real game-changer, however, lies in its unique rainbow appearance, achieved by coating the shield with metallic compounds in a high vacuum chamber. This not only sets it apart aesthetically but also enhances eye protection with its high degree of surface reflection. And the best part? It's compatible with CL-Max II, IS-MaxBT, and Symax III helmets.
So, whether you're a seasoned rider or a novice, HJC's dynamic shield is our top recommendation for a Bluetooth headset that combines style, safety, and functionality.
Bluetooth Installation
Installing the Bluetooth on HJC Helmets' dynamic shield is a breeze. Just ensure your helmet is one of the compatible models (CL-Max II, IS-MaxBT, or Symax III), align the lightweight, rainbow-colored shield with the visor area, and pair your device to it. Its reflective surface aids in signal reception, ensuring a smooth connection while also enhancing eye protection.
Pros
Comfortable fit with CAD technology
Headsets installed separately to customize your helmet
Compatible Bluetooth comes with wireless intercom to connect 16 riders
Cons
Bluetooth headsets sold separately; thus extra cost
Verdict
The HJC Helmets HJ-17 face shield stands out in its field for its vision-enhancing, safety-focused features. Its anti-scratch properties promote durability and clear sight, while the easy installation process, guided by instructions on HJC's website, adds to user convenience.
Compatibility is another strength of the HJ-17, fitting a variety of HJC helmet models seamlessly. Additionally, it's Pinlock ready, meaning it can accommodate a Pinlock lens for improved fog resistance, ensuring optimal visibility in various conditions.
In essence, the HJC Helmets HJ-17 offers an amalgamation of safety, user-friendly functionality, and adaptability, making it a top choice for riders worldwide.
5. Sena Savage – Open Face Bluetooth Motorcycle Helmet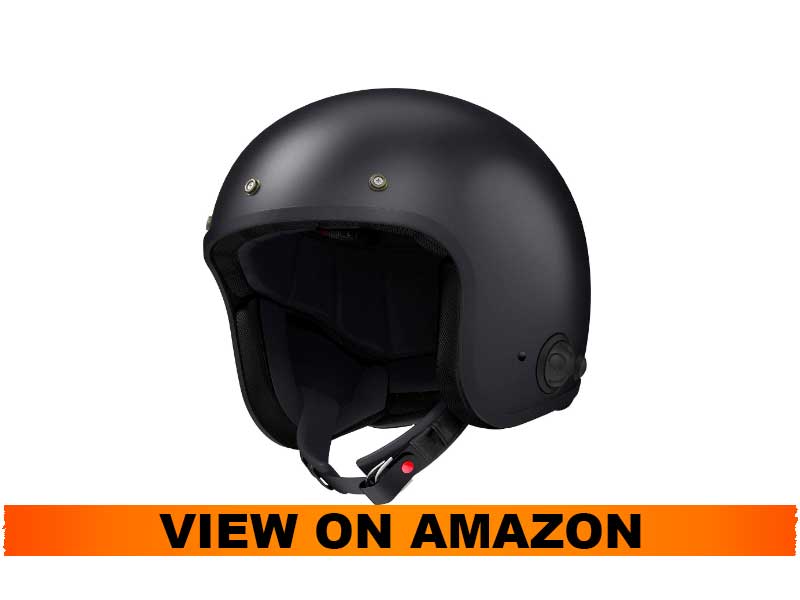 This is the Sena Savage released in 2018, which is the evolution of Sena's product line. Now, for those of you that are new to Sena, they've been really the lead dog in the Bluetooth universe. So, that's communicators that link with your phone, with your music, rider to rider, rider to passenger, and intercom systems. They've been doing this for a while.
Design & Features
Here's what I like about this helmet. This thing is 2.5 pounds. That is unbelievably lightweight actually, and what it also has in it is a Sena 10S, which gives you up to four riders full-duplex, a week of standby, 11 hours of talk, great noise canceling, pre-integrated speakers in each ear, and microphone with noise canceling.
So, it covers many of the next levels of Bluetooth bases, but the biggest downside that I see with this helmet is the price. Essentially, you're buying a very lightweight, premium three-quarter helmet, and then you're buying a mid to high-end communicator that's pre-integrated, so you put those two together, and you're probably still saving some money there.
Technologies
The other thing that's great about it, we talked about the noise canceling factor and it's also Bluetooth 4.1 which has three benefits. One is that it's going to be low energy usage. Two that the 4.1 allows you to upgrade, so it's firmware upgradeable, and three you can get the app downloaded and configure this via your smartphone, iOS, or Android so that you have the ability to not have to go through clunky pairing steps by holding buttons down and hoping it pairs with the right helmet.
Safety
The helmet is DOT rated. If we look at the guts, everything can be removed and can be washable. You really don't have any ventilation because it's a three-quarter helmet, and it comes stocked in the box with a McQueen shield and lower profile shield. So, again, depending on how you want to rock it, you're going to have the ability to have these three snaps and integrate a visor of your choosing.
Pros
Bluetooth version 4.1
Lightweight
11 hours Uptime
DOT certified
Verdict
My biggest drawback with this helmet was it gets a little pricey at the $400 mark, but again maybe in future iterations, we'll see Sena come down a little bit in price, but right now from an integration, technology, and lightweight helmet side of things, it is kind of leading the pack within the industry.
6.Phantom Aquatics – Rapido Boutique Collection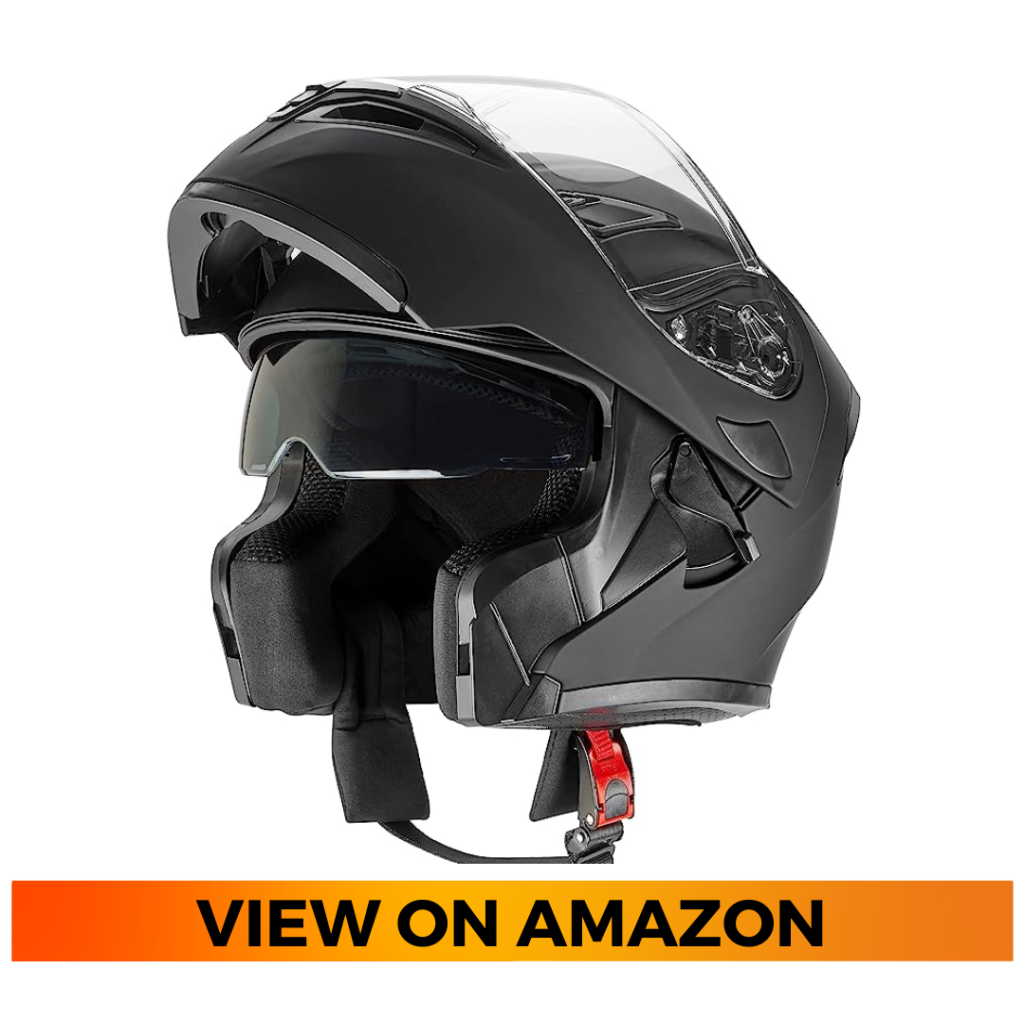 The Phantom Aquatics Rapido Boutique Collection is a highly versatile helmet, suitable for motorcycles, ATVs, scooters, dirt bikes, and bicycles. Made in the USA with an ultra-light, strong yet flexible patented polymer ABS shell, it features built-in sun protection, a moisture-wicking fabric liner, a dependable twin shield system for sun protection, a superior class polycarbonate face shield that's scratch and UV resistant, and a DOT approved quick release chin strap for secure closure.
Connectivity features
The Phantom Aquatics Rapido Boutique Collection helmet is a futuristic piece of gear, that integrates modern technology to offer riders unmatched connectivity. It's ideal for both solo rides on open roads and navigating busy city streets, ensuring you stay connected and entertained throughout. The helmet boasts a voice-controlled GPS, letting you navigate to new places effortlessly. Simply state your destination and let the headpiece guide you, allowing you to focus solely on the ride.
Adding rhythm to your rides, this helmet can sync with any mobile device, enabling you to play your favorite music on the go. When riding with others, its Bluetooth feature facilitates two-way communication with up to two riders, transforming each ride into a shared adventure. More than just safety equipment, the Phantom Aquatics Rapido Boutique Collection helmet is a companion that enhances every journey.
No More Fog in The Lens
The Phantom Aquatics Rapido Boutique Collection helmet boasts a host of impressive physical features, including an exceptional fog lens. This lens is specifically designed to maintain clear visibility in challenging weather conditions such as rain, snow, or dewy mornings. The helmet also includes a user-friendly interface, leaving no room for guesswork when it's time for a change. A distinct light indicator signals when the power is fully charged, ensuring you're always ready for the road.
Comfort has been a prime focus in the design of this helmet. It offers a snug fit, securely hugging the contours of your head without any uncomfortable movement. Yet, the design ensures there's ample room for glasses, so your peripheral vision remains unobstructed. One caveat to note, though while the built-in earpieces provide excellent audio quality at lower speeds, clarity may diminish at higher speeds or on highways. Also, remember to handle the charging cable with care, as it is rather delicate. In essence, the Phantom Aquatics Rapido Boutique Collection helmet combines functionality, comfort, and safety, making every ride an enjoyable experience.
Pros
Has Bluetooth connectivity via smartphone that allows communication with two other riders (2 max)
Supports music and GPS navigation (via Bluetooth)
The fog lens prevents cold and moist air from obstructing the rider's view
Has a light indicator to inform users when charging is completed
The sun visor is large enough to fit over glasses without grinding against them
Cons
Difficult to hear audio from the earpieces at high speeds
The charging cable is very frail and can be broken easily if handled poorly
Verdict
After an in-depth analysis of the Phantom Aquatics Rapido Boutique Collection helmet, it's clear that this product represents a significant advancement in the realm of rider gear. It successfully marries technology with practicality, offering features like voice-controlled GPS and Bluetooth connectivity, which not only enhance the riding experience but also promote safety.
The helmet's physical design has been meticulously crafted to offer optimal comfort without compromising on security. The fog lens is a standout feature, ensuring clear vision in diverse weather conditions. Despite minor setbacks such as diminished audio at higher speeds and the delicate nature of the charging cable, these issues are overshadowed by the helmet's overall functionality and innovative features.
In conclusion, the Phantom Aquatics Rapido Boutique Collection helmet is a commendable piece of equipment. It's more than just a safety device – it's a comprehensive riding companion that enhances, protects, and elevates the entire riding experience. Surely it is one of the best Bluetooth motorcycle helmets
7. Torc T14B – Best Motorcycle Helmet with Bluetooth Built-in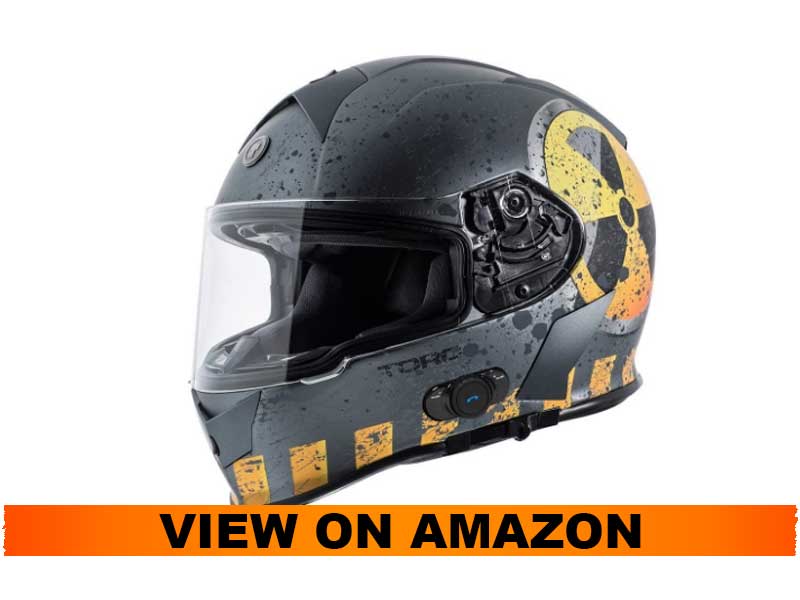 Torc T14B Bluetooth Motorcycle Helmet comes equipped with a wide range of features that stand out from the crowd. One could say it's worth every single cent of the price tag. On standby, it lasts for 600 hours, and on talk time it can last up to 24 hours. That signals the strength and durability of its lithium battery. Once depleted, the power charger can recharge the battery.
Connectivity with other devices
With this helmet, you can enjoy intercom communication with other riders or your passenger to avoid distractions. Other helmets may not pair properly with the iPhone, but this one is compatible. Both your GPS and your phone can be synchronized with the helmet to get navigation. Calls can be answered with ease or rejected without getting your hands off the handlebars.
When communicating via intercom, your other riders should be within a line of sight of 400 meters. While this isn't the best on the market, it still offers a crystal clear, quality sound with minimal interference. The helmet features a dual stereo speaker to optimize your audio experience. Gone will be the boredom of riding for hours with no music. Thanks to the built-in anti-noise microphone intercom or normal calls are a cinch.
Design
Design-wise, the helmet is also impressive with its advanced thermoplastic polymer shell. This shell can absorb impact to protect you. It is also waterproof to ensure that your Bluetooth technology is protected from precipitations. If the inner liner is dirty, you can easily remove it to wash it using the machine.
Safety
Because of the ECE and DOT certifications, you should feel safe using this Bluetooth-integrated helmet. Its radio waves are not harmful at all as they resemble the ones our smartphones use. Most of the components are not in direct contact with the head, so, either way, the wave signals shouldn't be a concern. The other safety feature is reinforced by the smooth lock drop-down visor that protects against harmful UV rays.
The other notable features of this helmet include the dual-density EPS system and laser-contoured comfort. They make it stand out in their class. Moreover, Torc Mako T14 is a lightweight helmet that will not cause strains on your neck no matter how long you ride your bike.
Pros
Integrated advanced Bluetooth technology
Hands-free calls and GPS navigation
Long talk time and standby hours
Cons
400 meters range is not the best in the industry
Audio quality compromised at high speeds
Verdict
If you want the best Bluetooth motorcycle helmet without breaking the bank, I think this could be the best bet. It comes with integrated Bluetooth technology, so no need for installation hassles. The price is inclusive. You can be sure that you will remain focused while GPS navigation transmissions are heard via the helmet. The talk time of 24 hours is something to boast about because a very little number of helmets actually spend that long. The standby time is 600 hours, which also gives reassurance that the battery is powerful. You can recharge or replace it.
I recommend this helmet to newbies. While it is not a high-end Bluetooth helmet, it is still a worth-considering model for the experienced as well. Intercom is made possible within a line of sight with a range of 400 meters. Well, I wish that the range was a bit longer.
8. ILM Modular Helmet – Best Bluetooth Helmet for Money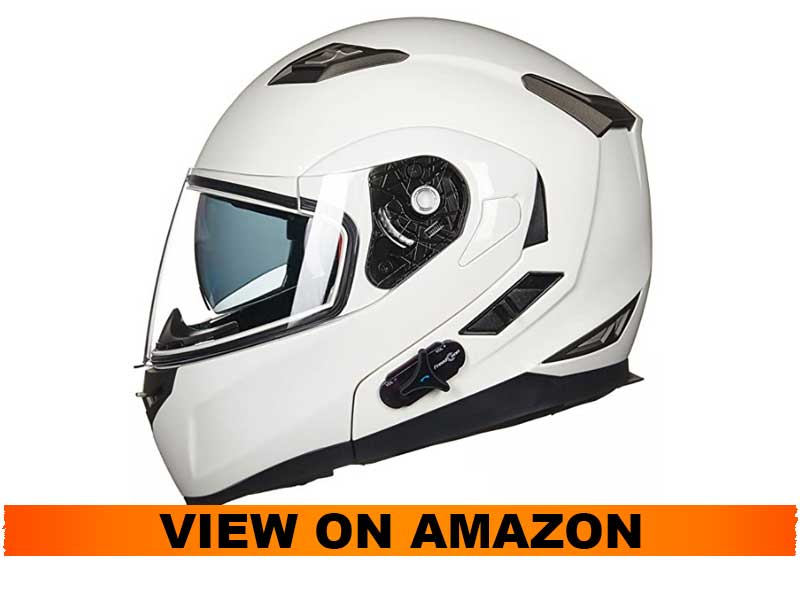 With ILM Full-Face Motorcycle Helmet you get the Bluetooth version 3.0 that is capable of advancing the technology in the motorbike industry. It is coupled with dual speakers on either side of the helmet to provide quality sound. Whether you are answering calls on your phone or intercom, this helmet can make that absolutely easy.
However, the downside of the helmet is that it only facilitates intercom communication between riders with ILM brands only. If your fellow riders use a different brand then bad luck to you.
Longevity
The talk time of this Bluetooth technology reaches 8 hours, which is not the best because I have already reviewed the helmet with 24 hours of talk time. Likewise, the standby is 110 hours; also does not have a high-end performance. Nonetheless, it is still worth considering the Bluetooth motorbike helmet.
Connectivity with other devices
If you receive calls, the music player, GPS, and the intercom will instantly stop. Although you need a similar brand for intercom communication, GPS and phone calls can work on any Bluetooth-compatible device. With just one touch control, you can reject, redial, or answer calls with ease. The helmet features the DSP echo cancellation and noise suppression technology which optimizes the audio quality even at relatively high speeds. Meanwhile, DOT and ECE safety standards are met or exceeded.
How about using this helmet as an entertainment system? Of course, you can! Listen to the music via the MP3 player that is compatible with Bluetooth. A simple smartphone can be synchronized too in order to stream music. The helmet has voice prompts that can be used for GPS navigation or music controls. Do not worry about treacherous weather conditions as it is weather resistant to safeguard your valuable Bluetooth technology. If it gets too hot, the ventilation system is in place to wick away moisture buildup.
Design
Note that the visor is not fog proof. Therefore, you should avoid driving in fog with this helmet. For an anti-fog visor, I recommend getting the Replacement Anti-Fog Visor Face Shield for ILM Bluetooth Helmet.
One other note is that the size of this helmet is smaller than the normal helmet size. The manufacturer is prepared to send a different liner should you encounter difficulties with regard to the helmet size.
The design of this helmet is also on par. It embraces quality and sturdy construction that will last for many years to come. For more information about this helmet, consult the user manual that will be shipped to you.
Pros
Bluetooth version 3.0
Quality construction with wind proof and weather resistance
Quality audio via GPS navigation, intercom or phone calls
Cons
Intercom only compatible with same brand helmets
Visor not fog proof
Verdict
Although the intercom is only compatible with ILM brands, I still find this attractive. It is a good Bluetooth-integrated helmet that can make hands-free communication and entertainment an absolute breeze. It embraces the latest Bluetooth version. This can pair smartphones and GPS systems. And when answering calls, just a one-touch control can answer, redial, or reject calls. I am optimistic that if riders were to opt for such wireless controls many accidents can be curbed.
One thing I need to improve though is the visor. It is not fog proof, and so you might have to purchase a replacement visor as I recommended above. The talk time of 8 hours is also not the best on the market but great in its class. Despite other downsides, I recommend this helmet because its pros outweigh the cons.
Buying Guide & FAQ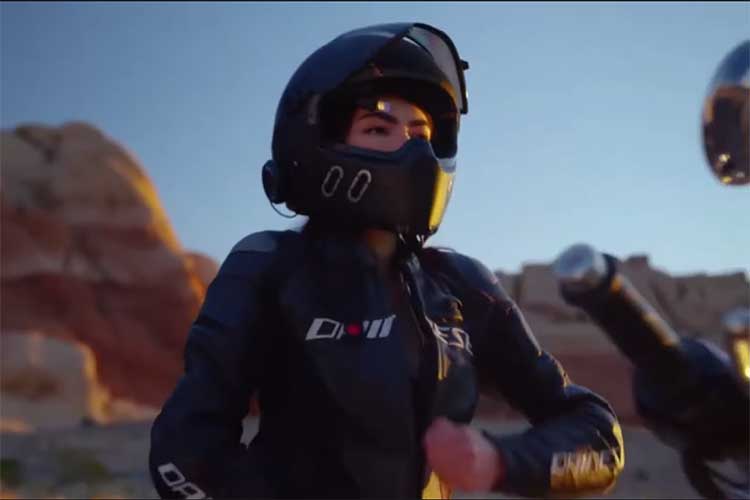 Bluetooth Helmets – How they Work?
The Bluetooth technology in helmets employs piconets to replace wires. The piconets are short-range networks that enable devices to connect without wires. Once a connection forms and a network activates, you can master all the devices linked to your primary source.
Soon after this feature came into existence, bikers rushed to get their hands on Bluetooth motorcycle helmets. You can judge how much it enhances the riding experience by the vast number of people using this product today.
Let's take a look at some of the most popular benefits:
Safety and Comfort
To avail of a Bluetooth motorcycle network's benefits, riders have to use a third party to establish a connection. With an in-built system now, riders find more safety and comfort in their vehicles and travel with ease.
GPS
Riders find it thrilling to chart unfamiliar roads. With the popularity of home deliveries and other channels like FoodPanda, Uber, etc., more and more people are making this approach a means of earning.
For this very reason, they need a sound GPS navigating system that would help them find locations they are unfamiliar with. With a Bluetooth helmet, a rider can connect to their phone's GPS and follow commands to reach their destination. It makes maneuvering traffic and roads easier and faster.
Music Streaming
Commuting is all the more fun and relaxing when you have your favorite tunes accompanying you. Earphones did give us the facility of enjoying music while flying or driving, but Bluetooth helmets go a step ahead.
Riders now get to pair their MPS players or their phones with their helmets and cruise to the beats of their favorite songs. No hassle of wires and headphones means safe yet enjoyable bike rides.
Hands-free Handling of Your Phone
Smartphones give us the option of operating our phones virtually, with our voice command. So when a rider pairs their phone with the helmet, they can use many phone apps and features while speaking through their helmet's microphone.
You get to multitasking without taking your hands off the handlebars or losing focus from the road.
Receive and Respond to Messages While Riding
These particular helmets give you the option of receiving and responding to emails, texts, and other messages while you ride. If you switch on the audible alerts, the notifications will keep sounding. Your modern smartphone will read your message aloud and takedown dictation while you ride. What more could one ask for than communication in real-time?
What to Consider when Purchasing a Bluetooth Helmet?
When you're looking to purchase a Bluetooth helmet, here is what you must consider pre-purchase.
Range
Wireless technology is the reason why we lay more emphasis on the range. Chances are high the personal area network (PAN) for Bluetooth will come with significant coverage restrictions. The is the network that determines what the maximum range of your Bluetooth product is. It can vary from 33 feet to 2300 feet. Hence, you must bear your typical riding setup in mind while deciding on the range.
Price
It is best to start with a budget range instead of a set price. There are several variations in Bluetooth helmets, dependent on the type you need and the price you can afford. If you want the bundled deals, you must prepare for higher costs.
Brand New oR Pre-loved
This is the recycling era, so pre-loved goods are as much in demand as the brand new ones. If you don't mind using a second-hand Bluetooth helmet in good condition, you must look for it in the secondary market. However, if you only want a brand new product, you look at the more prominent brands.
Final Thoughts
Bluetooth helmets are indeed a game-changer in the world of motorcycling, offering an array of benefits that significantly enhance the overall riding experience. These advanced helmets allow for hands-free usage of your phone, enabling you to make calls and receive instructions through voice commands, all without having to physically handle your device. This feature not only increases convenience but also promotes safety, as riders can keep their focus on the road.
Additionally, Bluetooth helmets foster a sense of community among riders by allowing them to connect with one another while on the move. This networking capability fosters camaraderie and facilitates real-time communication between riders, making group rides more coordinated and enjoyable. But the benefits don't stop there. These helmets also double as a source of entertainment, offering music streaming features that can make any journey, long or short, a more pleasurable experience. In essence, Bluetooth helmets transform the solitary act of riding into a more interactive and engaging endeavor.