If you're here then you're probably wondering if motorcycle helmets expire or not? 
This guide has all the answers you might ask yourself or are concerned about. 
Read this guide carefully to have proper knowledge about motorcycle helmets and their lifespan.
Quick Summary
---
This guide will assist you with all the information about:
The lifespan of your motorcycle helmet.
How do you know your helmet is expired?
A detailed FAQs section. 
Without further delay, let's get you started. 
The Lifespan of an Average Motorcycle Helmet – In-depth Instructions Guide
An average motorcycle helmet has a lifespan of 5 years so yes, they do expire.
 Industry experts have also testified that 5 years is the average lifespan. 
This is not usually the case in situations like an accident or a mishap. The lifespan of an average motorcycle helmet can be cut short to prevent damage to you. 
If you get into any accidents, it's time to dispose of your helmet if it's damaged. If you're wondering what to do with an old helmet, we've got the answer right here.
Here's a complete list of things you should know and take into consideration.
Helmet shells usually are made from fiberglass or other materials like polycarbonate, polystyrene, EPS, expanded polystyrene, etc. They can break down over time and in accidents as well.
The inner line that provides comfort and cushioning to the face and head can also wear down with time.
There is also a DOT expiration date. If your helmet exceeds this then it is dangerous to use. 
The chin support straps can wear down and make the helmet lose on you.
Helmet padding also known as the comfort liner can be damaged from all the hair oil, sweat, air, and face fluids. The internal components can easily tear down from daily wear. 
DOT Expiration Date
The DOT refers to the Department of Transportation. 
You should know that DOT and helmet manufacturers recommend to their users that no matter how perfect the helmet looks, they need to be replaced after 5 years of use and 7 years of manufacturing if it is not used.
Moreover, many experts say that helmets start to wear down once a rider starts to use them but other experts say that the DOT expiration date plays a more important role. To be on the safe side, make sure you change your helmet periodically. 
Furthermore, to check the manufacturing date, look inside your helmet to find a date stamp. It has a manufacturing date. You can estimate the replacement date with its help. 
This is important as it provides the exact expiration date so make sure you never skip this. 
Snell Memorial Foundation Standards 
It is a non-profit organization founded in 1957 after the name of famous sports car racer William Pete Snell who died due to his helmet's inefficiency in 1956. The organization sets standards for all types of helmets and works on their research and modifications. 
Snell standards are updated after every 5 years of research on new technology and the use of existing motorcycle and racer helmets. These standards also recommend that the helmets need to be changed after every 5 years of use. 
Always remember that your helmet is the most important safety gear you can invest in. So make sure, you have the helmet updated and are sure that it will protect you in case of an accident. 
Safety Checks on Your Motorcycle Helmet 
You can do self-safety checks on your motorcycle helmets after every month. You can make sure the EPS liner, comfort liner, and chin straps are intact or not. The chin straps' stitching can wear down with time so make sure it is not loose on you. 
Moreover, check the clips on the helmet as well because they need to be firm and not loose. Many factors comprise your perfectly safe helmet. 
Identify the Helmet Degradation 
The helmet shells can be damaged as it depends on the area you live in. If your region has brighter sunlight, it means the UV rays can damage the material in the helmet shell and you will start to notice the color of your helmet fades out with time. 
It can also turn yellowish in shade just like your clear mobile cover. This indicates that your helmet has started degrading. Make sure you change your helmet once you notice all the signs. 
Sometimes there is no need to change the entire motorcycle helmet. The liners can be removed and replaced. The chin straps take the shortest to wear out so you can replace them when they are loose. 
Moreover, sometimes the liners can be replaced depending on their condition so make sure you do not waste extra money to buy a new helmet when there is no need to do that.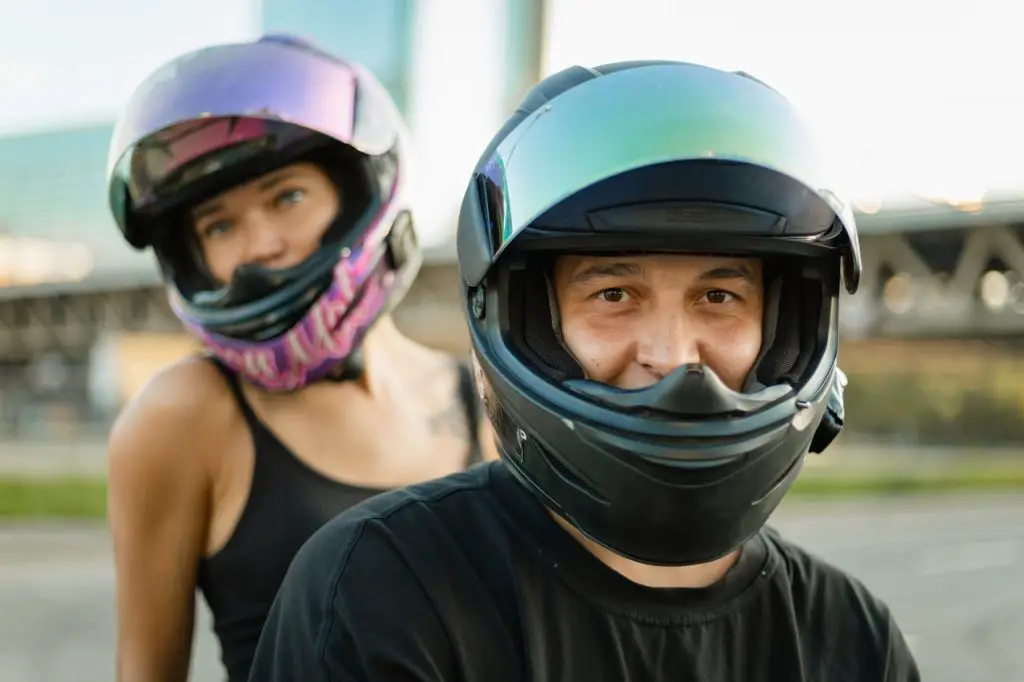 Frequently Asked Questions (FAQs)
We have added this FAQs section to help you out further. Read this section carefully to avoid any confusion. 
Which shell is best in the helmets? 
It depends on many factors but the most commonly used and preferred shell materials are ABS and polycarbonate. ABS impact resistance is less than the polycarbonate shells as it has extremely high impact resistance. There are many types of helmets with different shells and materials.
ABS has less heat resistance as compared to the polycarbonate shells but ABS is less pricey and more or less has the same features so people invest in them. It depends on your budget and your choice. 
Do motorcycle helmets have a shelf life? 
Yes, motorcycle helmets have a shelf life of 7 years if they are not used but it reduces to 5 years if they are used. All the helmets have an expiration date that is important to check. 
The Dhasave recommended that you always check the manufacturing and expiration date inside the helmets before their purchase.
What do you do with old helmets? How can you dispose of them? 
Many organizations collect old helmets, you can give your old helmet there. You can also recycle it. 
We do not recommend you give old helmets as a donation because they can cause accidents and is less safe as it has exceeded their expiration date.
Conclusion 
Now you know that your motorcycle helmets have an expiration date and lifespan of 5 years when used. We hope you will do proper safety checks and keep yourself safe. 
Make sure you never ignore the signs when there is a need to change your helmet. 
Avoid accidents and be cautious. Also, feel free to contact us here if you need our assistance.