Helmets are an essential part of any motorcycle drive. They keep you safe and secure at high speeds. However, their design also hinders you from the usage of any communication device. 
So, how can you keep up your communications while on a motorcycle? In today's post, we'll explain how motorcycle helmet communications work and what sort of options are available on the market. 
Quick Summary
---
We'll go over the following topics:
Types of Motorcycle Helmets
Important Tips to Keep in Mind
Frequently Asked Questions
Let's dive right into it. 
Motorcycle Helmet Communications
As you already know, bike helmets are designed to be tight and have no room once they are worn. So, there is no possible way you can use your phone in a sensible way. 
This is why all communications are carried out with the help of Bluetooth technology. Bluetooth provides a convenient and hands-free solution for this problem. 
You can listen to a call and drive your motorcycle at the same time. This enables you to save time and reach your destination at the pre-determined schedule. 
Is Bluetooth the only way to establish communications?
Currently, Bluetooth is the only viable option because it takes little to no space inside your helmet. All it takes is a little chip to establish a connection between your helmet and the phone. 
There are some brands that feature a 2.4G connection instead of Bluetooth. It is slightly faster and has zero voice delay. 
There are two types of Bluetooth helmets you can choose from. The first one comes with Bluetooth pre-installed in them. The second one allows you to add a Bluetooth attachment. 
Bluetooth Ready Helmets
Bluetooth Enabled Helmets
Bluetooth-ready helmets have all the pieces installed between the padding and the outer layer of the helmet. You can't tell the difference between a normal helmet and a Bluetooth-ready helmet. 
Are Bluetooth-enabled helmets easy to wear?
Bluetooth-enabled helmets have a small port that you can use to attach a small Bluetooth device. This device allows you to connect your phone with your helmet. 
This port is usually located inside the helmet on either the left or right side. However, the port location can vary from helmet to helmet. 
Which type is more convenient to use?
In comparison, Bluetooth-ready helmets are far easier to operate. You can connect your phone with just a single touch. Simply, press the button on your helmet and you are good to go. 
Whereas for Bluetooth-enabled helmets, you have to plug in the device, pair your phone, and then it allows you to communicate. 
So, which one should I buy?
It solely depends on your personal preference. You can get either one of these helmets. However, we must mention that you can always replace a faulty device on Bluetooth-enabled helmets. 
On the other hand, if the Bluetooth malfunctions in a Bluetooth-ready helmet, you might have to change the entire helmet.
What designs are available on the market?
Bluetooth helmets are only manufactured in modular design. This is because it reduces the air drag and noise to keep the communications clear like you are talking from your living room.  
Another reason why modular design is preferred is because of the space. Other helmet designs don't have enough space to fit the headphones and the Bluetooth inside them. 
Helmets You Can Choose From
There are a number of brands that produce Bluetooth helmets. We have gathered some of the top reviewed options for you. Let's have a look. 
Bluetooth Ready Helmets:
AGV Sportmodular Helmet
SENA Momentum Evo Bluetooth Helmet
Icon Airform Conflux Helmet
Bluetooth Enabled Helmets:
NOLAN N100-5 Helmet
RUROC Atlas 4.0
TORC TB27
For Bluetooth-ready helmets, we recommend that you get the AGV Sportmodular helmet. It is easy to wear and features one-touch buttons on the outer layer. 
Moreover, the helmet itself is quite sturdy and scratch-proof. 
For Bluetooth-enabled helmets, our suggestion is NOLAN N100-5 helmet. This helmet features a sporty look with the ability to cancel excessive noise.
Besides that, it comes with an anti-fog visor so you can talk easily with the visor completely closed.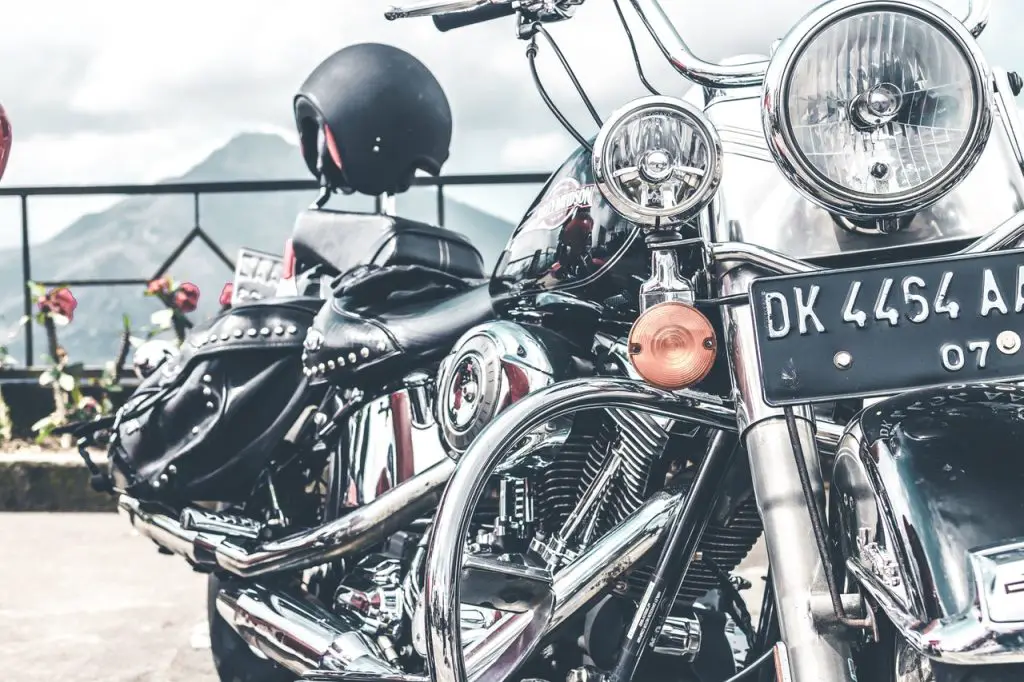 Benefits of Bluetooth Helmets
Helmets are mainly designed for safety purposes. However, Bluetooth helmets take this protection one step further with extra benefits. Let's check them out.
Communication
Hands-free communication is the name of the game in the current world. Bluetooth helmets ensure that you don't even have to touch your phone while on a motorcycle. 
You can simply press the button on your helmet to answer an incoming call. This makes your overall journey easy and enjoyable. 
Wired headphones are used by many people for music purposes but the wires can be a headache. With a Bluetooth helmet, you can simply connect your phone and listen to music on the go. 
You can even play, stop, skip, or rewind your favorite tracks with the touch of a single button. 
GPS
You can even set a map location and turn on the GPS for directions. This way you won't need to pull out your phone after every turn. 
The GPS can easily guide you through turns, traffic jams, and exits on a highway. This can come in handy if you are running short on time. 
Things to Look Out for in Bluetooth Helmets
Even though Bluetooth helmets are just as good as any other helmet available on the market. There are still some factors you must look out for before any purchase. 
These factors are: 
Airflow
For Bluetooth helmets, proper airflow is quite important. This is mainly due to the reason that you want to keep the visor closed at all times. 
If there isn't a proper airflow, you'll experience a lot of noise by air drag alone. Moreover, it can also cause fogging on your visor which can be highly dangerous. 
Right Fit
Make sure that your helmets fit perfectly. Otherwise, your voice will echo and the person on the other end of the call won't be able to hear you properly. 
Moreover, you'll have to adjust your helmet every time you pick up a call.  Pick the accessories that fit just right with your bike.
Visor
Get a Bluetooth helmet with a fog-resistant visor. This will provide extra protection from fog and keep your visor clear. Misty visors are probable causes of many accidents. 
Frequently Asked Questions (FAQs)
Following are some questions asked by people from around the web. Let's check them out. 
How do I connect my phone with the helmet?
Simply open the Bluetooth settings on your phone and press the pair button on the helmet. After a couple of moments, it'll appear on your screen. Click on it and your phone will connect. 
What is the battery life of Bluetooth helmets?
A Bluetooth helmet can be used for 4-6 hours after a full charge. However, this value varies between different helmets. 
Can I use Bluetooth to talk with a passenger?
You can also connect to Bluetooth helmets together to establish swift communication between the rider and the passenger. This feature can come in handy in various situations. 
Wrapping Things Up…
This brings us to the finish line of your post on Motorcycle Helmet Communications. We hope this information proves to be helpful for you. 
Bluetooth motorcycle helmets are a modern and cool way to keep your communications available at all times. No matter where you are, your phone is always available for a call. You don't have to make a pit stop to listen to a call, just press a button and you are good to go. 
Do let us know which helmet you use for communication. CLICK HERE to learn more.