When riding motorcycles for long distances, you'll realize that the journey gets boring and cold without the rich sound of your favorite music. Good music will trigger your excitement when undertaking any journey. Therefore, you have to explore ways to enhance your motorcycle audio system with the best motorcycle amplifier.
A motorcycle amplifier is an electronic device that is designed to amplify audio signals from your audio input and then output a more powerful sound. It basically changes the amplitude of the signal.
This post contains affiliate links. If you make a purchase, Motoprove.com may receive a small commission at no additional cost to you.
5 TOP-rated Amplifires for Motorcycle
From my experience in riding motorcycles, I have had firsthand experience with various amplifiers that give the best quality of sound. As a result, I have compiled the best 8 motorcycle amplifiers for you. Keep reading to find your best amplifier. This guide will save you time and money for navigating a large catalog in the market buying the wrong stuff.
1. BOSS Audio MCBK470B – Best Motorcycle AMP and Speakers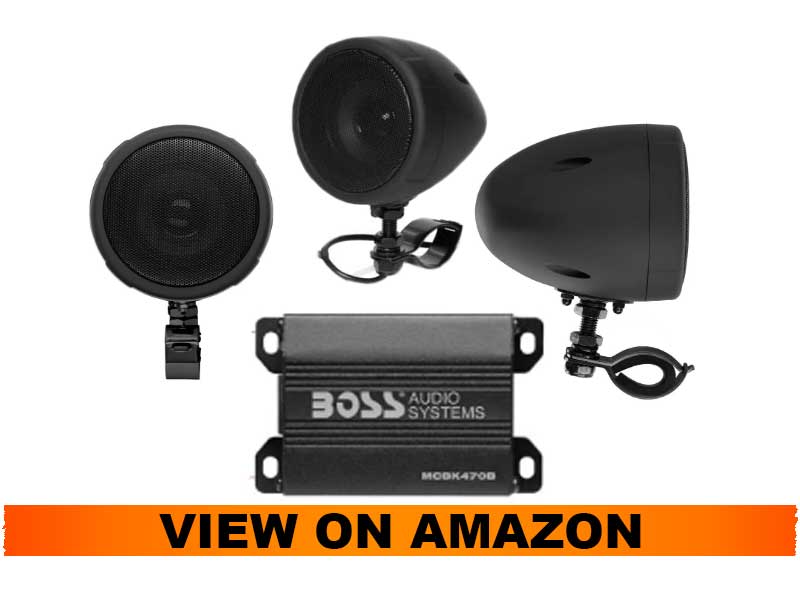 Upgrade your motorcycle audio system with the BOSS Audio MCBK470B Bluetooth Amplifier. This weatherproof amplifier can make your journey worth-taking with the best audio sounds. Its Bluetooth technology enables it to stream music wirelessly with Bluetooth-compatible devices. So, the hassle of tampering with wires is over.
Features
Also interesting with this amplifier is its weatherproof feature: motorcyclists often ride in unfavorable conditions so the weatherproof feature is important. But, the amplifier is only water-resistant, meaning it does not have waterproof qualities. As thus, avoid exposing it to water for a prolonged time.
Unlike other amplifiers where you have to buy speakers separately, this one comes with two pairs of speakers. Note that it is a 4-channel amplifier, so it has powerful outputs of sound to the speakers. The inline volume control gives you the freedom to lower or up your music while riding.
Also added to the features is the 3.5 mm Aux input which is compatible with various devices to stream music from. Could it be your iPhone, tablet, or iPod, streaming is made possible through this port. You will have total control of your music choice.
Specifications
The potential of this amplifier lies in its 1000 watt of max power which indicates that it produces powerful sounds. As long as your motorcycle is 12V, this amplifier will be a perfect fit. It also installs seamlessly on the handlebars with the included adjustable brackets. All other mounting hardware is included.
The frequency response of this amplifier ranges from 80Hz to 15 kHz. And its channel separation rates over 50 decibels.
Pros
Powerful RMS (Root Mean Square) rating
Speakers included
Bluetooth technology
3-year warranty
Weatherproof and water resistant
Cons
The volume control remote is wired
Verdict
This amplifier is a great product for motorcyclists. I do recommend it to any avid motorcyclist who wants to upgrade his/her audio system with a powerful 4-channel amplifier and speakers. The good thing is that the speakers are included, and so there's no need to spend extra money separately.
What I also applaud is the Bluetooth technology which eliminates wired connections to stream music. The amplifier is compatible with many smart devices to play music. That's an added advantage. Again, it is weatherproof and water-resistant. Riding the motorcycle is different from the car, of course you know. For this reason, the audio system has to be protected from weather elements.
2. Rockford Fosgate PBR400X4D – Best Compact Motorcycle Amplifier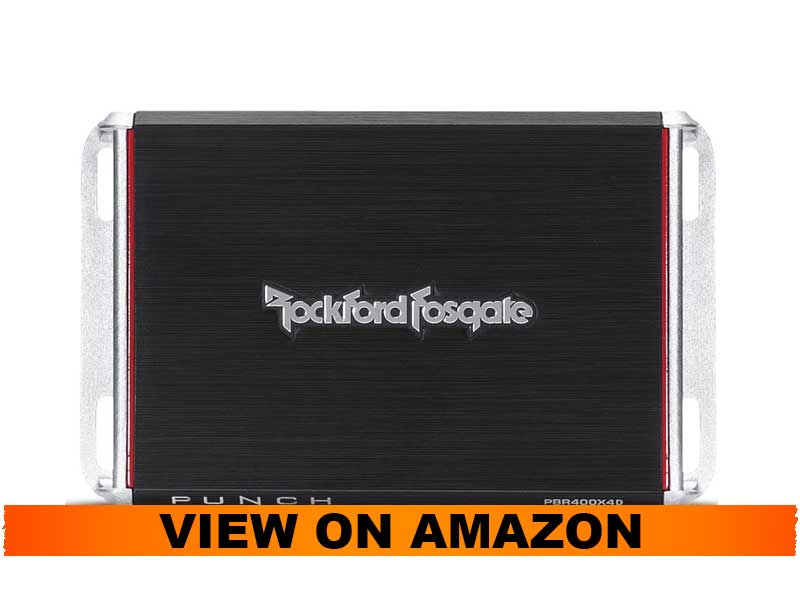 This is another 4-channel amplifier that can power many speakers on your bike depending on the RMS power rating and the impedance. It is the best way to improve your audio system and enjoy your riding experience.
Specifications
Rockford Fosgate PBR400X4D Punch BRT has a power rating of 400 watts, which lacks behind the above product review. Nonetheless, 400 watts is still powerful enough. From 70 customers, this amplifier got 4.4 stars out of 5, so this is proof enough that many people are impressed with it. Price-wise, it is also reasonable.
It has an impedance of 2 ohms and for each channel, it generates 100 watts which amounts to a total power of 400 watts. Whether you have rear or front audio speakers, this amplifier can be helpful. It's powerful enough to power many speakers. Also, it has high and low-level inputs with variable 4 to 6-volt hi-level DC.
The amplifier is compact; it fits 1.53 x 4.25 x 6.75 inches of space, which should be fine on any motorcycle.
Overall
Rockford Fosgate is undoubtedly one of the best manufacturers of quality amplifiers as seen in this amplifier. From the design, power output, number of channels, and other features, it performs very well to fit your lifestyle.
Rockford Fosgate uses patented manufacturing processes such as the DSM (Discrete Surface Mount) to produce this premium amplifier. The process employs high-speed robotics to meet certain standardized values and low tolerances. In turn, the amplifier has an improved circuit.
To ensure that consumers get competitive products, this amplifier was power rating complies with the CEA-2006 Industry Standards. Many manufacturers inflate their power ratings because they know that customers prioritize the power rating when making purchases.
Pros
CEA-2006 power rating compliant
4 channel amplifier
RMS power rating of 400 watts with an impedance of 2 ohms and 100 watts per channel
1-year warranty not sufficient considering the susceptibility of amplifiers to damages especially if they are not waterproof
Cons
The volume control remote is wired
Verdict
If you are looking for a decent amplifier with a moderate RMS power rating, this could be your best buy at a reasonable cost. It's a great buy to improve your audio system so you can enjoy every ride. The amplifier was well-designed to magnify audio signals. It is a 4-channel, so it shouldn't be a problem at all to power numerous audio speakers.
3. Kenwood KAC-M1804 – Best Motorcycle 4 Channel AMP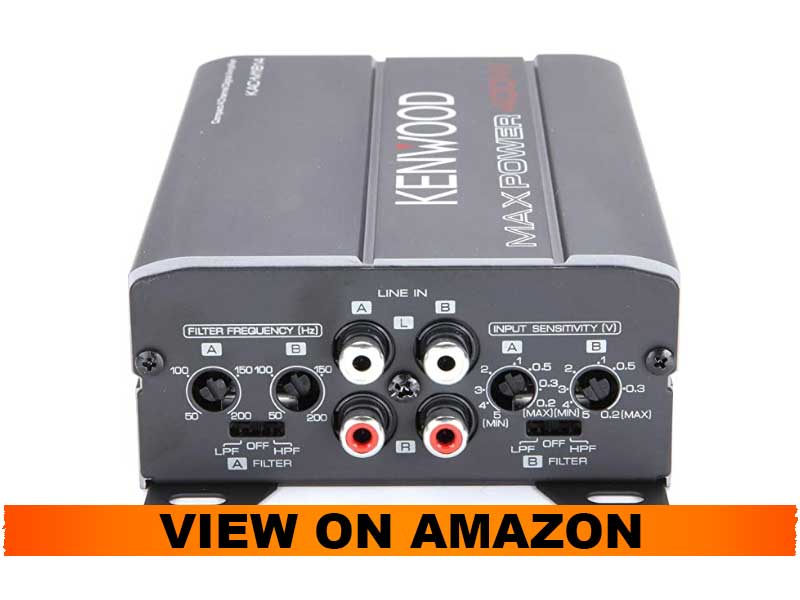 This Kenwood brand is also one of the best 4-channel amplifiers that can upgrade your motorcycle audio system from mediocre to jaw-dropping sounds. Although it does not feature the high-pass filters, it is still a great amplifier to power speakers and yields richer sounds.
What do you get?
Kenwood KAC-M1804 Compact 4-channel Amplifier is a compact yet powerful 4-channel amplifier that generates 400watt of power coupled with the 4 ohms impedance. It is a great amp to get rid of distortion and heat in your speakers and thus an efficient sound system.
Ease of installation
Its compact size makes it suitable for motorcycles as it consumes little space. You can decide to install it on the handlebars or any other convenient place. Well, make sure you get good wiring with the right gauge, perhaps the 14 gauge wiring to enable an efficient flow of power to the amp. A tiny wire could restrict power and thus result in a damaged amp.
After installing this amplifier, you will notice a significant difference in your motorcycle audio system. Moreover, it is best suited to harsh climatic conditions as it features a conformal coated circuit board. The circuit board makes it the best choice for marine applications. Everyone probably knows the plethora of environmental conditions motorbikes are exposed to; having the marine-compliant amp is advantageous.
Furthermore, the amp features the extruded aluminum heat sink design. This makes it an attractive design to feature on any motorcycle with any color background.
Pros
The maximum power output of 400 watts
Extruded aluminum design
Conformal coated circuit board for marine applications
Affordable
Cons
Warranty information missing
Verdict
Kenwood's design is a must-have for enthusiasts. It is a 4-channel amp that can power numerous speakers on your bike to give you the best-unmatched experience. It is easy to install provided you got the proper wires. I recommend 14 gauge wires to facilitate maximum power flow. If you are on a tight budget and looking for a decent amplifier, this could be your best option.
4. VELEX VX-502 – Best Motorcycle Bluetooth Amplifier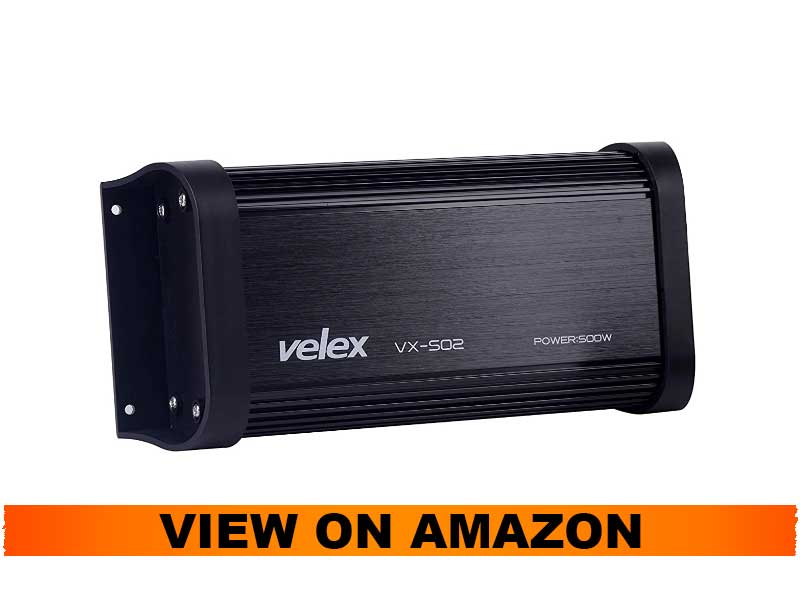 If you often ride in unfavorable weather conditions, this amplifier by VELEX could be your best buy. It is water-resistant, but that does not mean you should expose it to water for a prolonged time. In any kind of weather condition, the amp can survive and still perform amazingly.
It is a 4-channel amplifier with a total power output of 50 watts at 4 ohms. This makes it ideal to power numerous speakers. It could be 2 or 4 speakers or even the subwoofer. Motorcycle riding is made more fun with this amplifier as it will be providing you the quality sound of your favorite.
Main features
Thankfully, it is Bluetooth compliant. So, pairing it with other devices should be easy to stream music from them. That is the best way to let go of too many wires. Furthermore, it has a USB audio output where you can connect the USB and stream music. Also, you can use the input to charge your phone, so no need to waste some time wanting to charge your flat battery.
This amp is categorized as the Class A/B amplifier, which is one of the best superior sound producers. It features the conformal coated PCB, which is good for marine applications. This feature is important for motorcyclists as it gives the assurance that your amplifier will be protected from the elements.
Specifications
The frequency response ranges from 20Hz to 20 kHz. Paired with Bluetooth devices, the amp can provide 50 watts of power whereby 25 watts are generated at 2 ohms impedance. The good thing about this amp is that you can still enjoy music without the head unit. It makes your music experience a great one. Oh, lest I forget, also included in the wired remote control which is accessible with ease to the driver. I would wish it were a wireless remote control. Nonetheless, it is the best accessory.
Pros
Water-resistant amplifier
Bluetooth technology
Preamp RCA outputs
Best suited for marine applications
Cons
The wired remote control could have been better for me if it were wireless. It is nonetheless this great.
Verdict
Looking for a great amplifier suitable for marine applications, here's the best buy. It is water-resistant and features Bluetooth technology. These are some of the features one should prioritize. Also, the RMS rating is impressive, although it is not the best out there.
5. KICKER 12PX100.2 – Best Motorcycle Mini Amplifier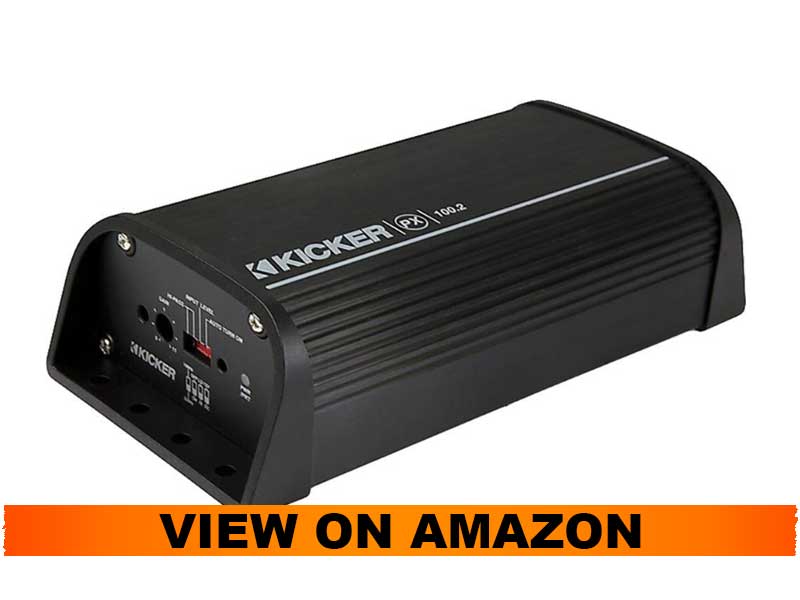 Want to upgrade the OEM audio system on your 2011 Harley Davidson FLHX Street-glide? The New KICKER 12PX100.2 could be your best choice. It is a 2-channel amplifier that gives the power of 100 watts at 2 ohms. That's little resistance to the current flow in the system compared to other amps I have reviewed above. Also, the power rating is not really the best, but, nonetheless, remains a great choice for the budget-friendly options.
Small and powerful enough
The loudness of this amplifier is on point, especially at shorter distances or when your bike is stationary. It can get very loud at higher speeds, which can affect your hearing.
If you often ride in harsh temperatures, this amp is weather resistant. It also has a conformal coated circuit board, which is good for marine applications. To control the higher frequencies, the amp features high-pass filters and 24 dB/octave. You have a choice between 100 Hz and 250 Hz.
Design
The design of the amplifier is great; it features stainless-steel hardware which is good for weather and corrosion resistance. The design makes the amp a great choice for 12V motorcycles and vehicles.
Pros
Compact motorcycle amplifier
Weather-resistant
High-pass filters
Conformal-coated circuit board for marine applications
Verdict
Although it seems to be a mini-amplifier, it is still a great choice or motorcyclists to upgrade their OEM audio system. It gives a sufficient RMS power output at the low impedance of 2 ohms, which should be great to power motorcycle's rear and front speakers. Unlike the other amps I have already reviewed, this one is a 2-channel. In fact, a 2-channel amp is popular. It can also work as 2 independent mono-channels.
6. Herdio – Waterproof Motorcycle Amplifier with Bluetooth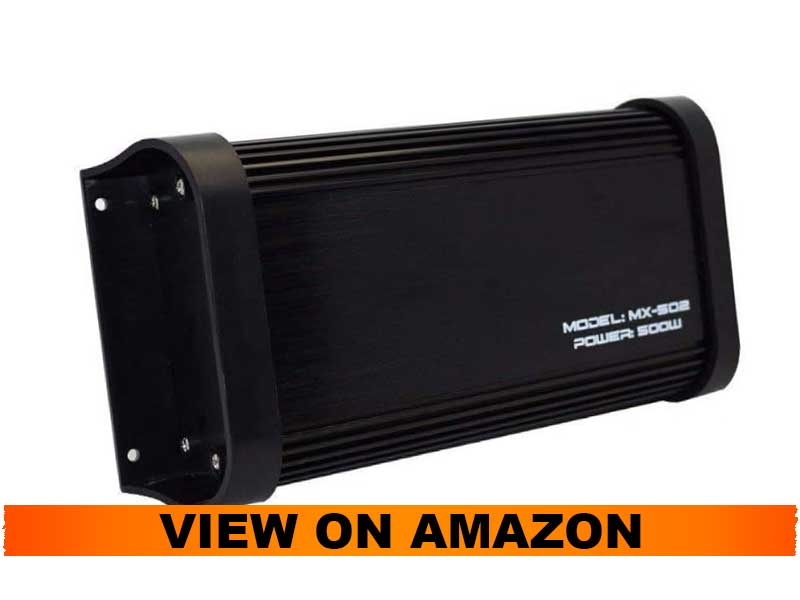 The Herdio Motorcycle Marine is a Bluetooth amplifier that's great for people that want to boost the sound system of their motorcycles. An amplifier helps increase the overall volume of your speakers, making sounds easier to hear when you're traveling. It doesn't matter if you're on the highway, either.
With this product, you'll finally be able to hear what's coming from your speakers regardless of the noises around you. And for this reason, it's suggested for riders that are want to enjoy their time on the road a bit more. And you definitely will since the installation is pretty straightforward.
Installation
However, there is no instruction manual given; you'll have to either call the company to do this or look for a video tutorial online. Granted, this depends on how experienced you are with installing such products in the first place. If you've done this before, there should be little need to rely on other people to get it on your bike securely.
Using the Remote
Take a look at the device in the description. You'll notice a remote and base for you to hold it. The remote is shaped like a smartphone and will easily fit into any of your pockets.
Nevertheless, you don't have to do this since the dock is perfectly capable of holding the remote without it falling out if you hit a bump or small hold in the road. The backlight will help you see the control in the darkest of environments.
But during the day, the paint that indicates which buttons need to be pressed won't ever rub off. Furthermore, you can connect it to other Bluetooth-enabled devices such as smartphones and other speakers. The connection stays on for the entirety that you keep your phone close to the vehicle.
Just remember to check it's linked when getting off your bike for a brief moment, then getting on again. Is the Herdio Motorcycle Amp worth it? Absolutely. Consider it if you have speakers that are factor or poor in quality or need something to boost the sound to an audible level.
Pros
Very small and compact; easily fits in small bags
Supports connection to other Bluetooth-capable amps on speakers and subs
Doesn't require the remote to run the amplifier (can be controlled with a smartphone if preferred)
The remote has a backlight that makes it easy to control during evening travel
Can be heard at high speeds
Easy to install in most head units
Cons
Poor installation instructions
7. Kenwood KAC-M3001 600W – Best Motorcycle Subwoofer AMP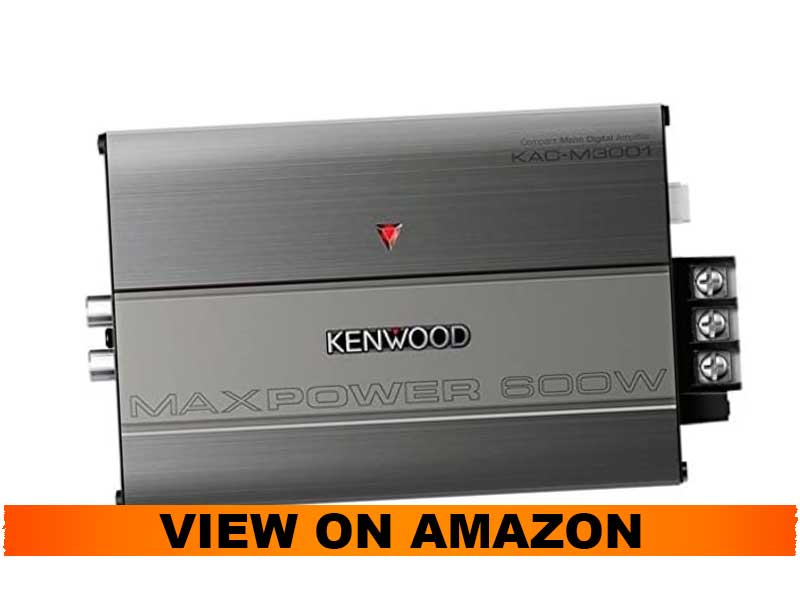 Kenwood brand is certainly not foreign to audio lovers. It's the second product that I review from this brand. Kenwood KAC-M3001 600W Class D Monoblock Amplifier is a powerful amplifier suitable for a wide range of motorcycles. It can improve your mediocre sound system to the one enjoyed by everyone. Riding with this amplifier can make a huge difference.
Its maximum power output is 600W
However, you should not really be deceived by the peak power because it lasts for intervals equal to a second. The RMS power, as I have mentioned already, is the real identity of the power output. At an impedance of 2 ohms, his amplifier generates 300 watts per channel, and at 4 ohms it generates 200 watts per channel.
Everything in package
The amplifier comes with all the features you'd expect in a typical amp. The LED indicators are also effective. If you are someone not fond of the heavy stuff, this amp could be a perfect choice. It is compact, so it shouldn't be cumbersome to your motorcycle.
Also worth considering is the marine rating of this amplifier. This ensures that the amp is safe from moisture-related threats, more especially because motorcycles expose audio equipment to treacherous weather conditions. Also, the amp has conformal-coated main printed circuit boards which give an extra layer of protection against moisture.
Installing the amp is also an easy task. It comes with the installation manual which is explicit to be understood by an amateur.
Pros
Impressive RMS power output
Conformal-coated main printed circuit boards
Weatherproof and waterproof
Verdict
This Kenwood brand is also worth buying. It comes with great features from a compact design to a sterling performance even though it does not have Bluetooth technology. Nonetheless, it has other audio inputs that make audio streaming an absolute breeze. The amp is marine compliant, water-resistant, and weatherproof, meaning the system is safe even if you get soaked in the rain. Its RMS power output at varied impedance values is impressive. That said, I would recommend the amplifier to anyone looking for premium quality at a reasonable price.
8. DS18 Hydro NXL-N2 Ultra Compact Digital Amp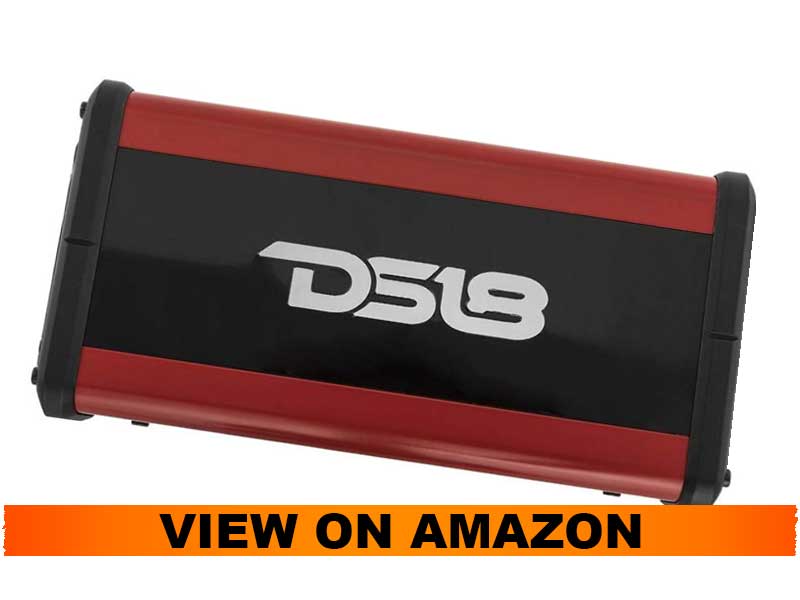 DS18 is such a small amplifier that anyone can belittle it. It is, however, an incredible amp that can power your motorcycle speakers. Its signal to noise ratio is rated at over 90db with the frequency response at 20Hz to 20KHz. The amp is budget-friendly.
Usability
You can treat it as a mono or stereo amp. The 1-channel is also available. Thus, it gives you the freedom to choose whichever amp satisfies your audio production. For those with small motorcycles, this is the right product to consider without compromising its superb features.
Power rating
The amps maximum power output is rated at 600 watts, which is, of course, one of the best and effective in magnifying audio signals. The RMS rating at 4 ohms gives 2 x 100W per channel; at 2 ohms gives 2 x 150W per channel.
I have not seen any info regarding water resistance or weatherproof. For this reason, I encourage you to be extra vigilant when using this amplifier in unfavorable conditions.
It is easy to install and set up your audio system. Only a matter of time that you can turn your boring journeys into enjoyable ones.
Pros
Portable amplifier
Impressive RMS rating at different impedance levels
Affordable AMP
Also available in 1 channel
Verdict
Although it is small, I will recommend the amp at any time. The reason I included it was to accommodate those with small motorcycles who cannot spend a lot on amps. The features are impressive, but not the best. The amp is one of the best in its price range. Unlike other amps, it does not feature Bluetooth technology.
Tips and FAQs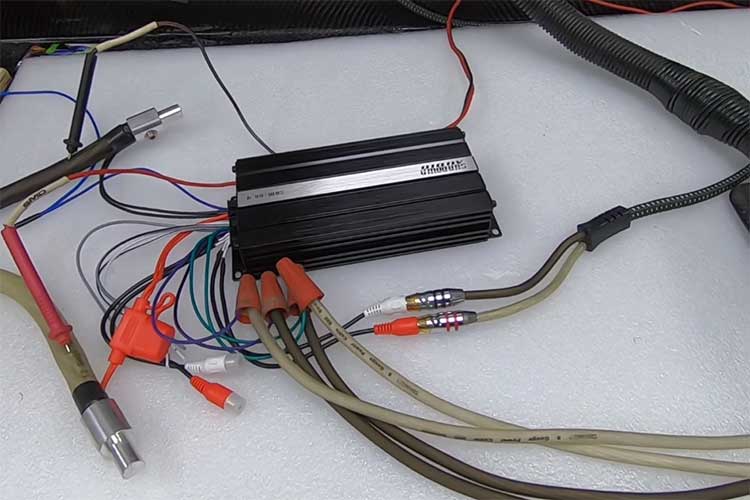 Now that you've come a long way from reading these reviews, let me guide you on how to successfully purchase the best motorcycle amplifiers. There are many key features and specs you need to look at. Amplifiers can be confusing, especially to newbies who often go for wrong parameters such as, for example, peak power rating instead of the RMS power rating. I will define some common terms worth knowing.
What to look for when buying motorcycle amplifiers?
Number of channels
The important to consider when buying motorcycle amplifiers is to match them with your speakers and subwoofers. You may be planning to power a single subwoofer, double subwoofers, or 4 speakers. For each of these choices, you should choose the amp accordingly. For instance, the RMS rating and the impedance tell us how capacitated the amp is to power your system. Moreover, amps are classified according to the number of channels: 1, 2, 3, 4, 5, and 6.
Other channels can be bridged to offer the best power output to numerous speakers. Stereo amp (referred to as 2-channels), is the most common one on the market. It can be regarded as 2 independent Mono-channel amp with independent outputs. Alternatively, a single channel can be bridged and the other left unused in stereo amps. Ideally, the number of speakers to power depends on RMS power output and the channel type. With a 4-channel amp, you can build an impressive audio system.
Power ratings
Of foremost importance when making purchases is to differentiate between different types of power ratings. Oftentimes, amp cases are printed with the peak power as the maximum output, which is basically an instantaneous power increase for seconds. The RMS power rating is the real reflection of the continuous power the amplifier can generate consistently given a certain impedance.
The power rating gives a true reflection of the efficiency of the amplifier. For this reason, beware of inflated power ratings. Always look for the amps that comply with the CEA (Consumer Electronics Association) 2006 industry standards of power rating as the assurance that the figures are accurate.
Compatibility
And, when setting up your motorcycle audio system, check the compatibility of the speakers and the amplifiers. My first product, for example, comes with speakers that are already fine-tuned to work properly with the amp. Most amps require a separate purchase of speakers.
Important: the watt rating on the amp should be greater than the one on the speakers. The speaker will, therefore, experience no distortions or heat dissipations. If the amp power output is less than what the speaker can take, you risk damaging the voice coils of the speaker.
Other features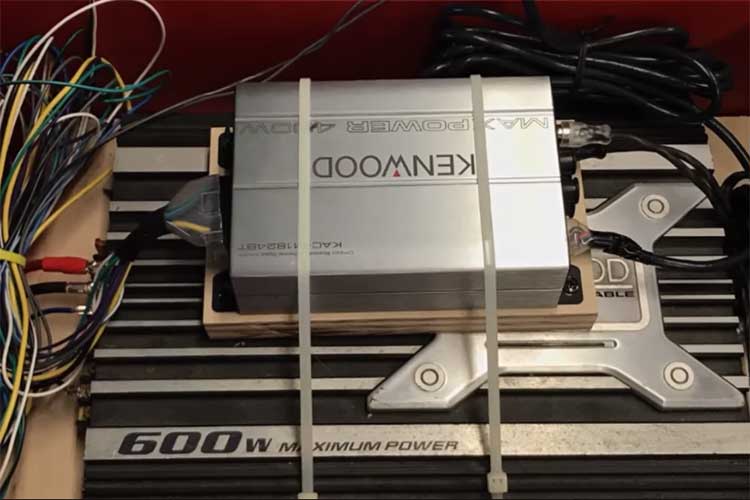 Other features to consider include the low and high pass filters. Low pass filters are involved in the cancellation of higher frequencies whereas the high pass filters do the opposite. There are many features to look for, however, these ones are the most important.
If you ride mostly in unfavorable weather conditions, you may want to consider the weatherproof, waterproof, and water-resistant amplifiers. Some come with conformal-coated printed circuit boards that protect against moisture. The amplifiers are sensitive to water damages. It is therefore important to ensure that they are weatherproof.
Furthermore, the amplifier has to be adjustable to make installations easy. Some come with mounting brackets or any other hardware to install them. Even more, the design and the compact size of the amp should be looked at.
Where is the right place to install amps on the motorcycle?
These amplifiers can be installed in any place where they can be conveniently accessible by the driver. Oftentimes, they are installed on the handlebars, saddlebag, and tank bag or under the headlight. Even under the seat provided, there is enough space they can be installed. As you install these amps, make sure you do not obstruct the audio inputs where you should connect USBs, smartphones, or memory card readers.
What is impedance in amplifiers?
Impedance, measured in ohms, is a measure of resistance to current flow in the electrical network. These amps may have different RMS power output per impedance. The higher the impedance in ohms, the lesser the current flow.
Final Thoughts
We have come to the end of the best motorcycle amplifier. I have reviewed the best products on the market. When making purchases, make sure you familiarize yourself with the RMS power rating, impedance, and the number of channels. Most of my products are 4-channels, which is the most common to plan a large audio system. The 2-channel amps also follow as the most common on the market.
The best way to enjoy motorcycle rides is to upgrade the OEM music system. These amplifiers can power numerous speakers including subwoofers. Others come with low and high pass filters, and so it should be easy to have control over the frequencies.
There are more features to consider before making purchases. For instance, the amp has to be waterproof, water-resistant, marine compliant, and weatherproof. You might also be interested in reading about the best bluetooth motorcycle helmets.