Phone use is becoming more and more prevalent as time passes. This is also true for motorcycle riders. Besides recording videos and taking selfies, bike riders need their phones for a variety of other reasons. That said, using your smartphone or any gadget while riding your bike is not safe. Some would even say that you have a death wish.
However, this does not mean that you have to abandon using your phone on your bike. Instead, it would be better to look for a way that allows you to drive safely while using your cell phone. One product that can make that happen is a motorcycle phone mount. Also known as a phone holder, a bike phone mount is incredibly versatile and can hold your phone tight, making sure it does not fall, even at the highest of speeds.
This post contains affiliate links. If you make a purchase, Motoprove.com may receive a small commission at no additional cost to you.
5 Top-rated motorcycle phone mounts
With an endless range of motorcycle phone mounts available in different stores, you may find it hard to choose the best one. Mentioned below are nine of the best motorcycle phone mounts you can get for your bike.
1. Ram Mounts Handlebar Rail Mount – Best Phone Mount for Motorcycle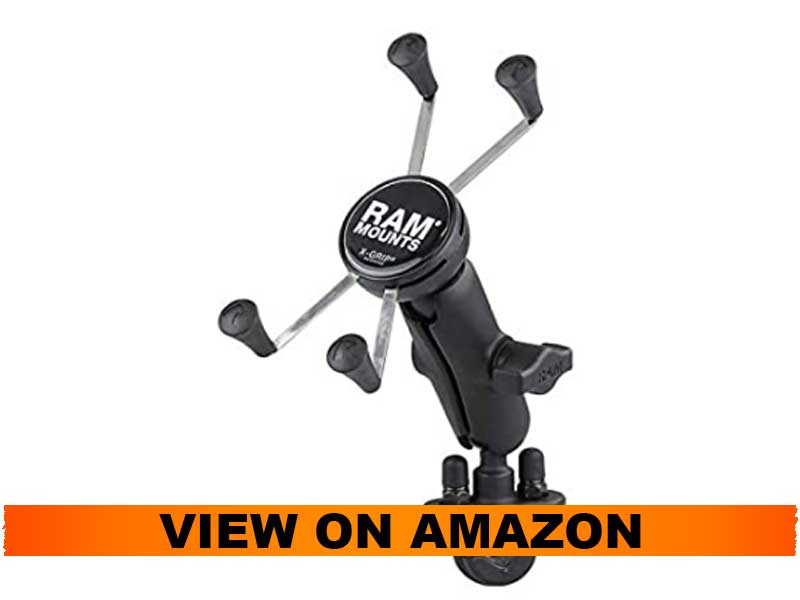 Starting off my list is the Ram Mounts, a mount worth the value of money. From the overall design and functionality, this mount can solve your phone mount problems. Although it is somehow expensive compared to others on my list, I still value it as the top of the range. In other words, I would say it's an editor's choice.
Features
It comes with a U-bolt base to grip firmly onto your bike's handlebars so that the phone doesn't snap at higher speeds. The universal X-grip cradle adds to the firm grip of the mount. All these combined will prevent your phone from falling due to bumpy roads or vibrations when riding on off-road trails.
The design of this phone mount is pretty impressive with rustproof and waterproof constructions. Its U-bolt base is coated with zinc while the overall design is made with the high strength composite and stainless steel. What else can tear these materials apart? Of course, nothing can!
Smartphone Compatibility
Also included are the rubber-coated tips to hold your phone securely and stable. The spring-loaded holder helps hold any kind of phone irrespective of the model. Whether you own iPhone 12 Mini, 12 Pro, Samsung Galaxy, or any other top-rated smartphone, it can fit on this mount. Generally, the cradle fits devices that have a minimum width of 1.8" and max width of 3.25", and a depth of 0.875".
Furthermore, on the features of this phone mount, you can adjust it to your preferred positions. It has a double socket arm and patented rubber ball with adjustment points. These will help with multiple viewing angles for your convenience.
Pros
Durable phone mount
Multiple viewing angles
Spring-loaded holder with X-grip to hold your phone to any custom fit
Verdict
Having assessed this phone mount, I am confident to recommend it to any motorcyclist. It's a great value for investment despite its expensive price tag. Its functionality, performance, and durability make it a must-have phone mount for enthusiasts that are serious about protecting their phones. It dampens vibrations while bringing the phone closer to you for comfortable views from multiple angles. Just make sure you check the diameter of your handlebars before buying this mount.
2. iMESTOU – Motorcycle Phone Holder with Wireless Charger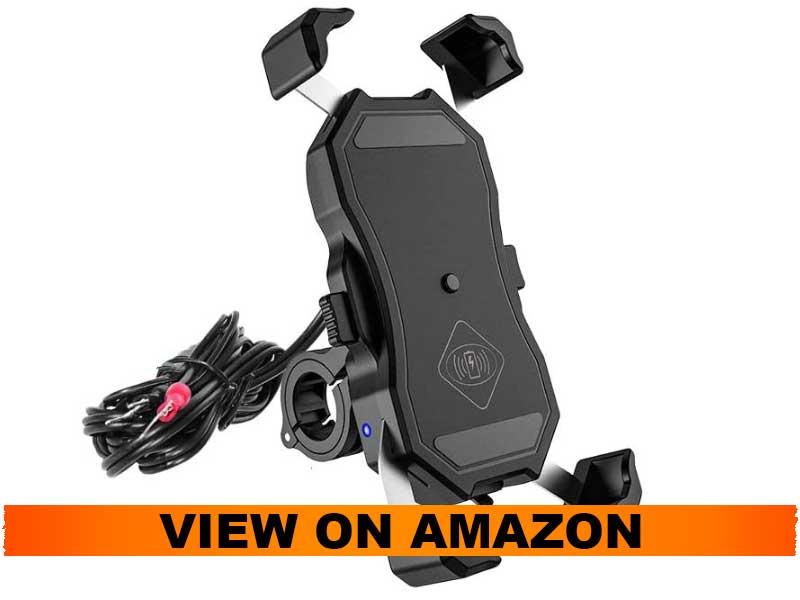 The iMestou Phone Holder is built for lots of motorcycles and enables riders to use their phone similar to what's seen on car dash cameras. Because of this, you can easily use your smartphone's navigational tools, play music, and control other relevant features to ride in comfort on the road. It's designed to be operable under any weather circumstances, including in the rain.
Given that the product is entirely waterproof, it'll never break during downpours and you'll always have a way to maintain your phone's integration with other motorcycle-related tools on your ride. If that sounds good, then give the iMestou a try. Vibrations will never happen. It doesn't matter if you're flying down the highway at 60 mph or brake abruptly; the dock will never lose its footing off your handle.
Straightforward Install
It has a great cable length as well, so you can install it quickly once it arrives. Everything should fit well without the hassle of modifying parts that you don't want to tinker with during the installation. The biggest issue that some might have is difficulty in reaching the on/off switch. It's housed in the back of the unit but hard to get to without holding the device with both hands.
As you may have guessed already, you'll have to stop your bike and do this. It's not something that you'll want to try while moving down the middle of the street. Still, the iMestou is made from solid and durable parts, holding up longer and most other holder holders of rudimentary standards. Look into it when needing something to keep your phone in an easy to reach spot when you're in transit on a bike.
Pros
Not affected by rain at all; completely waterproof
No vibrations or movement on bikes moving at a high rate of speed
Good power cable length
Built-in wireless charger
Cons
Difficult to reach the on/off switch
3. Ipow – Affordable Phone Mount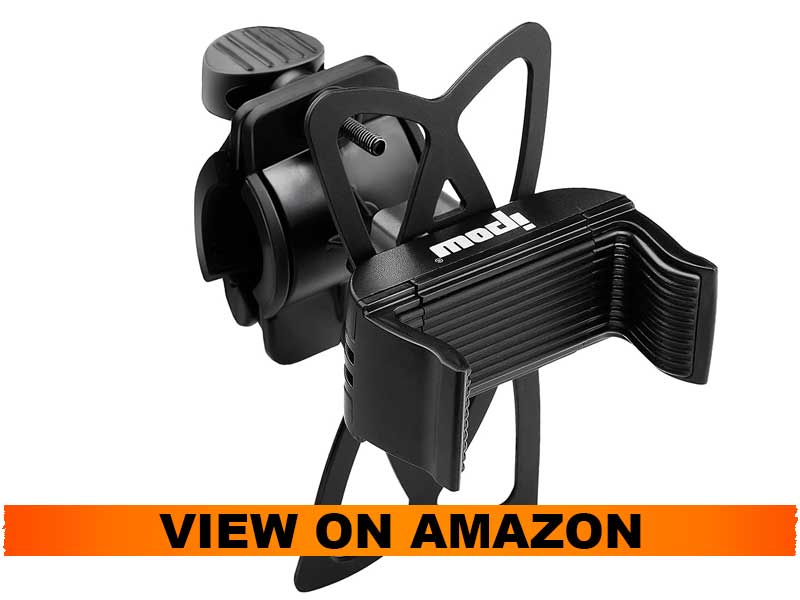 Are you on a tight budget? Ipow Metal Bike & Motorcycle Cell Phone Mount could be your go-to choice. Don't be fooled by the price and think since it's so cheap perhaps it is substandard. Its overall rating is 4.2 stars out of 5 meaning many customers are impressed with it.
Furthermore, it fits a wide range of mobile devices with its universal dimensions. The base is metallic, which translates into a durable product to withstand any falling. Even when riding at higher speeds, this metallic base will not break or snap thus exposing your phone to damages. Also, it is weatherproof and rustproof.
Materials
But the product has some plastic components. Only the base, stem, and ball joint are made of metal, while the clamp is made of ABS engineering plastic. It is nonetheless a durable plastic as well. The product also survives vibrations encountered when riding on rough terrains.
To eliminate vibrations on your handlebars, this holder comes with a shock-absorbing shim. It holds tightly to the rail. Meanwhile, its arc-shape helps prevent the phone from popping out.
That's not all! The rubber straps hold the corners of your phone for maximum security, especially when riding on bumpy roads. No amount of wind can break the mount. You will enjoy quick access to your phone, and so no need to take your focus off the road.
Installation
Note that the mount can mount on handlebars up to 1.1-inch in diameter. Then the clamp measures 2.3 to 3.5 inches to hold a broad range of smartphones. Whether you own an iPhone, Huawei, or a Samsung, this mount can accommodate you.
More to the benefits is the 360 rotation which helps adjust the phone to any preferred angle. And when installing you need no additional tools. It's an absolute breeze to get ready to go!
warranty
I wouldn't mind trying out the product because the company promises a 100% money-back guarantee in case you're dissatisfied. It comes with a 12-month warranty. Well, previous customers have praised the expedited service they've received from the customer service.
Pros
Adjustable grip with 360 rotation
Tool-free installation
Durable construction
Affordable
Cons
1 year warranty not impressive
Verdict
This is a great way to secure your phone. It's easy to install and adjusts with ease too. Thanks to the 360 degrees rotation that you can view either portrait or landscape. I recommend this motorcycle phone mount to any enthusiast. Viewing your phone has never been this easy. Moreover, the mount is budget-friendly compared to hundreds in the same range.
4. Roam Premium Bike Phone Mount – Best Universal Phone Mount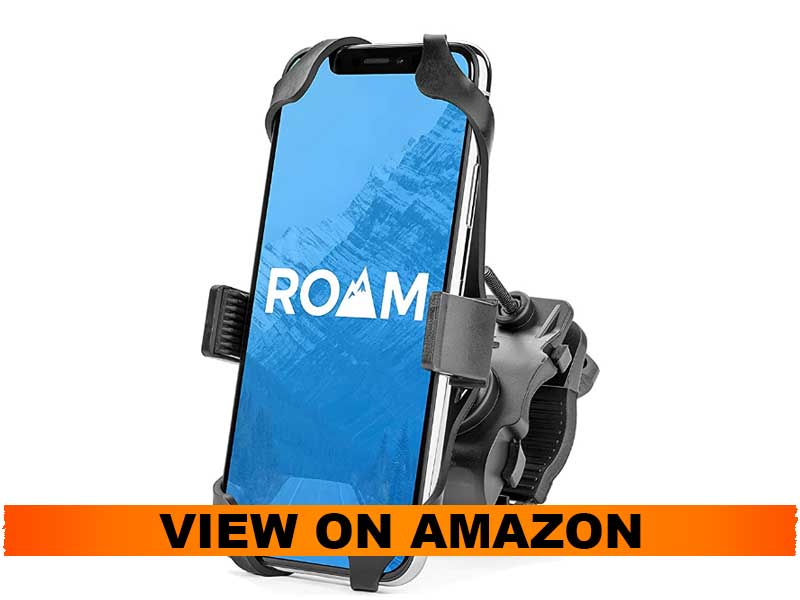 This is yet another affordable phone mount for bicycles and motorcycles. It's affordable but holds expensive smartphones firmly. Any phone up to 3.5 wide can fit snuggly in this phone mount. Thanks to the great quality provided by Roam Universal Premium Bike Phone Mount.
In my years of experience, I've come across a number of motorcycle phone mounts and this is one of the best found at low prices. It adjusts well to a myriad of smartphones without rejecting any model provided it is within the size limits. As long as the phones do not exceed 3.5 widths then you are sorted.
Installation
Also noteworthy is handlebar compatibility. The mount fits sizes from 7/8" to 1 ¼" in diameter for your bike. Even on the bicycles, it requires these size dimensions. Unfortunately, it won't fit sportbikes with their clip-on style handlebars.
If riding on bumpy roads, I would reckon you consider this mount with its secure grip that uses two points of contact. It has a silicone net to secure the phone while the hard plastic grip prevents the mount from falling when riding on rough terrains.
Materials
Although it is made wholly of plastic, it is still a durable mount because of the premium quality of the plastic. Then the silicone net surpasses the rubber materials in holding the phone tightly even though they may not absorb vibration than the rubber. You shouldn't worry if you seldom drive on rocky paths.
Pros
It is affordable
Universal phone mount which adjusts to any phone model with width up to 3.5 inches
It fits a wide range of handlebars
Premium quality plastic material
Cons
Silicone net used instead of rubber so it may not be good in absorbing vibrations
Verdict
Overall, this phone mount is impressive. It makes riding motorcycles simple with your phone at your fingertips on the handlebars. From functionality to the design, it is outstandingly great despite its low price tag.
5. GUB Phone Mount for Motorcycle and Bicycle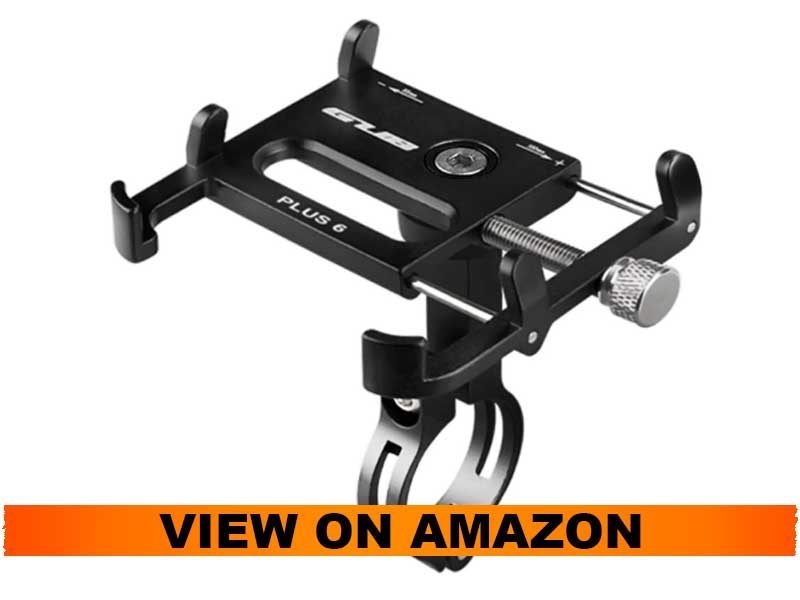 GUB is a household name in the motorcycle and bicycle accessory landscape. This brand offers a vast range of products to add convenience to bike rides and this phone mount is one of them. Made out of premium grade aluminum, this phone mount is highly durable and will not wear and tear like traditional phone holders.
What's more, installing this phone mount is quite easy and will not take more than five to ten minutes. This product is compatible with a vast range of motorcycles and bicycles and will not fall off even if you like driving at high speeds.
Quality
One of the best things about GUB is that it never compromises on quality. No matter which product you choose, you can breathe a sigh of relief knowing that it will last for years. This is especially true for this aluminum-based phone holder. What's most impressive about this product is that it has a sponge coating to offer the holder extra protection, a feature that not every bike phone mount offers.
Compatibility
You can attach a wide range of smartphone models to this bike mount. Whether you have a Samsung, Huawei, LG, or iPhone, attaching it to the GUB phone mount won't be an issue. What's more, unlike many holders, this one will not damage your phone's body, ensuring you can keep it attached for long periods.
Budget
This motorcycle phone mount would be an ideal option for people looking for a cost-effective solution. Unlike most similar products, you won't have to break the bank for this one. Plus, considering this motorcycle mount's excellent durability, you could say that the price is more than fair.
6. Vicelecus Phone Mount for Motorcycles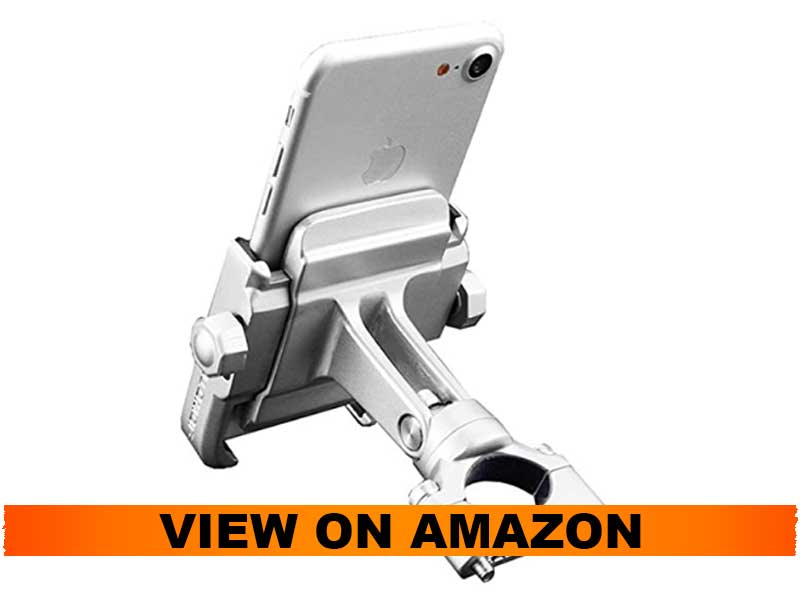 A common problem that many people tend to face with traditional phone mounts is that most of them do not provide them the unrestricted access to their smartphones they want. This is exactly where the Vicelecus phone mount will prove its worth. No matter which phone you attach, you can access your phone's interface with ease, ensuring you can choose the right app while riding your bike.
Durability
The manufacturer used premium-grade alloy for making this phone mount. It can endure hard hits and falls without getting a scratch, a trait possessed by very few phone mounting stands. Vicelecus also added a silicone mat to this motorcycle phone mount, adding a protective layer for shielding against slips and collision.
Compatibility
The last thing you want to do is get a bike phone mount that is not compatible with your particular phone model. Fortunately, this product BY Vicelecus can mount most smartphones. Users can even adjust the height and tightness of the mount according to their preference. As mentioned earlier, this mount will not block your gadget's interface, ensuring you can use the touch screen without any inconvenience.
Budget
This phone mount is a low to mid-budget product and is a worthwhile investment considering how durable it is. Unlike regular phone holders, this one will not break that easily and may even last for years. Just make sure you tighten the screws when installing this mount and it will remain in excellent condition for a long period.
7. VISNFA  – Best Off-Road Motorcycle Phone Mount
VISNFA Bike Phone Mount is unbelievably cheap yet not compromising the best qualities. My first impression was with the 360 degrees rotation because I can adjust the phone to any angle. I can enjoy a portrait or landscape view.
Features
The mount can hold any phone make between 3.5 inches to 6.5 inches. It is sturdy and secure and supports the 4 corners of your phone to make sure it does not snap when riding at higher speeds. Also, it has an automatic locking feature to prevent your phone from falling in case your meet bumps or ride on rocks.
Installation
Coming to the installation, it is also a walk in a park. You need no additional tools to mount the phone mount. Find the nut and lock it then you are done installing this phone mount. The mount has a versatile fit that accommodates a wide range of mobiles. Google Nexus, Huawei, LG, Samsung Galaxy, iPhone, and many more devices fit well. Thanks to the adjustment of the mount. Any device between 3.5 and 6.5 inches wide fits.
Warranty
The manufacturer promises high-quality in this phone mount hence it gives a 12-month warranty. But I feel this is too little. But, if you care for the product I don't see a reason for it breaking or requiring the manufacturer's attention.
A word of advice from the manufacturer is that beware of counterfeit products. Assess your products before making any purchase.
Pros
Sturdy and secure versatile design
No-tool installation
Very affordable
Automatic locking mechanism
Universal compatibility
Cons
12 months warranty too little for me
Verdict
If you do not want to break your bank account, this phone mount could be your best choice. It is cheap yet still providing the most sturdy and secure hold. Whether riding on a smooth path or off-road trails, the mount can still secure your phone to the handlebars. I recommend the product especially to those under financial constraints. Installation is easy and adjustments in 360 degrees rotations are also user-friendly.
8. SpoLite Chrome – Fully Metal Motorcycle Phone Mount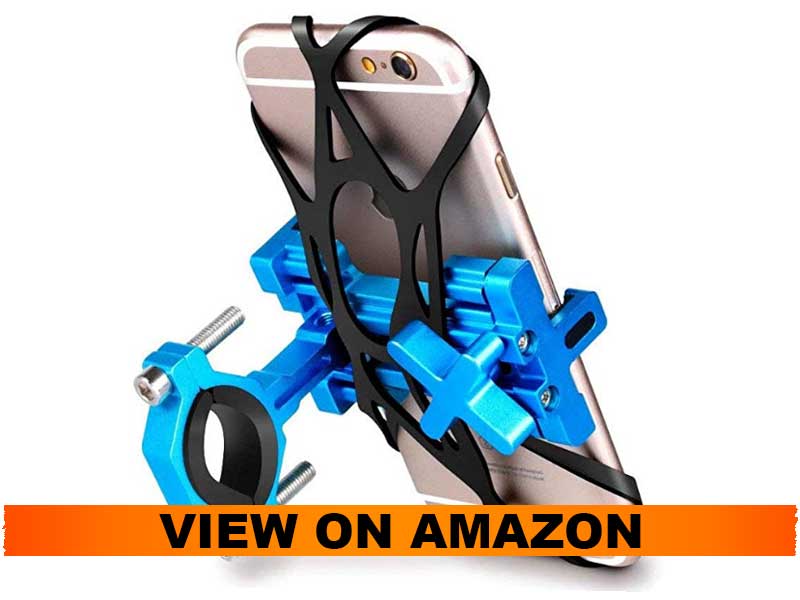 SpoLite Chrome Bike Phone Mount is a versatile mount you can use for a wide variety of phones. Suitable for high-end phones too. I like the way it adjusts with ease to accommodate these models. Riding while listening to music on your smartphone is one of the pleasurable moments. Also, you can use the smartphone as a GPS unit.
Installation
The mount installs seamlessly on your handlebars to make sure you access the phone with ease. Its versatility makes it a popular choice for many phone brands, the number which I can't write here because there are a plethora of phone brands in the market right now.
Materials
Made of aluminum, the mount is bound to be durable more than the popular plastics used in other mounts. You will avoid breakage while riding at higher speeds and on bumpy roads. The tension knob tightens the phone mount to prevent your phone from falling unexpectedly.
Features
More features include adjustments in your preferred angles. Don't forget to tighten the tension knob after adjusting the angles. Also, the mount is anti-scratch. It has a silicon rubber cushion to prevent these scratches, especially when riding in the wilderness because we often ride on rough roads when hiking.
Pros
Durable mount made of aluminum
Easy to install with a tension knob
Versatile fit for a broad spectrum of phone brands
Cons
No information about its warranty
Verdict
I couldn't find a real downside of the mount when assessing it. I would, therefore, recommend it. It performs well and has a great number of features. It can be adjusted to any angle and then locked with the tension knob. It fits a broad range of phones and installs with ease. Its design is durable with aluminum metal, and also lightweight.
9. Issyzone – Best Motorcycle Phone Mount With USB Charger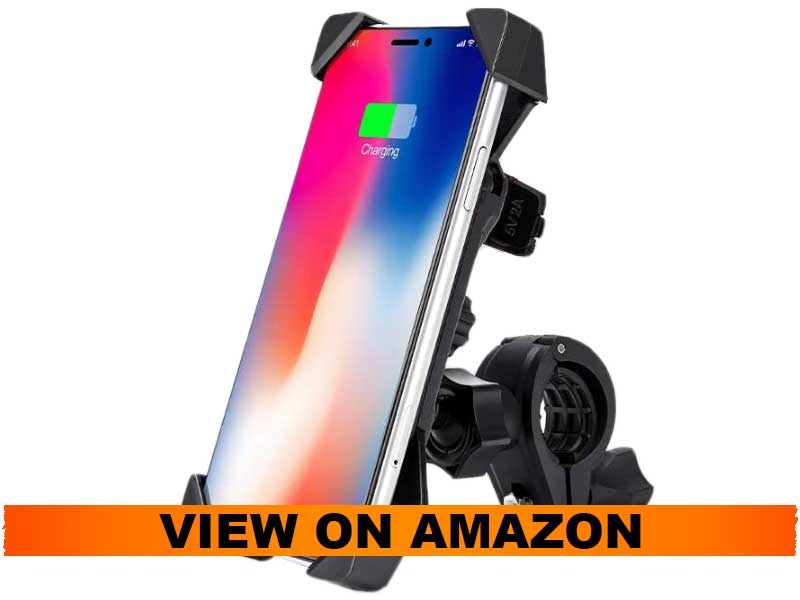 Smartphones seldom last for the entire day's trip when riding. So, having a motorcycle phone mount with a charging port is a plus advantage to our power-hungry phones. This phone mount is a must-have for all your charging needs.
It's a sturdy phone mount, but not designed for racing bikes. It fits a wide range of motorcycle handlebars to 7/8" size. Alternatively, you can mount it on a mirror bar. No specific models to mount. As long your phone is 3.5 inches it can fit.
USB Charger
Its 5V 2A charging port requires 2 power lines to the battery so it can charge the device throughout your journey. Installation is not difficult at all.
Features
Overall features are impressive with an adjustable grip to secure your expensive phone. Like all other mounts on my list, it also rotates to 360 degrees. The adjustable bracket design will help you align the mount at any angle for your viewing convenience. No rubber bands, so the manufacturer promises a snug hold to your phone. There are clamps that support all 4 corners of the phone while also absorbing shock.
Pros
Include charging port
360 degrees rotation
Adjustable grip
Cons
3.5-inch max size too little compared to other mounts that mount up to, for example, 6.5 inches. But for the price, I shouldn't complain much.
Verdict
If you've been looking for a phone mount with a charging port, this is the best choice. No need to take a rest just to charge the phone thus interrupting your journey. Not many mounts have this option. This one is convenient. It also has an adjustable grip with the 360 degrees rotation. Installation is hassle-free. I don't see a reason why this shouldn't be your priority.
Tips and FAQs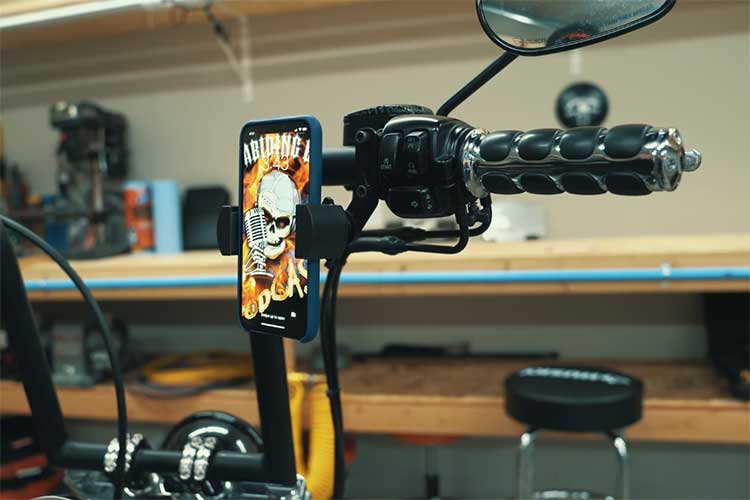 You will find a vast range of bike phone mounts in the market. Each of them serves have unique aspects, but are ultimately there to hold your phone while you are riding your motorcycle. Clamp-based phone mounts are arguably the most popular type used by riders. It is quite easy to use as all you need to do is clamp it onto your bike's handlebar, and you will be good to go. This phone mount type is popular because of how stable and secure it is.
Mounts made out of silicone straps are also quite popular. Unlike the clamp mounts, this phone holder type has a strap that you can attach to your bike's handlebar. Silicone mounts are ideal for any type of weather because of their washable and durable materials.
You can also opt for a windscreen mount if you want a phone holder that attaches to your motorcycle's windscreen. The best thing about windscreen mounts is that you can attach them higher than traditional phone holders.
If you are new to motorcycle phone mounts, you may be wondering whether or not they are worth it. Well, the answer is a resounding yes! Because they are incredibly versatile and allow you to do a variety of things while riding your bike. For instance, using a navigation app on your smartphone can be a massive inconvenience as you have to let go of one handle to hold your smartphone.
This can significantly increase the risk of accidents. Mounting a phone holder on your windshield or handle will eliminate this problem, allowing you to view the map comfortably and safely. A phone mount can also be handy for receiving important calls on the go. Instead of worrying about dropping your phone in the middle of the road, a motorcycle phone mount allows you to receive calls with maximum safety.
People who ride their motorcycle for sport can also benefit from a well-made motorcycle phone mount. It allows you to record your trips and races, without the hassle of leaving one arm off the bike's handle. Recording rides could also be a great way to document evidence to prove negligence during accidents.
Now let's highlight the important features you need to look for when purchasing these phone holders. To avoid any disappointment when buying these motorcycle phone mounts, you have to take into account the important features.
Which phone mount is better for motorcycle?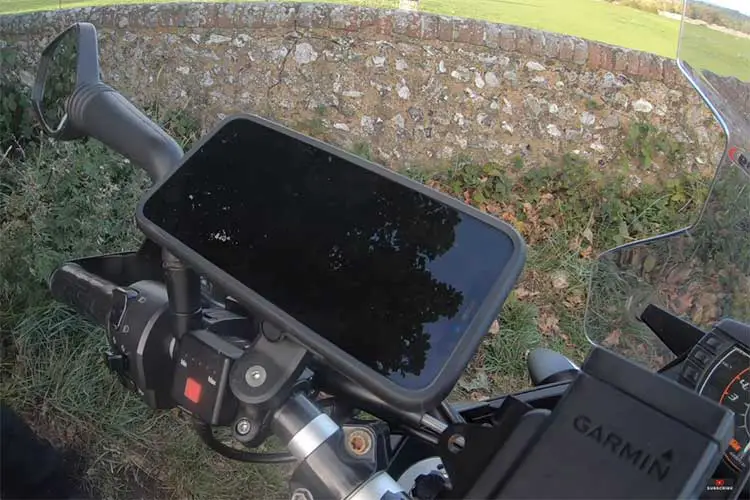 These mounts come in different makes. Others are made wholly of plastics while some have durable composites or purely metals with some rubber grips. Cheap plastics can expose your expensive smartphone to damages or falling. Imagine losing a $600 phone because of a $5 plastic phone mount. That could be bad.
Assess the build materials carefully. Steel and aluminum are common metals used. But ABS engineering plastic is also a must-have for its quality. The next thing should be to check how the mount supports the 4 corners of your phone. Some have universal X-grip or two-point contact. Others support all four corners of the phone.
Compatibility with the phone
There are different motorcycle phone mounts. Others are only designed for specific models of a phone while some have universal compatibility. All my handpicked products have this universal compatibility so you do not have to worry about fitting specific models.
However, as much as universal compatibility is a great choice, you have to verify the sizes. Fortunately, other mounts can be adjusted to any phone size. Some are limited to some sizes. You may find a mount fitting from 3.5 to 7 inches or only below 3.5 inches. Such dimensions are important when making your purchases.
Handlebar compatibility
Also important is the compatibility with the handlebar diameters. The handlebars of different motorcycles differ in size. And so it is the case with the phone mount compatibility. Check to see if a specific mount can fit your bike's handlebars. Others can be mounted on mirror bars as well. Check if they have the same specifications.
Ease of installation
It's also important to see how easy it is to install these mounts. Many of them are tool-free installable. In others, you may need spanners to lock the bolts. Manufacturers often include whichever hardware needed during installation.
Additional features
Other phone mounts come with waterproof, shockproof, weatherproof, and charging ports. If you often ride in unfavorable conditions, it is advisable to consider mounts with weatherproof features. Also, if riding in rough terrains you may have to consider shockproof and anti-scratch phone mounts.
The USB charging ports are a must-have because our smartphones often drained quickly. I know specific models such as Samsung and iPhone that their apps can drain the batteries quickly. It, therefore, helps to have a phone mount with charging options for in case.
For phone mounts with transparent covers, make sure they are touchscreen friendly. It won't help if you still have to unmount the phone to attend to an important message or search for directions.
Pricing
Pricing is an important consideration as well on the phone mounts. But, do not be deceived by cheap products at reasonable prices. My first product on the list is the most expensive, and it is about 4 times expensive than the least expensive one. Looking at its features, its price tag is justifiable.
Choosing the phone mount based on the price only is risky. Check the overall features and then compare accordingly.
Can I use my bicycle phone mount on the motorcycle?
If the specifications are the same, I don't see a reason why you shouldn't. Most of these mounts are usable on both bicycles and motorcycles. Just verify the specifications of your motorcycle handlebar with those of the bicycle, then you will be sorted.
Final Thoughts
Phone mounts can offer you a lot of conveniences, making your bike rides stress-free and enjoyable. Make sure you choose the right product, ensuring it grips your phone properly and fits well on your bike. The motorcycle phone mounts discussed in this piece are arguably the best in the market and will prove to be ideal for using navigation apps, receiving calls, etc.