Commuting on a motorcycle, as convenient as it is, does have some hassles. One of the main problems bikers face is that they don't have enough space to carry their stuff around. Sure, they can wear bags and carry extra shoppers, but in many cases, they are not enough. This is where using a motorcycle tank bag could come in handy. They have a sufficient amount of storage room and are more than capable of withstanding weather and other outdoor elements.
In addition, companies especially design tank bags for bikes because most of them come with attachment mechanisms, which are quite helpful when riding fast or biking on highways. Motorcycle riders commonly use tank bags because of how practical they are. Instead of relying on handbags, a motorcycle tank bag can accommodate a variety of items without damaging them.
This post contains affiliate links. If you make a purchase, Motoprove.com may receive a small commission at no additional cost to you.
5 Top-rated tank bags for motorcycle in 2022
One of the best things about tank bags is that you can always fir additional bags without straining your back. You can either place these bags on your bike with the help of buckles and straps or through a strong, durable magnet. Bags with simple buckles and straps are often more fashionable. However, the ones with magnets are also tremendous, especially in terms of efficiency and practicality.
With so many motorcycle tank bags to choose from, deciding which one would suit your bike can be quite challenging. However, the products mentioned below are arguably the best, and perfect for most bikes.
1. Chase Harper 450M – Best Motorcycle Tank Bag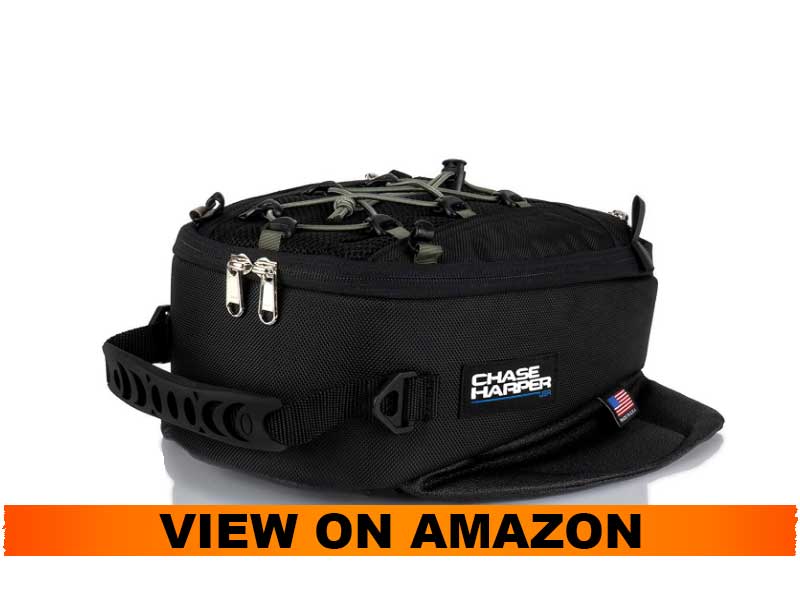 As I will elaborate later, you'll notice the difference between the attachment methods for tank bags, and that serves as the differentiator of the best according to your convenience. Described in the name, Chase Harper 450M Magnetic Tank Bag is a magnetic tank bag that attaches seamlessly and effortlessly to your metal bike tank.
The magnet of this bag is covered with non-grip polyester material. This will help give the bag traction when mounted on a sloping motorbike tank especially when riding at higher speeds. Well, the bad side of this bag is that it does not come with straps meaning it won't really have a secure mount compared to straps-based bags.
I must say this magnetic tank bank has brought me the joy of mounting it with ease and removing it on the go. It's really the most convenient of them all even though it has its downsides. However, its downsides are not really deal-breakers. It all depends on your style of ride and the typical items you store in this portable luggage.
One important thing to note though
So, if you are looking for the best motorcycle tank bags, these are exposed to all sorts of elements. If not taken care of, they may not only wear out but also expose your items to damages. For this reason, I would recommend considering tank bags with water resistance and other waterproof features such as the rainfly. This tank bag is water and tear-resistant.
Made of the tear-resistant, 1680D industrial grade ballistic nylon, I am convinced that the bag will last you long. Thanks to its great durability as only a few excel in this department. It is less likely to scratch your tank with this bag provided its magnetic base is clear of dirt; otherwise, expect scratches because a Neodymium magnetic base can attract dirt.
Warranty
The bag is made in the United States and comes with a lifetime warranty. Combining its excellent design made from top-notch urethane-coated nylon, the bag lasts you for a long time. You'll forget when the last time you went to the store was.
Also quite remarkable with this bag is how it features additional pockets and compartments. It has quick access pockets and a full-length Velcro pocket; they make it easy to store your items. The mesh zipper pocket outside provides a quick access space to store things such as your maps.
Pros
Waterproof, tear-resistant and UV resistant tank bag
Affordable price tag
Extra features such as exterior mesh pockets
Magnetic bag to install or remove with ease
Made of the non-grip urethane-coated nylon
Cons
The magnetic mount is not really rigid to withstand all the abuse
The magnet attracts dirt and that can mess up your tank finish
Magnet is only applicable to metallic tanks, not the modern plastic-based tanks.
Verdict
At first sight, I was a bit skeptical about the price tag of this bag thinking it was just one of the mediocre products I had come across before. Well, I was proved wrong. The bag is exciting with an impressive design featuring an assortment of features. It is probably the luggage bag you've been looking for. Although it has a 4.1-liter capacity, I still find it adequate enough for a few days of travel.
The bag was made in the USA and it comes with a lifetime warranty. It holds well to the tank with magnetic wings covered in a non-grip polyester. While the bag is not really waterproof, it still performs well in reflecting mild rains. However, heavy rains may not be a match. Nonetheless, the product comes with a heavy-duty vinyl cover to deter the downpour.
2. Wolfman Luggage – Enduro Tank Bag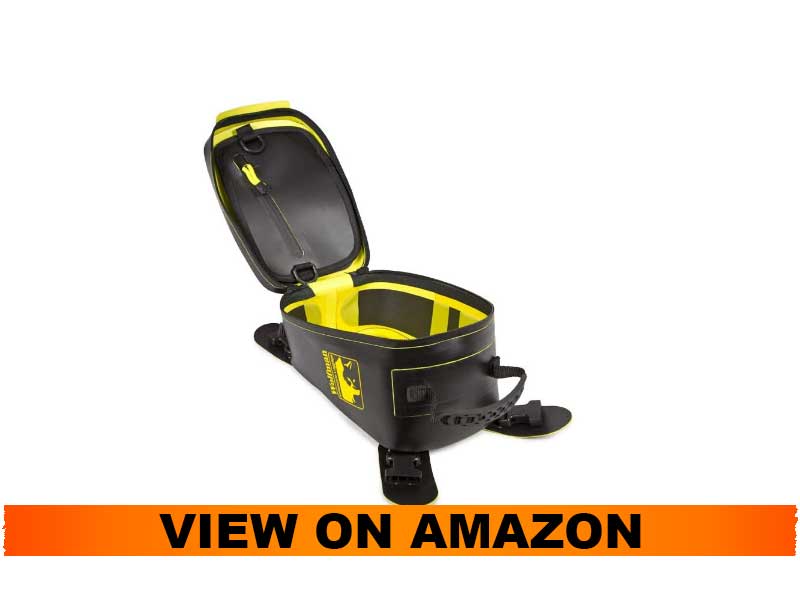 Looking for the best motorcycle tank bags? The Wolfman Luggage – Enduro Tank Bag, which seems a bit far of a reach to some people with its expensive price tag. Nonetheless, it is a great buy considering its amazing features. For a tank bag that installs effortlessly and has plenty of features, you wouldn't mind investing in it.
What else is remarkable in this tank bag?
Well, I have noticed how top-notch its exterior design is with the 840d Nylon TPU laminate. It will last you for a long time.
The bag closes easily with the YKK zippers. Thanks to its yellow cord which you can find with ease on the main opening zipper; it also helps with nighttime visibility. The zippers are waterproof, and so rest assured that your contents will no soak in water while riding on the highway.
Installing this tank bag is a cinch
Unlike others that come with straps where you have to spend a considerable amount of time, the bag is a quick release. It mounts with ease on a fuel tank. Every component you need to install the bag is included in your purchase including the instructions, so it shouldn't take you too long to figure it out.
There's more to this bag that justifies why it is relatively costly. Its ideal dimensions are 9" x 5 1/2" x 7 3/8", and a maximum of 6 liters (366 cubic inches). That's not really an impressive capacity, but at least you can store a few items that you really need.
Another sigh of relief is that the bag is made in the USA, although not that everything from the US is top-notch. At least the reviews I have come across about this bag were positive hence I chose it.
Pros
4-point quick release
Easy to install or remove
Additional exterior and interior mesh pockets
Silver interior
Great quality of the ballistic nylon construction
Cons
It is pricey
Not easy to move from one tank to the other unless the clip system is installed
Verdict
In my experience of using a variety of bags, I have come across different styles and designs. What impresses me about this bag is how it mounts and unmounts with ease. Thanks to the quick-release system. Also noteworthy is that it won't scratch the surface of your tank. I applaud this type of mount even though it is not as secure as the straps.
Looking at its exterior design, the bag has mesh pockets to store items for quick access. The interior is also impressive with a silver appearance for nighttime visibility. There is also a removable clear pocket for your maps in case you still embrace contemporary pathfinders.
3. Nelson-Rigg NR-150 Gas Tank Bag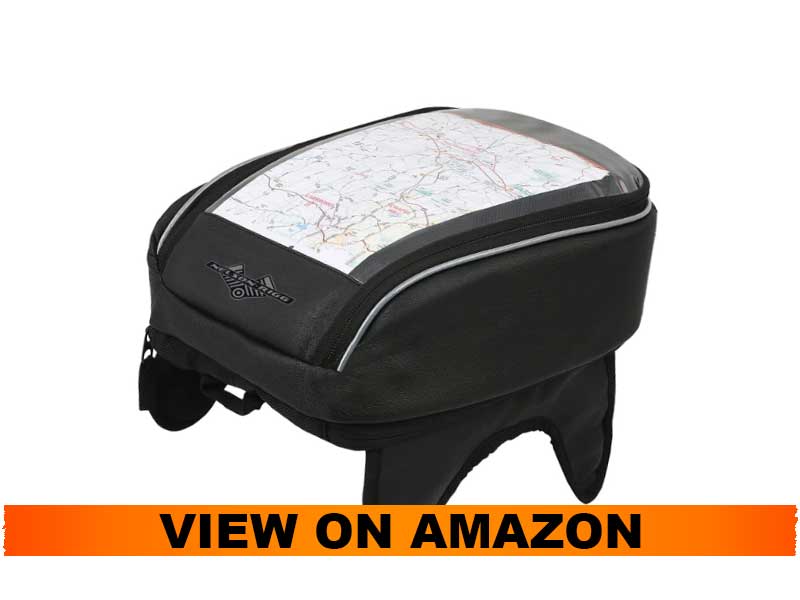 The Nelson Cruiser tank bag is hands down one of the best magnetic tank bags in the market. It contains a variety of standout features and can accommodate several items with ease. What's most impressive about this product is its unique GPS pocket, which is compatible with most GPS devices. In addition, the product also has extra pockets, designed for holding mobile devices.
Material
Nelson is famous for using premium grade materials when manufacturing its products and this tank bag is the perfect example. Unlike most motorcycle tank bags, this one will not fall off easily because of the protective material used for this bag. Furthermore, the Nelson cruiser highway bag is quite durable and can last for years with careful use. Its pockets are touch screen friendly, ensuring your smartphones and tablets remain safe throughout your journey.
Versatility
Very few motorcycle tank bags are as versatile as this one. Besides the extra pockets, this motorcycle tank bag also has a feature called hydration ready, which helps riders store several small water bottles, while making them easily accessible. You can also use this feature for storing food items.
Design
While this motorcycle tank bag may not appear as fancy as several other similar products on the market, it does have a straightforward and classy appearance that looks good with almost any type of bike design.
Pros
Suitable for smaller and larger bikes
Made from waterproof materials
The pockets are touch screen friendly
This bag can accommodate multiple items with ease
The magnetic attachment mechanism is quite durable
Cons
You may need to fasten this bag tighter at high speeds
4. AZTOP – Magnetic Tank Bag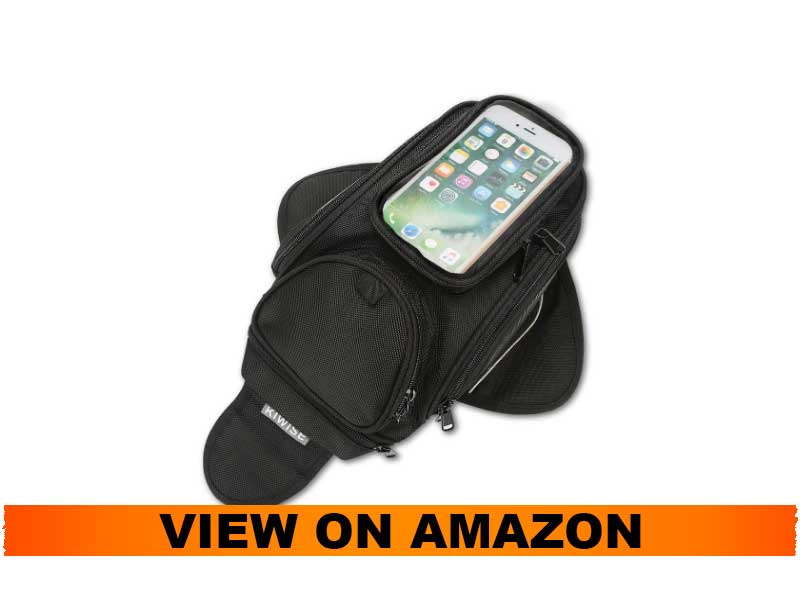 Do you own a Suzuki, Yamaha, Harley, Kawasaki, or a Honda motorcycle? Perhaps this tank bag could be your ideal purchase as it is designed specifically for those motorbikes. Like my first review above, the bag uses a magnetic field to mount to your motorbike tank.
Magnetic mount
Well, the good side with the magnets is that you need not sweat while installing. Only in a matter of time, you will be done. Moreover, you can unmount the bag to another bike or when you make a quick shopping.
The downside though, the magnets are susceptible to attracting dirt and so they can expose your tank to scratches. Again, they are not as secure as straps, but lucky enough this bag comes with an additional belt to secure it. That adds more convenience knowing that you can speed your bike with no fear of the bag loosening.
Pockets
For storage purposes, the bag features 4 pockets wherein you can store a variety of items. There is a large clear pocket to store your smartphone for GPS directions. Everything about the bag seems to be on point despite its low price tag. Many people might mistake it for a mediocre bag considering how cheap it is. It's not always that cheap products are mediocre and expensive one's high quality.
Materials
Also notable is the 1680 oxford fabric the bag has, which will last you for a long time. The build material is water-resistant. Note the difference between a water-resistant and waterproof fabric: a water-resistant one only repels water whereas the waterproof fabric prevents penetration of water.
Mild downfalls shouldn't be a problem for a water-resistant fabric. I recommend you consider buying the rain cover in case you drive in a heavy downpour.
The bag size dimensions are 13.17" x 7.87" x 3.94", which I believe shouldn't be a problem to mount on any tank. Big bags are great and convenient but then they tend to hinder access to the bike's dashboard. Either way, these tank bags are designed to fit important things that you might need while on the go.
Pros
Features 4 pockets to store your items
Affordable motorcycle tank bag
Made of high-quality oxford material
Easy to install with magnets
Additional belt to fasten it
Cons
Others may find it too small
Verdict
This tank bag is generally very portable and high quality. Besides, it does not break your bank as it is relatively cheaper. However, if you are looking into something fairly big, this may not be your go-to option. Its magnets are effective when holding a few items. Large items may render the magnet weak, but then the additional belt included can come to your rescue.
5. Cortech Super 2.0 Magnetic Mount Tank Bag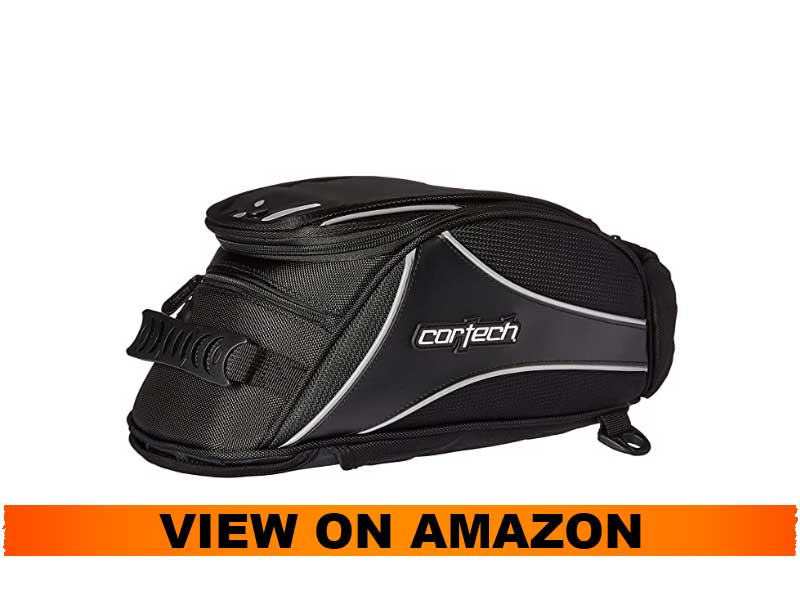 Cortech tank bag is also talked about among the enthusiasts with its impressive mid-sized design. It isn't small nor big, but just moderate enough to give you storage options for your short trips. Stuffing items in your pockets is a thing of yesterday considering how inconvenient that can be.
Storage compartments
The good thing about this bag is that it can store a wide variety of small items and let you access them when need be. No need to pull over and search for your items. All thanks to the rear pocket in which you can store your cell phones or any other important item. There are also pockets inside, which can help you categorize your items without compromising their safety.
Mount
If you are worried about installing, relax because a magnet installs seamlessly and effortlessly. The base of the bag is fitted with magnets that hold tightly onto your bike tank. It's a plus as you need not stress about altering the finish of your tank.
Moreover, it's easy to remove a magnetic bag. As much as a magnetic bag has its upside, the downside can be stressful but not really a deal-breaker. For instance, you need to be vigilant of heavy stuff you put in the bag as it can compromise its magnetic ability when riding at high speeds. Also, it can attract dirt and thus scratch your finish if not vigilant enough.
In spite of these downsides, the Cortech bag is a deal worth having. It is a bit pricey though but, nonetheless, an investment worth your penny. It weighs just 2.3 pounds, which makes it one of the portable tank bags. And its dimensions are 10 inches in length, 9 inches in width, and 4 inches in height. Measure your items before your ride. Note that it is a 12-liter bag.
Let's talk about the rain effect
The bag does not look like it is waterproof hence the inclusion of a transparent rain cover. Well, the cover will not obstruct your view of the maps on your devices. Ideally, the bag is water-resistant. So, for mild rains, you can safely ride without the rain cover, but to stay on the safe side I reckon you consider it at all times.
Pros
Magnetic tank bag to install with ease
Additional trap to fasten it
Portable bag with enough storage pockets
Rain cover included
Cons
A bit pricey
No tougher security measures if you were to leave it unattended
Verdict
This Cortech bag makes a mark on the market as well with its impressive mid-sized design. It is available in 10 and 18-liter options. When choosing the capacity, however, you should note the distractions of the bag. All in all, the bag is worth the value of money.
I love magnetic bags because they attach with ease. I can detach it anytime on the other bike or run a few errands in the store. While it may not compete with the strap bag in terms of security, it is still a fair deal with the additional strap. Thanks to its available pockets and a clear rain cover to be able to see maps.
6. OHMOTOR Motorcycle Tank Bag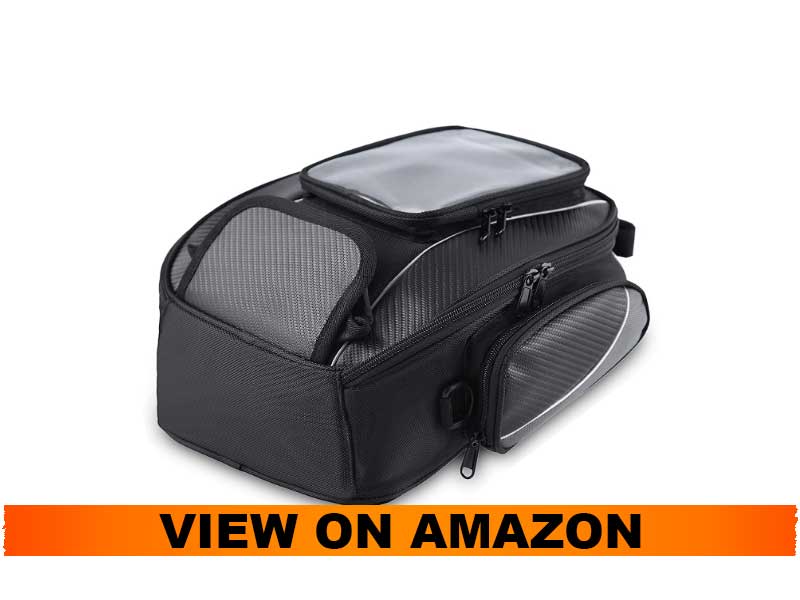 The Ohmotor Motorcycle Tank Bag is great for holding small items when you ride. It has a very powerful magnet on the sides that'll stick to your bike. There's no need for you to use the strap that it comes with (although you might want to do this anyway as a safety precaution).
Using it with your Smartphone
It's made to never rip and tear and should last for an extended period when handled normally. You can place your smartphone in the transparent front pocket. It'll fit plus-sized phones too, although the fit is a little tight along the edges. There's no hold to charge the phone so be sure that you have a full battery before placing it inside. Still, put it on your list if you want a tank bag that's strong and able to stay in one place when you're on the bike.
Pros
There are powerful magnets (four total) embedded within the bag that keeps it secured to bikes without moving around when in motion
Good materials that aren't easily torn or loosened
The transparent pocket is large enough to fit a plus-sized smartphone inside
Cons
The transparent smartphone pocket has no holes for getting charging cables through
A cover must be used during periods of heavy rainfall
7. Lozom Motorcycle Fuel Tank Bag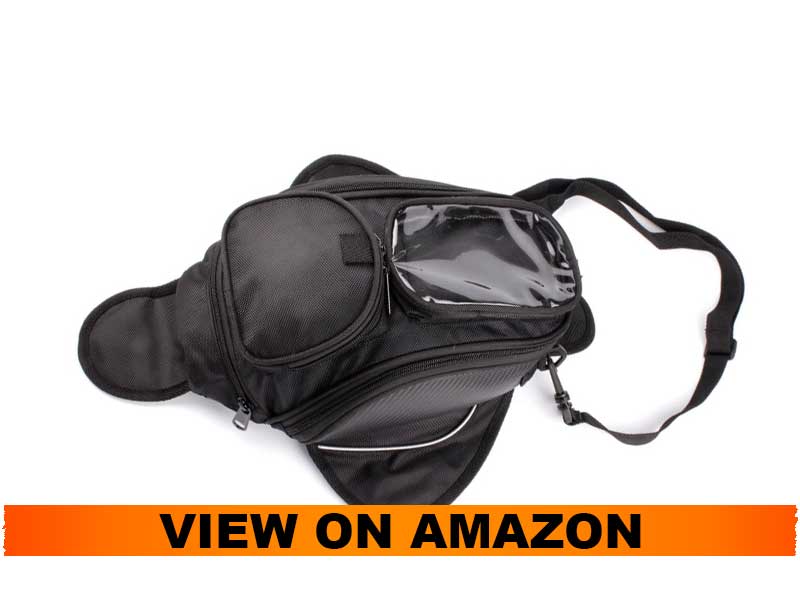 If you are looking for an easy to mount motorcycle tank bag, this product by Lozom would be a great choice. Once you attach this bag to your preferred position, you can breathe a sigh of relief knowing that it will not fall off. The Lozom motorcycle tank bag can easily carry smaller stuff like cellphones, cards, wallets, and keys, protecting them from debris, dust, and other elements.
Compatibility
As mentioned earlier, bike riders, especially the new ones, have a hard time choosing a tank bag compatible with their vehicle. This bag from Lozom, however, is compatible with most modern bike brands like Harley Davidson, Suzuki, Kawasaki, Honda, Ducati, BMW, and several others. Its attaching mechanism is quite easy to use, and you will be able to set the bag up in no time.
Design
This motorcycle tank bag has a sporty and aesthetic look. No matter what the model of your motorcycle is, attaching this bag to your bike will significantly improve its look. What's most impressive about this product's design is that there is a lot of attention to detail that is rarely present in most bags. Plus, you won't feel extra stress when wearing this bag, allowing you to ride freely and most importantly, comfortably.
Size
The Lozom motorcycle tank bag is a medium-sized product, which is quite surprising when you realize the high amount of items you can store in it. So, whether you have a small bike or a large one, this bag will be suitable for both.
Pros
Made with highly durable, water resistant materials
Compatible with most modern bikes
contains a secondary pocket and a mobile phone pocket
The bag has a built-in cable port
Cons
The bag's zipper could be smoother
8. Chase Harper 1602M Black – Small Magnetic Tank Bag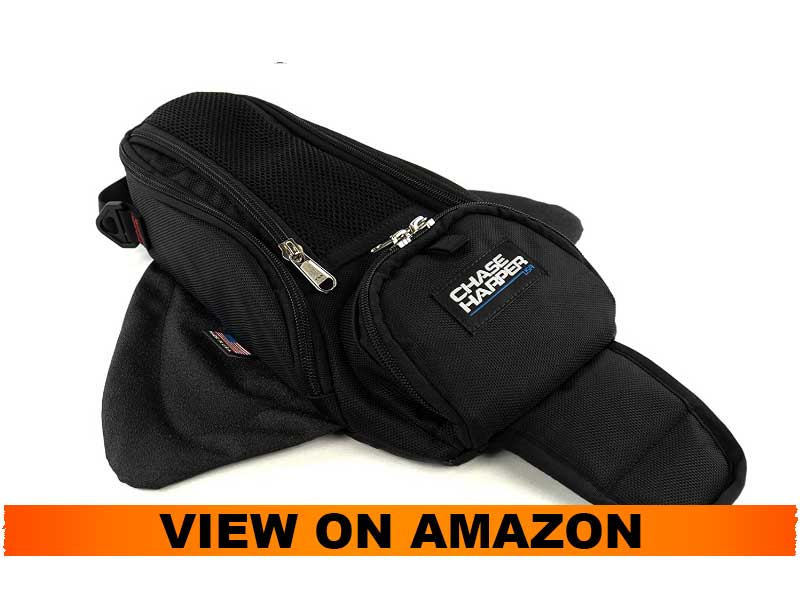 Enjoy your adventurous rides with the Chase Harper 1602M Black Manta X2 Magnetic Tank Bag. With dimensions 12" L x 3" H and 6" W, this is a bag to stow your small essentials as you hit the road. The good part is that it won't obstruct your speedometer or your handlebars. It's portable enough to ride all the way around.
It has a capacity of 3.3 liters, which I still find sufficient to stuff only the important items. While it isn't really the best capacity out there, I must say it is one of the best portable bags on the market. The best part is that it is affordable.
Materials
Made in the USA, the bag comes with a lifetime warranty. Besides, it features high quality and heavy-duty industrial grade ballistic urethane-coated nylon. Not only will this fabric material last long but it will also resist water when riding amid rainfalls. Again, it does not tear easily. This makes the bag adorable to have.
The bottom of the bag is rubberized, which makes it convenient to attach to the tank without causing jaw-dropping scratches as others do. And to install it, it comes with magnetic wings to attach effortlessly to a metallic tank. The magnet holds tightly to the tank and thus withstands rough abuse on bumpy roads. But, with heavy stuff, it can be shaken when riding on rough terrains. Nevertheless, the magnetic wings add convenience to this tank bag.
Storage compartments
One other attraction is the inclusion of pockets to stow your items selectively. There are two inner compartments which should be adequate to store small items. Then the top lid mesh pocket helps store other items for easy access. These could be your maps, GPS, smartphones, water bottles, and many more. In the main pocket, you can store extra gloves, sunglasses, and many more items worth taking for your ride.
When taking the bag off the bike, the removable shoulder strap will come to your rescue. It makes it easy to hold the bag because leaving it unattended may attract opportunists to snatch it.
Pros
Removable shoulder strap to hold it off the bike
Adequate inner pockets to stow essentials
Mesh pocket for quick access
Made of the industrial-grade ballistic urethane coated nylon
Magnetic wings to attach easily
Cons
It is not really sufficiently big, and so you might have to trim your essentials.
Verdict
Considering how it was built, this bag can be your go-to storage for your essentials. It is such a portable bag though with a capacity of 3.3 liters, meaning most of the large items will not fit. Nonetheless, as long you stow what you actually need over what you want then I see no problem. I consider the product worth the value of money. The overall design is elegant and it is made of durable materials that are water-resistant and tear-resistant.
9. Cortech Micro 2.0 Motorcycle Tank Bag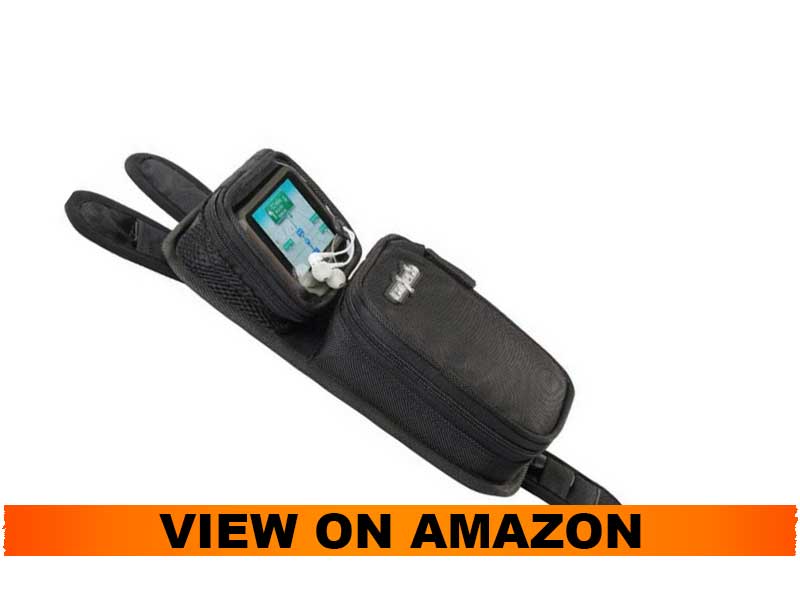 This is yet another Cortech flagship product I handpicked. It may seem as though it is a mediocre product but it isn't. I can attest to that.
Available in only black color, Cortech 8225-2405-00 Micro 2.0  is a great looking bag to complement the color of many motorcycles. I regard it as an add-on for every motorcyclist out there. While it appears to be tiny, you have to note that it isn't meant to be a travel bag, but additional storage options for your tiny valuables.
Storage compartments
For a travel bag, consider other bags in our catalog. In this bag, you can stow a variety of essentials such as additional gloves, keys, smartphones, and many more items that you actually need for your ride. The transparent window on the bag makes it convenient for your smartphone for GPS directions. My iPhone X fitted with ease, but I am not sure about larger phones, I doubt they can fit that nicely. Nonetheless, that's not a deal-breaker.
This Cortech bag is convenient from many angles: installation, storage, and design. As small as it is, it still has pockets to categorize your essentials. Installing it takes you a few minutes to attach the magnetic wings to the tank. Just make sure you position it in a convenient place not to obstruct your view of the dashboard.
Mount
The bag comes with a shoulder strap that helps you take it off the bike. For additional security, you may consider the additional strap to secure this bag. But, generally, these bags are not designed to deter criminal activities. So just make sure you take it off the bike when leaving your bike unattended.
Design-wise, the bag is made of industrial-grade fabric material. Cortech strives to give its customers the quality worth paying for. This is evident in their flagship. It may not be waterproof but it will resist water in mild rainfalls. Never immerse the bag in water with your valuables.
The bag will not be shaken by winds when riding on highways. All thanks to strong magnetic wings designed to endure such resistance.
Pros
Portable bag
Magnetic wings for installation
Affordable with great features
Water and tear resistant
Cons
Tiny bag not suitable for a handful of items
Not really secure to deter criminal activities
Verdict
Looking for a portable and affordable tank bag? This could be your go-to bag. It impresses me with its portability and affordability. Lots of tank bags are priced and thus out of reach for others. This one will not break your bank.
From the design, it is eye-catching. It features pockets to stow your essentials, and the clear window helps stow a smartphone for smart directions. No more stopping by the side of the road to check the directions one more time.
Preparing to buy tips
While there is no shortage of tank bags available in the market, it is important to choose them wisely. Consider your bike's size when choosing this product. Like most bags, tank bags also have smaller models, which are suitable for medium and small sized motorbikes. However, they would look quite small and silly on larger motorcycles.
What are the best materials for a motorcycle tank bag?
Riding motorcycles exposes us to harsh conditions and the least to have is a bag made of poor quality materials. Take a closer look at the typical materials the back has. Many of my choices are made of the industrial-grade ballistic urethane-coated nylon and some with the durable polyester. These are proven quality materials you should consider for your bag.
Water resistance
Water-resistance is important because, oftentimes, you will come across rainfalls in different quantities. A water-resistant tank bag will resist water penetration and thus save your essentials. Even the zippers need to be water-resistant and all the seams.
However, note the difference between a water-resistant and a waterproof bag. A waterproof bag would not allow any water penetration even if it's heavy rain. Unfortunately, waterproof fabric materials can be more expensive. To compensate for a lack of waterproof materials, companies include rain covers as an emergency.
UV resistance
UV resistance is also an important feature to consider. Most of these bags come with transparent exterior pockets to stow your maps or smartphones for GPS directions. If it is not UV resistant, then your device may be exposed to potential damages.
Capacity
The capacity of the tank bag informs you about the number or size of items to store. In general, these bags are designed to store small items such as water bottles, gloves keys, credit cards, and many more small items you can think of. In my list so far, the highest capacity was the bag with 12 liters and the smallest with 3.3 liters.
But, some bags are expandable. Look for such options if you know you may vary your essentials. Note that the bags are not meant to be travel bags.
Pockets
As far as additional pockets go, they are a must for bikers who love long trips. A larger tank bag with several smaller pockets would be the best choice in cases like these, especially when you have to store small food and electronic items.
Ease of installation
Now, this feature is notably important to consider. There are typically three different mounts, viz. straps, quick release, and magnets.
Straps are popular but are a nuisance to deal with. Imagine having to tie and untie the straps. That could take a significant amount of time. Nonetheless, straps offer the best security for your bag.
A quick-release mount is also popular in that it takes you seconds to release your bag. Installation is also a cinch although you need a ring and a mounting plate. Again, it may be burdensome to move a quick release from one bike to the other because it needs an adapter.
The last option is a magnetic mount. This one is my favorite in that it installs and uninstalls easily. Simply attach the bag to a metallic tank with ease. However, the downside is that magnetic attachments are prone to detachment in case you stuff heavyweight items. Also, they attract dirt that can scratch your tank.
Final Thoughts
I have reached the end and thank you for tuning in while I review the best motorcycle tank bag on the market. These bags are important for motorcyclists. You can't afford the inconvenience of not owning one. Besides, they are affordable, with only a few out of reach but worth the value of money.
The bags come in different designs, sizes, and features. My buyer's guide demystifies the complexity of choosing these tank bags.