Rearview mirrors are flat mirrors attached to motorcycle handlebars so that drivers can see traffic movement behind them.
Safety first is safety always.
Driving without rearview mirrors can be extremely dangerous, especially in situations where you need to change lanes without putting yourself in harm's way. Getting rearview mirrors is also essential as drivers need to consider others' safety. Reversing your vehicle without looking behind is a recipe for disaster. Rear View mirrors have proven to be effective in this regard as well.
Rearview mirrors also help motorists see whether traffic behind them has stopped or slowed down while waiting at a traffic light. This is important if motorists want to avoid being hurt in the event of a rear-end accident.
Awareness about yourself and others while on the road helps minimize the risk of accidents. If applied correctly, a well-calibrated rearview mirror will ensure a safe and enjoyable driving experience.
This post contains affiliate links. If you make a purchase, Motoprove.com may receive a small commission at no additional cost to you.
7 Top-rated rear view mirrors
Here I am with the 7 best aftermarket products for Harley Davidson to make your shopping a breeze. For a record, I have in this motorcycle industry for as long as I can remember riding and dealing with motorbike accessories. I am therefore well rounded with lots of aftermarket parts.
1. KiWAV Arrow – Harley Davidson Mirrors with Turn Signals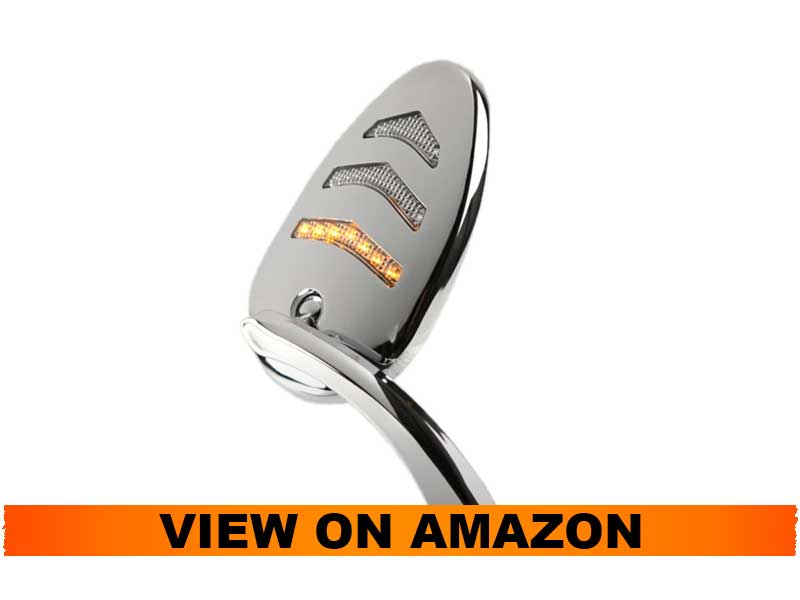 KiWAV Arrow LED chrome mirrors are also a great deal for Harley Davidson aftermarket parts replacements. Looking at the aesthetic and ergonomic design of these items, you could purchase them in a blink of an eye had they not been that costly. But, I do not really complain about that price tag and anyone shouldn't because, truly, they deserve it.
Made of aluminum to make them strong and sturdy, these accessories are one of a few aftermarkets that surpasses the aesthetics of OEM products. They are big enough to give you the desired rearview.
Design & Materials
What caught my attention more are the three (3) arrow turn signals on each item. Imagine blinking these arrows in a low light condition? That would be amazing, isn't it? KiWAV made these products to stand out from the crowd. They actually put Taiwan on the map of producers of high-quality motorcycle accessories.
The products are oval-shaped which makes them compact and portable. It is easy to mount them on HD bikes with 5/16" – 24" mounts. I had a touch on these products and noticed how effortless they are to install them and get going. They are powerful LEDs emitting 12V to 13.V (0.5W) of light.
Their amber LED color makes riding in the dark an enjoyable task. The glass color is chrome which is a high-quality addition.
To make the products neat-looking, there is a hidden wire design. This actually works because what we see is an overwhelmingly elegant three arrow item. It's only a few aftermarket options that actually include these turn signals hence the price tag, which I still find justifiable.
With the aluminum construction, I don't doubt any corrosion problems when exposed to outdoor elements. Aluminum resists such akin damage well even though it comes at a price. Compared with stainless steel, however, it lacks behind with weather resistance but fairly lightweight and more aesthetic than stainless steel.
Pros
Elegant aluminum construction
Three turn signals to signal oncoming traffic about your intention to change the road
Large enough to improve rear view
Corrosion-resistant aluminum
Easy to install
Cons
Quite expensive but worth the price value of money
Verdict
Everyone loves aesthetically pleasing accessories to enhance the beauty of their bikes. It is no doubt that these products are one of the best on the market. Designed with aluminum with a shiny appeal, they are much better than most Harley Davidson OEM items. Although they come at an expensive price, I find it justifiable and worth it. I recommend the product to anyone looking forward to adding uniqueness to his motorcycle.
2. KEMIMOTO – Black Mirrors for Harley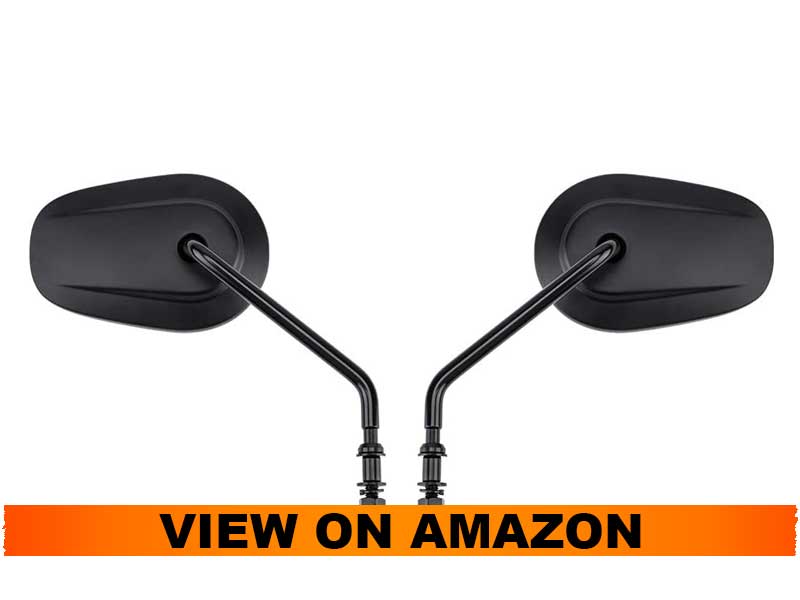 For owners of Road King, Sportster, Street Glide, Electra Glide, Softail, Road Glide models 1982 to 2019, KEMIMOTO Motorcycle Mirrors is your go-to aftermarket set. Note that these glasses install above the handlebars. For this reason, they are not compatible with VRSCF and XL1200X models as they have their accessories mounted below the handlebars. You may need to look for alternatives if you own the excluded models.
Ergonomic Design
Thanks to the KEMIMOTO brand for this outstanding brand of aftermarket accessories. Weighing 1.66 pounds with dimensions 10.5 x 4.5 x 3.3 inches, I must say the components are bigger than most OEM ones. They enhance your view and therefore give you maximum protection on the road.
They come in a black color finish, which should match with lots of Harley Davidson colors. These items do not alter the design of your OEM but enhance it. They are easy to install in a matter of minutes.
Usability
If you want to view from a different angle, the items are easy to adjust. Made of high-quality material and anodized black, I do not see any mediocrity on the product. It resists the outdoor elements no matter how long it has been exposed to.
Perhaps noticeable enough is how long the stem is. It makes it easy to see beyond your elbows when riding. This eliminates the blind spot.
Pros
Anodized black to resist weather elements that could lead to corrosion
Large mirrors to surpass OEM ones in the excellence of rear viewing
Quite affordable items
Easy to install
Cons
Excludes bikes with glasses mounted below the handlebars
No integrated turn signals
Verdict
It has a perfect finish that resists outdoor elements. Looking at the dimensions, the items are bigger than most OEM counterparts, and so they improve your rearview and eliminate the blind spots. If you are on a budget and you broke your original products or you just want to add some anodized finish, these ones could be your best investment.
3. HTT Group – Custom Harley Mirrors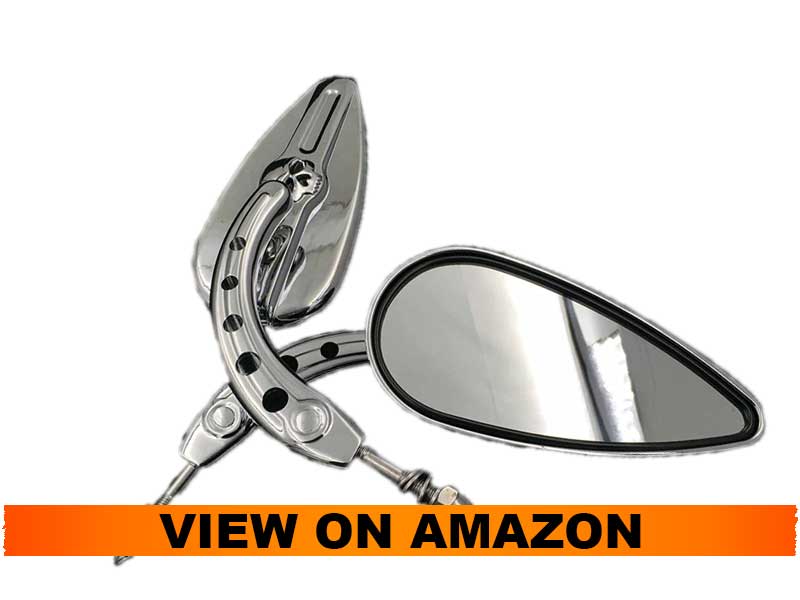 HTT Group Motorcycle is also a renowned brand well-known for its top-notch quality aftermarket mirrors. Here I chose to brand new aftermarket glasses to replace your stock ones.
Materials
Constructed with a heavy-duty billet aluminum stem, at least you know that you are not replacing your stock components with a mediocre product. It will last you for a long time. If you see its picture, you will notice how curvy the items are. In actual fact, they give you a better viewing angle of your rear end.
But, the silver finish may not be a favorite to match any motorcycle. Anyway, that's your personal preference which finishes you prefer for your bike. That is not a big deal either way.
Compatibility
As you plan to make purchases, note that these accessories are not compatible with any Harley Davidson model that mounts below the handlebars. These include the likes of XL1200X, FLHR, VRSCF, FLHTKSE, and FLHRSE6. Otherwise, it is compatible with a broad range of models from 1982 to 2019 as long they are mounted above the handlebars.
Although installation instruction is not provided, which might be troublesome for some amateurs, these mirrors are easy to install as the manufacturer claims. I have not yet installed them myself but I like the overall design and think there could be the best purchase for enthusiast motorcyclists.
Design
To view a certain angle, the items have an adjustable angle design. Even though they look fancy with a curvy design, they do not have an impressive design of turn signals like my second product above. If what you are looking for is the glass only, then why should the turn signals be a concern? Of course not a big deal if your bike has supplementary turn signals.
Pros
Billet aluminum design on the arms which is durable
Curvy components to provide you a better rear view
Aluminum overall design
Corrosion-resistant
Cons
Fairly expensive
No installation instructions
Verdict
If you are an avid lover of aluminum design, these products are your perfect deal. With a curvy look, many customers are impressed by the wider rearview they offer. Irrespective of some setbacks, these items are a great deal of aftermarket accessories to replace OEM accessories. They are not easily affected by outdoor elements that could corrode them.
4. SMT-MOTO – Harley Sportster Mirrors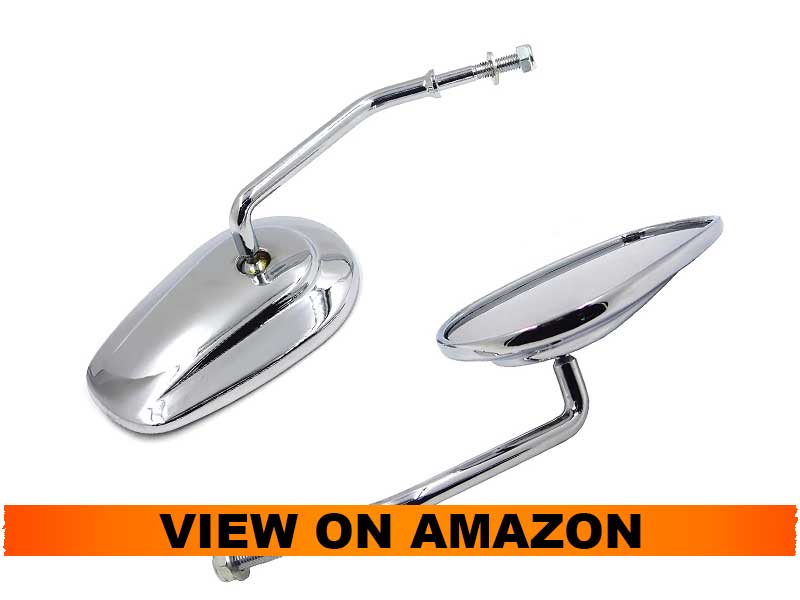 Yet is another shining aftermarket motorcycle mirrors for Harley Davidson. If you are into shiny stuff, Smt-Moto could add that elegant look to your HD. For whichever reason you are looking for an aftermarket product, these ones tick the checklist.
Adorned with a shiny stainless steel finish, the products will endure prolonged exposure to outdoor elements. They are made of high quality and durable materials to ensure that you do not return to the store anytime soon.
Dimensions
One main reason others look for aftermarket options is the dimensions. With the size dimensions rated at 130mm x 83mm, you will be convinced they will help you explore a wider rearview. This prevents some of the accidents caused by blind spots. Bending your head around to look for other motorists is an inconvenient task. It's burdensome and the more you get tired is the more you expose yourself to dangers. Thanks to these larger dimensions so you could see beyond your elbows.
The stem length is about 160mm. It pops further than OEM ones do. That's an added advantage more especially for oversized people whose original mirrors are compromised to view the rear end.
Design
These chrome-colored glasses are one of the best on the market. Images look clearer so you can avoid imminent collisions.
However, I wish the items also had integrated some turn signals to signal oncoming traffic. There isn't any visible in this product. Others may find this inconvenient, but if you have an additional one then that's fine.
When coming to the installation part, these products are easy to install. Even though the installation instructions are not provided, it shouldn't take you the entire day trying to figure out how to fiddle with the mirrors.
Pros
Affordable aftermarket components
Large dimensions to improve rear views
Chrome colored mirrors to provide you a crystal clear view
Easy to install
Fit most of HD bikes
Cons
Installation instructions not provided
No turn signals
Verdict
Looking for a shiny product, look no further. These mirrors are impressive with their elegant look. I am impressed with the dimensions that the items will make rearview a marvel to view. I just wish the product had more features such as an impressive turn signal. Such features may be considered infinitesimal but are in fact significant. Apart from this downside, this product is great to have.
5. KiWAV – Mirrors with Blinkers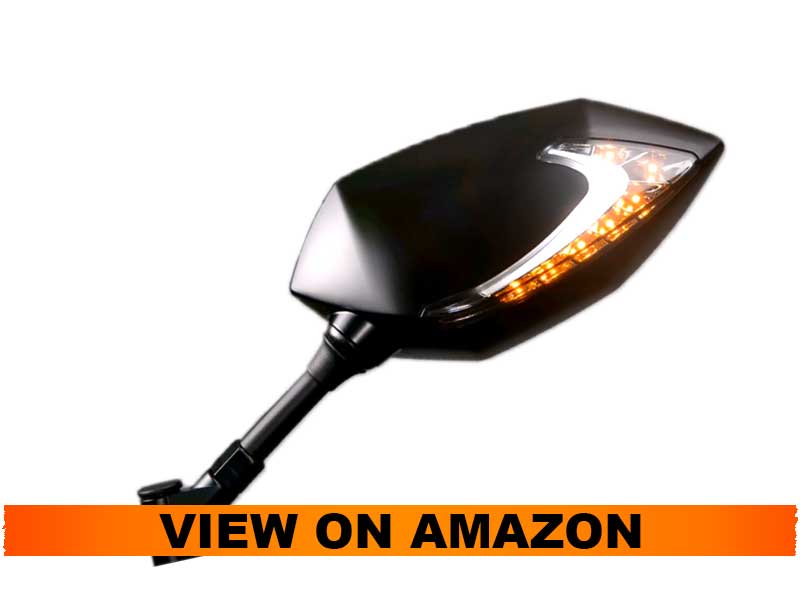 The first thing to note is how aesthetic and elegant the design is with a white running light and a yellow turn signal light, both enclosed in an IP67 waterproof cover. I have used these products and so I know what I am talking about. The view becomes so eye-catching.
Now, combine the elegant design of the two-tone LED and a chrome convex lens. It's a complete combo! It's a yesterday thing that you will struggle to see behind your bike. Most OEM glasses are not big enough or clear enough to see past your elbows. Harley Davidson is, of course, a renowned brand with quality parts. But, it happens that they need replacement since they are fragile and prolonged exposure to the elements contributes to their degrading value.
These products feature LED lights that make it easy to ride in low light conditions. The turn signal lights operate in sequence from inward to outward. Isn't that pretty amazing? Of course, it is.
Materials
KiWAV has done it again with an amazing aftermarket motorcycle mirror set. The items are made of ABS plastic. While this may not compare or compete with metals, it is a fairly durable engineering plastic. It resists the damage of outdoor elements.
But, the arm is made of aluminum, which is an added advantage especially with regard to weather and corrosion resistance. The mirror plate is matt black, which I think will suit many Harley bikes.
Usability & Installation
Note that the mirrors are adjustable to your desired directions. With the wire length of 620mm, it should be easy to configure the installation. To make it even far much better, the manufacturer every component you would need to install the mirrors. These include a pair of glasses, standard thread bolts, reverse thread bolts, cable time, bolt cap, and 2 adapters. Adapters make it easy to cross-use the mirrors on various models of bikes.
Installation is made easy with the included installation manual. At least, unlike other mirrors I have reviewed above, the installation manual will be accommodative of novice motorcyclists who have never installed these components before.
The manufacturer warns against tampering with these products as it can void the warranty. Be careful about that. If you are inexperienced, you may want to task a mechanic to do it on your behalf. If you notice any faults, feel free to return the product.
Pros
Great features
LED with white running light and yellow turn signal
Matt black color to match with many bikes
Easy to install with the guide provided
Waterproof cover shielding convex chrome lens
Verdict
To stand above the crowd, these items can help you reach your goal. Never mind the scary name, the products come with great features. The white running light and the yellow turn signals make a night ride a cinch. You will be able to signal fellow motorists. The overall design, albeit expensive, is worth the value of the investment. I wouldn't mind investing a lot in this matt black chrome mirror. My Harley Davidson will never look the same again. The dimensions are also impressive.
6. HTTMT – Rear view Mirrors with Integrated LED Turn Signals
Here's another impressive product with integrated turn signal arrows. I think I tend to adore the HTT Motorcycle Mirrors more with their eye-catching integrated arrows plus adjustability. Simply adjust the mirrors up and down or left and right.
These items are compatible with a broad range of Harley Davidson motorcycles from 2014 to the recent. Whether you ride Trike or Touring models, these products are the best-buy for you.
Materials & Design
Constructed from a heavy-duty and high quality 6061 billet aluminum, the products are there to last you for a long time. You will not regret having replaced your stock models. The glass is also high quality, and so it does not break that easy even if you ride on a rough road, it can manage vibrations.
The most important thing though, these products provide you the opportunity to view anything in any direction when riding. It eliminates possible collisions that result from blind spots. Thanks to these big glasses for such a clear view and adjustability to your desired angle.
With a matt black finish, the items will match with many motorcycles. The matt black plus the yellow turn signals at night will give an amazing view. Unfortunately, there is no contrast between running white light. But that's not a deal-breaker though.
Compatibility
There is an exclusion of models you should note. VRSCF, FXCWC, XG, XL1200X, and 2014 to recent Touring models are not compatible with these glasses. XL1200X seems to be excluded by most mirrors mainly due to its positioning of the mount.
The stem length of 6-1/4" makes these glasses the right choices for tall people in particular because then they will be able to see past their elbows. The glass size is 5.5" x 3.5", which is big enough to have a wider rearview. No excuses anymore for not being able to see behind you due to the stock ones being narrow.
Pros
Great features
Turn signals
Adjustable items up and down or right and left
Made of high-quality materials
Large dimensions
Cons
Excludes some models
Fairly expensive
Verdict
A great product to recommend to avid motorcyclists. Generally, I am in love with mirrors that integrated turn signals in the form of arrows because they give clarity. These ones just answer my wishes. Besides the turn signals, the overall design is also impressive with durable and quality materials. But, beware and note the models excluded which are not compatible with these items. Other than that, I would recommend the product to anyone without a second thought.
7. TCMT Universal Harley Davidson Rear View Mirrors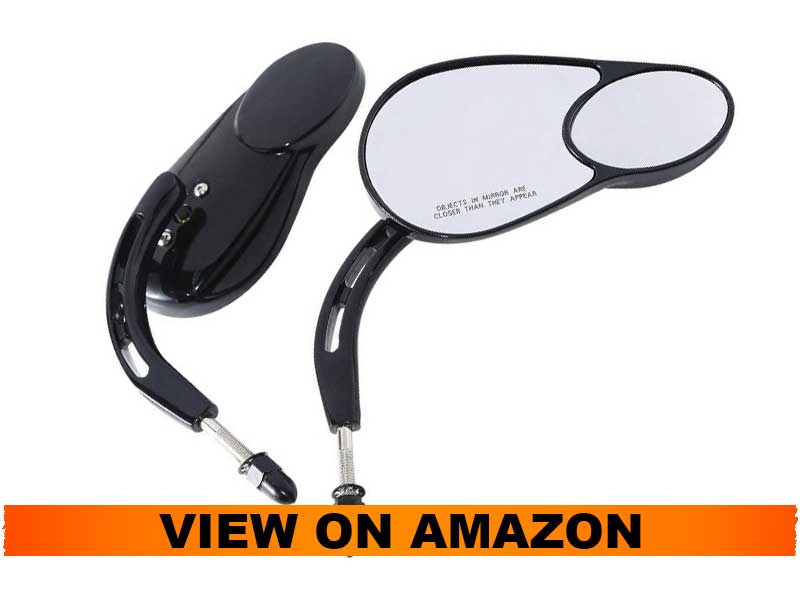 If you've recently lost your rearview mirrors to an accident or the elements, consider these TCMT Universal 8mm Rearview Mirrors as alternatives. Perhaps you want to give your Harley a fresh look. In that case, as well, these cost-efficient rearview mirrors are worth exploring.
Design
These sturdy rearview mirrors are made of high-quality zinc alloys with iron stems attached. They can be bolted on and adjusted according to your preference. The mirrors' design is so versatile that they can be flipped and bottom-mounted by interchanging mirrors (left to right and right to left). Make sure the bolts aren't overtightened, or else the threads of the mirrors will stain.
Budget
This rearview mirror set is extremely affordable, priced at around $60. At your local dealership, the same rearview mirror could cost you an easy $250. Its sleek design and cost-effectiveness allow it to cater to both high-end and low-end consumers.
Performance
This budget-friendly Harley bike rearview mirror set is built with a high-end lens attached to a sturdy arm mount. The combination of zinc alloys and iron makes these rearview mirrors robust as well as flexible. Crafted intelligently, they provide drivers with a wide view and multiple viewing angles. Lightweight and aerodynamic, these rearview mirrors do not take away from your biking experience.
Pros
The rearview mirror's quality makes it an excellent buy in the given price bracket.
Budget-friendly and sturdy, this rearview mirror set improves visibility and vision by at least 40%.
They look great, fit perfectly, and are sure to match any Harley's sleekness and ruggedness.
They are easy to install and compatible with any Harley motorcycle with any mirror holes in the clutch and brake lever.
Cons
The issue most face is that this rearview mirror has a metric thread, which may not fit all bikes. However, the manufacturer does list the motorcycles these rearview mirrors aren't compatible with.
Another problem is that the mirrors start to corrode after extensive element exposure, which is why they need to be waxed frequently.
The mirrors are not cut too clean, so you may have to use some oil to run caps little by little to have them cleaned up.
They tend to start rattling at low RPMs.
Verdict
TCMT Rear View Mirrors are definitely recommended. With a little precautionary care and maintenance, they can go a long way. They are affordable, long-lasting, and make for the perfect addition to your custom Harley Davidson motorcycle experience. If you're all about self-maintenance, these mirrors will be the ideal purchase for you as they are effortless to install as well.
Tips and FAQs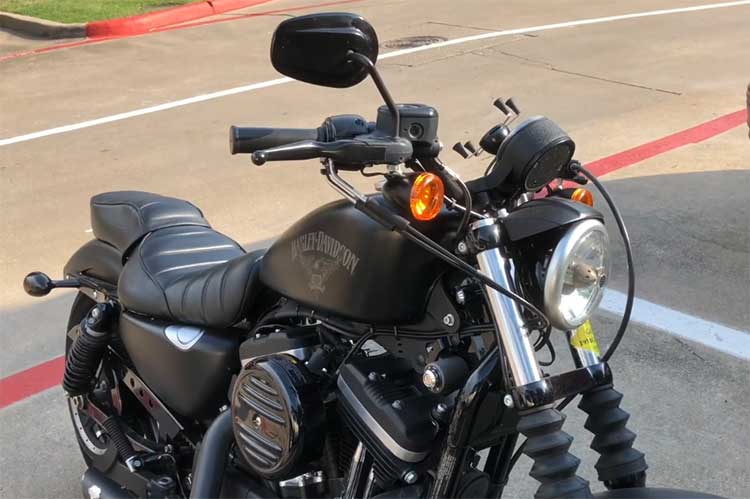 Let's wrap up our comprehensive reviews with a guide on how to purchase these motorcycle mirrors. So far we know how abundant these aftermarket counterparts are and how overwhelmingly daunting it could get to pick the best amongst many if you are a novice motorcyclist. Without information on important features to consider, the experience may be bewildering.
Why consider aftermarket motorcycle mirrors?
Aftermarket mirrors are not there to discredit the quality of stock ones. Harley Davidson, in particular, is well known for its quality components of a motorcycle. For this reason, we do not insinuate that you should replace your stock items right away.
There could be various reasons why people wish to buy aftermarket accessories. For instance: perhaps you want to add an aesthetic look; your OEM ones have broken, or you want a functional product.
Aftermarket accessories can surpass stock ones in many features. To mention a few, they are bigger so they give you plenty of room for the rearview. Others come with turn signals and running lights. Moreover, others can be adjusted to whichever desirable angle you need.
What important features to look at when buying aftermarket motorcycle mirrors? Important features include, among others, build
WHICH BUILD MATERIALS ARE BETTER?
Harley Davidson aftermarket mirrors come in different build materials. Of course, you could have noticed that. Others are made of aluminum, stainless steel, or ABS plastic. Now, which one is really the best?
There is not really the best overall build material. There are downs and ups you have to consider and then compromise. For instance. Stainless steel is the best with durability and corrosion resistance. Aluminum, on the other size, is lightweight and elegant. ABS material is cheaper and also fairly durable.
As long as the material is corrosion-resistant because these bikes get exposed to outdoor elements that jeopardize their quality in the long run. Aluminum is impressively beautiful but comes at a steeper price.
As you consider these materials, assess their finish as well. You may find out others are finished with matt black or are shiny. The choice boils down to your personal preference.
Adjustability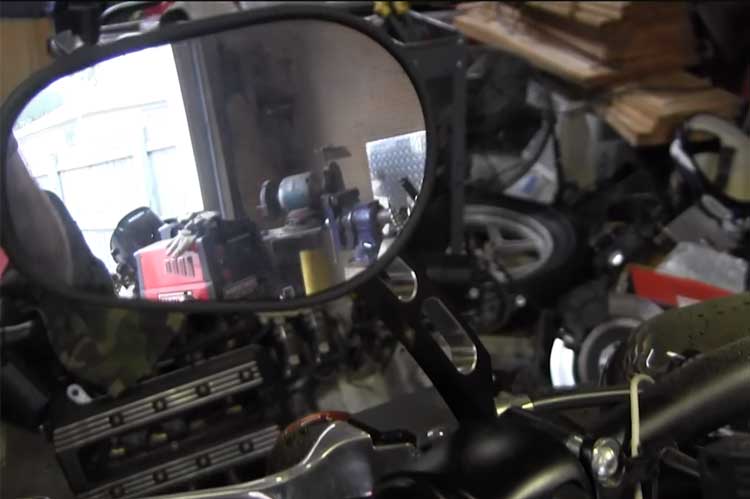 Need I express more on the importance of adjustability? The joy of adjusting the mirrors to your desired angle on the go cannot be overlooked. It helps in enhancing your riding experience. You can view any direction to eliminate blind spots.
Adjustability also depends on the shape of these products. Compact glasses with round shapes may be adjusted at 360 degrees. Others can be adjusted down and up or right and left. Whichever convenient angle you find I say go for it.
Fit
If you have noticed already, some products do not fit all the models, more especially those with mirrors mounted below the handlebars. You should note such exclusions before making a purchase to avoid regrets. Besides such exceptions, most aftermarket options in my catalog fit most Harley Davidson bikes.
Dimensions
Equally important are the dimensions of these mirrors. What's the point of replacing OEM products with small aftermarket ones which could exacerbate rearview matters worse? Absolutely pointless!
Check the dimensions to see if it will be convenient for you to enjoy rear views. Crystal clear rear views cannot be compromised because that is your safety. You want a broader view whenever you want to change lanes in a high way and that can be achieved through larger dimensions of aftermarket glasses.
Also noteworthy is the length of the arms/stems. Some are straight while others are curvy. Personally, I would opt for a curved arm as it goes out to enhance a rearview past my elbows. But a straight design is also fine depending on the model.
Extra features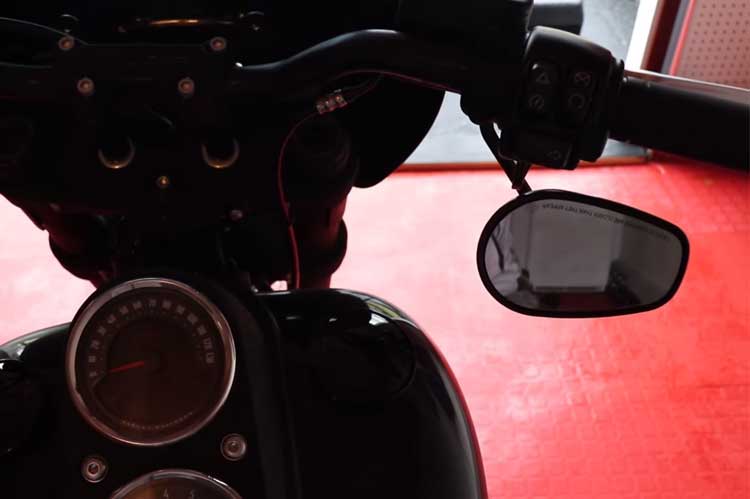 Can you guess which extra features I am referring to? These are the turn signals, integrated arrows, running lights, waterproof, and many more. All you need is the same convenience or more of using stock mirrors. Integrated arrows with turn signals are great to have. They make life for other motorcyclists and motorists on the road easier.
Running light helps illuminate your road in addition to your stock LED lights. The appearance is irresistibly elegant. Considering waterproof features, these mirrors are exposed to outdoor elements and so they need that feature to last long.
Final Thoughts
It's been a journey that I and you took from the beginning of this long article but it was worth it. These aftermarket products are undoubtedly the best for your Harley Davidson motorcycles. I have handpicked them with my experience in this field. Well, I have owned a few Harley Davidson and so I can relate to the need for aftermarket accessories.
Take time analyzing the feature so you can make an informed decision. Do not be misled by a price tag. It is not always a fact that higher-priced products are the best. The features should take precedence when choosing these products.
After you make your purchase, make sure your mirrors are cleaned and adjusted from time to time. If you ever experience a problem or have questions regarding your new rearview mirrors' placement or functions, consult your local professional automobile garage dealership or check out YouTube for some DIY tutorials.