One must-have piece of gear for a motorcyclist is their helmet. You cannot ride a motorbike without a helmet without being fined a hefty amount. 
There are different helmets available in the market. However, you put them on in more or less similarly. 
Let's take a look into it. 
Quick Summary
---
In this article, we will go through these topics:
How you can easily put on your motorcycle helmet?
Tips, tricks, and expert advice
Now let's go through these.
How Can I Easily Put on a Motorcycle Helmet?
As discussed earlier, you will get fined if you ride your bike without a helmet. There are many reasons why you must always wear a helmet. These are related to your safety as they protect your head. 
Helmets are available in different designs. However, all of them have one thing in common, which is the strap. This makes the job of wearing them easier for you. 
Let's take a look into how you can quickly and easily wear a helmet:
Step # 1 – Check the size of your head
The first thing to do before you start is to check and see if the helmet is your size. Helmets come in different sizes, so you can choose whatever best fits you.
The right-sized helmet is both comfortable and also protects you better. You can measure the size of your head with an inch of tape. Helmets are usually available in small, medium, and large sizes.  
Be sure that you leave some space for the helmet to move around. This increases the safety aspect. 
Step # 2 – Put Helmet on the Top of Your Head 
Next, you need to put the helmet on the backside of your head. Many motorcyclists make the mistake of wearing it from the front of their heads.  
This approach makes the process uncomfortable for you. You may also hurt your ear lobes. That's why you should always wear it from the back of the head. 
Step # 3 – Slide down the helmet
After you have placed the helmet on your head, you need to slide it down. You should put both your hands on the front of the helmet and then slide it down in place. 
After you have done that, you have to make sure that it is straight. 
Step # 4 – Strap it in and Make Checks 
Lastly, you have to strap your helmet. This will ensure that the helmet does not move around too much and also does not come off.  
There are also some other checks you need to make. These include ensuring that the cheek pads are not uncomfortable. You also need to be sure that it does not press against your nose. 
If it does, then the helmet is too small for you. Afterward, you can travel on your bike anywhere. 
How Much Can My Motorcycle Weigh on Average?
As discussed above, helmets are the prime motorcycle protective gear for your safety. You can enhance your safety through different methods. You can get it done with even the little things, such as the mass of the helmet. 
Motorcycle helmets come in lots of sizes. So, their masses are different. The main purpose of a helmet is to protect your head against impacts. 
Hence, the weight must be spread from the head to the shoulders. Uneven weight distribution leads to neck and shoulder aches. 
Helmets also have different weight classes. Each one has different levels of safety. There are both heavy helmets and light ones. But, there are various factors that decided how much mass a helmet has. 
No one wants a helmet that's uncomfortable for them. A helmet has a mass between 1.5 lbs to 2.7 lbs usually. A heavier helmet gets too heavy for your neck and which can lead to neck pain.
What is a lightweight helmet?
A helmet weighing less than 1.5 lbs is called a lightweight weight. Lightweight helmets are comfortable to wear. But they don't save or provide as much protection for your head. Hence, you have to choose your helmet with consideration of different factors.
The weight of your helmet is different due to the material that has been used in construction. Other factors also influence and change the weight. 
Let's take a look into these factors:
Substances used in Construction
The material used in construction will have a profound effect on the helmet's weight. This is due to the fact that different materials have different kinds of weave patterns. Also, there are additions in the mix used to make a helmet. 
The amount of material used in the weave pattern will make the helmet heavy or light. Hence, it directly impacts the weight of your helmet.
Dimensions of YOUR Helmet
Similar to the kind of material used, the dimensions of your helmet will also affect the mass. But, there may be different densities of the materials used. 
Regardless of this, usually, if your helmet is big, it will weigh a bit more than a regular one.
There are other advantages to the size of a helmet. If you get which is your size, you increase the amount of safety you have. 
Visor Used in Helmet  
Your helmet can or can not have a visor. This is primarily based on its design. Visors usually have little effect on the mass, but their quality is more important. CLICK HERE for the best helmets and other accessories.
You can get different visors installed on the helmet for both day and night. It will weigh slightly more if you have several visors attached to the helmet.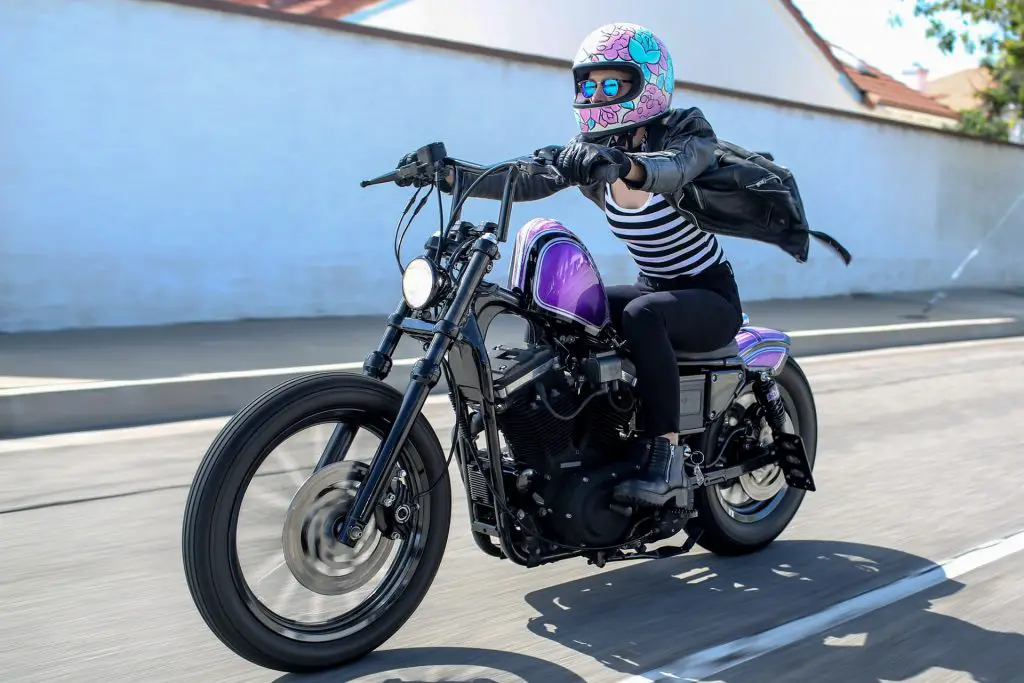 Is it Safe to Paint Over a Helmet?
Yes, you can apply paint to your helmet. This increases your safety as well as lets you customize your helmet to your liking. 
We highly recommend that you use glossy colors which have a shine too. For example, neon colors increase your visibility. You can also apply reflective tape over the helmet. This also helps you if you have a darker shade on your headgear.
However, we do suggest that you take a closer look at the chemicals used in the spray paints. Abrasive chemicals harm your helmet and compromise its safety. You can, however, check this with the information available on the spray cans.
Wrapping Things Up…
Helmets must be worn at all times when you ride on a motorcycle. This is for both your safety and the safety of others around you. Remember, there is no compromise on the road. 
You may face issues if you want to wear a helmet comfortably. But, if you follow the above-mentioned steps in order, the job will be easier for you. With this, we reach the end of our article on "How to put on a motorcycle helmet?". 
CLICK HERE to check out all about motorcycles and more. Do let us know of your experiences below in the comments section.