The helmet is the most vital protective gear you have. Motorcycle helmets come in a variety of designs and shapes. 
The sizes vary, hence they may weigh differently. Modern helmets are lightweight and their center of gravity varies. 
However, you should be aware of the weight as it should be equally distributed.
Quick Summary
---
By the end of this article, we will go through:
How much should your motorcycle helmet weigh?
How you can find the perfect helmet for yourself?
Can you paint over your helmet?
Lee's take a look into it.
How Much Should a Motorcycle Helmet Weigh?
As discussed earlier, motorcycle helmets come in different sizes. Hence, their masses vary. The main purpose of the helmet is to protect your head against trauma. 
That's why the weight must be evenly distributed from your head to your shoulders. Helmets also come in different weight classes. 
There are both heavyweight helmets and lightweight ones. However, different factors go into how much a helmet should weigh. 
You don't want a helmet that's uncomfortable for you. Normally, a helmet weighs between 700 grams to 1.2 kgs. A helmet heavier than 1.2 kg may get too heavy for your neck to support. A helmet that weighs less than 700 grams is lightweight. 
Lightweight protective headgear may be comfortable to wear, but it does not protect you that well. That's why it is better that you choose your helmet carefully. 
So, you should be aware that an average helmet weighs no more than 1.2 kg. Helmets are one of the most popular motorcycle accessories that people choose to customize.
Why Does the Weight Vary?
The mass of the helmet varies because of the kind of material used in its construction. Other factors need to be considered. 
Let's take a detailed look into these factors:
Material Used
The kind of material used directly affects will be the weight of the motorcycle helmet. There are different materials used in the construction of a helmet. 
These include fiberglass and carbon fiber composites and polycarbonates. The amount of material used directly affects the weight. It will make the helmet lightweight or heavy. 
Size 
The size of the helmet also affects the helmet. Helmets are available in different sizes. These include small, medium, and large. Generally, the larger a helmet gets, the more it weighs. 
We recommend that you choose the size according to your head size. It will provide you with comfort and also provide maximum comfort. 
Visor Used 
Your helmet may or may not have a visor, depending on its design. Visors have a minor effect on weight, however their quality matters. 
There are different kinds of videos that can be installed on the helmet. These are for both day and night. If your helmet has two separate visors, it will weigh slightly more.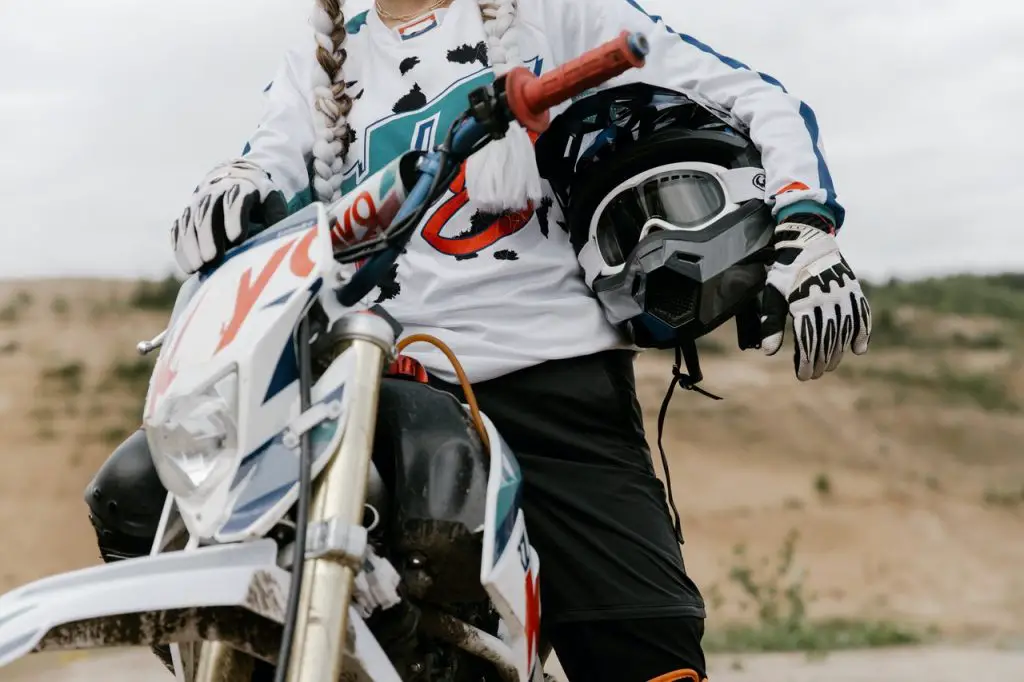 How Should You Find the Perfect Helmet for Yourself?
Helmets are available in different shapes and sizes. It is quite easy to select which helmet will best suit you. 
You should remember the basic rule that a helmet should fit your head and should be comfortable to wear. Also, you should not select a helmet that is too light or too heavy. 
Remember, an average helmet weighs about 700 grams to 1.2 kg. 
How to Paint over a Motorcycle Helmet?
Motorcycle helmets can be highly customized. You can paint over them multiple times and also make different designs to your liking. 
Of course, there are legal requirements and limitations, but that shouldn't bother you. You need to be sure that you have a DOT sticker on your helmet. You also need to check if your design is legally allowed. 
Before you start, you have to make sure that you have the necessary gear with you. These include: 
Stencil and picture for reference 
Airbrush or spray gun to apply the paint
Primer to cover and gloss the paint 
Matte spray paint in different colors for the airbrush 
Masking tape to mask the helmet 
Sandpaper to prepare the helmet 
Gloves and other protective equipment for your safety 
You can start after you make sure that you have the right gear:
Step # 1 – Ready Your Helmet 
The first thing you start to paint is to prepare the helmet. There has to be no dust or other debris on the helmet. You also need to clean it with latex gloves on. Otherwise, you will leave smudges all over the helmet. 
If you have any stickers, all you have to do is to peel them off. If the stickers can't be removed, you can use a hairdryer. This will melt the adhesive, after which you can remove the sticker. 
Step # 2 – Deconstruct Your Helmet
After you have cleaned your helmet, you have to dismantle it. It includes the removal of internal parts as well as the visor. You can use a screwdriver and other tools for this. 
First, you need to take the removable parts apart. Then, you can remove the inner lining of the helmet. If your helmet doesn't have a removable lining, you can mask it with paper.
Step # 3 – Cover the Helmet
You need to use a paper mask for your helmet. This will avoid any paint over the lining and interior surfaces. 
You can also avoid any unwanted paint marks with this method. We recommend that you use masking tape to hold the paper in place. 
Apply it to the round edges of the outer shell to attach the paper. 
Step # 4 – Sand the Helmet's Surface  
Then, you should sand the surface of your helmet. You can use 400 grit sandpaper for this. However, this step is an optional step. But we do suggest that you sand your surface. 
What are some of the benefits of using sandpaper?
Firstly, sandpaper removes any stains or previous paint. Paint also settles more quickly on sanded surfaces.
Next, you can add your designs to the headgear. 
Step # 5 – Add Your Design
For this, you would have to make a rough drawing at first. This step might take several attempts owing to the curved surface of helmets. 
You can utilize a stencil here as these make the job easier. 
Step # 6 – Add the Primer 
You only need to apply a few coats of primer to the helmet. Don't apply any more than 3 coats to the surface. 
Similarly, you also don't need to apply more than 3 coats of paint to the surface. You can use either spray paint or a gun for this step. 
Step # 8 – Reconstruct Your Helmet
Lastly, you have to remove the mask on the helmet. Then, you can put your helmet back together in the reverse order that you disassembled it. 
Wrapping Things Up…
A motorcycle helmet needs to be comfortable on your head and provide maximum protection. For this, it needs to be the right weight. 
Helmets have different weight classes, so you need to be sure of what you choose. You can do this by following our guide. 
With this, we are at the end of our article on "How much does a motorcycle helmet weigh?"
If you want to know about motorcycle accessories, CLICK HERE.