Are you looking for a motorcycle helmet but are unsure of where to begin? We understand that the options are endless since there are so many brands and types out there. 
However, choosing the best motorcycle helmet for yourself doesn't have to be difficult if you know what you're looking for.
We suggest that you read this guide carefully to pick your perfect motorcycle helmet.
Quick Summary
---
This guide will give you information about: 
Types of motorcycle helmets 
How to choose the perfect one for yourself? 
A detailed FAQs section.
Without further delay, let's get you started. 
Things to Know Before You Choose a Motorcycle Helmet – In-depth Guide 
Many riders invest in expensive parts for their bike but they either compromise on the helmet or overpay for it. 
In either case, this isn't the right thing to do because the helmet is the most important safety gear as it can help you prevent severe damage and injuries.
Fit is Important when You Choose a Motorcycle Helmet 
There are many things when it comes to choosing your motorcycle helmet but the fit comes first. It is important because a perfect fit helmet means it is safer for you. 
Moreover, it will avoid any health issues such as headaches, blurred vision, etc. 
Tip: The shape of motorcycle helmets varies from style to style and this is why we never recommend you purchase your helmet online. 
The comfort liner and the inside are built differently for different models, buying a helmet is not the same as buying a hat. The secret recipe to fit the perfect helmet is to buy according to the shape of your head. 
After you complete the fit aspect then you can go for the color and graphics part. You should get assistance from an expert in the store as it will help you find a helmet that will stay with you for a long time. 
How do I know my helmet fits me?
Your helmet should be comfortable but it should snug your head fully. If your helmet is too tight then it will create unnecessary discomfort on pressure points. Also, if your helmet is too loose then it will fall and there is no point in getting one in the first place. 
We have added this section to make sure you can see all the major options that you can find and choose that works best for you. You can check the following types and their pros and cons. 
Open-Faced Helmets 
They are classic and traditional-style helmets. Open-faced helmets provide perfect ventilation. However, they do not provide any safety to your chin. They are very noisy as well as there is not enough material to cancel the loud noise. 
Full-face Helmets
They are the most common style you see in the market. These helmets come in a lot of variations but more or less all the types fully protect your face. They never go wrong but as there is a lot of variation, you might have to look around more. 
Flip-lid Helmets
They are more expensive than a normal full-face helmet but are more versatile as well. There are neck rolls that provide an extra comfortable fit. 
Moreover, many people are skeptical that the chin part would come off in accidents but the high impact area is always the outer shell. Also, there is no proof to this myth but it is more of a con that if an accident occurs the chin part can be raised to avoid suffocation. 
Flip-over Helmets
It can function both as a full-face motorcycle helmet and an open-face helmet as the chin part can be taken to the back of the helmet. This is fairly a modern style and is basically proven to be a style statement as the impact resistance is not highly tested on these. 
They come both in off-road and full-face styles. Off-roads one is common for bikers that race in mud tracks and provide full airflow. However, they can be less safe as you have to wear additional goggles to make them work. 
Moreover, the full-face ones are for those who ride classic or custom bikes as the style sparks fashion statements all the way. But they are considered merely fashion statements and are not considered the best ones. 
Choosing the Best Motorcycle Helmet 
We recommend that you look into all the options and the perfect fit and then go for the buying decision. Just in case you should know that a good helmet can cost you about 300$ more or less. But spending more than 500$ will only give you bragging rights. 
Therefore, it can be time-consuming but you must look into all the aspects before you buy your motorcycle helmet.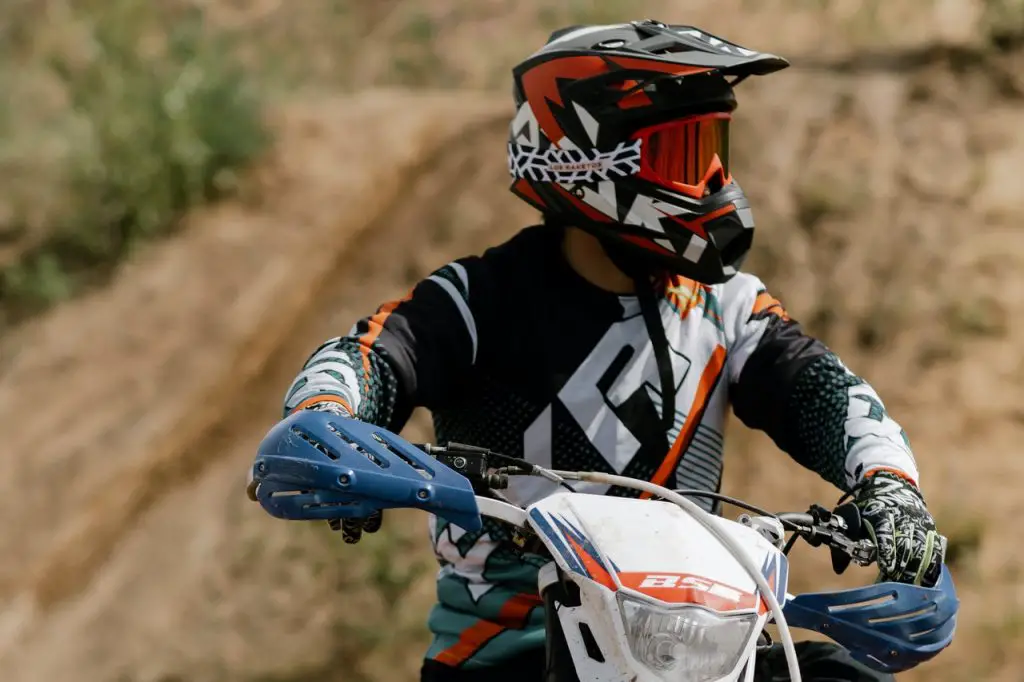 Frequently Asked Questions (FAQs) 
We have added this section to clear any questions you might have or anything you want to know about. Read it carefully, to avoid any confusion. 
What components make the best motorcycle helmet? 
The best motorcycle helmet has many components to look for. It should have at least these four components to make it work perfectly for you. A perfect outer shell, comfort liner, padding, and good impact resistance. 
These components will help you have all the safety and comfort you are looking for. 
Is a full-face helmet better than an open-face helmet? 
The open-face helmet is better when it comes to airflow and very lightweight with a perfect wide view of your surroundings. However, a full-face helmet might be snug all over the face but it will give you full protection around the chin as well. 
Moreover, full-face helmets not only cancel out the noise but also help to provide full comfort. 
How can I choose the perfect helmet? 
First, you have to check the fit as it can vary from model to model and styles as well. But, you also have to look at different options such as full-face, open-face, retro, etc. 
When you have decided which one to buy, make sure it is within your budget as a good motorcycle helmet can cost from 100$ to 400$ depending on the type, style, and brand. 
Conclusion 
We understand that with so many options to choose from and with so many things to consider, it can become quite hectic. 
However, it is not impossible if you have the proper knowledge about what to choose and how it fits. 
We hope this guide helped you, feel free to contact us if there are any queries.