Are you curious about how you can lock your motorcycle helmet safety? If yes, then you are in the right place.
Now we understand that you might be curious about all the ways to keep your helmet secure. So after thorough research, we have compiled this guide to make the process as easy as possible. 
Make sure you read this guide carefully to keep your motorcycle helmet secure and be stress-free about the hassle to carry it everywhere with you. 
Quick Summary
---
This guide will help you with everything you need to know about:
How to lock your helmet on your motorcycle? 
The different ways to do it. 
A detailed FAQs section to help you further. 
Without further delay, let's get you started. 
How to Successfully Lock Your Helmet to Motorcycle – Different Options In-depth Guide 
There are multiple options you can choose from since there is no definite or standard answer to this problem.
However, in this guide, we will list down the best options for you so you can analyze which one works best for you.
Make sure you read all of the options carefully before you start to lock your helmet to your motorcycle.
Option 1: Lock Your Motorcycle Helmet with a Helmet Lock 
This is the easiest and most common option that is used widely by riders. You can purchase a good helmet lock from Amazon and start with this. 
So, what is a helmet lock? 
To answer this, know that they are lightweight, easy to carry, and very durable. They cost you very less which makes it an ideal option. A helmet lock helps you lock the motorcycle helmet in place and is a very convenient option. 
Moreover, they operate very easily. You have to use the wire of the lock to loop it around the helmet chin straps and the frame of your bike. This will keep your helmet in place as you have securely locked it from any burglary. 
There are chances that your helmet is an open visor, for this issue you can invest in a helmet lock that connects with your chin straps and gets locked in place easily. But we do not recommend this way as much because the chin straps can be cut easily. 
Therefore, this won't secure your helmet fully and will allow any burglar to steal it very easily.
Option 2: Lock Your Motorcycle Helmet with a Gunlock 
Now you must be wondering why is it an option? Every gun in the US comes with gunlock as it is a must. So, why pay extra bucks for a helmet lock when you can use a spare gunlock at your home. 
In case you don't have it, you can ask your friend or any relative as it is very common to have spare gunlocks that are rusting somewhere. Why not make use of it? Most of the gunlocks are similar to the helmet lock and can loop around your chin straps. 
However, the only drawback is that they are not very long and this can make it difficult to loop around chin straps and the frame of your bike. But you will still be able to lock your helmet in place, just not in the position you want it to be. 
Moreover, you can use different places other than the bike frame such as the footpeg or handlebars of your motorcycle. You just have to make sure your helmet is locked. 
Option 3: Lock Your Motorcycle Helmet with a Regular Bicycle Cable Lock 
The best aspect of using a regular bicycle cable lock is that it is very long and you can easily secure your helmet with your bike. 
However, this is also the drawback as the length of the regular bicycle cable lock is very difficult to manage. 
Helmet locks are made to fit the size of a motorcycle helmet and the frame of your motorcycle. That's why we strongly recommend that option. 
Option 4: Lock Your Motorcycle Helmet with Your Motorcycle Chain Lock 
This option exists but it is not the best option as it can damage your motorcycle helmet. We do understand that it can save you money but still, there are risks of damages to the helmet shell. 
Moreover, in this option, you can just lock your helmet with your motorcycle. It is as simple as it sounds but there are high chances you have to put your helmet on the ground which can increase the damage. 
Even if this is an option, we recommend this must be kept as the last possible option as there are many other options better than this one.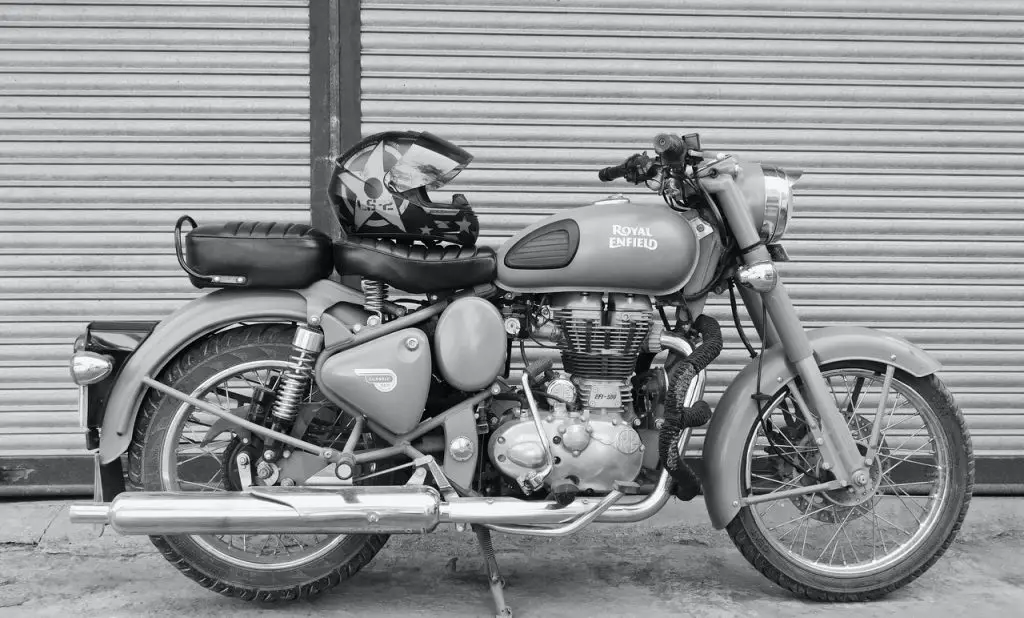 Frequently Asked Questions (FAQs) 
We have added this section to further provide you with our assistance to the discussed issue of how to lock your helmet to your motorcycle securely. 
Where can I keep my helmet if I can't carry it around? 
We recommend you lock it first and then keep it on the top box or the seat of your bike. This will keep your motorcycle helmet secure and avoid it from being stolen. You can use a helmet lock to secure your helmet in place as it is the best option. 
Moreover, this is a common issue but we recommend you never keep it on the ground as it can damage your motorcycle helmet and your paint can faint very quickly. 
How can I carry my motorcycle helmet with me? 
Usually, riders carry their motorcycle helmet with their backpack, you can tie it using a lock. If you don't want to clutter it up then you can loop the chin straps around the shoulder straps. This will give a decent look and you can carry your helmet easily. 
However, if you don't have a backpack then you have to carry it around in your hand. So instead, you should lock it on your motorcycle or any accessories and keep it secure. 
Why can't I keep my motorcycle helmet on the ground? 
Industry experts recommend that you should never keep your helmet on the ground as excessive moisture and heat can damage the helmet shell very quickly. The color fade is not the issue but the material breakdown is. 
Moreover, this can cause the outer shell to be brittle and in case of accidents, it will not function fully which can cause severe injuries and damage. 
To find out what a helmet on the ground behind a motorcycle means, CLICK HERE.
Conclusion
We understand that there are many options to lock your helmet to your motorcycle. So, we added our top picks so you can choose which one suits you the best.
We hope this guide helped as we have added all the relevant information and tips. Make sure to read it carefully. 
Feel free to contact us if you have any further queries. CLICK HERE for more information.