A helmet is a must-have for any motorcyclist. You cannot legally travel on a motorbike if you don't have any sort of protective headgear. 
That's why it is important that you keep your helmet with you. However, you cannot carry your helmet on the person at all times. 
Let's take a look at where you can place your helmet.
Quick Summary
---
By the end of this article, we will go through:
 Where to put your helmet on a motorcycle?
Tips & tricks you can use
Let's take a look into it.
Where Should I Put My Helmet on a Motorcycle?
As discussed earlier, motorcycle helmets are a must-have for you. You cannot afford to lose it as it is a legal requirement for a motorcyclist. That's why you have to take good care of it. 
One thing you should know is that motorcycle helmets are expensive. So it is a necessity to prevent it from being stolen. You can carry it with yourself at times, but it can tire your arm. There are also other options you can opt for. 
Let's take a look at some of the common and easy ones you should go for:
Leave it on the seat
This is a common method to store your helmet. You can just simply leave the helmet on the seat of your bike while you're gone. 
However, this option can be very risky. The helmet is left in plain sight for everyone to see. A thief can easily take it away from the helmet. 
We recommend that you only choose this option if you are away from the motorcycle for a short time. Also, be sure that you can see the helmet at all times. This decreases the chances of your helmet being stolen. 
Place it on the handlebar 
This is also another popular method to keep your bike. You simply leave the helmet suspended on any of the handlebars. But, you risk damaging your helmet. 
It can fall off with any sort of bump, so you have to be careful. If you leave your helmet for an extended period, the interior lining can also be compressed. This can compromise the effectiveness of linings in case of any crash.
Lock the helmet to your bike 
To make your helmet more secure, you can choose to lock your helmet on the bike. There are different ways and places you can choose to secure your headgear. 
These include:
Motorcycle lock
Many bikes come with a motorcycle lock. However, newer models have excluded them. There are different types of motorcycle locks. 
The lock may require a separate key or may have a hook that is right under the seat. These locks are very easy to use. You just have to pass your belt buckle through the lock and then shut it. 
However, these locks only work if you have a helmet with a D-ring type fastener. The lock does not work with any kind of different locks. 
Also, any thief can easily cut the strap and then take your helmet away. So you have to keep these factors in consideration. 
Regular padlock 
Padlocks also work great to secure your helmet. You can use any type of padlock for this. But, you must make sure that the padlock fits around a suitable place.
Padlocks usually fit around handlebars, footpegs, or the frame of your bike. It is a cheap option and the lock goes around the buckle of your helmet.  
Additionally, padlocks increase the security of your helmet. Without damage to the bike and the lock, no one can steal your helmet. 
Bicycle chain lock 
Bicycle chain locks are also another popular choice to secure a helmet. They are convenient and you can also hang other accessories on them. Find guides on bike chains and other accessories, here.
The chains are long, so you can easily place your helmet in a clean spot. You can also run the sleeve of your jacket through the chain lock and secure it with the motorcycle. 
To secure the helmet, you just have to pass the chain through the helmet's open visor and its bottom part. Then, you can secure the lock to the frame of your bike. 
Motorcycle helmet lock 
These are special types of locks that are designed specifically to secure your headgear. These are lightweight and inexpensive. 
You only have to have to pass the rubber-coated area through the visor and bottom part of your helmet. Then, use the other lock to secure the helmet to your motorcycle.
However, these locks don't work on any helmets which have an open visor design. These also don't work on headgear with a half-face design, as there is no space to pass the lock. 
Use a cargo net
Cargo nets are a good way to secure your helmets to the bike. They are made of woven strings and don't allow your helmet to slip out of place. 
You only have to place your helmet on the pillion seat and then throw the net over it. You secure the net to the bike with hooks. However, if you want to avoid getting scratches on your helmet, you can use a modified cargo net. 
You have to first take the hooks off the net. Then, you must take off the seat and secure one side of the net to the underside of your seat. You can use a hook for this. Then, secure the seat back to the bike. 
After this, you can throw the other side of the net over the seat and secure the net with hooks. 
Top Box
Top boxes are a good way to secure your helmet. These keep your helmets safe from the elements, such as rain, wind, and sunlight. They also have an inbuilt lock, which keeps your helmet secure. 
However, top boxes are expensive and require space to put on the bike.
Backpack and Saddlebag 
Some motorcycles come with an exterior backpack. These have a pocket to keep your helmet in. Modern helmets are lightweight, however, their size can make things somewhat awkward. 
But, you can place your helmets in this space and also keep spare helmets here. So, you can also travel and keep another helmet with you in this space. 
You can also keep your headgear in a saddlebag. Just make sure that the bag is big enough to keep your helmet in. You can carry saddlebags anywhere and also secure them to the bike. In a way, saddlebags become makeshift backpacks for your bike. If all else fails try locking it with its straps.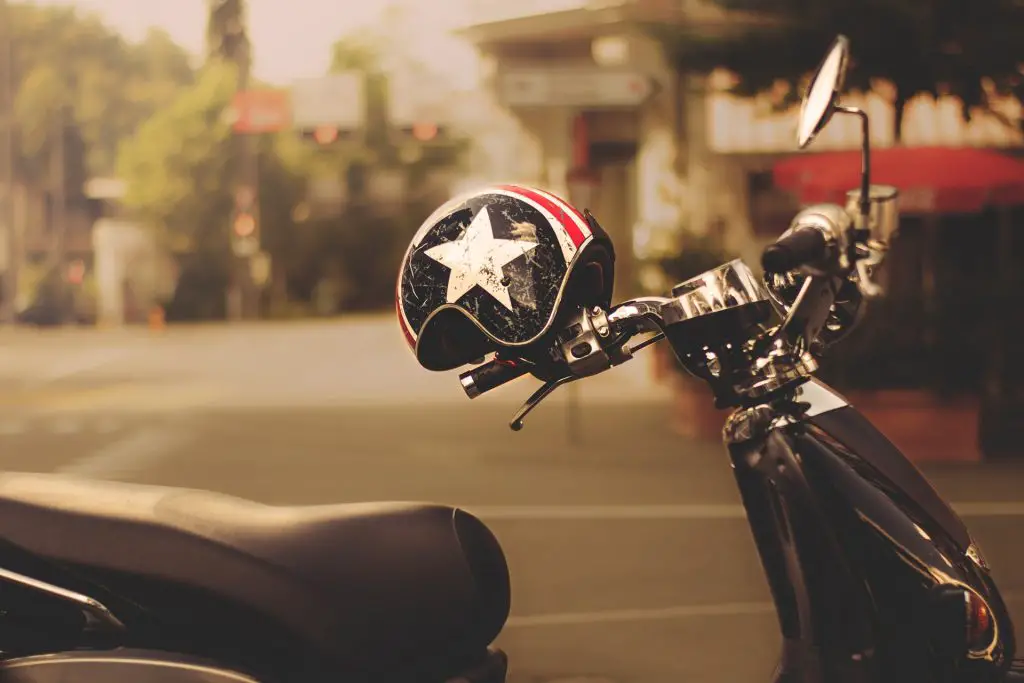 Wrapping Things Up
Helmets are a necessity for a motorcycle rider. You must take good care of them because of this. Helmets are also expensive, so you cannot afford to lose them. 
One problem people face is where to put their helmets on a motorcycle. You can solve this issue with the many different options provided in the guide. 
With this, we reach the end of our article on "Where to put my helmet on a motorcycle?". 
Let us know what you think in the comments or visit our website for more.