GoPro's are a great gadget to record your travels. You can mount it anywhere on the bike to record a video and then post it online later on. 
One popular place to mount a GoPro is on the helmet. It gives an alluring first-person perspective. 
Let's take a look at how you can mount your camera on your headgear.
Quick Summary
---
By the end of this article, we will go through the following: 
How can you mount your GoPro on a motorcycle helmet?
Where can you place your helmet on a motorcycle?
Let's take a look into it.
How Do I Mount My GoPro Camera on a Motorcycle Helmet?
As discussed earlier, GoPro cameras are a great way to record your travels. They record the action from a first-person perspective. You can also mount multiple cameras on your helmet. 
In this way, you can record multiple angles. However, you first need to get a suitable mount for your camera. 
Cameras can be placed anywhere on your helmet, given that you have the proper mount. Let's take a look at where and how you can place a camera on your helmet. 
Front Gopro Mount 
This type of mount is attached to the front part of your helmet. It goes on the top, flat part of your helmet. Before you mount your helmet, you need to:
Make sure you have a flat or curved surface GoPro mount.
Get a strong adhesive.
You need the adhesive to attach your mount. You need a strong adhesive, which more or less permanently attaches your mount to the helmet. Also, be sure that the adhesive can handle strong winds and is water-resistant. 
What are the pros and cons?
There are pros and cons to this setup. A plus is that you can record multiple angles with your camera through this. You can also eliminate vibrations and noise with this setup. 
However, this setup is equally risky. Your mount and camera can easily get damaged if something hits from over the helmet. Also, there can be unequal weight distribution. This can make for somewhat awkward wind deflections from your headgear. 
Vented Strap Mount 
This kind of GoPro mount goes through the vents of your helmet. It is like a front mount, but it is attached to the helmet through straps. 
These work best when you don't have enough space for adhesives on your helmet. Straps are also easy to attach to your helmet. All you have to do is pass the straps through the vents. To detach them, you just have to press the release button. 
Because of their build, they are flexible, which makes them better than standard mounts. 
Side Mounts 
Side mounts are also another popular type of setup for many motorcyclists. They go on the side of your helmet. 
The procedure is the same as a front GoPro mount. You need a sideways mount and a strong, water-resistant adhesive. You need to check if your mount is a curved helmet mount. Then, you can use the adhesive to connect the mount. 
Advantages of this setup include the easy and less awkward weight distribution. This allows for greater wind resistance but fewer chances of your mount getting damaged. 
The main disadvantage is that the camera angle will be slightly out of line with the helmet. There may also be a lot of wind noise due to the increased wind resistance. 
You also need to make sure that the mount has been tightly secured. You don't want it detached at high speeds. 
Overall, this is not a bad alternative to the front-facing mounting setup. 
Chinstrap mounts 
Chinstrap mounts provide an excellent view of the camera. Like front mounts, they also provide the first-person perspective.
To attach the mount to the helmet, you will need a mount with adjustable joints. You also need to get straps and adhesive tape. 
These types of mounts only work if you have a full-face helmet. However, the view captured is almost at eye level. Another plus is that you can attach a mic with your camera through this setup.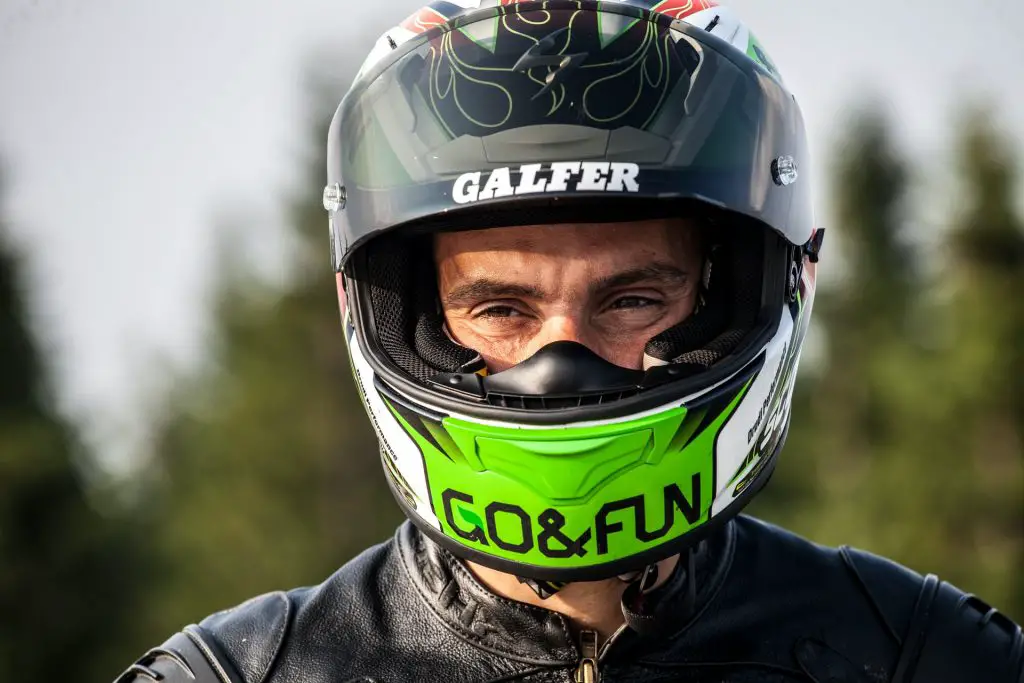 Where Can I Comfortably Put My Motorcycle Helmet on My Bike?
Helmets are expensive pieces of safety equipment. That's why you should take good care of them. However, you cannot carry them everywhere with you. 
One thing you can do is to store them on your motorcycle. Let's take a look at some of the convenient ones:
Top Box
Top boxes are a convenient method to protect your headgear. They keep your helmets safe from external environments, such as rain, wind, and sunlight. They also have a lock to keep your helmet secure. 
But, top boxes can be expensive and need some space.
Backpack and Saddlebag 
Some motorcycles are equipped with an external backpack. These have a space to keep your helmet in. These days, helmets are lightweight; however, their size makes them bulky. 
You can place your helmets in this bag and also keep spare helmets here. Hence, you can also travel and always have a spare with you. 
Another option is a saddlebag. All you have to do is to make sure that your saddlebag is large enough to keep your helmet in. 
In a way, saddlebags become backpacks for you. To find more motorcycle accessories, CLICK HERE.
Cargo Net
Cargo nets are a good way to hold helmets to the bike. They are made of strings and don't allow your helmet to slip. 
You only have to place your helmet on the passenger seat and then attach the net to it. 
You secure the net to the bike with the provided hooks. However, you can use a modified cargo net if you don't want any scratches on your helmet. 
How can I make a modified cargo net?
First, take the hooks off the net. Then, take off the seat and secure one side of the net to the seat's structure on its back. You can use hooks for this. After this, you can secure the seat in its place. 
After this, you have to throw the remainder of the net over the seat. Secure the remaining net with hooks. 
Place the Helmet on the Seat
This is another easy method you can use to place your helmet on the motorbike. You can simply leave the helmet on the seat of your bike when you're away. 
But this is a risky method to place your helmet. The helmet is in open view of every passerby. This makes it an easy target for any potential thief. 
We recommend that you only go for this option if you are away for a short time. Also, be sure that you can see your bike at all times. This minimizes the chances of your helmet being taken away. 
To find out ways to store your motorcycle helmets, take a look at our guide by clicking HERE.
Wrapping Things Up…
Now that we have reached the end of this guide, we hope it is easy for you to understand how to mount a GoPro camera to your motorcycle helmet.
We strongly advise you to read this guide before you start with your project.
With this, we are at the end of our article on "How to mount GoPro camera to motorcycle helmet?". Leave a comment below and let us know what you think. Visit our website to learn all about motorcycles and more.