We understand that motorcycle helmets can be really expensive. However, there are some affordable options you can choose from without compromising on quality. 
The short and quick answer is that on average a motorcycle helmet can range anywhere between $50 to $1500. However, the prices can vary depending on the features, quality, or even safety ratings.
To find out more, we suggest that you read this guide thoroughly for an in-depth insight into the price ranges of motorcycle helmets.
Quick Summary
---
We have added in-depth information after analysis about:
How much a motorcycle helmet costs?
Some famous examples and features. 
A detailed FAQs section.
Price Ranges for Helmets
There are a lot of helmets in the market and different brands have different prices for even similar features. Therefore, we have categorized helmets in some general categories and some specific ones as well. 
We will discuss every category and its significant features. You can further analyze how they differ in terms of safety rating, features, and especially brands. Different types of helmets have different prices.
THE Most Affordable Motorcycle Helmet Examples  
How much does a cheap motorcycle helmet cost? 
The cheapest helmets in the market are usually half helmets. We do not recommend this because there are major safety concerns and some of them even compromise on the quality. 
These lightweight motorcycle helmets cost anywhere between $20 to $50, which is very affordable. 
Usually, riders prefer them because of ease of breathing but in actuality, the comfort liner is cheap, which might not provide the safety you're looking for. 
In our opinion, half helmets are the most unsafe options since your chin can be easily injured in case of a mishap, which is why we wouldn't recommend them to you.
The Moderately Priced Motorcycle Helmet Examples 
These can range from the price of $100 to $1000 and mainly vary in terms of brand and features. They have proper chin straps and neck protectors that give protection to your head and face. Moreover, these helmets snug your head fully. 
A good motorcycle helmet usually falls in this category and not always the most expensive ones are the best quality helmets. This is why we recommend you check this category thoroughly to find the perfect helmet. 
Furthermore, these helmets might be heavy and can be noisier as well but they have many pros as well. They are of good quality and come in a full-face style which is the most common style for the riders. 
Some of the riders invest in helmets that have hinges but later regret buying them as the hinges can become loose. Mainly these types of helmets are the nosier ones that cost about $300 to $500. 
Therefore, even in this category the helmets that are priced above $500 are more secure and have noise-resistant comfort liners that are better options if you want to invest in a moderately priced helmet. 
The Expensive Category of Motorcycle Helmets 
These helmets are priced above $1000 and even cost up to $3000. The high-end helmets are usually of the brands Arai, AGV, Ruby, etc. Even though they are good and high-end, you should be aware that they can cost up to $2000 which is quite expensive.  
Moreover, some of the helmets come with an in-built Bluetooth feature and are high priced at about $1500 or more. These helmets are very convenient as they provide protection and also allow you to make calls and have other accessories as well. 
The Bluetooth helmets can be attached to your playlist and even provide the perk of having a GPS linked with it. Some helmets allow you to but your Bluetooth systems and attach them. 
This feature can help you save at least $300 and allows you to choose the Bluetooth system of your preference. The most expensive motorcycle helmet yet on the market is priced at $3990, price may vary ($100 more or less). 
Advantages of Expensive Motorcycle Helmets 
Expensive helmets are usually of good brands and most of them have the features including:
More comfort 
Better fit 
Good ventilation 
Lighter than usual ones
Diverse sizes 
Extra features 
Waterproof 
Noise resistant 
Better protection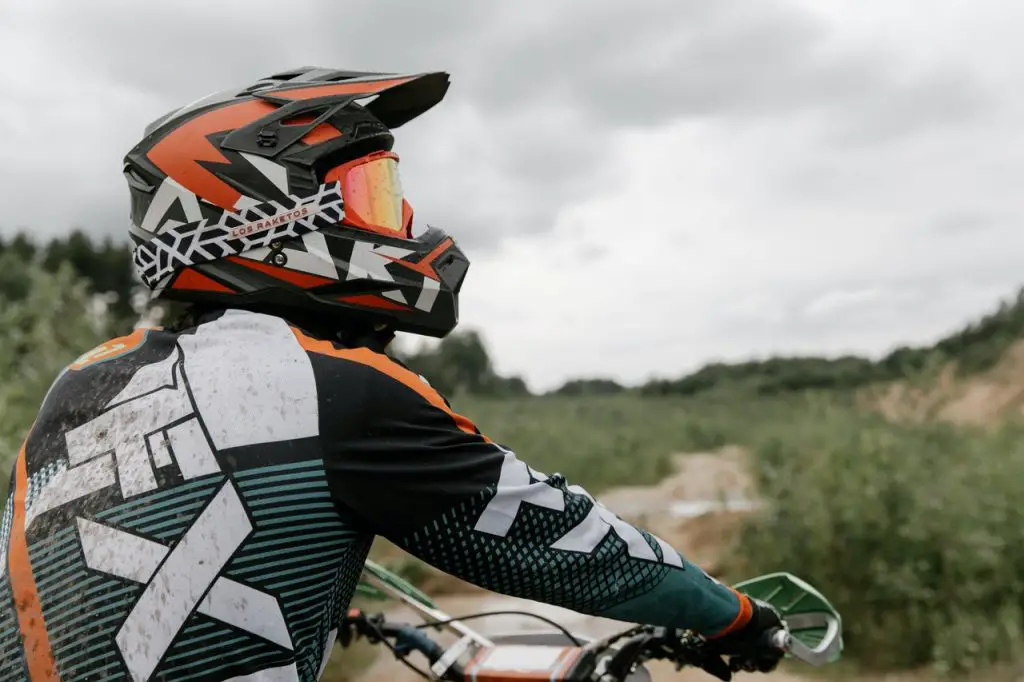 Frequently Asked Questions (FAQs) 
We have added this FAQs section to clarify any confusion you might have. Read this carefully to have further knowledge about this topic. 
Does the lifespan vary for the cost of the motorcycle helmet? 
The average lifespan is 5 years more or less for every motorcycle type. The price variation might give extra features but the comfort liner integrates within a limited time. The protection of the motorcycle helmet is linked with the price category. 
However, the lifespan of the motorcycle helmet is not dependent on the price range. The cheap ones might disintegrate faster, but the expensive ones do not guarantee more lifespan than the average motorcycle helmet. 
Why are motorcycle helmets so expensive?
The brand name, features, styles, designs, and materials used in them make motorcycle helmets expensive. Affordable helmets usually use the less expensive materials that make them heavier and have poor ventilation than the expensive ones. 
Many factors depend upon the variations in them in terms of styles and features. 
How much does a custom motorcycle helmet cost? 
The price depends on the customization level of your choice. Usually, riders change the base colors or gold plate them. All the customization is the additional features that are added when you want to. 
Are motorcycle helmets worth it?
Definitely, yes. Motorcycle helmets are worth it as there are multiple studies and research in the International Journal of Epidemiology that prove that they significantly reduce head injuries and can save the lives of riders. 
Therefore, we recommend you must invest in a good motorcycle helmet. 
To Conclude…
When you want to buy a motorcycle helmet the cost of it plays an important role. Therefore, we have added the different price categories and their prices depending on the features they have. 
This guide will help you choose the best motorcycle helmet in your budget as you can get help with your in-depth analysis. 
We hope this guide helped you, feel free to contact us for any queries. Fine more motorcycle helmet products and guides here.