When it comes to helmet color selection, you can easily get lost in the sea of options. However, colors contribute to many things than just being flashy. 
In today's post, we'll discuss how the color of a helmet can impact your motorcycle rides. Besides that, we'll also go over different colors and their popularity.
Quick Summary
---
You can check the post for the following topics:
Which color is suitable for you?
Different color types
Important tips
Frequently asked questions
Let's dive right into it. 
Motorcycle Helmets and Different Colors
You might have noticed that the majority of motorcycle riders have black helmets. However, it doesn't mean that black is the best color to go for. In fact, it is quite the opposite. 
Most people prefer black because of two reasons. Black helmets look way cooler than other colors. The other reason is that black helmets are easier to pair with any attire. 
So, what colors are the best for helmets?
This question might seem easy to answer on the surface but that is not the case. The color of your helmet acts as a marker for other people on the road. Helmets are motorcycle accessories, and like all accessories, they can be customized.
So, visibility is a huge factor you need to keep in check. While white color seems like the most viable option, there are some contenders as well. 
Let's check some factors you need to keep in mind and how different colors go along with them. 
Here's a list of these factors:
Visibility
Color type
Durability
Visibility
Safety is the most important thing when it comes to motorcycle helmets and the color contributes to it on a major level. It determines how well other drivers can see you.
On paper, white helmets are the most visible in broad daylight and night-time as well. But you can also choose the blue, green, pink, and brown colors.
What is the visibility of other colors compared to black helmets?
According to a survey by the Department of Transportation of the United States, white-colored helmets are 24% more visible than black helmets. 
This means that you are at a 24% lesser risk of being in an accident. For other colors, check the following list:
Orange helmets have 21% more visibility.
Yellow helmets also have 21% more visibility.
Red helmets have a 20% increased visibility.
Blue helmets have a 4% increased visibility. 
It is important to note that these values are in comparison with black motorcycle helmets. 
Is there any other way to increase visibility?
You can choose any helmet color and increase its visibility with the helmet of reflective panels. They are made from vinyl and shine brightly when light falls on them. Just like a road sign. 
The only downside is that you have to color match the panels with your helmet. It might prove tricky and you can lose the cool element of your helmet. 
Color Type
Another thing to look out for is the type of color. You can choose matte, chrome, or gloss colors for your helmet. 
Each color has its own utility and benefits. Most people go for matte colors because they look sleek with dark colors like black, brown, or blue. 
What colors are suitable for chrome?
Green and blue are the most popular options for chrome colors. However, chrome colors aren't everyone's cup of tea. 
You can choose a different color in chrome if it fits your personality. 
What colors are suitable for gloss?
For gloss colors, you can either go for white, red, or brown. Gloss colors usually have small graining in them which makes them glitter a bit. 
Even though it might seem odd but in low light, this effect also serves as a reflective surface. 
Which color should go for?
It depends on your personal preference. If you ride your bike only in daylight, matte is the way to go. 
On the other hand, gloss and chrome are more appropriate for night-time drives. 
This is mainly because matte colors are really hard to spot in low light. 
Durability
This aspect is often overlooked by people because, in their opinion, color doesn't deteriorate. In fact, the reality is quite on the opposite end. 
Exposure to UV rays (sunlight) can change the tone of your helmet's color. A fine bright white helmet can turn yellowish or a blue helmet can turn into a light blue shade. 
So, how do I counter this problem?
There is only one solution to this problem. You need to buy a helmet that has a UV-resistant paint job. 
It might narrow down your options but you'll have a helmet color that can easily last longer than its counterparts. 
Note: Most people prefer black helmets because the color remains the same even after years of daily use. 
So, these are all the factors you need to keep in check before you select a color. It is possible to get a helmet that falls under all these categories but the most important one is visibility. 
Benefits of Different Colors
As we have mentioned, the main benefit of colored helmets is that they can be easily spotted from a distance. The same goes for other people as well. 
If you see a helmet with vibrant colors, it is easier for you to judge its speed or trajectory. Other than that, the traffic behind you can also judge your movements with ease even in low light. 
How are light colors better than dark colors?
It is a scientific fact that dark surfaces absorb more heat compared to surfaces with light colors. So, accordingly, a black helmet absorbs more heat compared to a white or a blue helmet. 
This heat is ultimately spread around the helmet and it can cause overheating problems on long drives.
Due to that reason, we recommend that you get a light-colored helmet.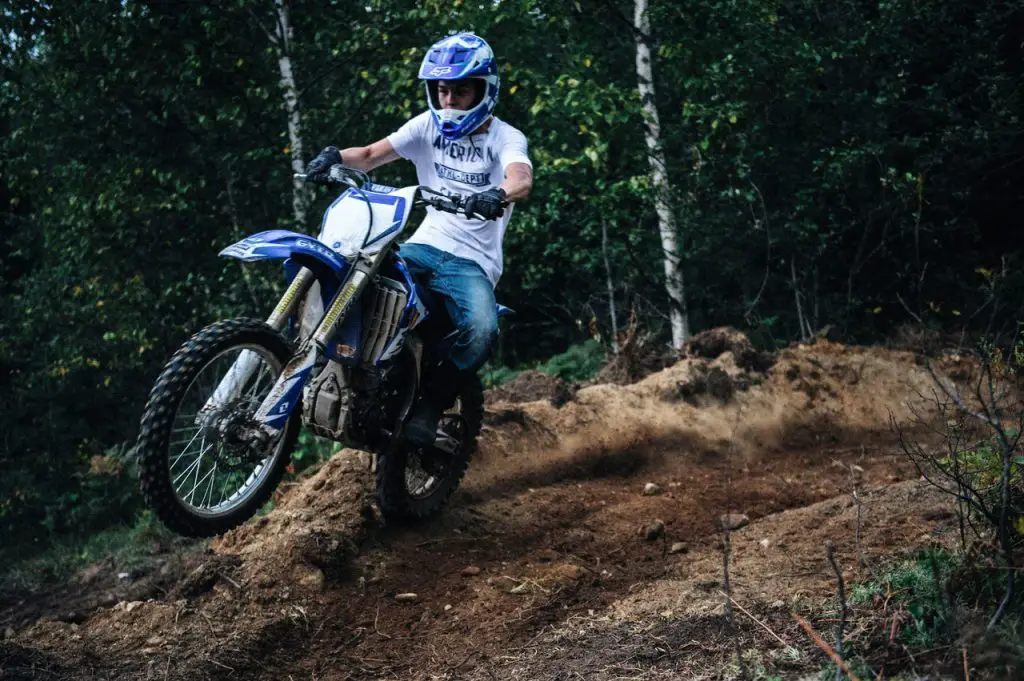 Important Tips
Here are some tips for you to keep in mind:
Select a helmet based on your daily routine. 
Keep different helmets for day and night drives. 
Don't buy a helmet because it looks flashy. Instead, get a helmet that has better visibility. 
Use an appropriate amount of reflective panels. Too many panels can cause issues for other drivers. 
You can paint the helmet yourself as well
Frequently Asked Questions (FAQs)
We have gathered some commonly asked questions from around the web. Let's take a look. 
Is there any way to counter the overheating problem of black helmets?
Yes, you can mitigate the overheating problem with the help of air vents. Look for a helmet that comes with multiple vents for proper airflow. It'll circulate the hot air and keep your helmet cool. 
Is it necessary to have air vents in a light-colored helmet?
Although it isn't necessary to have air vents, many professionals recommend it regardless of the color. Even light-colored helmets can get hot under long exposures to sunlight. 
What's the best design for white helmets?
Modular helmets are the best pair for white color. They look cool and give your helmet a nice futuristic touch. However, sports helmets are also a viable option to go for in white color. 
Final Thoughts…
With this, we come to the finish line of our guide on motorcycle helmet colors. We hope this information enables you to make a better decision. 
In our opinion, every helmet color is viable given the right conditions. However, it is important to keep in mind what sort of environment you mostly drive in. Some colors are a better fit for daylight while some are more viable for low-light conditions. 
Do let us know which colored helmet you own. Read more helmet guides HERE.