Harley Davidson is known for producing some of the best bikes in the world. And if you own one, you know already that that's not an exaggeration. The parts are durable and long-lasting, giving riders comfort and style at the same time. But there are parts that could be improved greatly over what's attached to the bikes when they're on the assembly line. Shocks are one of those. In this post, we'll be looking at the best rear shocks for Harley Davidson bikes.
This post contains affiliate links. If you make a purchase, Motoprove.com may receive a small commission at no additional cost to you.
5 best rear shocks for Harley Davidson
This comparison chart lists some of the primary differences in the shocks that are reviewed. Use it to determine the type, color, and the Harley that it's suited for. If you need more information than isn't provided, the links next to the brand's title show the product's description and purchasing options.
While the default shocks have positive attributes, rides could be too soft or uncomfortable when driving around the pavement that's bumpy. Irritation can quickly settle in, leading one to search for new shocks that improve height and comfort all at once.
1. Progressive Suspension 944-4020UT – Best Harley Touring Shocks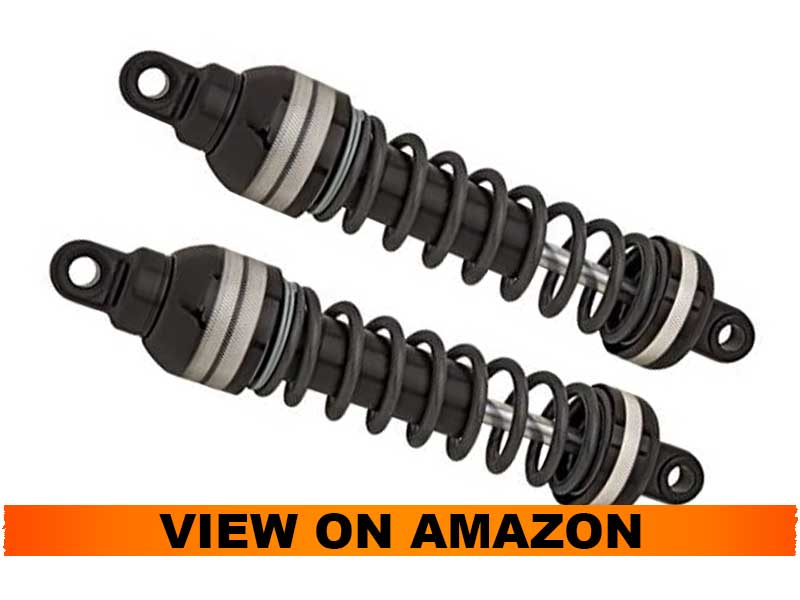 The Progressive Suspension 944-4020UT is an all-touring shock that's outfitted to be used for people that are planning on riding with a passenger. But even if that's not the case, installing it on a bike for only yourself could be a huge benefit, especially if you weigh upwards of 250 pounds or more. Directions are easy to follow, and the shocks can be fully installed in less than three hours.
Best Shocks For Rebound Reduction
When they're ready, you'll notice that the rebound is completely gone; no more annoying bounces or bumps that irritate your back and lead to pain behind your torso. It graces through tight curves nicely without causing bottom out.
Overall, it's a highly recommended shock that's leap and bounds better than Harley's standards.
Pros
Follow a good set of directions, installation is quick and painless
Little rebound is felt when the shocks release tension
Relieves back pain that seats and aftermarket shocks cannot
Goes over tight corners smoothly
Cons
Rides may remain uncomfortable on roads that are very bumpy
Uneven weight distribution (two riders) may reduce the effectiveness of the shocks
2. HD 022 Ohlins – Best Shocks For Road Glide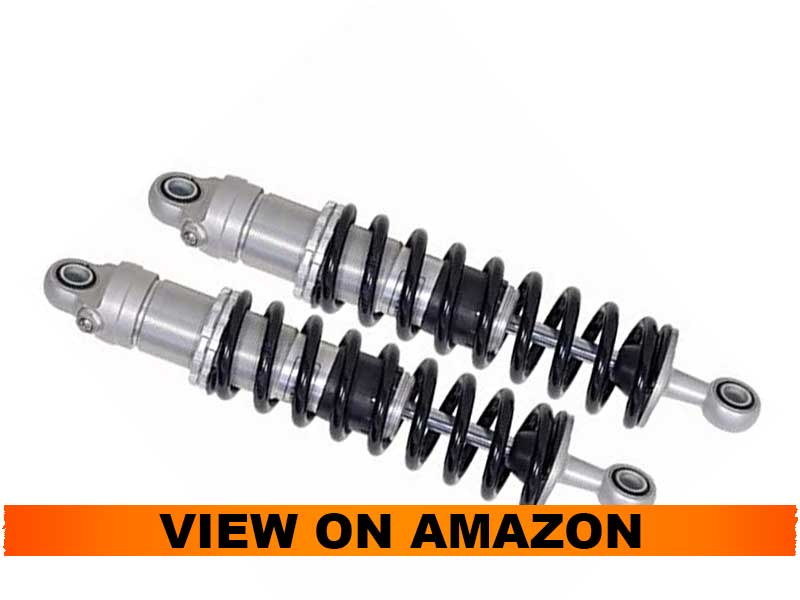 The HD 022 Ohlins Shocks are black and grey in color, having great absorption in areas that a littered with abrupt irregularities on the road. Although you should always try to avoid potholes, the impact will go over much better when these are fitted to your bike. Bottom out won't happen, and unlike air shocks, the bumps won't push your tire upwards to a degree that makes it come off the surface from everyday bumps.
You can also get preload settings from the company before or after to buy (to ensure that the shocks fit your bike based on weight, height, etc.)
If you're a traveler, they may wear down faster than expected, but most people will do fine with these of their Harley without any major issues.
Pros
Good return when going over potholes
Large and small bumps on the road absorb well enough to not be felt to the same degree as air shocks
Does not cause tires to leap
Preload settings can be determined by contacting the manufacturer
Cons
The shocks may depreciate quickly when used in regions with varied road conditions
3. BURLY B28-1201B –Best Shocks for Sportster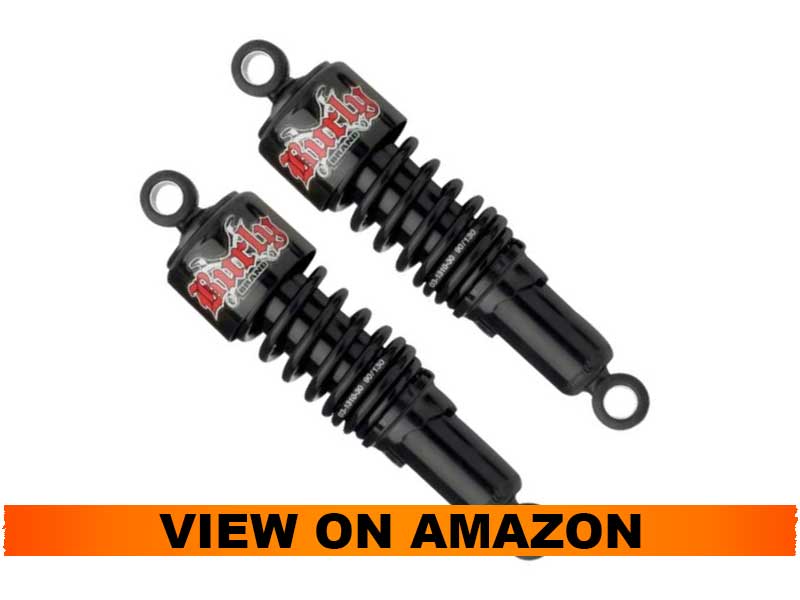 The Burly B28 shocks are black and feature a decal on the top. This is only a sticker and can be removed if you wish. Some of the products may ship with the sticker separate, however.
Changes to height are good and will take it down to approximately two inches. If your bike sits low already, be careful to test drive it to ensure that nothing comes close to the concrete. And if you have someone else tagging along with you, softening is likely to occur, depending on their weight. Heavier passengers will increase these effects, but not so much if both weigh about the same.
If you're looking for slammers that are visually appealing and fit to even out a good balance of soft and stiff absorption, this is suggested for you.
Pros
Very fast installation; can be completed in minutes
Lowers bikes to a height that's easier for the rider to touch the ground (about 2 inches)
Aesthetically appealing; gives a noticeable visual upgrade to Harleys of any color
Cons
Soft when traveling on moderately uneven road surfaces
4. Factory Spec FS-04505 – Harley Sportster Lowering Kit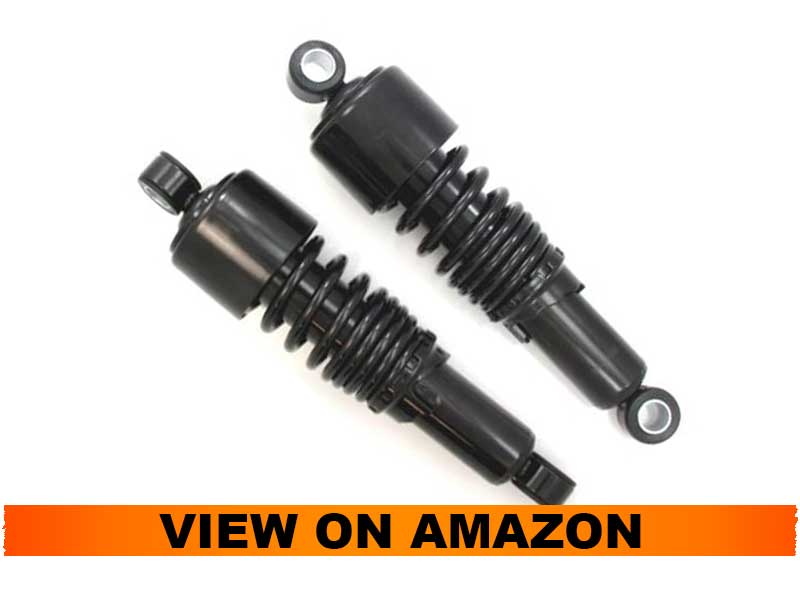 The Factory Spec FS-04505 are shocks for the Sportster, measuring 10.5 inches in length. You can pre-load them during adjustments, and wrenches would be all you need to get it to the desired height. It's a good buy for shorter riders, and will greatly help with reach. No longer will you have to put up with straining yourself to put your foot down on the ground without relying on the kickstand.
And for looks, the black color looks well on most bikes but isn't mirror finish, meaning that they go well with bike colors that follow the same paint style. Just do your homework with the spacers, as no instructions are given with the product. If that isn't a problem, then the Factory Spec could work out well for your Harley.
Pros
The shocks are adjustable by pre-load, meaning that they can be set according to height with wrenches
Height can be fixed to make the bike suitable for short riders to operate comfortably
All black shocks easily blend with bikes painted with odd colors
Cons
The shocks may cause the piston to hit the vale when riding with another passenger that weighs more than the driver (bottom out)
No instructions are given for hooking up the spacers
5. Progressive Suspension 422-4002C – Heavy Duty Rear Suspension for Softail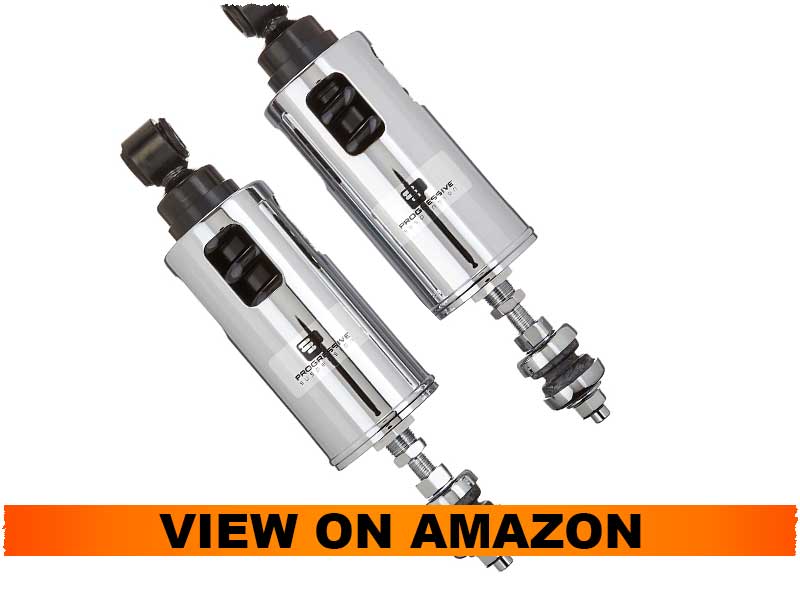 The 422-4002C by Progressive Suspension is another shock that's pure eye candy. The chrome finish is very nice and will make any bike look like an entirely different model once installed.
There are two inches or less for the adjustment, with a wrench included that will help you get it to the right point that you want. It's a firm ride that'll alleviate strain from ordinary shocks but feels slightly stiff when you're at speed close to 60 miles per hour.
Other than that, there's not much else to complain about, so consider it if you need something that's pretty and functions well on a Softail.
Pros
Has a ride adjustment of two inches (height)
Chrome exterior looks well on newer Harleys
Takes out the rigidity while leaving in firmness
Adjustment Wrench is provided with the shocks
Cons
Stiff a medium to high speeds
6. Progressive Suspension 412-4062B – Best Shocks for Harley Davison Dyna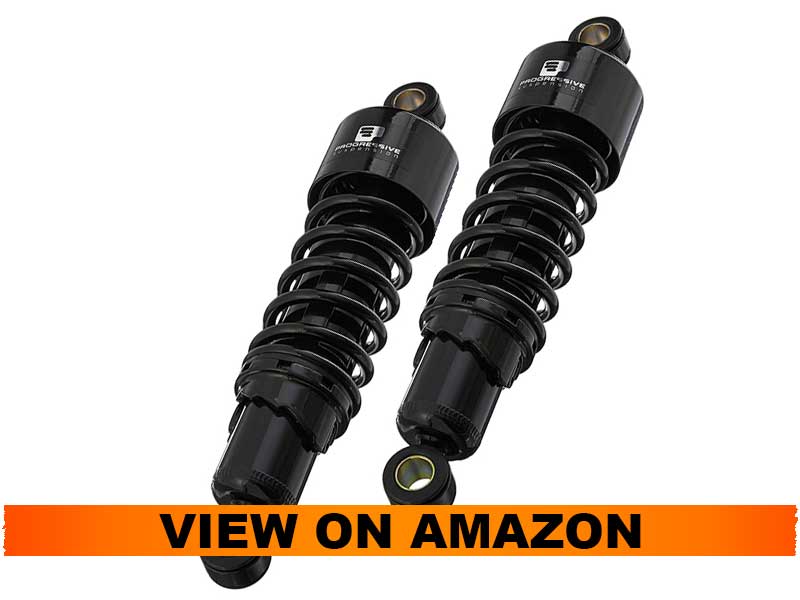 The next Progressive Suspension product is the 412-4062B, 11-inch shocks that give outstanding improvements to the rear by keeping your wheels from jumping up when you're at high speed.
The level of adjustments is good as well and should smoothen the ride when you're operating the bike with someone that puts on more weight than yourself. You will need additional tools to install it on your own though, and the bottom out could occur if done at the lowest point. When set high, the function of the shock just like any other on the list would.
Pros
Straightens out the rear and keeps the tires firmly in place after traveling over large bumps
At its highest adjustment, provides a smooth ride on any road surface that doesn't change with uneven weight distribution (heavy passenger)
Great compression at high speeds
Cons
The lowest settings will sag and feel too soft for most riders
Requires a floor jack the install the shocks
Risk of bottoming out a medium height adjustment
7. Mallofusa Universal Motorcycle Air Rear Shocks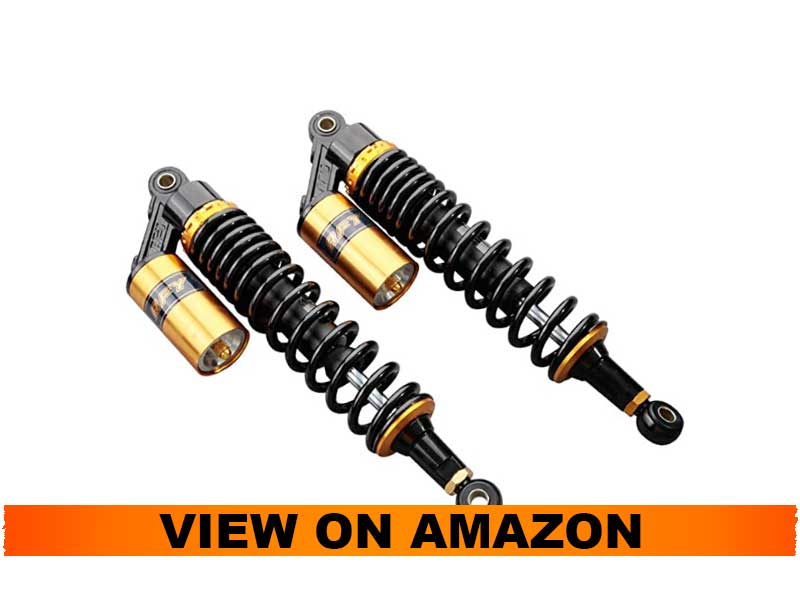 The main purpose a shock absorber serves is to offer a bike rider with an added layer of security and comfort. While there are plenty of shock absorbers that can do this job, but very few are as good as the Mallofusa universal rear shock absorber. This product is ideal for the roughest of terrains and the clumpiest roads, making sure you can travel without any discomfort.
What's makes this rear shock absorber stand out is that unlike most universal rear shock absorbers, this one is actually compatible with most, if not every bike. Harley owners can especially breathe a sigh of relief knowing that this shock absorber will fit their bike without any issue.
Installation
Installing rear shocks can be quite challenging, particularly for those who are new to them. However, the Mallofuse Universal rear shock absorber is quite easy to install. Its eye to eye installation type doesn't require users to have technical expertise. Plus, this product comes with a bushing and wrench, making the installation process trouble-free.
Quality
Traditional rear shocks tend to wear out very quickly. However, that is not the case with the Mallofusa universal rear shock absorbers. They can withstand long rides on rough terrains without showing any signs of damage. This product's 8mm spring thickness and 60 mm spring width is enough to suggest that it will keep your Harley street glide safe for years.
Compatibility
As mentioned earlier, this product is compatible with most bikes, especially the Harley Street Glide and Dyna. This also ensures that you can utilize these absorbers on another bike, should you decide to replace your Harley Davidson later.
Pros
Premium grade quality
Excellent dimensions
Compatible with multiple bike brands like Harley, Honda, and Yamaha etc.
Easy installation
Tips and FAQs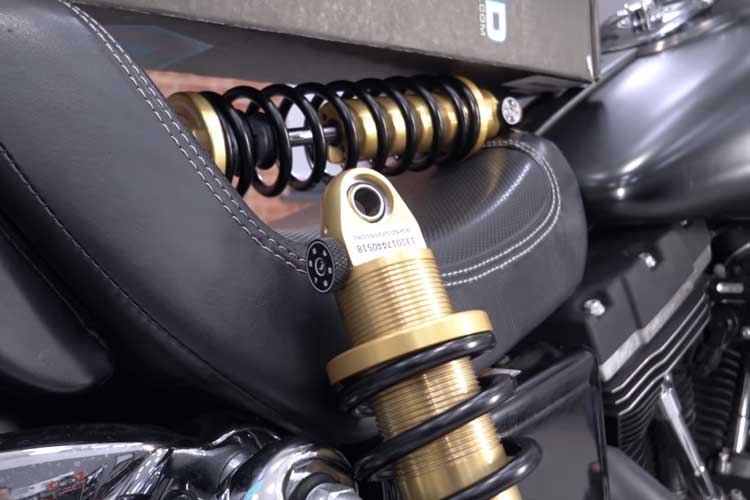 There have been incredible advancements in full-suspension technology and designs. Millions of riders benefit from the inclusion of shock-absorbing equipment present in most modern bikes. While modern bikes have a factory fit rear shocks, they may not live up to some people's particular demands or comfort levels. This is where you should consider choosing an aftermarket rear shock.
The Harley Davidson street glide, in particular, is a vehicle that massively benefits from high-quality rear shocks. For those who don't know, every full suspension frame has a shock or rear shock absorber at its core. It plays a massive role in ensuring the bike drives smoothly no matter how rough or uneven the terrain is.
Rear shocks contain telescopic tubes that slide into one another. The shock contains a tiny bushing in each of its eye, which allows the shock to rotate smoothly, while the suspension is working. Every rear shock has a spring mechanism that compresses with force. However, older or regular variants contain a damping system for regulating the spring's compression and rebounds.
There are two main types of rear shocks: air-sprung and coil sprung. Air sprung shocks contain a compressed spring. On the other hand, oil sprung shocks have large springs (made of metal) placed outside the bike's telescopic tubes. The type of shock you choose mostly depends on the bike you are riding, as well as your budget. Both have unique qualities and suit a biker's particular needs.
Passenger or No Passenger?
As you may already know, motorcycles differ in the level of comfort based on how many passengers are on the bike. While there are usually just two, the second person could make a huge difference regarding which choices of shocks are best for you to ride. This is due to many factors, but most notably the risk of bottom-out takes place (detailed further).
Also, more weight means more strain on the shocks when they cruise over bumps of any sort on the road, so you'll definitely feel it more if you're riding in a place with poor road conditions. From this, you should look for shocks that have a high weight limit. To get an accurate listing of this, you could either call or refer to the manufacturer's website. And be sure to pick up rear shocks as well, especially if you do ride with a passenger on most occasions.
Height Adjustments
Most shocks for Harleys can be adjusted a few inches, according to how high or low the user wants the bike to sit from the ground. Most people aim for a lower height than what's given on factory shocks, but there are exceptions. If you're planning on getting your ride installed at a shop, be sure to let them know how low. If you're short, doing down about two inches would probably be best, as your foot would reach the pavement much easier. It could also help you gain better control and confidence in your riding since you won't be wasting time getting your foot adjusted or pushing down the kickstand when it's not necessary (red lights, sitting in traffic, etc.) Every brand above has the ability to be modified by height, but the length itself doesn't change from brand to brand very much.
Which shocks are better: Stiff or Soft?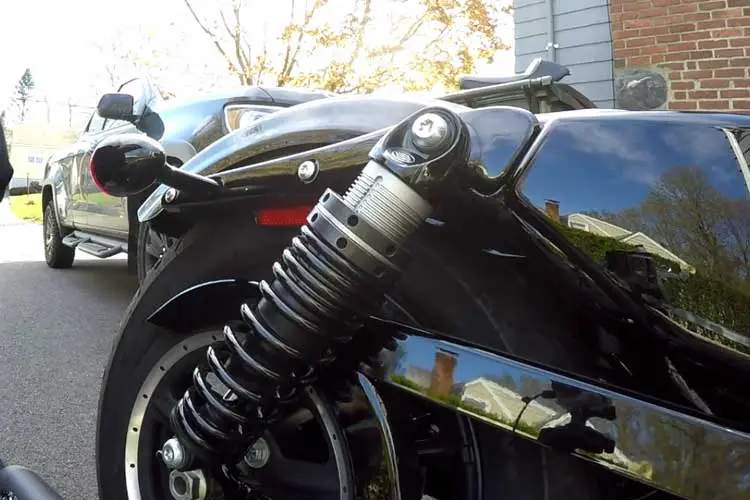 Shocks can be either stiff or soft. Depending on your preferences you may like softer brands over those which are stiff. But too soft can also be an annoyance. It's best to pick one that has a feel that's in between the two. Rear suspension springs are a toss-up as well but may perform better when a little stiff. If you're going to be riding alone, more stiffness shouldn't be needed in most instances.
Front shocks are best when soft, which helps absorb most impacts without it leading to a distraction from your driving. When assembled correctly, your ride should be smooth. Try them out by driving normally. If you don't feel as much as what was given from the shocks before, then your bike's springs are good to go.
Easing the Pain
One of the biggest complaints about Harley's standard shocks riding with them. They can be so uncomfortable to some that just one brief ride could result in moderate to severe back pain. For the elderly, the annoyance could become debilitating to the point where the bike cannot be ridden at all. This is one of the reasons many people begin to search for new shocks in the first place.
Although every person varies, all of the shocks above will reduce pain almost immediately when you're on the bike. Fewer bumps mean more relaxed rides, and you won't be fixated on getting your stance right. Doing this can stiffen your back and make it difficult to go over normal road imperfections that you would have trouble with on better shocks. As such, look for those which will allow you to accelerate without moving your legs too much.
How to install shocks on my Harley?
If you don't know how to install your shocks alone, it should be easy to find a place that can do it for you. But if you're trying to save money, using an install guide from the internet could be of great help. Not off shocks have detailed instructions, and some manuals could even be missing key areas that one should know about before install begins. You could also look on YouTube, but be aware that some videos could also have you assemble the shocks in a way to which isn't recommended by the manufacturer. When in doubt, always contact the brand and ask them for tips.
Putting on shocks incorrectly could lead to leaks and bottom out very quickly. While buying those that are easiest to install shouldn't be the main buying factor in the shocks listed, having something that can go on without spending a day (or an investment at a shop) setting it up is an added bonus.
Bottom Out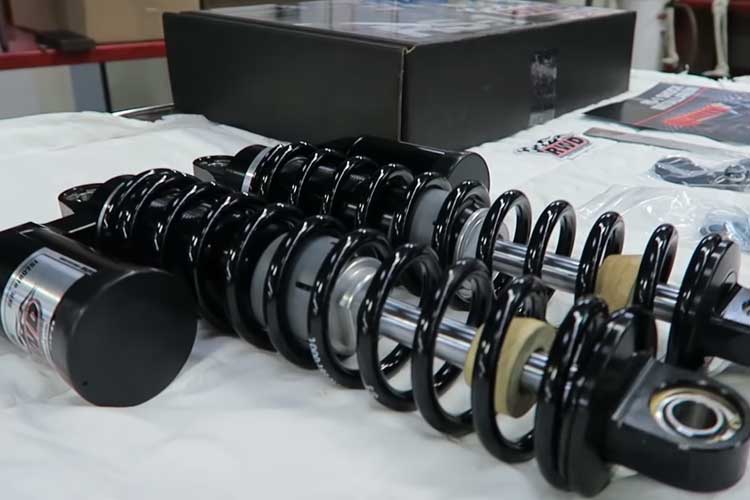 Bottom out is an occurrence in both automobiles and motorcycles. It refers to when the lower part of your bike hits the asphalt during transit. This is more likely to happen when your shocks are adjusted too low for your bike. If your Harley is low and is a risk of touching the pavement when your riding, don't make the mistake of adjusting them too much.
Furthermore, some shocks that are labeled to go down to one inch could be inaccurate by a margin of one to two inches. Other times, the margin is the opposite. After riding on your new shocks, look at the frame if you notice an awkward hit. If there's nothing there, check out the motor gashes or cracks. This is a good sign that you've adjusted too low, or that you gauged the height incorrectly. To prevent further damage, bring your height up a notch. Doing this could save you lots of time (and funds) from not having to tend to later repair work.
Final Thoughts
After going through the reviews and setting the shocks evaluated, you probably have an idea about which is best for your Harley. There are both front and rear shocks, so be sure that what you're getting is the one you actually need. Additionally, know whether or not it will fit your bike. If you're using a bike that isn't a Harley, you may have more choices available but require extensive tuning before it ready to go next to your wheels.
Regardless, the top pick from the list is the Progressive Suspension 944-4020UT, chosen for their smooth performance over rough pavement and relatively easy setup. But don't discard your consideration for the others, which could be refined to fit your bike better. No matter which shocks you do purchase, it's a guarantee that the product will be much more enjoyable on your bike than what's provided from the factory brand. And with more absorption comes better or longer rides during your travels.