When traveling to farther places, you'll relate how cumbersome it is to haul a motorcycle on a trailer with traditional ropes or literally with nothing clamping it down. Two things can happen a fine from traffic officers and a damaged motorcycle after falling off your pickup truck or trailer. With the best motorcycle tie-down straps, you are in the right direction of securing your bike when in transit.
This post contains affiliate links. If you make a purchase, Motoprove.com may receive a small commission at no additional cost to you.
5 Top-rated Tie-Down Straps in 2022
Tie-down straps come in different designs, but ratchet straps are the most popular on the market mainly due to their sturdiness and tension adjustments. But still, there are still plenty of straps that could seem quite daunting for a beginner to pick the best.
Now that you are here, let me assure you that you're not lost as I will highlight the best tie-down straps for motorcycles. I've also included some accessories worth considering. Furthermore, I wrap up the article with the buyer's guide with which I help you make an informed decision.
1. RHINO USA – Best Motorcycle Tie Down Straps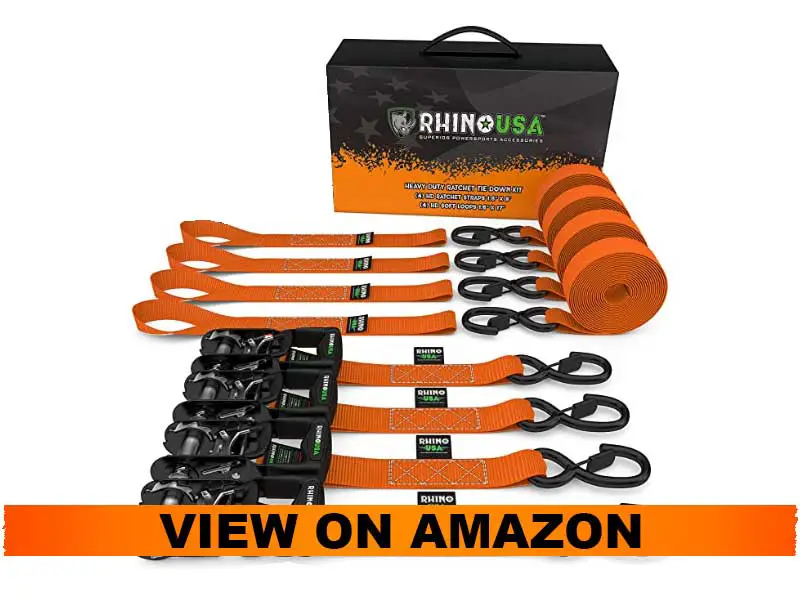 With a break strength of 5208 pounds, I had no doubt this is a heavy-duty tie-down kit to clamp down heavy equipment, motorcycles included. It's not always that you find such a heavy-duty ratchet strap.
Features
Perhaps most interesting is the inclusion of soft hooks that ensures that the straps do not leave dents or scratches on your finish. The S hooks are coated chrome, which ensures that they last long. Also, they are padded for yet another scratch-free hold to your bike.
The straps measure 1.6" x 8". While the 8 inches length is not necessarily the longest out there, I still find it convenient to clamp down your bike with an uncompromised tensile strength. The long straps are usually not stronger than the shorter ones of the same materials. Short straps may, however, inconvenience you when you need to clamp down tall bikes.
Quality
What pops out from these straps is the build quality. One reason could be the fact that the product hails from the USA, a country renowned for quality motorcycle accessories. Apart from that, when you look closely at how the straps were designed, you will notice the top-notch quality. The manufacturer provides you a lifetime warranty and a guaranteed refund should you not be satisfied with their product.
The ratchet mechanism is elegantly designed. But, get ready to continually maintain these coated steel ratchets. Well, the good part is that the coat gives the ratchet proper protection from the elements.
Also thanks to the polyblend webbing that gives the straps remarkable durability. At 1.6 inches, the width of these ratchet straps is convincingly enough for your bike.
The product is available in different colors. Unlike others on the market, this kit is inclusive of all the components you would need.
Pros
Great break strength
Heavy duty ratchet straps
Chrome coated S hooks
A coated steel ratchet mechanism
Durable poly blend webbing
Cons
Demanding treatment of steel ratchet
Length not that impressively long for taller bikes
Verdict
This product is a must get for enthusiast travelers needing to haul their bikes. It is a heavy-duty tie-down worth your penny. Considering its build quality, it will last long without compromising the security and safety of your motorcycles. Many customers are impressed with the product and so am I. On top of that, it is affordable.
2. Vehiclex Ratchet Tie Down Straps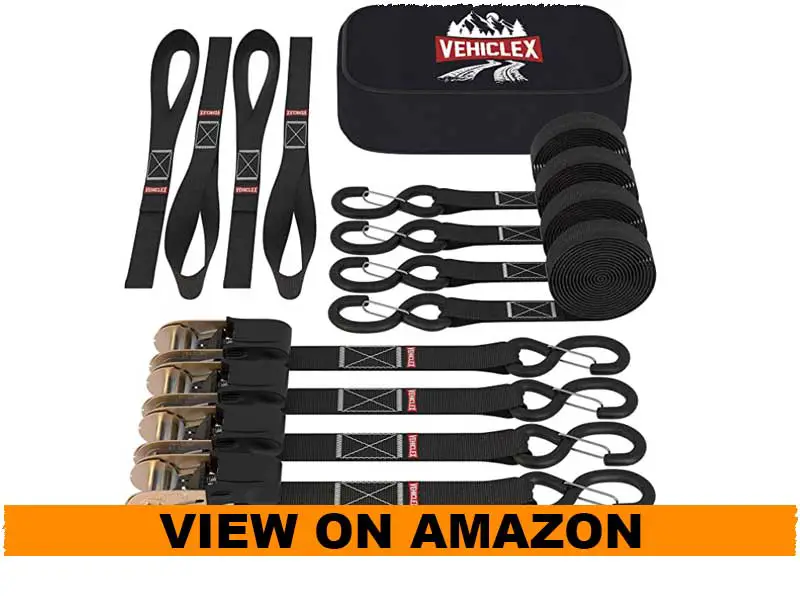 Vehiclex ratchet tie-down straps' design makes it very easy to use and pragmatic. Sometimes straps can slip open mid-transit, especially on bumpy journeys. These straps come with an S-shaped hook that closes with a safety clip. It also has a spring-loaded release mechanism. These design features are much better at keeping straps secure at anchor points because their shape and safety clip prevents the webbing from slipping out. The best still is that you won't need help to buckle down your cargo. The design of these straps and ratchets and ease of use mean you can do the tie-down alone.
Materials and Performance
The strap material is high-quality polyester reinforced with multiple layers of zig-zag stitching to make it more durable in case of additional strain. This design also enables it to endure heavier loads than the average market ratcheting straps. Vehiclex ratchet tie-down straps might be a good option if you travel in mountain or sloped areas.
Budget Benefits
For the price of around 30$, you're getting four 15 ft ratchet straps paired with four 18 inch soft loops and a bag to store it all in. Normally you'd have to purchase soft loops separately. Considering the material quality of generalized ratchet straps or store-bought roping equipment, it's not such a bad price.
Pros
Fewer chances of the strap slipping out of the S-shaped hook because of the clip. This also makes tie-downs much easier.
The reinforced zig-zag stitching allows the straps to hold heavier loads than ordinary ratchet straps.
Storage bag keeps straps from getting dirty or getting rusty when not in use.
The ratchet handle is comfortable to use owing to the design.
Loop straps can be wrapped around the handle of motorbikes to keep them secure without scratching the frame.
Cons
The springs in the handle catch rust in a few months, but fortunately, it doesn't impair the handle's function.
Ideally, there should be extra handlebar straps included, but you will have to purchase them separately if you need them.
It probably costs more here than if you bought it from your local home improvement store.
Verdict
The straps are handy for securing vehicular cargo like motorbikes, kayaks, jet skis, and more because of their easy-to-secure handle and S-hook with a safety clip. It's best to take a call based on the mass of your load.
If you're carrying loads heavier than 1000 lbs on a possibly bumpy journey, the straps' design is ideal for the task. They're made from polyester, which is a reasonably sturdy material. If you're concerned about your loads slipping off, or straps coming loose, these tie-downs might be worth exploring.
3. Motorcycle Tie Down Straps by Tank Straps Store
Tank heavy ratchet straps have various applications, of course, but are designed specifically considering motorbike designs. So, if you're planning on transporting heavy, expensive motorcycles, it's essential to invest in tie-downs that can safeguard your cargo.
Design
The ratchet uses a safety lock system, while the hooks have an endless loop design. These two features allow the tie-downs to withstand up to 10,000 pounds of load and a 4,400-pound buckle break-strength. A 300-pound motorcycle just won't budge even on bumpy roads! The ratchet system also means that you won't be forced to cut away straps when it's time to unhook. Release the mechanism, and your bike or other cargo is free from its restraints.
Materials
The straps are made from high-strength polyester yarn with a higher break-strength than conventional market straps. Since there is no stretch in the webbing, motorbikes or other transportable vehicles and goods will not budge once they're secured. Even better is that the zero-stretch implies that the webbing won't lose its shape over time. They'll remain just as taught and secure.
Performance
As long as the threading steps provided in the manual or on the company website are followed, cargo won't take any damage during the journey. If you've tried other options before, you'll be able to see a marked difference straight away. These are thicker in breadth and width. They also perform better in comparison to most straps available in local home improvement stores.
The securing mechanisms are designed to be fastened right below the suspension. This is the most secure way to tie-down your bike and prevent any movement. The ratcheting action is smooth, not glitchy or awkward, as well.
Pros
The strap material handles much heavier weights than conventional market straps and roping equipment, making it a much safer choice for individuals or shipping companies.
The ratchet handle is very secure, so there is no risk of the threading slipping mid-transit.
The product is custom-designed to tie-down motorbikes, so motorbike haulers have a huge advantage with this product.
The fabric doesn't stretch at all, restricting cargo movement at the back when tightly fastened.
Endless loop design prevents scratching.
Cons
The threading buckle is a little complex to fasten. It might take some time to tie-down your vehicles.
The price is relatively high, so you may have to reach a little outside your budget.
Verdict
Motorbikes are expensive, and if you're looking to transport yours, these tie-downs are worth it. Going with something cheaper will only increase your risk of scratches in your chrome or paint, or worse, the bike toppling over sideways. Aside from the loss you incur in damages should the cargo slip during transit, you have to worry about the hazard of improperly fastened cargo to other drivers too.
Selecting tie-down straps for your cargo is thus not a decision to be taken lightly. Tank motor vehicle tie-down straps come on the pricier side. But if you're transporting heavy, expensive motorbikes, these might be worth your time. Cargo and safety come first!
4. Lockdown – Motorcycle Ratchet Straps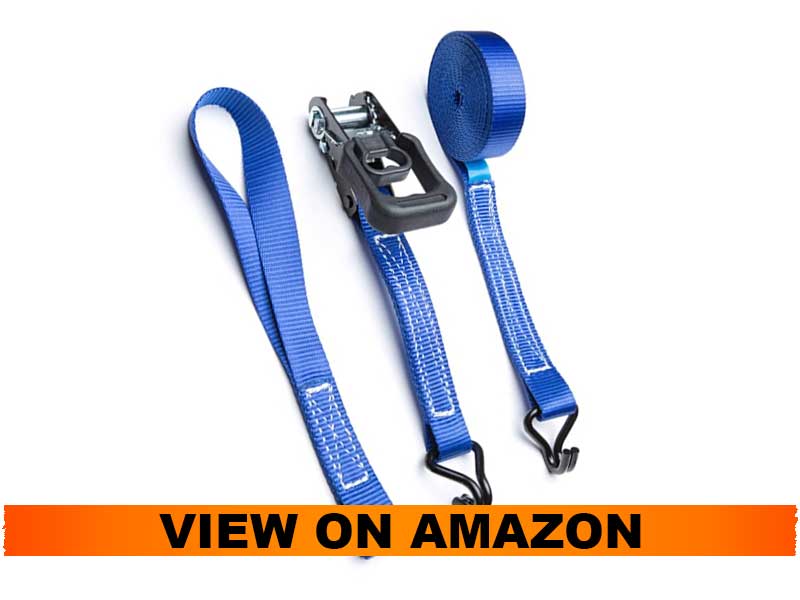 Available in blue, these straps appear to be more appealing at first sight. But that's not really a major takeaway. Its takeaway is the strength behind it that makes it an ideal product to haul your bikes for a long distance.
Measuring 15 feet in length, it is longer than the above product, which I still find more convenient. Its break strength, however, is much smaller than the aforementioned straps. It has 3372 pounds of maximum break strength.
All included
Included in your package are soft loop anchoring straps, which anchor your motorcycle without tampering with its beautiful finish. In total, there are 8 pieces of components in this package. No need to purchase additional components.
Anyone hauling cargo or any other equipment other than motorcycles would appreciate these straps as they are versatile and heavy-duty. The large molded finger through the handle and the release lever provides more comfort and tension adjustment, therefore making it certain that your bike is secure.
Usability
From first sight, you would notice the unique points these straps present. Instead of the small x cross, these straps have a larger stitch that provides more security. Also, the straps come with double J hooks instead of the popular S hooks. I must say it somehow draws back to personal preference that which hook works better. I find them effective depending on the angle of the S hook.
The thickness of each strap measures 0.075 inches whereas the width is 1 ¼ inch. These are impressive dimensions to anchor a plethora of equipment from ATVs, kayaks, and motorcycles. Avoid slippery straps that could compromise your bike's safety.
Quality
The build quality of these straps made them weather-resistant and abrasion-resistant. No matter how exposed they are to outdoor elements, they will still function optimally. The ratchets are largely plastic meaning you have no major care expected. But note that metal ratchets are more rigid than the plastic alternatives.
Pros
Unique straps with double J hooks
15 feet long is convenient to tie down medium to large motorbikes
Soft loops provided
Thick and wide straps
Cons
Plastic ratchet mechanism not as durable as metal counterparts
Verdict
Although seemingly available in only one color variance: volume, I still find these straps very attractive and powerful. As long as you do not exceed its workload limit, which is ideally 1/3 of the break strength, then it will not disappoint you this product. Looking at its build quality, it is a product to last you for a long time with a bigger stitch. It comes with soft loops to ensure that your bike's surface isn't scratched.
5. GOSSIP – Soft Straps for Motorcycle Tie Down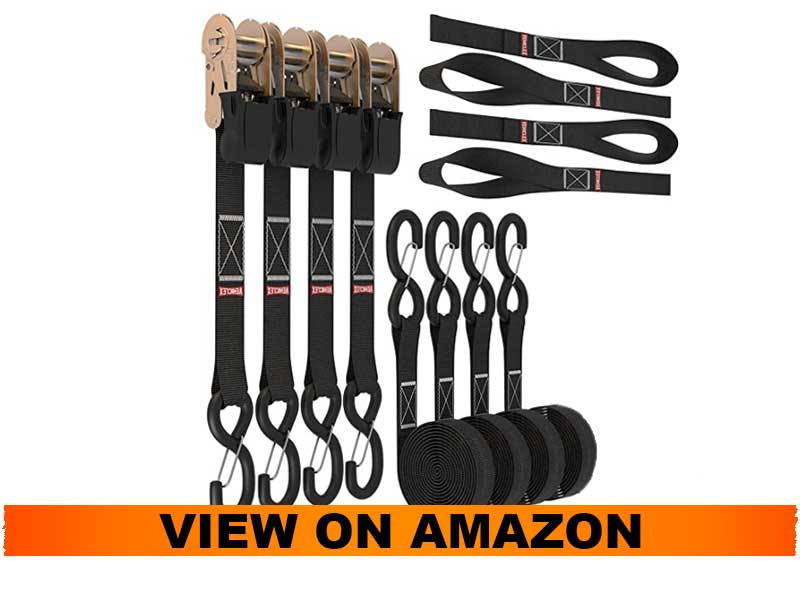 Features
GOSSIP could be the perfect product you've been looking for with the unique features it possesses. Measuring 15 feet long, the strap is long enough to clamp down taller motorcycles even though that is not really the longest length. Anyway, it's not like we prioritize the length over the strength.
These straps come with a break strength of 2059 pounds. Note down this value before hauling your motorbike. The working load limit is 1/3 of this break strength.
The manufacturer claims the straps were lab tested. Given their strength and durability, I tend to believe they went through that testing. I came across plenty of tie-down straps in my years of working with motorcycles so I know at first glance if the strap is a great deal.
Ergonomic design
The product's vinyl coated full bent closed S hooks make it a cinch to tie down the bike without scratching the finish. Add to that the soft loops then you have a complete combo that will not compromise the paint finish of your bike.
Additionally, the ergonomically designed rubber handle makes it comfortable to handle these straps. The product also comes with the release lever which helps clamp down your motorcycle easily. When it's time to untie, it is an absolute breeze as well, thanks to the release lever.
For storage purposes, you have been provided with a carry bag. It's unlikely to think of this if you've noticed how affordable these straps are.
Materials
Talking about elements protection, this 100% polyester product is a great deal. Polyester and nylon are popular fabrics used by these straps. But, polyester performs better than nylon even though that comes at a price. With polyester, you have a shield against UV rays and harsh weather.
Pros
All needed components included
Closed S hooks with a clip for a safe anchoring of the motorbikes
Impressive break strength
Soft loops to prevent scratches
15 feet of length is also a great deal
Cons
Challenging to understand the ratchet mechanism if you're inexperienced in ratchet systems
Verdict
Get yourself the Gossip brand and start gossiping with others about how impressive it has been to you. I couldn't find a deal-breaker in these straps. The length is on point, thickness, and width on point, including the overall build quality. Many customers are impressed as reflected in the number of reviews the product has received. I am happy with all the technical aspects of the product from the break strength, load capacity to closed S hooks to anchor my bike securely.
6. Ohuhu – Premium Ratchet Tie Down Straps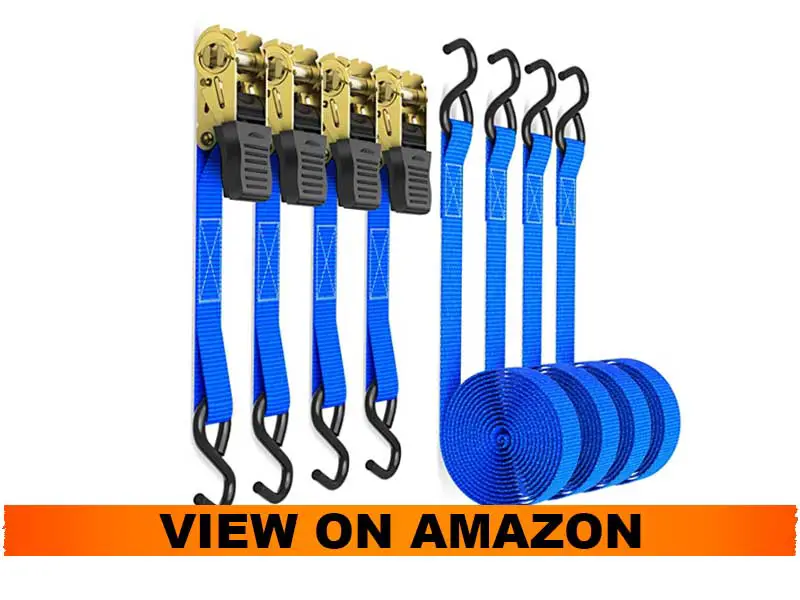 These industrial-grade straps could be what you've been longing to have – that is a portable strap for your lightweight motorcycle. Note the 500 lb loading capacity each strap comes with as well as the 1500 pounds break strength. Your motorcycle should be rated below 500 pounds in total weight to ensure maximum safety with these straps.
Design
The straps' ergonomic design makes it a cinch to handle. It also gives assurance that your cargo or whichever equipment you haul will not fall off as a result of some bulky straps.
Like most ratchet straps, these ones come with the rubberized S hooks, which make it an absolute breeze for your bike without accidentally scratching it. Perhaps a downside could be the elongated S hook which, to me, seems a bit unsecure should you ride on rocky terrains. I would prefer a 90 degrees angle. But, for trucks, these typical S hooks are preferable.
Features
This product features a sophisticated ratchet mechanism that outsmarts cam buckle straps. Very easy to control while tightening the straps to increase or decrease tension. The stitch increases the toughness and ensures that your bike is secured.
Pros
Aesthetically pleasing blue ratchet straps
Sophisticated ratchet mechanism
Affordable straps
Top-notch polyester webbing
Soft hooks
Cons
The angle of the S hooks is not that impressive for riding on rocky terrains. The hooks might come out
Maintenance needed for the metallic ratchet mechanisms
Verdict
Ohuhu straps are a great deal. Very affordable yet not compromising any of the features. It might not be the most intensive product with higher loading capacity out there but, for those with medium bikes, it is a great product. Overall build quality is impressive with polyester webbing to protect against weather elements. For the budget alert enthusiasts, I would recommend these straps at a first glance.
7. Pro Taper Tie Downs – Heavy Duty Tie Down Straps
Now, instead of the usual ratchet tie-downs, I bring you the cam buckle: Pro Taper Tie Downs. Even though cam buckle straps are not as effective in tension adjustment and sturdiness compared to ratchet ones, they are still fairly great in anchoring loads.
Features
Your motorcycle will still be secured onto the trailer using this one pair of Pro Taper Tie Downs. It features the patent-pending swivel carabineer base hook. Looking at the design, the strap is impressive, long, and thick (84" x 1.5"). If you are anchoring long motorcycles then this strap is an advantage. Its length makes it versatile to even clamp down a variety of loads such as kayaks on your roof rack.
The other unique feature is the nylon webbing the product has. Most of the tie-down straps I've reviewed above employ the qualities of polyester webbing than nylon webbing. Nevertheless, nylon is also a great deal of webbing that gives the straps protection against the webbing. However, it is not as effective as polyester, but it is much cheaper than polyester.
Having a tension strength of 1200 pounds, this strap is ideally designed for heavy-duty loads. Many motorcycles rate below that tension strength, so it shouldn't be risky to tie down with this strap.
Pros
Long and wide nylon webbing strap
High tensile strength of 1200 pounds
Industrial strength non-slip cam buckle
Affordable strap
Soft hooks
Cons
Not as effective as ratchet straps in tension management and sturdiness
Nylon webbing not as effective as polyester webbing but it is cheaper and still fairly powerful
Verdict
If you want to tie down various loads other than the bike, this tie-down strap is a great deal. It is a long and wide strap I would recommend to outdoor enthusiasts. Unlike other common straps, this one features the non-slip cam buckle and nylon webbing. It is still a fairly powerful strap with a tension strength of 1200 pounds, so I find it worth the value of money.
8. Sunferno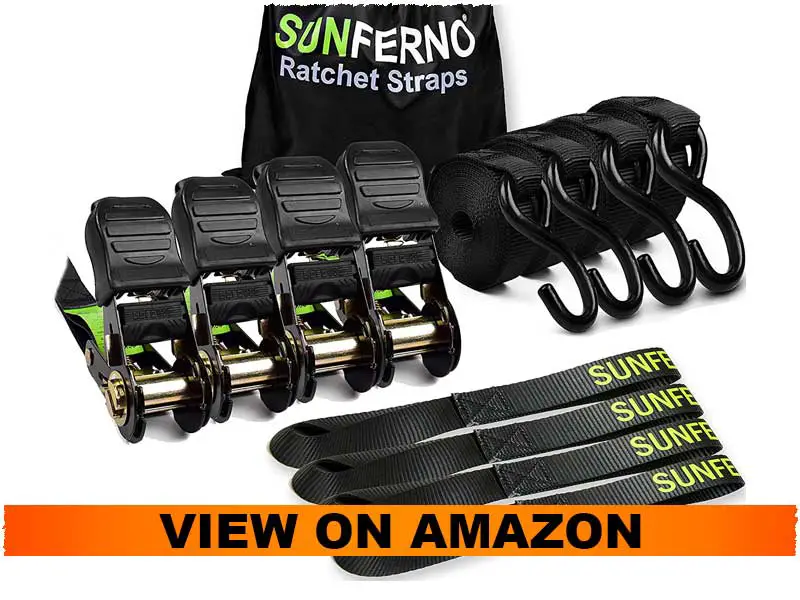 This is yet another deal of tie-down motorcycle straps on the market. Rated at 2200 pounds of break strength and 1100 pounds of load limit, it is an ideal product to haul your bike to the desired outdoor destination.
Sunferno ticks most of the satisfaction boxes one needs from a typical tie-down strap. It includes attractive accessories such as the guide e-book and the carry bag. These are irresistible add-ons you might love to make your journey an absolute breeze.
Ergonomic Design
The straps are 15 feet long each, which is an ideal length to clamp down larger motorcycles without compromising the tension. As accurately described, they are "heavy duty straps". Included are 4 packs of soft loop straps that will not scratch your bike or leave any regrettable dent.
Thanks to the closed S hooks the straps have to prevent the polyester webbing from slipping while driving. To add to that, the webbing is weather resistant and UV rays resistant. No matter how long you drive amid strong sunlight rays, it will not degrade. Even when driving amid treacherous weather conditions, the webbing remains strong and durable.
The manufacturer asserts that you will get your money back if you are not satisfied with the product. I must attest to the strength and quality of these straps that they are the best deal hence many customers give them a thumbs up.
Pros
Rubberized hooks and padded handles for a comfortable handling
Includes soft loops, guide, and a carry bag
Great break strength and load limit
Closed S hooks to prevent webbing from falling off
UV resistant webbing
Cons
Installation a bit tricky but thanks to the included guide
Verdict
Many customers give these straps thumbs for their quality, strength, and convenience. I side with them on that. The build quality is great with a convenient 15-foot length to clamp down a variety of loads other than motorcycles. The price is affordable with no features compromised. I would recommend this product to motorbike enthusiasts.
9. DC Cargo Mall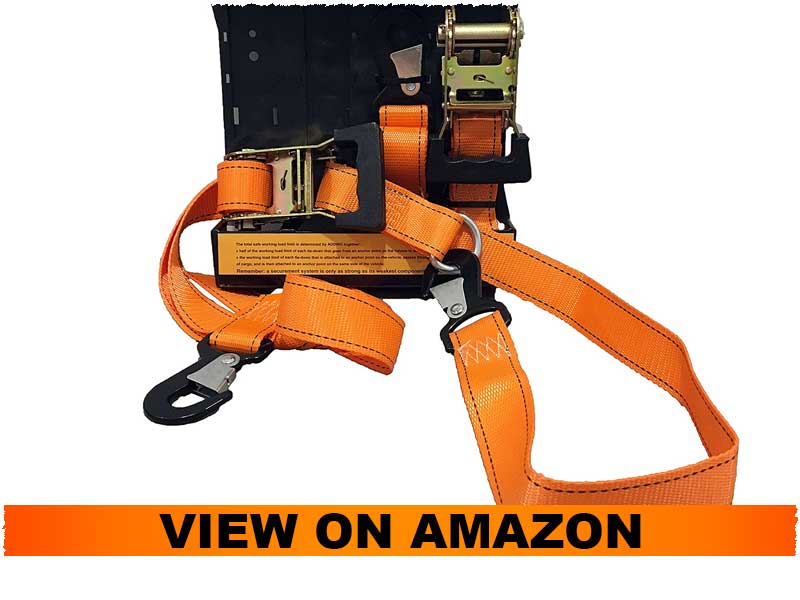 Whether clamping down motorcycles, ATVs, kayaks, lawnmower machines, or any other equipment to your pickup truck, you might appreciate these 2 heavy-duty straps. Measuring 8" x 1 ½", the straps are convenient to tie down your motorcycle as you head to outdoor adventures.
Features
The straps feature the D-ring, which helps anchor the load without actually scratching the finish. Thanks to the soft tie option that you don't have to worry about your Harley Davidson being scratched that it can end up costing you to replace. To apply the strap, loop it around the handlebars or the frame, and then snap into the sewn D-ring. It will be only the non-abrasive webbing touching the handlebars to avoid any scratches.
Looking at the capacity of 1000 pounds, these straps can haul many bikes rated below this value. The break strength is 3000 pounds, which is also a great deal.
Usability
These straps are ideal for a variety of weather conditions. The polyester webbing is UV resistant and tear-resistant. When wet, it will not stretch to compromise the tension. Polyester webbing is durable and weather resistant. You must, therefore, feel confident clamping down your bike with these straps.
While the 8 inches may not really be the longest out there, I still find it more convenient. The idea is to have the best tension because longer straps tend to have a compromised tensile strength.
Pros
Clampdown with non-abrasive straps that snap easily into the sewn D-ring
UV resistant and tear resistant polyester webbing
The load capacity of 1000 pounds combined with the break strength of 3000 pounds
Wide and thick straps
100% payment back guarantee if dissatisfied
Cons
Non-adjustable strap. So be certain about the ideal length of your bike
Verdict
These 2 heavy-duty motorcycle tie-down straps are a must-have for bike enthusiasts. They are versatile and powerful. With a break strength of 3000 lbs and a load limit of 1000 lbs, the straps will not disappoint you with heavy-duty loads. Unlike others, they have the sewn D-ring, albeit non-adjustable, to snap the straps into. Soft straps posing no danger to your finish paint, these are painless to tie down your bike. I am impressed with the product quality.
10. Badass Motogear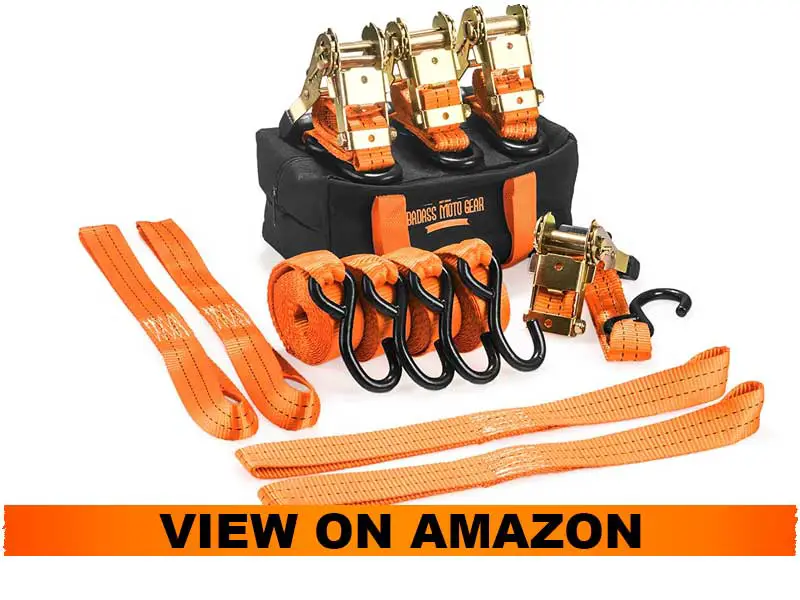 Badass Motogear Tie Down Kit is also a potential ratchet strap to haul your bike to your trailer or a pickup truck. The kit comes with 4 padded ratchet straps rated at 3300 pounds of break strength each and a load limit of 1100 pounds each. That's the typical heavy-duty strap to clamp down heavy machinery.
Also included are 4 soft loop tie-downs to ensure that no scratches or dent are left to your disappointment on your precious motorcycle. You have the storage bag included helping you store this kit after you are done with your journey.
Usability
I like the versatility of these straps in that they can tie down a plethora of equipment. These include UTVs, Trikes, and ATVs. That is evident in the load limit plus the break strength the straps have. The kit saves you time and money that you would otherwise spend looking for individual components. All in one in here.
Installing these straps shouldn't take you the entire day with the guide included. Likewise, it should be a cinch to uninstall the straps when you are done with your trip.
Design and Materials
The strap is made to last with industrial-grade materials where each component is designed with perfection. The release lever and the handle grips maximize your comfort in handling these straps. Easy to use with an ergonomic design. If you are not satisfied, there is a money-back guarantee.
The other feature worth noting is how weather resistant the webbing is. It will not stretch based on outdoor elements. UV rays and rain will not be a match to these ratchet straps. Ratchets straps are renowned for their top-notch quality compared to other typical straps such as cam buckle.
Pros
High break strength and load limit
Top-quality ratchet straps with polyester webbing
All-inclusive kit with soft loops and a carry bag
Weather-resistant material
Cons
Not long enough for taller bikes or other machinery
Verdict
If you are looking for heavy-duty straps, these ones are typical options you can consider. Solid built straps with all components included in the kit, the straps give you the freedom of hauling your bike effortlessly to your next destination. Many customers and I are impressed with the overall quality and performance of these straps without breaking your bank balance.
Tips and FAQs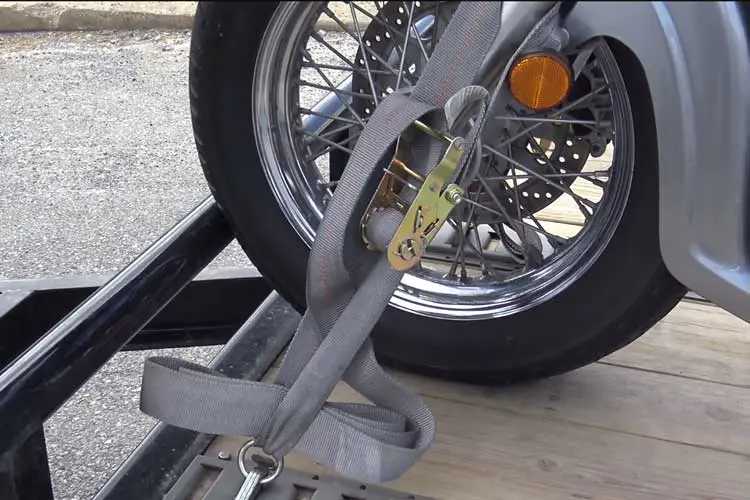 Notwithstanding this refined list of tie-down straps and their accessories, it can still get overwhelming for an amateur to figure out what's the best among a few given. So, I've decided to negate such confusion with this short yet comprehensive buyer's guide.
What materials are better for the straps?
The materials of these straps are of paramount importance. Think about the abuse the straps get exposed to. The harsh weather elements and the UV rays all play a role in testing the durability of these straps.
For these reasons, you need quality materials that can withstand whichever abuse these straps are exposed to. Usually, tie-down straps are made of nylon and polyester webbing. While nylon seems attractive with its cheaper price, it does not last as much as polyester webbing does.
Polyester webbing can endure weather elements, protect against UV rays, and does not stretch if the straps are immersed in water or soaked in rain. However, polyester is expensive but worth the value of money. I do not, however, insinuate that nylon is bad material.
Load capacity and breaking strength
Perhaps the single most concern is how much load can you clamp down and what is the breaking strength. Typically, the load capacity is a third of the breaking strength. Before making any purchase, make sure that your bike's weight is equal to or less than that of the straps' load capacity. If it exceeds you might expose it to damages.
Hooks
Usually, there are double J hooks and S hooks. These may be bought based on preference and also the mode of transportation. If, for example, you want to haul the bike on a truck, then the 45 degrees S hook could be the best buy. For trailers, 90 degrees or closed S hooks are the best buys. If the hook is weak, it is easy for it to fall off the anchor points when driving on rocky surfaces in the mountains.
Type of straps
There are different types of straps. However, cam buckles and ratchets are the popular tie-down straps for motorcycles. Ratchet straps, in particular, are the best in terms of sturdiness and tension management hence their popularity among many straps. Cam buckle is fairly good but not as much as ratchet straps. Choose wisely considering all the factors. Some ratchet straps are retractable just like a measuring tape.
Strap size dimensions
Strap length is also an important feature to consider. The choice of the length depends on the size of the load to haul. If your bike is tall, then consider straps that are about 15 feet long.
Also noteworthy is the width and the thickness of the straps. A wide enough strap will last long and will give good tension.
Weather resistance
You do not want a strap that deteriorates quickly when exposed to harsh weather conditions. Usually, check how thick the polyester webbing is. This gives you a good indication of weather resistance. This takes us back to the material choice between nylon and polyester. With a good polyester webbing, you should be fine with weather resistance.
How to Tie a Motorcycle Down in a Moving Van?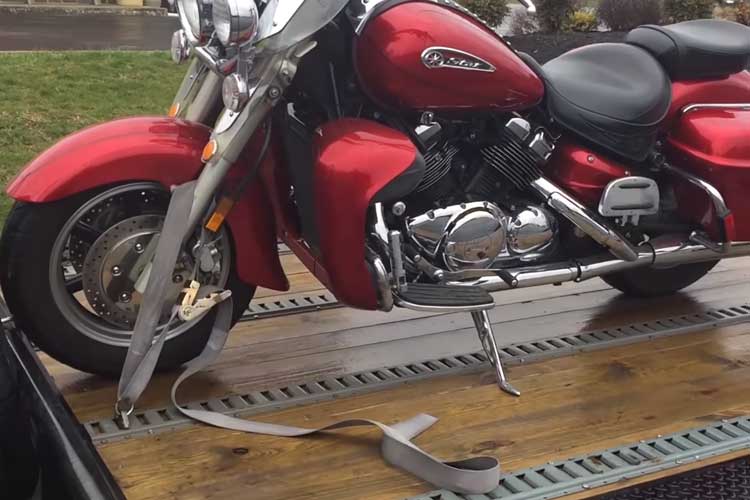 You should be able to use tie-downs and a bar harness, though this might depend on the brand of moving van. Some trucks use aluminum extrusion side rails (typically U-Haul), and some use wooden rails (Budget), and I am sure that other types of side rails probably exist. The aluminum rails are strong, but hard to get tie-downs around. I felt the wooden rails were the weaker of the two, the following takes that into consideration. Check out the best motorcycle tie down straps procedure below;
Place the bike in the back of the truck, nose forward, (easier to get in and out that way).
Use two tie-downs per side in the front both running to the bar harness, but originating from different side rails. This protects you if one should come loose, and provides leverage to compress the forks from the lower tie-down, and better leverage to stop side to side movement from the upper tie-down.
Just make sure you get all 4 tensioned evenly. At the rear Loop a tie-down around the wheel from each side, to stop any side to side movement, by looping them, you make them independent of each other.
Make sure you got good compression of the front forks, and also place a loop of bungee cord around the front brake handle. The bar harness is just a "cross tension" strap that keeps the tie downs tensioned evenly, and keeps their associated hooks away from the bike, thus avoiding scratches.
Also, run tie-downs to the rear subframe to compress the rear suspension.
Just make sure you don't overlook solidly securing the other contents of the truck, as I have heard horror stories of damage from things moving about. If you have some items that once strapped in place, lent themselves to being used as barriers between the bike and the load.
With the motorcycle secured this way, it suffered no damage, in spite of some nasty construction zones that you can encounter, which requires some really hard braking, avoidance maneuvers, etc.
Final Thoughts
I have reached the end of my comprehensive guide about tie-down straps for motorcycles. I know this was a long read but it is worth it. Any motorcycle enthusiast can relate to how cumbersome it is to travel with your motorcycle unsecured at the back of your truck or trailer. These best motorcycle tie down straps come at a rescue.
There are many designs and sizes of tie-down straps. I have chosen 8 of them on the market and included also 3 accessories such as ramps, D-rings, and soft loops. Choosing the straps is a demanding process. You can't just close your eyes and choose randomly. Materials, strap lengths, loop type, and other features are just as important!
Also knowing how to tie down your straps is important because most motorcyclists do it the wrong way. This YouTube video gives you clear instructions on how to achieve this.