Motorcycles offer people a convenient way to commute for long and short distances. However, traveling for long distances can get quite tiring and, in some cases, painful for most bike riders. It is a big reason why there has been an increased demand for motorcycle seat pads. Most of you may be wondering why people would require a seat pad when a bike already has one. Well, in most cases, the company-provided seat pad is not comfortable enough.
Sure, it may suffice for short distance travels, but it can be quite painful if you plan to ride for hours. The good news is that there are plenty of aftermarket motorcycle seat pads available these days, and they can offer you an added layer of cushion and comfort. You'd be surprised to learn that hard, uncomfortable seat pads can cause several problems for long-distance riders.
This post contains affiliate links. If you make a purchase, Motoprove.com may receive a small commission at no additional cost to you.
5 Top-rated motorcycle seat pads
Let's be honest, everybody wants to enjoy a stress-free and comfortable ride, and feeling numbness in your backside is a clear sign that your current seat is far from pleasant. The soreness can even move upwards, resulting in excruciating lower back pains. Any discomfort or bodily pain experienced when riding a bike can also pose a massive safety hazard due to the distraction aspect.
This problem can be especially dangerous for touring bike riders as they spend hours, if not weeks, on their bikes. Of course, they take breaks to stretch their bodies but they simply cannot replace the comfort provided by the best motorcycle seat pad.
These pads are available in a variety of shapes, materials, and sizes and it is important to choose one that fits your specific needs and comfort level. As far as the materials go foam and gel are the most popular. However, the comfort level they offer and their durability depends on the brand you choose.
1. Airhawk – R-REVB Cruiser R Large Motorcycle Seat Cushion
Starting off my list is the popular Airhawk brand with one of the top-rated motorcycle seat cushions on the market. Many can attest to the convenience and excellence of this seat cushion in making their long rides an absolute breeze.
Looking for the best motorcycle passenger seat cushion? Airhawk – R-REVB Cruiser R Large Motorcycle Seat Cushion brings you the comfort you need to ride for long distances. We know that riding on an uncomfortable seat can cause you pains all over your body. Instead of enjoying the ride, you end up counting hours to the next stop.
Air Cell Technology
This seat is made for long rides, thanks to its patented Air Cell Technology. The technology addresses the issues of pressure pains often endured when sitting for a prolonged time on a seat. As a result, you will be able to remain seated for as long as possible while exploring nature with your bike.
Also thanks to the air cushion that gives you epic comfort. The pad is inflatable with your mouth. There is a knob that you should turn clockwise to ready it for inflation. Instructions are given clearly for this. To adjust the air cushion, it would be easy if you do while seated on the seat.
In case your bottom out, you can re-inflate the pad. However, do not over-inflate as this may affect your comfort.
Comfort
The good part of the pad is that it does not affect your ride height. The air cell height lowers with ease on the front to give you a better leg purchase. The air cells improve air circulation on your seat to address the issues of ventilation and perspiration. Riding in summer can be a nightmare with your butt sweating intensively and as a result affecting your comfort. All thanks to the breathability of this pad.
Perhaps worth mentionings the ergonomic design of this seat cushion. It comes with a cover with a sleek appearance and it can open to reveal the air pad which is removable and inflatable. The cover is breathable with its spandex and mesh design to allow enough airflow into the insert. This air cushion is arguably transcendent when compared to other cushion materials such as gel and foam.
Dimensions
One other consideration is that the seat pad weighs just 1.2 pounds, which shouldn't be burdensome to your seat. Its dimensions are 16.3 x 8 x 4 in, which should be sufficient for a wide range of touring bikes out there. The cushion will last you long thanks to its polyurethane material.
Pros
Airhawk is a respected brand
Quality polyurethane material
Breathable cover and an inflatable pad
Easy to install
Cons
I think inflating by your mouth can be a challenge to riders with some breathing problems.
Costly product
Customer insights
The product is impressive for its design and functionality. It provides you the much-needed comfort to survive the discomfort, numbness, and pain of a long-distance. You will always look forward to your next ride. Thanks to the breathable material that brings you enough air circulation to prevent moisture build-up. I personally recommend this renowned brand.
2. Air Seat Innovations – Best Seat Pad for Harley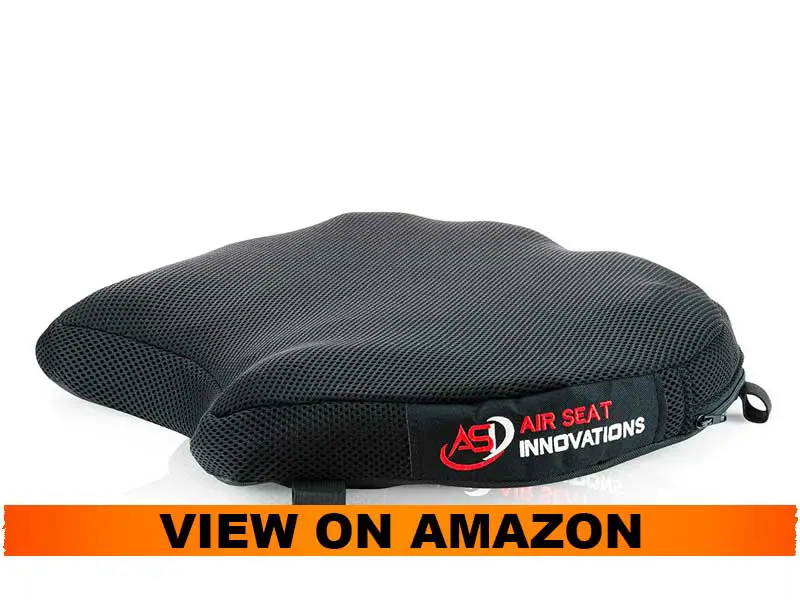 Are you riding large cruisers, touring Harley Davidsons, or sports touring bikes? Air Seat Innovations (ASI) could be your go-to brand of motorcycle seat pads for long rides.
Adorned with a durable Neoprene Rubber that is more durable than polyurethane plastics, this pad reassures you long-lasting comfort. It measures 15" x 13.5" x 2", which I find fitting for a wide range of touring motorbikes.
Installing the seat is a cinch. But, you may have to remove the seat to attach the Velcro straps underneath it. That's not a big problem either, albeit a bit inconvenient. So if you are looking for best motorcycle passenger seat cushion, better get this Air Seat Innovations from amazon now!
Comfort
The pad helps relieve pressure for the scrotum, prostate area, and tailbone. Riding for long distances with your body experiencing pains can lead to excruciating pains in the long run. As a result, you won't enjoy your long rides and the bike might turn into a nightmare.
Stock seats are rarely comfortable for a long time. Their comfort fades fairly quickly and buying a new one is costly. So, with these aftermarket pads, you can supplement the cushion and get going without counting hours to the next stop. This seat pad features the patented Air Pocket Cell Technology that is responsible for comfort.
Ergonomic design
The pad comes with a valve through which you can inflate it and get going. Simply open the cover to expose the air cells and then fill or refill. The adjustability of the air cells lies with you. It's actually easy and recommended to adjust the pad while sitting on it. If you bottom out, you can inflate again or if the height is inconvenient you can deflate it to the desired level.
Design-wise, the pad is ergonomically designed to give you unparalleled comfort. It enhances your riding experience.
Also worth noting is the optimization of air circulation and improvement of the leg passage with the elevated design. As you ride for a long distance, especially in summer, you tend to sweat a lot. For this reason, you need a pad that can wick away the moisture.
Pros
Designed to fit a range of motorcycle seats
Great patented Air Pocket Technology
Made of durable Neoprene Rubber
Great ergonomic design
Cons
Remove seat to install the pad so you can attach the straps underneath
Not waterproof
Customer insights
No doubt that the seat pad is one of the first-rates. What impresses me most is how it was designed ergonomically to give you the greatest comfort. So, riding for a long distance shouldn't be cumbersome for you. It uses an air cushion to give you comfort and inflating it is an absolute breeze with the valve included. Also, it's easy to adjust the seat pad height to your desired level either by re-inflating or deflating it. I do recommend this product. Grab your best long distance motorcycle seats that made from high-end quality.
3. SKWOOSH Classic – Motorcycle Gel Seat Pad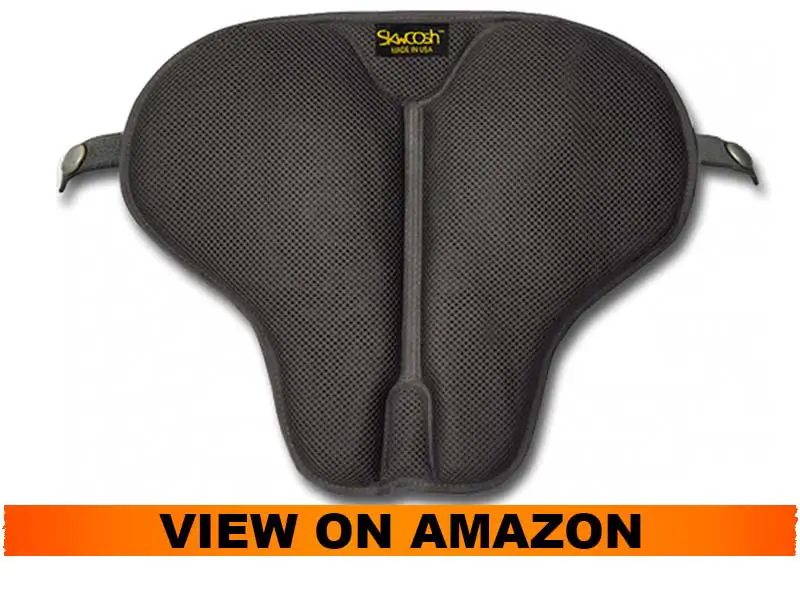 For a change, SKWOOSH Classic Saddle Motorcycle is a gel-based seat cushion for long rides. Gel also performs well, especially in protecting injuries on your tailbone when seated for a prolonged time. As I will highlight in the buyer's guide, you have options between memory foam, gel, and air cushion.
Design
Compared with the preceding reviews, this pad is fairly cheap yet not compromising any of the features. It is ergonomically designed to enhance your comfort when exploring places with your touring bike. To add to that, it features a breathable AirFlo mesh fabric, which optimizes your cool because we know how intense sweating can be.
More air is enabled by the air channel design which directs airflow into the pad. This also gives you enough air circulation and relaxation when riding. The gel relieves pressure on your "sitz" bones. By so doing, it prevents pressure pains which often result from uncomfortable seats.
Usability
Oftentimes, bikers are skeptical of pads because of the likelihood to increase their ride height which therefore distances them from reaching the pegs. This pad does not inconvenience you to that extent. You will be able to access your footpegs and lower controls of your motorcycle.
The pad should fit a wide range of stock seats. It measures 14.25 inches wide and narrows to 6.5 inches at the front. That's big enough for any sized rider. Make sure you take these measures into account before buying because some seats may be smaller or larger than the pad.
Now, coming to the installation part, the pad is an absolute breeze to install. The manufacturer has given clear instructions on how to achieve that. You need not many things apart from attaching the elastic attachments underneath the pad to secure it. You can also use the Snap Strap attachment.
In terms of outside elements, the seat is not that properly designed to prevent water penetration. For this reason, I advise you to consider some rain cover or simply avoid riding in the presence of the downpour even though it can be unpredictable sometimes.
Pros
Ergonomic design for maximum comfort
Elastic attachment to the seat
Affordable
AirFlo breathable mesh fabric
Customer insights
A gel is one of the cushion materials used by seat pads. This pad is a great investment plus, anyway, it is affordable. It ticks all major boxes except the waterproof one. Why would you leave your bike in the rain though?
The pad's ergonomic design is great. There is no need to blow air into the pad as it has its own air channel to circulate air evenly thus reducing pressure points. Long-distance riders can find this pad very convenient to enhance their comfort.
4. HOMMIESAFE Water Fillable Motorcycle Seat Cushion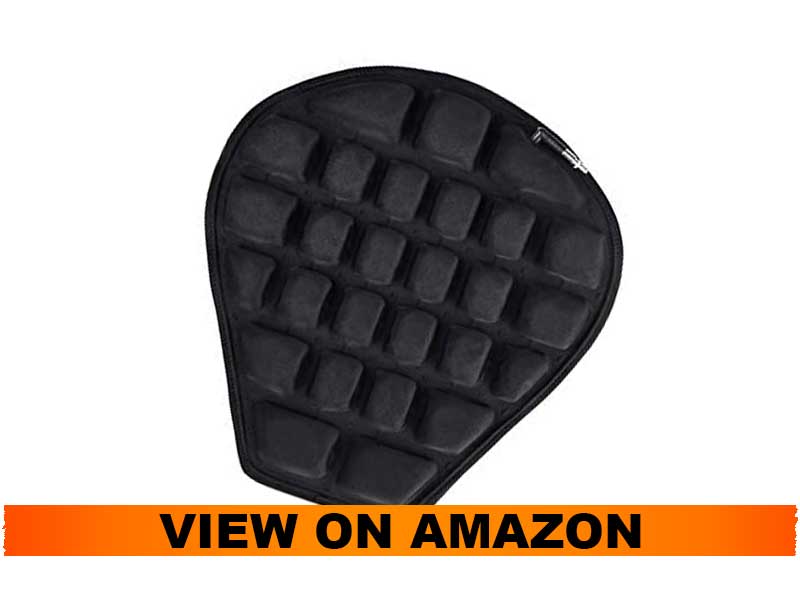 Finding top-notch motorcycle seat cushions can be quite difficult, especially for newer riders. Luckily, with these Cushions for Motorcycles, you will not have to do a lot of searching. This air-filled seat pad is easy to use and mount. All you have to do is inflate this pad or fill it with water and you will be ready to ride.
Design
The manufacturer designed this product with one goal in mind, and that is to provide riders with maximum comfort. Users will especially like this product if they own a cruiser as its ergonomic design will blend perfectly. That said, you can also use it on other bike models like the Harley, BMW, etc.
Comfort
This air seat cushion for the motorcycle offers maximum comfort. The polyurethane used for it features a superb multiple-cell design. Plus, the product's outer cover is breathable and stretchable, making it the perfect option for long-distance riding.
This air seat cushion has a simple yet sophisticated design. It doesn't have the fancy aesthetic that you would find on most motorcycle seat pads but it still looks great. No matter what the make or model of your motorcycle is, you can breathe a sigh of relief knowing that this seat pad will look great with your vehicle.
Pros
This product provides excellent pressure relief
The seat's cool down technology ensures you don't sweat excessively
The design is super practical and ergonomic
Made from premium grade materials
This product contains anti-slip particles, ensuring riders don't slip at high speeds
Cons
Requires regular cleaning and maintenance
5. SKWOOSH Sheepskin Motorcycle Seat Pad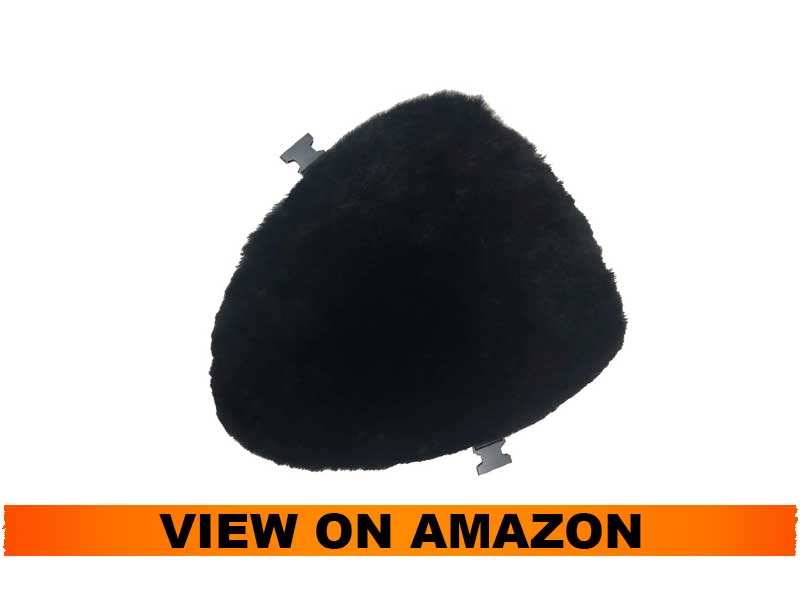 Generally, people always have disappointing experiences with their motorcycle seat pads because of their inferior quality. The SKWOOSH Sheepskin seat pad, however, has unmatched durability and can even last for years with proper maintenance. It can easily endure heavy weights without getting a scratch, which is another proof of its high quality.
This seat pad has easy-to-adjust elastic straps, which can stretch without tearing or getting loose. They also offer extra security, making sure you can enjoy a trouble-free long distance ride.
Compatibility
Sometimes, finding a seat cover that is compatible with your bike can be a massive challenge. Fortunately, you won't have to worry about this issue with the SKWOOSH motorcycle seat pad. Whether you own a Honda, Suzuki, Harley Davidson, or any other type of bike, this seat pad will fit right in, providing you sufficient space to sit comfortably.
Design
The SKWOOSH motorcycle seat cover pad comes in jet black color and looks great. It blends well with sporty and classical looks, proving to be a versatile option. While the product's shape is relatively straightforward, it still looks classy no matter which bike you mount it on.
Pros
This seat gets warm during winters and cool during the summers
The pad's elastic strap is adjustable and offers extra security
This pad's dimensions are excellent for larger and smaller motorcycles
Cons
Only available in black color
6. CONFORMAX Topper Excel Motorcycle Seat Pad for Tailbone Pain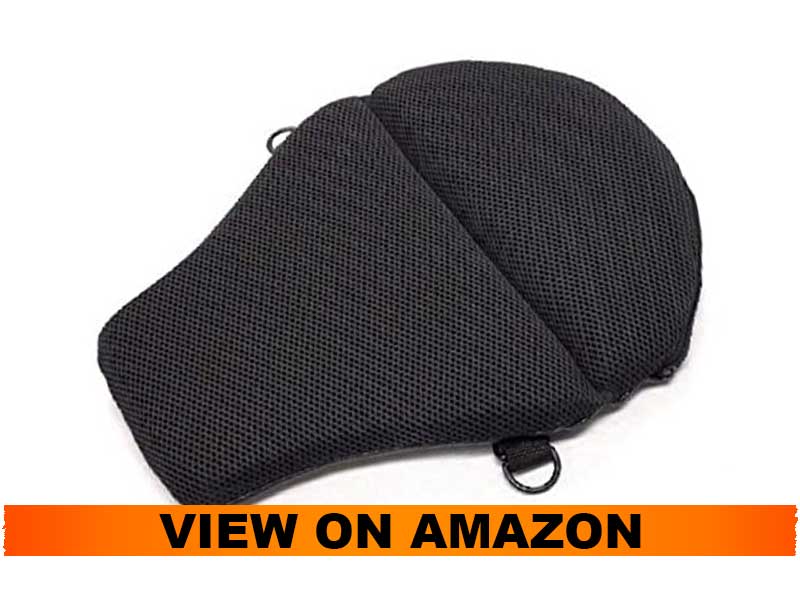 CONFORMAX Motorcycle Gel Seat Cushion is my favorite combination of both gel and foam cushions to give you comfort and to conform to your body shape. Featuring a hinged design, this pad was well-planned to outsmart its competitors.
Dimensions
It is available in a variety of sizes. Make sure you measure the dimensions of your stock seat before buying this cushion. At the front, its width measures 6 inches and at the rear end, it measures 12 inches with a length of 15 inches. The thickness stands at 1-1/4 inches. These are convincing dimensions even for plus size riders.
Usability
What next? I bet you want to know about its extra features. Thanks to the high-performance ULTRA FOAM which ensures that the pad conforms to the body perfectly. This combination of gel and foam is far much better than what gel or foam has to offer independently.
The bottom of the pad is grippy, to ensure that it secures easily without any slippery. The upper surface is also great. While riding, the pad will keep you cool with the AIRMAX-3D Cool Ride feature. It wicks away moisture and enhances air circulation between the rider and the seat. This, in turn, helps prevent the accumulation of moisture.
In general, this pad is very flexible. Thanks to its ULTRA-FLEX design that prevents any extent of pain.
When it comes to installations, the seat pad offers you two options: use Velcro straps or a universal D-ring/Ear tab. This makes it effortless to install the pad. Even if you haven't become hands-on before, it could take you a few hours to maneuver the pad around.
Because of its mesh design to let in enough air and improve air circulation, the pad compromised its waterproof. It isn't waterproof nor is it water-resistant. For this reason, I always advise against riding in the rain.
This is a US product, so I am always impressed with lots of manufacturers and their quality products from the US. Stay tuned knowing that the product will last you for a long time.
Pros
Gives you a pain-free comfort
Flexible gel and foam cushion
Two options of installation: Velcro and D-ring
Great dimensions to fit a larger variety of seats
Cons
Not waterproof or water-resistant
Customer insights
I've had an encounter with several customers who have actually used this product and they are very impressed with it. The mere fact that it combines gel and foam gives pleasure knowing that it combines all the benefits. Design-wise, it is a good looking pad with a grippy bottom to grip to your seat with ease. Installing it is an effortless task that shouldn't take you the entire day. I recommend this pad for long rides.
7. Skwoosh MSAF0910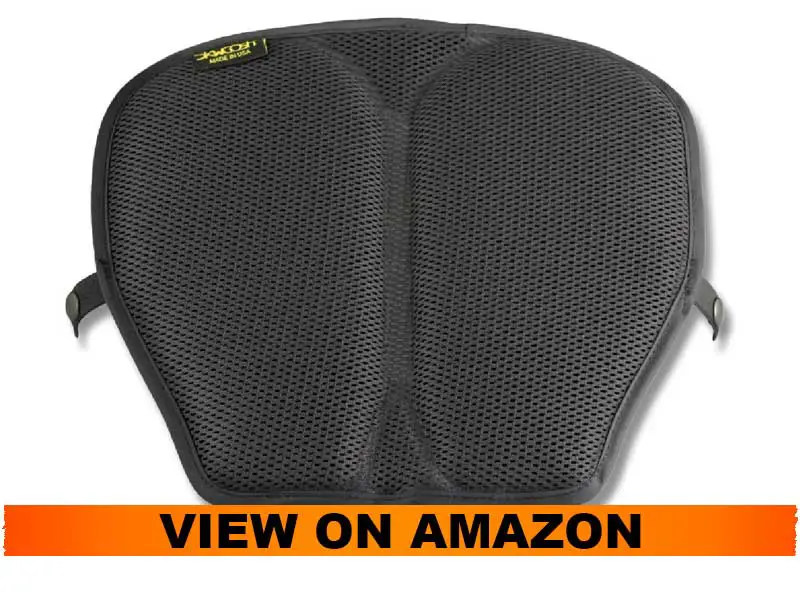 Here's another Skwoosh model. There's something exciting about this brand of seat cushions that I like. It has to be the way they are designed versus their cost factors. Very affordable yet another compromising their quality.
What do you get with this one?
Well, breathable top mesh fabric is the first spot you will notice. It's elegantly and ergonomically designed to give you the much-needed comfort when riding for long distances. It's one of a few seat pads that feature the air channel design to give you the cool and enhance air circulation. This prevents moisture build-up and reduces the discomfort.
You get the fluidized gel that cradles the sitz bones and reduces spinal compression to give you a long ride cushion and comfort. The cushion relieves the tailbone to ease the pressure, and this is beneficial for a long-distance ride.
Design and Usability
You need not adjust any height of the seat with this pad. It is ergonomically designed to negate that. On the other height, its non-slip bottom grips perfectly onto the seat. This gives it great traction to withstand bumpy roads.
To install the pad, you use the elastic Snap Strap. It is included. You need no additional tools. Also, instructions are provided on how to go about installing the pad. Perhaps more interesting is that you need no maintenance for this welded construction with its durable fabrics.
The pad weighs 0.8 ounces, which is too light and compact. It folds for storage. Its dimensions are 11 x 13 x 1 inches, which I find large enough to accommodate all riders.
While the fabric is breathable, it compromises resistance to outside elements. So, no waterproof or water resistance features. I would recommend getting the rain cover.
Pros
Breathable mesh fabric to improve air circulation
Maintenance free welded construction
Non-slip bottom to secure on the seat
Easy to install
Affordable seat cushion using gel
Cons
Not waterproof or water resistant
Customer insights
This pad must be one of a few with great features at an affordable price. It does not break your bank. Many customers are impressed with it as it is evident in the positive reviews it gets. Well-designed motorcycle seat cushion for a wide variety of motorcycles. I would recommend it for anyone wanting comfort for a long ride.
The seat has its downsides, however. But that's not really a deal-breaker to find out it is not waterproof or water-resistant. The important feature here is breathability hence its mesh fabric. Just stay away from the downpour.
Motorcycle Seat Pads for Passengers
1. Air Seat Innovations – Pressure Relief Pad For Passenger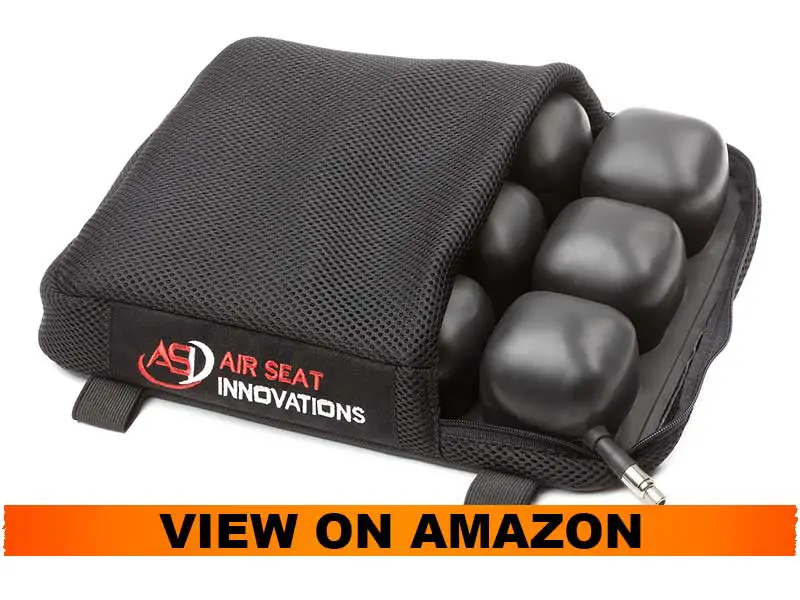 Air Motorcycle Seat Cushion Pressure Relief Pad is a product of Air Seat Innovations. You will recall I reviewed another product above from this brand. An avid motorcycle rider would tell you that the brand is not foreign to bike accessories.
High Quality
This pad could be worth buy for your passenger. Covered with a 2-year warranty, the pad gives you the pleasure of using it while knowing that the manufacturer backs its quality. Besides, it uses Neoprene material which can be patched after the warranty frame lapses.
Design
From the cover, I see a top-notch product made of the mesh fabric printed Air Seat Innovations. I guess you get the meaning behind this brand; it is an air-based cushion. There is a valve provided through which you have to blow air into the air cells. Well-positioned air cells that can be adjusted to your desire. Beware not to over-inflate.
Usability
It shouldn't take you the whole day to install this pad. It needs your mouth to inflate and it attaches with straps onto your seat. Measuring 11.2" x 9.7", it will fit a broad range of passenger seats. If you are a die-hard fan of Air Set Innovations, I recommend consider the Large Seat Pad for Cruiser Touring Saddles. It is an ideal pad for drivers.
Customer insights
I once tried this pad for a shorter trip just to see how it will be on a long ride. I must say it worked pretty well with its cushion and I was amazed. The only thing that bothered me is the need to adjust it while inflating or deflating. It needs a handy person. Other than that it was fine. I also wish it was fairly big; at least 15" x 13.5" for cruiser touring. All in all, it is a great buy for your passenger.
2. SKWOOSH – Passenger Motorcycle Gel Rear Seat Pad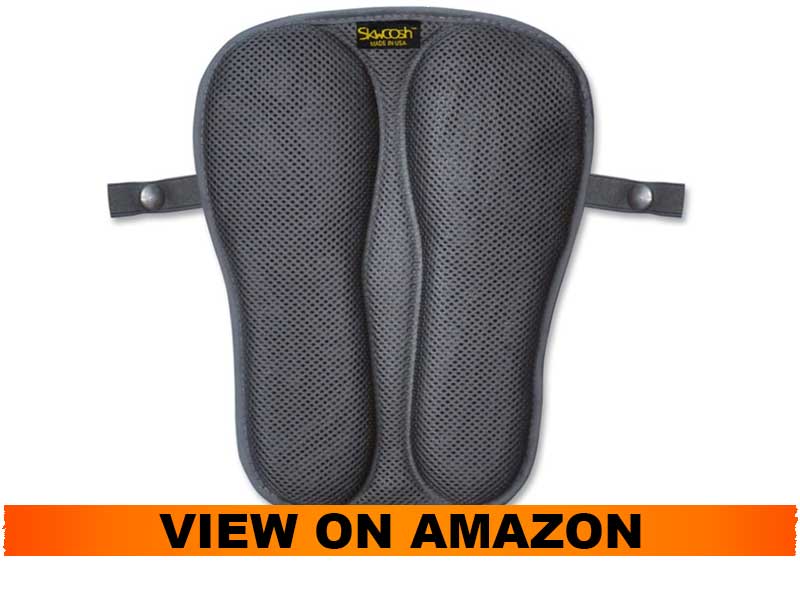 Made in Johnstown New York, this Skwoosh pad is a great investment for passengers. Not only do I like these products for their cheap prices but also their great features. You will be forgiven for thinking that this pad is not a good quality due to its lower price. In fact, many customers are pleased with their quality.
Comfort
It comes with a breathable mesh fabric to circulate air efficiently to the passenger. You surely can relate to the heat and sweating when riding for a long distance. They become very uncomfortable and so you might end up not enjoying your rides at all. Passengers also deserve the greatest comfort you can get.
Having a mesh fabric wicks away moisture. The pad is gel-based, which reassures you of the comfortable cushion on the market. It conforms to your body geometry. Thanks to its ergonomic design and the fluidized gel.
You need no further maintenance of this motorcycle seat pad. It is well constructed with durable fabrics that I doubt are waterproof. The overall design is compact, lightweight, and convenient. It shouldn't be cumbersome to handle it. Even when installing, it is a cinch with the straps provided.
Customer insights
Getting this cushion is a milestone achievement for passengers. A very affordable and welded construction you can get. Many people are impressed with it and so I am. It fits a broad range of touring motorcycles. The design and installation parts are great. What else did I leave? It circulates air to the passenger's legs to wick away moisture. Thanks to the fluidized gel that conforms to the body geometry. I recommend this product.
Tips and FAQs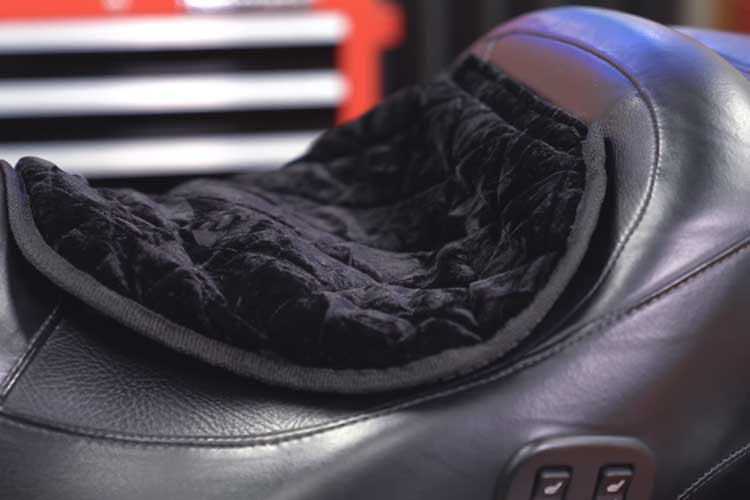 Thank you for sticking with me while I was reviewing these 8 motorcycle seat pads. Let's delve into factors to consider when buying these products.
What is the best cushion material?
Motorcycle seat pads come in different cushion materials. Some feature the sheepskin, foam, gel, or a combination of gel and foam. All these have their cons and pros and the choice could be based on personal preference and other attributable qualities.
Sheepskin
For instance, sheepskin has the ability to keep you cool during summer and warm during winter. Who wouldn't like this versatility? Of course, everyone would love it. Also, it is easy to dry in case it soaks in rain. Moreover, it enables sufficient air circulation and can also absorb sweat effectively. However, because it's a natural product, it tends to be expensive hence I seldom included any in this budget-friendly list of seat pads.
Air cushion
Air cushions are also a popular option, and I have included them in my reviews. Air Seat Innovations is one such brand that is renowned for its quality air-based cushions. It's easy to inflate those cushions using the provided valves. Also, you can adjust the height accordingly.
The good thing about air cushions is that they distribute the pressure evenly and so they eliminate painful pressure points and numbness. Also noteworthy is that air cushions have airflow channels that enhance air circulation to prevent moisture build-up. Again, air cushions absorb vibrations and shocks.
Gel
There is also gel, which is a popular choice among seat pads. The gel was originally used in the medical sector for wheelchair-bound patients to give them much-needed comfort. Motorcycle manufacturers have seen that as the option to also include as a cushion. Gel conforms to your body geometry.
Gel cushions also promote even distribution of pressure. All thanks to their interconnected gel cells. They eliminate pressure points and thus reduce numbness.
Foam
Foam is also a great option for cushions. It gives you much-needed comfort by absorbing vibrations and shocks to prevent discomfort and numbness. Look for high-density memory foam that guarantees the greatest comfort. The combination of foam and gel is also a great consideration.
What are the best cover materials for the seat pad?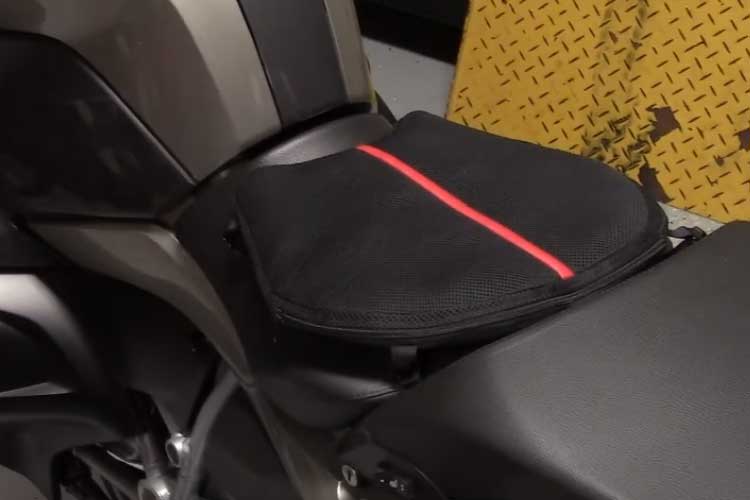 Cover materials also matter. Some are made of Neoprene, polyester, or polyurethane. Pay attention to these materials as they dictate how durable the seat pad is. Most of the best motorcycle seat pad are made of mesh fabric, which plays a huge role in circulating the air between your legs to eliminate moisture build-up and to help your body relax.
Waterproofness or water resistance is not really a priority with the mesh fabric used primarily to let in enough air. For this reason, you might want to avoid exposing your pad to rainfalls or at least cover it with some rain cover even though that will jeopardize its breathability.
Attachments
Attachments have to do with how easy it is to install these seat pads. Some come with buttons, Velcro straps, elastic straps, and D-ring loops. What you need is a secure attachment and straps are known for that excellence in securing the pads to the seat.
Added to the attachments is the non-skid or non-slip bottom of these cushions. It grips to the seat with ease to avoid any slippery. Pay more attention to that as well.
Size
The size of the seat pad is also important. Check out the dimensions of your seat and the cushion before making any purchase. These pads are seldom regular in shape. You find the rear side wider than the front side. Take into account the width and the length to ensure that the pad is the best fit for your seat. Measure both the driver and the passenger seats.
Final Thoughts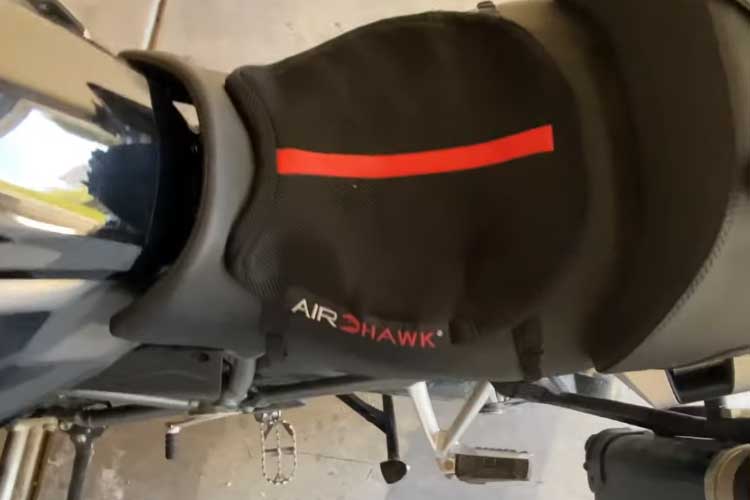 Now that you know about the best motorcycle seat pads, you can choose one for your bike. However, it would still be advisable to think about your particular considerations before investing in this product, as every individual has different requirements. Get the best long distance motorcycle seats at amazon today!