Riding a motorbike at high speeds can expose you to high-speed winds that could be frustrating to your riding experience. While stock windshields appear to be impressive additions, there are customized to your personal preference or your riding style.
You can avoid the frustrations and inconveniences of being blasted by high-speed winds by getting the best windshield for 1800 Goldwing. Oftentimes, winds can leave you fatigued after your prolonged ride on the highway. Of course, no one takes delight in that.
I have handpicked the best aftermarket goldwing windshields for Honda 1800 Goldwing in this comprehensive guide. I have been in this hobby of riding motorcycles as well as trying out impressive aftermarket modifications. That said, I assure you of the best choices.
I know that choosing the best windshield can be overwhelming when given scores of similar products made of different materials online. To make your choices even much better, I have highlighted the important features at the end of this guide.
This post contains affiliate links. If you make a purchase, Motoprove.com may receive a small commission at no additional cost to you.
1. Memphis Shades – Best Windshield for 1800 Goldwing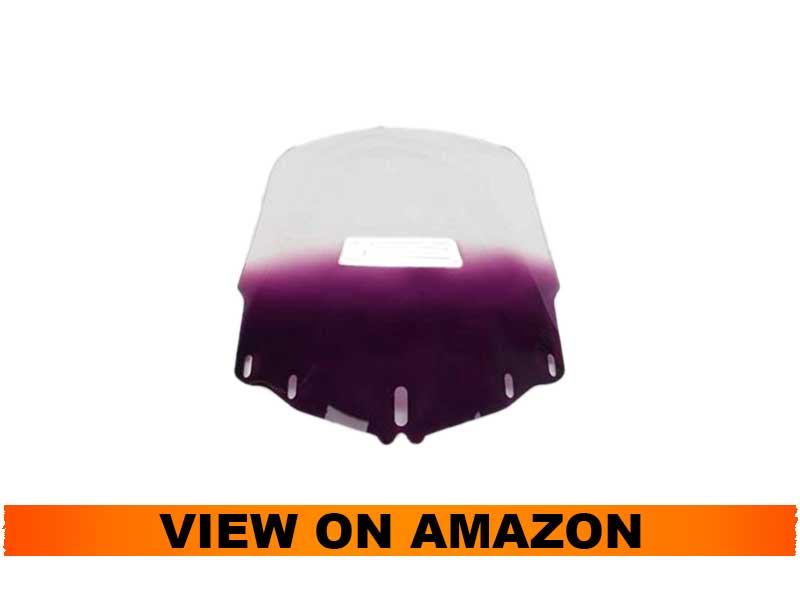 Coming with a vent hole, Memphis Shades MEP4871 is one of the best on the market to reduce buffeting and give you the ultimate riding experience. I found this windshield very impressive in all aspects.
Performance
I got my hands on this windshield on my GL1800 and I must confess it was pretty good in preventing buffeting. I used to feel the fatigue and vibrations on my open-face helmet until I came across this windscreen.
Compared with stock windscreens, it performs well in blocking a significant amount of wind coming your way. Be it debris or bugs, the item has proved to outsmart OEM shields. Even more, unlike OEM, you can customize your size and get the most convenient shield.
Build Materials
To some people, windshields are made of the same materials as long as they are transparent and can shield the wind from their bodies. Normally, goldwing windshields are made of Lucite (acrylic) and polycarbonate. I will explain the benefits of these materials under the buyer's guide section.
This product is made of Lucite, which is fairly affordable with great optics and durability. However, it is not as excellent or as durable as polycarbonate or the quantum hard coating polycarbonate found in National Cycle Windshields. If you are a budget person, then Lucite is a great cost-saving option. It still performs impressively.
Mounting
Bikes that come with fairings are easy to mount aftermarket windscreens. If not, you will get a mounting component with your purchase.
Should you opt for a quick release or a fixed mount? That boils down to personal preference. If you want to change this item, later on, I recommend the quick-release mount. That also helps in situations where you just want to ride without a shield at all.
A fixed mount is for those who just want to put the shield and forget it unless it is dirty or needs repair.
Sizing
The size of the windshield is important so that it does not block your view. Ideally, experts recommend a few inches below your eye level. This shield has dimensions 29.8 x 29.5 x 6 inches. In fact, it comes in two sizes, viz. standard size and 2" taller. It is an exact replacement of the standard OEM item and you get the 2-inch variant for tall riders.
Pros
Made of top quality, DOT approved 3/16" Lucite material with great optics
Comes in two sizes
Comes with the vent hole
Affordable item
Cons
Not adjustable
Lucite great but not as durable as polycarbonate
The updated GL1800-style vent will not fit earlier Memphis Shades vented Gold Wing windshields
Verdict
Given its features and its performance, I recommend this shield to reduce buffeting and prevent fatigue you would experience due to strong winds facing you. It is an affordable item made of acrylic. Mounting it shouldn't be a problem even if you are still learning. However, I recommend entrusting the installation to a professional if you are unsure.
2. National Cycle VStream Honda Goldwing Windshield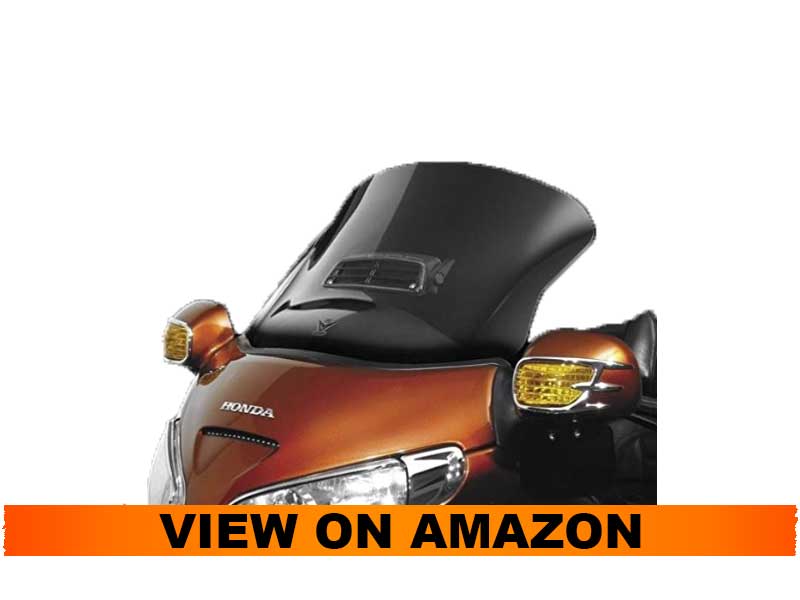 National Cycle VStream Clear Windscreen needs no introduction as it is a well-known brand in aftermarket motorcycle components. Perhaps worth noting is the fact that National Cycle has a unique hardened quantum coating that is virtually shatterproof, this making their windshields unmatched with durability.
Performance
The performance of the motorcycle windscreen lies in its ability to block wind and prevent buffeting. This windshield is wide and tall enough to shield you from winds on an open road. You will be able to ride comfortably for longer periods without the fatigue that most riders experience due to the wind.
It comes with a vent opening to enhance performance in reducing buffeting. The other performance lies in this item's ability to resist abrasions and scratches. It was made with the scratch-resistant quantum hard-coating or FMR hard-coating, depending on the shape or size of the product you bought.
Build Materials
As I've highlighted already, National Cycle is the only brand so far with a unique quantum hard-coating, which is scratch resistant. Depending on the size and the shape, it can use either quantum hard-coating or FMR hard-coating, both of which offer the best durability.
Rest assured that the dirt or the bugs you come across will not be detrimental to your windscreen as is the case on acrylic with scratches remaining. The material coating is tough enough that it can even be shatterproof. You will need a significantly strong force to break or scratch it.
The downside though is that if it gets scratched by the required force, you can repair it by buffing or polishing it like you would with Lucite/acrylic. You may need a complete repair.
To prove that the build materials are of top-notch quality, you get a 3-year warranty against any breakage. Who would offer you such a long warranty if their materials were not impressively durable? Of course no one!
Mounting
Now comes the scary part to others. Mounting is actually an enjoyable part where you get hands-on without spending so much money on others.
This shield mounts conveniently using stock mounting points. It replaces stock windscreens that could have been damaged or that do not satisfy your riding style. With models that have fairings, mounting is virtually effortless.
If your bike has no fairings, you get the mounting bracket system included in your package. There is an installation manual explicitly written to guide you every step of the way.
If the task seems overwhelming or burdensome to you, you may outsource the services of a professional.
Sizing
If you have the stock windscreen, this aftermarket screen is basically the same size. It has the dimensions height: 22 inches (55.9cm) width: 26 inches (66.0cm), which should be adequate to block the wind. If you are looking for custom sizes, you can maneuver the installation and adjust the windshield accordingly.
When measuring these screens, start from the top of the fairing to the top of the screen to get the height. The width can be measured horizontally across the back by using the widest points.
Pros
One of the toughest windscreens made of quantum hard-coating
Scratch-resistant shield
High-performing screen
Comes with the vent hole
Mounting bracket included for models with no fairing
Cons
It is expensive
If it gets scratched accidentally, it's virtually impossible to remove the scratches by merely polishing it
Verdict
When riding motorcycles we come across many obstacles such as small stones and bugs hitting the screen. With this product, you are protected, all thanks to its hard-coating that is virtually shatterproof. I recommend this product, especially for those riding frequently on a gravel road. However, be prepared to spend money because a hardened polycarbonate is generally more expensive than acrylic.
3. Slipstreamer Smoke Windscreen for GL1800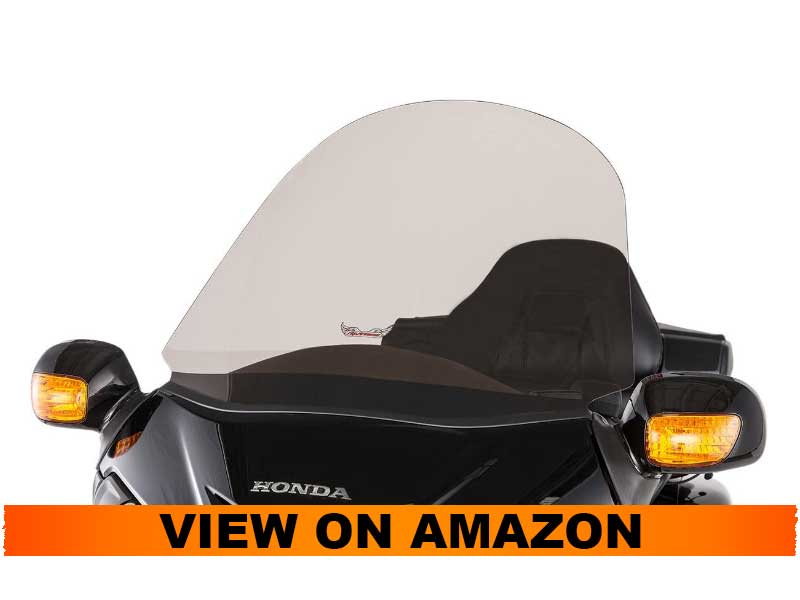 Slipstreamer Windscreen is a stylish replacement screen for OEM ones. Although it appears with some smoke tint, it is fairly visible for night riding. That shouldn't deter you from choosing it. The product is also impressive with many aspects hence I chose it.
Performance
All that we (motorcyclists) care for is how the windshield blocks the air from putting a strain on us and from pushing us back. This windscreen is wide enough to shield you effectively in a broad way so you can enjoy your rides for prolonged periods.
This item replaces the stock screen that said, it has the same dimensions as your stock item but you can adjust the height accordingly to suit your comfortable view. With its light smoke tint, I would personally not find it comfortable to view the road on the screen. If it gets dirty that would even worsen.
Build Materials
Historically, acrylic was merely used as a core material for windscreens back in the year 1800s. It was however discovered that acrylic was susceptible to breakage and scratches, and thus new materials were introduced: polycarbonate. Acrylic was also modified to improve its impact resistance.
Slipstreamer has opted for the impact-modified acrylic referred to as the impact-modified aircraft acrylic. This modification retains its rigidity clarity and optics. Although polycarbonate is notably the best with durability compared to acrylic, it lacks the clarity and optical properties which make it challenging for riders to see through.
Mounting
Mounting this shield should be an enjoyable activity for you. Just in less than 15 minutes, I was able to figure out the mounting. It basically mounts on the stock mounting points. So there is no need to worry about additional points to create before you can mount this.
Bikes with fairings are a convenience. Those without a fairing can still manage to install with the mounting bracket provided or purchased separately.
If mounting seems burdensome or confusing for you, consider hiring a professional to complete the task for you.
Sizing
This windshield is regarded as the replacement screen for your stock screen. That noted, it has the same dimensions. But you get to choose from exact dimensions and a taller screen. Of course, every biker has preferences. I would personally opt for the taller one to consider enough coverage to shield the wind. But with a tinted screen that comes as a trade-off because during bad weather conditions, it may not be easy to view the road ahead on a smoke tint.
Pros
Made of high-quality DOT/ANSI-Z26-1-1966 Approved impact-modified aircraft acrylic
Affordable windscreen for motorbikes
Come in different sizes
Easy to mount
Mounting bracket included for models with no fairing
Cons
The smoke tint may become opaque during foggy and snowy conditions
Verdict
Are you a fan of acrylic yet disappointed with its lack of impact resistance? This product employs a hybrid that is modified for impact yet still offer the best clarity and optical properties. Given this quality, I would recommend this windshield for its budget-friendliness. It is a great investment to avoid fatigue caused by strong winds on the road. Just beware of the right size you order.
4. PSLCUSTOMERSERVICE Motorcycle Windscreen for Honda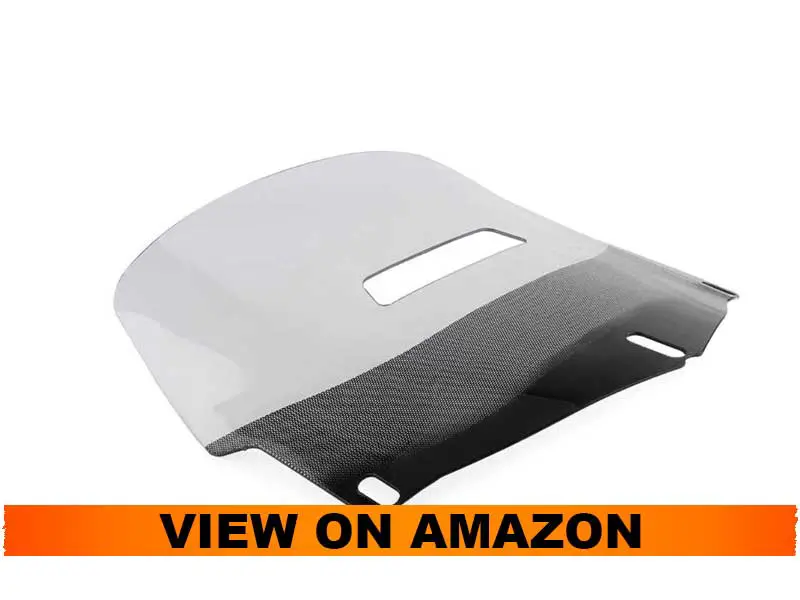 Included with air vents, this windscreen is a great modification to your Honda Goldwing GL1800 2001 to 2017. I am not sure if it can fit the latest models. If you have a stock windshield, measure its dimensions against these ones to ensure that they are compatible.
Performance
This windshield is one of the high-performing must-have items on the market for riders. Its performance is even enhanced by the included air vents.
The windscreen deflects winds effectively, thus leaving you in a relaxed position without too much air resistance coming your way. Perhaps what you may experience is the buffeting on your helmet since it is recommended to have the shield below your eye level.
Buffeting can be corrected by choosing the right size. For instance, many windscreens for motorcycles are curved upward on the edge to deflect wind over your head. This minimizes the wind you would normally have in the vacuum right after the screen.
Less windless or no fatigue. You would be surprised how long you can ride after installing an appropriate shield.
Build Materials
Unlike others in the list, this product is made of ABS plastic, which displays great impact resistance. ABS material is made of tough and sturdy polymers, the science of which is beyond your level of comprehension in this article. Just know that this material is a great choice for this shield.
Riding on a gravel road, in particular, exposes you to dirt and little stones were thrown at high speeds to your screen. ABS plastic used in this shield will take care of that.
The downside though…
ABS plastic is not a good UV-resistant material. Glare during the day or at night could be problematic for you. Nonetheless, the main purpose is to deflect wind. I recommend getting a shorter screen so that you can minimize reliance on its see-through.
Mounting
This aftermarket product is an exact replacement for your stock shield. That said, it uses your stock mounting points. There is no need for additional mounts.
Just follow the instructions on how to unmount your current shield and replace it with this stylish screen. The process shouldn't take you the whole day even if you are a beginner. However, I always advise riders to seek assistance from the professionals if they find it confusing. Installing this shield is part of your safety and so you can't risk that.
Sizing
Sizing is also important when buying this shield. Weighing 6.75 pounds, it comes with dimensions 27.1 x 25 x 6 inches. Please ensure that these dimensions are compatible with your stock dimensions. The good thing is that you can adjust it up and down.
Pros
Great quality ABS material
Effective wind deflection
Not easy to scratch by small rocks
Easy to mount to replace your faulty OEM screens
Come with vents
Verdict
For a change, this product uses ABS plastic material instead of the popular acrylic and polycarbonate. Although ABS material shares properties with polycarbonate, it is less flexible and less UV-resistant. It is nonetheless strong and deflects strong winds. There is no deal-breaking in this product. I, therefore, recommend it.
5. Slipstreamer S-267 Windshield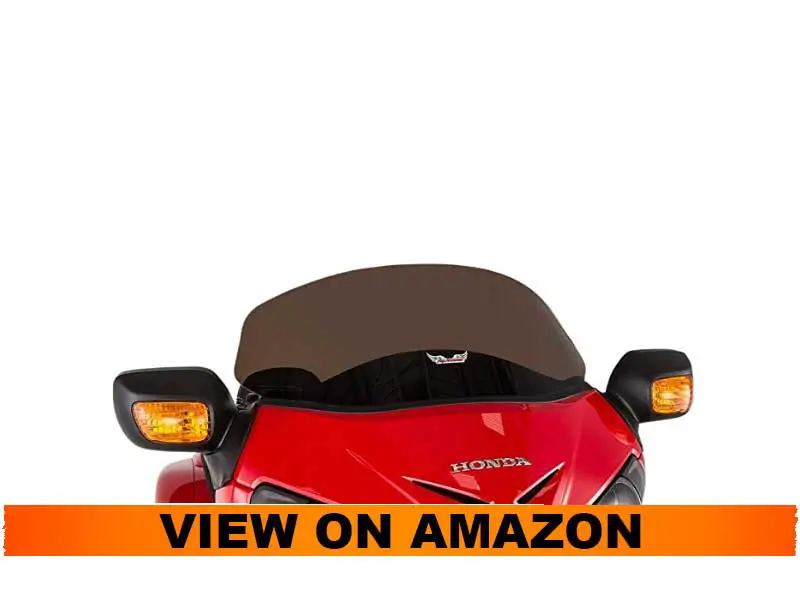 If you are into stylish windshields that give your bike a sleek custom appearance, then Slipstreamer S-267 could be a perfect product for you. It is an impressive product from all corners. This is the second Slipstreamer product in this review. The brand is irresistible with its top-quality features.
Performance
In comparison with the stock shield, this aftermarket shield performs higher, considering its dynamics and customizable size in deflecting the winds. Its stylish appearance does not compromise its performance.
It's an 11-inch windshield with 50% smoke tint yet still offering the best deflection of wind and transparency. However, I do not recommend relying on the screen to see the road. This means, therefore, that you should make sure the edge of the screen is below your eye level. This can be achieved by sitting on the bike seat while your friend helps you measure the field of view.
Build Materials
Just like the previous Slipstreamer product, this one uses the modified acrylic for aircraft with improved impact resistance. It still retains its great optical properties.
The product will surely last you for a long time. We know that riding on an open road exposes you to dirt and bugs thrown onto your windscreen. A weak product cannot withstand such pressure and will surely break. That was the case with the old acrylic used in this product. In a bid to prevent the problems, Slipstreamer opted for a modified acrylic.
While polycarbonate is great, it possesses inferior optics and clarity to acrylic. Moreover, acrylic is easy to buff if it gets scratched. Polycarbonate, on the other hand, is not easy for the pain of the scratches.
Mounting
You simply use the stock mounting points. The only downside I have seen is that it does not adjust. No holes at the bottom side.
Mounting this windshield should be easy for anyone given the instructions alongside your purchase. If you are in the dark you can always resort to YouTube videos.
Sizing
This windshield is 11-inch in height. Provided you replace the OEM product, the sizing shouldn't be much of a headache for you because the dimensions match. Depending on your model, you might have to get additional mounting components in that regard.
The overall dimensions of this item are 27.5 x 18.5 x 5.6 inches.
Pros
Made of high quality modified acrylic material
50% smoke to add a custom sleek appearance
Affordable yet still high performing
Better than stock windshields
Come with vents
Cons
Not adjustable
Old models of 1800 Goldwing are not compatible
Verdict
This is the best value for money considering how stylish and high-performing it is. If you like a tint then this is for you. I couldn't see any deal-breaker in this product. It comes with a 50% smoke tint which looks quite exquisite for me. However, a bad weather condition can make the screen opaque, thus rendering it a safety hazard in the midst of your ride.
Buyer's Guide
Now that we have gone through the best windshields for your Honda 1800 Goldwing, let's navigate the best features you should consider when buying these products. I know how overwhelmingly confusing it can get to choose the best even after being given a select few. I will also answer some frequently asked questions.
How to install a windshield?
There are many theories about installing windshields, some of which can be confusing. Watch this YouTube video to get a glimpse of how to install these shields on your bike. Although the video discusses Harley Road King, it is basically the same with 1800 Goldwing shields.
The installation part becomes enjoyable when you have the stock windscreen already because most of these aftermarkets are exact replacements, which then use the same mounting points. Simply follow the instructions on how to unmount your faulty OEM shield and then mount this one. The process shouldn't take you the entire day.
Bikes with fairings are easy to deal with. If yours does not have a fairing, you will surely have the option to mount the mounting bracket. Many shields use the fork-tube or the handlebar clamps, and you readily find these on the market. Other products include additional mounting components to accommodate those with no previous windscreens.
Should I opt for a quick release or fixed windshield?
Do you want the versatility of changing your windscreen or you just want to install it and forget about it? One of the interesting parts of riding a bike is the fresh we get exposed to. But that is enjoyable when riding on moderate speeds, not on highways. On such occasions, you would, therefore, wish for a no-shield bike. With a quick-release screen, you should hit the road.
A fixed bike screen is always there. You may have to unmount it from scratch. If such inconvenience is too much for you then opt for a quick release.
What features should you look for when purchasing motorcycle windshields for 1800 Goldwing?
Compatibility
Compatibility basically refers to the size of your windscreen. Many high-end bikes come with stock windshields these days. While they look pretty cool and amazing, not all can fit your riding style or your height. Experts recommend a height that is below your eye level and the stock items seldom follow that.
Either way, stock screens do get damaged you may, therefore, need an aftermarket replacement that is affordable than the stock one, and even more high-performing and durable than the stock screens. In either case, you should always ensure that compatibility comes first. Check the dimensions and choose accordingly.
Some brands include a fitness guide that will help you choose the right size. All you need is to enter the year, make and model of your bike to get the right recommendation.
Buying online presents such challenges of compatibility because you will not be able to fit on the spot. To avoid returns, always ensure that you buy the right size. Also, customer reviews are helpful. On Amazon, for instance, there are questions and answers where you can ask fellow customers if a particular windshield fits your model or not.
Dimensions
The important dimensions to consider are width and height. The height of the shield helps in avoiding buffeting and distractions. Perhaps your stock screen is shorter or taller, you may get an aftermarket one with the desired size.
When choosing, note that the height should be below your eye level so that you can still see the road 50 feet ahead above the screen.
Well, one might ask why he or she should cut the height because the screen is transparent. It is not recommended to view the road solely through the windscreen on a motorcycle unlike with cars.
Many things can occur: 1) the screen may be dirty due to bugs and thus obscure your view, 2) during foggy conditions the screen may be opaque, thus blocking your view. Such cases can be a safety hazard that could land you in an accident.
Also noteworthy to the height is how the edge of the screen is designed. It should ideally be curvy to deflect wind over your helmet to avoid buffeting. With the right size, you won't struggle with buffeting or fatigue.
Still, on the dimensions, width is equally important as it gives you full coverage. You measure the width across the back of your windshield by taking into account the widest points. The width is normally dependent on the size of the bike. A wider bike should have a wider screen and so on.
When checking the dimensions, try to look for the windshields that have adjustable dimensions. But you should be ready to pop out extra cash for those features.
Build materials
To some people, the build materials look virtually the same until they get surprised why others last long while some are even more durable than the stock screens. There are key differences in these materials.
Since the introduction of windshields for motorcycles in the 1800s, acrylic was the sole material used. Efforts to find the best alternative emerged later when they realized how prone to damages acrylic was. It would break into large pieces if hit by stray objects. This, therefore, was viewed as a potential safety hazard.
Polycarbonate was introduced. Polycarbonate is relatively more impact resistant but performs badly to scratches. If scratched, it cannot be buffed or painted to remove those scratches. You may have to replace it for the aesthetics of your bike.
Acrylic, on the other hand, is easy to paint and remove the scratches if it has them. In order to improve the impact resistance of acrylic, some manufacturers have opted for the modified aircraft acrylic which retains the optics and the clarity.
While polycarbonate is more impact resistant, it is not as clear or optical as acrylic (Lucite). Acrylic is interchangeably referred to as Lucite.
Beyond polycarbonate, you still get a hard-coated polycarbonate and the Quantum hard-coating polycarbonate as used by the National Cycle brand. These variants add more impact resistance to virtually shatterproof. Such windshields can withstand huge pressurized winds. Mere stones will not cause scratches on them.
The choice of the build materials boils down to personal preference and the cost. Acrylic is cheaper, even when modified. Polycarbonate and its modifications are generally expensive. If you need something durable then you would opt for high-end material.
Apart from polycarbonate and acrylic we still have ABS plastic, which is made of strong and impact-resistant polymers. It shares most of the properties with polycarbonate but it is not as flexible as polycarbonate.
Vents or not
Air vents are desirable to help give you the required ventilation. These features are non-negotiable to have. Most products have them or come with vent holes on which you can attach aftermarket vents. I advise you to look for windscreens that come with these components.
Tint or no tint
As motorcyclists, we like aesthetic bikes that could leave bystanders in awe of admiration. So, should you tint or not tint to enhance the style of your bike?
Among my products, you get some tinted with smoke. The tint can come in different colors. Nevertheless, the important thing to consider is transparency. Do not opt for a tint that may be opaque to your disadvantage.
The tint also depends on your riding environment. If you ride in an area frequented by fog, then you would probably consider a non-tinted windshield to avoid clarity issues.
A tint is great to add style to your bike but it is not necessarily a necessity. For aesthetic reasons, I would surely consider a tint.
How should I solve buffeting on my helmet?
Buffeting is one of the most annoying things we experience as motorcyclists. As much as we advocate for a convenient below-the-eye-level height, we should take into account that the buffet emerges from such heights. Your helmet would shake aggressively due to strong winds against your direction. What do you do in such situations?
Curved edges of windshields are significant to the reduction of buffeting. They deflect wind and route it over your helmet. An open face helmet is a culprit for buffeting.
I reckon you check how the edges of the shield are designed to reduce buffeting. However, buffeting may result sideways as well. With just a simple hand swap you should be able to ascertain if the problem is attributable to the windscreen or the sideways.
Final Thoughts
We have come to the end of our comprehensive review where I have reviewed the best windshield for 1800 Goldwing. The best 5 products I have handpicked are certainly the best on the market. I have followed the criteria of the features I have discussed above.
By following my buyer's guide, you should find it easy to choose the best product by now. There are plenty of windshields on the market with different dimensions and materials. All you need to do is to b vigilant.
One word of caution though, do not be deceived by prices. Prices do not necessarily reflect the quality or performance of the product. Look for the important features. Among all, check compatibility, the build materials, the dimensions, and other extra features such as vent and mounting options. These will guide you in making an informed purchase.