Looking for a best motorcycle hitch carrier? Some ride for the thrill while others ride for commuting to work and other places. That said, sometimes transporting your bike can be next to impossible, and there's no other option but to transport it on a larger vehicle. While there are plenty of ways to do this, motorcycle hitch carriers are the most common option used by riders.
Unlike the older days, there is plenty of modern technology that caters to the various needs of motorcycle owners. Now, you don't have to worry about towing and hauling your bike. Instead, you can take advantage of a motorcycle carrier. It offers users an easy way to transport their bikes through a handy bike rack. A hitch carrier especially comes in handy for mechanics, bike racing enthusiasts, adventurers, etc.
This post contains affiliate links. If you make a purchase, Motoprove.com may receive a small commission at no additional cost to you.
5 Top-rated Hitch Carriers
Efficiency and convenience is the main reason why you should opt for a motorcycle carrier instead of other means of bike transportation. For instance, loading your bike on a massive pickup truck can be quite a hassle and take a great deal of time and effort. On the other hand, utilizing a hitch carrier makes the entire procedure effortless.
What's more, you can attach your bike's hitching system within seconds. Most variants are durable and have heavy-duty steel frames, featuring anti-tilt brackets to steer clear from right to left movements while more rigidity. You can also increase security by using four tie-downs. Using a motorcycle hitch carrier will ensure you can transport your bike with ease, no matter how bumpy the road you are driving on is.
1. Black Widow AMC-400 – Aluminum Motorcycle Carrier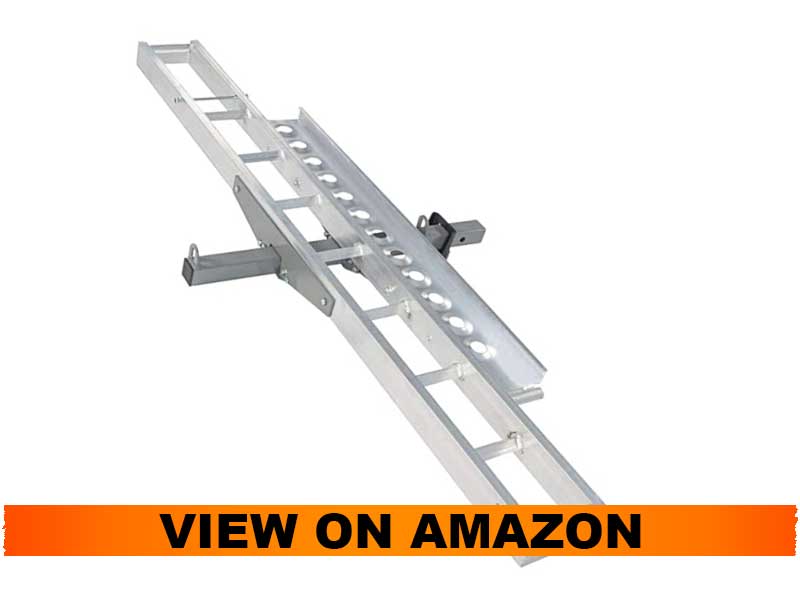 The Black Widow Motorcycle Carrier seems so solid at first sight with its durable and sturdy aluminum construction. Weighing 33.5 pounds, the carrier isn't as bulky as its steel counterparts and so it shouldn't be cumbersome to lift and install it on your Class III or IV 2" hitch receiver.
Capacity
Check out the best motorcycle grips and its capacity which is very convenient to hold small motorcycles as you hit the road. It's advisable to ascertain the weight of your motorcycle before hauling it on this carrier as it may break if the capacity has been exceeded. It holds up to 400 pounds.
Checking customer reviews can be helpful. Before recommending this carrier, I was convinced by 173 customers who gave this carrier 4 stars out 5. This showed how impressive the product is in carrying motorcycles. Plus, it surely doesn't break your bank with its price tag. Whether hauling motorcycles or dirt bikes, this carrier can be helpful.
Features
The best motorcycle grips has a self-storing ramp which helps you load the bike onto the carrier with ease. After use, it stores easily beside the carrier. Then the anti-rattle device reinforces extra strength to your motorcycle, especially when driving on rough roads. If you have 50-80cc bikes, the carrier comes with the spacer bar adapter for that.
Installation
Coming to the installation part, it shouldn't take you more than an hour to figure it out. Make sure you get nuts to tighten up the ramp so it doesn't rattle. When it's time to off-load the bike, the ramp can be rolled out with ease.
If traveling in rain, the carrier will not be susceptible to corrosion, thanks to the anti-corrosion aluminum construction. Check out the best motorcycle hitch carrier installation services below.
Pros
Constructed with the high-strength aluminum
Anti-rattle device and spacer bar adapter for 50-80cc bikes
Corrosion-resistant
Lightweight and easy to install
Verdict
Despite its not-so-much capacity of 400 pounds, this is a decent carrier to haul motorcycles to your destination. It is designed to hold medium bikes because large ones may possibly exceed that capacity. I love its construction made of high-strength aluminum, which is both lightweight and affordable. Also, it is corrosion-resistant. What more do you need to be convinced of? That's a great buy from my side. I would recommend it to anyone looking for a high-quality motorcycle hitch carrier.
2. Goplus 500 LBS – Heavy Duty Motorcycle Carrier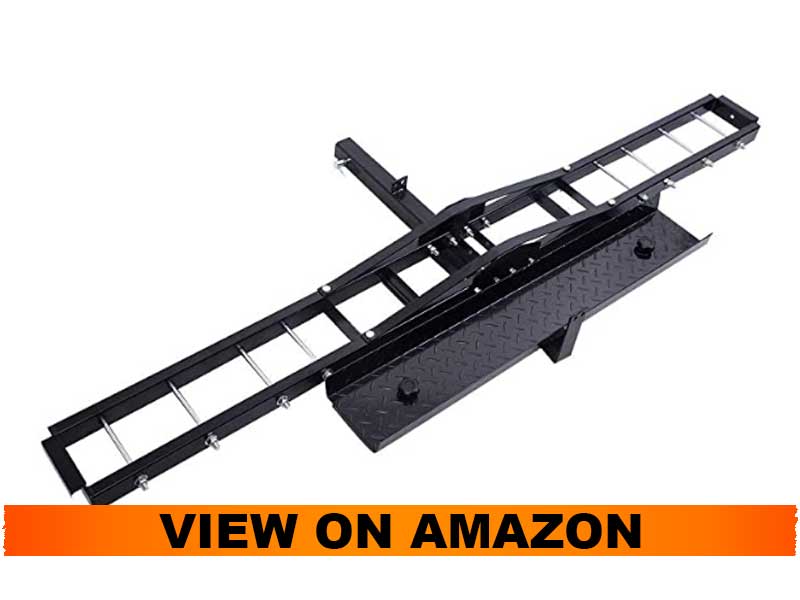 If you have a large motorcycle to travel with, this hitch carrier could be the best buy for you. Made of high-strength and heavy-duty steel construction, the GoPlus Motorcycle Carrier is an ideal hitch carrier to hold heavy stuff. If you are into the heavy stuff, then lifting this 91 pounds carrier shouldn't be cumbersome at all.
The carrier was powder-coated to protect it against outside elements. This makes it conducive to travel amid rough weather conditions without worrying about the hitch carrier corroding.
Capacity
Although it is a bit expensive than my previous aluminum review, it makes sense considering its heavy-duty construction and a maximum weight capacity of 500 pounds compared to the previous 400 pounds. This hitch carrier is undoubtedly a go-to choice for heavy motorbikes that would break small carriers. The design was well-thought-out and made to last for a long time. That's a good investment.
Installation
As long as you have a 2-inch receiver, the carrier will install with ease it. The hitch pin is included along the 79 inches long rail. Also included is a raised adjustable wheel stop to stabilize the wheel chock.
Loading the bike onto the carrier is an absolute breeze. Also when off-loading it, it comes with the quick release lock to fasten or unfasten the bike. This lock also helps if you are traveling on bumpy roads where chances of loosening up are high.
The ease of loading your bike is also made possible by the 72" x 7.5" loading ramp. It folds with ease to save after use.
Upon delivery, the product comes in two boxes. The manufacturer promises 100% satisfaction and if not, there is a money-back guarantee within 30 days.
Pros
Maximum weight capacity of 600 pounds
2 quick-release lock to secure the bike
Long off-loading ramp
Heavy-duty and high strength steel construction
Powder-coated to prevent corrosion
Cons
It is heavy
Assembly instructions are not that clear
Verdict
With this steel hitch carrier, you can enjoy many years of hauling motorcycles without it corroding or breaking provided you take note of its maximum capacity. It is powder-coated in black which aids in its beauty. But, get ready to lift heavy steel weighing 91 pounds. If you are hands-on it shouldn't take you the entire day trying to figure out how to install this carrier despite its instructions not being crystal clear. This is a great investment purchase I would unhesitatingly recommend to anyone with larger bikes.
3. SPECSTAR Hitch Mounted Motorcycle Carrier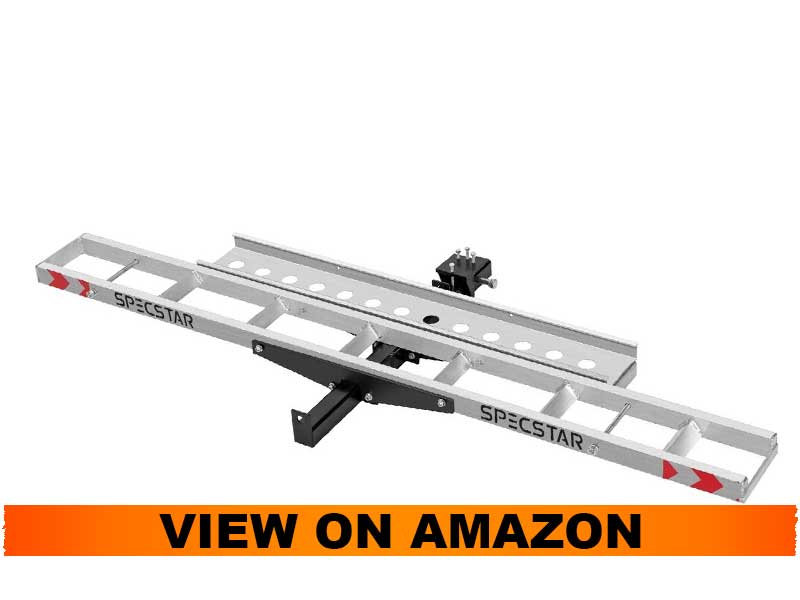 The Specstar motorcycle hitch carrier can level and stabilize most bikes and motorcycles in the market. If you are a biking enthusiast, this carrier should be your go-to option, especially if your motorcycle weighs around four hundred and fifty pounds. Particularly made for class three and four hitch receivers, the Specstar motorcycle hitch carrier is quite versatile and robust.
Build Quality
This product's load capacity is enough to tell you how strong its build is. You can credit this strength to the premium grade aluminum used for manufacturing this product. What's more, this product does not rust as easily as traditional carriers, making it a great choice for adventurers and competitive bikers.
Design
The Specstar motorcycle hitch carrier's design offers users unmatched convenience. You won't face any trouble loading or unloading your bike, all thanks to Specstar's intelligent design. What's more, this product comes with easy-to-plug screws, making sure you can transport your bike wherever you please.
Assembly
Like every top-quality motorcycle hitch carrier, assembling this product doesn't require much time. The Specstar carrier already comes in a semi-assembled form, ensuring that all you need to do is attach the right parts. The instruction manual that comes with this product makes the installation process quite straightforward.
Pros
Perfect for class 3 and 4 hitches
Excellent design for mounting and dismounting bikes
Comes with a handy installation manual
Can haul around four hundred and fifty pounds with ease
Cons
Could be a bit noisy on bumpy roads
4. Black Widow SMC-600R Steel Motorcycle Carrier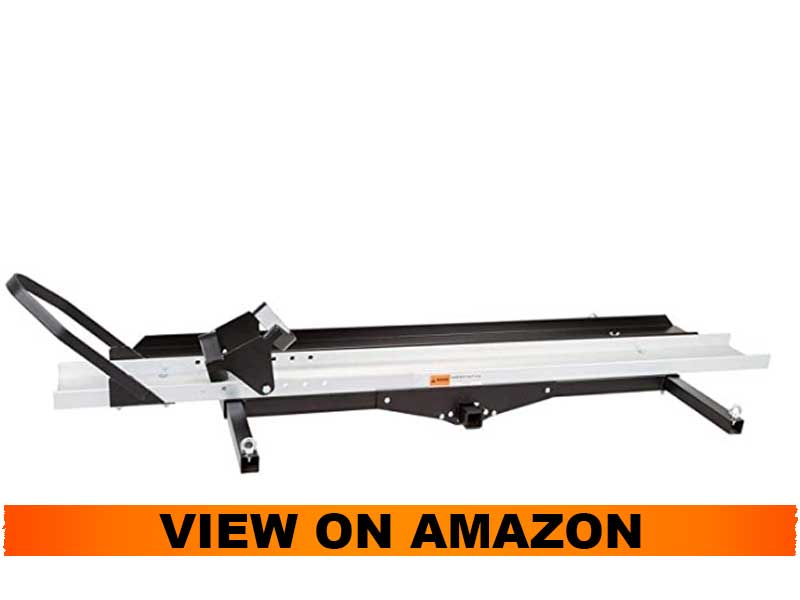 When it comes to unmatched durability, the name Black Widow comes to mind. This company has been making top of the line motorcycle hitch carriers and similar accessories for a while, gaining a tremendous reputation among bike lovers across the globe. However, this motorcycle hitch carrier is arguably Black Widow's best. Its steel build is immensely tough and can haul massive weights without wear and tear.
Build Quality
The last thing you want to do is choose a motorcycle hitch carrier that can't withstand your bike's weight. Luckily, you won't have to deal with issues like these with the black widow steel motorcycle hitch carrier. Why? Because it can easily endure a weight limit of around six hundred pounds, something that very few hitch carriers can pull off. The carrier is perfect for two-inch hitches (Class 3 and higher). Unlike most carriers, this one does not wear and tear months or weeks after using it.
Assembly
Assembling and installing the Black Widow motorcycle carrier will be a walk in the park for most users. What's most impressive about this product's assembly is that you can do it on your own, not requiring a professional's help. Sure, you may need an extra pair of hands to make the installation process quicker, but it shouldn't take more than an hour to assemble this equipment by yourself. You will also get a detailed instruction manual along with this product, making the assembly process quite straightforward.
Security
A massive problem that most motorcycle hitch carriers face is the lack of security provided by traditional carriers. This one, on the other hand, is as secure as they come. No matter where you are driving to or how fast you are riding, you can rest easy knowing that your motorcycle will remain secure throughout the trip. You can even tighten this carrier's ratchet strap for extra security, a feature that prevents your bike from taking damage during bumpy rides.
Pros
Assembling this product is easy and does not take too much time
This hitch carrier is compatible with most bikes
Superb build quality
Can haul heavy bikes weighing around six hundred pounds
Cons
The carrier's steel frame is quite heavy
5. EGO BIKE – Single Motorcycle Hitch Carrier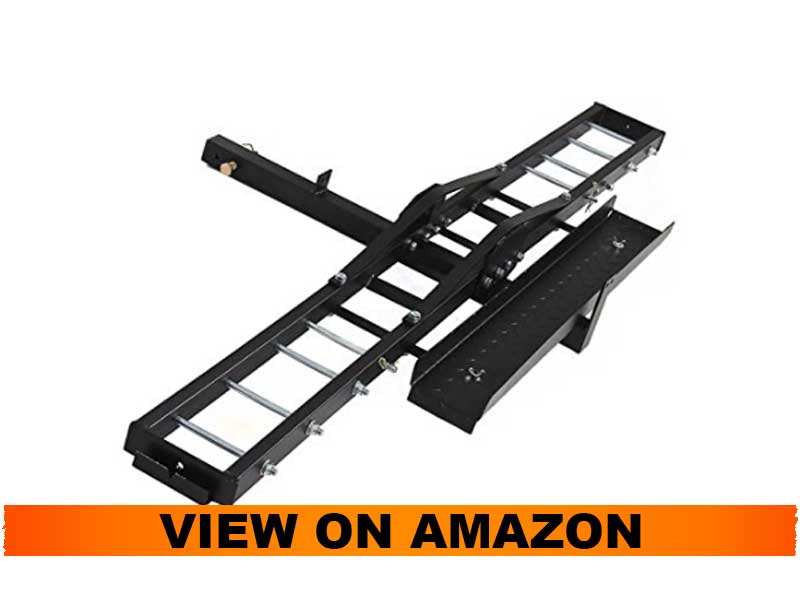 Here's another steel motorcycle hitch carrier designed for bikes that weigh less than 500 pounds. Well, that's not that huge for large bikes. As thus, be vigilant of the weight you subject this carrier hitch to.
Installation
Unlike our previous steel, this one weighs less than 48 pounds, which is actually manageable to install without being helped. The main carrier hitch is 18 inches while the ramp is 38 inches long. With the ramp provided, it becomes easy to load the motorcycle from either side. That's the convenience we want.
To install this hitch carrier, 8 bolts are provided even though instructions are not clear on how to install the anti-tilt device so some customers have been struggling to do that. If you're experienced in installing carrier hitches then it should be easy for you to figure most prompts without instructions.
Fitment
Whether you have the III, IV, or V receiver, this carrier will fit snugly. The anti-tilt device prevents wobbling so your bike remains intact even when traveling on off-road terrains. The tie-down sides add more security. The dual ramp attaches with ease to the carrier track when not in use and it can also be set up easily.
Pros
Fits standard 2-inch II, III, IV or V receivers
Made of heavy-duty steel
Powder-coated ramp
Can load bike from either left or right of the carrier
Easy to install
Cons
Instructions not crystal clear
Verdict
This carrier hitch is a must-have for those looking for a lightweight but heavy-duty steel construction. It is a great buy to haul bikes weighing less than 500 pounds. The hitch is easy to install so I don't see any challenge for a novice to install. Moreover, it comes with a ramp to load the bike easily. Again, the ramp is powder-coated so it will not be susceptible to outdoor elements.
6. Black Widow MCC-600 – Dirt Bikes Hitch Carrier With Load Ramp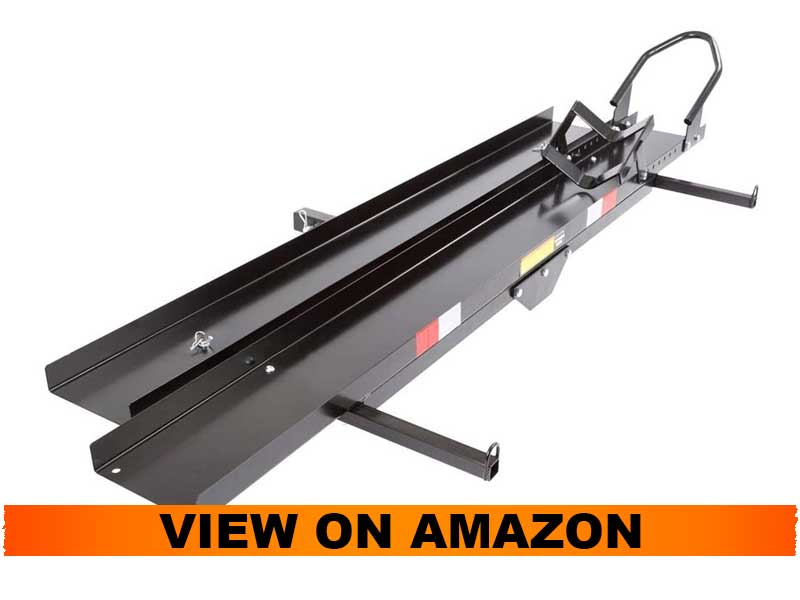 Black Widow is one of the popular brands on the market. Coming with a weight capacity of 600 pounds, this is one of the best hitch carriers worth considering. Why do I say that? It's because such carriers are rare.
Materials
Black Widow MCC Carrier is made of heavy-duty steel construction which, although, heavy, will protect the carrier against the outdoor elements. Steel is durable but that comes at a price. But, without any finish, steel remains vulnerable to outdoor elements. Thanks to a black powder finish coated on this hitch as it protects against harsh climatic conditions thus making the product durable.
Installation
Coming to the installation part, it is easy with the instructions provided. The 72 x 7.5 inches ramp slides to load the motorcycle and can be stored with ease underneath the 79 x 8" carrier hitch. If need be, the loading ramp can be removed. All the accessories such as bolts are included to make your installation sweat-free. Weighing 44 pounds, this carrier isn't that bulky; it compares with many aluminum models with this weight.
The anti-tilt and 5/8" pin have been included to make securing your bike easy. Also noteworthy is the 7-point adjustable wheel clock and tie-down point to secure the motorcycles.
Pros
Removable load ramp
Maximum weight capacity of 600 pounds
Lightweight steel construction
7-point adjustable wheel clock
Verdict
Black widow is a must-have steel hitch carrier designed to haul large bikes of different models. The carrier's construction is solid and well-built while it is effortless to install at the back of your car. It's also easy to load the motorcycle using the 72-inch loading and removable ramp. Also, the bike secures snugly on the carrier with the hitch pin and the 4 tie-down sites.
Tips and FAQs
Motorcycle hitch carriers are a worthy investment. Unlike traditional racks, these are reliable and stable, and companies design them to ensure they last for decades. Most of them have robust steel constructions that can withstand rough use and remain rust-free.
Ease of use is another reason why motorcycle hitch carriers prove to be a better option than conventional methods of bike transportation. Most of the carriers available these days are compatible with a wide range of bike models, shapes, and sizes. A high-quality motorcycle carrier lets users walk their bikes on the ramp without requiring too much of another.
Plus, you won't need a massive garage for storing this equipment. It is relatively small and easily portable, two things that every bike owner prefers. There is a vast range of motorcycle hitch carriers available in the market these days. Steel and aluminum are arguably the best materials for this equipment as they are the most robust.
What to look at when purchasing the best motorcycle hitch carrier?
Look for the build materials, ramp inclusion, and ease of installation, hitch receiver compatibility, and load capacity.
Hitch receiver compatibility
The first consideration is the hitch receiver class you have. It will not help to waste so much money buying the hitch carrier only to find out it is not compatible with your four-wheel vehicle. There are generally five classes of receivers: I, II, III, IV, and V. The table below clarify their differences:
Class
Load Capacity
Typical Vehicles
4 and 5
2700 pounds
Light and heavy duty pickup trucks ONLY
3
1200 pounds
SUVs
Vans
Light and heavy duty pickup trucks
2
525 pounds
Sedans
SUVs
Vans
Light and heavy duty pickup trucks, NO subcompact
1
300 pounds
Sedans
SUVs
Vans
Light and heavy duty pickup trucks and subcompact vehicles
Load Capacity
The load capacity of the motorcycle hitch carrier is important to consider before making any purchase. In my list, I have one 400 pounds load capacity and most of them are 500 pounds with the highest being 600 pounds. If you have a larger bike, consider the highest load capacity on my list which is 600 pounds. For small bikes, the 400 pounds limit would be reasonable enough.
Exceeding the load capacity could subject your bike and the carrier to damages. Also, make sure you take into account the total weight of your car. This can be achieved by consulting your owner's manual to see the limit of loads the vehicle is allowed to haul. The second thing is to consider the weight of the carrier itself.
Steel is generally heavier than aluminum. That said, for heavy vehicles and heavy bikes, I would recommend 600 pounds load capacity of a steel carrier.
Which build materials are better?
Generally, hitch carriers come as either aluminum or steel. You have to choose whichever you find convenient or great for your case. Both materials are durable and resist corrosion. However, steel does not readily resist corrosion if not treated. Most steel constructions are coated with black powder to give them the edge over corrosion-causing elements.
Hitch carriers made from aluminum are relatively lighter and easily portable. However, they are a bit loud compared to steel carriers, which are heavy and immensely strong. Despite the incredible versatility modern hitch carriers have to offer, you must make sure you choose one that suits your particular bike. Based on the load capacity and type of vehicle, a motorcycle hitch carrier is available in five classes. Each class serves a different purpose and is compatible with a certain motorcycle size. Aluminum is lightweight, so it becomes to handle aluminum than heavyweight steel unless helped by someone else.
Ramp inclusion
Motorcycles are heavy. For this reason, it can be challenging to load the bike onto the hitch carrier without a ramp. All my reviewed products come with ramps.
You have to ensure that the ramp is long enough to extend easily from the bike to the carrier. Also, you need to ensure that it locks securely so it doesn't wobble or fall when busy loading your motorcycle. Others come with locking screws to secure them.
Ramps are ideally not wider than the carriers as they have to be locked inside. Again, check if it's easy to store the ramp after use. Others can be removed.
Ease of installation
The installation part is important to avoid sweating the whole day in vain. As long as your carrier is compatible with the hitch receivers, then you are one step closer to completing the installation. The carriers come unassembled so you have to follow the instructions to assemble them. The process becomes easy if you are experienced.
Some instructions are not as clear. In such cases, I would recommend watching short YouTube tutorials as demonstrations. Also, you may check key features to look at in this short YouTube video.
Other requirements are to ascertain if nuts and bolts are included with your package. Most carriers come with hitch pins while others do not. You may have to buy them separately. Amazon has a wide variety of hitch pins for classes I to V. I found this Connor Trailer Hitch Lock very affordable and good for the carrier that does not come with the hitch pin. I included one carrier without a hitch pin.
Price
I have put the price as the last consideration when buying motorcycle hitch carriers. I know that many people often prioritize prices when purchasing and that is wrong because prices can be deceiving. Check other features as I have highlighted above then consider the pricing after. Generally, aluminum carriers cost less than steel counterparts because steel is superior in durability over aluminum.
Final Thoughts
No matter which type of motorcycle you own, having a hitch carrier is a must, especially if you like to go on adventures every now and then. The products mentioned in this piece are arguably the best you will come across and can fulfill the needs of most motorcycle enthusiasts.
Good luck with your purchases!