Tire repair kits are a handful of tools you can use temporarily pending professional care. The main objective of these handful tools is to negate the need to load the bike on a truck due to a flat tire, which you can fix with ease.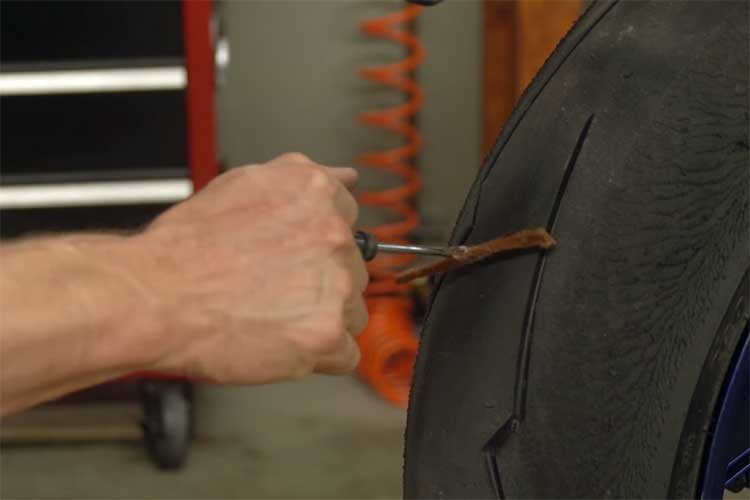 This post contains affiliate links. If you make a purchase, Motoprove.com may receive a small commission at no additional cost to you.
Top-rated motorcycle tire repair kits
There are, however, plenty of motorcycle tire repair kits on the market the choice of which can be confusing to the novice. To avoid any regretful purchases, I have handpicked the best repair kits for you. My basis for choosing the best motorcycle tire repair kit was predominantly on the number of essential tools, affordability, versatility, and durability of the tools.
1. Dynaplug Pro Xtreme – Best Motorcycle Tire Repair Kit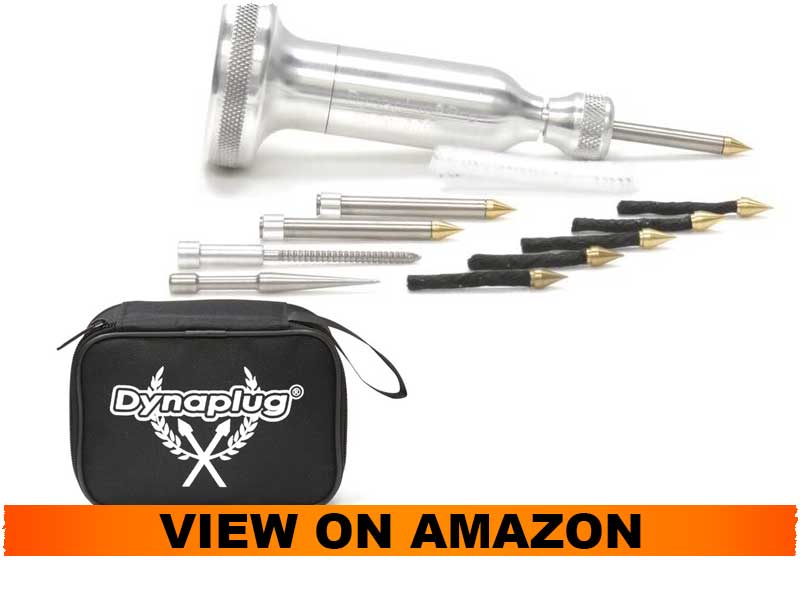 Engineered in the United States, Dynaplug Pro Xtreme Tire Repair Kit is one of the best repair kits on the market I recommend to motorcyclists. From the design, durability, efficiency, and versatility, the kit never disappoints.
Tools Included
In a zippered ballistic nylon pouch, you get an adequate number of tools essential for your emergency repair needs. Included are 8 repair plugs, 3 insertion tubes, an aluminum Xtreme tool, 1 pipe cleaner, 1 air stopper, and 1 clearing attachment. With these tools, you can get your bike on the road again in a few minutes.
Efficiency
Efficiency-wise, this repair kit performs greatly so. It helps you get rid of the puncture in a few minutes and then hit the road again. The parts are efficient and effective in this mission.
No glue required and no waiting time to get the puncture all set. Only a few minutes if you are a handy person. Even for the novice, it should be relatively easy to maneuver the tools to repair your bike's messed up tubeless tires. Note that the tools are only designed for tubeless tires.
The eight included repair plugs perform well in blocking the escape of air after being inserted in your tires. You will have more time to your destination or until you replace the tires or figure out a long-term strategy for repairing a punctured tire.
Versatility
When driving cars and riding motorcycles, you want a versatile toolbox that can help you repair both tires. This goes back to how sturdy the tools are. With this repair kit, you can repair a wide range of tires from bikes, trucks, campers, cars, RVs, motor homes to garden tractors. All thanks to its durable and sturdy tools.
Storage
When riding a bike, storage consideration is important because our bikes have limited space. The tools have to be stored in a compact yet sturdy case for ease of transportation. This repair kit is easily stored in a ballistic nylon pouch. You will be able to travel with it.
Pros
Adequate number of tools
Affordable
Come in a compact ballistic nylon pouch
Durable tools
Cons
Other needed tools such as pliers and T bones are not provided
Verdict
For anyone who's into traveling, I recommend these compact tools to guard against an emergency situation of a flat tire. The tools are adequate for your needs. They will help you reach your next destination. Besides, you will not break your bank with them.
2. Stop & Go 1075 – Best Compact Motorcycle Tire Repair Kit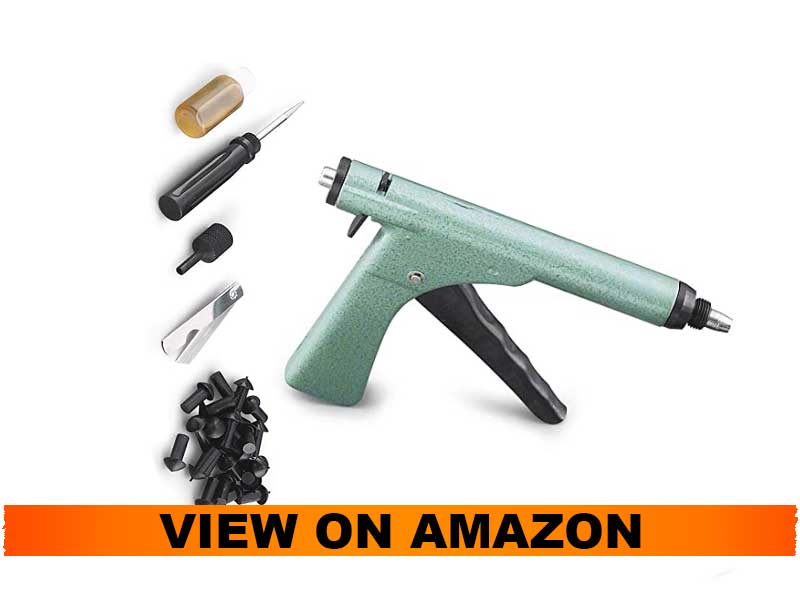 What an interesting name "stop & go" tire repair! Experience a professional way of treating a puncture on the way with this repair kit. It helps you hit the road again after a minor setback of a flat tire.
Tools Included
What I consider most important is the typical tools in a kit. That convinces me that I can sort out my repair needs with the most essential tools such as the rubber plugs using T-bones: insertion and probe tool, and many more.
With this repair kit, you get 25 mushroom-shaped rubber plugs. That's a common design that is also effective. The plugs are inserted using the appropriate tool to prevent any escape of air. They expand to fill the puncture and then let you inflate the tire until you reach your destination.
Efficiency
Stop & Go Repair Kit is highly efficient in tire repairs for tubeless tires. Thanks to the inclusion of highly effective tools that enhance the efficacy of this repair kit. The mushroom-shaped plugs are effective in blocking air from escaping. As a result, this helps you reach your destination until you figure a long term strategy such as replacing the tire altogether.
Versatility
Unlike the others I have reviewed above, this repair kit is not that fully versatile as it excludes some of the tires. It is not compatible with Class A motor homes but with Class B and C. For your motorcycle, it should be just fine. You will be able to inflate or repair the bike without any problems.
Storage
The tools come stuffed in a vinyl zippered pouch with dimensions 6.5" x 9" x 1". It weighs 1.14 pounds, which makes it a compact storage bag, so it won't seem bulky even with the tools stuffed in it. The ease of carrying these tools around is important because our bikes have limited space. All we have is a saddlebag in which we can store our repair kits.
Pros
25 mushroom shaped rubber plugs
Efficient in repairing tubeless tire repairs
Come in a vinyl zippered pouch
Cons
Not compatible with Class A motor homes
Verdict
This tire repair kit should be just fine for your motorcycle's tires. It has relevant tools to get you back on the road after a flat tire. The total of 25 mushroom-shaped plugs is impressive because you will have more time to repair your tires. If the tires have numerous holes then you will be able to apply many plugs at once.
3. BETOOLL – Motorcycle Tubless Tire Repair Kit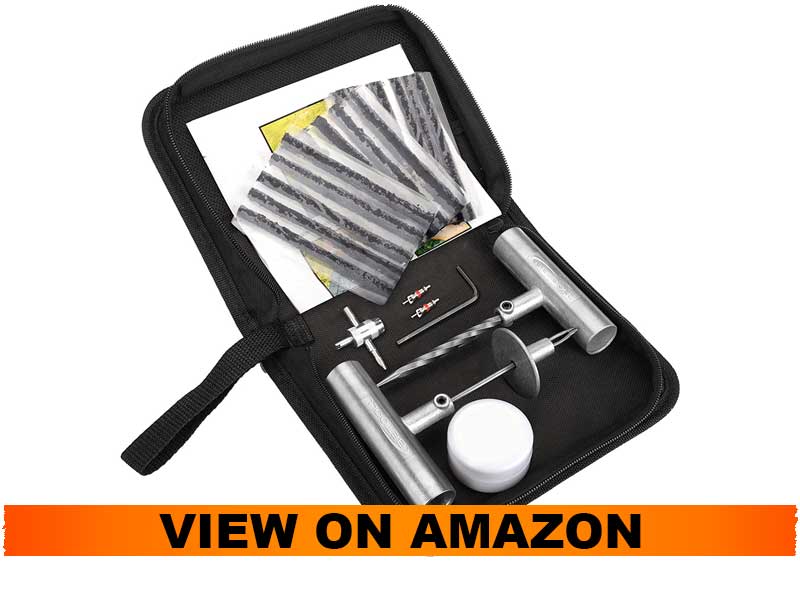 With 22 pieces of tools, the BETOOLL tire repair kit is one of the best kits you can find on the market. I've actually had my hands on this repair kit and can attest it is effective. From the number of tools to their durability, it is impressive.
Tools Included
BETOOLL repair kit includes 22 pieces of tools in it. Among others, it includes a T-handle insertion tool, a T-handle spiral probe tool, 2 tire value steams, 15 self-vulcanization repair plugs, 1 x 4-way valve stem tool, 1 lubricant, and 1 hex key.
While this list may not be as impressive as other brands, BETOOLL still remains relevant to the tools that you actually need. You may have to buy extra parts such as knives and pliers as they help complete the repair job by trimming excess materials.
Efficiency
Given the number of essential tools you need for the repair kit, it is no doubt that the kit is highly effective. It has a lubricant to make your job simpler. The two T-handles: insert and probe tool, do a remarkable job in inserting the included plugs to prevent air escape. Simply plug and go.
The kit helps you get prepared for the next unfortunate situation where a foreign object plunges into your tires. Your journey may turn out to be sour when you are stranded in the middle of the road with a flat tire. Thanks to the sophisticated tools in this repair kit for their efficiency.
Versatility
In simpler terms, the BETOOL repair kit is a universal tubeless tire repair kit. It is versatile to be used in many applications. Whether you have ATVs, trucks, cars, jeeps, SUVs, or motorcycles, the kit is applicable to their tires. It can also help with your lawnmower flat tire or trailers. I like such versatility because then I do not have to purchase several kits separately.
Storage
The manufacturer took time in designing this repair kit to ensure that the tools fit compactly in a carry bag. It is easy to store and use on the road. The carry bag is thick and durable, and so it will last you for a long time. It makes traveling with the tools an absolute breeze because motorcycles are, unlike cars, limited in space.
Pros
22 pieces of tools to fix your punctured tire
Versatile repair kit to apply for a wide range of vehicles such as trucks, lawnmowers, jeeps, and many more.
Comes in a compact bag
Full refund if there are mechanical defects
Cons
22 pieces not really many for a long term use
No pliers or knives included meaning you may have to purchase them to complete your repair job
Verdict
This repair kit is yet another great addition to your toolbox. It helps you out of an emergency situation of a flat tire. It comes with 22 pieces, which is ideal because, anyway, others fall short of these tools. I recommend considering this repair kit. It is affordable and effective, and also versatile since you can apply it on cars, jeeps, trucks, ATVs, SUVs, and other vehicles in addition to your motorcycle.
4. Stop & Go 1001 – Best CO2 Tire and Tube Repair Kit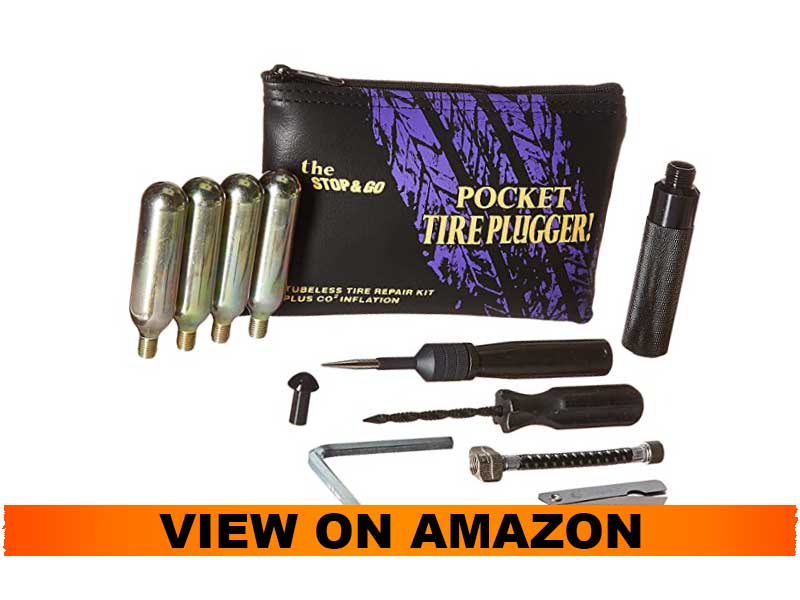 You recall that this is the second product of this brand. I've actually included it on purpose because of the efficiency the kit offers. Stop & Go 1001 helps you get back to the road quickly thanks to the inclusion of highly effective tools.
Tools Included
Typical tools included in this kit include 15 mushroom-shaped plugs (5/16" diameter shaft x ¾" length stem), 4 carbon dioxide canisters, and a retractable razor knife. The tools are sufficient to complete your job. However, I do not see T-handles that make the job much faster. Nonetheless, they are not really a deal-breaker.
Efficiency
Thanks to the 15 mushroom-shaped plugs that make this kit efficient in repairing flat tires. Fifteen is an adequate number to repeatedly use these plugs in any emergency situation. The carbon dioxide canisters included help re-inflate the tires within a few minutes and get going hence the name Stop & Go repair of this kit.
Versatility
The kit is highly versatile. It can be used for golf carts, utility vehicles, ATVs, cars, and motorcycles. Such a range of applications impresses me because I won't have to purchase different tools for each of the applications. Why shouldn't you consider this kit?
Storage
I have said multiple times that the joy of owning repair tools comes with the storage capacity. Luckily this kit comes in a storage bag that makes it easy to travel. We know how space-limited motorcycles are, and so we do not want inconveniences when it comes to storing these tools.
Pros
Plenty of tools to repair your tires
Versatile tools for a variety of applications
4 carbon dioxide canisters to inflate tires within minutes
Easy to store and transport
Cons
I am not that impressed with the durability of the tools. For this reason, I wish you exercise extra care when using them.
Verdict
This Stop & Go lives to its hype. Coming with 15 mushroom-shaped plugs, it makes repairing and re-inflating tires a cinch. You need no one's help to figure out how to repair with clear instructions given. Why wouldn't you consider these tools for your next repair job? I recommend having these effective tools.
5. Ayleid Emergency Motorcycle Tire Repair Kit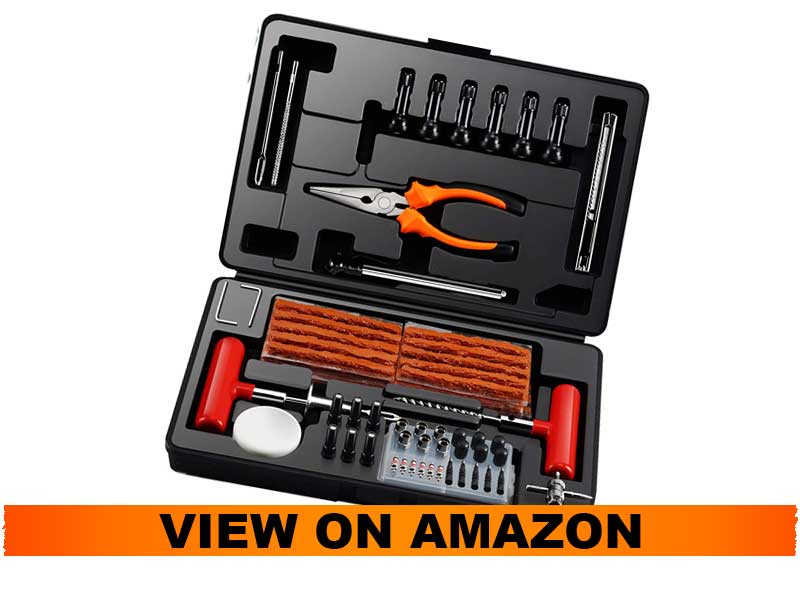 The product comes with 98 pieces of tools, which I find very overwhelming. It means you will find whichever tool you need for your repair job. Among others, you will find A3 Steel T-handles, 50 brown tire plugs, tire pressure gauge, 4-way valve steam tool, 2 hex wrenches, 6 black tire valve, solid pliers x 1, 2 needle replacements, 6 plastic extension valve, 1 contractor case, 1 accessory storage case, 6 black copper valve caps, 6 standard valve cores, and stainless steel utility knife. I cannot imagine any other tool you will be missing among these ones. The kit is almost all-inclusive of any tool you can think of.
Efficiency
Given the large number of tools in this kit, I am impressed by its efficiency in repairing flat and punctured tires. Any tool you will need for the repair job is included among the 98 pieces the kit has. With its solid A3 steel T-handle, you can carry out any job without fear of it breaking out. Such a sturdy and durable design make repairs easy on the roadside.
There is a pressure gauge included with which you can check the pressure balance so that you do not over-fill the tires. Removing the foreign object and replacing it with plugs to prevent air escape is a cinch too. Thanks for the inclusion of the knife which makes it easy to trim excess materials after inserting the plugs.
Fifty plugs are just sufficient to last you long. You will not return to the store anytime soon.
Versatility
The tools in this repair kit are versatile to use in a broad range of applications beyond the motorcycle. That said, you can carry the kit wherever you go in any mode of transport for quick relief in case of an emergency situation. You can repair tires of lawnmowers, trucks, cars, trailers, jeeps, dirt bikes, and many more.
I like the ease of repairing your tires with clear instructions given. This makes it easy for the amateur as well. So, you shouldn't spend the rest of the day repairing the tires.
Storage
Imagine having to travel with 98 pieces of tools without proper storage. That would be disastrous, wouldn't it? Well, these ones come with an accessory case and a contractor case. They make it easy to travel with the tools to your destination. Moreover, it is easy to access these tools in their compartments. For this reason, you do not have to randomly fiddle with tools looking for a specific tool.
Pros
Plenty of tools: 93 pieces
Durable tools
Versatile repair kit
Easy to store in included cases
Cons
While it is advantageous to have plenty of tools, they can be heavy to handle on a motorcycle.
Verdict
If you do not want to compromise your tire repair with a missing tool, this kit could be your best buy. They come in a portable case in compartments, thus making it easy to access them. However, they may be heavy to travel with on a motorcycle. Noting how advantageous it is to have plenty of tools, I wouldn't mind buying this product.
6. Secureguard Heavy Duty Tire Repair Kit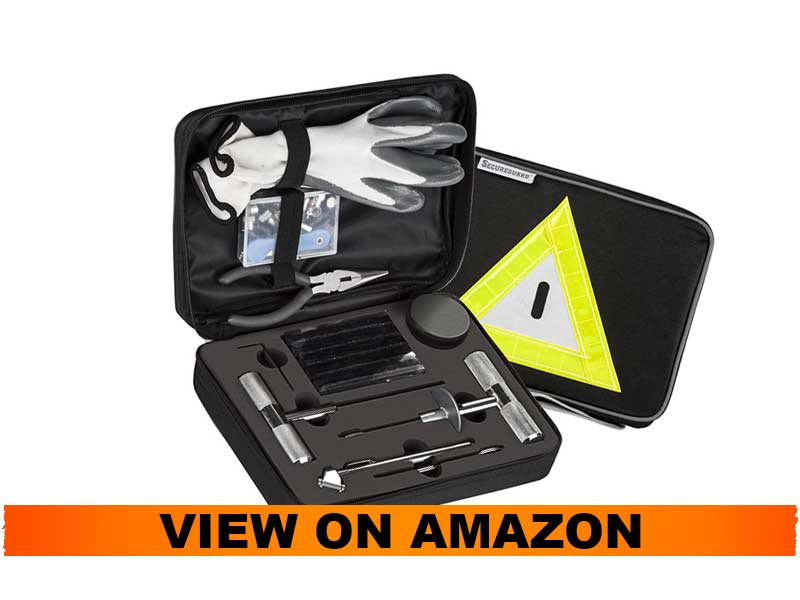 Secureguard Tire Repair Kit also features among the best on the market with its heavy-duty plug strings that replace the holes created by foreign objects to contain air. With 66 pieces of tools, you should find everything that you actually need to fully repair your motorcycle tires.
Tools Included
The kit comes with 66 pieces of tools to get your tire to a perfect state again. This gives you an interim solution until you reach your destination and probably replace the tire altogether.
Among others, you get solid steel T-handles, 35 tire plugs, 8 chrome valve caps, 4 valve stems, 4 plastic valve caps, tire gauge, hex keys, seal lubricant, pliers, utility knife, gloves, valve stem repair tool, and 4 valve cores. I don't seem to figure out a missing tool out of the given 66 pieces. Experience the art of a professional mechanic with this repair tool.
Efficiency
The efficiency of the repair kit is evident from the typical tools it has. With solid and sturdy T-handles, you will be able to probe the tire and then repair it without any of them breaking. When repairing tires, you need plugs to insert into the tires. This by now should be obvious to you. The plugs included here makes the job easy for you. They act as a temporary seal for your puncture until you reach the next stop.
The pressure gauge is included to ascertain that you do not exceed the recommended PSI. Also provided is a seal lubricant which makes the job much easier too. All other components like valves are provided to add to the efficiency of the kit in completing the job.
Versatility
Confirming the applicability of the tools in other tires is also a recommended step to take. This kit can also be used in car and truck tires in case you experience any puncture. So, do not forget to carry it everywhere you go. The shock of having a flat tire in the middle of nowhere can be intense if you do not have a repair kit.
Storage
Like the previous product with 93 pieces, this repair kit needs storage for its 66 pieces of tools. It would be burdensome to travel with them without a proper case. Fortunately, there is a storage case provided with your purchase. The carrier bag included is also compact like these tools so that you can stow it in your motorcycle saddlebag.
Pros
66 pieces of tools
Solid steel tools which are durable
Carrier bag provided to store the tools with ease
Ergonomically designed handles to make the repairs easy
Cons
Instructions not clear enough. You might as well consider watching YouTube tutorial on how to repair your tire using this product
Verdict
For any tire repair job on any motorcycle, I recommend this product. It has sufficient tools that are durable. Any tool you can think of for your repair job is included here. I wish the instructions were clear enough.
7. V1 Motor Puncture Tire Repair Kit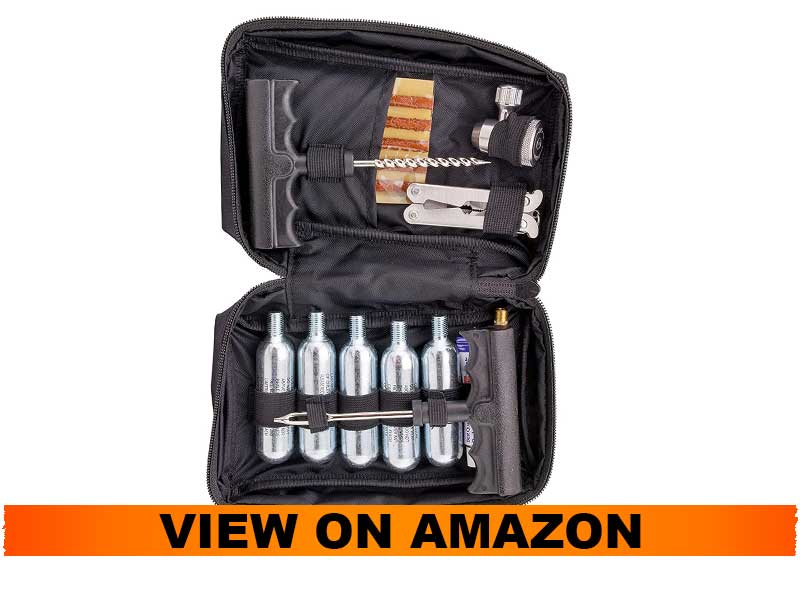 V1 Motor Repair Kit marks the end of my best motorcycle tire repair kit products. However, this does not mean it is the least in performance. It is still an impressive product worth buying.
Tools Included
This kit packs small to make your travel an absolute breeze. It does not contain a large number of tools but contains essential tools you will need. These include an aluminum chuck, 16-gram threaded carbon dioxide canisters, metal scruffier, rubber cement, carry bag with a belt loop, multi-tool, 5 string plugs, and 2 T-handles.
Efficiency
This repair kit is also efficient. It comes with effective tools such as 2 T-handles to help you probe the tire and insert the plugs. While these plugs are not that adequate, they are fairly enough for one or two trips provided you have a puncture in each trip.
All in all, the tools are effective. You get carbon dioxide canisters to help you inflate the tire in a few minutes. No matter how rugged your motorcycle tires are, sharp nails can always find a way to puncture them. So, having this tool is an added advantage.
Versatility
Due to the sturdiness of the tools, the kit is versatile and thus can be used even for cars. Travel with the kit and fix any tubeless tire that experiences a puncture.
Storage
The tools pack small and fit in the included carry bag. It is not a burden to travel from one location to the other. The downside is that 5 plugs are not adequate to last you numerous trips unless you frequent highways where you least expect sharp objects. For off-road trails, you might consider a large number of plugs.
Pros
Compact repair kit
Durable and versatile tools
Affordable
Ease to follow instructions
Cons
5 plugs are not that adequate to enjoy traveling on off-road trails for a long time.
Verdict
If you are looking for a compact repair kit, this is the best buy for you. It is affordable with a minimal number of tools for a few trips in the wilderness. I recommend the product.
Tips and FAQs
Any motorcyclist, amateur or experienced, can attest to the difficulty associated with choosing motorcycle repair kits on the market. We have got plenty of products to pick from but choosing that specific one could be cumbersome. I have given you some tips below on how to tackle your choices.
Which Tools must be included in the tire repair kit?
It is important to note the typical tools included in the kit. This gives you an ideal picture of what you have at your disposal should you experience a puncture. Are there enough plugs, pliers, utility knives, T-handles, gloves, valves, and other essential tools? Ask yourself this question as you navigate through different products. In my choices, I have strived to include products that are inclusive of these recommended tools.
Efficiency
Are the tools that efficient in the repair job? Well, at first glance it may not be easy to ascertain if the tools are effective, but the nature of the tools somehow reassures you. For instance, the inclusion of T-handles convinces me that the product is highly efficient. There are other tools that give that assurance.
Versatility
Can you use the tools to repair your lawn mower tires car tires, truck, and many other tires? That's where versatility comes. Check if the tools are applicable in a range of tires. This saves you money.
Storage Capacity
How easy is it to store the tools? Is the carry bag included? Is the carry bag partitioned in such a way that the tools are easily separated? Is the carry case durable and rugged? Such questions are important to ascertain if the carry bag can withstand the tough tools.
Final Thoughts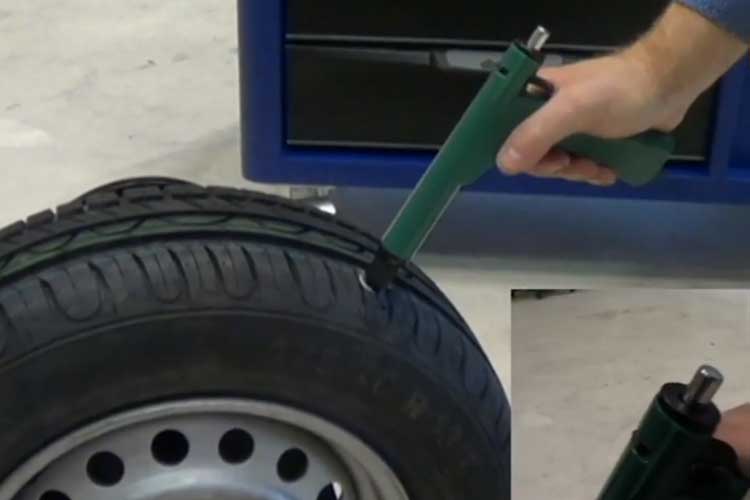 I have come to the end of my comprehensive review. With these repair kits, I promise you that you will not be left stranded on the road. It doesn't matter if you are an amateur or an experienced person, you can repair your tires. The tools come with clear instructions. Besides, you can also watch YouTube tutorials that give tips about tire repairs.