If there's someone in your family that rides a Harley (unless you're a rider yourself), then you know how hard it can be to find good quality products that pertain to the lifestyle. Part of this is due to the variety, which isn't a bad thing at all. But the best gift ideas would be well-suited to any rider, including those that don't own Harleys. And by accessories, anything goes, from artwork to useful items that could come in handy when traveling on the road.
The following products are the best gift ideas for all riders. There's something here for everyone, whereby each of the 15 was chosen for quality in manufacture, sentimental value, and usefulness. And when that's done, be sure to read the Buyer's Guide to get a better understanding of which items are better for you or your loved one(s). Top products from the list are named in the Summary.
This post contains affiliate links. If you make a purchase, Motoprove.com may receive a small commission at no additional cost to you.
Zippo Harley-Davidson Pocket Lighter and Zippo Lighter Inserts – Gifts for Harley Riders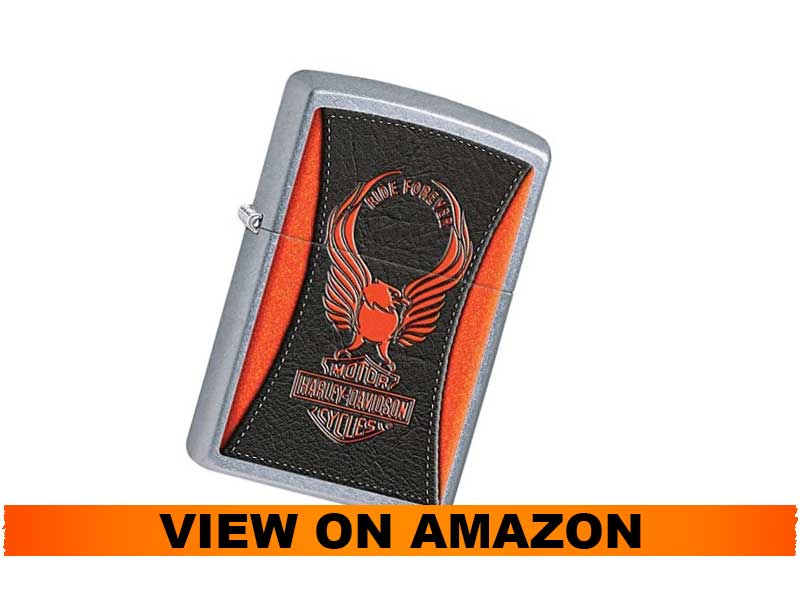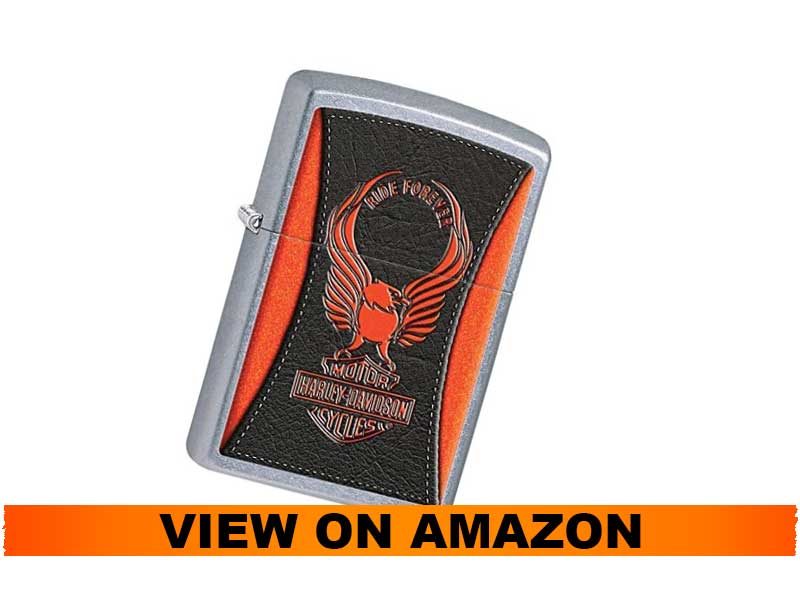 A Classic Lighter
The Zippo Harley-Davidson Pocket Lighter is made of stainless steel and metal. If you've never used one before, the mechanism is slightly similar to what you may have seen with disposable lighters. However, there are a few differences in the way that fluid is provided, which involves opening the exterior body. When you light it, the flame will stay and holds up well in windy environments. But that's not the only thing. If you're going to get a Zippo, you might be interested in products that'll make it even easier to keep the flame going. The Zippo Lighter inserts come in three varieties (sold separately).
Accessorizing
One of them is rechargeable, so you won't even need to worry about lighter fluid if you make it your choice. The other two are different in flame style, with one having a double flame.
If you go with these, consider that you might end up going through your butane a little bit quicker than you would by relying on the ordinary Zippo. But that's to be expected given that normal butane lighters of all kinds burn up gas very quickly. If you're a cigar smoker, or simply appreciate the craftsmanship of Zippo lighters, this is a great buy.
Pros
The Zippo conserves butane for a long time when filled
Unlike an ordinary lighter, the Zippo's flame stays lit without the need to hold down any buttons
The inserts can increase flame strength and consistency
The rechargeable insert can be used up to 40 times before another charge is needed
Cons
Sooner or later, the Zippo's flint will need to be replaced in order to continue the use
The eagle emblem may come off if used carelessly
Torch inserts will burn through butane quickly
LEATHERMAN Wingman Multitool – Best gift for motorcycle riders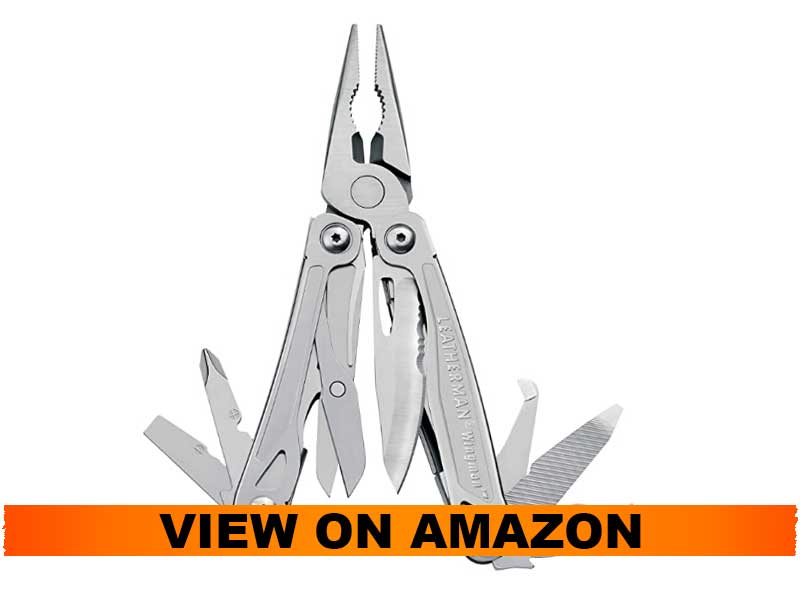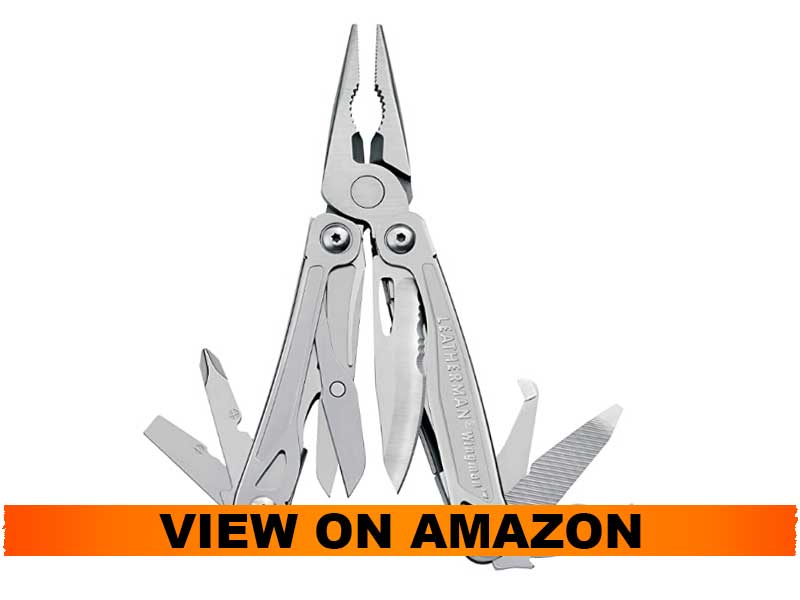 A Handy Tool for Anyone
The Leatherman – Wingman Multi-tool is a gift that one could use virtually anywhere, with or without a motorcycle. It's made of stainless steel and will never rust. Of course, that doesn't mean that you won't ever need to maintain some upkeep, but nothing will break the moment after it's used. There's even a pair of pliers, great of making on-the-fly adjustments and fixes on your bike. The wirecutters are also useful and aren't too bad on the hands. You can fit it in virtually any pocket that you want.
Tool Features
The dimensions are small enough to where no pocket on your clothing is likely to push it out. However, you may want to think twice about clipping it on the thin belts. This is due to the clip itself, which sits on the heavy side of the multi-tool. If your belt has a hard time supporting the weight, it may slip unnoticed. But don't let that stop you from trying out the Leatherman for yourself. If the body is gorgeous, and a perfect emergency tool to have around as you ride. And best of all, there's any can opener for all of your drinks!
Pros
Made entirely of stainless steel and will never rust or corrode
Contains spring-action pliers and wire cutters for making on-the-spot bike repairs
Will easily fit into any sized pocket
Cons
The clip will easily slip off thin belts due to the weight
Except for the scissors and knife attachments, all other tools must be accessed by opening both sides of the handle
BigPantha Motorcycle Helmet Lock – Best Gift for Helmet Theft Protection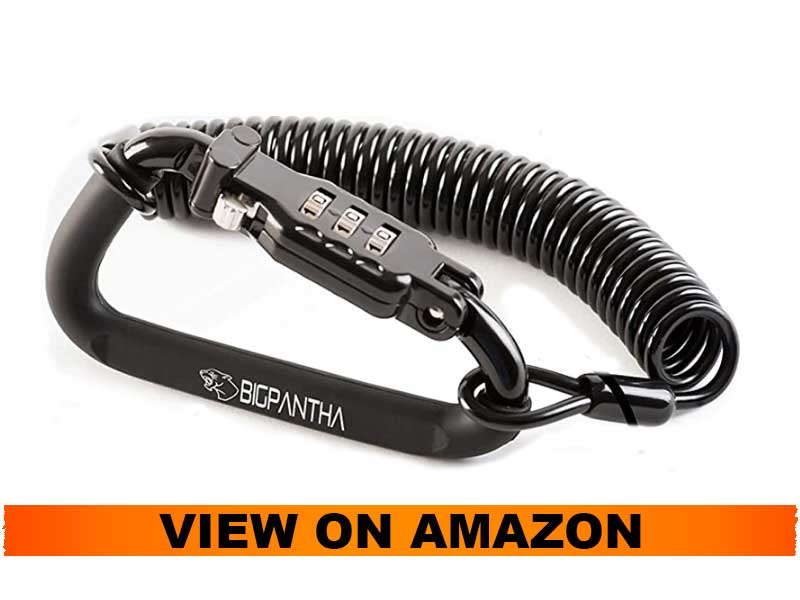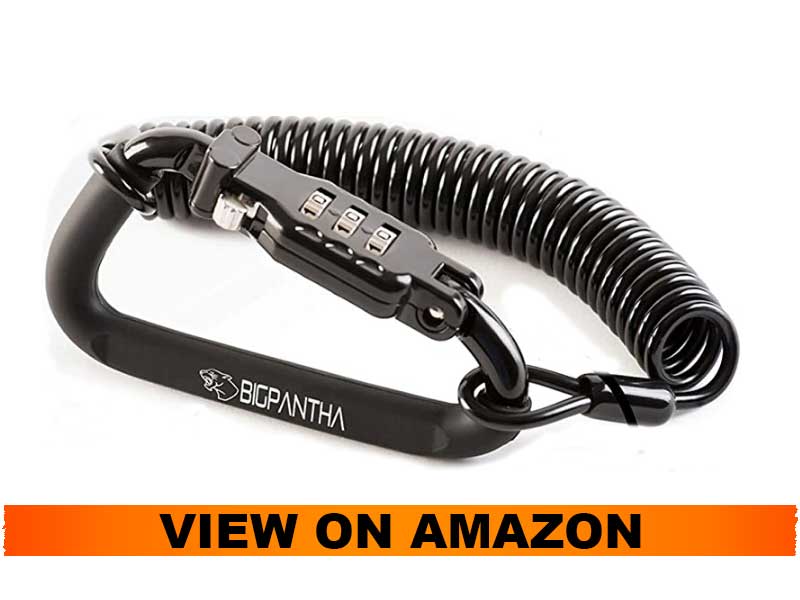 Security and Protection
The Motorcycle Helmet Lock is a great way to have a piece of mind when you need to stop off of your Harley, but cannot take your helmet with you. As a rider, you've probably run into this problem before, feeling a bit nervous about leaving your expensive headgear on top of the bike for everyone to see. Now there's an easy way to secure it. Just place the looping wire over the back portion of the visor, and lock in place with the combination of your choice.
Using the Combination
You can choose up to 999 combinations, seeing as there are three digits in all. Yet don't mistake this product is indestructible. If someone really wanted to get a hold of your helmet, they could. But if you're in need of a lock that will serve to keep those around it honest. This helmet lock is among the best gifts for motorcycle riders that want a boosted sense of security.
Pros
As this is a three-digit combination lock, there are up to 999 combinations for users to pick from
The lock has a rubber sleeve that covers the steel to protect the helmet from getting scratched
Can lock up to two helmets on one bike
Cons
Although the cable is strong, it can still be broken with enough effort
Guardian Bell – Motorcycle Themed Gift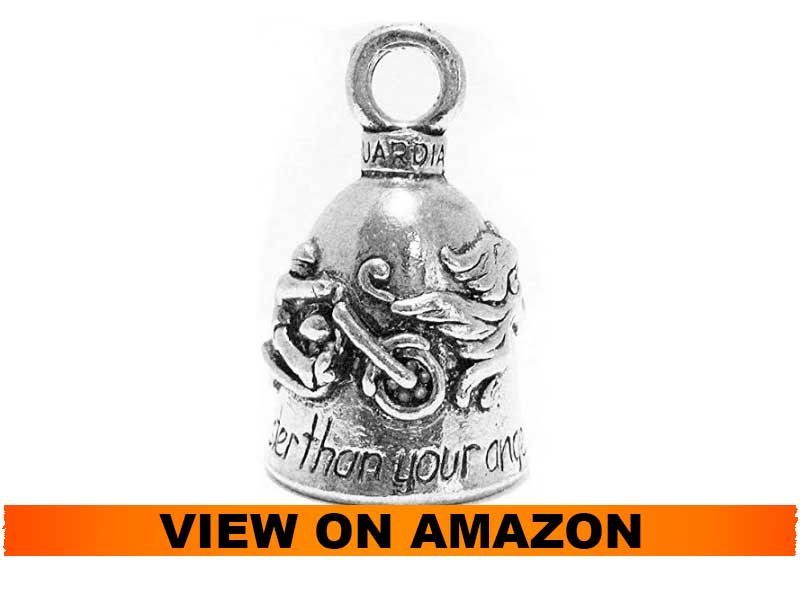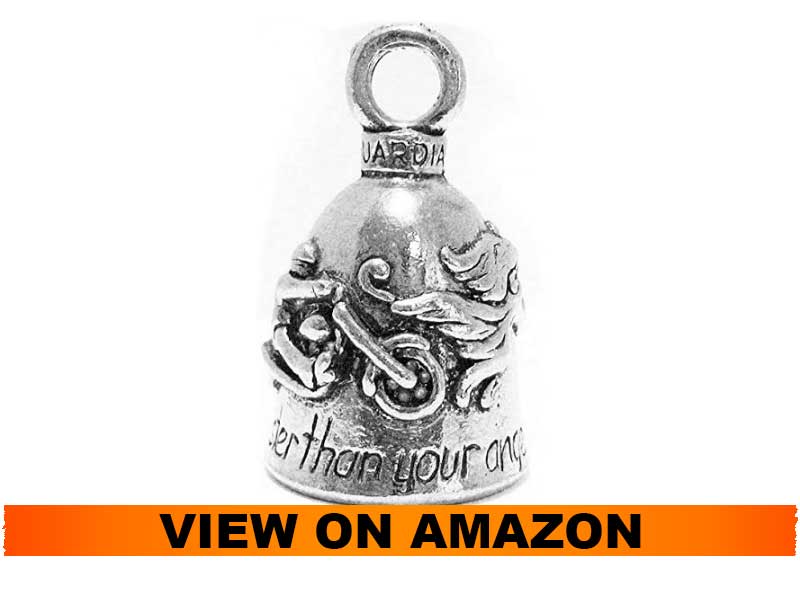 For Good Luck
The Guardian Bell "Never Ride Faster" bell might seem like a good idea for someone that's superstitious, but bikers of old and news have sworn by them for many years. But on its own, the product is a nice gift to show off to friends. If you've never heard of a guardian bell before, the "ringing" supposedly will rid the wearer of bad spirits that inundate the road as they navigate.
Keyring Friendly
Lots of trinkets such as this one are often built to last for a short period of time, but this will hold up for many years without taking on damage. It's small enough to fit on any key ring and discreetly fits into any pocket. Although the engraving might not be as detailed (at least of some of the bells) simply having this good luck charm around is all that some riders may need.
Pros
The bell rings loud enough to be heard from several feet away
Includes a velvet baggie for safekeeping the guardian bell when it's not on the bike
Can alternatively wear on a key ring
Cons
On some bells, the engraving may not be legible
Harley Davidson Personalized Wood Sign – Unique Gifts for Motorcycle Riders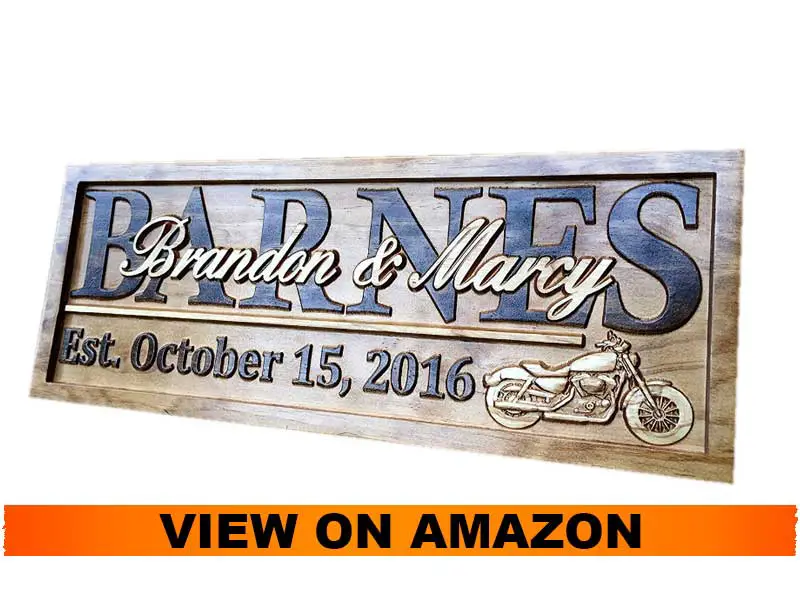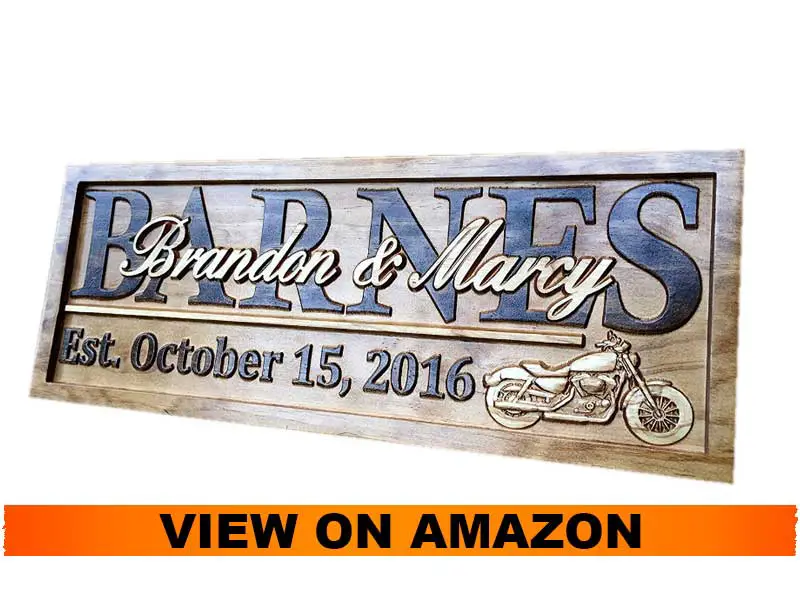 Complete Customization
The Harley Davidson Sign, as the name implies, is a personalized gift that you can have engraved before it arrives at your door. When checking out, just inform the seller of the name that you want, and that's all. You'll soon have a detailed sign that you can place in front of your home, shared with your significant other, to show off to guests that are visiting. And with the Harley logo on the right side, others will instantly be able to see your love for the lifestyle.
Wood Quality
The wood is made from pine, which is dense but won't buckle if touched by water and moisture. The coasting that goes around the sign itself helps with this, strong enough to prevent aging for years to come. It is a little lightweight, so you'll have to be careful with handling it. But other than this little hiccup, there's nothing else wrong with the sign. Recommended for couples that are fans of Harleys.
Pros
The hanger on the back of the sign is sawtooth, making it easy to hang up in virtually any location
Every sign can be personalized by the customer prior to shipment
Built from dense pine wood
All signs are coasted to preserve the wood
Cons
The sign is lightweight and could be damaged if carelessly handled
Harley Davidson Patent Prints – Gifts for Harley Davidson lovers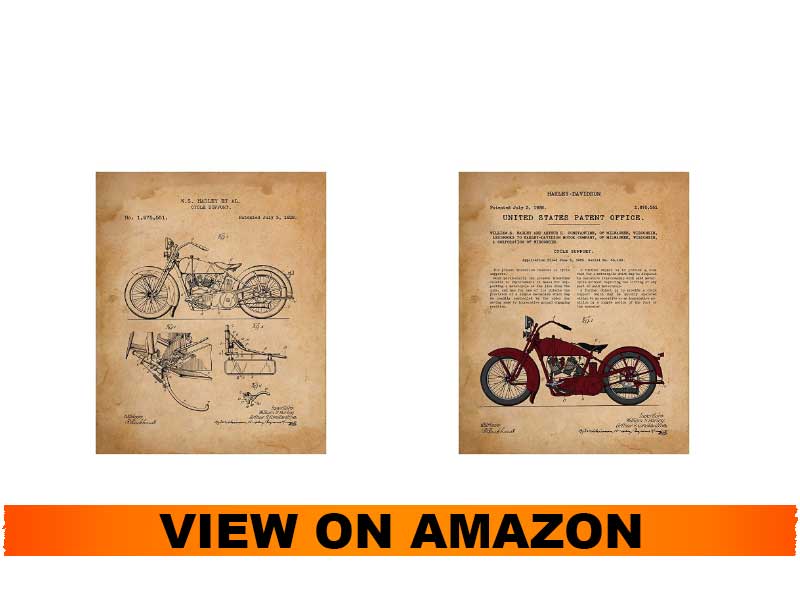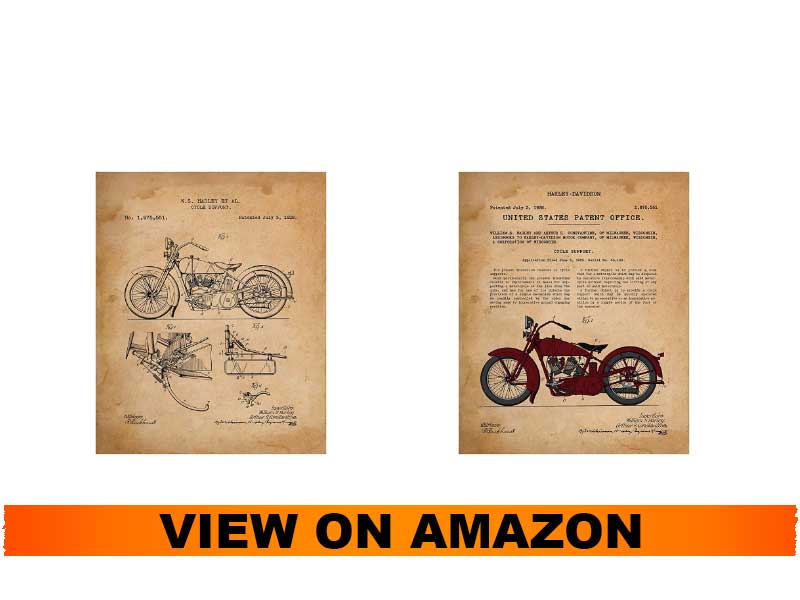 A Great Wall Gift
The Harley Davidson Patent Prints are one of the best gifts for motorcycle lovers at home. Without the patents themselves, the world of motorcycles would be completely different. These are replicas of the original, which will look great anywhere in your home. And when a replica is said, it's to the teeth. It even shows the schematics that William Harley and Arthur Constantine used in your initial prototype for the bike.
Long-Lasting
The paper is made from materials that won't become aged or lose their color, even if you hang it in a room that receives lots of sunlight. The only major drawback is the lack of a picture frame. You'll have to go out and find one yourself, though it shouldn't be too difficult to acquire from your local arts and crafts store.
Pros
The art is 100-percent identical to the original patent prints that were signed by William Harley and Arthur Constantine
Once framed, the paper is built to last a lifetime
Looks great in any room
Cons
Doesn't come with a frame
CYCPLUS Rechargeable Portable Air Compressor – Best Gift for Long Distance Travel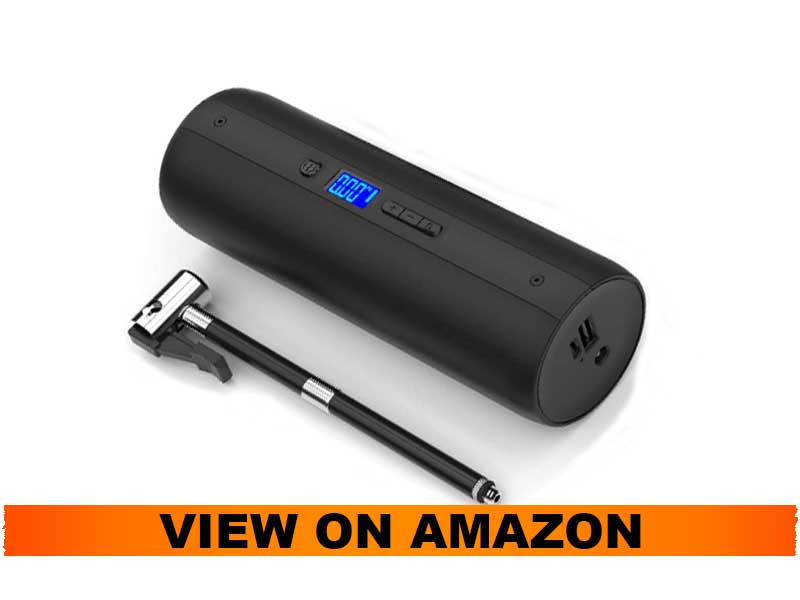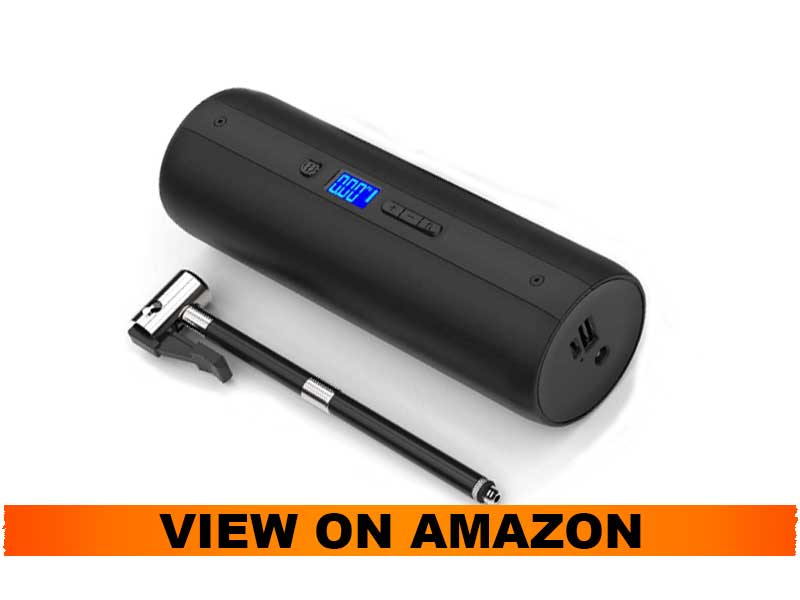 Great for Emergencies
The Rechargeable Portable Air Compressor is used to inflate tires. Although it will work for putting air into any type of tire. The sizes make it especially adequate for motorcycles. Hypothetically speaking, if you were to inflate a bike tire with it that was completely empty of air, the procedure would take a maximum of just seven minutes with this device. And as you fill, you'll be able to see the tire's PSI on a conspicuous LED screen in the front.
Making things Easier
Light is also fixed on the tool, so you can see get a better look at what you're doing as you pump. In order for it to be used, the product must be charged, someone that can be done only with a USB cable. If you don't have one on your Harley, you'll have to rely on the lighter cable to get power. And doing it this way doesn't change and only turns the power on the compressor. Still, having an air compressor around for your bike is important, so consider getting it if you don't have one already.
Pros
The compressor has a built-in light that makes it easier to pump on dark roads
Has a short inflation time, even when bike tires are nearly flat (about 7 minutes)
An LED indicator is built on the compressor and displays the current PSI of the tired being inflated
Cons
Can only be charged with a USB cable; lighter cable only serves as an electrical outlet that doesn't charge
Maycom Creative Couple Keychain – Best Gift for Couples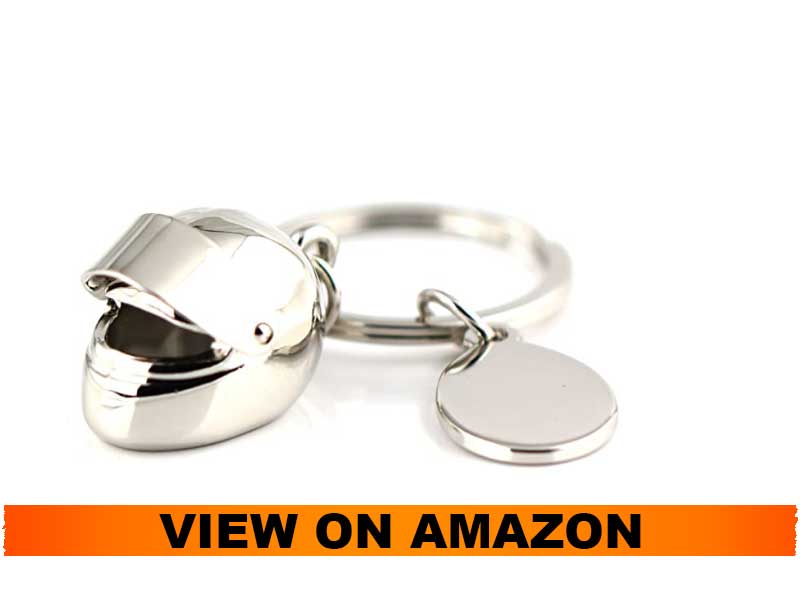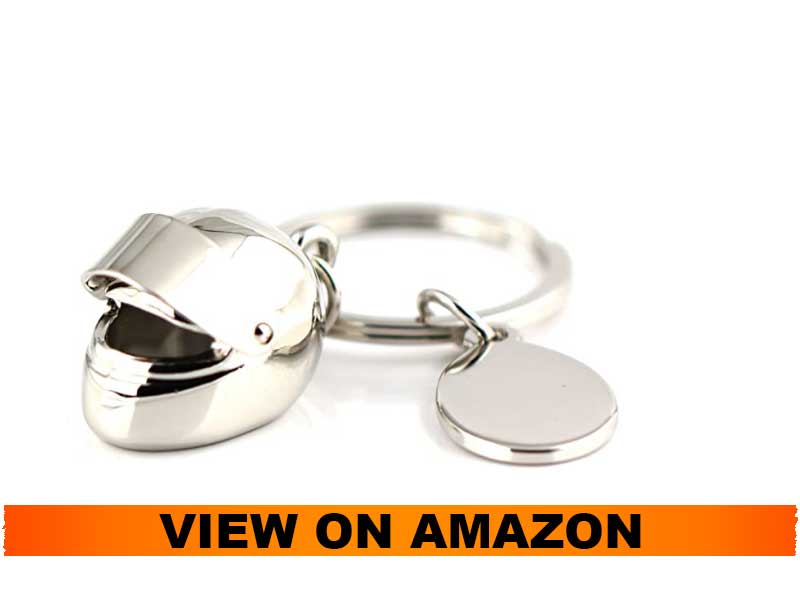 The Maycom Creative Fashion Romantic Couple Keychain is two parts consisting of a bike helmet and motorcycle replica. It'll fit on all keychains and is sold with a ring itself. All pieces are made to last for a long time without breaking when placed in the pocket. The tiny visor on the helmet replica moves, a nice touch that adds realism to the gift. The might may not be as realistic as the helmet but is built well enough for the user to tell that's a motorcycle. Couples will enjoy this gift or anyone that wants to add a bit of an edge to their keychain.
Pros
Good engraving work on each piece, the bike in particular
The visor on the helmet mimics the real thing, lifting up and down
A keyring is included with it; no need to acquire a new piece
Cons
The inside of the helmet accumulates dirt quickly and is difficult to clean
MOTOsafety Portable Real-time Personal Tracker – Best Gift for Urban Riders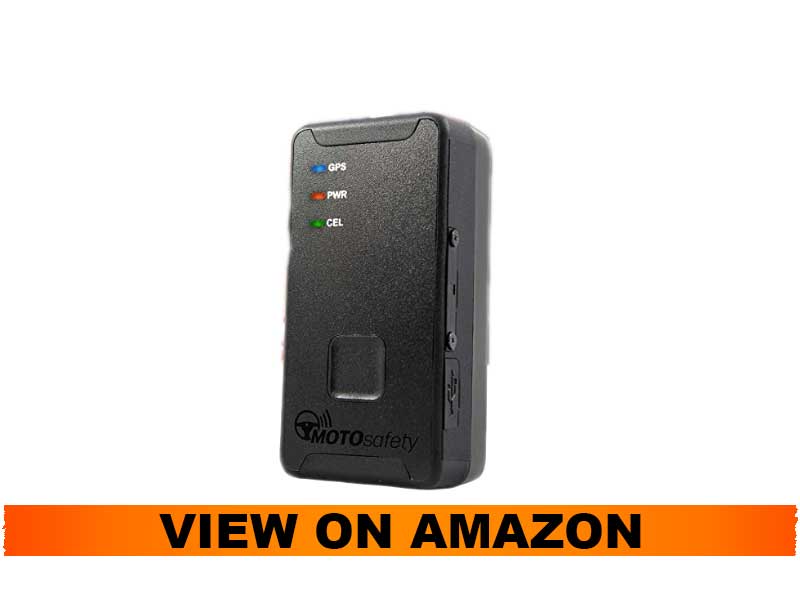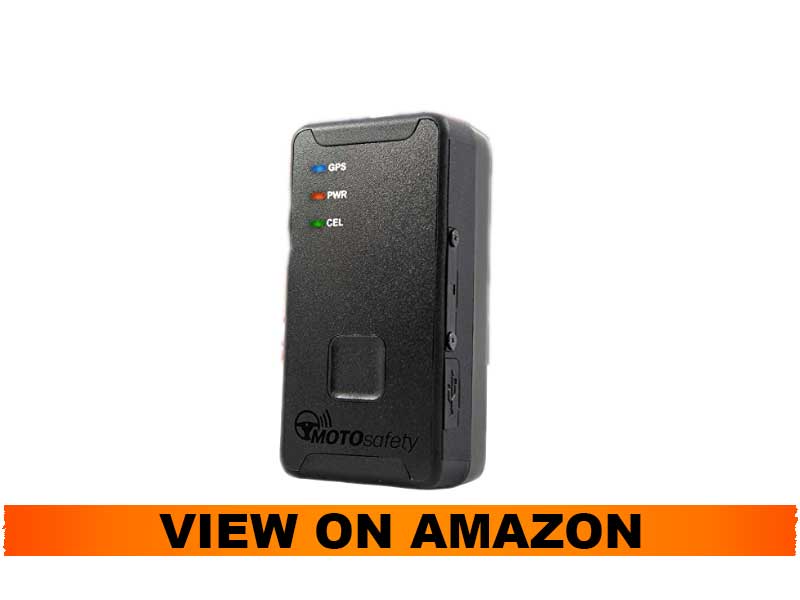 An Emergency Locator for Riders
The Motosafety is a tracking device that sends a signal via satellite to a different location, letting others be aware of where you are whenever you're away. This is in real-time, with pings occurring every 60 seconds. The best thing about it is the battery itself, which won't need to be charged very often.
In fact, the device could last as long as two weeks without putting it on a plug. And since it's very small, you can easily carry it with you when you're on the road. But it's important to understand that the GPS is usable only through a monthly subscription, in which the location is shown on a computer or a smartphone application.
Where it's Most Reliable
If you're in a city or suburban area, coverage is well (it uses a cellular network to retrieve locations) but that isn't the case for the rural countryside. So as long as you're in a populated area, having this around could prove to be a useful item when you're away from friends and family.
Pros
Pings the location of the driver every minute
The battery will seldom need to be charged; will last up to two weeks when started full
Alternatively, is useful for purposes outside of biking
Cons
The GPS can only be activated through a monthly service fee
Doesn't work well in areas that have poor cellular coverage
Meguiar's Motorcycle Care Kit – Cheap Gifts for Motorcycle Riders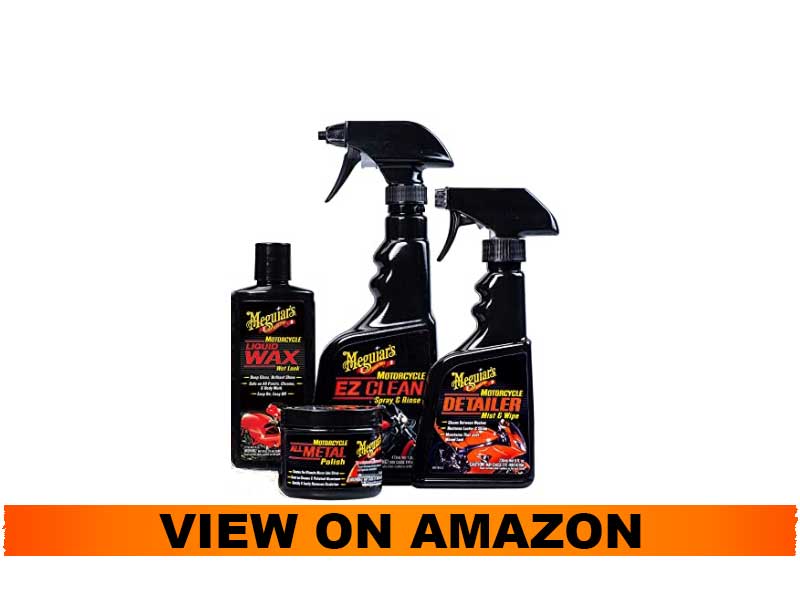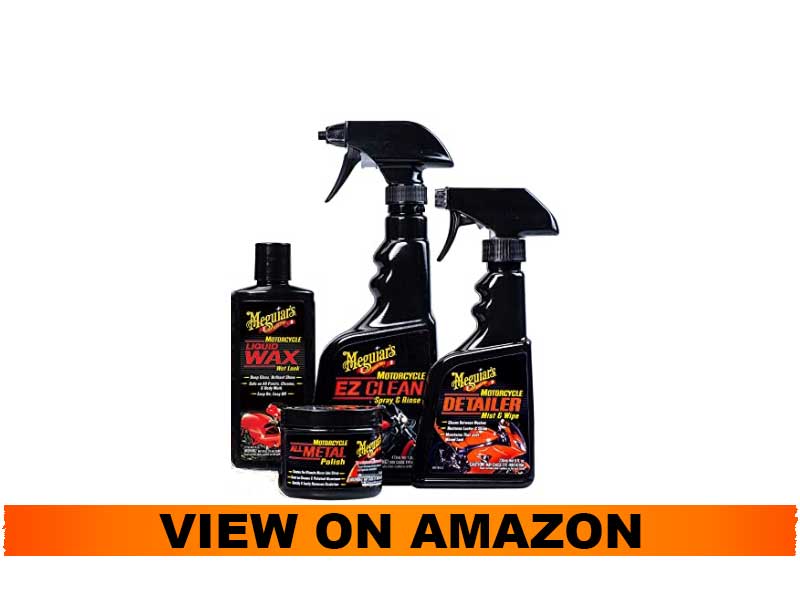 Everything to get your Bike Clean
The Meguiar's Motorcycle Care is an all-in-one cleaning kit for your bike. If you're the type that doesn't like to go shopping for individual products and would like to have everything that's needed to get your bike clean in one sitting, this is a perfect way to do it. Each bottle is for a specific cleaning job, whereby you can detail, clean tires, and even wipe down the seats with one of the items listed.
Leather Protection
Your leather won't take on any damages again from the sun, and the detailer does a good job of keeping every piece of your bike in a new-like state. Go over your metal with the polisher that's provided and it will shine bright enough to reflect a mirror finish. You might have to check some of the bottles to make sure there are no leaks when you're done, but don't anticipate this happening with all of them.
Pros
The cleaner/polish doesn't leave any residue or film the surface of bikes after cleaning is finished
Keeps leather seats from getting damaged from ultraviolet rays (the leather cleaner/conditioner)
The metal polish can will last for a very long time before needing more
Cons
Some of the bottles may leak before and after they're used
Compact Tool Set with Zipper Case – Best Gift for Motorcycle Enthusiasts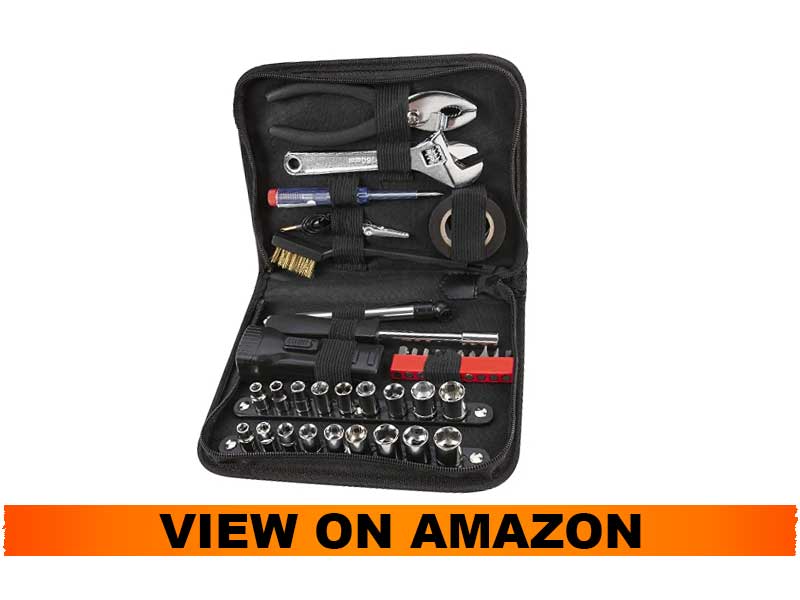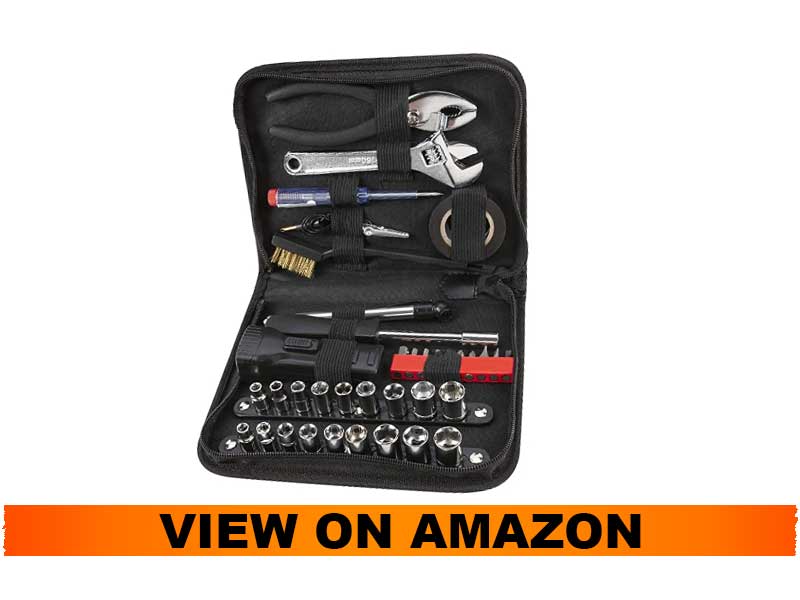 Emergency Tools Set
The Compact Tool Set comes with a carrying case, making it easy to place in the storage area of your bike without getting dirty. This is primarily for emergencies, making it a strongly recommended product if you don't have such a kit already. The fasteners are dipped in chrome and easy to keep clean. And since it serves as a protective shield against the elements, the chances of rusting is slim to none.
High-Quality Sockets
The layout is simple, and using each tool can be done by both professionals or beginners. There are 18 sockets in total, SAE and metric. Given the nature of newer bikes and vehicles, this is important, more so if there are foreign parts of your bike. The tool kit is suggested for any motorcycle riders, particularly those that don't have one or need to update an existing kit.
Pros
Pieces are chrome-plated and resistant to rusting
SAE fasteners and metric sockets in one emergency kit (nine of each)
Ideal for road emergencies
Easy enough to use for beginners
Cons
The crimping tool is poorly made and may after the first time that it's used
Rezervo Pocket Jump Starter – Gift for Motorbike Lovers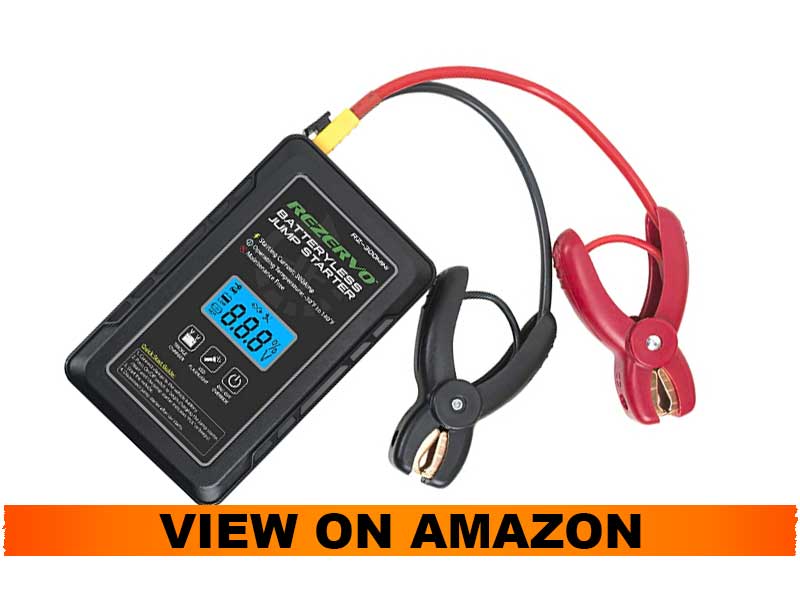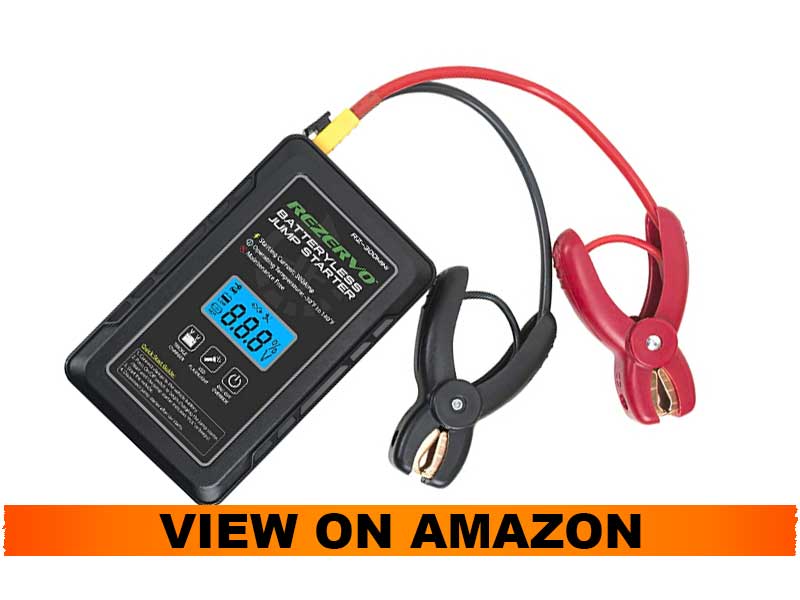 No More Assistance
The Rezervo Mini Batteryless Pocket Jump Starter are jumper cables with a huge benefit: you won't have to rely on another bike to get yours running again if the battery dies out. This means no more asking for assistance from motorists if your battery sleeps on your when riding. Just plug in the jumpers as you would normally do with a clunkier set, turn on the machine, and start your bike. The jumpers can harness power from a battery that's near death, and increase the electricity while transferring it to your bike.
Features and Storage
Readings are shown on the LED display in the front; you won't have to strain your eyes to see them, either. When you're doing, just take off the cables and store everything as normal (it will fit in most small containers). There's no carrying case provided by the manufacturer, so you'll have to get one on your own. But don't take that as a discouragement to avoid the Rezervo. This could be the single best gift idea for any motorcycle rider.
Pros
Doesn't need to be charged; power is provided by the bike's battery
All relevant stats are shown on the starter's LCD display
The cables can be detached for easier storage
A USB port with and power adapter are provided in case of total battery drainage (use on another car)
Since there's no lithium battery in the capacitor, is safe to take on commercial flights as checked baggage
Cons
Doesn't come with a carrying case
DITRIO 12Pcs Motorcycle LED Light Kit – Present for Motorcycle Enthusiast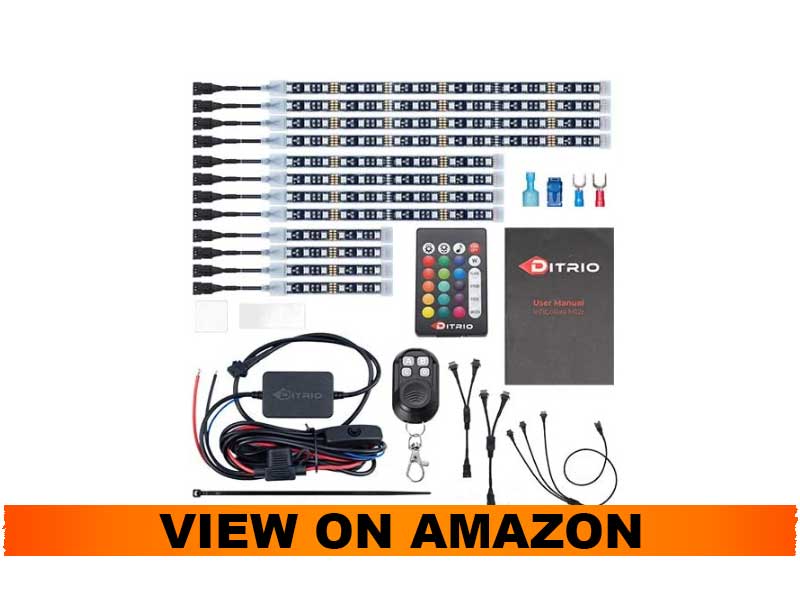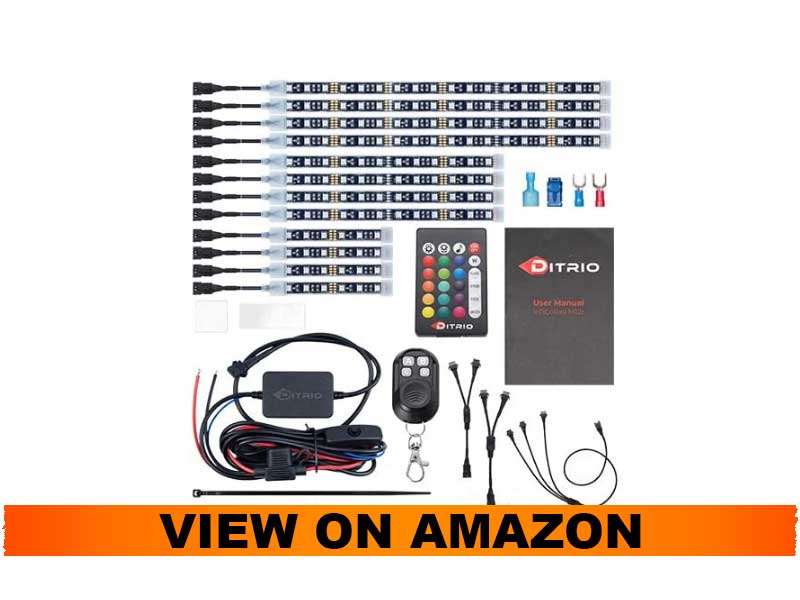 For Look and Appeal
The Ditrio LED light kit will really make your motorcycle stand out with its multi-colored bands that light on your accord. Colors can be changed with a remote that comes with the kit. By the way, there are two of them. One if for the pocket, the only will attach to your keychain.
The Keychain Remote
If you use the keychain, keep in mind that you must cycle through each of the colors until you find the one that you want to see. All of the lights will last for many years and are easy to see from many yards away. Installation can be done in about an hour, so long as you read through the instructions. They're easy to understand for most, so don't make plans to look at video tutorials to get the job done.
Pros
Illumination can be seen from a very long distance away from the bike
Comes with two remotes, one small enough to fit on a keychain
Easy installation with comprehensive instructions
Cons
The keychain remote doesn't change to the designated light (must cycle through all light variations)
CherryPic Junction – Mounted Bottle Opener and Cap Catcher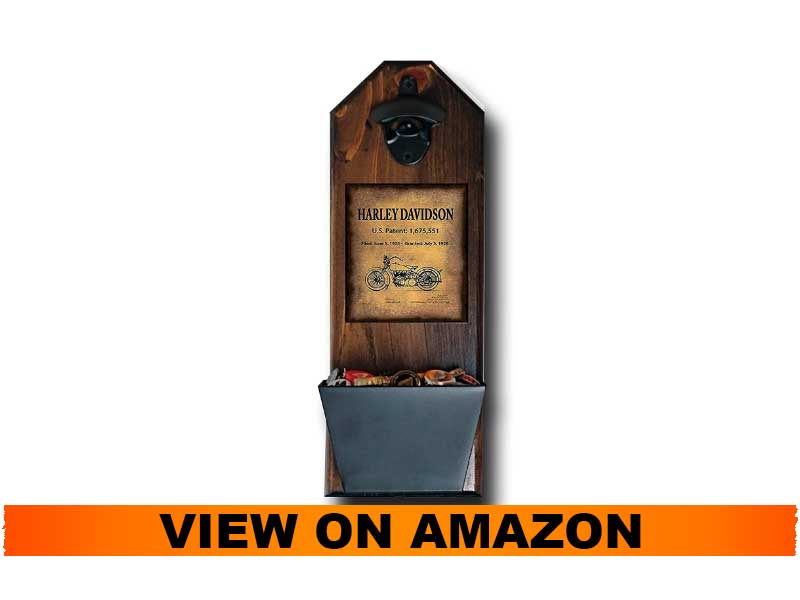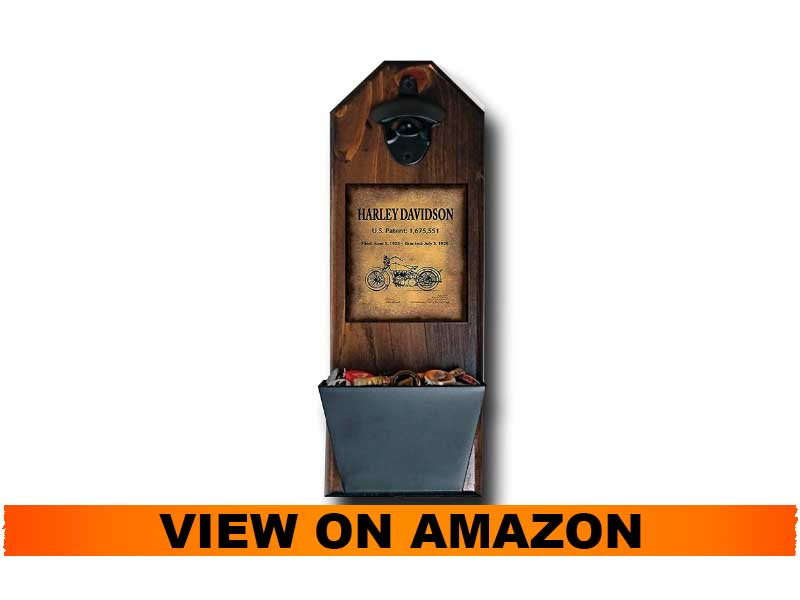 For Looks, Collecting, and Recycling
The All Mounted Bottle Opener is good for three types of people, those who enjoy a good drink, lovers of motorcycles, and anyone that likes to recycle. Hang this inside your home or front/back porch, and those pesky bottle caps will never end up all over the place again. There's a bottle opener on the housing, and a bucket to "capture" the cap as it falls down. It almost resembles a tin basketball hoop, only this is for holding caps.
Bucket Feature
When the bucket is full, just dump the caps in a larger bag, or add to a growing collection. And remember, bottle caps are completely recyclable, so consider giving (or selling) them when the bags begin to add up. Don't be surprised if you find yourself tightening up the screws on the bucket from time to time; it has a tendency to loosen up after a while. This also goes for the bottle opener. If you don't might making this occasional fix, then the All Mounted Bottle Opener is a great gift for anyone.
Pros
Allows users to save bottle caps for collection or recycling
The colors blend well with most home interior styles
The bucket is large enough to hold hundreds of bottle caps before needing to be emptied
Cons
The cap opener and bucket may need to be screwed tighter before first-time use
The patent photo is of low resolution
F&L CLASSIC Leather Card Holder Wallet – Motorcycle Gifts for Him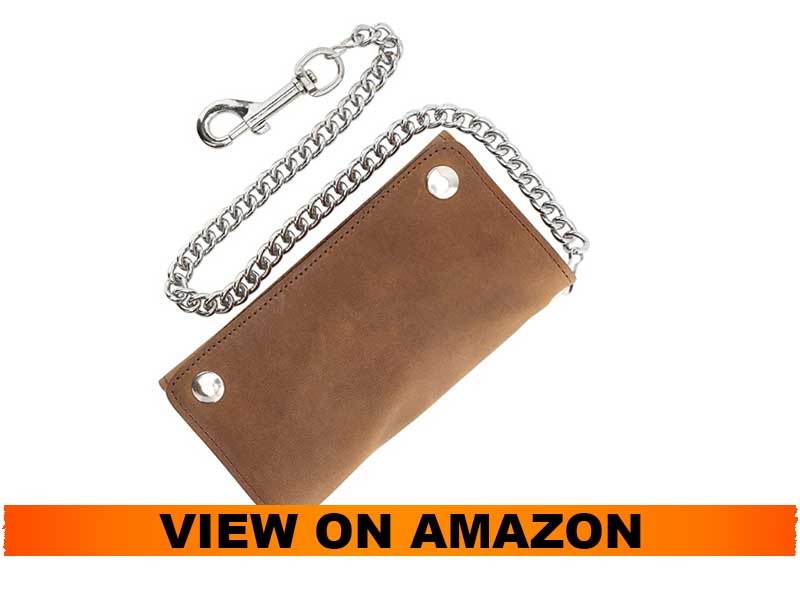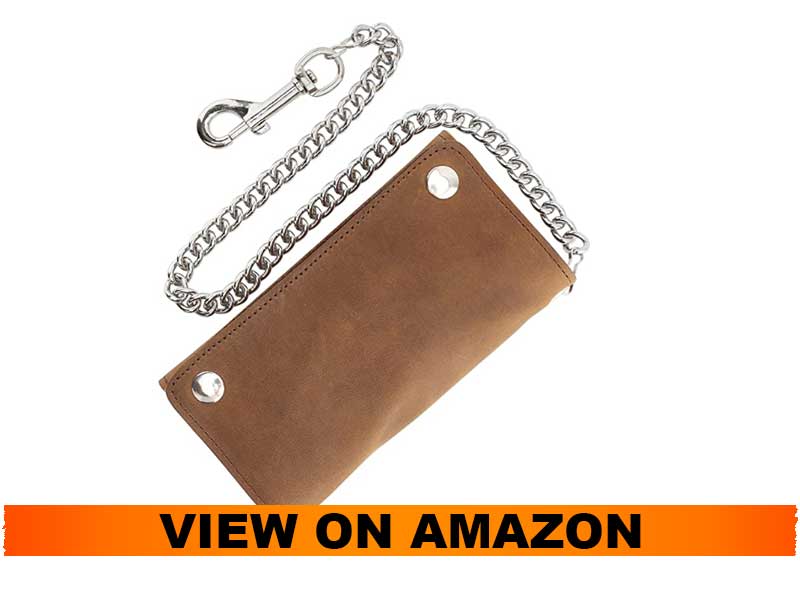 Card Safety
The final product is the Leather Card Holder Wallet. While it might not seem like much from a superficial standpoint, the wallet itself has one very important feature that could take your bank account from getting broken into.
The interior has a shield with RFID protection, making it impossible for anyone to scan your cards if the attempt is made when you're out in public. You can hold up to 14 cards in the front portion that unfolds first, which leaves room for more items in the back of this area.
Real Leather
You won't be able to fit larger items like passports inside, but small photos and money shouldn't be a problem. The leather comes from real cowhide but won't age when used in areas that are high in humidity and moisture. The chain attaches firmly to clothing and belts, also serving as another way to keep the wallet safe.
Pros
Has 14 cardholders on the inside (excluding the other pockets)
The wallet stays shut when folded, with the help of stainless steel buttons
Has RFID protection that prevents cards from being scanned while in the wallet
Made from real cowhide
Can be attached to jackets, trousers, and belts with a stainless steel chain (included)
Cons
Portions of the interior are glued on
Gift Guide for Motorcycle Riders
How to Choose the Best Gift?
It's pertinent that you remember to choose gifts for motorcycle lovers that you or someone you're buying for will appreciate. Some of the products shown would likely be used more than others. Try to separate your needs from wants. For example, if you need a safety tool kit for your motorbike (or someone else needs one), this might be a better gift idea than a small trinket or keychain. But if the person you're buying for already has those things, it could be a wiser choice to focus the shopping on something that's smaller.
Are products for the home good as a gift?
Not every motorcycle lover has a motorcycle. And even for those that do, they might not require anything to use when making trips on the road. For those people, having something that can go in the home might be an ideal gift choice. There are several products shown in the reviews that are great for anyone that wants to decorate their residence with anything motorcycle related. Whether it be simple photos, engravings, or even a kitchen item, your options aren't limited to vehicle accessories.
Type of Motorbike
Looking through the reviews shows that some of the products aren't geared towards lovers of Harley-Davidson. However, not all motorbike riders own a Harley. If the person your shopping for has bought Harley-themed items in the past, there are loads of items to pick here. However, don't assume that such items are made for Harley owners alone. The company is liked by many people, even those who don't own a motorcycle at all. In short, these are to sort of gifts that might be appreciated by anyone with a general interest in motorbikes, or anything pertaining to them.
Conclusion
Have you found the right item from the product shown in the reviews? There were 15 of them, each having a unique benefit for riders and/or lovers of all things about motorcycles. But out of those evaluated, there are two that stand out the most. These are the Harley Zippo and Leatherman Multi-tool. Seeing as these products would likely be used more than the others, put them high on your list of potential buys.
But if you think you or someone else would like one of the 13 other products briefed, go with your initial choice. But above all, remember that all motorcycle lovers would probably enjoy anything featured here. You could make a random choice and still end up with a product that'll be cherished by the receiver for many years to come.