To have great control of your motorcycle on the road, you need a super comfortable motorcycle grip that ticks all the boxes of an ideal grip. But, given a wide variety of these grips on the market, you may have a tough time choosing the best one of your preference especially if you are not experienced in these aftermarket products.
Stay tuned and read through this guide as I unfold the best motorcycle grips on the market. I have a wealth of experience in these gadgets and thus assure you the best choices for your preference. I am well-rounded with all the features you should look for when purchasing these grips.
This post contains affiliate links. If you make a purchase, Motoprove.com may receive a small commission at no additional cost to you.
5 Top-rated Motorcycle Grips on the Market
Find hereunder a review of 8 top motorbike grips that can turn your motorcycle journey into a worthwhile experience. Most accidents are attributable to a failed control of the bike due to inconvenient grips. Don't fall victim but consider grips with better traction, better protection from vibration and roadside shocks, and great comfort.
1. Kuryakyn 6235 Premium – Best Motorcycle Grip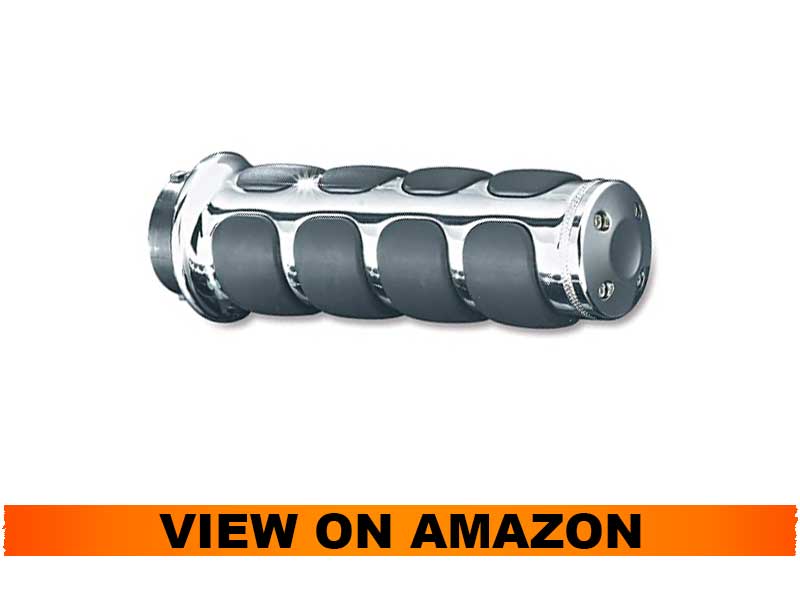 These custom motorcycle grips give you the ultimate experience of handling your bike from both the clutch and throttle side. Kuryakyn has outdone itself with the production of these grips. Let's see how they feature in your everyday ride.
Performance
Grips may be aesthetically pleasing but if performance sucks then there is no point in getting them. We know that stock grips wear out and eventually, that affects traction and fails to protect your hands against heavy vibrations from the engine. What remains thereafter? A bad experience of riding could lead to accidents or pains and numb hands.
These grips perform well after installing on your bike. They provide a non-slip surface to help enhance a firm grip of your hands around the handlebars. What you get is a soft touch that dampens vibration to give you the ultimate great experience of handling your bike irrespective of any road condition.
The end caps are removable and so can be used with stock air reservoir type handlebars. That's an added advantage when you own these grips.
Installation
When thinking of installing grips, most people think of an overwhelming task that probably requires mechanics. That is not the case. Even when you are not tech-savvy, you can figure out how to install these grips. Besides, the manufacturer includes the manual on how to install them.
Installing these grips, in particular, is an absolute breeze. Included with your purchase is a chrome throttle side ISO grip with a throttle sleeve, a chrome clutch side ISO grip, a tube adhesive, and a spacer. In addition, you have to get recommended tools such as a utility knife, sandpaper, safety glasses, Philips screwdriver, needle nose pliers, clean rag, and small tape measure. Although these additional purchases may be costly but are non-dispensable for a great installation experience. In less than 20 minutes I was able to complete this installation and so could you.
Design
The design of these grips is also an important consideration. You don't want to fit an ugly grip that could affect the aesthetics of your bike. These grips come in different shapes and materials. Some may be soft rubbers while others are hard rubbers. In some instances, you have to compromise other features. For instance, a soft rubber feels comfortable but less durable whereas a hard rubber does not feel that much comfortable although it is super durable.
Compatibility
As much as we agree that these grips come in different sizes, we also have to agree that bike handlebars differ, and so you should ensure compatibility when buying grips. Check the size of the grips. Most of them fit either the 7/8" or 1" handlebars. In some handlebars not all sides are equal. Take note of these factors when purchasing these grips to avoid regrets thereafter. These grips fit compatibly on Kawasaki, Victory, Yamaha, and Suzuki motorcycles. These are popular bikes that almost all avid motorcyclists own.
Comfort
Comfort is also of foremost importance when considering aftermarket grips. When considering the comfort, you have to take into account the shapes and the feel of the grip. They feel soft and smooth thus enhancing your ride.
Pros
Better traction and easy to install
Comfortable grips made of chrome
High performing grips in dampening vibration
Aesthetically designed products
Cons
Big grips and so uncomfortable for small hands
You have to buy additional tools to install them
Verdict
I recommend these items for avid motorcyclists who want the best ultimate experience of traversing all kinds of terrains. The product is well-made with riders in mind. From the design to the performance, it is impressive. If you want to invest in a high-end product, I recommend this item.
2. BikeMaster – Best Motorcycle Heated Grips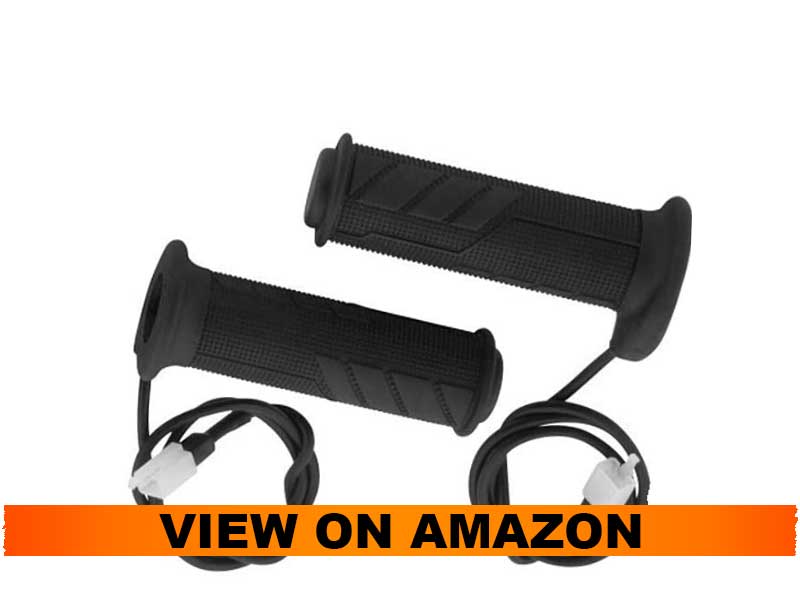 Fitting on 7/8" handlebars, these grips are a marvel to install in order to reduce nuisance vibrations we often encounter when riding our bikes. BikeMaster is unique with its heating features.
Performance
Riding in unfavorable conditions is sometimes unavoidable where you find your hands freezing due to outside temperatures. That can make your ride a nightmare. How about you consider these heated grips for the warmth and comfort of your hands?
These custom motorcycle grips perform pretty well and live to their hype. If riding in inclement and cold temperatures, the grips can make your motorcycle journeys a marvel to have.
Coming with temperature controls, it makes it easy to adjust to your desired temperature. I had some issues with the temperature controls on one of the bad days and found myself freezing in coldness. Luckily, the company gave me a prompt response and resolved my situation.
The other performance feature of this item is in the way it dampens vibrations and protects your hands against fatigue and numbness. Riding on rough terrains, for example, can leave you with pains on the hand if your grips are of inferior quality. Thanks to high-quality grips by this company.
Installation
As long as your handlebar is 7/8 inch, these items will install easily. You get two grips of different sizes with the large one meant for the throttle side to cover even the plastic component. Regardless of whether you are a technical or not a technical person, it should take you a few minutes to get this installation right.
Thanks to the installation guide by this company. It is easy to read and interpret without neighborhood help.
Design
These are portable grips with an aesthetically pleasing black appearance and an impressive pattern to aid your grip. They won't change much of your handlebar look even after removing the stock items. One caution though, the grips are a little bit large than OEM grips, which those with small hands may find a bit disturbing. For my big hands, they worked very well and I loved the design.
The grips' elegant open-end design makes them functional and stylish. This also makes installation a seamless and effortless process. Note that they are suitable for 12V DC applications only.
Compatibility
The size of these products is notably important too. You have to ensure that they are the right fit for your bike. For any 7/8" handlebar, these grips should fit snugly. Note that they come in different sizes for both the throttle and clutch sides.
Comfort
How the item feels when you touch it tells you so much about its comfort. Because of the unique heating structure, these items are incredibly comfortable. Especially when riding in cold temperatures, the heating feature can come to your rescue. Consider the dirt bikes with which you would occasionally ride across rivers while exploring rough terrains. Without any sort of heat on the handlebars, riding amid winter conditions could be a nightmare.
Those with big hands should find the items pretty comfortable to hold and control. Those small hands can also compromise but the comfort level cannot be likened to big hands. Nonetheless, overall the product is comfortable. Thanks to its top-notch build materials.
Pros
Portable and high-performing
Fits a variety of motorcycles as long as handlebars are 7/8" in size
Heating structure for cold conditions
Aesthetically pleasing black appearance
Ease of installation
Cons
Feels bulky
Purchase extra tools for installation
Verdict
I recommend these heated grips for those frequent cold climates. Riding in the cold can leave your hands numb. And so combining these heated items with gloves can give you the best riding experience. Despite minor drawbacks, they are great deals for avid motorcyclists.
3. Grip Puppy – Best Motorcycle Grips For Vibration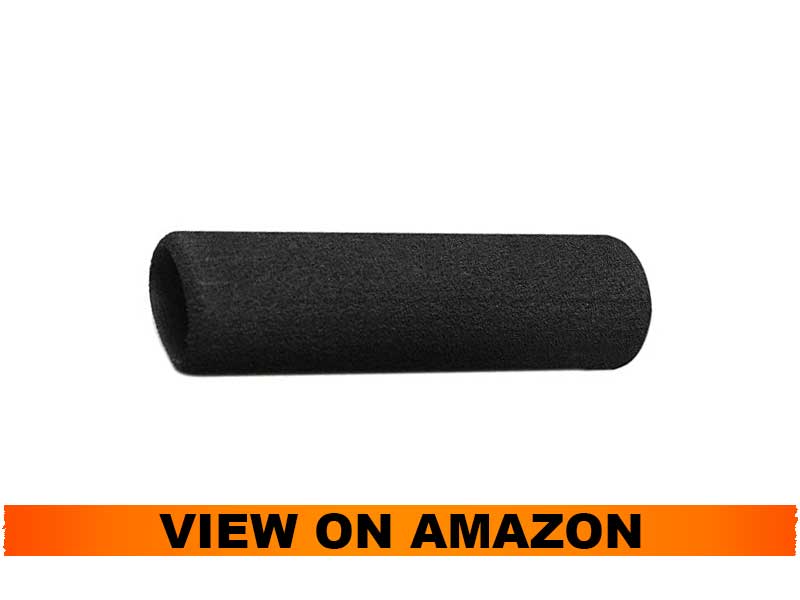 Grip Puppy Comfort Grips provide a different sense of comfort to existing grips. There are one of a few that fit over standard OEM items.
Performance
Performance-wise, these grips are incredibly great in reducing the vibration that you could be experiencing with your OEM ones. They add extra thickness. In case your existing grips have degraded in thickness, Grip Puppy Comfort grips can come to your rescue.
Any motorcycle part is bound to degrade in quality over time and aftermarket parts are the best go-to. With these items fitting over your standard grips, you can expect the best performance that shields you from annoying vibrations.
They also help you control the throttle smoothly while also improving the comfort of controlling your handlebars. Handlebars are the life-saver of your bike when facing accidents or riding on rough roads.
Installation
These puppy grips are different. Usually, you would slice the existing grips with a knife to remove them before you can install the new ones. Well, these ones fit over standard items and so there is no need to remove old ones.
To install these grips, lubricate the inside with soapy water or any lubricant that can make it easy to fit them over your standard ones. Wrestle through until you get them right. There is no need for plenty of tools just to install them. If you feel they are too long you can trim them to your preferred length.
Design
These grips are squeezable. That said, they shouldn't be difficult to deal with after fitting them over your standard OEM grips. They are made of UV and oxidation resistant materials that improve their durability.
Also, the materials are made to work well with heated grips. The heat will be transferred with ease through these fit-over grips.
Aesthetics wise, the grips will not appear ugly on your bike. They are black in color and black suits all types of designs. Whether you have a white or blue motorbike, these grips will fit seamlessly. One might think they are standard grips made thick.
Compatibility
This product can fit any handlebar. They are large enough. The material can be trimmed if you notice that the length is a nuisance. They also fit on any make and model of a motorcycle. Most importantly, they are 5 inches long and will, therefore, fit grips that are 1.25 to 1.45 inches in diameter.
Comfort
Comfort is a sensitive issue of motorcycles. When riding, you want to feel as much comfortable as possible so that you enjoy your rides. An uncomfortable ride can leave your hands fatigued and numb. These puppy grips are super comfortable, thanks to their quality materials.
The material is soft and easily squeezable. Also, it is ozone, oxidation and UV resistant. That also helps with the comfort of holding your handlebars.
Pros
Fits over standard grips
Squeezable
Ease of installation by lubricating them with soapy water
Affordable
High performing in reducing vibration and enhancing comfort
Cons
The soft material is prone to wearing out in the long run
Verdict
If all you need is to increase the thickness of your handlebar grips, these items are the best solution for you. They are affordable and fit with ease over standard ones. There is no need to stress about removing OEM products and fit these new ones. The build quality is impressive. Ultimately, they enhance your riding comfort.
4. Progrip 719 – Best Motorcycle Grips for Sportbike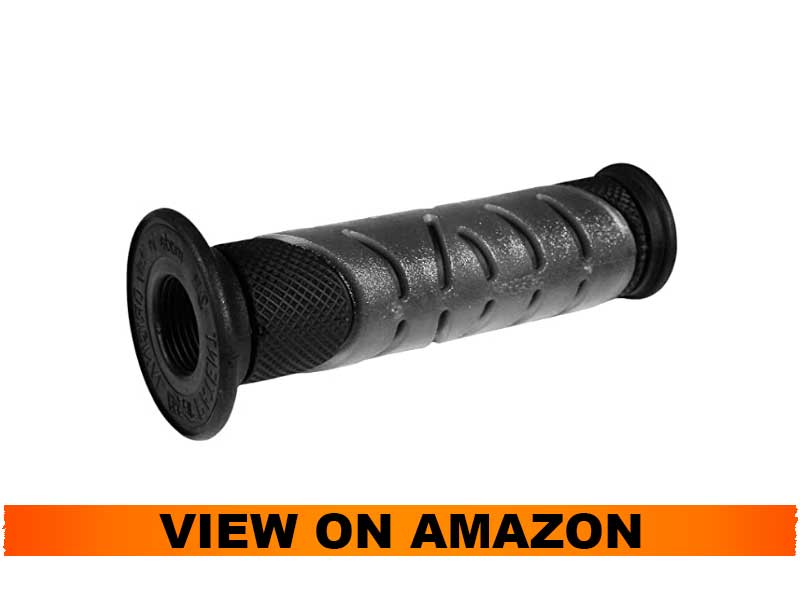 Available in a variety of colors, these grips offer you the best riding comfort on all sorts of terrains. Get great features at affordable prices.
Performance
Performance is the first feature that many are concerned with. If your hands used to cramp up due to vibrations from your bike's engine, you surely relate how bewildering that experience it. Made of black titanium, these grips, in particular, perform relatively well and impeccably in dampening the vibrations.
You will have the best feel and comfort of handing your handlebar. The inner part is hard to prevent slipperily. It happens oftentimes that sweat and humidity can make grips to loosen on the handlebar. They will feel slippery as a result of moisture. Having a hard inner part that grips firmly onto the handlebar helps prevent that slippery.
Installation
Like other grips you have probably installed previously, these items install with ease. The manufacturer offers the installation guide to make your job much easier. I personally have found the instructions explicit and clear enough for any amateur to understand.
Ideally, you need pliers, utility knife, safety wires, screwdrivers, and other related tools to install these grips. You get a pair of these items with equal sizes that are 125 millimeters long.
Compatibility
Grips come in different sizes. You, therefore, have to ensure that you buy the right ones for the type of bike you own. These ones fit on a 7/8" handlebars. Any make and model can be compatible with these items.
Comfort
Progrip Grips are super comfortable to have on your bike. I liked how they reduce vibrations and leave your hands maneuvering the handlebars fatigue-free.
Riding on rough terrains, for instance, can be a nightmare if all you have a thin handlebar with degraded grips. Your hands may feel numb, but with these grips that can be a history.
The inner part, as I mentioned, is harder whereas the outer part is softer to give you a soft touch and handle over your handlebar.
Pros
Fit 7/8 inch handlebars
Super comfortable
Easy to install
Available in different colors
Cons
Installation tools not provided
Verdict
These grips are the best solutions for poor stock grips that have downgraded in performance. When installing these aftermarket items, you revive the comfort of your handlebars to enjoy long trips. I recommend this pair for avid motorcyclists. It is affordable and easy to install even though you have to get additional tools elsewhere. Other than that I am impressed with the product.
5. Avon Grips Custom – Best Motorcycle Grips For Harley
Hearing the name Avon may remind you of different brands such as that one that sells beauty products. Avon Grips sells grips only. The quality of this product is evidence of high-quality materials the company subscribes to.
Performance
Avon Grips has a unique contour that feels so comfortable in your hands thus improving performance. Vibrations and shocks will not be a match to the thickness of these items.
The grips design plays a significant role in their performance against vibrations. Also, handling the throttle becomes an easy task with these products.
Basically, performance is about how easy it is to handle your bike with these grips. The material they are made of dictates how high-performing they will be. The inner part is made harder to prevent slippery especially during humid conditions.
The contours make it possible to grab the handlebars firmly without any slippery as well. In a nutshell, traction is great!
Installation
I have had these grips for a period of 6 months and I must say I have enjoyed every single trip I took with my motorbike. They were easy to install, never mind my inexperience of dealing with this technical stuff. Any amateur can maneuver them.
The installation instructions are pretty clear and anyone will find it easy to interpret them. Well, you might have to pop out some cash to get additional tools to remove the existing grips and install these ones. This differs from one bike to the other.
When installing, note that the inside length is 4.6 inches and the outside diameter is 1.45 inches.
Design
Avon Grips gave us a unique design in these grips. They are made with billet aluminum ends, which seem so shiny and thus adding some aesthetics to your bike. The soft serrated pattern on these items helps keep your hands locked on to avoid slipperily.
Compatibility
If you own any bike other than Harley, bad luck because these grips are designed solely for Harley products. They fit on 1" handlebars with ease. Make sure you measure your handlebars before purchasing these items to avoid regrets afterward.
Comfort
Speaking of comfort, I have no doubt these products will be comfortable for most bikers. Well, they are not really that thick. With small hands, you can enjoy most of the comfort. Big hands should also find it fairly comfortable to handle these grips. I have used them with my big hands and have to confirm they were fairly cool on my hands.
Pros
Great quality grips for Harley bikes
Fits 1" handlebars
Made with billet aluminum ends
Soft serrated pattern to keep your hands locked on
Contoured design to help with the grip
Cons
Extra tools needed to install
Expensive on the list
Verdict
Do you want thick aftermarket grips from a trusted brand? These items are the best-buy. You will not regret having invested in them to make your motorcycle journeys a marvel. Although they are expensive they are worth the price of money. I couldn't find any drawback or deal-breaker with them, and so I don't a reason why you shouldn't consider them.
6. Astra Depot CNC 1″ Handlebar Hand Grips for Touring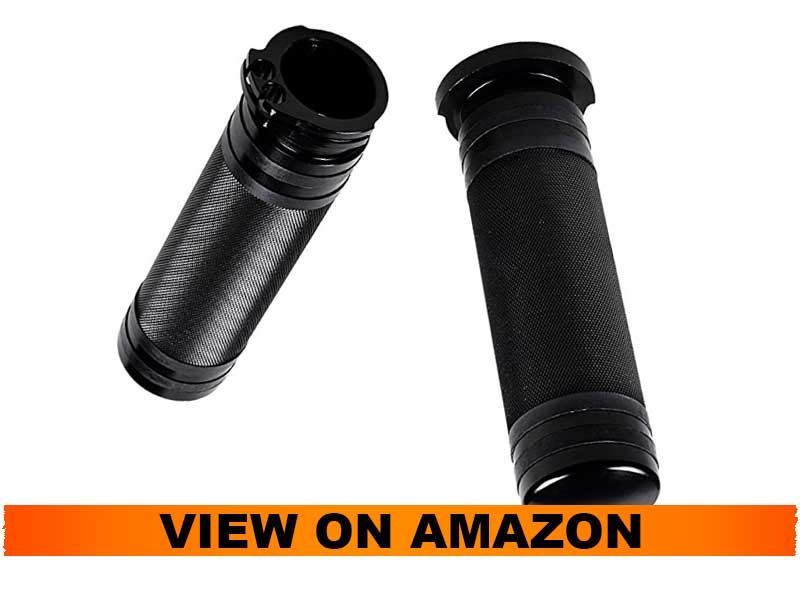 In my search, I have come across this wonderful pair of handgrips. Reviewed by 16 customers who gave it 4.2 stars out of 5, I was convinced it is a great product you can consider.
Performance
Astra Depot offers the best performance on the road. From the bar side to the throttle side, the grips help you handle the bike with ease. Combine that with the machined slots and rubber ban then you get great traction whether with or without gloves on.
Installation
The package includes two grips for both the left and right sides. Other related tools for installation you may have to get them. These include pliers, screwdriver, utility knife, and safety wires.
Installing these items should be one of the enjoyable tasks to take. You need not a specific mechanic but can achieve on your own. Installation instructions are clearly written out to help you navigate each step with ease.
Design
Made of billet CNC aluminum plus rubber, this custom design is one of the best on the market. You will notice the uniqueness of the items and the bold fashion and aesthetic statement they make. Often, motorcyclists are concerned about modification parts that worsen the beauty of their bikes. I must affirm that these items are aesthetically impressive.
The machined slots and the rubber ban design helps with traction performance. The product is available only in black color. Anyway, black matches with lots of colors and so it shouldn't be difficult at all to improve the aesthetics of your bike.
Perhaps your OEM grips have worn out and that has affected their appearance. These aftermarket parts are elegantly designed to improve the look of your bike while remaining functional.
Compatibility
Before buying grips, make sure they fit well on your bike. These ones were designed for Harley products but exclude some. This is the setback I have seen so far with these products. Harley models such as:
1996-2019 Sportster XL
2008-2013 Sportster XR
1996-2017 Dyna (except FXDLS)
1996-2015 Softail (except FLSTNSE, FLSTSE and FXSBSE and 2011-2012 FLSTSE)
2002-2017 V-Rod VRSC
1997-2007 Touring models are excluded from this compatibility.
The grips are compatible with other Harley products that have 1" handlebars from the bar side and the throttle side.
Comfort
The way they look and feel, these hand grips for motorcycles already portray the greatest comfort. They feel super comfortable.
Riding on rough trails in mountains will no longer feel so crampy or painful to your hands with these grips. They replace worn-out stock grips and give you the ultimate experience as though you are having a new motorbike.
The rubber ban and the machined slots provide great traction thus improving the comfort of handling your bike. Even when handling them with gloves on, it feels so comfortable and all thanks to the traction.
Pros
Made of high-quality billet aluminum and rubber
Great traction
Non-slippery
Great design with elegant aesthetics
Cons
Limited compatibility of a few Harley products. That said, pay more attention to the sizes.
Verdict
I found these grips very impressive and so did other customers. From the design to the performance, they are impressive. It's time to say goodbye to your worn-out OEM grips and fit these ones with ease. Although you might have to get installation tools at an extra cost, it is worth it to get these grips. They create a bold fashion statement. Expect the on-lookers to be wowed by these items after fitting them.
7. Pro Taper Dirt Bike Grips
Designed for Honda CRF150F, CRF230F, CRF250F, CRF450F, these Grips are worth the value of money if you own any of these motorcycle models. Kawasaki, Suzuki, KTM, and Yamaha should also be compatible provided they fit the sizes prescribed.
Performance
Coming in different sizes and a unique design that combines the softness and non-slippery features, this pair of grips you the ultimate performance on the road. If you are more into racing then you will enjoy maneuvering your handlebars using these grips with ease.
Of most concern to many motorcyclists including myself is the vibration we are exposed to. They become even worse if you ride on rough terrains. I personally prefer roaming in the wilderness to explore picturesque landscapes with my bike. Imagine if I were to do that with a worn-out OEM grip. It could be an unpleasant experience.
These grips dampen the vibration and prevent slipperiness. When riding amid hot climates, the moisture can affect the traction of your grips. Your hands will be sweaty and eventually be loose on the grip. This could be detrimental to your control and performance.
Installation
Installing grips is such an effortless task especially when given the installation instructions along with your purchase. It was a great experience I had in installing this. It shouldn't take you the entire day to master the installation part.
Basically, you need to remove standard grips that have worn out and install these ones. Consider anything that can help you remove the old items. It could be a utility knife to slice them or the screwdriver to unbolt them. This depends on the model you have.
Do not forget the additional tools you might need to install these grips. The product would cost more had the manufacturer included everything in it.
Design
At first sight, you will notice a unique custom design printed Pro Taper. It is such an elegant and overwhelmingly beautiful design that adds a fashion statement to your bike.
Before buying any modification parts, I make sure the design fits perfectly with my aesthetics. With the black and red color of these grips, any bike could benefit from such an elegant appearance.
Compatibility
The left side is 7/8 inches whereas the right side is 1 inch. Note these dimensions whenever buying these grips. The aforementioned Honda models should fit just fine with no compatibility issues.
Comfort
Comfort-wise, these grips are soft to control and thus comfortable. The comfort lies in how soft they are and how great the traction is. From the design, you notice a unique rough design that prevents a moisture built-up that could jeopardize and compromise the comfort when riding for a prolonged time.
Such comfort is commendable. You will not suffer from fatigue and numbness as a result of an uncomfortable pair of grips.
Pros
Great red and black design
Comfortable with a soft touch
Wicks away moisture with its unique rough outer design
Ease to install
Cons
Very selective on models
Purchase extra tools for installation
Verdict
On the overall, this is an impressive product. I like its unique design and so do other customers. It's a unique red and black design with a rough outer part looks impressive. It appears rough but it is actually soft and comfortable to handle. With this product, you can enjoy long trips in the wilderness.
8. INNOGLOW Black Motorcycle Grips for Comfort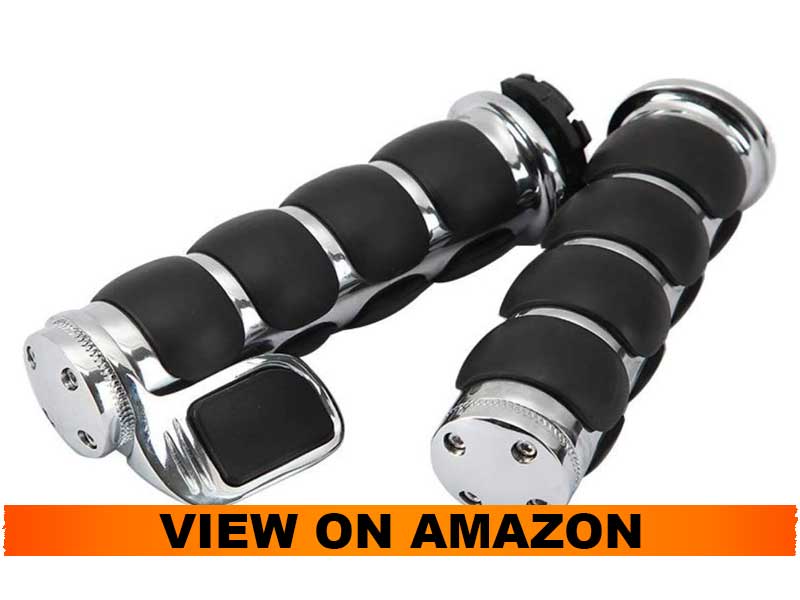 For those owning Suzuki, Harley, Honda, Kawasaki, Yamaha, and other motorcycles that fit the size of these grips, you can ready yourself for one of the best products on the market. INNOGLOW hand grips are on the best and affordable you can find.
Performance
Made with T6 aluminum with rubber lining, these grips perform impeccably in dampening vibrations that are prone to occur from engines. Vibrations affect the handlebars and make your ride a nightmare. You will struggle to control your bike and possibly could lead to accidents or experience fatigue.
These grips give you the freedom of enjoying rides without fatigue or numbness issues. Aluminum plus rubber lining contains vibrations by adding the thickness.
Installation
If you have the installation instructions and the right installation tools what else do you want? Just make sure you take note of the hole's dimensions to ensure that you fit the right items to specific bikes.
Usually, I spend less than 30 minutes to install grips irrespective of whether I have been exposed to the brand before or not. Instructions are clear in most cases and so amateurs should find it easy too.
Design
By looking at the grips, you will notice a shiny appeal and appearance. This is attributed to a top-notch aluminum material combined with a rubber lining. If your stock grips seem weary ad ugly, these ones can add life to your bike to leave the onlookers astonished.
The design is simplistic yet very functional. These items were designed to fit on a variety of handlebars that are 1 inch in size.
Compatibility
Speaking of compatibility, it is important to ensure that the grips fit perfectly on your handlebars. The right size measure 5.3 inches and the left side measures 4.8 inches. The hole diameter measures 1 inch. Note these dimensions when planning to fit these aftermarket items in the place of stock products.
Comfort
The comfort of these grips lies in the feel of the materials. When you touch and hold these materials, you need to feel great comfort in your hands. You will be able to enjoy rides if the grips feel super comfortable.
These 7 8 motorcycle grips feel smoother in the hands, and so they are comfortable for long rides. Whether you have big or small hands, you should fairly enjoy rides with these items.
Pros
Aesthetically pleasing aluminum and rubber lining design
Comfortable with a soft touch
Great traction
Affordable yet not compromising quality
Cons
Selective on motorcycles
Not fit for Harley Dyna Wide Glide 2006-2008, Harley Fat Boy 2007-2011, Harley Screaming Eagle 2008-2011
Verdict
An affordable yet great pair of grips to make your trips enjoyable. Adding thee grips to your bike adds an elegant appearance admirable to the onlookers. I recommend spending your money on these items. Besides, they are affordable and so you will not have to spend so much on them.
What features to look at when buying a motorcycle grips?
As I wrap the reviews, I wish to educate you about the important features you should consider when buying these grips. While there is a wide variety of grips, you may think that you can choose any based on a price. Price is however misleading at times.
Performance
The bottom line of having these grips is to absorb the vibrations and shocks on the way. It is common knowledge that motorcycles are prone to vibrate due to the ratio of the engine-to-body. As a result, you may struggle to control them or your hands may end up suffering from fatigue.
All you need is a thick grip that dampens the vibration. Such products will improve the performance of your bike.
Ease of installation
I personally dislike products that would take me the entire day to install. My attention span is limited and so could you.
The installation part should be simple and effortless. Other grip packages come with all tools needed to install them while some require extraneous purchases that could be costly. Check the associated costs and decide from that consideration.
I have Puppy Grips that are squeezable and can be fitted over standard ones. These are easy to install. All you need is to lubricate the inside and then wrestle them through the existing grips. They require no extra tools at all.
Traction
Oftentimes when riding bikes, we use gloves. You should, therefore, check if the grip will work well with the gloves. This goes back to the traction quality.
Grips come in different patterns. Others are smooth while some are rough with a soft touch though. Such factors are important to traction. My reviewed products are all good with the traction and so slippery issue is disregarded here.
To enhance traction, many designs come with hardened inside and softened outside. With the harder inner part, the product can hold firmly onto the handlebar while the softer inner part feels comfortable on your hands. Take note of such features. I have emphasized them in my reviews.
Compatibility
Did you buy the right size? Is the item perfectly designed for your bike? These are typical questions you should be asking yourself before making a purchase.
Commonly, grips fit 7/8' or 1" handlebars. Others are equal in size while some are different to compensate for the difference in some models. Take note of such dimensions in your purchases.
Motorcycle Grip Questions
Do all grips fit all motorcycles?
No, though the internal diameter dimension has been standardized to fit just about any mountain bike handlebar, grips come in a number of different lengths and outer diameters in order to give a more custom fit tailored for the rider's preference.
How do i choose motorcycle grips?
View the aforementioned features.
Do I need glue for motorcycle grips?
Grip glue is often the most popular method of replacing or readjusting handle grips on motorcycles. It can help to ensure your motorcycle grips are secured in place so you arrive at your destination safely.
Final Thoughts
Thank you for tuning in to read this long article. It was worth it. Grips form an important part of your everyday rides because without them we wouldn't be able to avoid the vibrations. Irrespective of using gloves, these items are still indispensable.
I have handpicked the best on the market and emphasized their best features. I know how daunting it can get to choose the best. For this reason, my buyer's guide gives you a glimpse of how to choose these items. You can buy 7 8 motorcycle grips at amazon today!