A motorcycle lift adds convenience to the otherwise hectic life of a bike-owner. Part of the appeal of owning a bike is its easy maintenance. These easy-to-use features of a bike enable owners to manage most repairs, essential maintenance, servicing, and washing without extra help.
After all, why would you need to visit a mechanic when you can service your bike just as well at home? You do not require professional assistance to work on your bike if you have the right tools and equipment. You guessed right, we are hinting clearly at a motorcycle lift in your kit.
A motorcycle lift is a significant support when it comes to fine-tuning and solutions for your bike's problems. This particular equipment piece helps you replace tires, change fluids, perform a couple of easy fixes, and generally take good care of your motorcycle.
This post contains affiliate links. If you make a purchase, Motoprove.com may receive a small commission at no additional cost to you.
5 Top-rated Motorcycle Lifts in 2022
The productivity and convenience of a motorcycle lift prove highly beneficial for all motorcycle owners and riders. From routine maintenance to major overhauls, you can perform any service with ease, without having to bend, curl, and twist into uncomfortable positions. A lift elevates your motorcycle to the desired position so that you can work with ease.
You can operate motorcycle lifts very quickly; all the models are user-friendly. Apart from that, they are also very cost-friendly and easy to store. You may need little or even no extra space to fit a lift: you could even park on it.
1. OTC 145 Ultra Low Profile Motorcycle and ATV Lift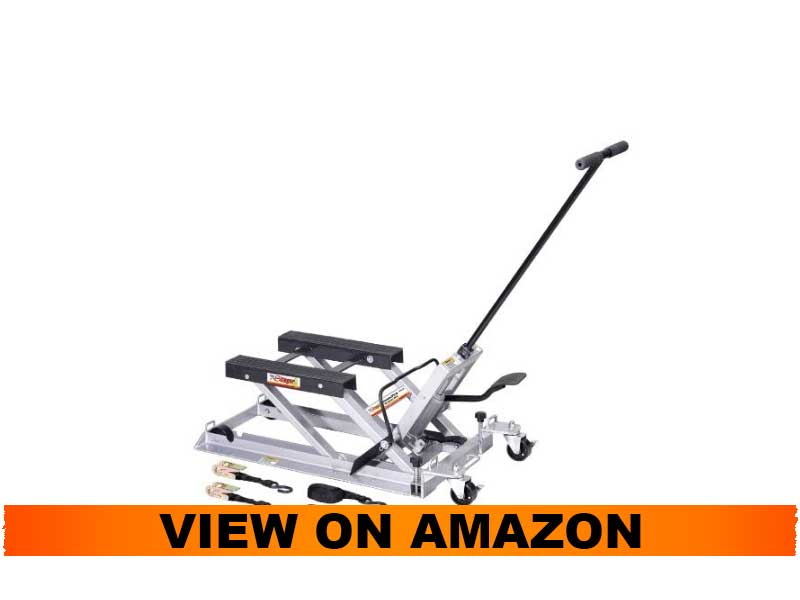 This lift is ideal for all large and wide road cruisers but works suitably for street bikes too. It can lift 1,500 pounds of weight and skids worth 17 inches long. This product gives you the lowest possible clearance and a wide range for lifting.
From the widest to heaviest cruisers on the road, you can rely on this product to accommodate your vehicle with ease. With this lift as a support, you can address multiple issues, ranging from intricate drivability concerns to basic repairs.
Moreover, this product caters to the widespread service challenges in modern automation. So whether you are a certified technician or a basic motorcycle owner, you will find enhanced productivity and shop profits with this lift.
Design and Materials
This product comes with removable handles and load access of 360 degrees. It helps maneuver the jack with ease. The design also includes a foot pedal release, an automatic safety lock, two ratcheting, and tie-down straps. This provides added safety when you're using the jack.
Budget Benefits
This product came at a reasonable price, with its high load-bearing potential and added safety elements.
Pros
Offers two-year warranty
Award-winning tools
Cons
You may be cautious with the rate of descent
2. Big Red T64017 TORIN Hydraulic Powersports Lift Jack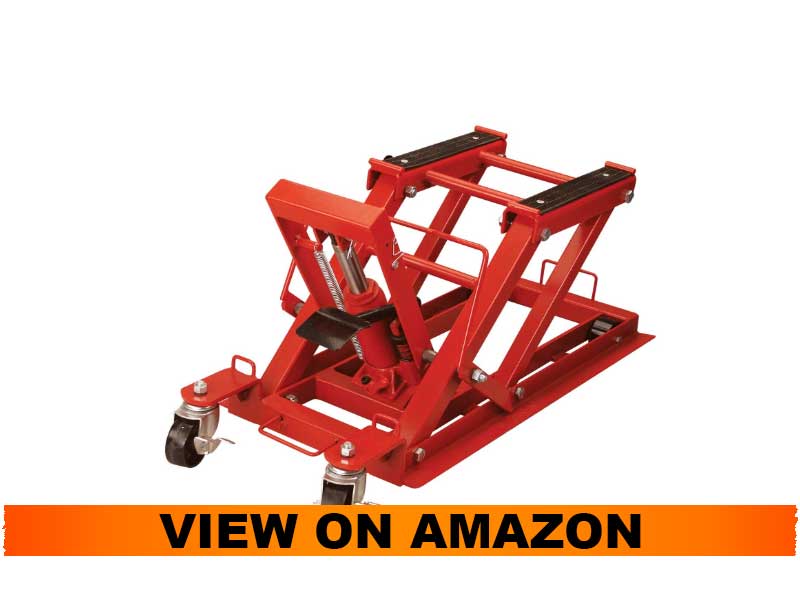 This product is multipurpose because it works not only for most motorcycles but also caters to UTV, ATV, and snowmobile lifting needs. This product offers a load capacity of 1500lb so you can rest assured of meeting all your lifting needs with this tool in your kit.
Design and Material
The Big Red T64017 has a wide platform for load-bearing. The design offers six locking positions, two high-load and easy roll steel swivel casters, a pulling bar, and a bottle jack. The jack in the product has a wide-load bearing and caters explicitly to Powersports enthusiasts. You can meet all your lifting and maintenance needs for both off and in-swing season storage.
The lift also claims to have maximum durability with its powder-coat finishing. If you want a sturdy and reliable lift for your motorcycle, you may find this product just right for you.
Pros
Works incredibly for servicing and cleaning motorcycles
This brand offers post sale services too.
Cons
The safety lever can be somewhat tricky to manage when lowering down the bike. Takes strategic handling
3. Black Widow BW-1604A – Best Motorcycle Jack For Harley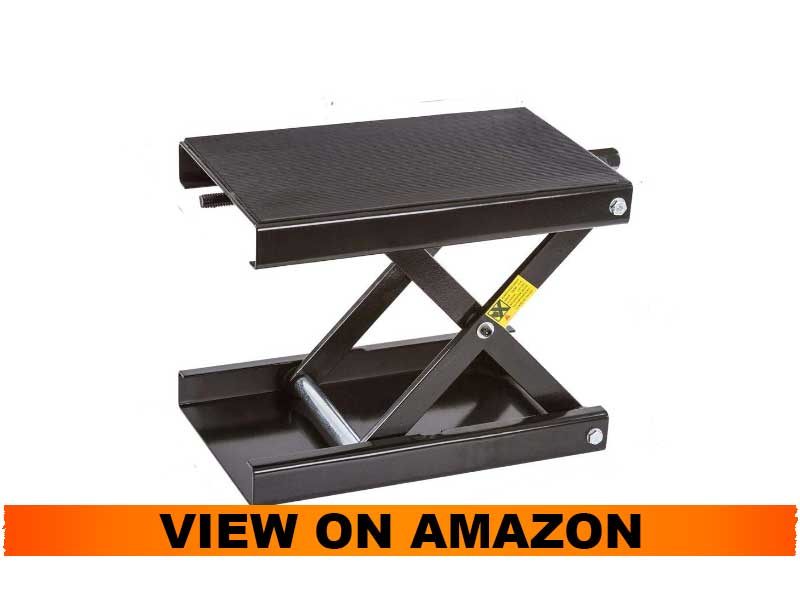 Black Widow Motorcycle Jack is well built to lift up your motorcycles under the weight of 1100 lbs.
The lift is rugged and sturdy enough to lift up your beloved bike without exposing it to damage, or exposing yourself to injuries. It gives you easy access to service all the components of the motorcycle.
Design
Thanks to the rubber padded platform that your motorcycle against scratches when in contact with the lift. That's a plus advantage to retain a beautiful black paint finish of your bike for a long time. I must applaud the company for this finish as it prevents corrosion and rust. It also resists scratches.
Of most importance is the steel construction to ensure proper lifting of your motorcycle. As long as you are not exceeding the maximum weight capacity, then the lift may not disappoint you.
Usability
It's very stable and convenient for the maintenance of bikes. Gone is the fatigue experienced when bending down trying to fix your Harley Davidson bike. This lift raises and lowers the motorcycle using a 7/8" socket or wrench. The raise height capability is 3 ¾" when collapsed to 14 ½" when extended.
Pros
A sturdy and rugged lift
Steel construction with durable black paint finish
Foam padded platform to protect against scratches
Maximum capacity of 1100 lbs
Cons
Not ideal for larger motorbikes
Not mobile
Verdict
Given all its features, I would recommend this motorbike lift for anyone, especially the owners of small bikes, to service their bikes. It allows access to all the components of your bike. It's easy to lift the bike and fasten it so it does not topple over. The weight capacity of 1100 lbs is an industry's standard of many lifts and jacks. It provides you a greater safety of lifting your bike hence I recommend it.
It isn't that expensive. In fact, it's a good investment that you would probably regret to live without.
4. APlusLift MT1500X – Motorcycle Lift Table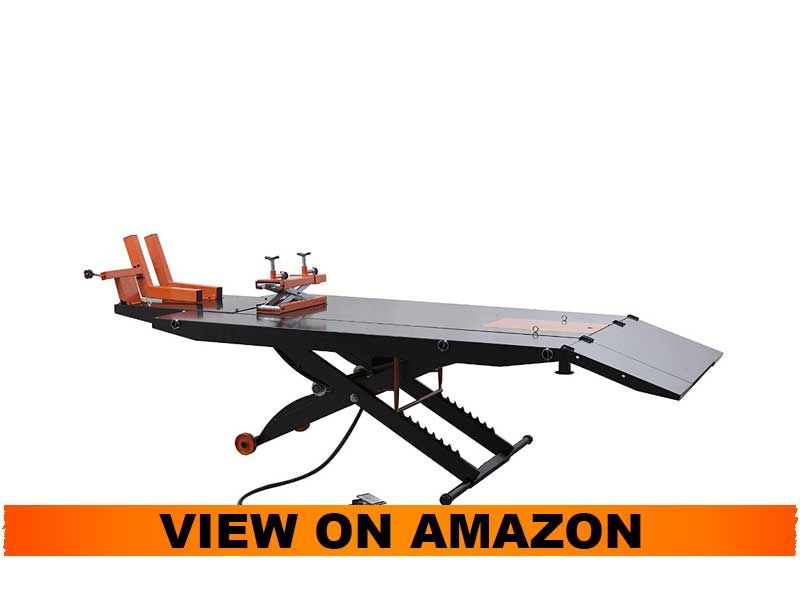 The APlusLift MT1500X is a lift for small vehicles and motorcycles. It has a very high weight capacity and is built with wide dimensions. Because of this, the lift will easily fit big bikes such as Harleys. The operation is very simple, just use the foot pedal to move the table up until the bike at a comfortable working height. Given that the machine is very large, it ships in a crate. Knowing this, it might be a good idea for you to have help when it arrives at your home.
Built to Keep your Bike Sturdy during Maintenance
Want to work on a motorcycle that weighs over 500 pounds? No problem. So long as the bike is reinforced properly with the tools provided, nothing will wobble or move when you have it suspended in the air. The scissor frame moves upwards and out during lifting. Be sure that your garage has adequate space to do this reliably. Remember, the lift takes up about the same amount of space as a car. If your garage is two-car, then operating on your bike becomes much easier.
The only area where improvements could be made is relevant to the washers and bolts on the lift. They work but will likely need changing in a year or two after the date that you acquire the product. But since this is so easy to fix, it doesn't take away from the overall performance and reliability of the APlusLift.
If you're the type that constantly finds yourself working on your bike, you'll be relieved to have this around.
Pros
Sturdy enough to fit heavy bikes in excess of 500-plus pounds
Size is adequate for motorcycles, ATVs, and some lawnmowers
Good reinforcement and balance with no wobbling at all
Cons
Some of the bolts and washers might need changing after a couple of months have passed
5. VIVOHOME  – Best Motorcycle Jack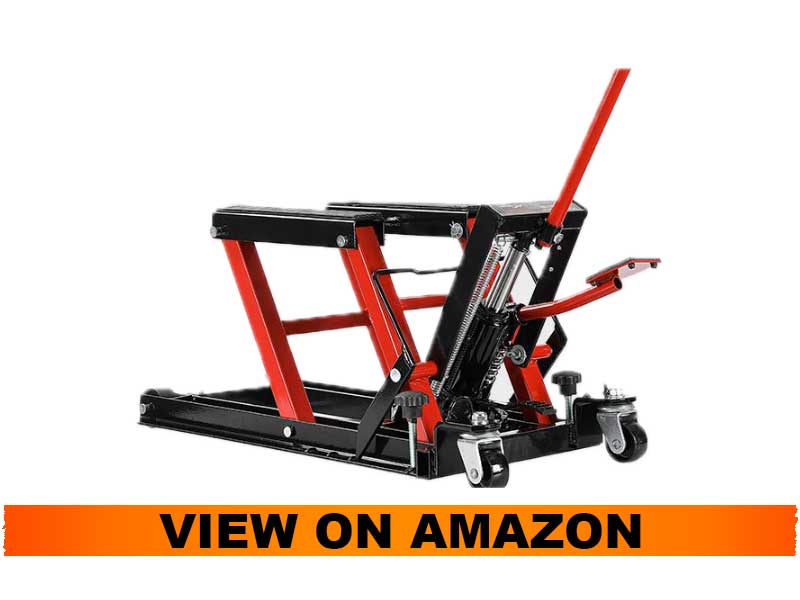 Weighing 65 pounds, this is a heavy-duty lift jack to lift your motorcycle whenever the need to maintain, repair or service arises. VIVOHOME Steel Hydraulic Motorcycle ATV Lift Jack is one of the products every motorcyclist should consider as they make it snappy and convenient to handle the bikes. Let's see how its features feature among others.
Design
Design-wise, you would notice how sturdy the product is at first sight. It is heavy-duty but compact machinery too. With this compact hydraulic jack, you get a durable steel frame and non-slip rubber lift pads to ensure that your bike doesn't slip over when handling it. The rubber pads also ensure that the bike does not suffer from scratches when lifting it up.
You also get the 3-position safety lock mechanism to lock your bike in place and avoid any wobbling. This provides the best results of using this hydraulic jack. Note that you can use it manually or automatically using the pneumatic lift cylinder. When operating it manually, you have the foot pedal to use.
In height, the lift ranges from 4.5 to 14.5 inches to accommodate a range of motorcycles. It is strong and easy to use. After loading your bike, the adjustable screws help secure it in place. Its wide base gives it stability and balance for the safety of your bike.
Capacity
With a capacity of 1700 pounds, it should be easy to load any kind of bike on this hydraulic lift jack. This capacity is attributed to the sturdiness of the build material used in this product. They are durable and are immune to weather conditions, all thanks to the weatherproof treatment.
Storage
Oftentimes, the storage of such heavy-duty machinery becomes challenging. This one is compact and easy to store. Thanks to its swivel casters that make it snappy to move it around. You can even move it around with the motorcycle on it because of the locking mechanism. But it may seem heavy, so you might need helping hands.
What's in the package?
Upon delivery, you get 1 lift jack, a handle, 2 tie-down straps, 3 adapter bars, and a manual.
Pros
Heavy-duty hydraulic jack
Can be operated either manually or automatically
Has locking mechanism to fix the bike to it
Easy to store and move around
Durable build materials
Rubber pads to protect your bike and to prevent slipperily
Cons
Quite expensive
Warranty information unimpressive
Verdict
If you are into DIY for your motorcycles, this hydraulic jack is a must-get. It is sturdy and compact. It will surely help you service and maintain your bike without arching your back by repeated bending. However, you have to get ready to pop out close to a thousand dollars to get it, the money I feel is reasonable enough. I wouldn't mind investing in this product.
6. ZENY 1100 LB – Affordable Motorbike Lift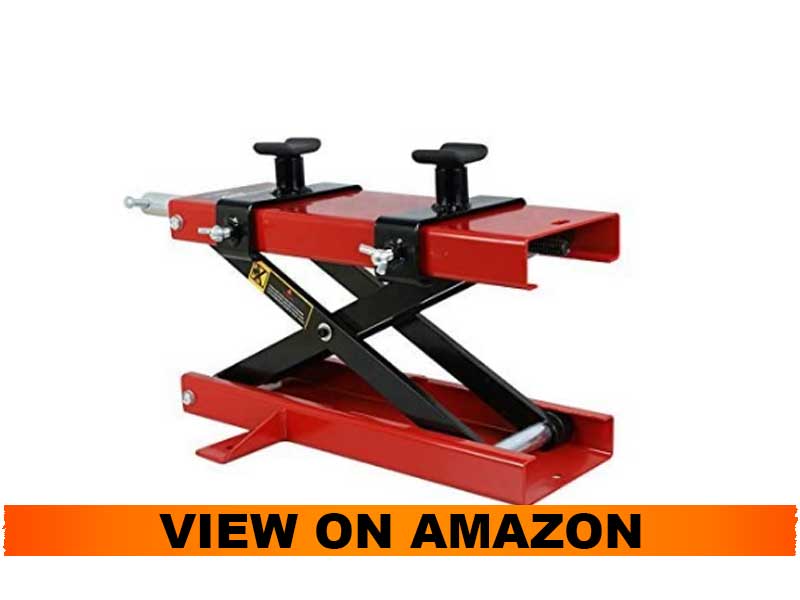 Zeny Motorcycle Lift can fit in the budget of many motorcycle owners. It's one of the affordable motorcycle lifts I have come across without compromising their quality.
Design
The build of this lift is impressive with a red and black powder-coated finish to ensure that it does not rust or corrode when exposed to harsh elements.
The lift is compact and sturdy with a simple crank to lift your motorcycle for maintenance. Having this tool in your yard can make motorbike servicing an absolute breeze. It can save you the costs of taking the bike to someone else. Moreover, it will save you the muscle cramps you would suffer from bending or kneeling down when accessing the components underneath the bike.
Screw Adapters
The lift comes with 2 variable screw adapters for ease of lifting. Its 12 cm crank handle is removable in case it gets damaged. The lift is versatile in that it can accommodate a wide range of bikes, choppers, and cruisers. It's a tool you wouldn't like to live without should the need to repair or maintain your bike arise.
Capacity
Beware of the maximum weight capacity of 1100 lbs whenever loading your bikes. Usually, the maximum weight capacity is not the real or exact weight the lift can bear. Always allow a small margin between your bike and the lift.
This lift is made of stainless steel construction. That's an assurance that your bike will not be exposed to danger. The lift is heavy though. On top of that, it does not have wheels to move it around.
Pros
Solid steel construction
Simple crank operation
Affordable lift
Red and black powder coated finish to resist corrosion
Cons
It is heavy
No wheels to move it around
Verdict
I couldn't find a deal-breaker with this motorcycle lift from ZENY. It has all the features you would like to have when servicing and repairing your beloved motorcycle. Its steel construction is sturdy enough to rest assured that my motorcycle will not fall down to damages.
Looking at its simple crank operation, I am convinced it's a convenient lift for everyone including the amateurs who never actually operated the lift before. Again, there's no restriction on specific models. But, as much as it is made with steel construction, note that it can be heavy to move it around since there are no wheels.
7. Extreme Max – Compact Bike Jack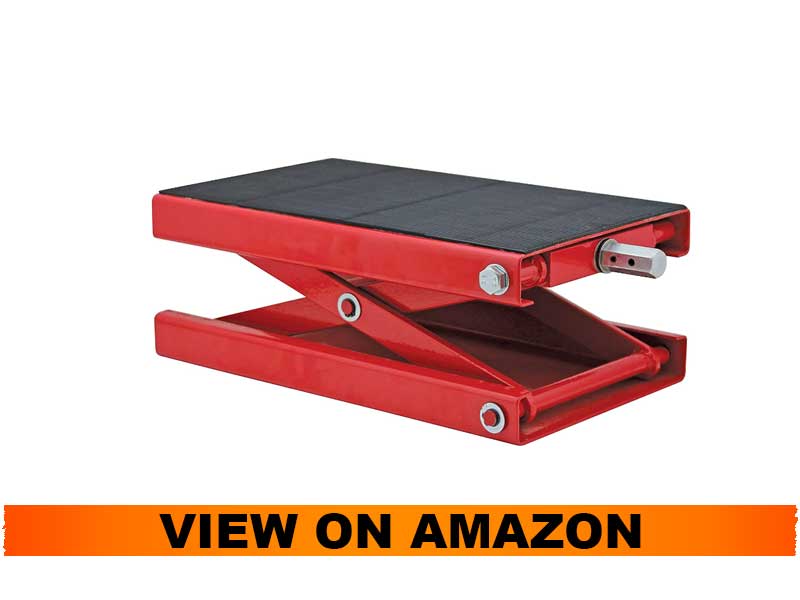 Extreme Max Lift is one of the best on the market too, hence I chose it. It extends to 14" height, which is a comfort elevation where you can access your bike's parts with ease. It is easy to lift with the 7/8" socket or wrench, but note that it is separately sold.
Capacity
The capacity of this lift is 1100 lbs, which is a popular capacity among dozens of lifts on the market. It outshines my previous review of 1000 lbs. Just make sure you do not exceed this capacity with the bike you put on.
Trikes are, however, excluded from this lift. The strength of the lift was not designed to hold trikes. It is nonetheless a great strength to lift a broad range of motorbikes below 1100 lbs.
Usability
Also commendable is the stability and the comfort of working with this lift. It comes with a durable rubber padding platform which protects your bike from any abrasions and scratches when secured on the tool. It will prevent slippery and wobbling when maintaining your bike.
Design
The aesthetic appeal of the lift with the red and black finish is eye-catching. It is constructed of durable stainless steel. With this solid steel, you can bet that your bike is safe.
Pros
Durable rubber padding platform
Affordable bike liftn
Heavy-duty steel frame
Weight capacity of 1100 lbs
Verdict
This bike lift is affordable and good for investment. I do recommend it for all the bikes below 1100 lbs. the exciting thing is that it is not a bike or style specific. However, trikes are excluded. The lift is made with a heavy-duty steel frame which makes it seamlessly beautiful to lift the bike with extra safety. The rubber padding platform prevents scratches on your bike. That's a good product to consider.
I couldn't find a deal-breaker in its price range. It fares well when compared with others on the list. Well, the downside of buying the wrench separately is worrisome but not a deal-breaker.
8. BikeMaster Easy Lift – Best Motorcycle Hydraulic Lift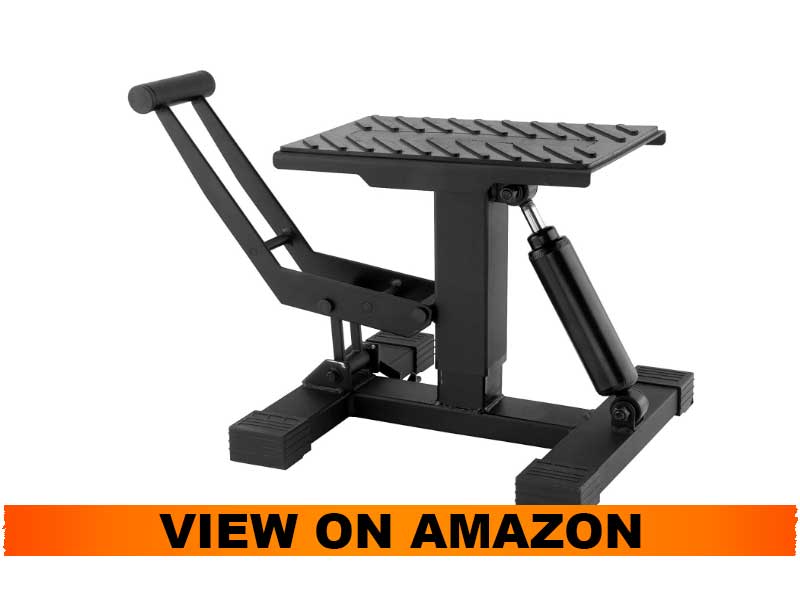 This is the last product in review. But it doesn't mean it is the least or has an inferior quality. I chose it based on its portability. Given its low maximum capacity of 330 lbs, I recommend small bikes. The lift comes with a different design than most of the products I have reviewed here. It is a hydraulic lift.
Usability
BikeMaster Motorcycle Lift gives you full control of lifting your bike to a required elevated position. Its rubber pad is anti-slip: it ensures that the bike does not slip or become loose during your service.
Design
The heavy-duty stainless steel is making this design sturdy enough to last for many years. The lift is completely adorned with a black powder-coated finish to give it a timeless aesthetic appearance. The finish resists corrosion, rust, and grease.
Pros
Unique design
Anti-slip pad to improve the grip of your bike
Fully adjustable deck height
Hydraulic lift
Cons
Low maximum weight capacity
Verdict
This is a unique design. I do recommend it for those owning small bikes. Although it has a low maximum capacity of 330 lbs, I still find it comfortable and strong enough to lift compact bikes. Adjusting the height is easy with the hydraulic design.
The design is completely black. This gives the lift a timeless aesthetic look and also protects against corrosion and other dirt. If you are looking for something unique yet efficient, this could be the best lift for you.
What to Consider When Buying a Motorcycle Lift?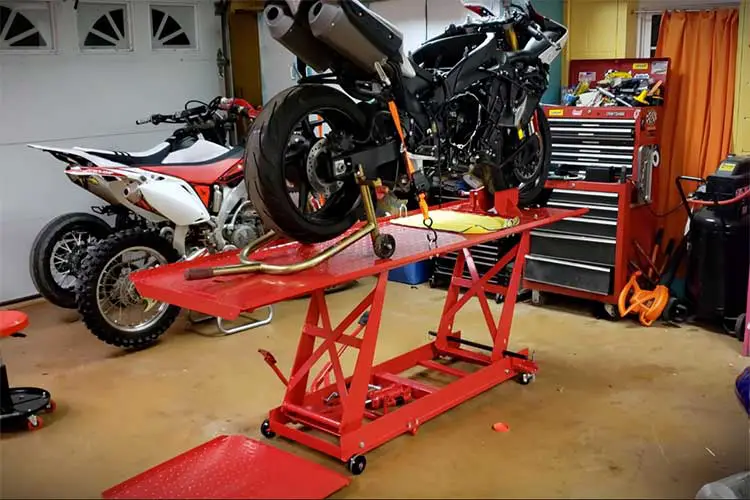 Motorcycle lifts are a versatile piece of equipment. They work well for a variety of motorcycles and even snowmobiles and ATVs. If you're out to purchase a motorcycle lift for your use, here is what you need to consider to get the best possible product.
Versatility
The markets are ripe with a variety of lifting tools for your needs. Most lifts today come with versatile and multiple uses. Some even include an array of accessories and attachments and widen the scope of your capabilities. For this very reason, you must know what sort of motorcycles or bikes you intend to work with in the future. Based on that, you need to select a lift that will handle those specific tasks.
Your standard options feature the extension panels where you get an additional length of twenty to thirty inches at your lift's front and back. You may also want to consider whether your future use will include working longer bikes and handling choppers.
Many models also offer side extensions that give you extra twenty-four to forty-eight inches or even thirty to fifty-five. Consider all of these specs and your particular needs before you opt for a model.
Weight
When considering different models for purchase, you must bear in mind the weight you will expect or need it to lift. You may be a shop owner with a steady volume of bike traffic, and in that case, a heavier lift will work for you.
However, if you only need a lift for the occasional servicing and essential maintenance of your motorcycle, then you may want a lift you can store and move away quickly. It would be better for this occasional use to consider the aluminum-based variety because they are portable and lightweight.
If you're a shop owner, in the business of servicing cruisers, etc., you will need a long-lasting, sturdy, heavyweight, and durable option. You must look for lifts that can service every day but not wear off for years to come. You may find the steel-based machines more useful in this regard.
These are the kinds that can even lift to 800 pounds but may not have the accessories or attachments you might need. However, the stability with the heavier machines will be worthwhile for your heavy-traffic projects.
Performance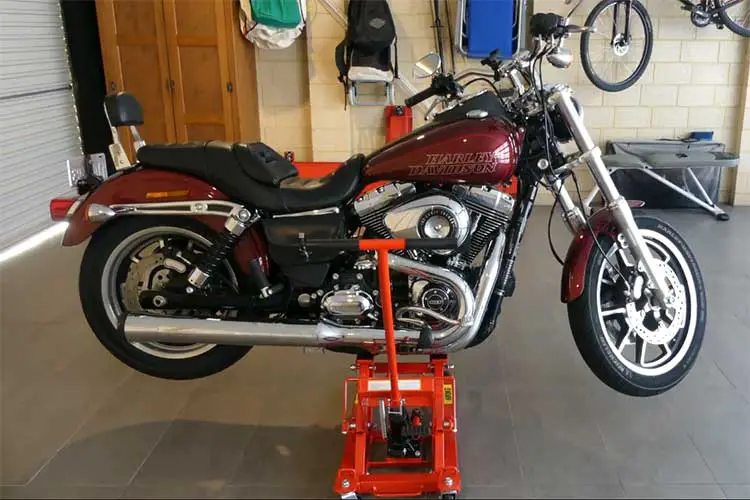 The main differentiating factor between the different models is the powering mechanism in the motorcycle lifts. You can choose from three main designs of operation, including:
If you opt for the manual varieties, you will get the old fashioned foot pedals along with lifting pumps. However, you must be ready to exert extra effort for these in comparison to their automatic counterparts.
Hydraulic models simplify the process significantly. They elevate your motorcycle within seconds and hit just the right height for your needs. The only point of consideration here is that hydraulic models depend on air compressors for operations. You may need to install the hardware for this if you don't have it already. But rest assured, you will be pleased with the convenience and reliability of these models.
Final Thoughts
It takes the right tools to become an expert at servicing and maintaining your bike, even if you begin with zero experience. The right motorcycle lift makes the job not only comfortable but also ensures a better riding and bike-owning experience for years to come. With the right considerations, you can get the best lift that will service not only your bikes but other lift-needing accessories too.