You'll agree how inconvenient it is to maintain your motorcycle's wheels or lube chains without anything that lift them if there is no center stand. It becomes relatively burdensome having to manually lift the bike to rotate the wheel so you can access other sides. When lubricating the chains, you need to turn them to effectively lube every piece of it.
This post contains affiliate links. If you make a purchase, Motoprove.com may receive a small commission at no additional cost to you.
5 Top-Rated Motorcycle wheel Stands
Fortunately, the motorbike industry has some innovative wheel cleaning stands you can get. With a wheel roller, your wheel cleaning, inspection, and chain lubrication will be an absolute breeze.
I have brought you the best motorcycle wheel cleaning stand reviews so you can pick what suits you best. There are numerous products of motorcycle roller stand on the market with varying materials, capacity, prices, and other convenient features. This motorcycle wheel cleaning roller makes it daunting for an amateur to choose.
1. MaxxHaul 80401 – Best Motorcycle Wheel Cleaning Stand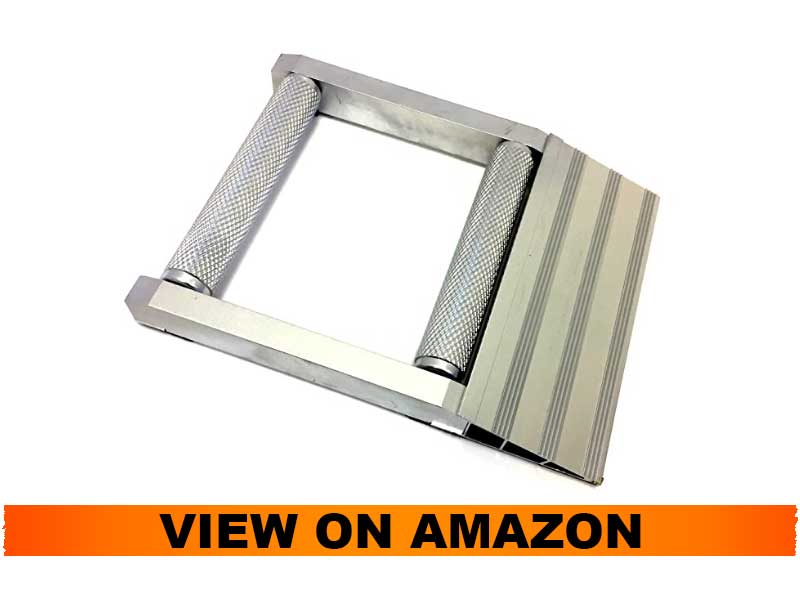 Rated 4.3 out of 5 stars, I am convinced that this wheel cleaning stand makes so many customers happy. I have also come across it and I must say I didn't encounter any problems using it. From the design to the portability and performance, the MaxxHaul Cleaning Stand do its wonders.
Design
With this wheel inspection stand you get an aluminum construction, which has proven on many occasions to be corrosion and rust-resistant. The ramp makes it a cinch to load the bike onto this cleaning stand. Thanks to the rollers that you can spin the wheels conveniently to reach either side.
The construction also makes it an absolute breeze to inspect the tires and find the valves if you want to inflate a flat tire. Also, chain lubrication is made simple with these rollers. Imagine lifting the bike just to lube the chains. That would be a messy job.
Capacity
One thing to note when loading bikes onto the cleaning stand is the capacity. A mismatch of the bike's capacity and the stand's capacity could lead to damages to both the stand the bike. This stand is capable of holding bikes up to 500 pounds in weight.
The other important feature to note is the overall dimension of 12" x 9 1/16" x 1 1/2". Make sure your wheel dimensions can fit on this motorcycle roller stand. I know that some wheels are wider.
Performance
The performance of the wheel stand is of paramount importance. Imagine having a slippery cleaning stand that can pose danger to you and to the bike. It is not the case with this tire cleaning stand. Thanks to its 6 non-slip rubber feet and the diamond knurled rollers that provide stability to your bike.
The rollers make it convenient to roll your wheels. Moreover, the stand is accommodative of both front and rear wheels. There is no need to purchase two products.
Pros
Versatile wheel inspection stand
Affordable
Aluminum construction
One man operation
Cons
Aluminum construction needs regular cleaning to keep its shiny after off-loading your dirty bike on it
Verdict
I recommend this wheel cleaning stand. It is made of a corrosion-resistant material: aluminum, and it is also affordable. Inspecting your wheels on this stand has just been made an enjoyable hobby. It has a ramp and rollers to make the job much easier without the help of your neighbor.
2. Hardline Products RS-00002 – Heavy Duty Wheel Cleaning Stand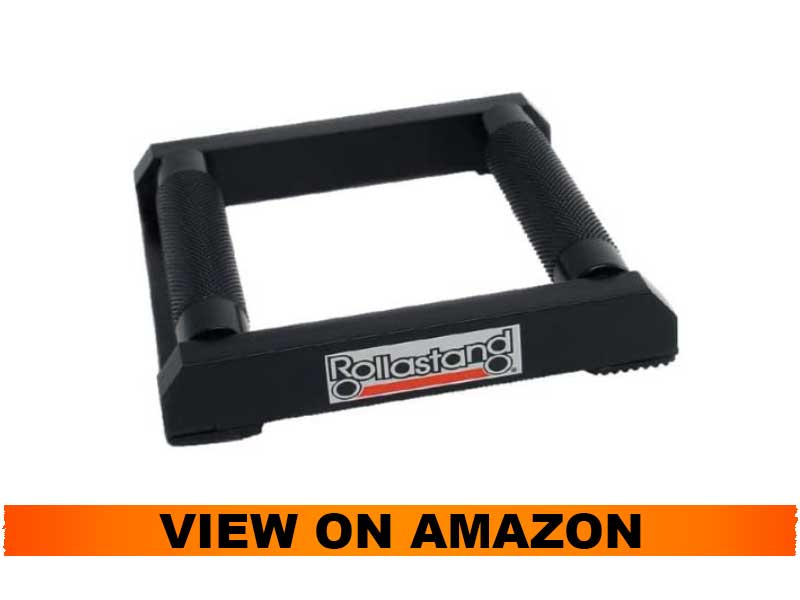 If you own metric cruisers and Harley Davidson, you may feel blessed to have Hardline Rollastand dedicated to your bike. It has received 4 out of 5 stars. Isn't that convincing enough that many are happy with it? Personally, I love this wheel inspection stand.
Design
With a powder-coated finish, this portable wheel roller stand from Hardline Products is a must-have for motorcycle enthusiasts. It makes it easy to maintain or inspect your tires. So, you don't have to sweat while cleaning your bike's wheels by lifting them with bare hands. Thanks to this impressive design with sealed bearings and powder coated chassis.
The deeply knurled rollers make it easy to spin the wheels so you can access any side without obstructions. Moreover, the roller gives the stand more traction. You won't see the bike falling on you due to slippery rollers. The powder coat finish makes the stand more resistant to corrosion when exposed to outside elements.
Capacity
This wheel roller for motorcycles is one of the toughest you can find on the market. As long as your bike weighs less than 500 pounds then you can safely handle this stand. Exceeding this capacity can only expose your bike and the stand to danger.
Performance
Performance-wise, the stand does its wonders in holding the bike wheel firmly, thanks to non-slip rollers. They have superb traction. Slowly push your bike to the center of the stand to make sure it remains stable.
While holding the wheel firmly, it allows it to spin with ease. Whether you apply chain lube, inspect a faulty chain, or inflate the wheel, this stand can come to your rescue. Also, it remains firm to the ground without wobbling so your bike does not shift it.
I like the fact that you can use it, one man. No need for anyone to help you. Similarly, it is easy to store the stand after use among your tools in the garage.
Pros
One person operation
Rust-resistant materials
Knurled rollers for more traction
Powder-coated chassis and sealed bearings
Cons
Prolonged exposure to outside elements may lead to an eruption of the coat and so you might want to avoid such a prolonged exposure unless you are prepared to continue maintaining the stand
Verdict
Looking for an affordable yet quality wheel cleaning stand? This could be the product you've been searching for. It gives you good traction with its knurled rollers. That said, it makes it easy to spin the wheels for cleaning or for chain maintenance.
3. GrandPitstop GRoller – Motorcycle Cleaning Stand for Front and Rear Wheels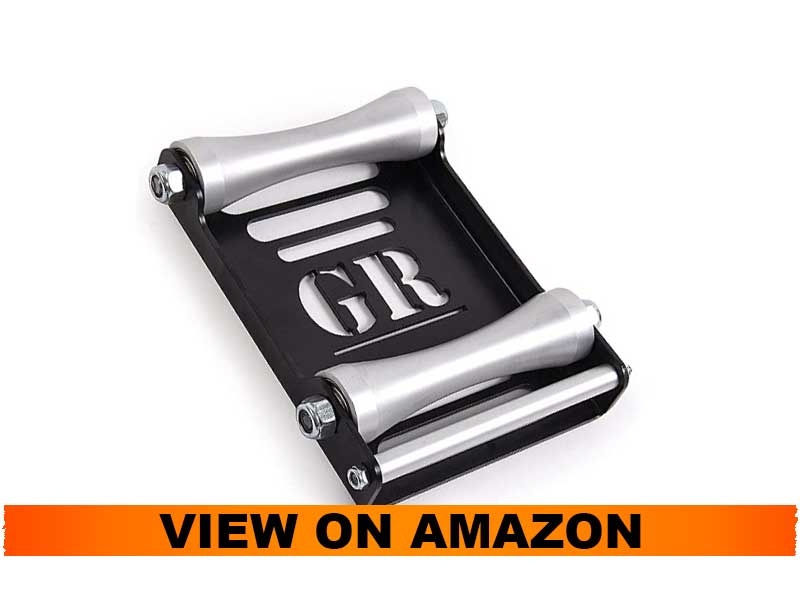 Weighing 3.5 pounds with a capacity of 600 pounds, this is a compact yet sturdy tire cleaning stand you can find on the market. I have carefully chosen this stand on the merit of superb features seldom found in many stands. I bet you will be impressed too by the design and performance.
Design
GRoller Tire Cleaning Stand is perfectly designed to cater to motorbikes weighing less than 600 pounds. Thanks to its rollers that make it possible to spin the tires the way you want while cleaning them. Applying the chain lube is also less of a burden.
The stand fits tires with widths less than 240mm. That is large enough for the majority of wheels on the market. Yours too should fit with ease.
Capacity
If your bike weighs less than 600 pounds, then you are safe to purchase this stand. Among the others I have reviewed above, this capacity is the highest. I would recommend it for those with big motorcycles. Also noteworthy is the tire width of 240mm.
Performance
There is no reason this tire stand shouldn't perform to its peak. Considering how rugged it is with a large capacity, it will hold wheels with ease. Cleaning, inspecting and maintaining wheels using this stand must be one of the enjoyable moments. Why would you go to the mechanic when you have this stand? Well, unless the problems exceed your capability.
Thanks to corrosion-resistant rollers that keep your wheels intact while allowing the 360 degrees rotation. Not to forget how compact this stand is, it is easy to store it or travel it for in case you encounter a problem with your wheels.
Pros
Large capacity of up to 600 pounds
Sturdy and rugged wheel stand
Versatile stand for both rear and front wheels
Verdict
If you own a large bike you may want to consider this wheel stand for motorcycles. It makes it easy to inspect or clean your wheels. Maintaining your bike on this stand becomes an enjoyable hobby. I recommend the product. It is worth every cent of the cost.
4. Greensen – Aluminum Motorcycle Wheel Roller Stand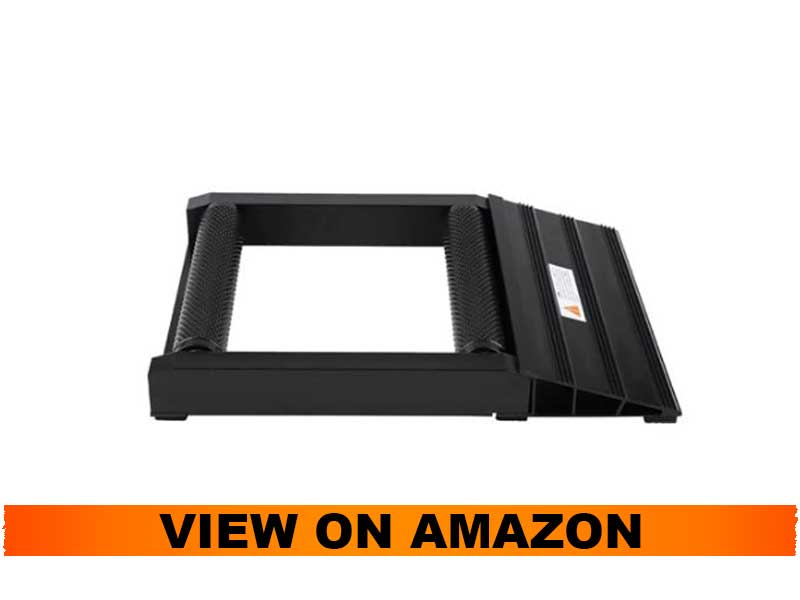 So far, this is the toughest cleaning stand with the largest capacity of 880 pounds. It gives me the pleasure of using Greensen Motorcycle Wheel Roller Stand knowing that it will not be prone to damages due to exceeding its capacity. Overall, this stand is impressive and worth the value of money.
Design
Made of corrosion-resistant aluminum construction, the stand is one of the best to have amid inclement weather conditions. If you find yourself in bad weather, you will not worry about the stand corroding after prolonged exposure to the weather.
It comes with rollers that help you spin the wheel with ease. Chain lubrication, wheel inspection, and tire repair will be made easy with this design. More convenience is credited to the aluminum ramp that helps you load the bike onto the stand.
Note: Do not put the bike in gear or leave its engine running while loading it onto this stand. The manufacturer will not be held responsible for any injuries sustained as a result of this negligence nor entertain the warranty void.
Capacity
With a capacity of 880 pounds, this wheel stand is a must-have for those with huge bikes. Although it is a bit bulky compared with others, it is worth the purchase for big bikes. I am certain that it will not break easily with such a huge capacity.
Performance
Aluminum construction performs greatly compared to other materials. It lasts longer without suffering corrosion if exposed to bad climatic conditions for a prolonged time.
With an overall dimension of 12.0" x 9.0" x 1.4", this cleaning stand will accommodate most wheels and help you clean them. Its rollers spin the wheel while cleaning them. You need no additional help from neighbors to operate your bike on this convenient stand.
Pros
Huge capacity
Corrosion-resistant aluminum construction
Sturdy to prevent shaking when loading the bike on it
Aluminum ramp to load the bike with ease
Cons
With a huge capacity, the stand is relatively bulky but manageable nonetheless.
Verdict
Would I consider this stand for my hard-earned cash? Of course, why not! For anyone with a large bike, this stand is a must buy with its capacity of 880 pounds. It makes things easy for you to load the bike without breaking it. Its aluminum construction is impressive too to prevent corrosion if exposed to bad weather conditions.
5. Hardline Products RS-00001 – Cheap Wheel Cleaning Stand for Motorcycle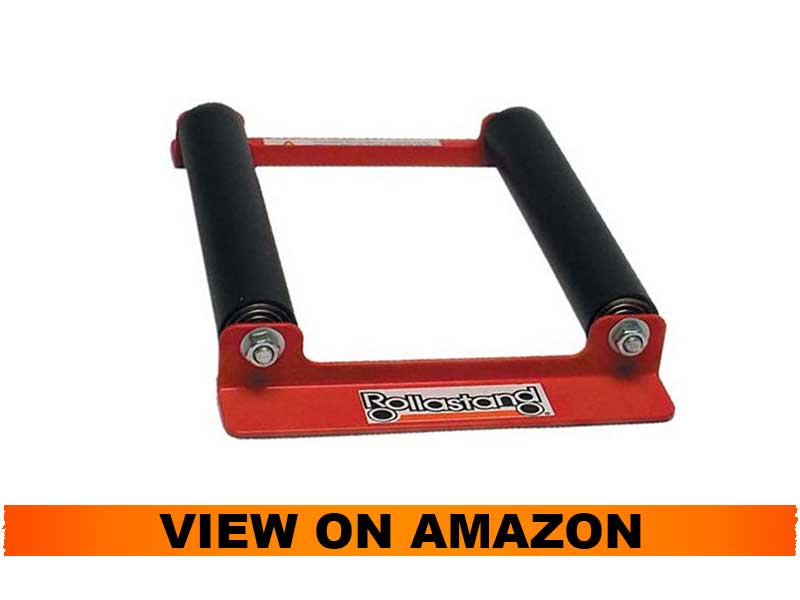 If you own a sportbike and felt neglected with the above choices, this is the product aimed at your bike. Hardline Products RS-00001 Rollastand is designed for sportbikes. You will notice I repeat this brand. Well, I am loyal to their quality wheel cleaning stands.
Design
Designed specifically for sportbikes, this tire cleaning stand is one of the impressive wheel cleaning stands I have come across. Its design makes it convenient to operate it one man without needing anyone's help. Simply roll your bike onto the stand and spin the front or the rear wheel for maintenance or for cleaning.
With powder coated chassis and sealed bearings, the stand will withstand treacherous weather conditions. It's such a pleasure traveling with a weather-resistant tool because bikes, like cars, do not have storage shelters.
Capacity
Bikes weighing less than 500 pounds should fit well on this stand. Exceeding this capacity could expose you or your bike to danger.
Performance
Given the ideal design for sportbikes, this stand performs impressively. It has all the features to make your bike maintenance, inspection, or cleaning an absolute breeze. I personally inspect my wheels on my own and so having this stand is an added bonus because I cut the costs of visiting a mechanic.
All sportbikes without center stands can be held conveniently using this stand. I applaud the traction in the rollers. They hold the wheels tightly side to side while allowing a complete spin to access all sides. The stand itself is non-slip, so loading your bike shouldn't be cumbersome after all.
Pros
Easy to handle one man
Weather-resistant powder-coated cleaning stand
Versatile stand
Non-slippery
Cons
Costly but worth the value of money
Verdict
Owning this tire cleaning stand is a sigh of relief for motorcyclists. It has an impressive design that is powder-coated to avoid corrosion and rust when exposed to bad weather for a long time. If you are looking for the stand for your sportbike, this is the best choice I recommend. On top of that, it is compact and non-slippery.
Guideline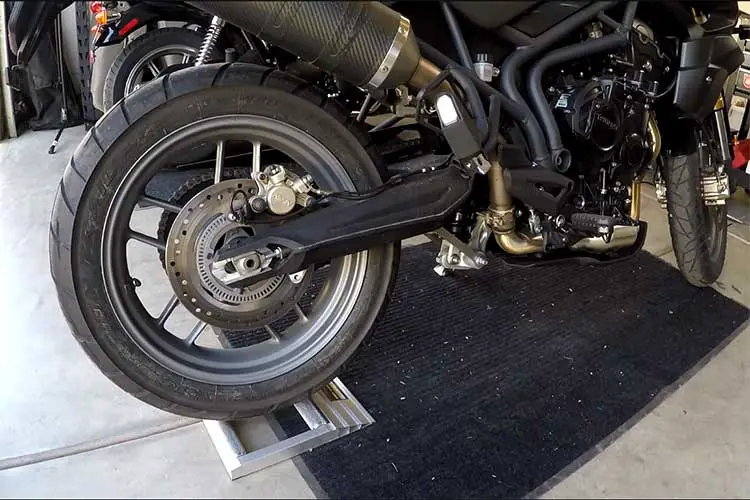 Given a plethora of motorcycle wheel roller stands on the market, how can an amateur rest assure that he or she had chosen the best one? That would be tough. With this buyer's guide, I aim to give you some light on how to spot the best wheel stand for motorcycles.
What to look for when buying motorcycle wheel cleaning stands?
Some people tend to look for prices when shopping for aftermarket tools. While the price is also a good consideration, you should not base your purchase decision on the price only. Take into account the capacity, performance, design materials, and weather resistance of your motorcycle wheel stand.
Design
The design of the stand says a lot about its convenience and durability. Wheel cleaning stands are generally compact in nature with only a few that could feel bulky.
Overall, these stands come with rollers on which you can roll your wheels to clean them thoroughly. Check how sturdy and flexible those rollers are. They have to allow the 360 degrees rotation. When lubricating or cleaning your chains, for example, you want the stand that can allow such rotation so you can access the chains fully.
Furthermore, look for that additional ramp with which you can roll the bike wheels onto the rollers. It makes it easy to load the bike without the second person lending you help to lift the bike up.
Capacity
The capacity of the wheel cleaning stand is also an important feature to consider. The highest capacity among my picks is 880 pounds, which I find very convenient for huge bikes. The capacity tells you if the bike can be held without it actually breaking the stand. Exceeding the stated capacity could void the warranty of your cleaning stand.
Adding to the capacity is the overall dimension of the bike. You know that motorcycles come with different widths of wheels. It helps to note the actual dimensions of the stand to see if it will be compatible with your wheels.
Weather resistance
Tire cleaning stands come with different design materials. Among others, you find aluminum, which is naturally weather and corrosion-resistant. You never go wrong with aluminum. It is lightweight and shiny.
Whether you leave the stand outside or not, it will withstand the abuse. All thanks to aluminum for its weather resistance. You don't want to return to the store on the basis of the stand corroding.
Other materials include steel or a composite. Unless it is stainless steel which is naturally weather-resistant too, you have to consider the powder coat of the steel materials. Steel is not really good resistance to weather. With a powder coat, it can yield the same benefits but you may need to recoat it afterward.
Weight
Do you want to ride with the cleaning stand? Well, it is recommended to do that because you may need along the way. Imagine having a flat tire that you need to re-inflate. Or, imagine your wheel malfunctioning because the chain isn't properly lubricated.
You do need the stand to inspect and maintain your tire or the chain. That said, you have to ride with it wherever you go.
However, motorcycles have limitations in terms of weight. Be careful when choosing these tools. Even though wheel inspection stands are generally compact, there are some that can feel somehow overweight.
Aluminum, for instance, is naturally lightweight, and so the stand made of aluminum is anticipated to be portable. Besides, the seller often state the actual pounds. Steel or stainless steel materials generally so expect a bit of weight.
You need a stand that you can carry wherever you go. Also, you need a portable tool that you can save conveniently underneath your other tools in the garage.
Price tag
The price tag should actually be the last consideration after the aforementioned features. Costly tools do not necessarily translate into high-quality materials and the converse also applies. There could be some affordable tools, as in my list, which does not compromise quality. Most of these aftermarket tools are costly based on the brands.
Of course, we want affordable products. Prioritize other features and then compare the brands. When selecting my top 5 products, I have made it a point to consider only the affordable yet top-notch wheel cleaning stands for motorcycles.
Final Thoughts
I have come to the end of my comprehensive motorcycle wheel cleaning stand reviews. These stands are indispensable considering how important the motorcycle wheel cleaning roller functions are. They make maintenance, cleaning, and inspection of wheels an absolute breeze. If you haven't gotten one I encourage you to consider the aforementioned choices. However, take note of the features I have highlighted.
These stands can actually save you lots of money you would spend by going to the mechanic. They make the job easy by letting you spin the wheel to self-maintain it. Chain lubricating is also made easy. What else am I missing? Also, these stands are versatile in that they can be used for both rear and front wheels.