When it comes to a motorcycle's exterior, they bear a lot of resemblance to cars. Like almost every vehicle you will come across, motorcycles also tend to accumulate a lot of dirt. Fortunately, you will find an endless range of cleaning products in the market that will help you make your two-wheel vehicle look as good as new.
It would be fair to say that motorcycle owners have a great deal of control over their vehicle's finished look, as long as they have the correct products. For instance, a high-quality wax can prove to be a massive difference-maker, giving it the wet, deep shine you always wanted. Plenty of brands develop their own variant of motorcycle waxes and you will come across thousands of them in online and offline stores. You will find some of the best motorcycle wax for harley in this post.
This post contains affiliate links. If you make a purchase, Motoprove.com may receive a small commission at no additional cost to you.
5 Top-rated Best Motorcycle Waxes on the Market
Check out best motorcycle wax for harley davidson and the two of the best motorcycle waxes you will find in online and offline stores, discussing what makes them so great and a better option than similar products from other brands. Check out the best motorcycle polish of wax below.
1. Meguiar's G55033 Motorcycle Care Kit – Best Wax for Motorcycle Plastics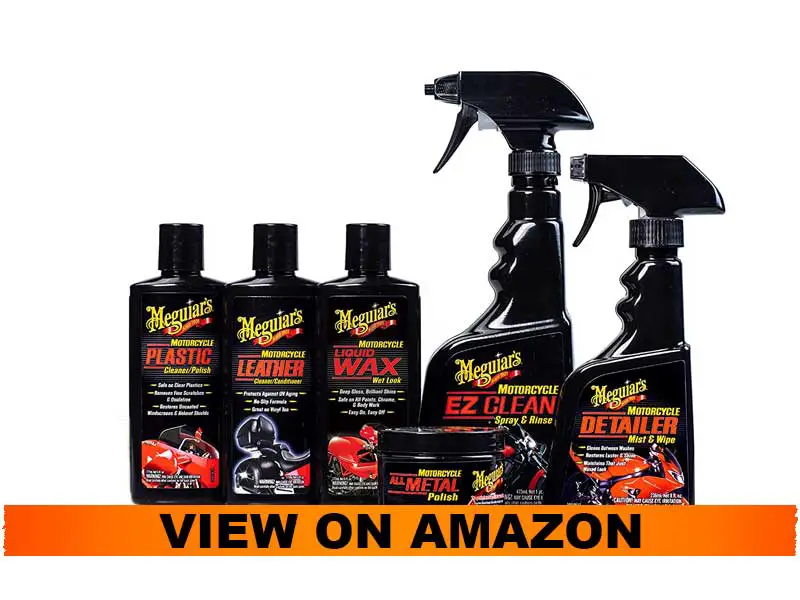 Meguiar's G55033 Motorcycle Care Kit is a must-have package for all your cleaning, polishing, and waxing needs of your motorcycle. It is a multi-functional kit best suited to treat plastic, metal, vinyl, and paint. I like the fact that you won't have to purchase other products separately because this kit is all-in-one for all your needs.
What's in a package?
Included in the package is a 16-ounce spray bottle for cleaning and rinsing, an 8-ounce detailer mist and wipe spray, a 6-ounce liquid wax bottle, 6-ounce metal polish, 6-ounce leather cleaner and conditioner, 6-ounce plastic polish. To prevent scratches from abrasive cloths, a microfiber towel is included. One would assume to find all these at a higher price but this kit is affordable.
Each bottle serves its own purpose on your bike. For instance, the Clean Spray and Rinse bottle has a pH-balanced formula that cleans your bike without harmful ingredients. It works well on vertical surfaces and removes the road grime that could tamper with performance. Then the detailer mist and wipe bottle are best applied after your bike had soaked in rain. It safeguards your paint finish without causing any scratches.
Now comes the main product – liquid wax, which gives your bike a protective coat against scratches and harmful UV rays. Amongst other wax types, liquid wax lasts long and is easy to use even though an even application is a challenge. It leaves a deep and high-gloss shine with no scratches provided you're using the microfiber towel included.
It's not all
With the leather cleaner and conditioner, you will be able to treat your leather seats and any other leather and vinyl component on your motorcycle. It gives them an elegant appearance and restores their brilliance. The metal parts will be treated with the All Metal Polish bottle with its polymer blends. Finally, the plastic cleaner bottle treats your plastic components to remove scratches and give durable protection against oxidation and other environmental contaminants.
Pros
Multi-functional motorcycle cleaning, polishing and waxing kit
Affordable product
Portable 7-pieces
Cons
The bottles are small so they might get depleted quicker
Verdict
This is a must-have kit for motorcycle enthusiasts looking for premium products to treat their bikes. It has everything you need to treat your bike from polishes to metal cleaner to liquid wax. The inclusion of all these 7-pieces has not increased the price, so it is affordable to almost everyone.
2. Car Guys Hybrid Wax Sealant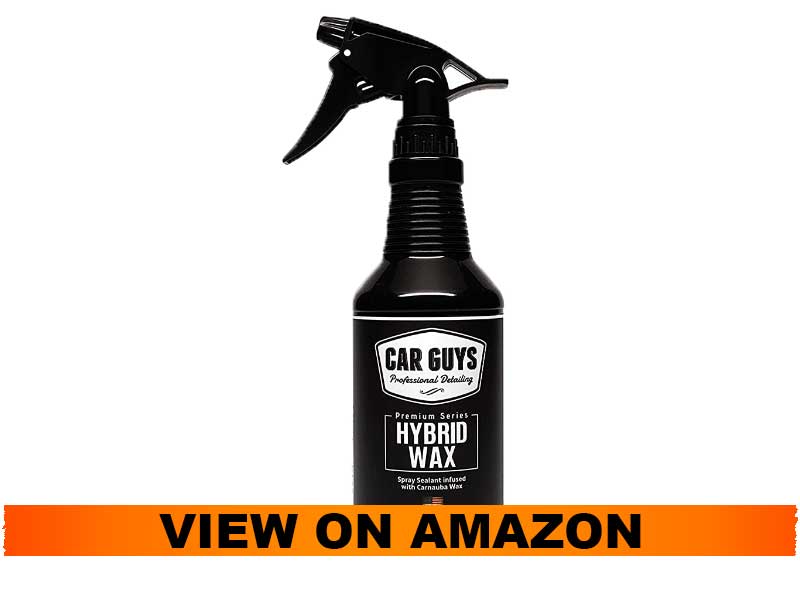 Cleaning a bike to get it in pristine, shiny condition can be difficult if you don't have the right products. With the high amount of bike cleaning products these days, choosing one can prove to be a tall task. The Car Guys Hybrid Wax Sealant, however, is one of the best around, and for good reason. Unlike most car waxes, this one is incredibly thick and will not disappear with a simple drizzle of water. This Hybrid wax sealant is also a best motorcycle polish. Get one now!
Most people don't have enough time for waxing their car like a professional cleaner week in and week out. This is where this product proves to be handy as users don't have to worry about applying it regularly. One coat can be good enough to cover you for a couple of weeks (or even more).
Excellent Versatility
This hybrid wax sealant from Car Guys is quite versatile. Not only will it help you wax your motorcycle thoroughly, but it also comes with a towel to make the whole process easier. Users do not have to worry about using fluffy, low-quality towels for waxing their bikes. Instead, Car Guys provides a special towel for bike waxing.
Unlike most towels, this one is not rough. Therefore, you can use it without worrying about damaging your motorcycle's exterior.
Longevity
Car guys made this product to last long and merely applying this wax once will be enough to show you how long the coat will last. In many cases, the wax people tend to use disappears with a simple drizzle of rain. Luckily, that is not the case with this product as it can withstand the rain, sunshine, debris, and other elements, keeping your bike in pristine condition for long periods.
Pros
Budget friendly motorcycle wax
Applying this product is very easy
Ideal for all motorcycle colors
Coat can last around four to six months
Cons
You can only apply this wax once your bike cools down
Verdict
This wax by Car Guys is an excellent option for people looking for an effective yet budget-friendly motorcycle wax. One eighteen ounce bottle of wax will cost somewhere around twenty dollars, which is a great deal, especially when you consider that it comes with a towel. You can also opt for a bigger, kit of 128 ounces, which costs around forty-five to fifty Dollars.
3. Meguiar Hybrid Ceramic Wax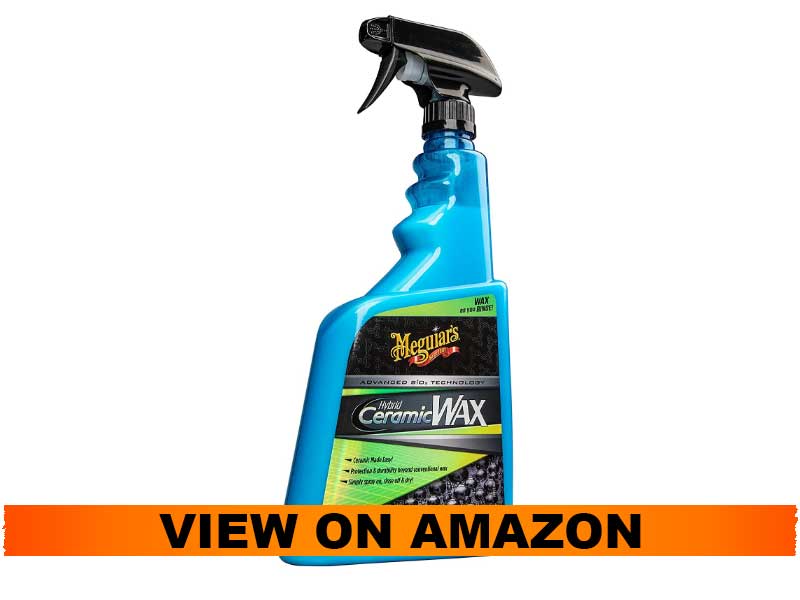 Bike detailing enthusiasts swear by ceramic wax, and for good reason. It creates a protective coat, shielding the vehicle from outdoor elements, making it shine for long periods. The Meguiar Ceramic wax is arguably the best of its kind in the market. It offers motorcycle detailers a blend of wax and ceramic, creating a long, durable coating.
At first glance, this product does not look like the average waxing products you will find in the market. In fact, it looks more like a bottle of spray instead of wax. Regardless, applying it is quite simple, which is quite convenient for people who don't have much experience when it comes to detailing bikes. All you really have to do when applying the hybrid ceramic wax by Meguiar is apply it, followed by wiping it off. Yes, it is that easy.
Easy Application
The Meguiar ceramic wax provides users with an authentic ceramic coating for their bikes. This product stands out from others because you can apply it on top of other coatings without compromising your motorcycle's exterior. You don't need to strip old wax or sealants before applying, and advantage that very few car waxes offer. All you need to do is ensure your bike is clean and free of contaminants, and you will be good to go.
Long Lasting Coat
The best way to judge the quality of car wax is to find out how long it can last. The hybrid ceramic wax by Meguiar is quite thick and will remain firm on your bike's exterior for months. Make sure you spread this blend evenly, making sure you cover the important areas of your vehicle. Once you do, you can breathe a sigh of relief knowing that the coat will not wash off easily.
Pros
Easy application
The coat lasts long
Authentic ceramic
Provides excellent shine
Cons
The solution finishes quickly compared to traditional waxes
Verdict
This wax fluid is available in the form of a kit, but you can also choose the wax-only bottle. Both are tremendous mid-budget options and offer excellent value for money, especially considering their quality and longevity.
4. SHINE ARMOR Fortify Quick Coat – Best Dust-Repellent Wax
The Shine Armor Fortify Quick Coat is a powerful wax spray for vehicles and bikes of all kinds. Use it to clean your bike and present it in a new-like state for a long time. If you're the kind of person that hates to use cleaning/waxing products that are similar to this because of their lack of solution, you might want to second-guess your avoidance of this brand.
That's because of the way it's designed to be effective with such a small amount of liquid. Using a microfiber cloth, work it into the surface of your bike, paying attention to areas you want to be protected from dust and water. Once you're finished, your bike will gleam like never before.
Beads up Rain, Keeps away Dust
If it rains water beads off immediately and won't stain. Dust and pollen will also stay off, although you might have to wipe things down if you're in a region that receives a good amount of pollen during the spring months. This spray will lower the number of times it's necessary for you to wash your motorcycle. The smell is very pleasant on the nose but not too strong. Do use care when you're waxing with this product. If you use too much in one sitting, streaks could easily show.
To avoid this, cover as much area as you can with as little as you can; it's not that hard to do. You'll find that the spray will last for weeks or even months. But when the only thing that you're waxing is a motorcycle, it might go for even longer. Highly recommended.
Pros
Repels dust and moisture of all kinds
Doesn't require a lot of the solution to cover large areas
A good alternative to minimize excessive bike and/or car washes
Has a good mild fragrance that isn't too harsh on the nose
Cons
Depletes quickly if too much is used in one setting
Streaks are likely to show if the product is used incorrectly
5. S100 13700W Carnauba Paste Wax – Best Wax for Black Motorcycle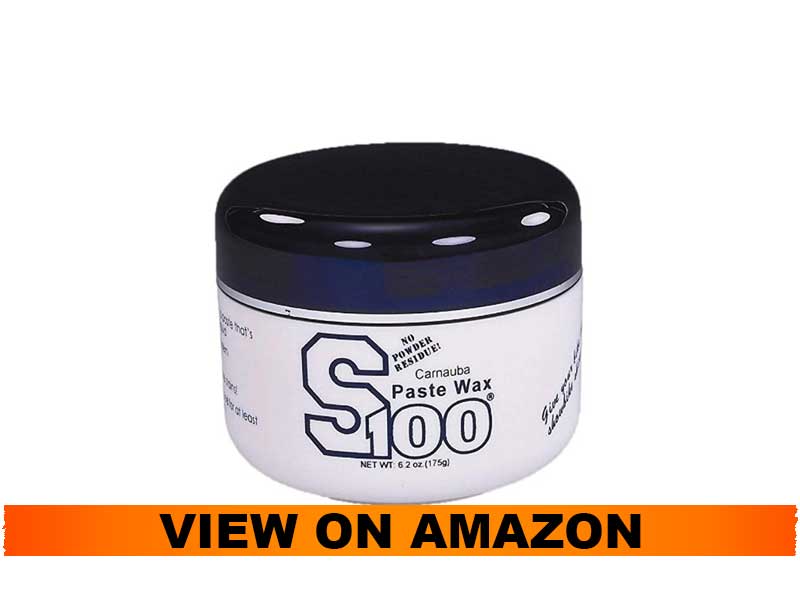 If you want to go natural on your bike and reduce the carbon print of harmful ingredients, then the S100 13700W Carnauba Paste Wax could be an ideal product for you. It has a mixture of carnauba and beeswax in a high-performing natural formula designed to retain your bike's finish and shield against scratches.
Brilliant result
The wax is renowned for its deep and brilliant shine on all types of motorbikes. Some waxes do not perform well on black surfaces but this product is an exception. No residues or powders left on the surfaces or the tires after waxing. While it does not cause scratches on your bike, you have to be vigilant of what you use in applying the wax. I recommend the Viking Car Care Microfiber Applicator Pads. These 6 microfiber towels will help in distributing the wax evenly.
If you're looking for a 100% carnauba wax without a blend of beeswax, then the P21S 12701W 100% Carnauba Wax could be your best pick. Carnauba excels well in waxing motorcycles. The only problem is that it does not last long like these synthetic sealants.
Pros
A unique blend of beeswax and carnauba
Waxes motorbikes without harmful ingredients
Affordable
Cons
Not designed to remove existing scratches
Verdict
I love biodegradable waxes because they shield me from harmful ingredients. I do endorse this product. It is affordable and has a unique formula of beeswax and carnauba, which, for many years, has proven to be effective in waxing and cleaning vehicles and motorcycles. If you're looking for something green then this could be your best option.
6. DIAMOND FINISH Protector Spray Kit – Best Motorcycle Cleaner and Polish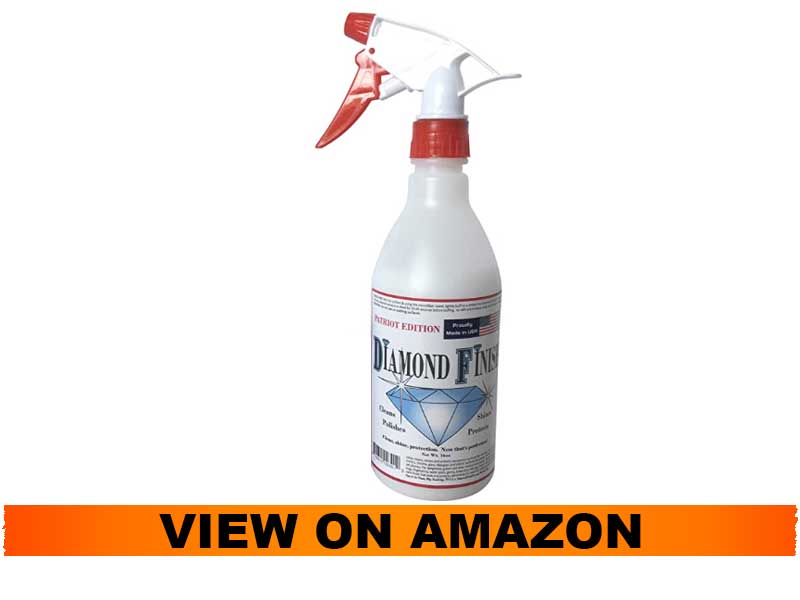 The Diamond Finish Spray Kit is a multi-surface cleaner and polish suited for a variety of motorbikes. It contains a unique blend of effective ingredients with no harsh chemicals included. With this product, you will be able to get rid of brake dust, bird droppings, tree sap, bugs, and all sorts of grime, and leave your bike in perfect condition.
High efficiency
The efficacy of this product in cleaning and polishing negates the need to have the wax. But, if you still want a wax formula you can choose other products I have reviewed here. This formula contains no ammonia or other abrasive chemicals, which then makes it a number-one choice for sensitive motorbike enthusiasts. It is effective on a variety of surfaces, whether rubber or plastic. Also, it does not leave any powdery residue thanks to its unique formula. Just spray and wipe it off.
In a process of cleaning and polishing your bike, the product adds a UV protective coating, improves the finish, and leaves a deep shiny texture. The spray is easy to apply. If your bike has existing scratches, the polish can make them disappear, thus leaving a spotless finish.
Formula
In this unique blend, there are polymers and surfactants made to give your bike outstanding results. The polymers will blend on your bike's surface to protect it against environmental contaminants. If you're applying the product successively, you will not have to apply the same size but reduced sizes. That will save you money.
Pros
A rich formula of surfactants and polymers
Cleans and polishes properly
Multi-surface cleaner and polish
Cons
The spray does not last long
Relatively expensive
No waxing for those who love waxes
Verdict
With this product, you may find waxing needless because it has a powerful formula of polymers and surfactants. These make it a sought-after product that protects against the UV, removes bird droppings, and many contaminants. The formula in itself replaces the need for a wax. It's easy to apply by just spraying and then wiping off. However, the spray does not last long.
7. HONDA Spray Cleaner and Polish – Best Motorcycle Spray Wax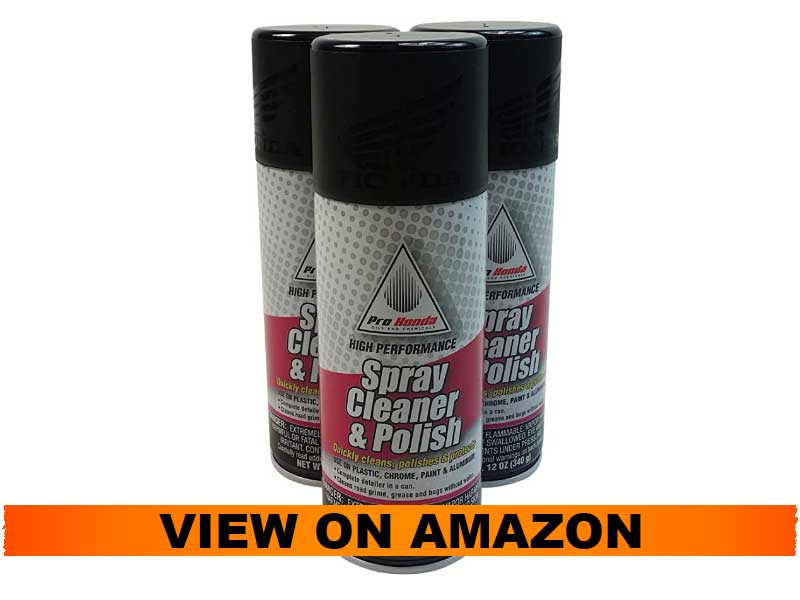 Honda Spray Cleaner and Polish is a package of 3 cans that can help you treat dirt and enhance the shine on your motorcycle. The cans have a unique formula with no harm to the environment.
application
Simply spray and wipe to get the shine you need and also to protect the bike against abrasions, and scratches. To avoid causing scratches on the bike surfaces, I recommend getting the AmazonBasics Microfiber Cleaning Cloth as the ultra-soft, non-abrasive cloth. There are 24 packs which can last you long.
With this spray cleaner and polish, you can treat a variety of surfaces including aluminum, chrome, plastics, and paints. However, note that it does not treat the existing scratches on your bike, and so you might have to look for a dedicated polish to treat that. Nonetheless, the product is good in protecting the finish from harmful UV rays, repel water, dust, and other contaminants.
Ultimate composition
There's no need to combine the product with water because it performs well on its own. Its unique formula contains carnauba ingredients which are renowned for their excellence in waxing motorcycles even though it does not last long. It will leave a lasting impression with a deep and brilliant shine.
Pros
Carnauba wax formula which is environmentally friendly
Cleans and polishes to leave a long-lasting deep shine
Repels water, dust, and other contaminants
Cleans chrome, aluminum, plastics, paints, and many more
Cons
Carnauba does not last long
The spray does not treat existing scratches
Verdict
These 3 cans of Honda Spray Cleaner and Polish are great for every enthusiastic motorcyclist who desires a deep shine and glossy finish on his bike. They have a unique formula that contains no harmful ingredients but carnauba for its excellence in waxing and leaving a protective coat against contaminants. I endorse a multi-surface product because bikes come in different materials such as chrome, plastics, and aluminum.
8. Purple Slice 32 oz. Clean, Wax & Polish – Best Wax for Motorcycle Chrome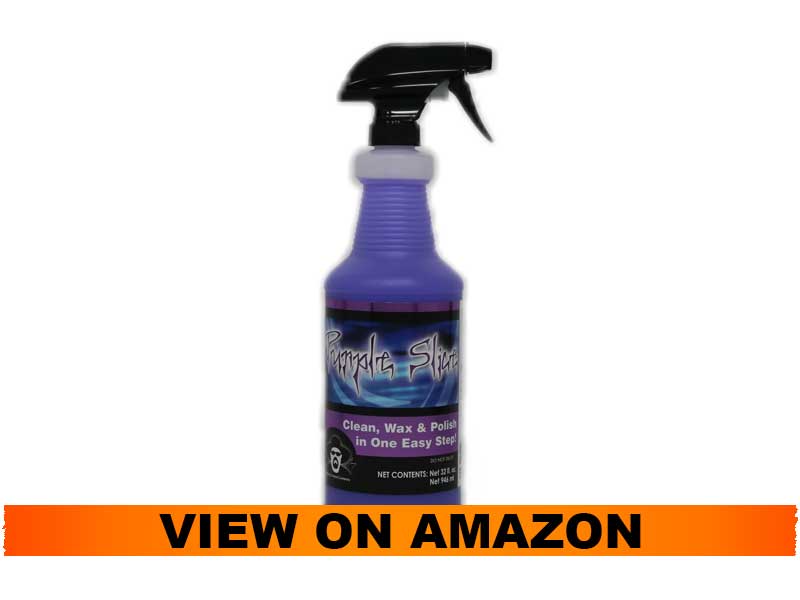 Purple Slice Spray bottle works on almost every motorcycle surface you can think of. Just spray, wipe and shine the surfaces while leaving a brilliant shine to retain the finish. It also protects against scratches and road grime that could easily stick while riding on gravel roads.
Works greate on any surface
Be it chrome, helmet visor, glass, metal, plastic, mirrors, stainless steel, glass, the product works very well. It contains no harmful chemicals too and can work in direct sunlight where other waxes are restricted. And there's no need to combine it with water. After using this wax, your bike will have a streak-free shine with no abrasions or scratches left.
But bear in mind you need a microfiber cloth to wipe the solution and the bottle does not come with it. You can get the Zwipes Microfiber Cleaning Cloths (24-Pack). With these microfiber cloths, you can easily give the surface a deep shine without scratching it. There are 24 of them so the pack will last long.
Pros
Works on a wide range of surfaces such as chrome, fiberglass, helmets, etc.
Works in direct sunlight and no water needed
Cleans, polishes, and waxes
Cons
Polish does not remove existing scratches
Verdict
Many customers are impressed with the ease of application and harmless formula of this bottle in treating motorcycles. I do recommend it too for anyone wanting to clean, polish and wax the bike. It leaves no scratches but a deep and glossy shine on the surfaces. Again, it works on a variety of surfaces and that negates the need for additional products.
9. Chemical Guys Wax and Sealant – Best Wax for Motorcycle Paint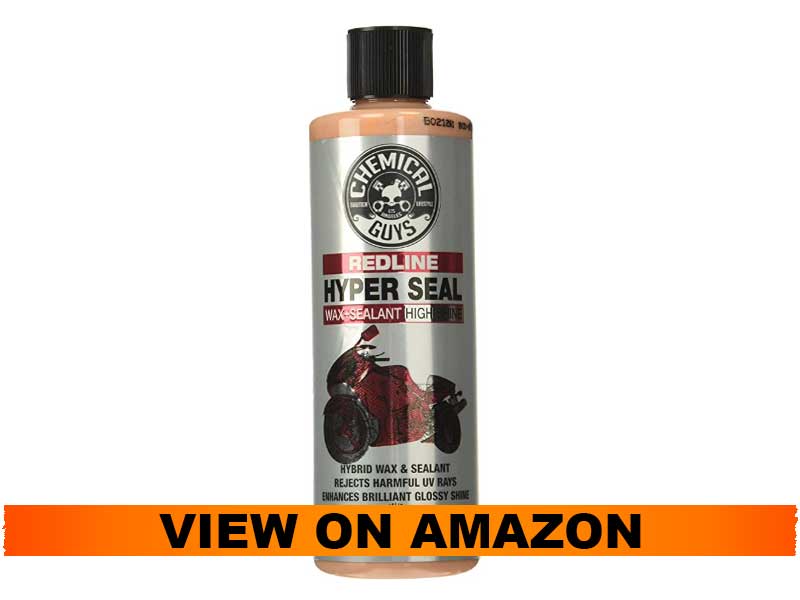 Enjoy a blend of carnauba wax and synthetic polymers that stick firmly to the surface to give it a protective coating against dozens of contaminants. Chemical Guys Wax and Sealant is a hybrid formula made of natural ingredients and sealants to leave your surface with a brilliant shine to improve its glossy texture and retain the quality finish.
No water spots, bird droppings, road grime, or any other contaminant that can last for a long time on your bike thus hindering its beauty. The product includes a 100% Grade A carnauba to give a wet shine and great bond while protecting the surfaces against the UVA and UVB rays. This helps in preventing color fading and discoloring of the surfaces due to sun exposure.
noteworthy formula
Because the formula has sealants and carnauba wax, it can last for a long time, and so there is no need to regularly apply it on a three-month period like it would had it been carnauba formula only. Also noteworthy with the formula is that it works on numerous surfaces to give them a brilliant shine as it enhances high visibility.
While improving this brightness, the formula does a lot against sunlight damages. Do not forget to grab the Premium Grade Microfiber Applicators which will help prevent scratches while wiping this solution off your bike.
Pros
Blend of carnauba and sealants
A great finish for many surfaces
Shines and protects for up to a year
Repels contaminants on your bike
Verdict
Chemical Guy's solution is simply the best blend of natural and synthetic ingredients. This balances the pros and cons of both ingredients. For instance, carnauba wax normally lasts for a few months while sealants can protect up to a year. The blend enhances durability while giving your bike a deep shine and improves the brightness of the colors. I do recommend this product even though it is relatively expensive for a single bottle.
10. RAT WAX Matte Finish Motorcycle Kit – Best Matte Wax for Motorcycle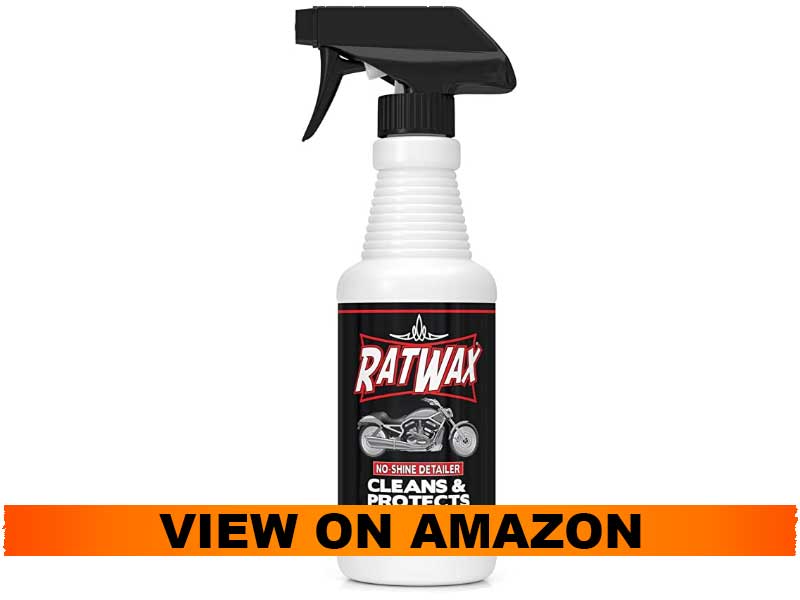 If you own a motorcycle with a matte, flat, and satin paint finish, this product is best suited for you. The RAT Wax kit has two bottles with the one washing and retaining your finish and the other cleaning and protecting your surface against contaminants. This is not necessarily a wax product but still performs well in providing a protective coating on your bike.
light-formula
There are no harmful chemicals, no petroleum, no alcohol or silicone. While it may not be compared with wax, the product still provides UV protection to ensure that your surfaces last long without color fading. It removes fingerprints, bird droppings, road grime, and water spots to leave your finish in a perfect state.
In addition to this formula, I recommend the AmazonBasics Microfiber Cleaning Cloth which will ensure that the solution is evenly distributed without any streaks and scratches. The cloth will help you leave an invisible coating while leaving an elegant shine to your bike.
Pros
No harmful ingredients
Invisible UV protective coating
Treats flat, matte and satin finishes
Cons
It is selective on finishes
Does not come with the microfiber cloth
No waxing
Verdict
This is my last product which I found to be great for cleaning and protecting your motorcycle. Although it does not a wax formula, it still has a protective coating to protect against UV rays, rust, dust, water spots, and more contaminants. But it is a selective product designed for matte, flat, and satin finishes.
Frequently Asked Questions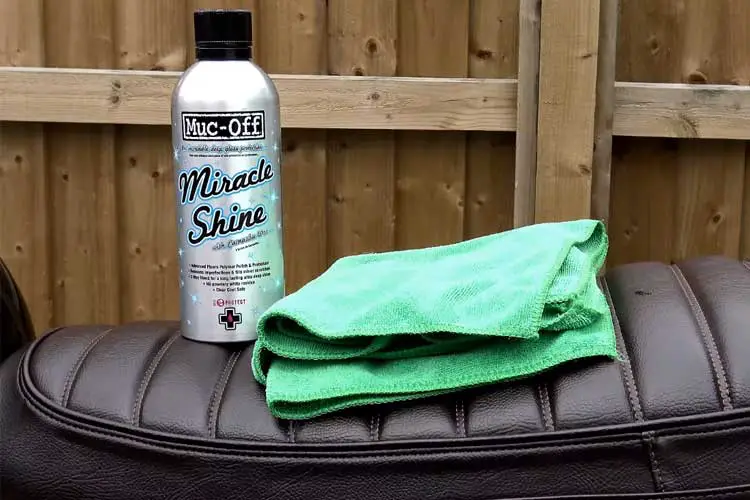 If you are a new bike owner, you might be wondering what else a motorcycle wax has to offer and whether it is important to buy it. Well, getting a reliable motorcycle wax can come in handy for a variety of reasons. First off, it will make your vehicle shine, as if you just bought it from the showroom. A fresh wax coat can look tremendous for long periods, ensuring you don't have to go through a tiring maintenance routine after each ride.
Furthermore, motorcycle waxes are great for bouncing street or sun lights off their surface, which creates a deep shine to impress people passing by. A motorcycle wax is also perfect for protecting your bike's exterior. High-quality waxes improve more than just a vehicle's looks. Its protective layer can protect your bike's exterior from damage caused by water and ultraviolet rays. This will especially prove to be handy if you park your bike outdoors for long periods.
You can also use motorcycle waxes by combining them with other treatment solutions and cleaners, giving your vehicle unparalleled exterior protection. Applying motorcycle wax on your bike will also extend the life of its original paint. It is a great solution for the short and long run and could improve your vehicle's resale value, should you decide to sell it.
For those who don't know, wax layers prevent oxidation and surface degradation, two things that automobile owners are afraid of the most. It would be fair to say that waxing your bike on a regular basis will keep its paintwork healthy and fresh, significantly improving the longevity of its exterior.
What to look for when buying the best motorcycle wax?
You have to take into account the surface of your bike when buying these waxes because others are selective. Fortunately, in my reviews, I have products that are multi-surface and multifunctional on a variety of surfaces such as plastic, glass, chrome, aluminum, leather, and other metals. Other formulas could be harmful or ineffective on surfaces they are not designed for.
Moreover, other motorcycle components may require different sets of treatments. These include the chains, the tires, and the windshields. In this regard, you have to look for kits that contain different products for different components. An example of this goes to the Meguiar's G55033 Motorcycle Care Kit with its variety of products for leathers, metals, plastics, and many more.
It is important to always familiarize yourself with the ingredients to check if they can work well for your specific motorbike surface. A first-time applicant may want to consider kits that have multitudes of products for everything they need from polishes to waxes and cleaners. Note that the wax does not necessarily treat the existing scratches but prevent future occurrence of scratches.
Should I clean my motorcycle before I wax?
If your bike has accumulated too much road grime, you might need to clean it first before applying wax on it. There are some products that come as 2-in-1 where wax is coupled with a cleaner. The cleaner solution will remove the grime on the surface while the wax improves the finish, protects and prolongs the beauty of your motorcycle.
Which type of wax should I buy?
There are basically three types of motorcycle waxes, viz. liquid wax, spray wax and paste wax. Each has its own cons and pros. Most of my products are spray waxes, which I find very easy to apply while leaving no stains on plastic parts. However, spray bottles do not last long. They are best suited for those applying waxes regularly on their bikes. You will be able to apply them quickly. I would also recommend them for new bikes with excellent finishes already.
Liquid waxes, on the other hand, remain the most durable even though it's hard to apply them evenly. They dry quickly in the presence of wind and provide a deep shine. The paste waxes are also the best but do not last as long as liquid waxes. They are, however, also easy to apply but can leave swirls on the surface especially when applying thick coats. Apply thin coats using a microfiber cloth.
Should I choose carnauba or synthetic sealants?
Both carnauba and synthetic sealants are popular in treating motorcycles but have their pros and cons. You have to weigh these pros and cons before making a purchase. In comparison, carnauba is a popular, harmless, and natural ingredient extracted from the leaves of the Copernicia cerifera tree. It gives your bike an unmatched and deep shine.
To improve the efficacy of carnauba, it is often blended with beeswax and or polymers which give a protective coating against harmful UV rays. The surface treated with carnauba will bead off water to prevent water spots; shield against bird droppings, dust, and other contaminants. Normally, carnauba lasts for 2 to 4 months, and so you might have to purchase more of them in a space of a year.
The synthetic paint sealants last long compared to carnauba wax. However, beware of the ingredients often included in the formulation as some may contain harmful and abrasive ingredients. The sealants often contain resins, synthetic waxes, and polymer blends. They provide a protective coating by sealing off the paint for up to a year ensuring that no UV rays damage. With that coat, your bike will be shielded from environmental contaminants.
Equally important is your safety when choosing either the carnauba or synthetic paint sealants. Be wary of toxic ingredients that could harm your health or harm your bike's surfaces.
There is no substitution for a careful eye that checks the labels prior to buying. I know buying online can be a bit tricky because you are not in contact with the said product. It is important, therefore, to read carefully the reviews of other customers. In my list, I have made sure that each product does not have harmful ingredients so I made your purchase easy. My choices are backed up by hundreds of positive reviews for the products.
How to wax my harley davidson motorcycle?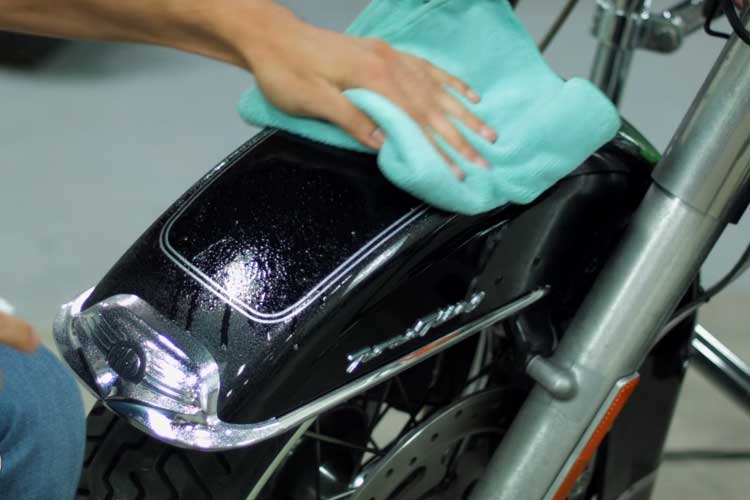 Before you attempt to wax your motorcycle for the first time, you need to be vigilant of the efficacy and quality of the product you've purchased. If your bike shares the build materials with some tools in your garage I recommend trying and testing the wax on those tools before the bike to see if it delivers positive results. Alternatively, you can apply best wax for harley davidson motorcycles on hidden parts to see if it works well. A trial on your bike with an uncertain wax can be detrimental to its surface.
One of the best waxing tips is to stick with microfiber cloths. Thanks to wax products that include these clothes. For those that do not include these clothes, I have made some recommendations on similar products to purchase. A microfiber cloth helps in preventing scratches while evenly and softly applying the wax to the surface.
The old rags that other motorcyclists use contribute to residues on the surface thus tampering with the beauty of the finish. Old rags are abrasive and so should be left out when waxing your motorcycle.
As already highlighted, it is important to wash and dry your bike before waxing it. This helps in preparing the surface by removing dirt and grime so that the wax can stick properly on the surface. I reckon to buy the microfiber cloths that come in many packs so that you can use different cloths for cleaning and waxing.
Do not insert the cloth you intend to wipe with in the same water you have used to wash the bike because it might grab some tiny stones to scratch the surface. Brushes are also not recommended on your bike finish as they can scratch it. And again, avoid abrasive soaps. Other products come with cleaner solutions with no harmful ingredients so it could help to get those rather than using water mixed with soaps.
When washing the bike, start from the top going down because, usually, the lower surfaces grab more dirt as you ride. Wiping that dirt and grime to the upper surface may damage the finish regardless of using a microfiber cloth.
After cleaning, it is then that you can consider waxing your motorcycle. Bear in mind that waxing may not remove the existing scratches on your bike, but a polish can. Apply a polish coat then wax the bike. Furthermore, waxing is not intended to improve the shine of a new bike but to give a protective coating against contaminants.
Final Thoughts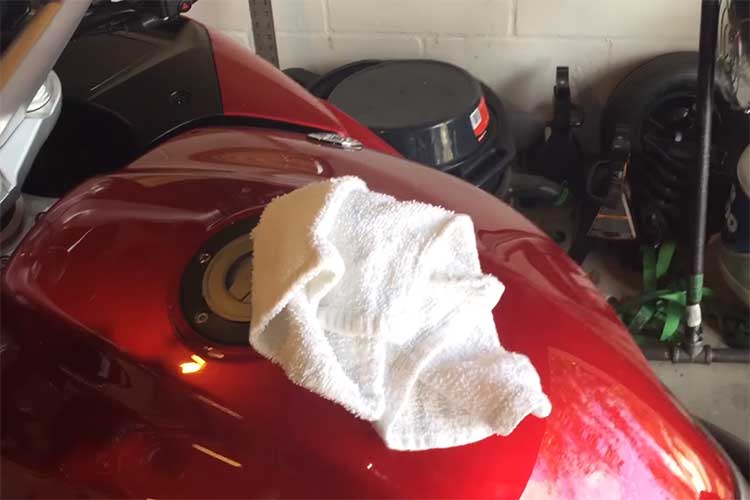 Now that you know about two of the best motorcycle waxes to choose from, you can get one for maintaining and detailing your bike. Both products have something unique to offer and can make your vehicle shine for months.