When it comes to keeping your motorcycle in prime condition, regular inspection, cleaning, and lubrication are very important. And any rider knows that motorcycle maintenance impacts not only the performance of your motorcycle but its life too. If you are looking for a motorcycle chain cleaner kit for the regular maintenance of your motorcycle, then you are in the right way.
This post contains affiliate links. If you make a purchase, Motoprove.com may receive a small commission at no additional cost to you.
5 Top-rated Motorcycle Chain Cleaners
The major components that transfer power from the engine of a motorcycle to the road are the chain, the sprocket, and the cam chain tensioner. The main function of Chain care kits is to reduce the wear between the sprocket and the chain. It reduces the stretchability and prevents parts from corroding. These kits are designed to protect your motorcycle chain from the effects of water, dirt, grime, and other elements that it comes in close contact with.
A good rule of thumb is to service your motorcycle every 800km or 500 miles. With the, you can save some cash and skip the hassle of outsourcing your maintenance to a service center. These are the perfect products for anyone with a motorcycle, no matter whether you are a newbie or a seasoned rider.
1. Motul – Best Chain Care Kit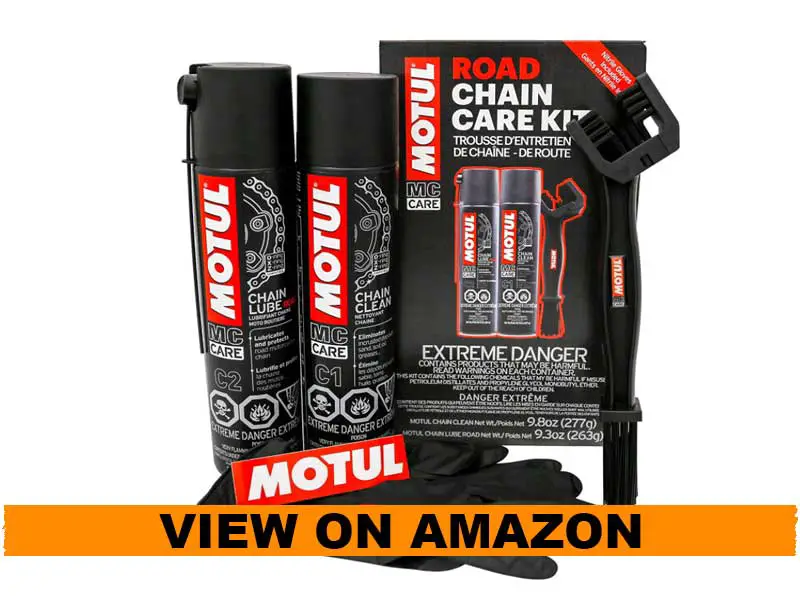 The Motul MC Care Chain Care Kit is therefore a must-have for all of your maintenance needs. If maintaining your motorcycle regularly has been one of your concerns, this chain care kit could be a good place to start.
Packaging
The convenient care kit includes 2 large cans of the chain lubricant and the chain cleaner, a Chain Grunge brush with the Motul logo, nitrile gloves, and a sticker – all conveniently but well packaged to prevent leaks or damage. The chain care kit has everything you need to keep your bike running in prime condition and can be used by speed and endurance racers alike. What's more, is that this cleaning kit can also be used to clean your power sports machines and other similar equipment.
When not in use the whole kit including the cleaning brush and gloves can be stored compactly in its box, reducing mess and clutter.
Benefits
Both the chain lubricant and cleaner are manufactured using a powerful, advanced formula that cuts quickly through grime, grease, and other encrusted deposits, making easy work of the toughest rust as well. It can easily tackle residue, dirt, sand, and oil.
The Motul MC Care Chain Care Kit includes 2 large cans, one each of the lube and the cleaner. The powerful formula means that it is fast-acting and a little goes a long way in keeping your motorcycle chain looking as good as new, whether you are off the street or on the road.
The adhesive properties of the lube ensure that it sticks firmly to your chain for long-lasting protection.
The spray can design makes it easy to use the Motul lube and it also comes with a spray nozzle for accuracy. This makes application easy and mess-free and prevents the lubricant from getting all over the bike.
Motul chain lubes are compatible and can be safely used with O-rings, X-rings, and Z-rings types of chains. Since it is colorless, it will not darken your chain immediately.
The lube and cleaner can easily last you an entire riding season and then some and can be used on many kinds of motorcycles.
Drawbacks
A major drawback of the kit, as reported by most users, is the chain brush. The bristles warp quickly and are difficult to straighten back up. If you're lucky the brush would last you 3-5 cleans. The Motul logo on the brush also falls off quickly.
While some brands/manufacturers have replaceable brush heads, unfortunately, Motul does not. The only workaround is to buy an additional brush.
Another drawback is that the lubricant tends to fling off after application even before it has had a chance to settle on the chain. This is more common on warmer days. So, ensure you don't put too much on and wipe down your chain after every application.
While the kit has everything, you need to clean and lube your bike chain, there's nothing available for the stand.
Overall
Even though the Motul MC Care Chain Care Kit is slightly expensive, it rates high on the value for money scale because of its many features. It is fast-acting, long-lasting, and easy to use and will keep your chain looking as good as new. It is a great alternative to the traditionally used kerosene or grease. If you're looking for quality and reliability, then the Motul MC Care Chain Care Kit is your best choice.
2. Bel-Ray 99478-A400W – Best Cleaner for O-ring Motorcycle Chain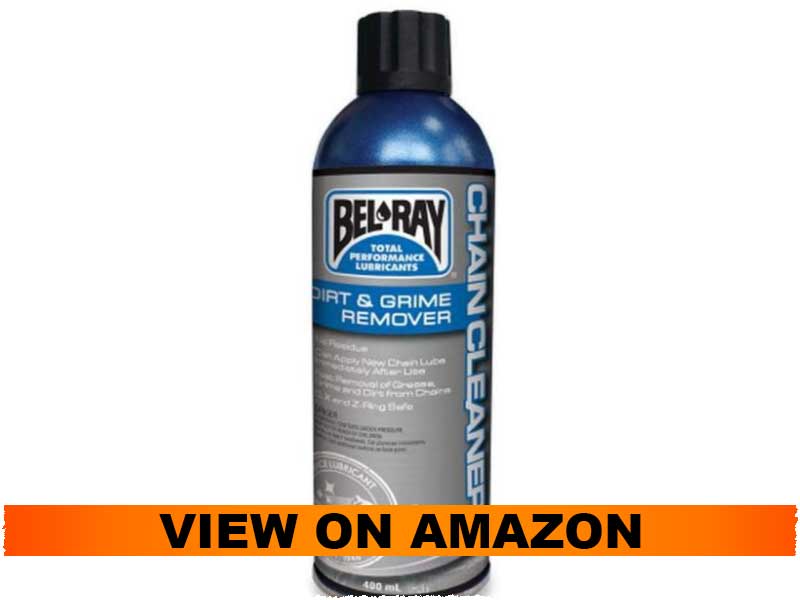 Bel-Ray manufactured one of the best chain cleaners on the market. Many customers are also impressed with this product hence the 4.4 stars out of 5 stars.
Applicability
Whether you have the unsealed or sealed O and X rings, this product will work just fine. It is safe for all types of chains.
Also, the cleaner can be used on a wide variety of motorcycles to wipe away the dirt and grime that often plague and compromise the quality of chains. If you often ride on off-road trails, you will find this product very helpful in keeping your chains fresh.
Efficiency
Just a 400ml can, can remove all kinds of dirt on your chain. The grease that often accumulates on your chains when riding should be taken out. With this solution, you can leave the chain well-maintained and refresh.
You may have to buy extra accessories such as brushes to clean the chain. I wish the product came with everything in the package. Wait for the cleaning tools later in the article.
Caution
While focusing on the optimal performance of this product, also be vigilant about its application near fires. It is flammable, and so using it near exposed fires could be fatal.
Also, I recommend using this chain cleaner in an open space to avoid inhaling it excessively. It has mild odors that may be uncomfortable for your breath.
Verdict
Looking for a portable chain cleaner? This could be your best bet. It is an effective cleaner that removes all kinds of dirt without leaving behind residues. Just beware of applying it in closed doors. It requires a well-ventilated area to avoid inhaling it excessively. Off-roaders can find this product very helpful to maintain their chains.
3. Maxima 75920 – Motorcycle Chain Cleaner for the Money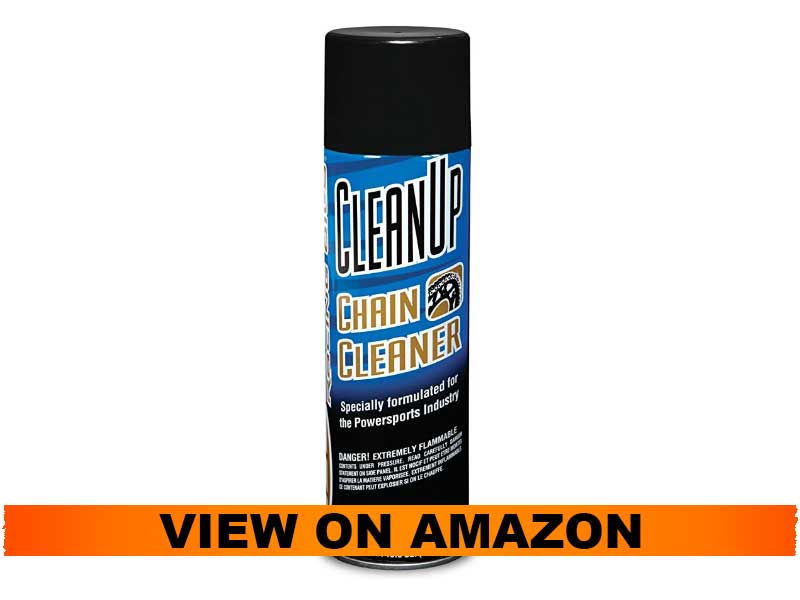 Maxima aerosol is also the best chain cleaner to consider for your dirty chain. I have actually had my hands on this container and I must confirm that it is effective on steel surfaces.
Applicability
Maxima chain cleaner for motorcycles is the best product you wouldn't want to miss considering how versatile it is on a variety of surfaces. It excels on steel and aluminum surfaces. Just beware of plastics because it can damage the paint on your bike.
Other than the precautionary measures, this aerosol container can be used on all kinds of chains of your bike. It does its wonders in maintaining chains and leaving them refreshed from grease, dirt, and grime.
Efficiency
With this 15.5 oz. aerosol you can remove all kinds of dirt on your bike. Spray it on the chain, and allow the spray to set for about a minute, and then rinse with water. Use excess water to wipe away excess dirt if it still remains. The results should be impressive thereafter. I recommend applying a lube immediately after cleaning your chain to maintain its lubrication.
This product is an emulsion type cleaner. It does no harm to your O-rings or any kind of chain. All kinds of dirt, grime, and grease will not be a match to this heavy-duty chain cleaner. It dissolves the dirt and prevents any build-up that could end up being a safety hazard on your bike in the long run.
This product is a perfect consideration to use before lubing the chain. It gets rid of excess dirt that could compromise the lubing process.
Caution
As always, beware of using these aerosols near open fires or flammable materials such as plastics. Spraying chains is fine because motorcycles seldom have flammable materials. But, put your bike in neutral before cleaning the chain. I have seen some people switching on their bikes in an attempt to clean the chains. That is risky please do not attempt that.
Verdict
I recommend this aerosol container to maintain your chains. It is effective on all kinds of chains. At 15.5 oz. it is an adequate spray to clean up the entire chain. If you want to lube your chain, consider using this cleaner first to get rid of grime, dirt, and greases.
4. WD-40 Specialist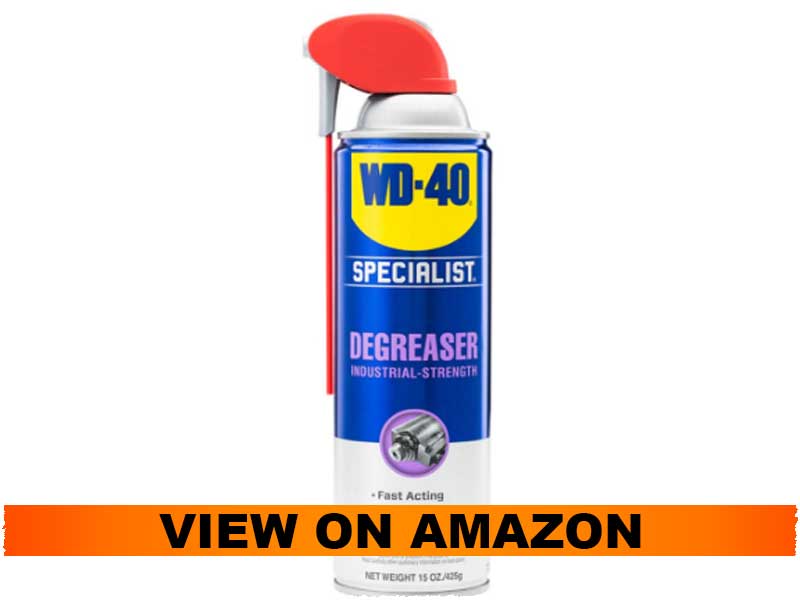 WD-40 chain cleaner is also the best buy you wouldn't want to miss considering how effective it is in removing dirt, grime, oil, and grease from all kinds of chains. It is safe to use on O-rings as well.
Applicability
What else am I leaving out? In fact, you can use this chain cleaner on any type of chain. Whether you have the standard non-sealed chains or modern sealed O-ring and X-ring, it will work perfectly in removing the dirt and greases. It makes the chain operate smoothly and thus lengthening its longevity. You may also use it on drivetrains and swing-arms.
However, like all other flammable products, you need to beware of applying it on flammable materials lest it causes a fire. Typically, you should beware of applying this product on plastics. Also, beware of spraying it on a running engine. Make sure the engine is off.
Efficiency
WD-40 was manufactured to perfect its role in cleaning chains. From its ingredients, you will rest assured that no toughest stains will be a match to it. It removes the grime dirt, oil, and grease that would otherwise compromise the longevity of your chain. A well-maintained chain is a safety precaution on the road.
A poorly maintained chain could just snap in the middle of no-way and thus make your journey fruitless. Grease and oil pile up on chain overtime. That said, maintaining a chain should be a priority of every motorcyclist.
Caution
The caution I can give you is that this product is flammable, and so beware of how you apply it on plastics. Again, do not apply it while the engine is running.
Verdict
If you've been riding bikes for a long time, you can surely relate to the popularity of WD (Water Displacement) product. It is effective in removing dirt and grime from your chain. I recommend the product to maintain your chains as a precautionary measure for your rides. Like all other products, beware of its flammability.
5. Motul C1 – Best Motorcycle Chain Cleaner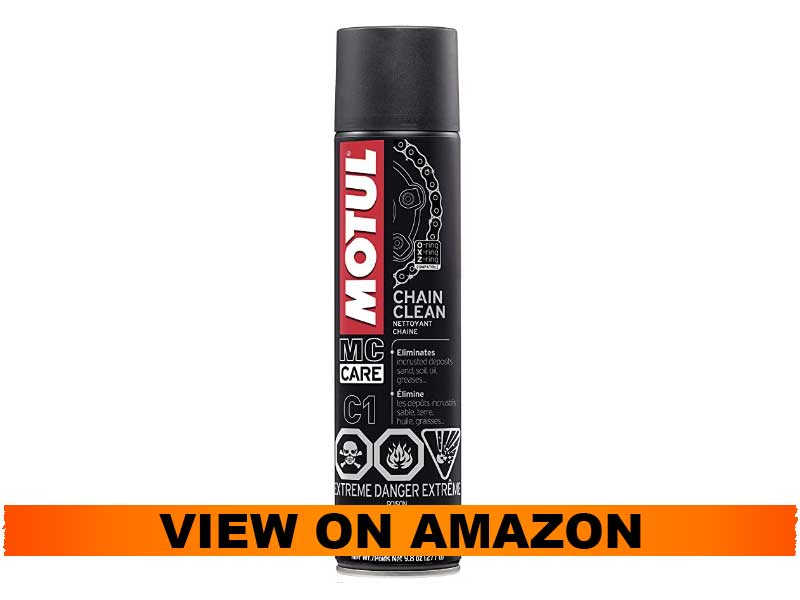 Rated 4.7 stars out of 5 stars, I was convinced this chain cleaner is one the best on the market since many customers are impressed with it. It is the best all-around cleaner to maintain your chain.
Applicability
Perhaps the single most important consideration is to check if the cleaner you buy will be suitable for your chain. We have different chain types from non-sealed to the sealed O or X or Z rings.
Before applying any of the cleaners, you need to beware of the kind of chain you have and then apply accordingly. The anatomies of these chains differ and it will only make sense to use products best suited for each.
Motul 103243 C1 Chain Cleaner can be applied to a wide variety of chains. You can treat all-terrain vehicles, utility-vehicles, street-sport-motorcycles, off-road-motorcycles, street cruiser motorcycles, street-touring-motorcycles, street-motor-scooters, snowmobiles, and marine-personal-craft.
Efficiency
Motul chain cleaner has proved to be efficient in cleaning motorbike chains of all types. The efficiency, however, largely depends on how you apply the product. Follow the instructions on the label and buy the needed brushes or rags to complete the cleaning part.
Caution
When using any of the chain cleaners, you need to be extra vigilant because most of them are flammable. Motul is generally safe but flammable and has a mild odor. Typically, I recommend applying it in a well-ventilated area. Do not overuse it to avoid inhaling it excessively.
When applying it, I recommend slightly spraying it on the chain and then scrubbing with the brush. Repeat the process and eventually rinse with water for perfect cleaning. Subsequently, apply lube to give it a perfect finish and lubrication so that the chain can last long.
Verdict
Motul is a mastermind of chain cleaners as this product proves. The product is impressive and effective. I have tested it and I have seen how many customers were impressed with it. I recommend this product to give your chain great maintenance with no side effects. Just beware of how you apply it.
6. Muc-Off 650US – Motorcycle Chain Degreaser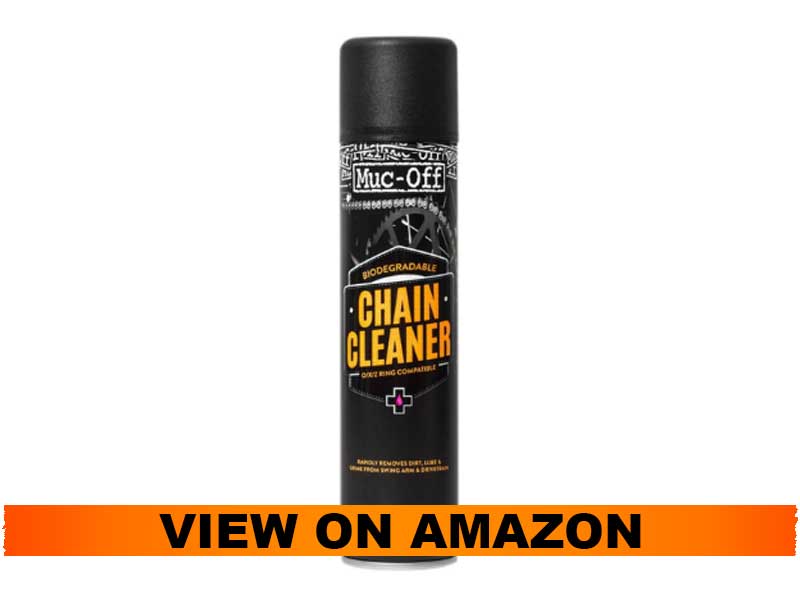 Using this 500ml aerosol container on carbon, rubber, and metal components should be safe for you. It is a versatile chain cleaner.
Applicability
Muc-Off 650US Chain Cleaner is applicable to all kinds of chains. Rest assured that the product will remove the nuisance greases, oils, and dirt that plague your chain. It is suitable for Z, O, and X-rings.
This water-soluble and biodegradable formula has the most versatile and heavy-duty formula to treat all kinds of bikes and chains. Others would caution you when applying them to carbon fiber and rubber materials. This one works on all carbon fiber, rubber, and metal components. It is, therefore, worth the value of money.
Efficiency
Speaking of efficiency, this biodegradable and water-soluble formula rapidly sheds away grease from your chains. Any dirt pile up you can imagine on chains will not be a match with this special formula. It was made with efficient chemical ingredients to maintain chains.
Caution
Do not be lied to that cleaning chains while the engine is running makes the solution to sip through into the chain links.
Use relevant application tools such as brushes to wipe it after spraying it onto the chain. Rinse with excess water and then apply a lubricant afterward.
Verdict
For a perfect clean-up, I recommend this 500ml aerosol container for your chain. It removes the toughest stains you never thought they will ever go away with ease. This specialized biodegradable and water-soluble chemical formula is effective and applicable to all kinds of chains. What I like most is that it is safe also for rubber, metal, and carbon fiber components.
Motorcycle Chain Cleaning Kits
Now let's delve into the kits and tools that generally maintain your motorcycle. It is not only your chains that need the cleaning but ideally all parts of your bike. But, the chains predominantly need special attention hence I dedicated the above part to chains. This section is also about chains but introduces more kits and tools you can use for your motorcycle maintenance needs. The best motorcycle chain cleaner that cleans your chain.
1. Moto Chain-Mate – The Ultimate Motorcycle Chain Cleaning and Lubrication Kit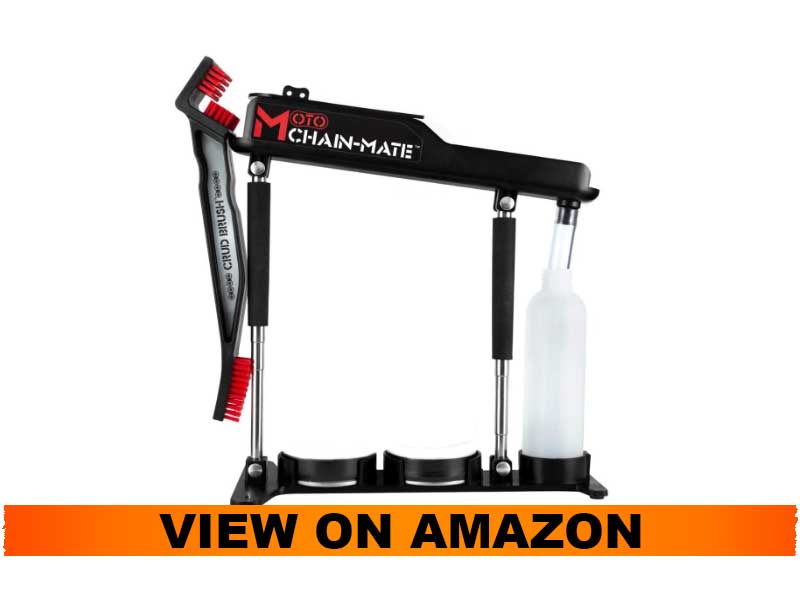 Moto Chain-Mate – The Ultimate Motorcycle Chain Cleaning and Lubrication Kit is a must-have for avid motorcyclists who strive to keep their chains clean conveniently. This kit negates the need to buy accessories separately. It has everything prepared for you in one place.
What's in the package?
In this kit, you will find almost everything you would need when maintaining your chain. From the cleaning to the lubing accessories, the package has what it takes for your maintenance needs.
Included in the package are the Crud brush that can be used on chains, swing-arms, and sprockets. It becomes relatively challenging to wash your chains or sprockets without a convenient brush. Otherwise, the process would be tedious.
The stable base plate to store the cleaning and lubrication products is also included alongside the telescopic rods that extend from the base plate. These rods adjust to the chain's geometry. Also included are the overspray protection cap and the chain bath on top of the rods.
To clean the excess drip, you also get the drip mat in the package. It helps with the cleaning process of excessive drip on the floor.
Almost anything needed you can think of, is included in this kit. I can't figure out any additional accessories you should buy.
Efficiency
What is the use of having a full kit that is inefficient? Of course no use! I can attest to the efficiency of this kit, and so can other customers.
Included in the package are highly effective and efficient products in cleaning and lubing the chain and the sprockets. It helps to care for the chains and sprockets simultaneously because, oftentimes, they wear out concurrently. Learn to inspect the teeth of the sprockets to identify the defects. In case you change the chain, consider also the sprockets and change them at the same time.
Cleaning is made easy by the accessories provided. The Crud Brush makes the process simple and enjoyable. Even a novice motorcyclist can be able to care for the motorcycle chains with this kit.
Caution
Please follow the instructions printed on the package. Using lubrication and cleaning agents could be potentially dangerous if you are not vigilant enough because most of them are flammable. This kit is not different.
I recommend maintaining your bike in an open space to avoid inhaling the odors. Also, beware of how you apply the agents.
Pros
All-inclusive of all components you would need for cleaning and lubing
Multi-purpose kit to clean and lubricate the chains and sprockets
Easy to apply on your chains
Cons
Costly but worth the value of money
Verdict
Personally, I hate running from shop to shop looking for different accessories to maintain my bike. I rather opt for kits that are all-inclusive. If you are like me, I recommend this kit for you. It has what it takes to make your maintenance effortless. From the crud brush to the overspray bath, the kit takes motorcycle chain cleaning to another level. It is an investment worth the value of money.
2. Kettenmax Premium Light Chain Maintenance Kit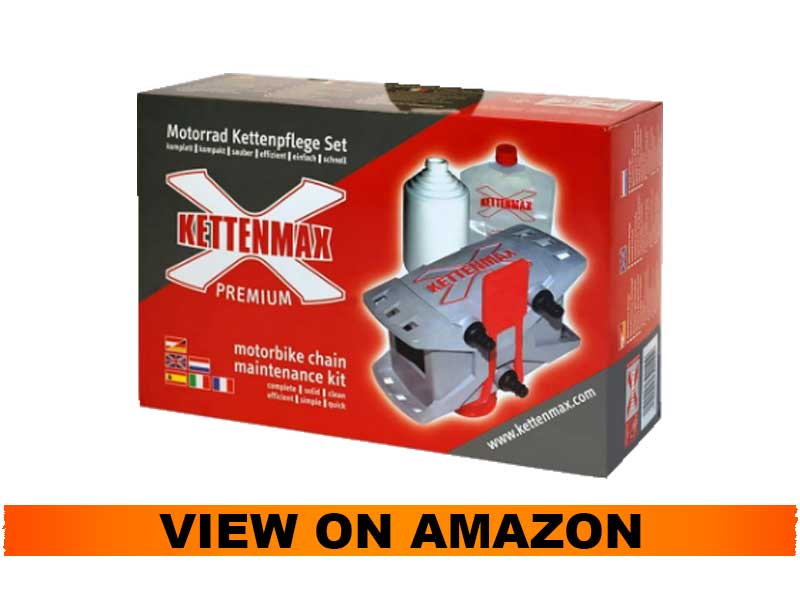 Do you have a lubricant and a chain cleaner but no accessories to apply them? Kettenmax Premium Light Chain Maintenance Kit could be the product you've been looking for. I have used this product and have tested how useful it is.
What's in the package?
There are literally plenty of accessories in this kit. Amongst others, you will find:
Top box and Bottom box with a screw cap for drain bag
Spray brushes, double row
16 Different cleaning brushes
Brush strippers
threaded screw-in spouts
Lock rubber and drain bag
lubrication adapter
3 hooks hanging in cords with a quick fastener
Connection hoses
bottle for a cleaning agent
You need not worry about purchasing extra accessories to apply your lubricant and clean the chai. Unfortunately, this kit does not include the cleaning and lubrication agents but only the tools. You may consider the cleaning and lubrication agents I have reviewed above to find your perfect product.
Efficiency
These tools are of course efficient in lubing and cleaning motorbike chains. As in the name, these tools are best suited to light chain maintenance. Kawasaki VN 800 and Honda Shadow 600, for example, are incompatible models. Look elsewhere for those motorbikes.
Caution
With the cleaning agents, I would normally caution you about their flammability. With these tools is a different thing apart from cautioning you about their use. There is a manual provided on how to use these tools. You need extra care to handle them.
If you are in the United States, you will be disappointed to learn that this product is from outside the US. That being noted, make sure you order the right product because there is no warranty. That should not, however, discourage purchasing these effective tools.
Pros
Versatile and effective tools
All-inclusive of all tools you need
Manual provided on how to handle these tools
Cons
Manufactured outside of the United States
No warranty
Verdict
If you have the lubricant and the cleaning agents for your chain, then consider these tools. The kit is for light chain maintenance, and so beware when making a purchase. Instead of wasting money purchasing the accessories separately, I will rather opt for this kit. Kettenmax Premium Light Chain Maintenance Kit makes your job much easier.
3. Sealey Motorcycle Chain Cleaning Kit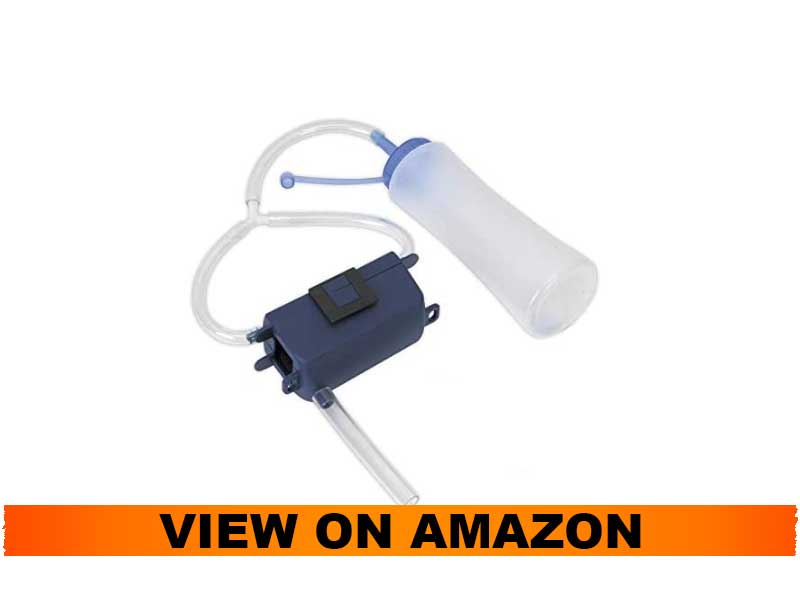 Sealey Motorcycle Chain Cleaning Kit is also the best kit you can think of when you want to maintain your bike's chains and sprockets. It compiled all the tools you would need to get started when servicing your motorcycle.
What's in the package?
6 sets of brushes, oil pots, a box with a brush, 2 oil pipes, y-connector, and a nylon cord, are all included in this package of the cleaning kit. All these accessories are important in degreasing your chain. Using these tools, you can clean all 4 sides of the chain at once. This makes it easy and fast to complete the cleaning and thereafter lube the chain.
Efficiency
Considering the variety of tools included in the package, this kit is efficient in cleaning chains. The set of brushes with oil pipes make the cleaning and lubrication an absolute breeze. With these pipes, you can lubricate the chain links efficiently without the oil spilling out.
Also included is the nylon cord which makes the cleaning easy.
Caution
Be cautious of cleaning and lubing your chains and sprockets. The user manual provided should give you instructions on how to carry the maintenance of the chain. Always refer to it if you are unsure or otherwise consult with the experienced motorcycle mechanics.
Pros
The assortment of tools to make cleaning and lubrication an absolute breeze
Easy to use tools
Effective in removing grease and dirt from the chains
Clean 4 sides of the chain at once using the brushes
Verdict
Make the cleaning and lubrication process easy with this kit. It has all kinds of tools you would need to complete the task and leave your bike clean. Brushes, oil pipes, and nylon cords are all provided to make your job easy. However, the kit is pricey, which I find justifiable considering the number of tools in it. I recommend this kit.
4. Simple Solutions GCP900 Grunge Brush and Degreaser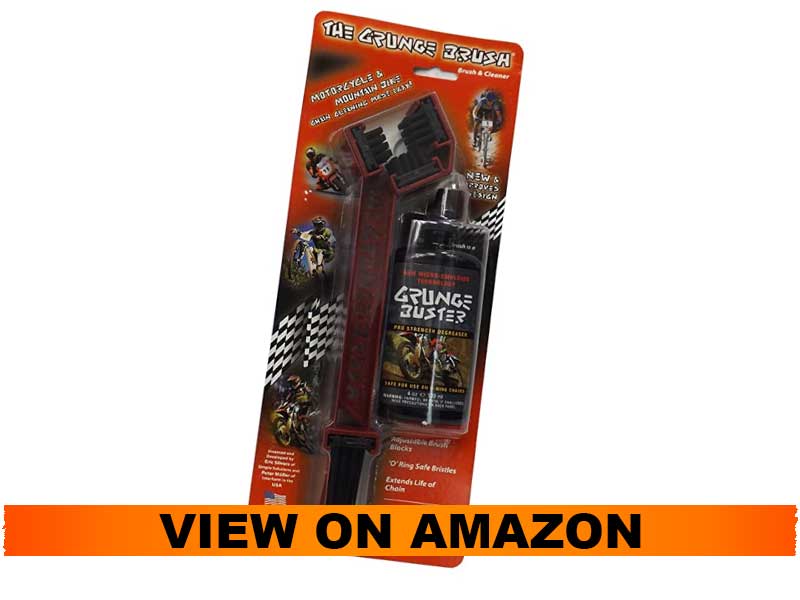 Get your fingers off the bike with a long bristle brush that also cleans wheels and sprockets. This kit is a simple solution for the avid motorcyclist who endeavors to keep their bikes healthy with no potential safety hazards.
What's in the package?
Simple Solutions GCP900 Grunge Brush and Degreaser comes with a few yet indispensable tools to clean and lube your bike. Of most important, the kit includes a mild environmentally friendly degreaser. You will also find the grunge brush with 3-sided bristles and a long bristle at the handle.
This kit might look like a small thing but it has all it takes to clean your chain and your sprockets. The brush included can effectively clean the 3 sides of the chain effortlessly and quickly while the longer bristle at the handle further cleans the sprockets and the wheels.
Efficiency
Talking about efficiency, we take into account the performance of the tools. The bristles are effective and efficient in cleaning the chains. Whether there is grease or heavy-duty grime, the brush can overcome that with relative ease. Use the degreaser to spray onto the chain links and then use the brush to wipe off the dirt.
The long bristle at the handle makes it easy to clean the sprockets. Other people tend to overlook the need to clean the sprockets and the wheels too. A well-maintained sprocket lasts long and so it is with the chains. For a safe ride, both the sprocket and the chain must be well-maintained. I reckon you consider cleaning them simultaneously and also lubricating them at the same time.
Caution
Always be vigilant when applying the degreaser solutions because they can be flammable. Again, make sure your engine is switched off before cleaning and lubricating the chains.
Take a closer look at the user manual for more instructions on how to use this kit. Considering the minimal tools in this kit, it shouldn't be cumbersome to use them for your cleaning needs.
Pros
Minimal tools
3-sided bristles to clean 3 sides of the chain at once
Long handle with a bristle to clean the wheels and the sprockets
Effectively degreases with a mild degreaser included
Cons
Flammable degreaser
Costly but worth the value of money
Verdict
If you want a convenient kit that cleans the chains with ease and quickly, this kit is the best for you. Without doubts, I recommend it. It is a minimalist kit with all that you need: the degreaser and the brush. You may need to get the lubricant in order to lube the chain after cleaning it.
Tips and FAQs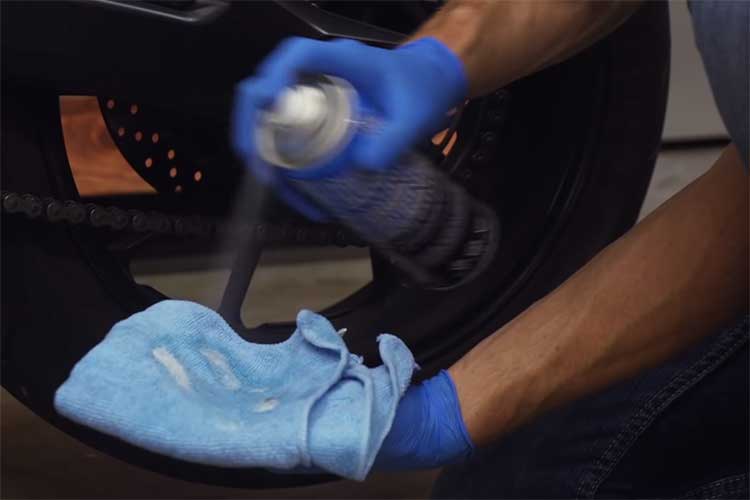 We have plenty of cleaning products for motorcycle chains, and so you need to be vigilant when making purchases.
Importance of maintaining chains for motorcycles
You will be shocked by the number of people who overlook the need to maintain their chains. They get surprised when the chain snaps on the road. Some myths say the chain stretches and that is untrue.
Chain maintenance is important before it becomes a potential safety hazard. Off-roaders, in particular, may have grime and dirt piling in the chain links and that will eventually compromise the smoothness of the chain.
Many chains wear quickly due to the failure to maintain them. If dirt pile up on the chain, it will subsequently underperform in giving your wheels the necessary power needed. Alongside the chains is the sprocket with teeth to attach to chain links. If both components are not maintained, riding your motorcycle may turn into a nightmare sooner or later.
Maintaining a motorcycle is an important role that each motorcyclist should fulfill. The maintenance extends from the cleaning part to the lubrication. Most importantly, we have different chain anatomies and that takes precedence when maintaining them.
Different types of chains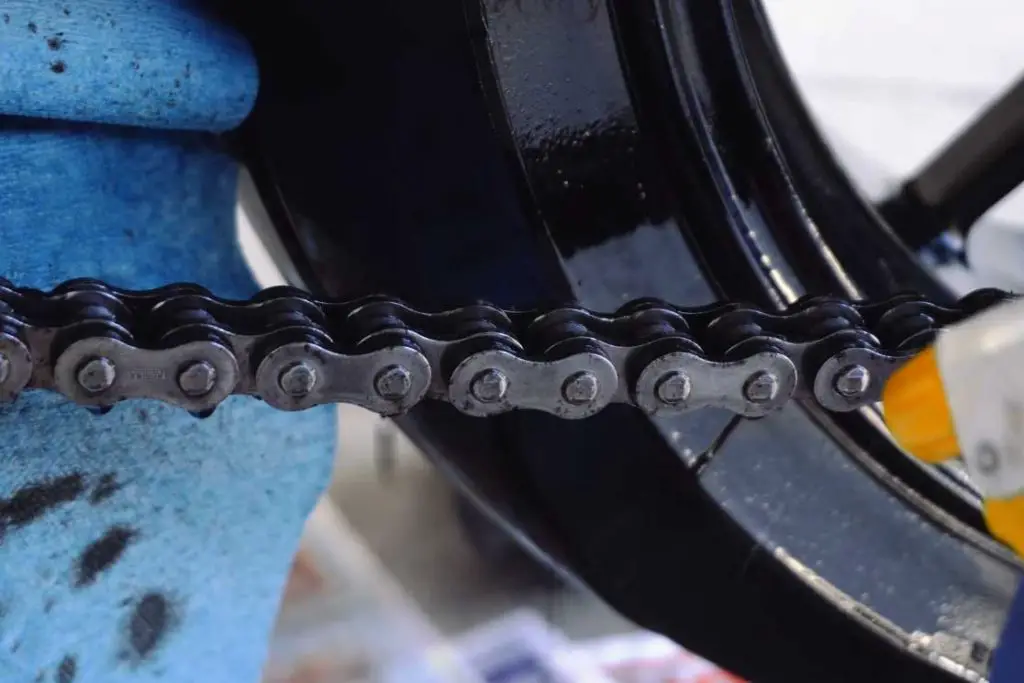 We have the non-sealed traditional chains and the O-rings, X-rings, and Z-rings. The non-sealed rings are the simplest but fail to keep the lubricants in the chain links. As a result, these rings are prone to having dirt and grime plaguing them frequently and will, therefore, need regular maintenance.
On the flip side of the coin, on-sealed rings have less friction and therefore perform relatively well compared to the O-rings. However, you need to bear with the maintenance routine.
O-rings, on the other hand, are referred to as the sealed rings. They keep the lubricants inside the chain and keep the grime and dirt out. As a result, you have minimal maintenance routines. It is still important to maintain these rings.
Can I still lube my chain after cleaning it?
Cleaning motorcycle chains does not negate the need to lube them. When cleaning them, you remove the dirt, grime, oils, and grease on the chains. And when lubing them, you prevent the rust and make sure the chains move smoothly.
Lubricating the chains is still important. In fact, you should not lube the chains prior to cleaning them. The lubricant may not stick effectively on the chain if there is still grime on it. Use the cleaning agent and rinse with water before applying the lube.
Final Thoughts
We have come to the end of the review. I have handpicked the top-rated motorcycle chain cleaners on the market, and I have included also the tools and the kits. Cleaning and lubing motorcycle chains is a non-negotiable act. Everyone should consider it before the chain turns into a potential hazard.
I have seen situations where people get involved in accidents due to bad chains. Do not fall victim!
The chain cleaners I have included in this guide are the transcendent on the market. I have done intensive research and used customer reviews to select you the best. Some of these products I have used personally.
Word of advice is that do not use these cleaning agents while your engine is still running. Always apply them in an open space to avoid inhaling the odors. Buy the best motorcycle chain cleaner at amazon now!