Motorcyclists always try to hunt for batteries that can give their bikes a boost. So that their bike can work at its optimal performance. It is a very challenging task to find a battery that has all the features. Plus, it becomes even harder to search for a motorcycle battery that can fit into any bike's model.
The list of problems is long. Because of all these issues, people commonly make mistakes while buying one. They usually opt for a motorcycle battery that only promises good performance. But they fail to understand that they need to know about its composition, design, battery life, company's credibility, and other things to make the right decision. The best motorcycle battery that lasts long.
This post contains affiliate links. If you make a purchase, Motoprove.com may receive a small commission at no additional cost to you.
The 5 Top-Rated Motorcycle Batteries
Feeling confused, what features are great to have in your motorcyle battery? You don't need to read the article to get the idea of the three best motorcycle batteries. And also, learn what features and types of batteries are great to use.
1. ThrottleX HDX20L – Best Motorcycle Battery for Harley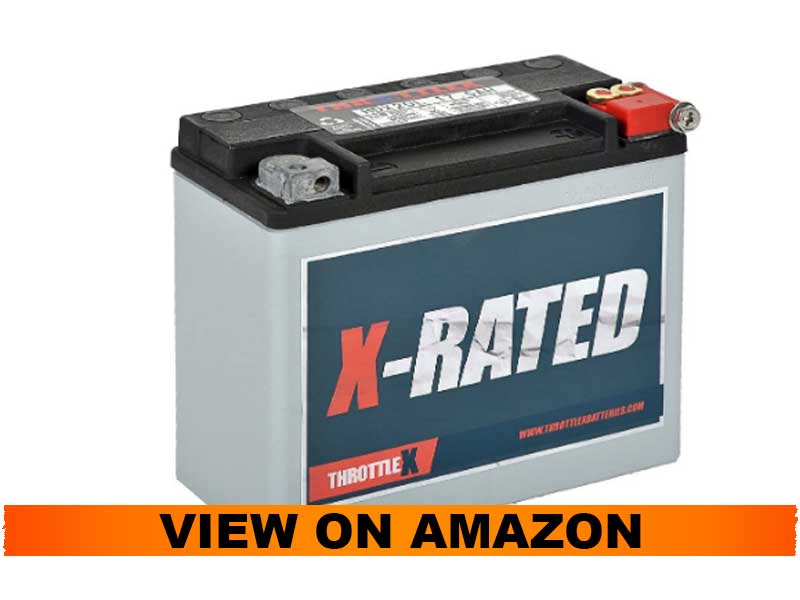 Harley Davidson is a popular and reputable brand in the market that I assume the majority of motorcycle lovers wish to own. However, for its optimal performance, you need a high-performing motorcycle battery that can last you for years to come.
Applicability
Well, HDX20L could be the best motorcycle battery you've been looking for if you own the Harley Davidson. It's a high-quality product by Throttle X, specifically designed to replace your old battery. But it can also work on other types of motorcycles.
This motorcycle battery is compatible with lots of Harley Davidson models from 1991 to 2016. The most important thing is to ascertain the specific technical requirements of your motorcycle and purchase accordingly. For instance, check the width, height, and length of the old battery or the compartment. Also important is to check the volts required, which is usually 12 volts, and the CCA specified by the user manual.
Features
The most important features include the 310 cold-cranking amps (CCA) which ensure that the motorcycle battery empowers the motorcycle even in cold temperatures. It reflects the maximum power output produced by the motorcycle battery.
Note that, unlike the conventional lead-acid batteries, this one employs the AGM (Absorbed Glass Mat) – a modern technology that solves leak and spillage problems. The AGM has a porous microfiber separator that absorbs the acid and makes sure it doesn't get shaken and leaked. With high performance motorcycle battery that keeps you on the go!
Usability
It is a maintenance-free motorcycle battery, meaning you don't have to spend time topping up the acid or the water after evaporation.
The motorcycle battery comes sealed and fully-charged. It's ready to install right out of the box. If you are going to leave the motorcycle battery unattended for a long time, I will recommend getting the battery tender to ensure that it is ready by the time you decide to use it again. Unattended batteries tend to gradually lose power and longevity.
Throttle X is giving you a 30-day money-back guarantee if you are not satisfied with your purchase. This is coupled with the 18-month free replacement warranty, which I feel it's somehow too short.
Pros
Maintenance free battery
Fully charged and ready to install
High cold cranking amps of 310
Heat sealed cover
Cons
Short warranty period
Doesn't come with the battery tender to extend its longevity
Purchase It or Not?
The Throttle X HDX20L is a high-quality X-rated motorcycle battery specifically for the Harley Davidson.
I couldn't find any discouraging feature with it apart from the short period of warranty. But provided you are maintaining the motorcycle battery properly, you might find the warranty period quite sufficient.
I do recommend this motorcycle battery. A word of warning though: please ascertain that you are buying the right model for your make and model of Harley Davidson. The weight is good and it uses the latest AGM technology which ensures that there are no leaks because they can damage the motorcycle components.
2. ACDelco ATX14LBS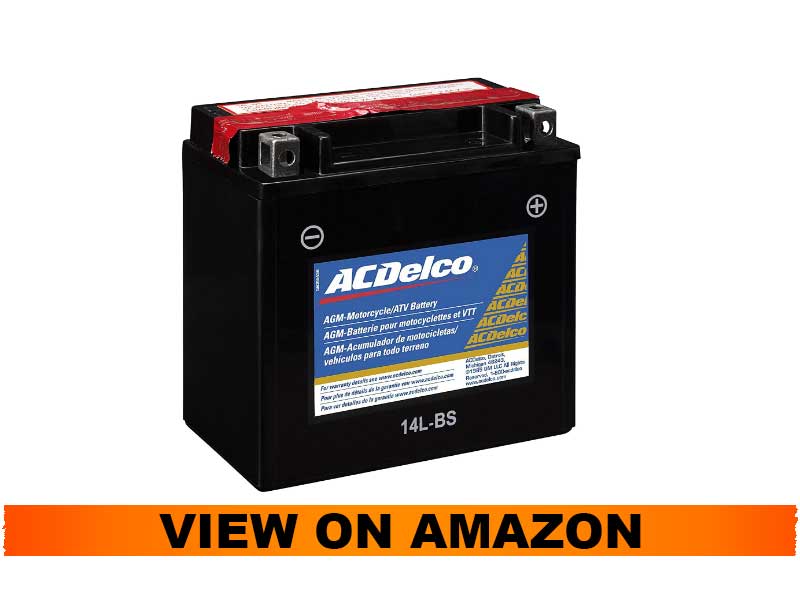 ACDelco is one of the most popular American automotive parts company. This brand has been giving its services to tech geeks since 1899. Because of its high-quality products, motorcyclists choose their products for their bikes. But what is so special about them? Let's look into one of their batteries, ACDelco ATX14 LBS, to understand their masterpiece.
Basic Composition of Battery
This is basically an AGM battery, which allows you to install it in your bikes without the worry of spills and leaks. You can use this in your snowmobiles, motorcycles, and all-terrain vehicles. On top of it, because of the AGM sealed battery technology, you get a relatively small size from other types of batteries. This motorcycle battery only requires an initial charge before you fix it in your motorbike. The company has made it this way to increase its battery life, which gives it a longer shelf life.
What It Offers to Consumers?
As it is a 12V AGM battery, it has a glass fiber between the lead plates. The glass fiber is responsible for controlling the acid movement in the battery. This composition helps you get a smaller battery size that performs extremely great, just like any bigger size battery. Not to mention, these batteries are highly resistant to vibration and heat, which is why most people choose them.
Another benefit of these motorcycle batteries is that you don't need to refill them with acid or water, unlike other batteries. Not to mention, it is also free from maintenance. You only need to fill the motorcycle battery with the given acid and install the cap on it. Once you do that, you don't have to do anything about it again. Do you face problems like starting your bike in winter? The AGM battery allows you to start your bike in any weather condition because of its weather-resistant ability.
Pros
Low-cost because of AGM technology
Smaller battery size
Resistant to heat and vibration
Needs no maintenance
Works great in harsh weather conditions
No spills and leaks problems
Cons
Relatively heavy from other batteries
Difficult to recycle it completely
Limited lifespan
Purchase It or Not
Well, of course, the choice is yours. However, if you are looking for a cheap and best substitute for your dead motorcycle battery, then go for it. As already mentioned, ACDelco is a reliable company. You can't get a motorcycle battery that gives you wonderful performance even in bad weather at a low price.
3. Deltran Lithium Motorcycle Battery with BMS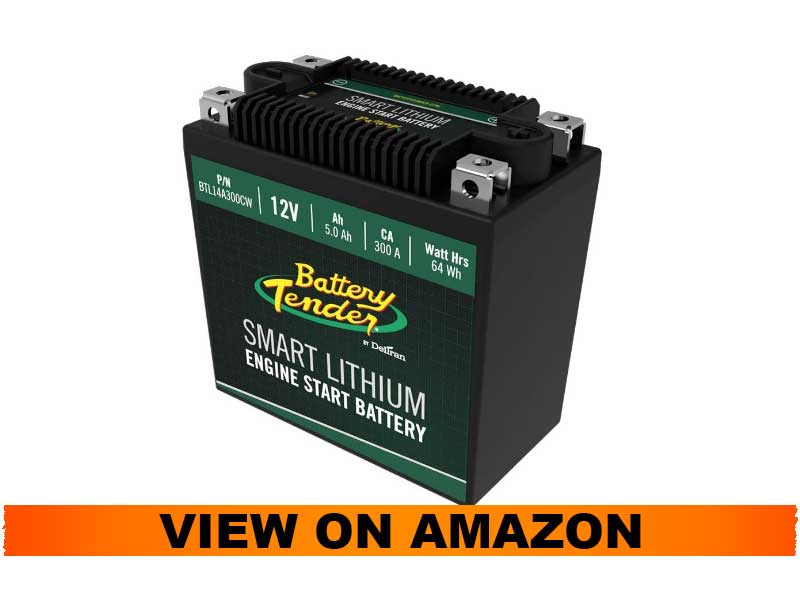 Deltran is also one of the commonly used and preferred batteries. This company has been producing some fine auto-products since 1965. They have a wide range of products that contain all the features you look for in your vehicle's products.
Basic Composition of Battery
Moreover, the Engine Start Battery is a lithium battery with all the essential features to make your riding easy and fast. You can install it in off-road motorcycles, street sport motorcycles, and all-terrain vehicles. This 12V lithium battery offers you to turn on the radio, lights, and other ATV electronics in any weather condition because of their high power LiFePO4 engine start.
Not to mention, it's built-in protection circuit board save your motorcycle battery from discharging, overcharging, and over draining. Wondering how it can happen? In case of over-discharge or overcharging, your motorcycle battery detects the problem, and the BMS shuts down at the very moment to prevent permanent damage. Additionally, the battery is designed to equip with a water-resistant casing, protection circuit board, and fire retardant coating. This offers you a safe ride to your destination.
What It Offers to Consumers
Are you a performance rider and want the lightest weight motorcycle battery? Then, you may want to know that the Battery Tender Engine Start is super light. It is also an environmentally friendly and fuel-efficient battery. Moreover, lithium technology makes it last longer and offers you long life span than the common batteries. If you treat them well, they can even survive up to 1000 cycles. The high performance motorcycle battery that brings you where ever you go.
Besides having the best technology and optimal performance, this motorcycle battery has a significantly low self-discharge rate. Like all the other lithium batteries, it loses around 10% of its charging each year. If you compare this feature to lead-acid batteries, which lose around 1% a day, you might need to pick a lithium one. Another thing that a rider must know is that some batteries are considered dead when they reach their 50 to 70 percent charging. Once they hit this parentage, they become useless. However, lithium-ion batteries have the upper hand in it and give you full power until they are fully discharged. The best motorcycle battery brands that keep your truck on the go!
Pros
Super light weight
Fuel efficient and environmentally friendly
Long life span
Low self-discharge rate
Gives optimal performance
Built-in protection circuit board
Cons
Expensive relatively to standard batteries
Need special chargers for charging
May take time to start in cold weather
Purchase It or Not
Okay, if you are looking for the lightest weight lithium battery, then this is best for you. Make sure that you have a good budget to buy it. But once you purchase it, you don't need to replace it for a longer time.
4. Weize YTX20L-BS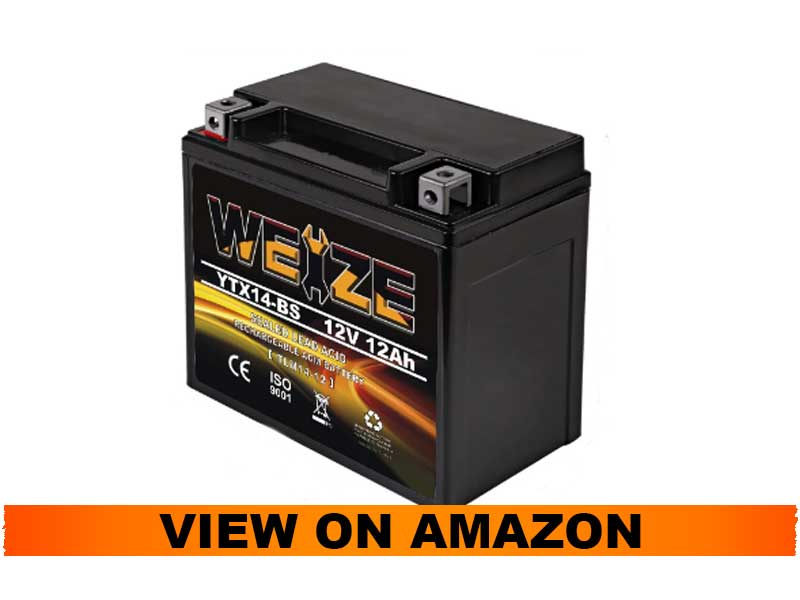 Weize came into existence in the year 1998. Since its inception, this company is producing some great auto-related products. Weize YTX20L-BS is one of them. Because of their years of experience, they are not utilizing some new technologies to offer new and high-quality products to consumers.
Basic Composition of Battery
You can use YTLX20L-BS in utility vehicles, snowmobiles, motorcycles, personal watercraft, and all-terrain vehicles. Does your bike stop in the middle of the road and takes a great time to start again? Well, this never happens with YTX20L-BS. This 12V lead-acid battery allows your bike to operate on its optimal performance in context to its speed, starting power, and acceleration. Weize, who makes the best motorcycle battery with high performance.
It has absorbent mat technology that helps you to avoid spills and leaks. This motorcycle battery needs no maintenance because of the AGM technology and gives you high efficiency and fast ride. Its design offers you low shelf discharge, which leads to long cycle life. Furthermore, if you want a motorcycle battery that can fit into almost any type of bike model, then this one is best for you. Its design, shape, and technology make it great to install in any bike, saving you from electrical and fitting problems.
What It Offers to Consumers?
The very first advantage of this motorcycle battery is that it is an inexpensive battery. Its features and quality are comparatively great considering its low cost. The design and technology give you a battery that needs low maintenance. It is reliable and withstands harsh weather conditions. Now you don't need to worry about freezing winters, snowy days, or rainy nights. Without any tension, you can ride your bike in any weather. This battery is not dangerous. You don't need to worry about recycling, electric, and acid problems.
Do you hear clicking sounds when you start your bike? This means you have a dead battery. Weize motorcycle battery is a great replacement for your dead battery that prevents further problems in the future. Additionally, this motorcycle battery comes with a one year warranty. Not to mention, it also has a 30 days refund policy. If you feel that it is not compatible with your bike, you can go back to a refund.
Pros
Pocket-friendly battery
Low maintenance and weather friendly
No electric and acid problems
Gives high efficiency
Provide a fast ride
One year warranty
Cons
Can't be stored in discharge conditions
Limited number of discharge cycles
Heavy and bulky
Purchase It or Not?
If you are looking for a cheap, relatively low weight, high quality, and optimal performance motorcycle battery, this should be your choice. Like any other lead-acid batteries, it will not survive years. But according to its price, it's the best choice to make.
5. Antigravity – Battery with built-in Jump-Starting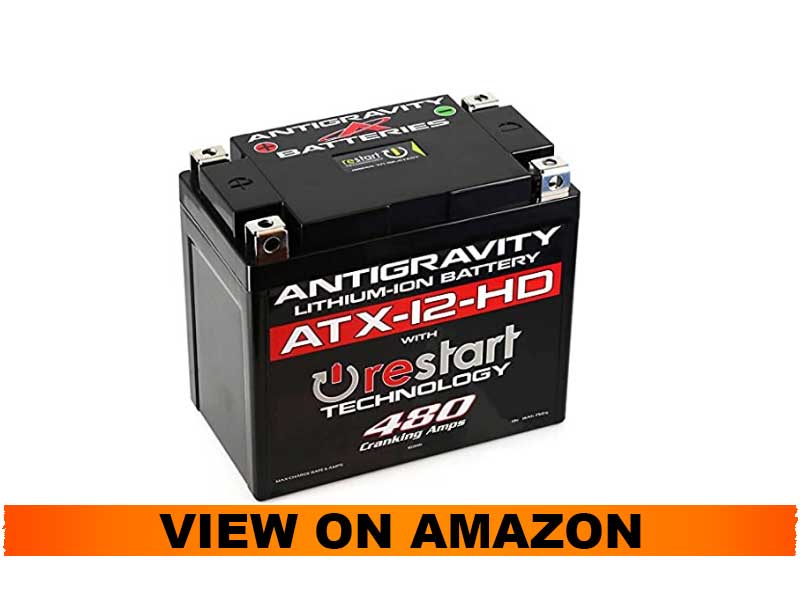 You should be checking out an Antigravity ReStart battery for your motorcycle if you're looking for a lithium battery that comes with an insurance policy. Now, Antigravity is making a super wide variety of batteries in a number of different group sizes. These are going to fit just about every single motorcycle, either on the pavement or in the dirt.
Features
At this time, if you've done any research on motorcycle battery, you probably understand some of the benefits of lithium batteries. We're talking super lightweight, and the potential possibility of having a much smaller footprint, due to the density increase over a standard lead-acid battery.
Antigravity has been produced a product that nobody else has really caught up to just yet. So, the whole idea behind the ReStart is a motorcycle battery that has a circuit built into this, and it prevents voltage from hitting a certain point in terms of the drop.
If you look at the top, there's a button. So, Antigravity has a circuit inside it that will not allow the voltage to drop below the point where it won't restart your motorcycle. That means that, if you happen to leave your ignition on or you leave your lights on, you're not going to smoke your motorcycle battery. All you'll do is simply come back out to your bike, realize that it's already been turned off because the motorcycle battery has cut power to the rest of your system, you'll hit that little button, and away you go, you're ready to drive again.
Limitations
The not so obvious benefit here is that lithium batteries, for all of their strong suits, are particularly voltage-sensitive. If you run one of these down past about 11 volts or so, that battery is more or less trash. However, the ReStart motorcycle battery keeps that from happening. Once the battery voltage hits 12.6 volts it puts itself to sleep. Agrigravity, who makes the best motorcycle battery for your trucks.
Pros
Built-in Jump-Starting
Lightweight
Highest cold-cranking amps on the market
4 terminal design
Purchase It or Not?
I think this is a really super cool technology. Again, I'm not aware of anybody else who has sort of this setup involved in their batteries right now. It's a great idea, it makes perfect sense, so many of us have left our keys on or simply just left the lights turned on, they were doing something, and unfortunately blowing out a battery. It is an expensive mistake to make! Fortunately, Antigravity's got your back, I think this is going to be really good stuff.
6. Power Source – Best Battery for Harley Dyna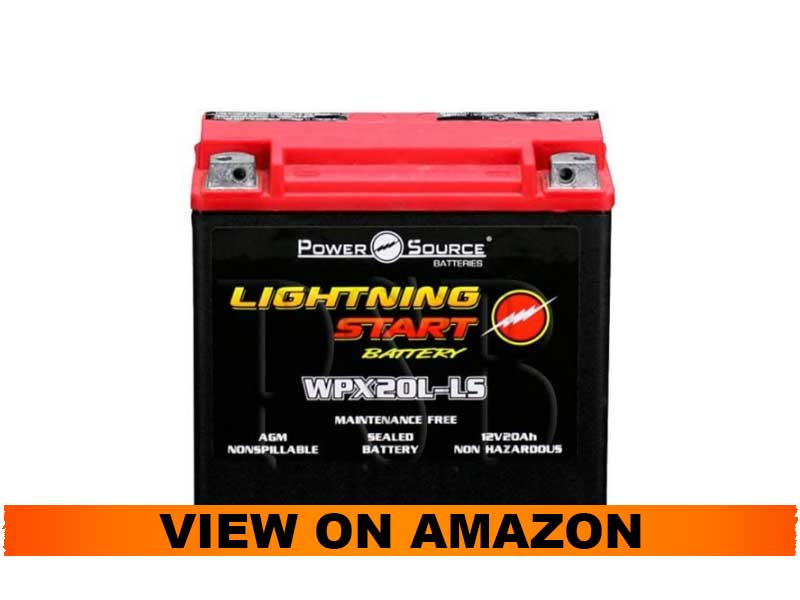 Many motorcyclists, myself included, often overlook the importance of upgrading their batteries until they're faced with a dead one at the side of the road. Power Source is an ideal replacement battery for your OEM one. The motorcycle battery is impressive from all standpoints.
Battery Type
Unlike the conventional and old lead-acid batteries that need regular maintenance, this motorcycle battery is an AGM (Absorbed Glass Mat) which requires no regular maintenance. It is dependent on electrolyte, and so there is no likelihood of spilling acid.
AGM batteries may be expensive but actually, define the convenience of modern batteries. You no longer worry about regular maintenance for a certain number of miles covered.
Compatibility
Of most importance is the compatibility of the motorcycle battery. This one is only compatible with the Harley FXD Dyna Super Glide model 1995 to 2010. Note this when making your purchases to avoid regretful decisions.
Installation
If you have once used lead-acid batteries you can recall how limited they were or they are in terms of the installation. You have to align them in a particular direction to avoid the acid spilling. Because AGM battery does not rely on lead-acid you can install it in any direction as long as the motorcycle battery terminals match with those of the bike.
Pros
AGM battery with no lead acid needed
Maintenance-free
Durable battery
Compatible with a wide range of Harley bikes from 1995 to 2010
Cons
1-year warranty insufficient for me
Purchase It or Not?
Owning a motorcycle comes with the responsibility of ensuring that it is functioning properly. The replacement motorcycle battery is an important consideration too. With this AGM battery, you will forget about the need to constantly monitor and maintain it. It is expensive but worth the price.
7. Yuasa YTX20L-BS Motorcycle Battery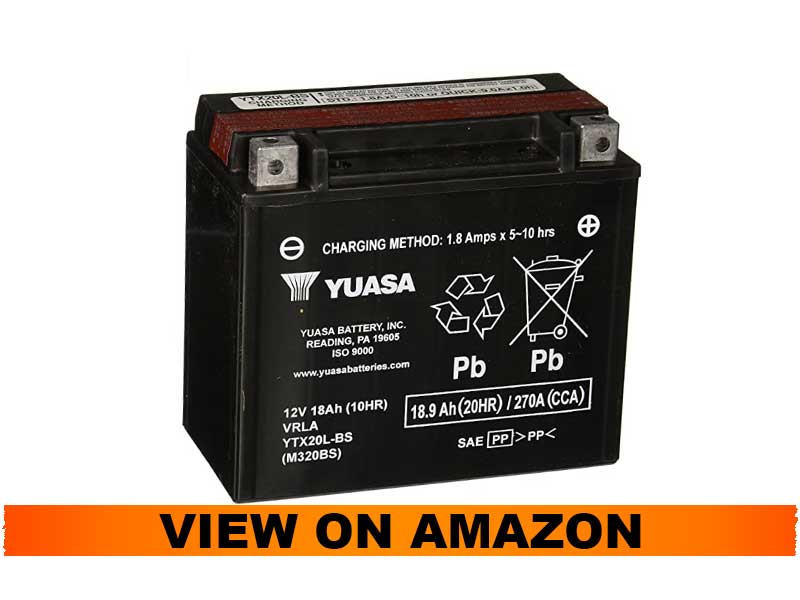 Yuasa is also a big name in the industry with powerful flagships of motorcycle batteries. The Yuasa YTX20L motorcycle battery is one of the powerful batteries I fell in love with. What caught my attention?
Features
Well, not only was I caught by the fact that it is a reputable brand, but also the considerable features such as the 270 CCA.
The 270 cold-cranking amps surely lack behind compared with the preceding Throttle X model I reviewed. Nonetheless, it is still powerful enough to improve the motorcycles that take long to start or suffer in unfavorable climatic conditions.
The battery commands 18-amp hour. What that means is that the battery produces 1 amp at 12 volts for 18 hours. It refers to the output of amps the battery can produce for a certain number of hours. The number of amp-hours depends on the total amps the motorcycle can drain from the motorcycle battery.
Usability
Also noteworthy with this Yuasa motorcycle battery is that it is maintenance proof. You don't have to worry about topping it with distilled water. It comes with a sealed and spill-proof design, which I find convenient and also reasonable considering the AGM technology the battery has. The acid is absorbed, so it won't leak no matter the position you put the battery.
The YUASA YTX-20L noticeably performs better than the standard lead-acid batteries. It contains the advanced lead-calcium technology that holds gravity 3 times more than the standard ones.
The only thing you need to do upon arrival is to fill the provided acid then seal the battery. Unsealing the motorcycle battery many times can tamper with its longevity and may lead to damages. While it is maintenance-free, you have to recharge it occasionally when the need arises. Ideally, it takes 5 to 10 hours to fully charge.
Should it give you problems post-purchase, the manufacturer provides you a one year warranty. Reiterating again, please make sure you check the physical dimensions before making a purchase to ascertain compatibility.
Pros
Rechargeable battery
Maintenance free
Affordable
AGM technology
Cons
Doesn't come with the charger
Short warranty period
Purchase It or Not?
Yuasa is a reputable brand renowned for its motorcycle batteries of top-notch quality. So, I am not surprised with the impressive features possessed by this battery. Anyone owning high-end motorcycles can find this motorcycle battery powerful.
It has good cold-cranking amps that can help revive the old motorcycle. Moreover, its maintenance-free design, coupled with the latest AGM technology is actually a selling point for the battery. For those who hate fiddling around with the battery replenishing the deionized water, this is a good battery for you. It comes with the manufacturer's 1-year warranty if you need replacement.
8. Chrome YTX14-BS – Best Price Motorcycle Battery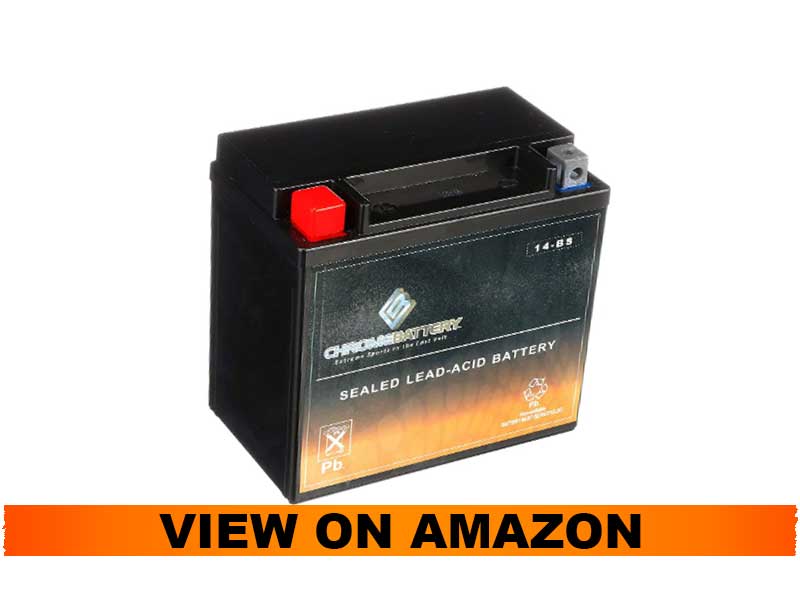 The Chrome YTX14-BS Motorcycle Battery is yet another advanced motorcycle battery that can revive your malfunctioning standard lead-acid battery. Like the preceding products I reviewed above, it is maintenance-free. No need to worry about refilling the acid or water.
Features
The battery comes fully charged from the factory. It's ready to install with no additional setup required. Chrome Battery has used the advanced lead-calcium alloy and the AGM technology to ensure a smooth and good performance.
There are no leaks, no spills in the battery because the highest quality craftsmanship has been used.
This battery is one of the lightweight modern AGM motorcycle batteries weighing 9.7 pounds. It reduces the burden on your bike and improves the speed because the heavy lead-acid batteries are not good particularly for sporty motorcycles.
Usability
The other important feature I found enticing is the higher 200 cold-cranking amps in this 12-volt battery. The battery terminals are well-positioned to install it with ease. Extreme vibration resistance is also ensured by Chrome Battery. This improves performance because vibration tampers with the conductivity. Again, the battery has a low self-discharge rate if you leave it unattended.
With the patented sealed post, your motorcycle battery is safe from corrosion. This enhances the longevity of the battery.
The manufacturer is offering a 60-day money back guarantee as well as the 18 months of warranty. If you have issues with your purchase, you can return the battery for a full refund or replace it. On top of that, the seller is offering fast and free shipping.
Pros
Extreme vibration resistance
High cranking amps
Maintenance free
Affordable
Cons
Design is not eye-catching
Purchase It or Not?
Chrome Battery has provided us with one of the best batteries on the market. It has all the needed features you can think of, from the higher cranking amps to the patented sealed posts. The battery can last long while enabling your motor to start. Its higher CCA enables the bike to start under cold temperatures.
Weighing just 9.7lbs, this battery is one of the lightweight batteries that use AGM technology. Furthermore, it will not break your bank because it costs less than $50. I do recommend the battery for anyone with a tight budget. If you are not satisfied with the quality, the manufacturer is offering a 60-day money-back guarantee.
9. Shorai Extreme Rate – Best Lightweight Motorcycle Battery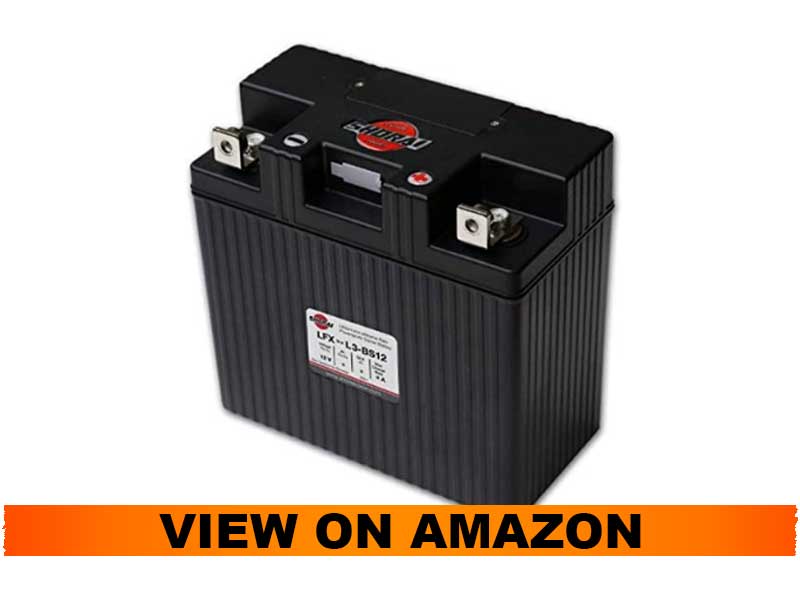 Shorai batteries produce really an upgraded battery for all types of power sports applications. Motorcycle, ATV, personal watercraft. And really the benefit of the lithium-ion technology versus lead-acid technology is it's longer-lasting, lower maintenance, lower weight, and up to 80% lighter compared to a lead-acid battery. It produces higher cranking power, so really it is an upgrade in technology that you typically need to invest in.
Overview
I know myself, I can be really bad with my battery tender and after about a month of sitting, it will be tough. Especially, if it's cold. But with this battery, you can let it sit up to six months before you really have to think about tending.
Because it's a lithium-ion battery, not a lead-acid, de-sulfation typically doesn't happen. And that's a chemical reaction inside the battery that deteriorates it. So, what you need to make sure that you do is buy the correct battery tender that does not have a de-sulfation mode. I strongly recommend using the original battery charger Shorai SHO-BMS01.
Usability
Because of small size, the battery comes with dual-sided sticky foam shims, that allow you to beef up the battery box, so it's not going to slide in a battery compartment.
There's no acid in these batteries that you need to have to add, it's closed. So there's no drainage, there's no port, there's no acid level to maintain. Unlike lead-acid batteries, if your bike is tipped over, the acid will damage your bike, paint, and wiring. So, with this battery, you don't have to worry about that venting. You don't have to worry about that acid. Really, what you have to worry about is connecting to the terminals!
Pros
Higher cranking amps
No maintenance required
Lightweight
No acid battery
Cons
A bit expensive
Charger not included
Purchase It or Not?
Keep in mind, when it gets cold or if you're bike is going to be sitting for a little bit, what happens is the battery will become dormant. It doesn't mean it's lost its charge. It just means that you need to turn your key to the on position, run your headlight for a minute or two, it'll reactivate the power. It'll unlock the charge, and you'll be good to go to crank it with the full power from the Shorai. That's one of those nice, longer-lasting, lower maintenance elements that come with an investment in the newer technology.
10. YTX7A-BS iGel – Best Gel Motorcycle Battery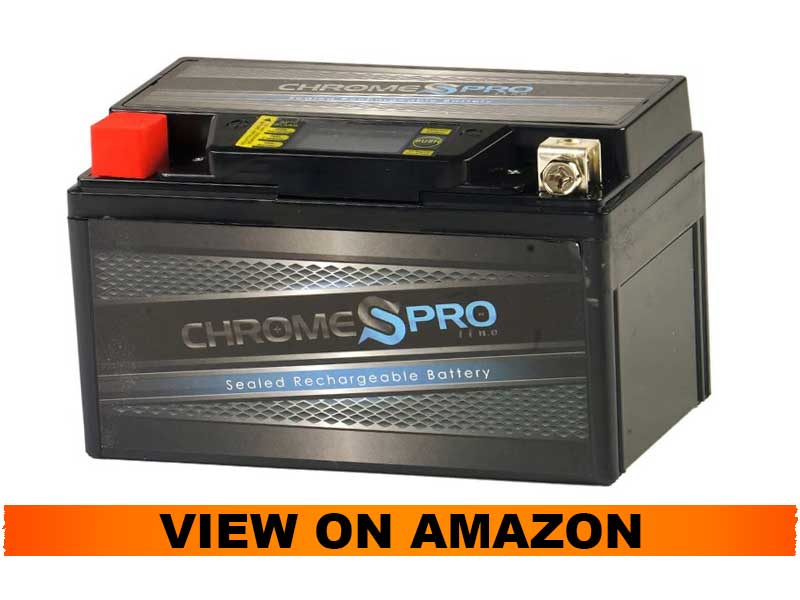 Here's my last product which is a unique gel battery. I have been reviewing the AGM batteries, so now I took a turn to introduce yet another innovative modern technology of gel batteries. In simple terms, the acid in this battery is not liquid but gel.
Comparing the viscosity of the two, the gel battery is resistant to leakage of acid, so your battery and the motorcycle components are safe.
Advantages
Whoever thought that a mere battery can show how much voltage you have? This Chrome Pro Motorcycle Battery has the most advanced digital display to show you the voltage you have so you can recharge the battery. It is coupled with an integrated intelligent chip.
In addition to the digital display is the alarm that alerts you about low voltage. After installing, the battery will record the dates for a better service to enhance longevity.
Like the previous batteries, this gel battery is also maintenance-free. It comes fully charged, thus ready to be installed without further setup required. The rigid bridge welding in this battery plays a good role in absorbing vibration. This ensures that the battery remains optimal for its performance.
Limitations
But, what I found disappointing is the 90 cold-cranking amps and 6Ah. These figures are not competitive when compared to the other models I reviewed. Nonetheless, the battery is in its own league of performance. Modern batteries should not have a problem with the low cold-cranking amps.
Like any other battery, it is prone to diminishing power if put for a long time. To avoid the inconveniences the next time you want to install in your motorcycle, I recommend the battery tender. It's an automatic battery charger.
Warranty
If you are unhappy with the purchase, the manufacturer is offering a 60-day money-back guarantee. Buying online poses numerous challenges because you don't get to see the actual product. Most are disappointed when the products are shipped. At least you are protected with this battery.
Moreover, the company is offering an exceptional 18-month warranty. I personally prefer a battery that offers at least 3 years of warranty that corresponds with the recommended time to change the motorcycle.
When making a purchase, take note of the physical dimensions to avoid buying a large or too-small battery for your motorcycle battery compartment.
Pros
Maintenance free battery
60-day money back guarantee
Digital display
Cons
Low CCA
Charger not provided
Purchase It or Not?
This is a unique gel battery with the digital display where you can see the voltage capacity. Others batteries do not show you that, unless you see on any form of display on the motorcycle. The next minute the engine doesn't start because the battery has low voltage. A low voltage can also damage the battery.
Given its unique broad range of features, I would recommend this battery to anyone. Well, if you are using the old motorcycles prone to starting delays, I don't think this battery would be best for you because of a lower CCA. I would rather recommend the first product with 310 CCA.
Also important is the fact that this is the cheapest battery on the list. It costs under $30. Notwithstanding its downsides, it has great commendable features.
Tips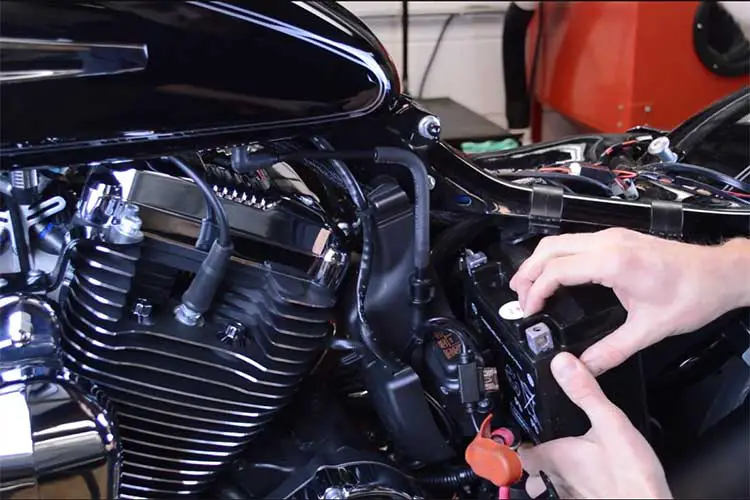 Now that I am done with the reviews, let's go through a comprehensive buyer's guide to help you make an informed decision. I know how daunting it can be to pick the best motorcycle battery when you do not really know which foremost features you should consider.
In this buyer's guide, I will go through the important features to consider before buying and also consider some educational terminologies to help you care and understand the motorcycle batteries. Some of the important factors to consider before making a purchase include the cost, power rating, and other technical specifications as I will highlight below.
Important Features to Consider Before Buying Motorcycle Batteries
Physical Dimensions
Motorcycle batteries do not have universal compatibility. They differ in weight and size. Lead-acid batteries, in particular, are big in size and heavy in weight. If you want to replace a conventional lead-acid battery, you need to devise a plan on how to prevent the rattling of a lithium-ion battery. Some brands come with foam-spacers to accommodate the small batteries in large apertures.
Before making a purchase, take note of the exact physical dimensions of your old battery and measure it in relation to the new battery. On Amazon, both the dimensions and the weight are highlighted. It helps you to compare. A large battery can impede the performance of your motorcycle and a small battery may perform poorly.
Power Rating
Most of the motorcycle batteries I reviewed come with 12-volt power. Each motorcycle has specific voltage and amp requirements. Consult with your owner's manual to see the maximum power output required by your bike. Small motorcycles may use a 6-volt battery. Such is rarely the powerful motorcycles designed for long distances.
Affordability
the price variance of motorcycle batteries is dependent upon the power output and some features. But, typically, aftermarket battery prices are subjective. Two batteries may have the same power output and identical features but differ significantly with prices. The best thing is to navigate the catalogs and find affordable batteries. Fortunately, I have done that for you in my reviews. The least priced costs under $30.
Do not be tempted to base your purchases solely on the price because it can be deceiving. Instead, consider other indispensable features such as power output and other features. Brands such as Yuasa and Throttle X are reputable in the industry; that's why they cost more.
Self-Discharge rate
Standard lead-acid batteries can self-discharge and lose about 1% of battery power per day if you put it unused. Its longevity decreases in this way. The modern AGM and gel batteries are efficient and lose about 10% yearly of the battery power. That said, when making a purchase, make sure you purchase the modern technology to avoid the ridiculous discharge rates of the conventional lead-acid batteries. If given no choice but to choose the lead-acid battery, be prepared to buy the trickle charge that helps in avoiding a dead battery as a result of self-discharge rates. Likewise, you must avoid overcharging an unused battery as it can lead to damage. A rechargeable battery is the best in this case.
Warranty
Anything can happen to your battery. If you have purchased from the manufacturer with a minimum period of warranty, you might be neglected later on when you have serious problems where you need to replace the battery. To ensure that the customer gets the best value for money, reputable brands provide extensive warranties. In my reviews, the least warranty is a one-year warranty and the extension is 18 months. You can still find warranties over 3 years that correspond with the recommended time to replace your motorcycle. Also worth considering is the money-back guarantee. The brands can offer a 30-days, 60-days, or 90-days money-back guarantee should you feel dissatisfied with the product.
Maintenance
Everyone knows how inconvenient it is with the traditional lead-acid batteries where you have to top up the water or the acid. As a result of the chemical reaction in the battery, the electrolyte solution can evaporate. Such batteries have an evaporation hose. Should the solution run out while you continue using the battery, the battery might be damaged. It can even amount to permanent damage. This requires a periodical replenishment of distilled or deionized water. Do not use tap water because its minerals can affect the operation of the battery.
Nowadays, we have delved into an era of maintenance-free batteries. Motorcycle riders seldom have time to continue checking the level of the solution in the battery. It is thus important to opt for maintenance-free motorcycle batteries. The gel, lithium, and AGM batteries often come with sealed covers that are waterproof. AGM absorbs the acid so that it won't leak. Gel batteries contain a viscous gel acid and a sealed cover. All these features are good for a maintenance-free design.
Once the battery leaks, the acid will not only corrode the terminal post but also affect the other components of the motorcycle. Surely you know how destructive the acid solution is. With a sealed and leak-proof motorcycle battery, you are safe.
Brands
Purchasing from reputable brand names is also an important consideration. Such brands are renowned for their highest quality of batteries as well as the customer service. But note that reputable brands can be expensive. But, I do not insinuate that other entry brands are not worth your time As long as the features are convincing and there are some reviews about the products, you can give them a benefit of the doubt.
What are the factors affecting the battery's Performance?
To avoid purchasing the motorcycle batteries recurringly, I feel there is a need to know the factors that can affect your battery's performance. Here they are:
Heat
If the temperature rises, so does the self-discharge rate. Normally, the temperatures should not exceed 130 degrees Fahrenheit but that will affect the battery badly. If you store the battery at 100 degrees Fahrenheit, it will discharge twice as much as the one you store at 60 degrees Fahrenheit. Avoid exposure to higher temperatures as that can destroy your battery and send you back to the store.
Vibration
Vibration can also affect the life of your battery. Make sure the battery is mounted properly and it does not shake when you ride your motorcycle. Look for products that have an extreme vibration resistance. Vibration can be propelled by small batteries fitted in large battery compartments. Solve that by using the foam spacers.
Sulfation
The moment the battery discharges excessively, the lead plates can be turned into lead sulfate crystals. This is a problem that needs to be prevented by ensuring that the electrolyte levels are always checked or the trickle charger is being used.
What are the types of Motorcycle Batteries available on the market today?
When shopping for motorcycle batteries, it is important to distinguish between the types. Most people are aware of the conventional lead-acid batteries as they are popular in almost all moving machinery. The advancement in technology gave birth to numerous innovations. Today we have lithium batteries, gel, and AGM batteries.
Lead-acid
These batteries are inexpensive and reliable but are heavy. For sports motorcycles, the choice of lead-acid batteries will not benefit you. On the other hand, lithium batteries are the new entrants but are performing better than lead-acid batteries.
AGM
AGM batteries, on the other hand, feature the absorbed glass mat that absorbs the electrolytes. AGM is relatively better than the gel batteries.
Gel
Gel batteries typically contain silica-like gels. Both of these batteries come sealed and maintenance-free. That being said, it doesn't matter which position you put them in because they will not leak any acid.
Final Thoughts
I am now wrapping up my comprehensive guide and review of the top 5 motorcycle batteries on the market. There is a plethora of brands and types of batteries, but choosing them is not an easy task. It needs one to know the important features to consider. These include the voltage, size, amps, warranty, and type of the battery required by the bike.
I have strived to highlight every important feature that you needed to know. The table drawn at the beginning seeks to give you a glimpse of the product.
I have decided to consider only modern AGM and gel technology. I noticed how the lead-acid batteries are constantly being replaced, especially by the lighter lithium batteries. But bear in mind that modern technologies command expensive price tags. Get best motorcycle battery brands at amazon now! Click here for more details.