The wind rushing past. The sun beating down from up above. These are the reasons you became a biker in the first place. The harsh elements are a selling point to a biker, not a drawback. However, your Harley doesn't always agree. The heat can be a motorcycle's worst enemy if it is not properly regulated. On long trips, there are dangers of overheating not just in the large mountain passes, but in the traffic-filled cities where idling can become dangerous. There is even a risk of the engine seizing if the temperature can't be kept under control. That is not the position that any biker wants to be in when the whole point of riding is to experience freedom and liberation.
Best oil cooler for Harley Davidson might be a good choice for someone who doesn't like to take any chances when it comes to the reliability of their bike. Taking care of any potential problems before they occur can save time and frustration on the road. An oil cooling system can be a lifesaver on an air-cooled bike without adding a whole new list of maintenance checks.
5 Top-rated Oil coolers for Harley Davidson Motorcycles
An oil cooler works by exchanging heat between the outside and the inside of the bike and keeping the temperature regulated whether or not it is moving. It can even help to reduce knocks and pings by allowing the oil to move through the engine smoothly and at the correct temperature. This can aid in preventing the breakdown of the oil, which can be the cause of more oil changes and even noticeable vibrations in the engine, making for a more uncomfortable ride. Below are the best oil cooler for Harley Davidson and some of their features so you can get the one that's right for your bike and get back out on the road!
This post contains affiliate links. If you make a purchase, Motoprove.com may receive a small commission at no additional cost to you.
1. Jagg Fan-Assisted Oil Cooler Kit – Best Choice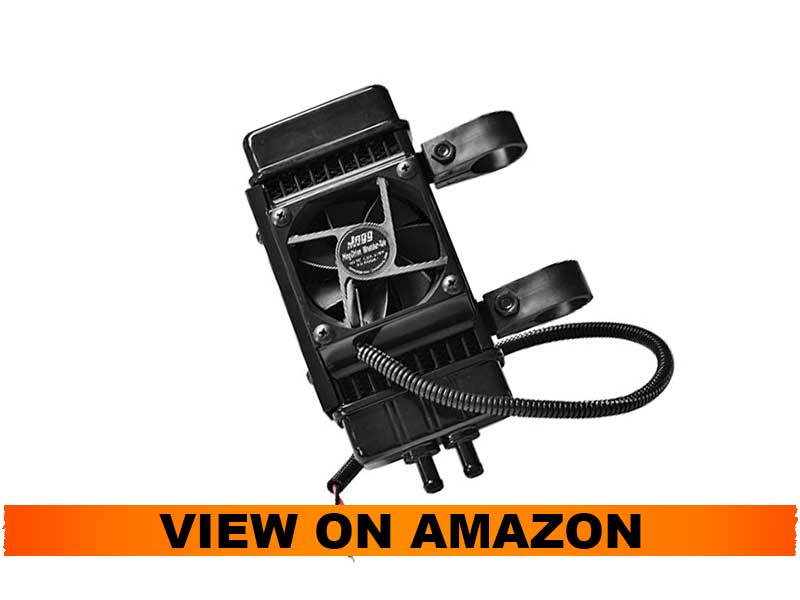 The Jagg Oil Cooler Kit (751-FP2600) is the most comprehensive oil cooler so far. It comes with everything needed for installation including the hoses and clamps. It doesn't use some of the more design-oriented features of the others, but it is small enough to not leave too much of an aesthetic footprint. When it is mounted to the downtube, it promotes airflow to the oil supply as well as the actual cylinders in the engine. This allows for a lot more cooling a lot quicker and staves off overheating.
Pros and Cons
The special, in-line turbulators allow for the oil cooler to work with an incredibly small effect on the bike's oil pressure. This is critical in a mountainous terrain where oil pressure can be consistently changing depending on the load to the engine.
Even at its higher price range, the Jagg Oil Cooler offers a significant amount of cooling power. If you're planning a trip over a lot of different kinds of country, cooling power can be your bike's best friend.
Overall
Having everything ready to be installed and mounted right out of the box can be a major factor in any motorcycle accessory. There is nothing more frustrating than getting ready to do an installation and realizing you don't have all the parts you need. The fact that the Jagg Kit comes stock with all of the hoses, mounts, tubes, and screws needed to get your Harley running cooler is one of the things that make it worth the extra numbers on the price tag.
2. Billet Proof Designs Oil V-Cooler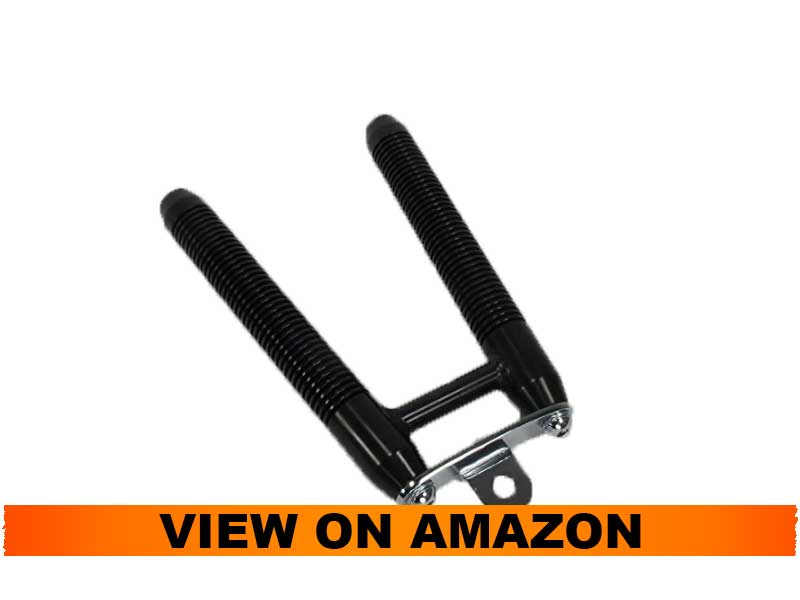 If you are riding a Harley in the first place, obviously you care about style. You are not going to be interested in strapping any old box onto your bike without considering how it's going to change its look.
The Billet Oil V-Cooler might be the solution to the form over function problem. By mounting onto the bike's downtubes, the V-Cooler integrates itself nicely with the design without a lot of extra work. The stock frame mounts make it easy to install and they're vibration resistant to keep them from shaking loose at speed.
Pros and Cons
The design of The Billet Oil V-Cooler is definitely cool (no pun intended) and lends itself well to fitting in with the bike. If you are worried about the way an oil cooler might change the look of your bike, you might look closer at something like this. It also has the added bonus of being compatible with nearly any make and model of Harley, which is an advantage over some of the others.
However, if you have any accessories that might get in the way of where the V-Cooler is mounted, that could pose a problem. Any crash bars or front fenders have the potential to obstruct the V-Cooler, so check to make sure you have clearance before starting the installation.
Overall
The Billet Oil V-Cooler has a clever design and uses the natural lines of the classic Harley look to hide nicely in plain sight. The fact that it will fit on almost any Harley-Davidson regardless of the model is a plus no matter how you look at it, as is its lower price point.
3. SMT MOTO – Oil Cooler For Harley Touring 2009-2016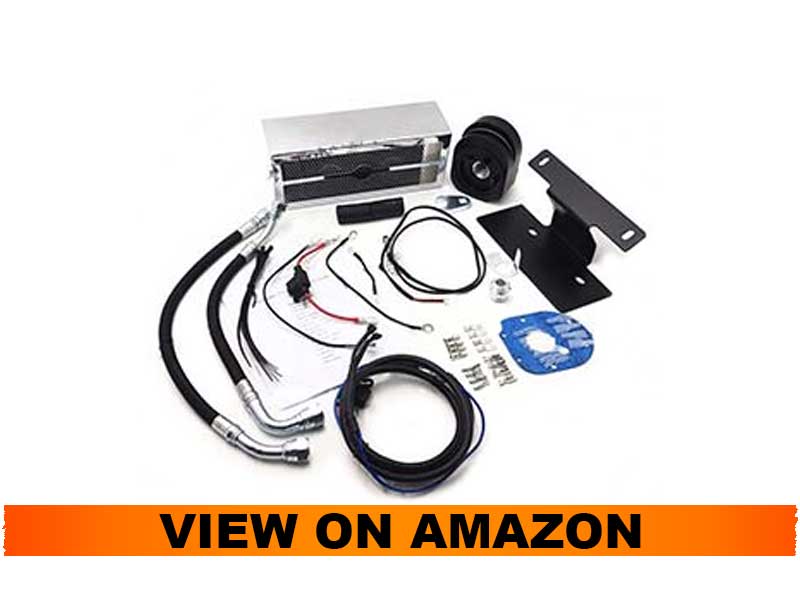 It's a bit more complicated for owners of Harley Touring bikes pre-2016. Since these models don't come with a stock oil cooler, there is going to be a small amount of work with the installation.
Luckily, the SMT MOTO oil cooler is an all-in-one cooling system and can be easily installed with just hand tools. It's self-contained with its own dual IP68 waterproof fans inside a slick-looking chrome housing that mounts right on the front of the bike, so you don't have to compromise looks for performance!
Pros and Cons
The SMT Moto oil cooler is on the lower end of the price spectrum, but its aesthetics are undeniable. The chrome fan unit has a waterproof, steel construction that can take the abuse of a long trip, and it looks good doing it.
However, it will still let the bike's oil temperature get up to 220 degrees Fahrenheit, which is 30 degrees higher than the recommended temperature of 190, before turning itself on. This could lead to more time between overheating and cooling the bike down than with some other models.
Overall
For owners of Harley Touring bikes between 2009 and 2016, this might be the most stylish solution to the common problem of overheating in the wrong place at the wrong time. By far, when it comes to attractive design, the SMT MOTO oil cooler has the upper hand.
4. Jagg Oil Cooler Black 750-1290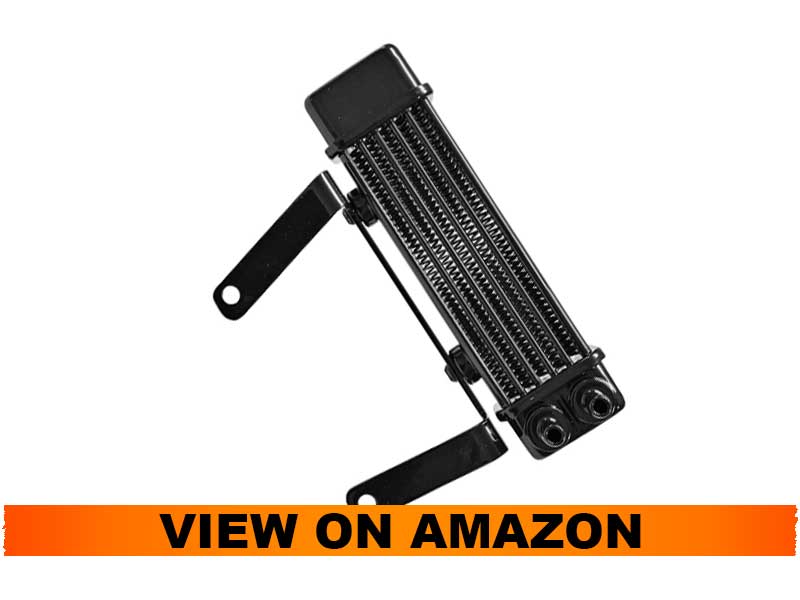 Owners of non-touring Harleys also need to keep their oil temperature down, and the Jagg 6 Row cooler could do the trick. This is more than just a heat transfer type of cooler and can offer a much higher level of protection from overheating.
This model uses a specially designed, thermostatically controlled oil filter adapter. This allows the oil's temperature to be regulated by the thermostat and avoid long cooldowns and any potential short-term overheats. A Harley Softail owner might want to think about relying on more than just the air around the motorcycle to keep the engine running at the right temperature, and the thermostat control helps keep it in the sweet spot.
Pros and Cons
The technology included with the Jagg Oil Cooler 750-1290 is impressive, to say the least. Its oil filter adapter ensures that there is minimal loss in oil pressure, and the thermostat control provides consistent temperature throughout the engine. It is in the higher price range, but the science of the 6 Row cooler is at the heart of how it offers such efficient performance.
Overall
This model's efficiency is its best feature, and if you are just looking for results, that should be no problem. It is, however, a little bit lacking in the style department. Since it only comes in the flat black offered, it might be a good idea to think about how it is going to affect the style and silhouette of your Harley.
5. YHMTIVTU Harley Davidson Oil Cooler Radiator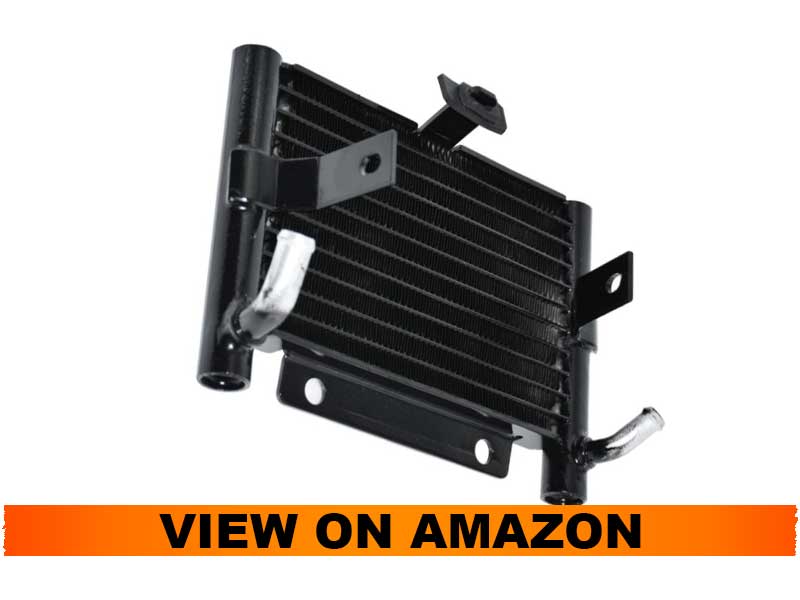 The YHMTIVTU oil cooler is fitted for the newer Harley touring bikes from 2017 and later, and it is about as bare-bones as it gets. It is made specifically for air-cooled Milwaukee-Eight engines, and those come stock with a built-in oil cooler.
This is a bolt-on, aftermarket replacement for the original radiator, and the wiring is plug and plays with the stock wiring harness. There is no splicing or rerouting to be done, so you can get back to riding in no time. It doesn't get much easier than that!
Pros and Cons
The YHMTIVTU most likely has the easiest installation of all of these oil coolers. However, it does not come with a replacement fan for the original equipment. It would be important to consider whether the radiator or fan is what needs to be replaced. It is also not the most attractive part on the list due to its flat black paint and no-frills hardware. At its price though, it would be worth it to have one or two extra on hand.
Overall
If you have a new Street Glide or Road King touring bike, this might be an ideal part to include in your accessories kit, especially when heading out on a long ride. Since the Milwaukee-Eight engines are cooled only by air, having a working oil-cooler is imperative. Without a backup, you could be looking at a long wait for a tow-truck out in the middle of nowhere.
Tips and Recommendations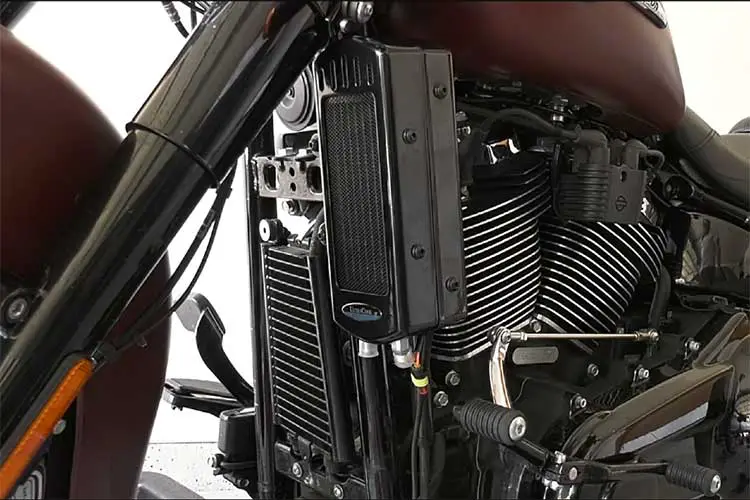 There are a lot of things to consider when looking for an oil cooler for a Harley-Davidson. Whether or not your bike already has one is probably going to be one of the first things to look for. Most Harleys do not have an oil cooler that comes stock and are simply air-cooled by virtue of the engine is out in the open. For the most part, this can work fairly well. However, under extreme conditions such as mountainous terrain or sitting idle in traffic for hours, the engine can overheat and even seize up. Getting the oil just a few inches away from the hot engine for any period of time could cool it down significantly enough to eliminate knocks and pings, as well as the possibility of overheating.
What is a Harley Davidson oil cooler for?
A Harley-Davidson oil cooler can be one of the most effective ways of extending the life of your bike's engine. While some motorcycles have liquid cooling systems much like a car, most rely on air cooling. This means that when there is a severe load on the engine, it can quickly overheat. This can happen in places like the mountains and rural areas, but also while idling in traffic or during a parade duty. Oil coolers generally consist of a small radiator that is mounted somewhere on the front of the motorcycle. Oil enters in one side of the radiator and the heat dissipates as it makes its way around the coils before going out the other side.
It is important to keep your bike's oil at around 190 degrees Fahrenheit. This allows for the oil to move freely around the motorcycle's engine. Any higher and the oil begins to break down. Condensation can begin to build up inside the engine, which dilutes the oil, even more, causing it to run rough and even cause more vibration. This can cause knocks and pings, not to mention all of the maintenance that comes along with more frequent oil changes, and the nightmare of breaking down. By installing an oil cooler, you could be prolonging the life of your bike's engine by quite a bit. Not to mention looking out for your own safety on the road.
How to install an oil cooler on a Harley Davidson?
Most oil coolers are aftermarket additions on Harleys. Luckily, most of them are fairly easy to install. The radiator itself is mounted onto the front of the bike, where the most air is going to be hitting it. This allows the air to be pushed through the radiator where the heat of the oil is dissipated and reduced. The oil supply is tapped into through the oil filter with the use of a special adapter. Most oil coolers are plug and play with your bike's wiring harness, so there shouldn't be too much electrical work to be done with the installation. If you are interested in reliability and the safety of your bike's engine, an oil cooler might be a worthwhile modification.
How to clean a Harley Davidson oil cooler?
Since the cooler is going to be mounted on the front of the bike, cleaning will be something to take into consideration. All of the bugs and dirt that get kicked up from the road are going to hit the oil cooler. Thankfully, they are built with this in mind, and most are very easy to clean. They are usually small units, and a cursory wipe down with soap and water should get rid of the grime and bugs from the road that bikers are so familiar with. If the cooler has been coated in something stickier, like tar, keeping it wet with some kind of solvent should soften it up enough to clean. Some of the oil coolers with self-contained fans take a little bit of disassembly, but it might be worth it to make sure that the fans don't get gunked up and stop pushing cool air.
Conclusion
There is nothing worse to a motorcyclist than being stuck on the side of the road. Waiting for your bike to cool down when it is already hot enough outside to overheat is no one's idea of fun and freedom. Some newer bikes are coming with liquid-cooled, coolant based systems that can work just like a car's engine and regulate the temperature enough to keep it at the desired 190 degrees. However, as with anything motorcycle related, it is important to be aware of any weight that could be added to the bike.
Liquid-cooling systems can add precious pounds to your chopper, and might not be worth the added maintenance and hassles that come along with them, especially on long rides. Even if you are a city rider, you might be wary of sitting in long traffic jams. Keeping your engine oil cool in those situations could be a top priority if your worst fear is a bumper to the bumper highway.
With technology constantly changing, there will always be new ways to enhance heat distribution, but an oil cooler for your Harley Davidson might be a good way to keep yourself on the bike and the bike on the road.