If you are a patrolling police officer, you will know the importance of a motorcycle helmet more than an ordinary motorcyclist. 
Interestingly, motorcycle helmets specially designed for police officers are extremely attractive and effective. Their high-end quality makes them unique and secure. 
Additionally, the keepers of the law always pick their safety gear carefully. If you're interested in knowing the helmets they prefer, this guide has everything you need to know. 
Quick Summary
---
In this article, we have included:
The features you need to consider before buying a police motorcycle helmet
Best police motorcycle helmets you can buy 
Tips and FAQs
Without further delay, let's get you started. 
What Motorcycle Helmets do the Police Use – Easy Guide
Let us tell you that every state and country has its own law enforcement agencies and the rules may differ from the others. Despite this, one common rule you must follow as a police officer is to converse with people with your helmet off. 
In accordance with the above obligation, you will find a majority of police officers wearing an open-face or half-face helmet. Here are some of the reasons to do so.
Wearing ¾ or ½ helmets allows them to have peripheral vision. It allows better visibility on every side. As a police officer, you don't want to lose your suspect because of obstructed vision by your full-face helmet. 
Your hearing acuity is higher in a half helmet, which is essential for a policeman on duty. Moreover, it's easier to pay attention to your surroundings. On the contrary, fully covered helmets are designed to be noise-free which doesn't suit the duty of a police officer. 
You can easily take it off without closing your eyes. Removing your conventional helmet can make you lose sight of your suspect. Hence, an open-face helmet is way more convenient in this case. 
Another reason why motor patrollers don't wear a full-face helmet is the thick padding around your chin area. This lining insulates your voice. Furthermore, it will be really difficult for you to converse with anyone if your voice is all muffled up. 
Lastly, an open helmet keeps you cool while patrolling. You don't have to worry about getting hot in warm weather. It is also lightweight as compared to a full-face helmet. 
Note: Wearing a full-face helmet is not banned. Rather it is your choice what type of helmet you want to wear. 
Safety Certification
A cop needs a motorcycle helmet that provides premium safety. It must meet the safety standards set by various transportation departments. 
In fact, any helmet you choose must be certified by the US Department of Transportation (DOT) or the Snell Memorial Foundation. Or at least by anyone of both. 
Remember not to get into the misconception that DOT does not double test the helmets. In fact, they run the only tests related to time restrictions. 
On the other hand, Snell sets voluntary standards and their testing is far more vigorous than any other safety testing. For this reason, the majority of police officers look for Snell certification while purchasing a motorcycle helmet. 
Other Features
Sun Visor 
Police love snap-on and flip-up visors and other accessories. They are very convenient to use and clean. Moreover, you can easily talk to other people without fully taking off your helmet. 
Helmet Badges
It doesn't matter from which manufacturer you are buying a police helmet, they'll always customize a badge at your order. It is placed in front of the helmet right above the visor and looks very tacky. Adding on, you can have it made in flex, metal, or any other lettering of your choice. 
LED Lights
Due to the high traffic of trucks or SUVs, the lights on the bike aren't visible enough. As a cop, you can always attach bright LED Lights with different modes in your helmet to be seen. Super Seer Police Helmets comes with molded LED's giving your helmet a more professional look.
Tip: If you are adding LED to your helmet, make sure to use a rechargeable battery and properly seal it inside the padding.
Recommended Police Motorcycle Helmets
Shoei RJ Platinum LE
You will be amazed to know that this lightweight modular helmet comes with a dual lining that keeps you comfortable and sweat-free. It easily accommodates PVP headsets necessary for a cop.
You can experience the strong glass fiber protecting your head. Moreover, it approves both DOT and Snell standards. Shoei RJ lines permit you to customize your badges, buttons, and rank bands. 
Lastly, you can enjoy the five-year warranty, The paddings on the ears can minorly reduce your hearing of the surroundings. Otherwise, it is the most premium choice a patrol officer can make.
The Seer S1602 
This fiberglass half helmet is specially designed for police patrol officers. It is made up of polyurethane linning with a slim, lowkey outlook. 
Furthermore, you don't have to worry about the communication system, It supports all communicating accessories essential for a police officer. The interior vents are also adjustable to keep you cool along with a snap-on visor. 
Lastly, this DOT-certified helmet might feel heavy on the pocket but is a perfect fit for your line of duty.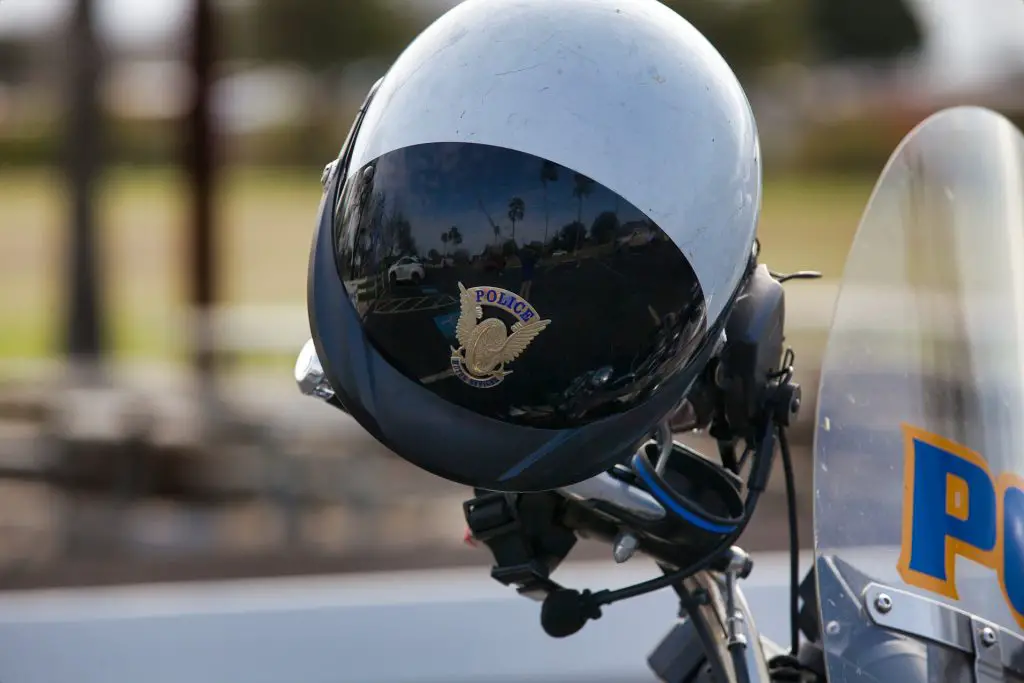 Frequently Asked Questions (FAQs)
Can a police officer wear a bulletproof helmet? 
Military DO and police wear a ballistic helmet under high-risk situations only.
They're not advised to wear them all day long under normal conditions. It is because the bulletproof helmets are heavy and can district your vision and hearing, Furthermore, the weight can cause fatigue and neck sprains. 
Is it illegal to wear a police helmet?
As long as your motorcycle helmet doesn't say 'police' or has a badge on it, you can wear it as much as you can. 
Besides, even a police officer isn't allowed to wear the badged helmet after retirement. If caught you could end up in jail for posing like a police officer. 
Why shouldn't a police officer wear a full-face helmet? 
Although a full helmet provides more security and head protection the priorities of police officers are different. They have to keep an eye on the surroundings and require undisturbed hearing. 
Therefore, a half helmet is more suitable for a cop as compared to a full helmet. 
What Motorcycle Helmets do the Police Use – Final Verdict 
Now that we have reached the end of this article, we hope it's easier for you to identify the type of motorcycle helmet patrolling police use. 
Always remember that the police laws and regulations differ from state to state. Some of the police departments issue their own helmet and the others allow their officers to pick them of choice. 
Read this guide carefully, so that you are aware of everything you need to know regarding police motorcycle helmets. CLICK HERE for more.