Riding on a motorcycle during the cold days isn't always the easiest thing to do. Exposure to cold air can lead to extreme discomfort and even pose the risk of getting frostbite. But even if you manage to avoid such serious problems, riding in cold weather could put you off simply from having to deal with the wind chill effects from being on the bike. However, there is an easy fix for this. Heated motorcycle gloves are rechargeable hand warmers that you can wear as ordinary gloves, having the advantage of coils embedded within their fabric that warm up the palms and fingers as you drive.
This post contains affiliate links. If you make a purchase, Motoprove.com may receive a small commission at no additional cost to you.
5 Top-rated Heated Gloves
There are loads of brands on the market for this, which could make it confusing to differentiate the best from the worst. The six heated motorcycle gloves evaluated below make up the top best selling, made from quality fabrics and reliable heating mechanisms that charge quickly.
1. Joe Rocket Men's Rocker Burner – Best Heated Motorcycle Gloves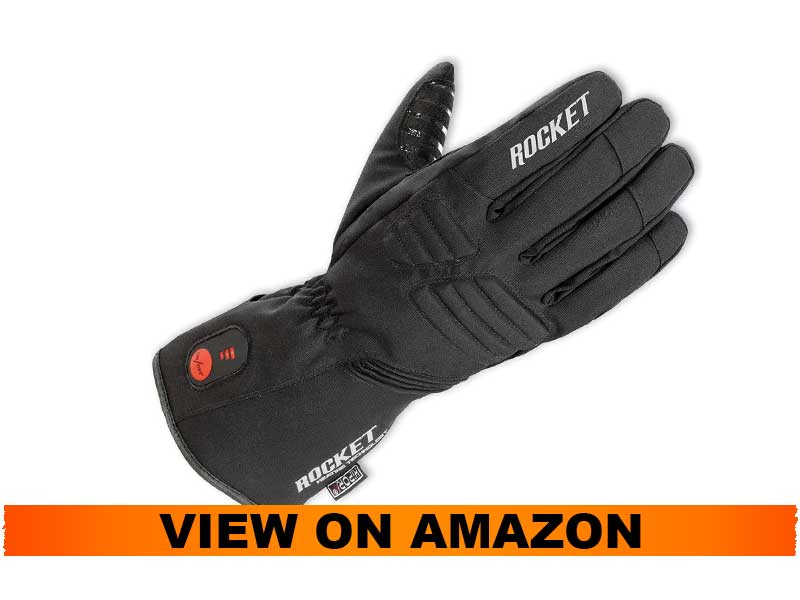 The Joe Rocket Burners are a pair of black heated gloves that gives all users ease of control. For many brands, this is a primary setback.
Features
There are three heat settings in all, to which you press it more than once for the glove's inside temperature to get warmer. And don't worry about things taking too long for you to get the gloves off quickly. Just loosen the strap at the bottom and pull your hand backward. Speaking of straps, they're both made of high-quality Velcro. You can also charge the gloves simultaneously or individually.
Charging
Charging times could be hit or miss. More than likely, you'll find yourself waiting over an hour for both to become fully charged. And the heat might not rise fast enough to make you avoid feeling the sting of impatience. While these issues might not bother you much, the fact that the batteries are placed in such an irritating position could become burdensome. Look at the gloves carefully and try to determine if your wrists are big enough to make the pair seem awkward when worn.
Overall, none of this takes major points away from the Joe Rocket Burner gloves: they're recommended for people that want an easy configuration to get the heat up and running.
Pros
Easy to control the heat settings with the other glove on
Comes off quickly with dual Velcro straps
Each glove has its own cable for charging, making it convenient for getting power simultaneously or separately
Cons
May take longer than a minute for riders to feel the heat when in motion (although this isn't a problem when stationary)
Awkward placement of the batteries (under the wrist)
2. Gerbing T5 – 12-volt Heated Motorcycle Gloves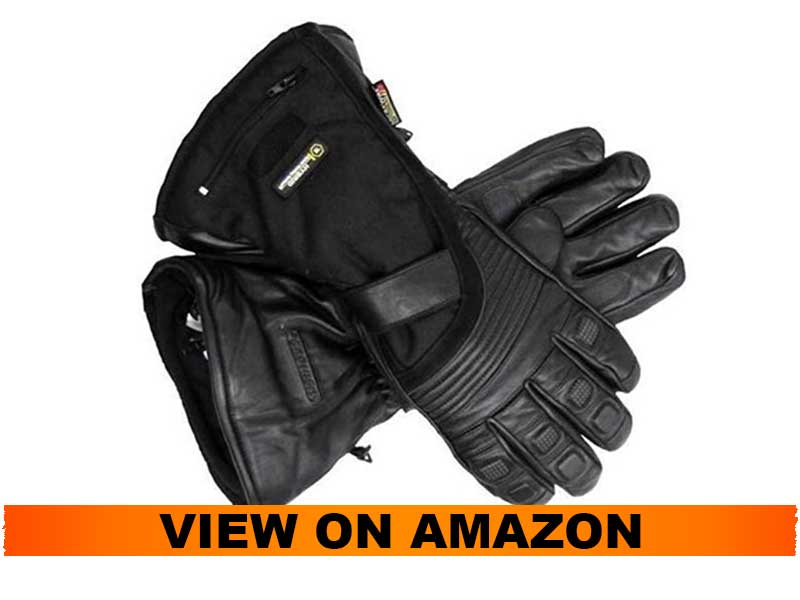 The Gerbing T5 Hybrid might look light on any ordinary pair of motorcycle gloves that you've seen, but they're truly one of a kind.
Usability
It has a high degree of wind protection, to the point where you won't even feel the sting of wind chill on your fingers during your ride. But the biggest selling point lies in the batteries. They're built in a way that makes each of them accessible very quickly. This means that you can unzip and take them out fast when they must be charged.
Heating Time
It should also be noted that it won't matter what level the batteries are at in relation to the heat level setting on the glove. Heating time typically takes less than a minute so you won't find yourself waiting around for the gloves to warm up before taking off. If there is a drawback, it would be the thumb inserts, which are a little on the long side.
Pros
Excellent protection from the wind around the thumbs
The battery can be taken out fast with the zipper, which also rests at the top of the gloves
Heats up in less than a minute
Cons
The thumb inserts are quite long, especially for people with small hands
3. Day Wolf – Battery Powered Heated Motorcycle Gloves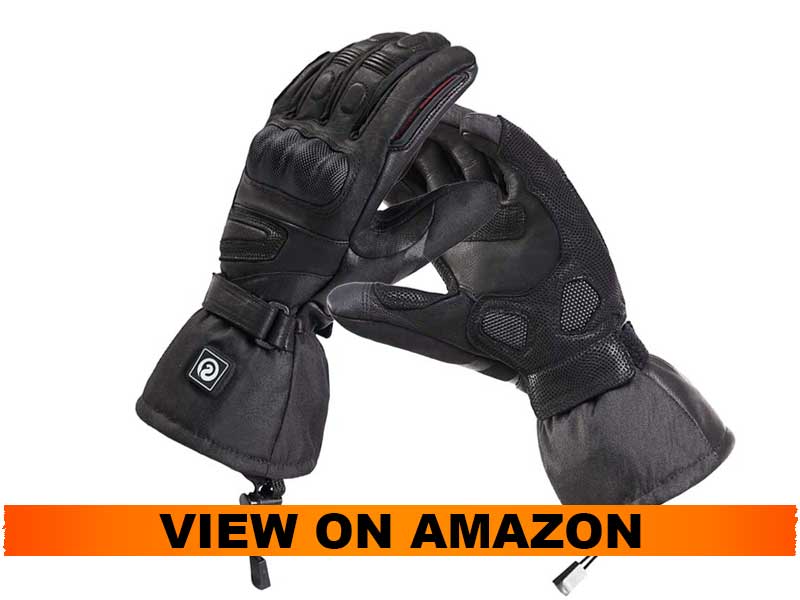 The Day Wolf Heated Gloves are unisex, having the proper sizes that cater to both men and women. Although sizing won't be a problem here, this is far from the only attribute that the company does right.
Sizing
The latches near the lower tip of the gloves are great at getting the pair to fit, even if you were to buy a size that one off a bit from what you would normally wear. Of course, that doesn't mean that you should intentionally purchase the wrong size so be aware of what you are getting before you check out. Due to the wide margin at which the latches will extend, you can get the gloves on or off with haste.
Materials
Take a look at the product's photo in its description. You'll notice that the knuckles are made of a hardened material that's somewhat identical to tactical gear used by military forces. This is to protect your hand during the wrong in case of emergencies but also provides additional warmth on top of the heating coils built in the gloves. You might have to crank the setting up to the highest level to feel anything, however. If you don't mind doing this, consider the Day Wolf if you like the idea of having extra knuckle protection.
Pros
Can be tightened to align more closely to a user's hand size when
Easy to put on or off quickly
Contains carbon fiber guards for the knuckles
Good heating along with the fingertips, including the thumbs
Cons
Not enough variation in the lower temperatures is felt
4. Kemimoto – Rechargeable Heated Motorcycle Gloves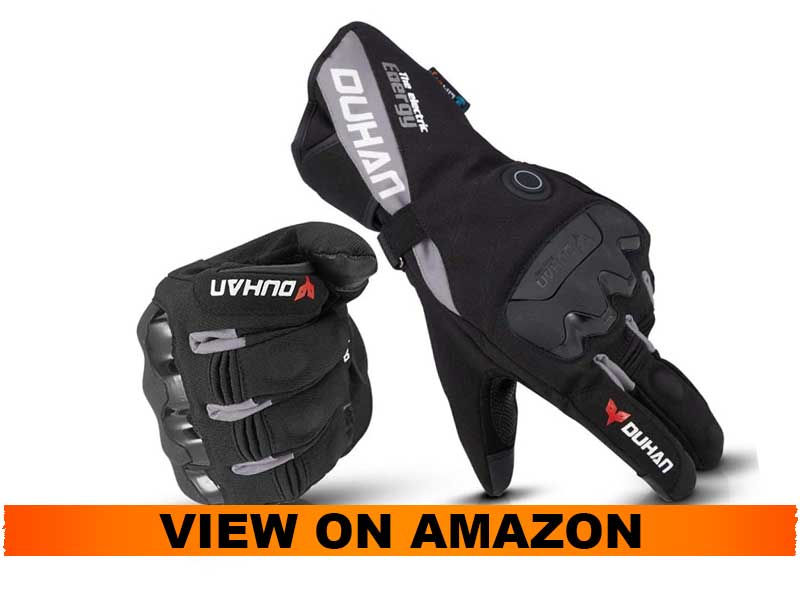 The Kemimoto are heated gloves that must have been designed by someone that has worn them before on a motorcycle. That's because they seem to hit all the right spots, areas where cool air seems to fit the fingers the most. Of course, you probably are already familiar with this. The tips will hover at a comfortable temperature, no matter how long your trip is. The Velcro straps on the gloves are another nice touch that you will come to appreciate the longer you have them.
Usability
They're useful for people that must stop and take off the gloves often, such are motorcyclists that ride for a small duration, stopping frequently to run errands, and such. And since there are four sizes for you to choose from, getting the perfect pair for you or someone else won't be a pain at all. The batteries are a little bigger and may become annoying, more so if you're planning on going with the smallest sizes. It'll take some getting used to but nothing to the point of becoming a nuisance to the point of avoided the gloves entirely.
Pros
The heating coil hits all areas around the hands and fingers that become cold the most often
Has a large Velcro strap that fits securely along the wrist, making the glove fit well
There are four different sizing options available
Cons
Batteries protrude from their casing and can become uncomfortable to have on the glove after wearing for some time
5. Highway 21 Radiant – Motorcycle Riding Heated Gloves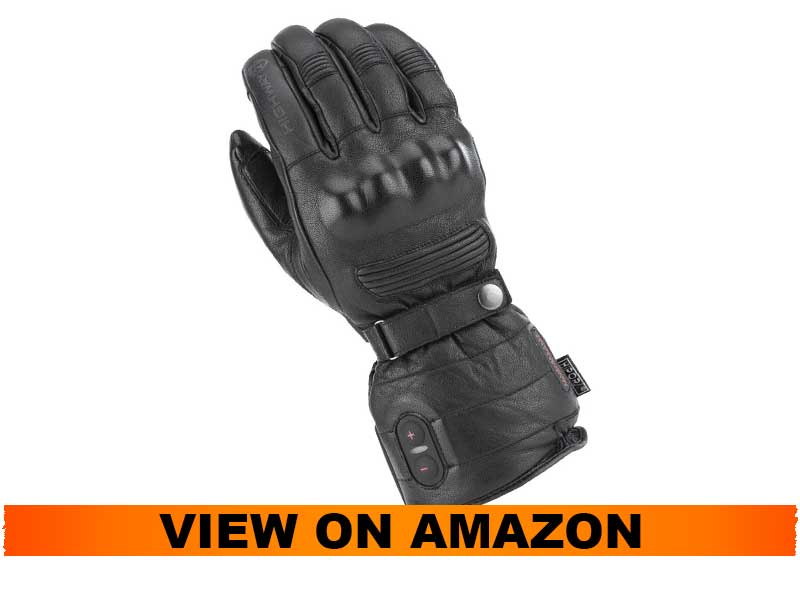 The Highway 21 Radiant Heated Cold Weather Gloves are built to last just as much as they're made to function in extreme weather conditions.
Features
If you're seeking a pair of gloves that you would enjoy wearing on and off your bike, look no further. There's a lot to like about the pair, the wrist strap in particular. It's secure and braces the lower portion of the hands without becoming too much of a burden on movement.
Sizing
They also have varied sizing options, which are all accurate. Unlike some glove brands, what you buy will be the right size so long as you know the correct measurements of your hand to acquire. Unfortunately, you might find yourself charging the batteries frequently, especially if you anticipate using the gloves every day.
Most of this can be blamed on their short lifespan with a full change. As a result, be sure to have someone to re-up the batteries after about an hour. For anyone that cannot (or will not) wait that long, look into some of the other gloves that have been shown already.
Pros
A large strap separates the on/off switch and battery from the rest of the glove, minimizing discomfort
Has sizing choices for very large and small hands
Movement of the fingers with the gloves on is easy to do
Cons
Short battery life; may last only one hour on the medium heat setting
6. Gerbing EX Pro – Heated Gloves Kit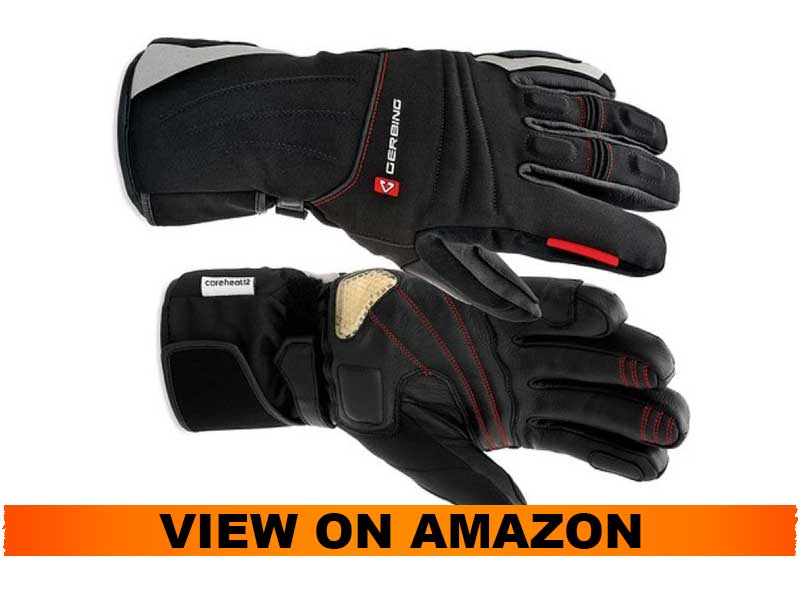 The final product is the Gerbing EX Pro Heated Gloves, which are sold as a kit with batteries and the cables needed to charge them. For more accessories, you'll have to get them separately. The grip is a top feature and the palms of your hands will remain fixed to the steering when riding with the gloves on. Although there is a battery feature here as well, it's light enough to not get in the way when operating your motorcycle on the road, or off.
Usability
You could be unable to pick up small items with your fingers: remember this more if you tend to keep your gloves on for a little while, even after you dismount from the bike. While this does allow your hands to remain comfortable with the heat on or off, drinking your favorite beverage might lead to spills if you're not careful.
Pros
Will grasp to motorcycle steering with no slipping, even when riding in moist considerations
Both gloves could be powered by one single battery or from motorcycle battery
When worn, heat appears to be distributed evenly throughout each glove
Cons
Very thick stitching along the fingertips makes it hard to pick up objects with the gloves on
Tips and FAQs
How to Choose the Best Heated Motorcycle Gloves?
Think about the times that you've worn gloves before the past. What was the primary concern that you have before buying them? For most people, this would be the fit, or size. No matter how solid a pair of heated gloves are (or how well they're made), you simply won't enjoy them very much if they don't fit you well. Because of this, it's advised for you to find out your exact measurement for the kind of gloves that you have in mind for purchase.
To measure, always gauge the hand that you're most dominant in. Use a measuring tape to circle around the center area of your palm, along with measuring the length of your thumb. The numbers that you get should be a size specified by the manufacturer of the gloves you want to buy. And when that's done, congratulate yourself for knocking out the first phase of preparing for your purchase.
Finger Freedom
While having gone over the sizing already, always keep in mind that manufacturers might not build their gloves to the same sizing standard that you use to measure. This means that sizing could be a bit off, depending on the company. Fortunately, this isn't a huge problem among the best-heated motorcycle gloves, given that you'll have them on during your rides (whereby the bike could be harder for you to operate if the gloves don't fit properly).
Additionally, you should inspect the exterior pieces of the gloves as well. If they look too thick, it might be a chore for you to do simple tasks that would otherwise be easy without gloves on. For instance, picking up your keys, taking things out of your pocket, or even placing items underneath your seat could be extremely hard to do if your hands are too thick. Never go with gloves that are excessively large or appear large to you, more so if you have small fingers.
Where the Heat Comes From?
Pay attention to the heat coils that are shown on the heater gloves that draw your interest. Looking at the product descriptions on the links provided above, you'll find that most brands show an "x-ray" photo of the route that the coils take. For some, this could be extensive but for others, it might not reach the spot that you want them to reach.
If you don't see the coils go near the areas that tend to freeze up the most, such as the tips of your fingers, look for another product that has this feature. One good thing is that nearly every product shown in the reviews has a decent coil length that heats up all the spots that are susceptible to getting petrified from cold weather motorcycle rides.
Battery charging time
Charging time for heater gloves may vary drastically between each product. There's no surefire way to know which product has a better battery, although it would be wise for you to settle on brands that have been described as having a decent battery life. However, long battery life isn't the only thing for you to worry about in this category. Be hesitant to buy a glove that has batteries that have a charging time of over one hour. These would likely need a replacement before brands that power up more quickly. Of course, all batteries will eventually lose their power as they age, but a good company that has above-average cells included can go for many years before they no longer any good.
Exterior Durability
It's something that's not always remembered, particularly with gloves that are heated. People may assume that the outer portions are somewhat irrelevant due to them having an electronic heat source. Don't ignore what you see on the outside. Low-quality gloves could suffer from peeling and prevent the batteries from providing adequate heat to your hands, at least to the point where you would notice a difference between gloves that don't have heating capabilities. One plus is those with knuckle braces: they provide good protection against accidents but also act as an additional layer of insulation to keep the wind from entering.
Final Thoughts
Do you know what pair of gloves that you want? If not, there were six pairs reviewed above, with each having some attributes that any rider would find useful to them when traveling on a road during the cold months of the year. But there are two that come out on top as the best-heated motorcycle gloves.
The Joe Rocket Black Gloves and Gerbing T5 Hybrids are outstanding in terms of producing and retaining consistent heat, whereby both are built to last for a long time without showing any signs of damage. However, this isn't a dig at the other products, so go with one of the rest if you've zeroed in on one of the other pairs shown. And when you've chosen the one that you want, get ready to keep your hands toasty all through the winter!