Bike riding enthusiasts swear by motorcycle glasses whether they are going on short or long trips. They know that soaring down open roads at high speeds without wearing protective gear can be dangerous. Light, dust, debris, and other elements can distort your vision and lead to terrible accidents. Fortunately, you will find a vast range of motorcycle goggles and sunglasses in the market that will protect your eyes while riding your bike.
This post contains affiliate links. If you make a purchase, Motoprove.com may receive a small commission at no additional cost to you.
5 Top-rated motorcycle sunglasses
While having a plethora of options is great, it can also cause a great deal of confusion, especially among people who are new to bike riding. Why? Because each pair of goggles and sunglasses is different. Some are more durable, safe, and comfortable than the others – therefore, you must be incredibly careful before choosing one as your optical clarity depends on it.
Are you a motorcycle enthusiast looking for high-quality glasses for your trips? If the answer is yes, continue reading, as we will discuss everything you need to know to buy this accessory. The piece will also recommend some of the best glasses for motorcycle riding in the market, ensuring that your bike riding trips are safe and sound.
1. Wiley X Boss – Best Motorcycle Sunglasses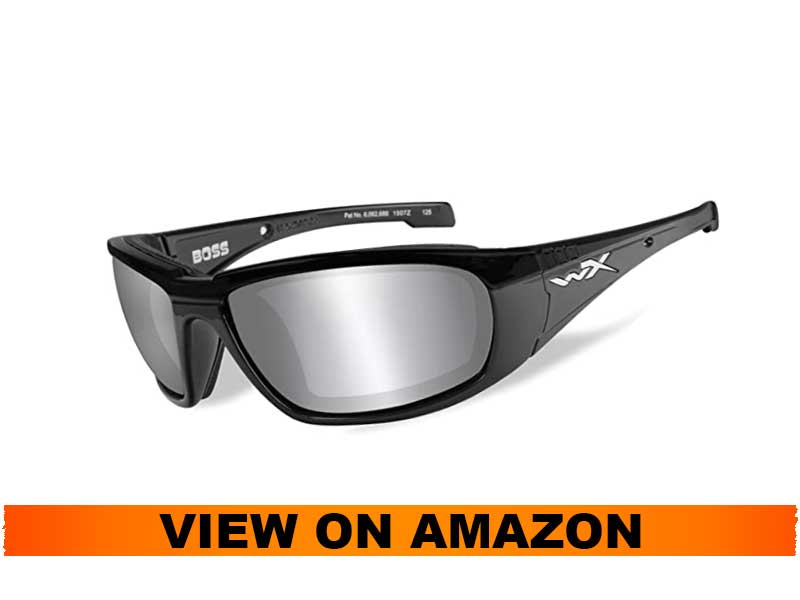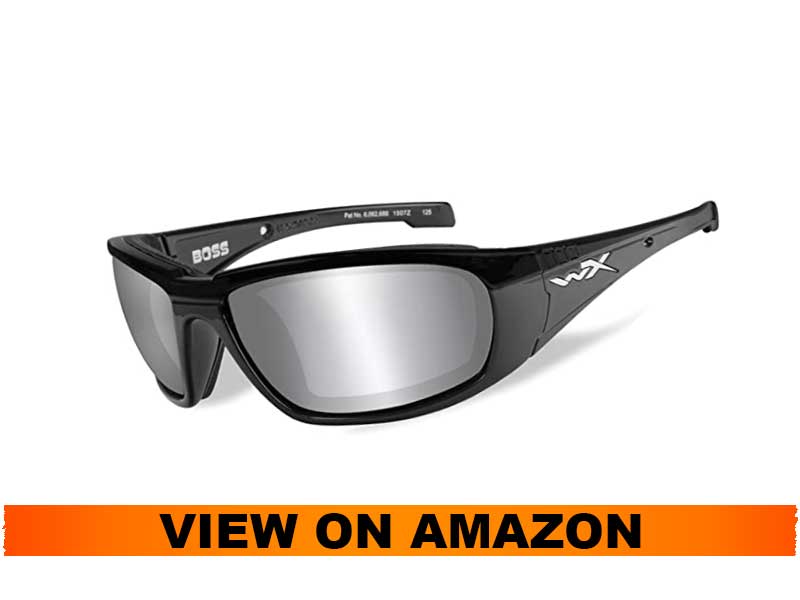 Wiley X is a well-recognized brand among long-time motorcycling enthusiasts. With this sunglass model, you get a highly durable and safe pair of shades perfect for almost every situation. Having one of the biggest frames among a vast range of Wiley X sunglasses, this accessory is ideal for people who like to zoom their motorcycles down the highway, beach, or other locations.
Every Wiley X Boss model has reputable certifications from the Occupational Safety and Health administration and ANSI, proving that it is incredibly safe.
Design
The Wiley X Boss sunglasses have an excellent design, particularly suited for individuals with larger heads. The Selenite polycarbonate lenses are highly durable, while the gloss black frame ensures that the accessory is a perfect fit for your face while adding some style to your overall appearance.
These glasses also have a detachable facial cavity for protecting you against debris, dust, pollen, and wind. You will also get a handy T-peg strap, which you can use to secure the glasses around your heads, turning them into goggles.
Budget
If you are a motorcycle enthusiast with a budget of $110 to $140, the Wiley X Boss sunglasses may be an ideal option. They have everything you would want from a high-quality pair – plus, they are also stylish, proving that they are a high-quality yet affordable eye protection accessory.
Cons
It may not be suitable for people with smaller head sizes.
2. Wynd Blocker VERT Motorcycle Riding Glasses for Wind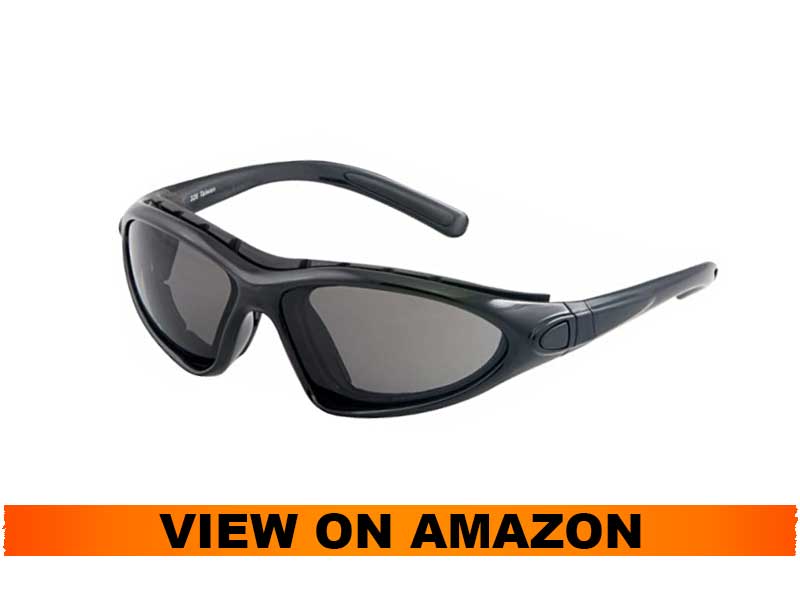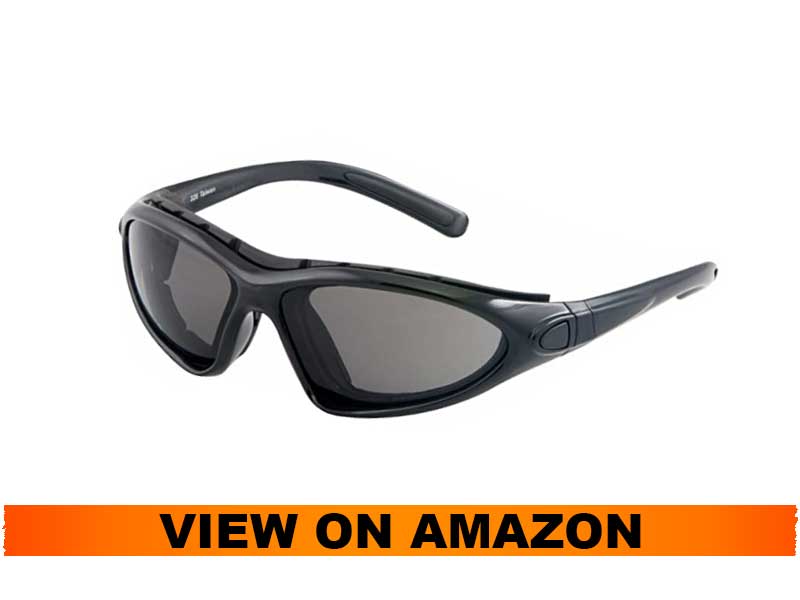 The Wynd Blocker motorcycle sunglasses are famous for their UV 400 lenses. Ultraviolet rays are harmful to our eyes and can cause significant damage if we remain exposed to them for extended periods. Furthermore, UV rays are quite distracting for bike riders, causing them to squint to concentrate on the road. Your eyes must always be wide open while driving, and the only solution is to wear polarized lenses with a UV 400 rating.
Besides the excellent protection from ultraviolet rays, the lenses in Wynd Blocker sunglasses have an anti-scratch coating. They are also shatterproof and impact-resistant, proving their durability is second to none.
Design
These glasses have an excellent ergonomic design to ensure they remain on your head even while driving at high speeds. There are rubber earpieces at the sides to hold the glasses together. What's most commendable about this product is that its manufacturer provides a one hundred percent money-back guarantee for damage. The product's frame is light and strong, a perfect option for individuals with a narrow face.
Budget
The Wynd Blocker motorcycle glasses are highly affordable for motorcyclists looking for an accessory on a shoestring budget. They contain most of the fundamental features one wants from basic biking sunglasses.
Pros
These glasses are form-fitting and comfortable
Excellent rubber padding to avoid airflow from affecting the eyes
Aesthetically pleasing design
Minimal to no fog accumulation
Ideal for people with narrow faces
Cons
Could be a bit bulky for some full-face helmets
3. Harley Davidson Motorcycle Sunglasses for Men (Tat Skull) – Shatterproof Motorcycle Glasses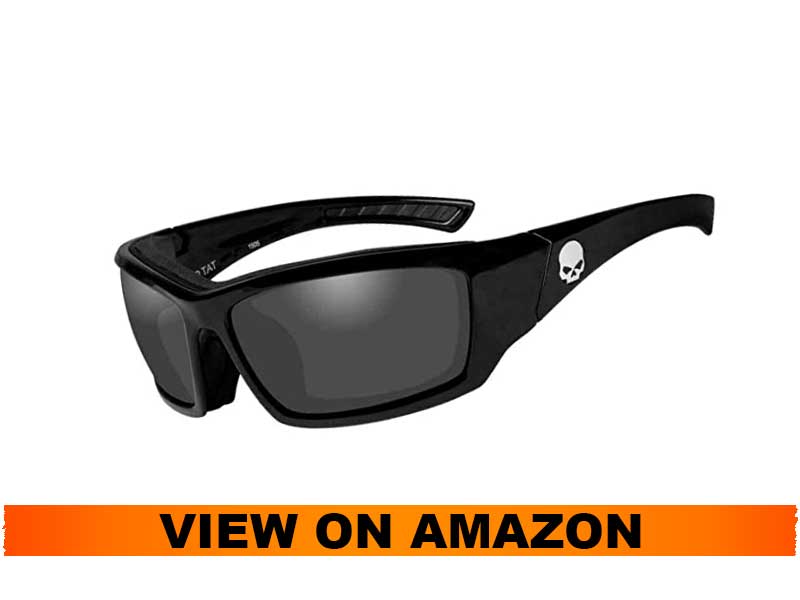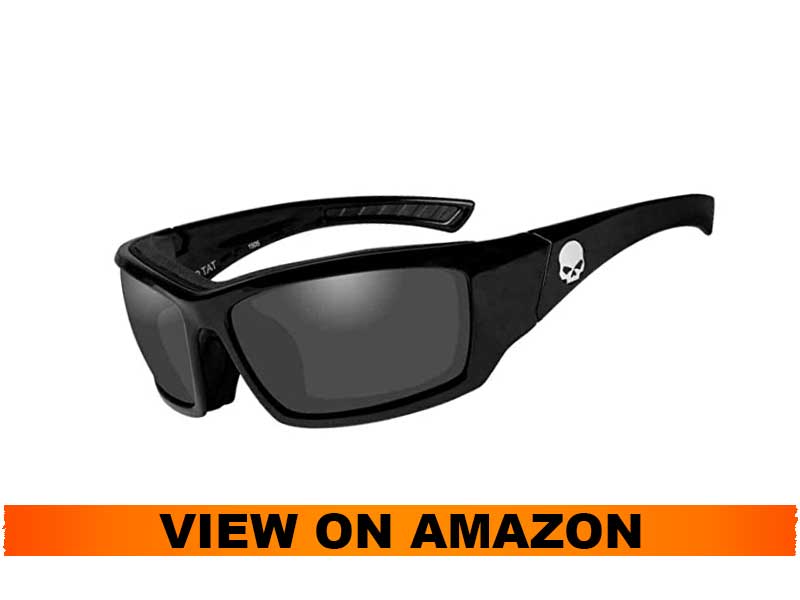 Every bike enthusiast is familiar with the Harley Davidson name. While the company is famous for its wide range of bikes, it also produces high-quality sunglasses for ultimate protection. Its Tat Skull model is becoming increasingly popular among biking enthusiasts because of its durability and cool design. These glasses are excellent for open road bike rides looking for protection against tiny particles that obstruct your view.
Design
The product's wide frame ensures that it is suitable for different head shapes. At first glance, these Tat Skull glasses by Harley Davidson may look like ordinary sunglasses, but wearing them will make you realize that they are much more. They are stylish and can comfortably fit beneath any helmet size. As the product's name implies, there is a visually appealing skull emblem at its sides. It looks incredibly stylish with the black frame and gray lenses and blends well with multiple facial features.
Budget
The Harley Davidson Tattoo Skull sunglasses are an excellent mid-budget accessory. Riders with a budget of around $50 to $65 would find this product a sensible buy, especially considering its appearance and versatility.
Pros
Excellent protection against the elements
Perfect for day-time riders
Stylish appearance
Suitable for smaller and larger heads
Cons
Not suitable for individuals who ride their bikes at night
4. Verdster Airdam 2022 – Polarized Motorcycle Sunglasses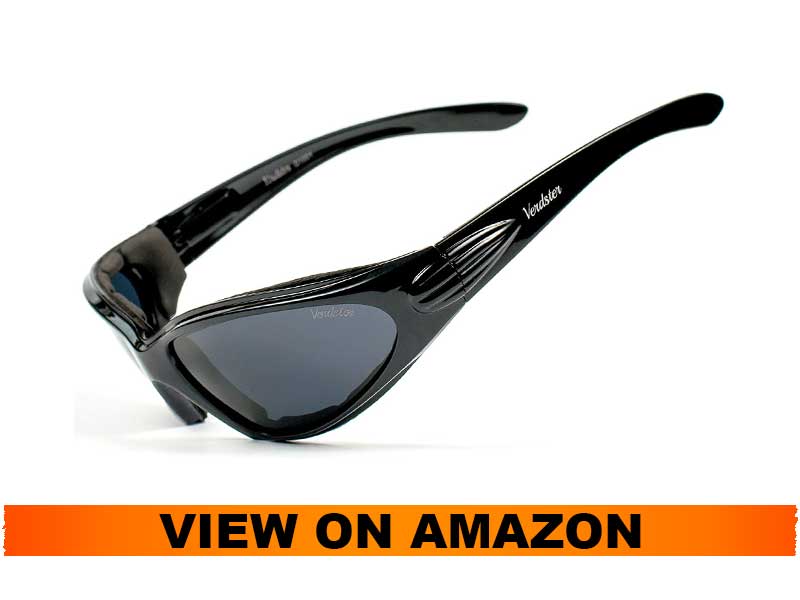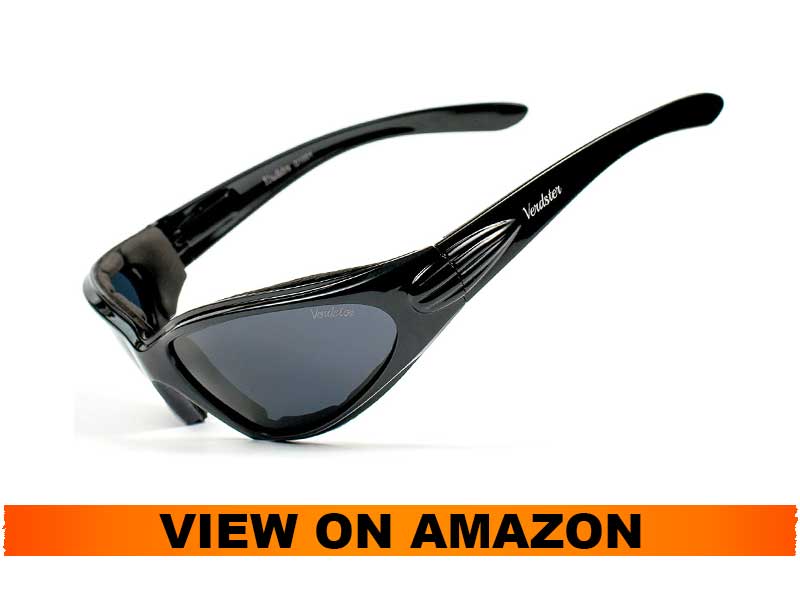 Verdster Airdam has a quality range of wraparound frames suitable for men and women. These glasses have a UV rating of 400 and are a great option for day-time riders. It would be fair to call this accessory a crossover because it is a blend of sunglasses and goggles. It is a polarized lens and is available in different colors. Bikers who encounter severe light flares while driving should choose polarized lenses because their vision remains uncompromised.
The Verdster Airdam sunglasses also have durable foam padding to provide maximum comfort while keeping dust particles and insects away from your eyes.
Design
Unlike many glasses for bike riding, these will remain put on your face, and the reason behind that is their incredible design. The product's straps are long enough for both large and small head sizes. Once you put these glasses on, they will remain unmoved throughout your trip, no matter how fast you drive.
Budget
These sunglasses are ideal for bikers with a budget of around $11 to $25. It is a justified price range, especially when you consider the accessory's excellent protection and coverage.
Pros
High UV rating (400)
The polarized lenses are ideal for light glares
Ergonomic design
Comfortable fit
Suitable for bikers on a low budget
5. Bobster Roadhog II – Prescription Motorcycle Glasses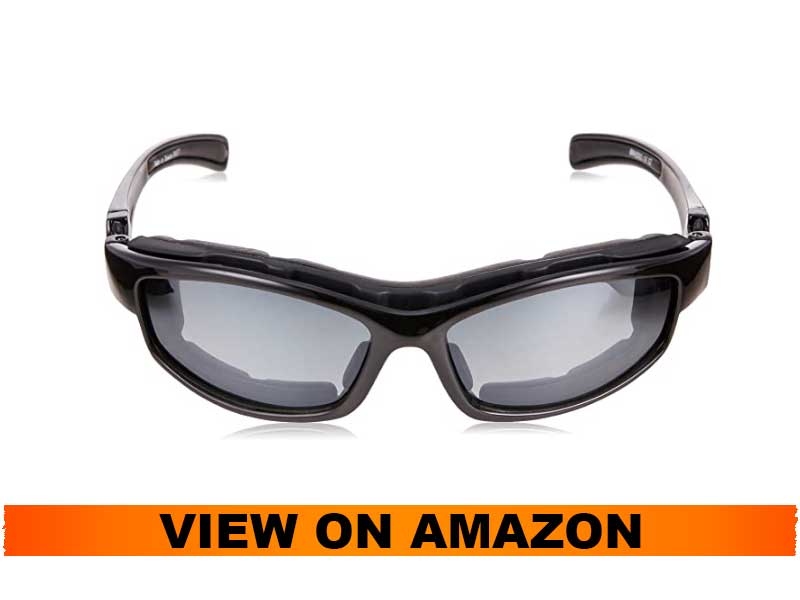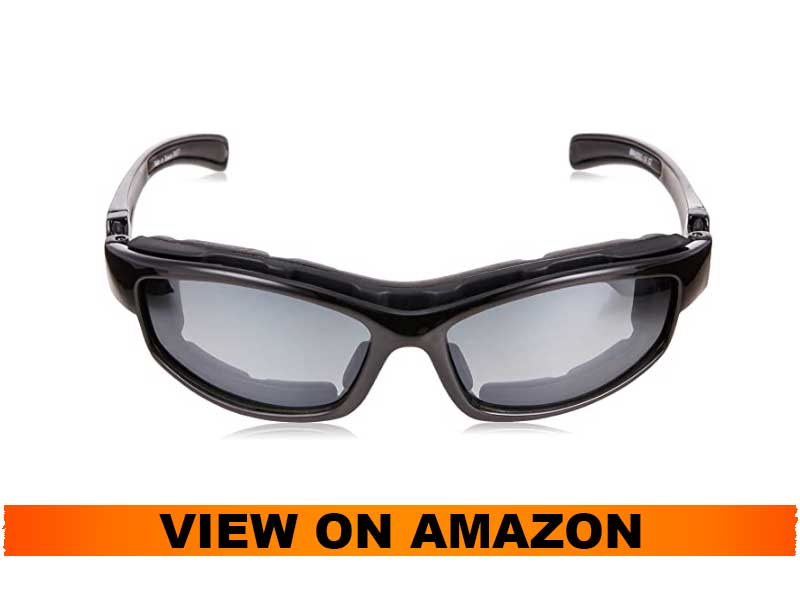 Bobster developed its range of Roadhog sunglasses with high-quality materials, making sure they last for years. Every motorcycle rider wants two things from his or her sunglasses: optical clarity and comfort. These glasses provide both. Like other products mentioned in this list, these glasses also provide solid protection against ultraviolet rays.
You can also fit your prescription lenses in this accessory's frame, ensuring your eyesight remains uncompromised. The polycarbonate lenses that come with this product are incredibly versatile, and users can adjust them according to their liking. Most motorcycle enthusiasts prefer these lenses because they can fine-tune them for different weather conditions.
Design
The Bobster Roadhog Sunglasses have an elegant design supported by loads of foam padding to maximize comfort. As discussed earlier, a lack of foam padding can cause problems while traveling and make your experience quite uncomfortable. It would be fair to say that this product's design and features are the best all-around, ensuring it is suitable for various situations and face shapes.
Budget
Bikers with a budget of $30 to $40 will find this product a suitable fit. Its quality, appearance, and versatility are superb, legitimizing its mid-range price tag.
Pros
Ample foam padding
UV coated glasses
Suitable for multiple weather conditions
Elegant design
Cons
Slightly heavier than traditional motorcycle glasses
6. Epoch Eyewear – Photochromic Motorcycle Glasses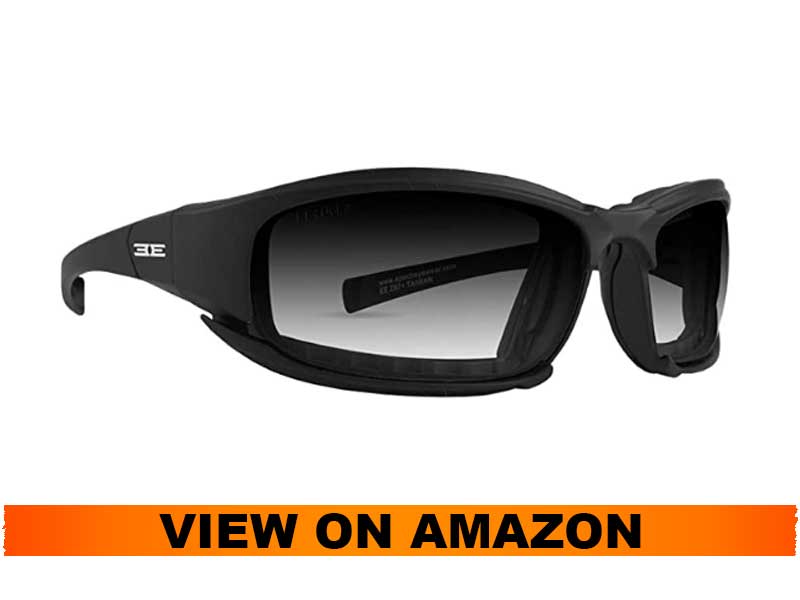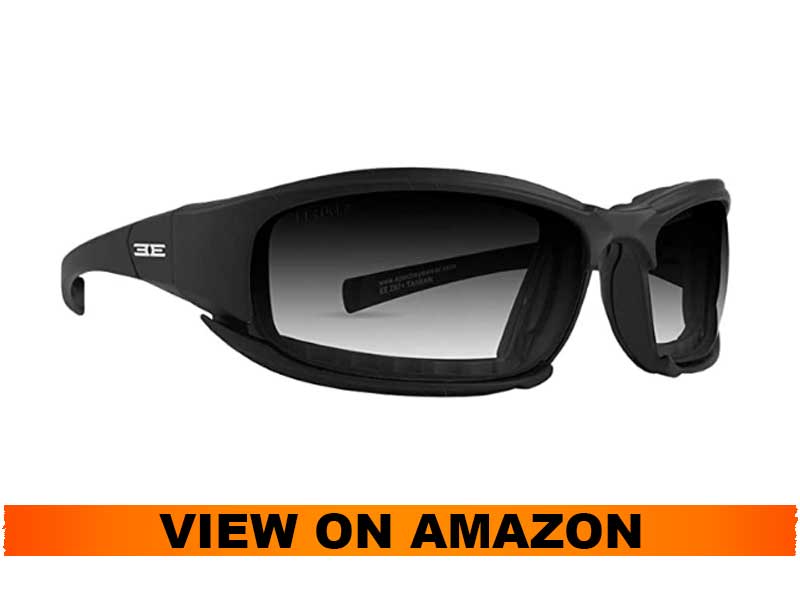 Bikers looking for glasses with photochromic lenses should consider giving Epoch a try. The Epoch motorcycle sunglasses allow riders to drive their bikes without any discomfort during the day time. Their photochromic lenses become dark as soon as you enter the sunlight. What's most impressive is that they fade back once you enter dark areas, making for a suitable option for different conditions.
The product is scratch and water-resistant and can last for years with frequent maintenance. All you need to do is store it in a suitable location, and this product will look as good as new.
Design
In most cases, eyewear only suits a particular size. Epoch designed these motorcycle sunglasses to ensure they fit large and small heads. There is ample foam padding in this product to ensure you feel comfortable while riding your bike. Furthermore, these sunglasses also have ear stocks and interchangeable straps for added versatility.
Budget
These motorcycle sunglasses are for bikers with a high budget. They cost around $80 to $90, but the look and versatility are second to none, justifying their price tag.
Pros
Rapidly fades back when during the dark
Superb photochromic performance
Excellent UV protection
Aesthetically pleasing design
Suitable for different head sizes
Cons
May not be the best for nighttime riders.
7. Global Vision Eyewear – Motorcycle Glasses for Night Riding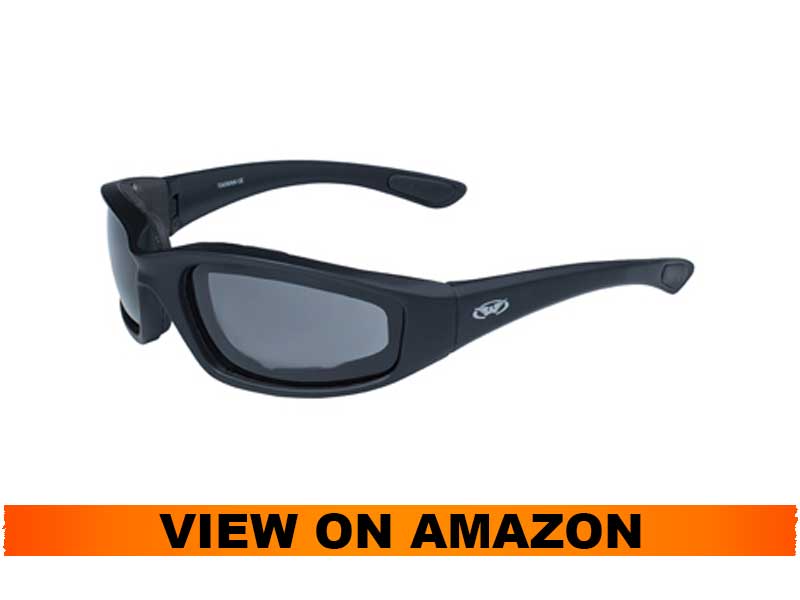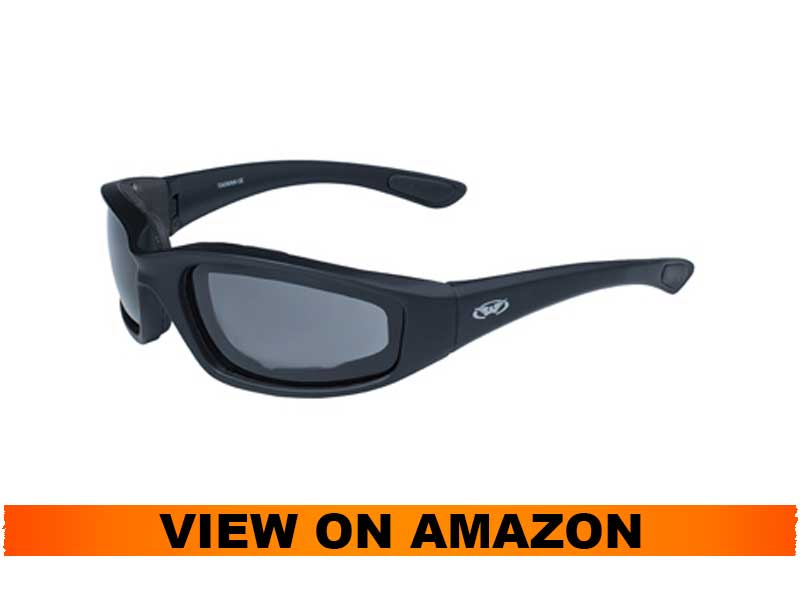 Global vision's motorcycle sunglasses are ideal for people who ride their bikes every day. Why? Because they are incredibly durable and can withstand rough use. The UV 400 filter paired with the shatterproof polycarbonate lens makes for a safe eyewear accessory for bike riders. Eye coverage is one of the strongest suits of this product, as it fully-protect your eyes from winds and outside particles while driving.
Design
One of the main specialties of Global Vision Sunglasses is its aesthetically pleasing black frame. It is comfortable and stylish. The product also has a durable anti-fog finish, ensuring you can ride during gloomy conditions. Furthermore, the ergonomic design of this product ensures that wearing and removing is not an issue.
Budget
Global Vision sunglasses are available in the $30 to $50 price range. Their incredible durability makes them an excellent long-term investment, ensuring bikers don't regularly buy new eyewear. Moreover, it comes as a set of 3 where you get the yellow eyewear, clear, and smoke sunglass.
Pros
High-quality polycarbonate lenses (shatterproof)
UV400 Filter
Anti-fog finish
Set of 3 Sunglasses
Cons
Could be Large for closed Helmets
8. Oversized Choppers – Motorcycle Glasses For Big Heads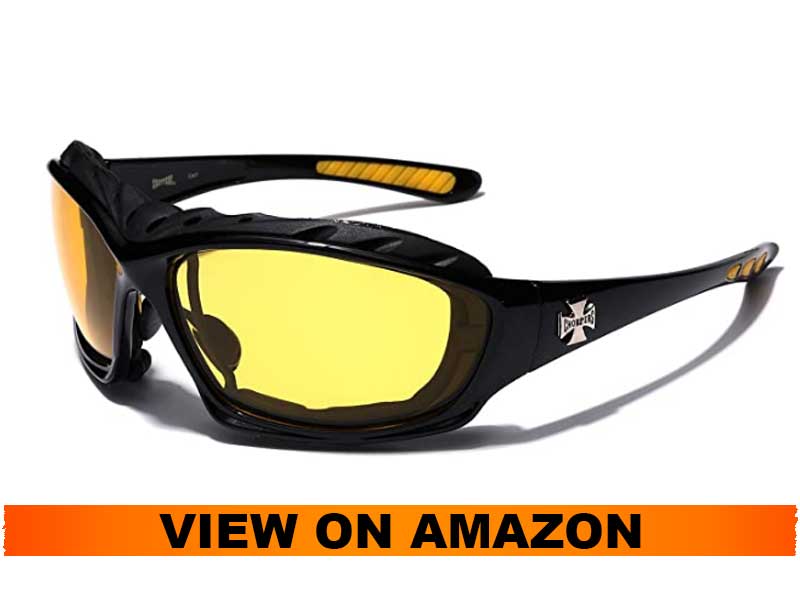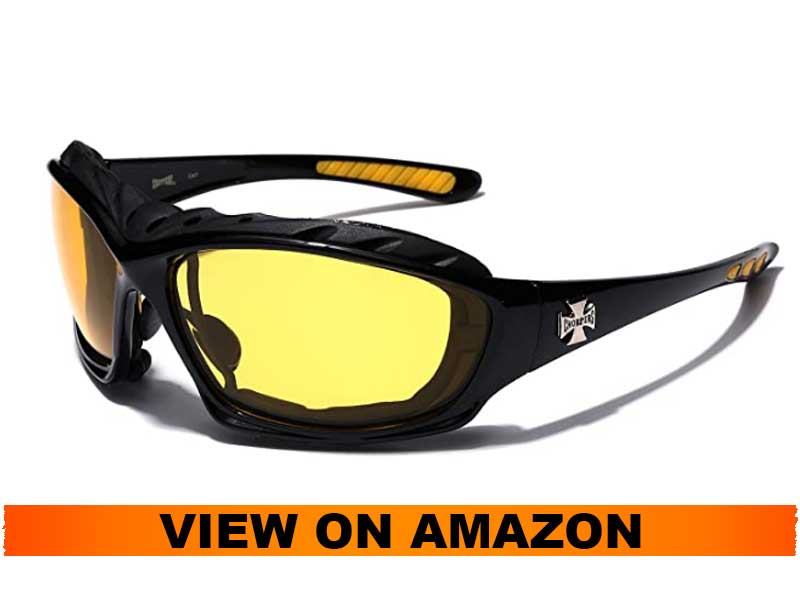 The oversized chopper sunglasses for bikers are ideal for nighttime riders. They feature a quality plastic lens and frame that can withstand falls and scratches without damaging easily. These glasses are also suitable for motorcycle riders anticipating rain or snow. The non-polarized lenses have durable rubber padding, preventing dust and other particles from obstructing the rider's eyesight.
Furthermore, these glasses are immensely comfortable, and you can wear them for hours without feeling eye-strain or itchiness. Users can choose from a vast range of colored tinted lenses suiting their stylistic preference and their eyesight.
Design
The design of these motorcycle sunglasses is unique. They are suitable for different facial features, but their large size may prevent them from fitting inside closed helmets. Consider choosing these sunglasses for open-faced helmets to ensure a snug fit.
Budget
These glasses are suitable for motorcycle riders with a low budget. They are available around a price range of 10 to 15 Dollars, providing affordable, high-quality eyewear.
Pros
Sporty look
Ample padding
Non-polarized plastic lens
Suitable for day and nighttime riding
Comes with a drawstring pouch
Cons
Fitting could be an issue.
Tips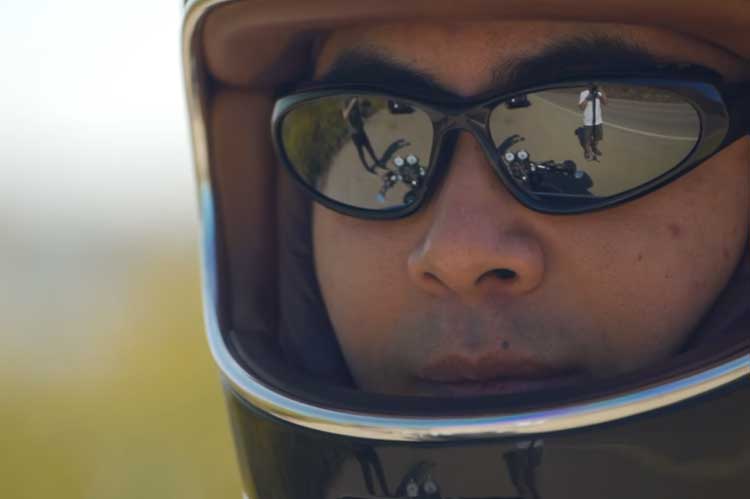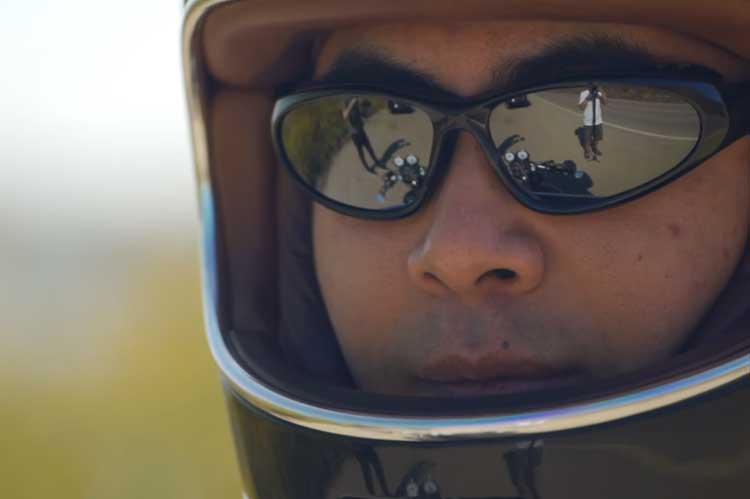 Are you struggling to find the right pair of sunglasses for your bike riding needs? If the answer is yes, there is no need to worry, as mentioned below, are essential considerations to help you choose the glasses.
Check the UV Rating
If you drive during the day, the chances are that your eyes get exposed to an excessive amount of sunlight for a long period. Overexposure to sun rays can damage your eyes and could even lead to accidents. It would be fair to say that riding your bike with the glaring sun distracting you is far from ideal. Therefore, it would be best if you selected motorcycle glasses with a UV rating of 400 – it will provide you 100% protection from ultraviolet rays.
Prioritize Wind Protection
You should only choose an eye protection accessory that protects you from dust, debris, and heavy gusts of winds, especially when traveling at a breakneck pace. Eyewear with eyecups consisting of foam padding is perfect for preventing the wind from hindering your view, ensuring you get a decent degree of protection against the wind.
Anti-fog Coating
Anti-fog glasses contain a special coating preventing them from accumulating fog in particular weather conditions. Wearing sunglasses that fog up easily is the last thing you want when riding a bike as you can lose sight of the road and crash with another vehicle or other objects.
Choose Scratch Resistant Glasses
It does not matter which lens type you choose as long as it has a scratch-resistant coating. Most sunglasses are subject to wear and tear for those who don't know, especially when the person who wears them rides their bike at high speeds. Road debris is not the only problem that causes scratches, keeping the glasses in backpacks and saddlebags is also a massive issue.
The Glasses Should Provide Decent Coverage
Motorcycle sunglasses are available in various sizes and shapes. Some provide more coverage, while others only cover your eyes. Your helmet is a massive determinant of the coverage you may need. For instance, if you wear an open-faced helmet, it would be best to choose a pair of goggles or sunglasses that provide extra coverage, enough to protect you against bugs, debris, and the wind.
Make Sure the Glasses are Compatible with Your Helmet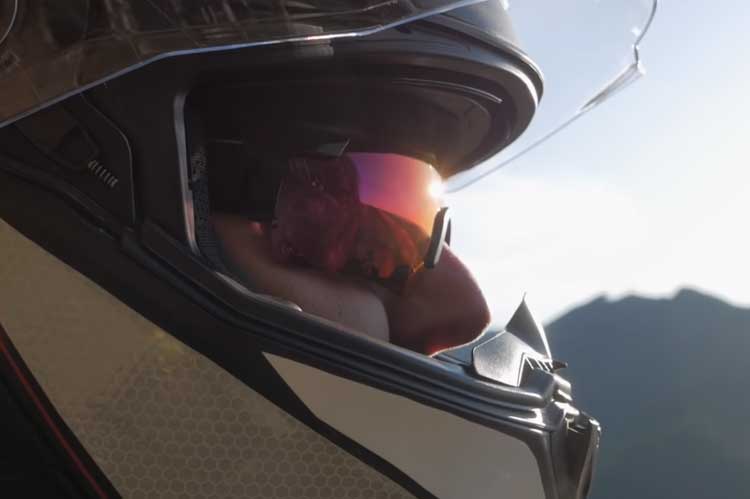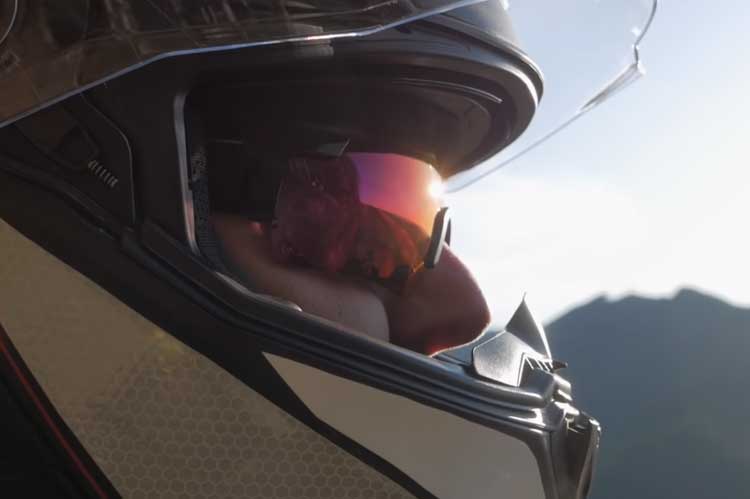 Once again, the type of helmet you wear will be a massive deciding factor for the size of the glasses you buy. Sure, most motorbike glasses should fit under your helmet, but they should also feel comfortable. Consider changing your glasses or helmet if you feel discomfort, as it could distract you while riding.
Don't Forget to Check the Straps.
Check the straps of your sunglasses to ensure they are safe and stay in position. Every long-time bike enthusiast thoroughly checks the strap as it helps them to determine whether the glasses will fit on their face comfortably. What's more, you can even adjust the strap according to your liking, ensuring it matches your comfort level.
Choosing the Right Foam Padding can do Wonders for You.
Consider choosing motorbike sunglasses with a decent amount of foam. They will provide you maximum comfort while ensuring your eyes are safe from wind and tiny particles. That said, foam padding is not durable and eventually degrades, making the glasses uncomfortable and less effective and uncomfortable. Try choosing sunglasses from a brand that provides foam replacement.
Be Wary of the Temples
For those who don't know, temples are the lengthy part of a sunglasses' frame, connected to the perch and lenses. Make sure the length is enough to fit you comfortably. Some are straight, while others are available in hooked forms. Most riders choose the straight variants as wearing, and removing them is more straightforward.
Style
If you care about how you look while riding your motorbike, you should consider looking for a pair that suits your facial features. You'd be surprised to learn that not every goggle or sunglass would look appealing on your face – you may want to select a pair matching your stylistic preference and, most importantly, your motorbike.
Frequently Asked Questions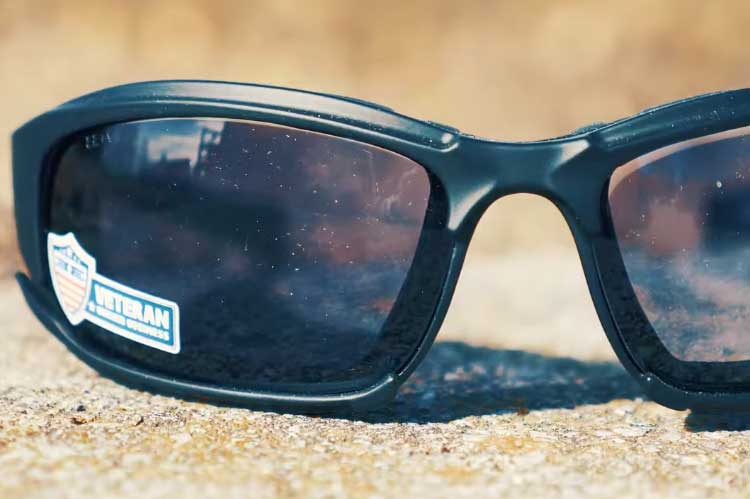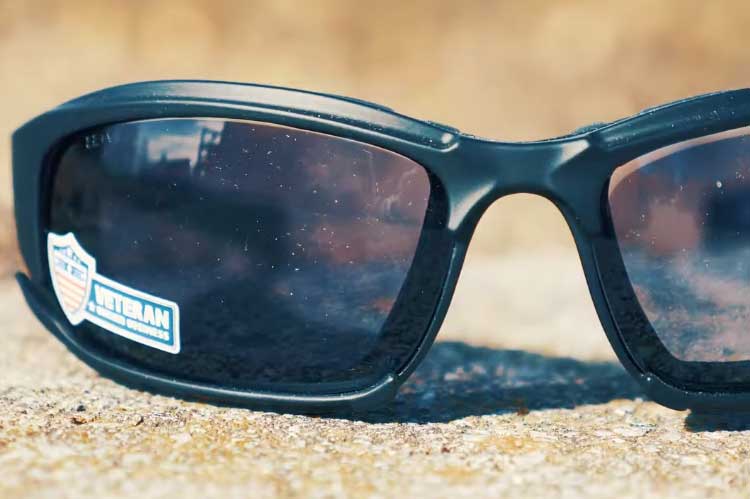 What are Motorcycle Glasses, and why do You Need Them?
Long-time biking enthusiasts know that motorcycle sunglasses are a vital accessory for safety and optical clarity. Sure, they make you look stylish and fashionable, but, as mentioned earlier, these goggles also protect you against road debris, wind, dust, sun glare, and other harsh elements.
Whether experienced or inexperienced, every bike owner should buy motorcycle sunglasses and choose the right pair, ensuring the next time they rev up their bike's engine, they have premium protection and can ride in style. Eye protection is critical when riding a motorbike, and sun glare is a known hazard that leads to accidents. Wearing motorcycle glasses will keep road glares and unwanted lights at bay, ensuring you can drive without getting distracted.
Besides the road glare, debris is also a problematic issue that most bikers face, especially when riding in windy areas. You cannot protect your eyes against debris by wearing open face helmets. However, bike riding sunglasses would be ideal for protecting your eyes from getting hit by insects and particles.
Furthermore, you may also need glasses to prevent squinting when exposed to sunlight and other bright lights. They will form a buffer between yourself and the sun, ensuring you can keep your eyes open throughout your trip. Last but not least, a decent pair of glasses will make you look good and feel confident when you are on your motorbike. With loads of options available in the market, you will find sunglasses matching your stylistic preferences.
What are the best glasses for motorcycle riding?
Contrary to popular belief, there is no one-stop solution when it comes to motorcycle glasses. Sure, you may come across some accessories with loads of features, but the areas where you drive and their conditions matter more. Ideally, you should consider choosing an all-around pair that you can wear during any weather. More importantly, the glasses should fit you and feel comfortable while you are riding your bike.
If you mostly ride your bike during the day, choosing a pair of top-quality tinted lenses would be ideal, and you will have no trouble finding them. These lenses will protect your eyes from any type of glaring light or reflective light. What's more, wearing motorcycle glasses with tinted lenses are perfect for keeping your eyes cool, preventing you from developing light sensitivity issues, migraines, and other issues.
What type of glasses should not be worn while driving at night?
Do you mostly ride your bike at night? If the answer is yes, it would be best to avoid wearing dark tinted glasses at night. They will obstruct your vision instead of helping you drive and may even lead to horrible accidents. Consider choosing regular, tint-free googles to drive safely at night.
How do I choose the right size glasses?
Contrary to popular belief, choosing the right size of motorcycle glasses is not that complicated. All you need to do is consider your head's size, helmet's shape, and the space you have inside the helmet (if you wear it.) The more comfortable your glasses, the more enjoyable your biking experience will be. Fortunately, with the endless range of motorcycle glasses available in the market, you will find one that fits you.
Which sunglasses are ideal for the rain?
Wet riding conditions are incredibly dangerous for bike riders. The rain immensely obstructs your view on the road, and wearing the wrong sunglasses only makes things worse. If you anticipate riding in rainy conditions, wearing sunglasses having hydrophobic lenses would be a great choice. These lenses are highly popular among surfers, as they help them see clearly by repelling water from their glasses.
How to Prevent Motorcycle Glasses from accumulating fog?
The only way you can prevent your glasses from accumulating fog is by opting for motorcycle sunglasses with anti-fogging coats, and air circulation won.
Final Thoughts
Now that you have at least a decent amount of knowledge about the varieties and types of sunglasses in the market, you will have no problem choosing one. When you buy this accessory, remember the factors we discussed earlier to ensure you choose the right product.
Never compromise on the glasses' functionality over style. Of course, style is also an essential consideration, but it is secondary and will not protect you while driving. A high-quality pair of glasses should provide you with the fundamental requirements you wanted out of it (UV protection, glare and water resistance, protection against debris, etc.) Moreover, since motorcycle sunglasses are a hefty investment, their material should be incredibly durable and last for years with minimal to no damage.