You'll agree that riding in the rain with soaked clothes brings huge discomfort and may ruin your adventurous ride. The best motorcycle rain suit can help you prevent this discomfort and let you ride comfortably while feeling dry and warm.
What makes the best motorcycle rain gear? You ask! Well, there are plenty of aspects to look for in order to be convinced that indeed the apparel is the best. There are lots of these rain apparels for motorcyclists the choice of which can be bewildering to a novice rider.
This post contains affiliate links. If you make a purchase, Motoprove.com may receive a small commission at no additional cost to you.
5 Top-rated motorcycle rain suits
Do not be overwhelmed as I will unfold the top 7 motorcycle rain suits I have handpicked just for you. That still can be confusing to choose one amongst the 5. I will, therefore, give you tips in the buyer's guide about the best features to look out for when making your purchases.
1. Wicked Stock – Best One Piece Motorcycle Rain Suit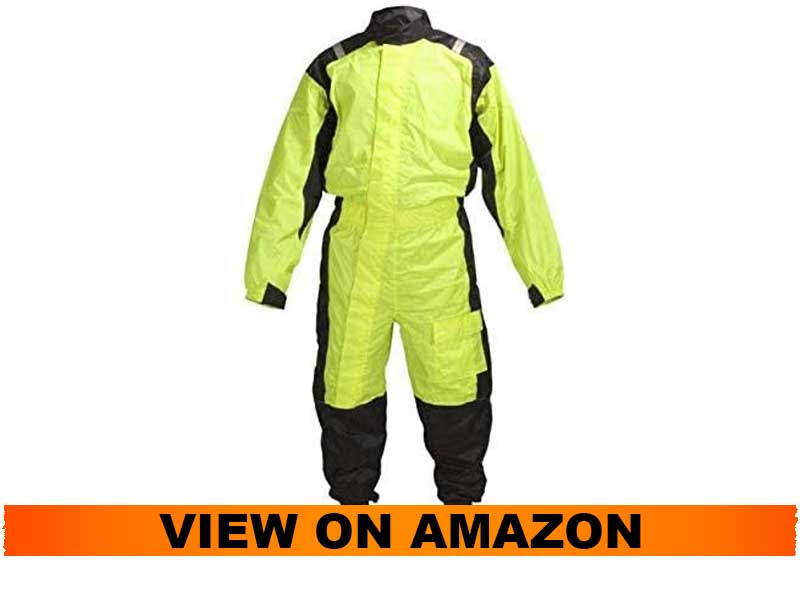 Opening my catalog of the best motorcycle rain apparel is Wicked Stock Biker One Piece Rain Suit. The reason I chose it as my first is that it ticks most of the boxes in design, waterproof, visibility, and many more features.
Design and Materials
The design of this suit is attributed to how it is constructed and what materials were used. At first glance, you will notice, as in the description, a single piece of gear with well-designed seams.
Well, behind this design lies a PVC-free polyester fabric with a polyurethane coating to add waterproof properties. Add to this outer shell an inner thin liner made of the 210 Denier non-stick fabric. When it rains, it's highly possible for the rain jacket to stick to your body due to the pressure of the water and the built-up sweat. With this non-stick liner, you will survive the discomfort.
Included is a hood to protect your head and neck from the rain. Then a 43 inches long diagonal zipper closes the elements outside to give you the much-needed dryness and warmth when riding amid inclement weather conditions.
Both the leg opening and the waist are elasticized to enable easy fit. The 8" wide and 17" long gusset makes it a cinch to wear your boots along for full protection. This gusseted leg cuff is adjustable for anyone to fit accordingly.
This gear gives you more freedom to ride with your belongings, all thanks to its 7" x 7" pocket on the left leg.
Waterproof
Waterproof is of course not a feature to overlook rain apparel. A combo of polyester and polyurethane coating is great in waterproofing abilities. To enhance it even further, this gear has a 3" wide dual storm flap to provide a waterproof on the front zipper so that water pressure does not seep through. Furthermore, sleeve cuffs come with adjustments to improve waterproof.
Visibility
Visibility is yet another feature worth considering. This rain suit is available in bring yellow and black colors to enhance visibility. If you've come across a yellow gear at night you would relate to how shiny it is. Misty and foggy weather conditions will not be a match to this suit's bright color.
Comfort and sizing
The comfort of the rain suit is attributed to its sizing. Unlike other gear, motorcycle rainwear is designed to fit on your regular wear. For this reason, you need to be considerate of your size dimensions with your regular apparel. You get to choose from medium to XXX-large with this wear.
Pros
Made of quality materials: polyester
Waterproof with PU coating
Elasticized waist and leg openings
43 inches long diagonal zipper for ease of wear
Cons
Color choice only limited to a yellow and black combination
It is pricey
Verdict
This riding rain suit is undoubtedly one of the best on the market. It is impressive with its design materials, waterproof, breathability, visibility, and comfort. It may have its drawbacks but are not really a deal-breaker.
2. Viking Cycle Two Piece Motorcycle Rain Suit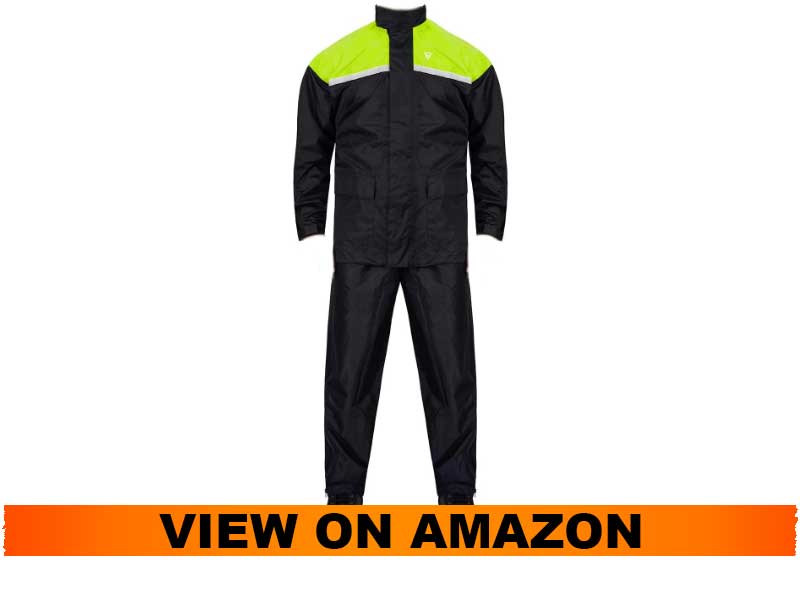 Viking Cycle Motorcycle Rain Gear is yet another impressive riding gear for motorcyclists that is worth considering. Unlike the preceding review, this one is a two-piece. It stands out with its design and materials, waterproof, visibility, and other pertinent features.
Design and Materials
From a design perspective, this gear is a two-piece suit designed for enthusiastic riders in treacherous weather conditions. Starting with the jacket, it has an elastic hem on the waist and on the sleeve cuffs. This makes it an absolute breeze to wear. Mobility and flexibility are important when riding hence these elasticized designs.
The pant itself is easy to wear. It has a zippered bottom which enhances a snug fit and ease of wear. The calves have a heat shield against your hot motorcycle pipes when riding. Many apparels disregard the importance of including heat shields so this gear does great in that field.
Also worth noting is the included removable stirrups which make it a cinch to wear your boots with this rain suit.
The suit has external and internal pockets for extra storage of your items. This makes it sweat-free to have numerous belongings with you. For waterproof purposes, I recommend putting your valuables in the inner pockets.
Waterproof
Waterproof is an important feature to never forget. Made of a 600D polyester fabric coated with polyurethane, there's no doubt the suit was specifically designed to offer a great deal of waterproof. No water penetration can occur as long as the coating is still in good working condition.
The gear comes with Velcro enclosures which also add value to its waterproof properties. Also, the hood is provided to protect you from raindrops.
Visibility
Coming in three variances, this two-piece rainwear does not compromise its visibility. It has reflective piping to protect you from imminent danger when riding in unfavorable weather conditions. Misty and foggy conditions can make it difficult for fellow cyclists to spot you and so the next minute could be a catastrophic collision. Thanks to these reflections.
Comfort and Sizing
Both the pieces are comfortable. Ideally, the fit over your normal riding gear so makes sure you choose the right size but not too bulky that it flaps during strong winds. With elastic hem waist, it is even more comfortable to wear this gear regardless of your body shape.
Pros
Made of waterproof 600D polyester and PU coating
Elastic hem, sleeve cuffs, and waist
Heatshield to protect against hot motorcycle pipes
Reflective piping for maximum visibility in unfavorable conditions
Affordable gear
Cons
It's hard to find a drawback in this suit apart from it being a two-piece while others are a single piece. If the other piece has worn out, you may have to roam around looking for a replacement instead of buying a single unit.
Verdict
This is one of the most affordable motorcycle rainwear on the market. It is a well-constructed suit with hard-to-find drawbacks but an elegant design. From elastic hems to Velcro closures, the apparel is worth the value of money. I recommend the product to an enthusiastic motorcycle rider in all conditions.
3. Joe Rocket Survivor – One-Piece Rain Suit for Motorcycle Riding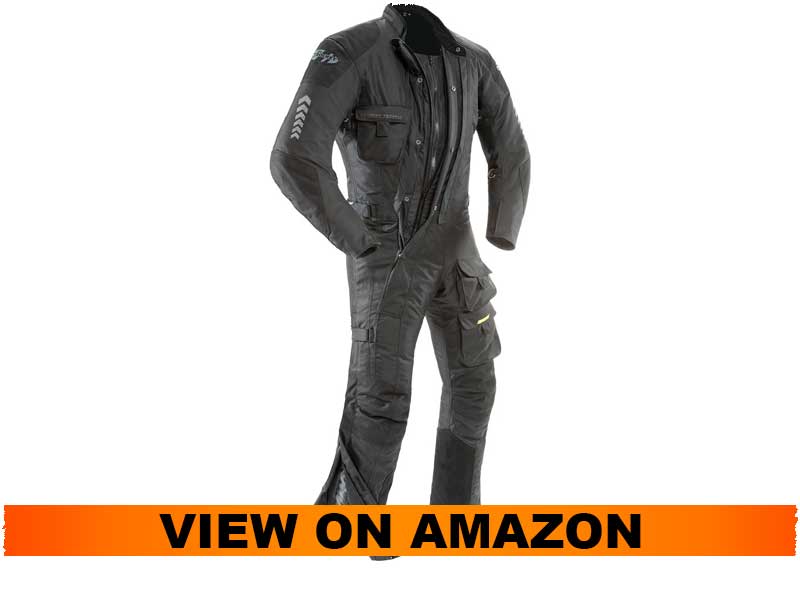 Joe Rocket Touring Suit is a great deal for motorcycle tourists who may likely encounter rain. It looks so expensive but worth the value of money. Let's see how it fares with its features.
Design and Materials
At a glance, you'd notice how sophisticated this riding apparel is. It looks so bulky mainly due to its multiple layers of fleece. This includes an optional spine pad and the removable inner liner. These optional fabrics make it convenient to wear the gear in summer as it remains to be hot despite rainfalls.
The gear is constructed with the C.E approved Rock Tex 600D shell which will last you years to come. It has heavy-duty zippers that are also of top-notch quality. The lower leg area is heat resistant, and so it will protect you from the hot pipes of your bike. In addition to the zippers, there are buttons too to make it snug. The pockets are included at the top and bottom for ease of storage of your items.
By looking at this gear from a distance, you can decipher its snug fit. For this reason, I recommend getting a bigger size than your riding gear.
Waterproof
Waterproof is unquestionable in this riding motorcycle suit. From its thickness to its multiple layers of fleece you should rest assured it protects against heavy rainfall. The 600D Rock Tex outer shell is treated to be waterproof.
But, the way the gear is thick, breathability may be a major concern unless you remove the inner liner. When riding you will get hot and sweat, and if the suit is not breathable, you might get wet still from sweat as if you hadn't worn a rain jacket.
Visibility
I somehow feel this suit has compromised visibility with the color black. There are some white stripes on the shoulders which should be fairly visible in blurry conditions, but not as visible as bright yellow colors. If I were to advise the company I would ask them to add brighter colors to the apparel.
Comfort and Sizing
This motorcycle rain apparel is comfortable as it allows flexibility and mobility when wearing it. The added spine pad is even more comfortable. It gives you the comfort of riding while knowing that your most sensitive body part is well-protected.
The inner liner, too, makes it comfortable to ride while wearing this suit except on summer days where you may have to remove it. At 8.2 pounds, the gear is bulky and so it may not be a favorite to minimalists. Size-wise, make sure you choose a bigger size. You have options from small to XXL.
Pros
Quality 600D Rock Tex outer shell
Waterproof fabric
Spine pad and inner liner
Pockets for storage
Affordable gear
Cons
Visibility is not that great
Expensive gear
Verdict
If you don't mind spending a lot to get a premium quality, then this suit is a yes for you. I wouldn't mind either to invest in this apparel. The challenge is that it is too bulky, but at least it has a removable spine pad and a removable liner to trim the weight. It is waterproof and heat resistant.
4. Nelson-Rigg SR-6000 Motorcycle Rainwear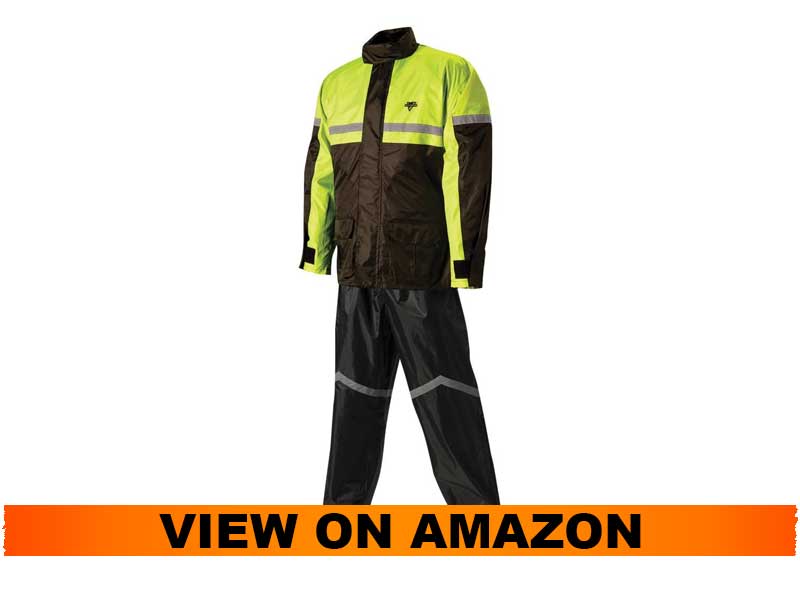 Nelson-Rigg Stormrider Rain Suit could be the rain apparel you've been looking for at an affordable price. It's a complete Stormrider rain suit. Let's see how its features unfold.
Design and Materials
This motorcycle riding suit comes as a two-piece: a jacket and pants. You will first notice that you can choose a different color of the jacket while the trouser is black. That's an attractive design for those who are into elegance.
Materials of construction are a soft polyester that is supplemented with a PVC (polyvinyl chloride) to resist water penetration. This soft polyester fabric is durable more than nylon even though it can be pricey.
The jacket has a full-length zipper which makes it easy to wear while the Velcro storm flap adds enhancement to water resistance through the zipper. A soft corduroy inner collar with a hood has been included. This adds more warmth to your head.
The waist is elasticized to fit anyone and the cuff is adjustable with Velcro tabs. All these combined bring you the comfort of wearing this riding suit. If you are traveling with your items, you have two large outer pockets for storage. Also noteworthy is the underarm vents for ventilation.
Waterproof
A combo of polyester and PVC is undoubtedly the best with water resistance. This coating is renowned for its 100% water resistance. However, its drawbacks are lack of ventilation. Thus, you may end up getting wet from your sweat as though you soaked in rain without a water-resistant coat.
Well, the good part of this motorcycle gear is that there are underarm vents to compensate for the lack of breathability of PVC. You may need to open up your arms constantly to let in enough air and wick away moisture.
Visibility
By looking at the picture, you would also attest to the visibility of this gear. There are reflective stripes on the jacket and the trouser to enhance nighttime visibility. Add to that the bright yellow which also improves visibility at night.
Comfort and sizing
Made of soft polyester, this gear gives you the comfort of wearing it. However, the discomfort that may result could be attributed to insufficient moisture elimination by the unbreathable PVC coating. Of course, there are underarm vents but are not as competitive as a breathable fabric all-over.
In terms of size, the gear is available in a range of sizes from small to XXXX large. Always ensure that you get a large size because you have to wear the suit over your regular riding wear.
Pros
Highly reflective for nighttime visibility
Affordable riding gear
Made of a soft polyester
Two external pockets for storage
Elastic waistband
Cons
PVC is not breathable
Underarm vents are effective if you open up your arms
Verdict
If you do not want to break your bank, this is the ideal motorcycle rainwear you can consider. It has great features such as the material of construction and waterproof. Hood and soft corduroy inner collar bring you warmth during your ride. The drawback, however, is the PVC coating which tends to be unbreathable. Nonetheless, many customers are impressed with this gear.
5. BMW Unisex ProRain – Rain Oversuit for Motorcycle Riders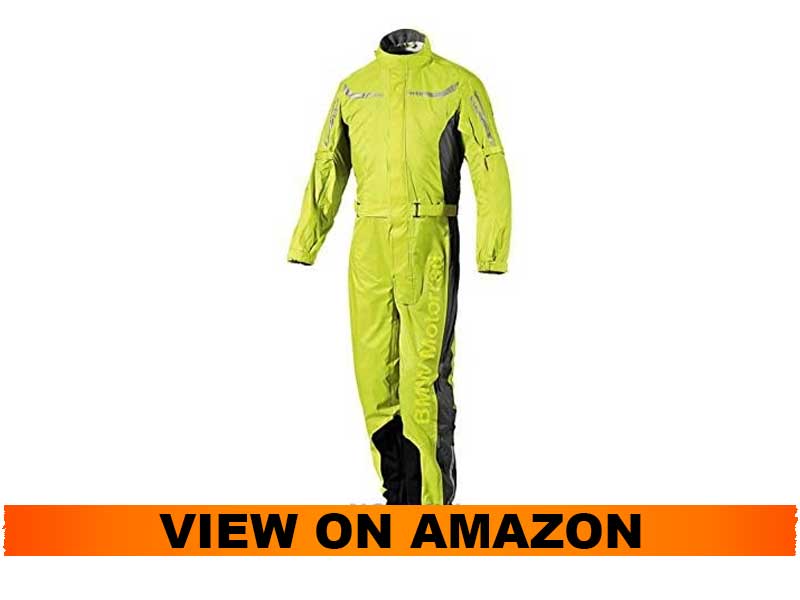 A great chance for anyone riding a BMW motorcycle to make a perfect match with this BMW Motorcycle Rain Overall. It's great overall to endure varying rainy conditions.
Design and Materials
Like BMW automobiles, the design of this motorcycle rain apparel is enticing. Whether you are a woman or a man, you would love this unisex design with its yellow color. But I wish there are a variance of colors including those that are feminine for women to customize their appearance. Nevertheless, we both know that yellow is great for nighttime visibility.
At least for a change, I brought you a rain gear made of 100% nylon with polyurethane coating. Most are made of polyester for its greater features. While polyester surpasses nylon with features, it is relatively expensive. Waterproof treated nylon is fairly competitive too.
With the long diagonal zipper at the front, you will zip away from the elements and enjoy the warmth. It also makes it easy to wear the piece. The leg sleeves also have zippers.
Also included is the balaclava and the optimum collar edge to a helmet. All these make this suit unique on the market. Moreover, there is a large breast pocket inside to help you save valuable items within reach. You can access this pocket by opening the labyrinth system.
The upper arm comes with a Velcro fastener to easily adjust it. For other adjustments, it has an elastic waist strap.
Waterproof
Nylon and polyurethane are the best combats of water penetration. Riding in the rain will be enjoyable because PU coating does its job in resisting water. Equally, the fabric is breathable with finer holes that are larger than the water vapor but smaller than the water drops from outside. This provides great ventilation to prevent moisture buildup.
Visibility
Visibility is a priority for BMW. This is evident in the stripes included on this rain gear in combination with the bright color. That makes riding in foggy conditions risk-free because other motorists will be able to spot you at a glance.
Comfort and Sizing
The gear is comfortable with soft nylon combined with PU coating. It eliminates moisture and the discomfort of riding while drenched in sweat.
There are various sizes from small to XXXX large. The downside is that the price tends to change per size. From small to large, prices increase although the difference is subtle considering how important this suit is.
Pros
BMW is a great brand
Made of quality nylon and PU coating
Breathable fabrics
Highly visible in low light conditions
Cons
Prices change per size
Fairly expensive
Verdict
For a BMW fanatic, this is your go-to rain gear. Besides the brand, I like the design of this rainwear. It makes motorcycle riding an absolutely enjoyable adventure regardless of weather conditions. If you are prepared for extra pounds in your luggage, this is worth taking.
6. Scoyco RC01 Motorcycle Rain Coat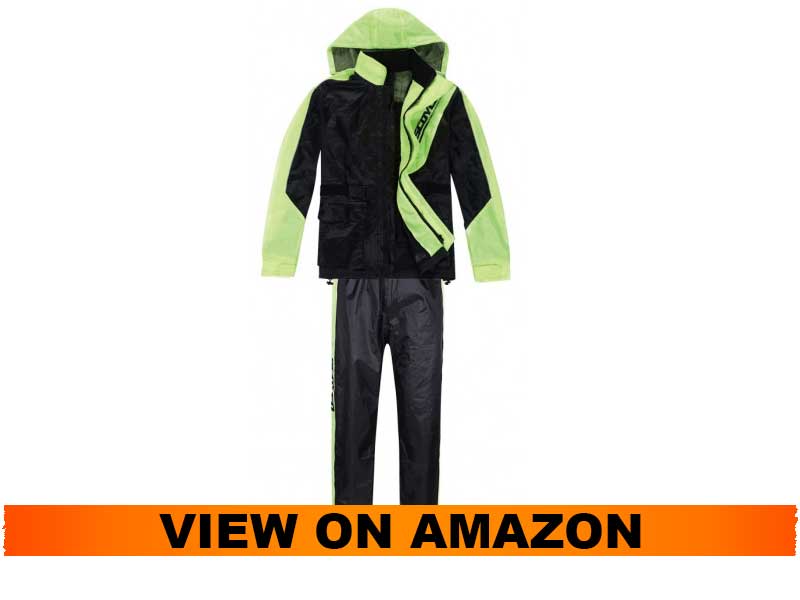 Scoyco RC01 is yet another two-piece motorcycle rain overall with popular bright yellow and black colors. Is it really worth your time and money? Let's see how its features unfold.
Design and Materials
Coming as a two-piece motorcycle raincoat, every piece (jacket and trouser) is carefully crafted to resist outdoor elements and to last you years to come. It features polyester material with a PU coating to resist water seepage.
The gear is stylistically designed to attract your onlookers with bright yellow colors. There are large pockets on the front sides that provide storage for your belongings. That's convenient to avoid drenching your items in water. Both pockets are waterproof too.
The coat has straps to help you adjust the size. The waistband is elastic; this makes it convenient for motorcycle riders because you need mobility when riding. A constrictive attire will just make your ride miserable.
Sleeves sizes are also adjustable with Velcro straps. But I haven't seen a hood on this coat.
Waterproof
Coated with polyurethane, this polyester rain overall is a convenient choice for rainy weather. Its waterproof rating is 5000mm.
Visibility
With bright yellow colors and reflective stripes, the company has put visibility at the forefront of your safety. Imagine riding in the night and then boom, there goes collision simply because you're not visible due to rainfalls. Thanks to the bright colors used in this design.
Comfort and Sizing
The comfort is going to depend on the correct sizing you choose. This motorcycle rain suit is available in a range of sizes from medium to XX-large with no price change. Note that this coat is best suited for men and so even the sizing is designed for males. See the size suggestion by height and weight below:

| | | | | |
| --- | --- | --- | --- | --- |
| Height and weight | 160-170cm (50-60kg) | 170-175cm (60-65kg) | 175-180cm (65-75kg) | 180+cm (75+kg) |
| Suit size | Medium size | Large size | Extra Large | XXL |
Pros
Highly reflective bright colors for low light visibility
Available in a range of sizes
Quality polyester with waterproof fabrics
Straps to adjust sizes
Cons
Designed for men only
No hood
Verdict
This motorcycle raincoat is undoubtedly one of the best you can find on the market. It is a highly visible gear in foggy and misty climatic conditions. I find it worthy to invest your money in. Just beware of the sizes. I recommend this coat and I have seen how many customers react positively to it.
7. Tour Master Defender 2.0 Motorcycle Rain Suit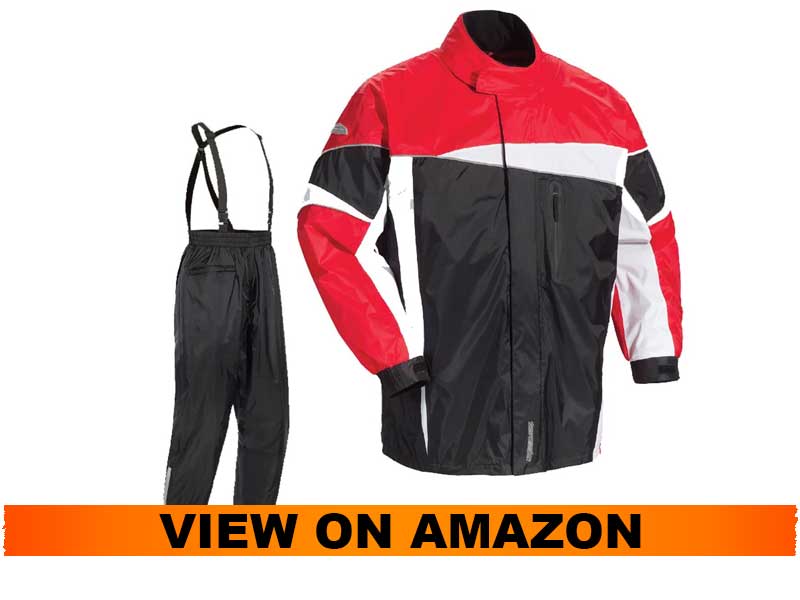 For a change, Tour Master Defender is a mixture of red, white, and black colors without any yellow in it. It is still visible enough in low light conditions. The suit is worth the value of money.
Design and Materials
This, as in the description, is a two-piece motorbike rain suit with the jacket appropriately matched to the pant. The pant has straps at the waist to insert your shoulder for a snug fit. Also, it has stirrups for the convenience of wearing your waterproof boots.
To ensure longevity, the gear is made with durable nylon construction that is coated with polyurethane to improve its waterproofness. The seams are sealed tightly to prevent any water from seepage through them.
Two large pockets are included to store your belongings. There are vents under the arm that enhance air circulation to prevent moisture buildup as it can make your ride a nightmare. The polyester mesh lining also helps with air circulation. In fact, the whole apparel is breathable and this is advantageous to those who perspire a lot.
Thanks to the contoured microfiber-lined collar with its adjustments that riders can find comfort in this suit. The pant is non-slip with its dense nylon fabric, especially at the seat side. Also, its waist is elastic which is easy to adjust to preferred sizes.
Waterproof
Now that I have already mentioned polyurethane, you should have an idea that the fabric is waterproof. The seams are sealed to prevent any seepage. Added to this waterproof feature is breathability which helps vent the coat to prevent the accumulation of sweat.
Visibility
The combination of red, white, and black colors and reflective stripes give this motorcycle rain overall greater visibility in times of need. I've stressed this need many times already that riding in foggy or misty climatic conditions is risky without reflective apparel.
Comfort and sizing
The suit is available in small, large, and XX-large sizes even though that is not really a broad range of sizes compared to others on the list. Regarding comfort, the suit also excels. The fact that it is made of nylon coated with polyurethane tells you that no water seepage that can cause discomfort. Moreover, underarm vents add to the comfort by wicking away moisture to leave you dry and warm.
Pros
Made of quality nylon material with PU coating
Large pockets for storage purposes
Elasticized waistband
Waterproof and breathable
Verdict
If you like to experience some changes, this motorcycle raincoat is your best buy. Unlike most suits, it comes with a blend of red, white, and black, which I find unique and still reflective. There are no potential drawbacks in this coat apart from lack of hood and a fairly expensive price which is still worth and justifiable. I recommend this gear for riding in the rain.
Tips and FAQs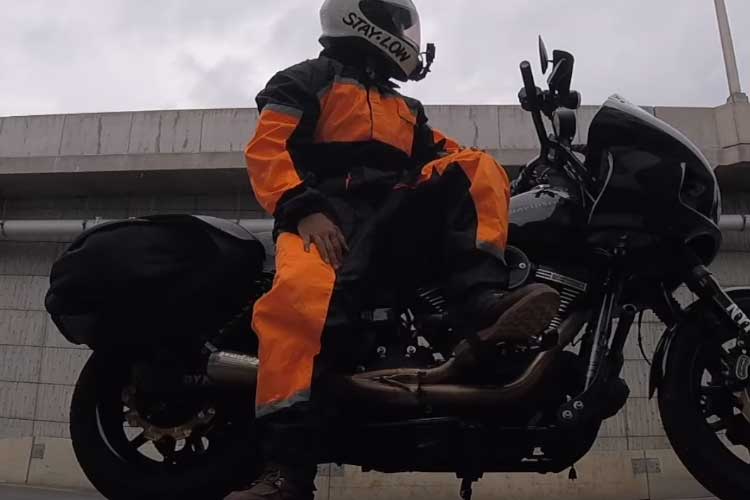 To help you make shopping effortlessly and sweat-free, I have compiled a comprehensive buyer's guide below. It takes into account all the features you need before making a purchase. If you have read the reviews carefully, you'd realize I have already partitioned the info into the necessary features. These include waterproof, design and materials, visibility, breathability, sizing, comfort, and many more.
Which one is better between a motorcycle rain suit and a waterproof riding jacket?
You might be having a normal waterproof riding jacket and asking yourself why you should have the rain suit. Well, both apparels are good for rainfall resistance but have drawbacks and advantages.
A normal proof, for instance, is well-constructed and treated with waterproof and can be worn at any time of the day even when it is not raining. Basically, you do not have to pack it and remove it when it's time for the rain. In other words, a normal waterproof jacket is for accidental downpours.
A rain suit, on the other side, is designed specifically for the rain. For this reason, if it is not raining you should pack it. Well, that add extra pounds to your luggage. Nevertheless, rain suits, because they are dedicated to rain resistance, protect against heavy downpours much better than the normal waterproof garments.
Note that rain suits should be worn over your regular outfit for riding. Normal waterproof garments, on the other hand, need not be worn over other apparel.
What features should I look for when buying?
Materials
The design of the raincoat is paramount. Also, check how it is constructed and what materials have been used. Usually, nylon and polyester dominate the market of rain apparel. Both of these materials are durable and breathable.
But, to enhance their waterproof, polyurethane coating is added. This coating is also breathable and durable. Others may be treated with durable water repellent (DWR) which may wear out over time and thus need a re-coat. Some use PVC. PVC is great and repels water excellently. However, PVC is not breathable and so it's a bad choice for moisture accumulation.
To compensate for the lack of breathability in PVC, other garments include underarm vents to provide enough air ventilation.
Waterproof
As elaborated above, always go for waterproof materials. Polyurethane coating is great and it is also breathable. Note the difference between water resistance and waterproof. A coat wears over time and a waterproof feature lasts for a long time.
Other motorcycle rain overalls include a removable waterproof liner. This reinforces the waterproofness of the suit. Look out for such products.
Furthermore, look for other features such as storm flaps over zippers because they prevent any possible seepage of water during heavy downpours. There are many such features so be on the lookout. The seams, too, need to be sealed properly to prevent any possible penetration of water.
Breathability
We know that it's highly likely to sweat a lot when riding because it is an intensive activity. Regardless of whether it is raining lightly or heavily, there will be moisture buildup as a result of sweat. To combat that, you need enough air circulation through breathable fabrics. Like I said, beware of PVC without underarm vents.
Visibility
The importance of visibility need not be overlooked. Visibility becomes a problem when it rain. Fellow motorcyclists or motorists may struggle to see you. Therefore, you need highly reflective riding gear to prevent collisions attributable to bad weather visibility.
Other garments come in bright yellow or green colors and reflective stripes. All of these are important considerations. Any color as long as it is bright enough is fine and acceptable.
Sizing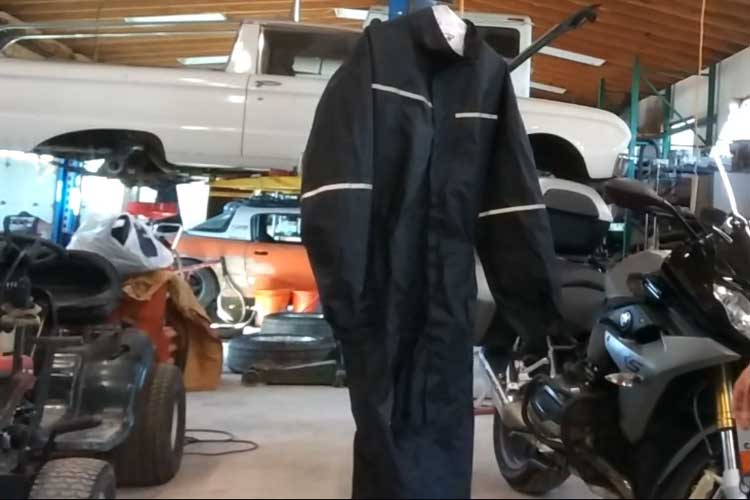 Sizing is important, too. Because rain suits are meant to be worn over regular riding gear, you need to consider a larger size. Do not go for an overly large gear that will sack and make it inconvenient to ride.
To add on, you need to be considerate of adjustments on the waist and other parts of the gear. I would go for elastic bands, hems, and Velcro straps as they help adjust the size.
Final Thoughts
This marks the end of our comprehensive review of the best motorcycle rain suit. All were reviewed based on features discussed in the buyer's guide. It is important to note these features to make your shopping an absolute breeze.
One last point I want to make is that do not be deceived by prices. An expensive garment does not automatically mean that the gear is much better than a cheap one. Always prioritize the best features before making your purchase.