With more and more people riding motorcycles these days, you will come across a large number of bike riders on the road. While convenient, riding a motorcycle is not as safe as other types of vehicles no matter how good of a driver you are. This two-wheel vehicle can slip and collide at any time if you are not extra careful. Since bikes are quite fast, you need to be completely focused at every turn and traffic signal while watching out for potholes and cracks to steer clear from accidents.
Moreover, if you are a motorcycle rider, you will also need to look out for fellow riders driving ahead or in close range. The last thing you want to do is collide with another motorcyclist or car drivers, and to make sure that doesn't happen, you will need the loudest motorcycle horn. Sure, every motorcycle comes with a factory fit horn, but sometimes it simply is not enough.
This post contains affiliate links. If you make a purchase, Motoprove.com may receive a small commission at no additional cost to you.
5 Top-rated Motorcycle Horns on the Market
If chosen wisely, you may get a horn that is significantly louder than your current one, making sure you can alert fellow motorcycle drivers while riding. However, with the seemingly endless range of motorcycle horns available in offline and online stores, selecting the best product can be quite difficult, especially for those who are new.
The good news is that choosing a high-quality bike horn is not that difficult. With a few important considerations in mind, you will be able to find the right product in no time. When choosing a motorcycle horn, you should look for features like weight, size, installation, compatibility, etc. Make sure you choose a horn with a moderate or lightweight to avoid hassle when mounting or installing it. However, it shouldn't be too light either, as it may blow away at high speeds.
Searching for an aftermarket motorcycle horn to mount on your bike? If yes, the products mentioned below could prove to be an excellent choice.
1. MARCO TORNADO – Loudest Motorcycle Air Horn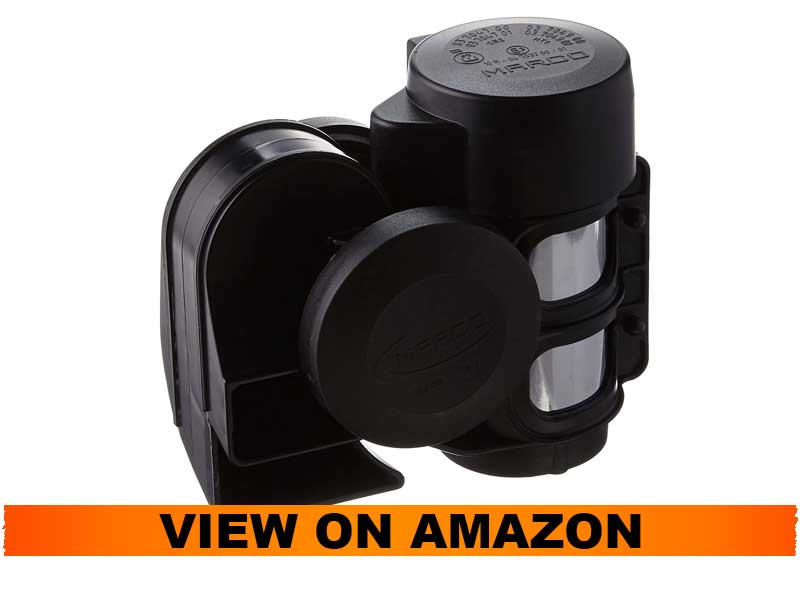 MARCO TORNADO Compact Air Horn makes it safe to ride on the road amid inattentive fellow motorists who may put you at risk. The overall design, performance, and functionality of this horn is impressive since I have had the pleasure to install it on my bike.
Design
Marco Tornado is an air horn. What does that tell you? It needs electricity only for the included compressor. This makes it power efficient, unlike others. The product is compact in that it will not add bulkiness to your bike thus making your sporty bike perform poorly.
If you're a color-loving person then hard luck with this black color only. I would also wish the manufacturer included some color variants. Nonetheless, black seems fairly beautiful.
Performance
Of most interest to motorcyclists is the performance. No matter how appealing the product is in design if performance sucks then I will never waste my time on such mediocrity. It's a different story with this super performance.
Connecting to 12V systems, the product gives you a superb performance that is second to none in its price range hence I chose it to be my number one option. I also like its versatility in that it can be used on cars, trucks, and motorcycles.
The product was tested before leaving the factory and so this is an assurance that it will perform beyond expectations. The manufacturer is offering you a two-year limited warranty. Well, I wish it were a lifetime warranty like others. That's my other downside rating on this horn.
Sound level
Perhaps the single most important feature is the sound level. While on the road, you want the horn that will alert even those situated some miles away that you're approaching them. That can be achieved by the loudness of the honk. Get this loudest motorcycle horn at amazon today!
Rated at 139 decibels, this must be one of the best horns on the market. It is comfortable for your ear but uncomfortable for the next driver. That's the plan, isn't it?
Installation
The installation part is oftentimes worrisome to amateurs. But, this horn is ideally not cumbersome at all to install. You have the installation for download to guide you every step of the way.
Pros
Great sound level
Energy efficient air horn
Compressor included
Compact product yet not too light that it can be destroyed by wind
Cons
The two-year limited warranty is insufficient
Verdict
Customers are impressed with this product and so am I. It is such a compact yet powerful hooter emitting great sound at 139 dB. But, I advise you to not hoot for a long time because 139 dB is not ideally comfortable for a prolonged time. The design and installation parts are a cinch, which then makes this product a marvel to buy. I recommend it.
2. HELLA 3AG Twin Tone Horn Kit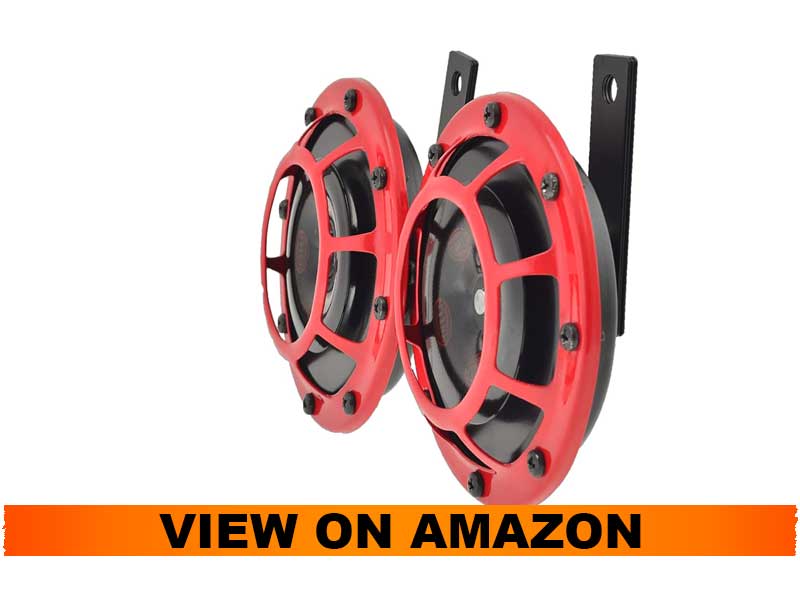 You need a super loud horn to make sure everyone around you hears it. This is especially true when you find yourself stuck in high traffic areas. If you are looking for a motorcycle horn that is loud and clear, the Hella Supertone motorcycle horn may be the best option for you. This product has a black, metal-coated body along with a red-colored grill for extra protection. What's more, this grill looks quite stylish and ensures the horn lasts long.
Individuals who ride their bikes for the sport will especially like the Hella Super tone motorcycle horn because of the high-quality materials used to manufacture it. With this product mounted on your bike, you can breathe a sigh of relief knowing that it won't crack or break with a simple fall or collision.
Durability
One of the best things about the Hella Supertone Motorcycle horn is that it can last long, no matter which vehicle you install it on. This horn is even compatible with dirt bikes, scooters, and other regular and sports bikes. The flat connections and screw bracket that comes with this horn offer an extra layer of durability, ensuring users can drive without worrying about losing their horn midway while driving.
Design
Few motorcycle horns look as good as this one by Hella Supertone. It offers an excellent blend of black and red, which goes well with almost any motorcycle model, especially if it's a sporty look. What's more, this horn will not lose its color from rain or other outdoor elements. However, it would be best to cover it (along with your bike) when not riding.
Budget
This motorcycle horn is surprisingly inexpensive, especially considering its tremendous durability and design. If you are looking for a high-quality horn on a low-budget, you can opt for this one with your eyes closed. Like the product discussed before this, the Hella Supertone horn can also last for years, and is compatible with other bikes as well, ensuring you don't need to buy another one for a long time.
3. Screaming Banshee – Best Motorcycle Horns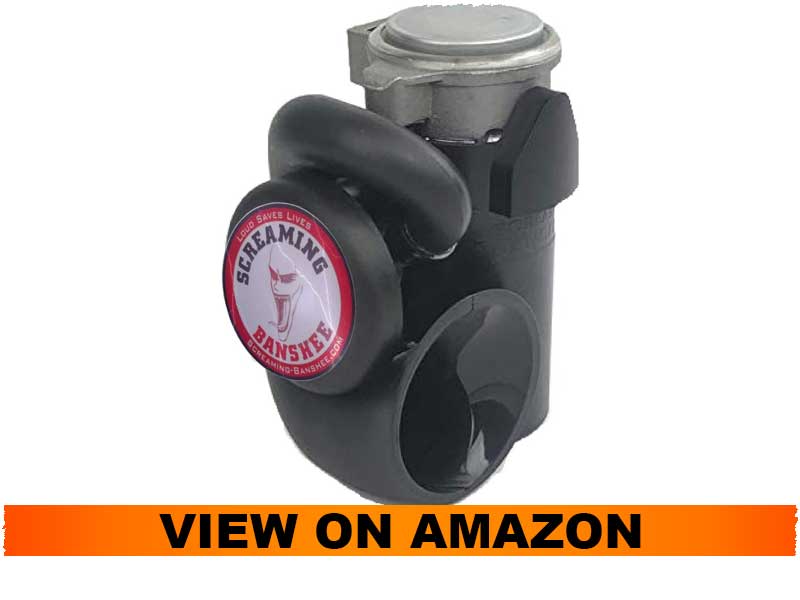 As reflected in the number of reviews, many customers use Screaming Banshee for their honk needs. I must admit it is actually a nice product to have due to its loud noise, alternation of volumes, design, and overall performance. Let's see how it fares amongst others.
Design
This product was designed with stellar performance and convenience in mind for motorcyclists. It feels so compact and lightweight in hands when you get to touch it, and so it becomes hard to resist the edge to have it.
Innovatively designed with friendly and angry modes, the product lets you choose which honk to provide. It is not always that you warn other drivers to move out of the way but sometimes you wish to greet without actually confusing the other or sounding rude.
With this product, you can touch the button softly or hard to give a friendly or angry mode, respectively. Even more advantageous is the fact that it comes with a flashing beam. That's a great add on especially in low light or dark conditions. Very few motorcycle horns integrate horns.
Performance
The performance of this horn is just as impressive as the design. When I refer to a performance I refer to its ability to alert road users to prevent unfortunate collisions. To start with, it gives you the option to apply a soft or hard volume so as to customize your emotional expressions on the road.
With the decibel up to 130, this is surely one of the loudest horns you can get out there. It is not just another horn with ordinary sounds like the stock ones. The dial volume makes it even more interesting to have.
Sound level
I have already highlighted the sound level to be at 130 dB. It features among the loudest products out there even on my list. Sound level matters significantly in these products because it's what actually makes them functional on the road.
Installation
Unlike others on the market, you need no relax, extra wiring, or connectors to install this product. Everything you need is included in the installation kit provided. Simply remove the old stock horn and replace it with this aftermarket counterpart, then you'll be ready to take other drivers off their phones on the road. Connect to the ground and power wires of your old item.
Pros
One of the loudest horns at 130 dB
Dual volume for softness and hardness
Everything you need is in the installation kit
Flashing beams paired with the sound system
Cons
Relatively expensive
1-year warranty insufficient
Verdict
This is one of a few horns that include the flashing beam when alerting motorists on the road. It is, therefore, a great product especially at night to send a strong message to the inattentive drivers. Performance and design-wise, the product is impressive. Add to that its dual volume; this makes it a go-to choice for many customers including myself.
4. FIAMM 74100 El Grande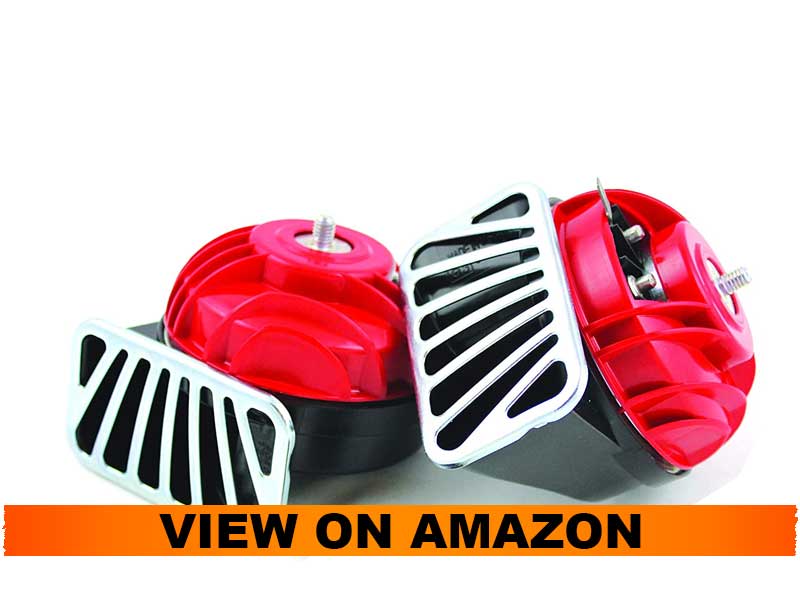 FIAMM looks like an affordable brand. I chose it based on its superb features and affordability without compromising quality. From the design and performance point of view, FIAMM 74100 Horn is a great product to have.
Design
Enclosed in a stainless steel housing with an aluminum coil motor and a strong ABS plastic projector, this horn could be what you've been looking for. We know that riding a motorcycle amid inclement weather conditions can be risky for your components. That said, having a non-weather resistant product could incur damage costs to you.
Included are two sets of red products with the one designed for a low note and the other for a high note. These stylish red caps feature chrome grills which add more durability and corrosion resistance.
Moreover, there is an aluminum coil motor to resist corrosion while delivering great performance. Again, the steel projector and the steel housing add more value to this horn thus making it one of the best on the market design-wise.
Performance
You're forgiven if you thought this product would not be great in performance simply because it is too cheap. Affordable products do not always translate into mediocrity. I must say that after getting my hands around this product I was left astonished by its performance on the road. It provides great sounds, all thanks to its stylish red caps.
The products provide 128 decibels and so this should be evident enough that performance is top-notch although not necessarily the best among others I have mentioned above.
Sound level
For every motorcycle horn, you choose, ensure that the sound level is top-notch too. This FIAMM product is rated at 128 decibels, which is a level loud enough to scare inattentive drivers on the road. What I like is that it is not too high to hurt your ears. Decibels around 151 dB, for example, are great to scare other drivers but can be uncomfortable for your ears especially if exposed to such sound level for a prolonged time.
Installation
How easy it is to install this product? Well, it is not as scary as you might think, irrespective of how inexperienced you are in this tech know-how to do things. It becomes great if the manufacturer has included all the installation components you might need. The relay, mounting brackets, female connectors, and nuts are included alongside two horns.
Pros
Very affordable
Loud 128 decibels
Ease of installation with every installation component included
Great build quality with the rust-resistant aluminum motor coil, steel housing, and ABS plastic materials
Cons
Like other single unit horns, I wish this product also had a single unit with customizable volumes instead of two horns which makes installation lengthy. Nonetheless, that's not a deal-breaker
Verdict
Who gets disappointed by such an affordable brand with great quality? Many customers and I are impressed by the performance of this product. It is loud enough and also easy to install with all the components included. Add to that its resistance to corrosion with the aluminum coil, steel housing, and ABS plastic material. It makes a great product to opt for.
5. Wolo Bad Boy Chrome Motorcycle Air Horn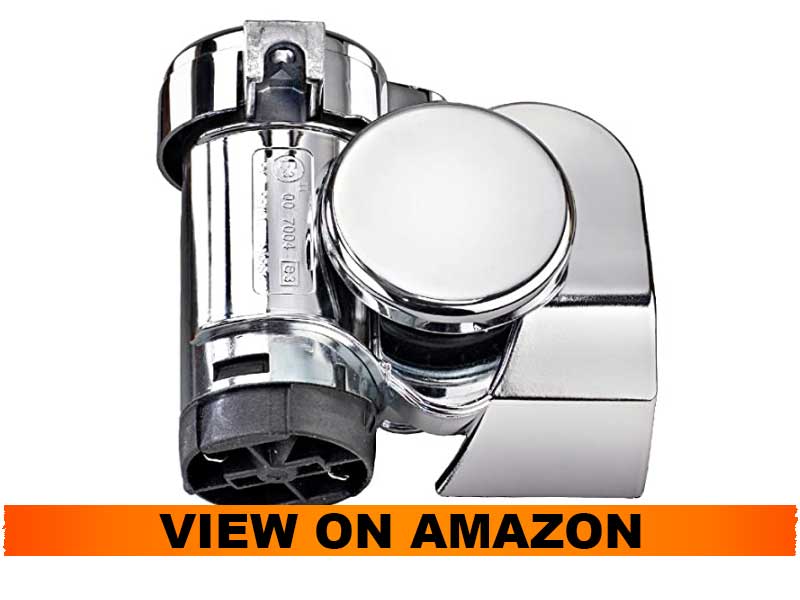 Get the attention of other drivers on the road with the Wolo Bad Boy. It's a great and loud horn to consider for your motorcycle to ensure that no social media fanatic to cause an unnecessary collision with you on the highway. The unit's design and performance are impressive hence it made it to my list of the best horns.
Design
Enclosed in a chrome cover with an elegant chrome finish, this product is aesthetically pleasing while not compromising performance. It's a great add-on to your engine compartments. The covers are aerodynamically shaped, thus making the item stand out amongst others.
Performance
I rate the performance high as well despite complaints I've heard about it not lasting too long. However, customers rate its loudness higher than stock horns. That's evident enough that the product will amaze you with its performance on any 12-volt system.
Sound level
This product is rated at 123.5 decibels, which is loud enough to awaken careless drivers preoccupied with social media on the road. With this Bad Boy motorcycle horn, you will stay safe due to its loudness to scare inattentive drivers. Not many stock products come with this sound level, so thanks to Wolo for this extraordinary product.
Installation
The installation of mechanical parts always seems scary to amateurs. I must attest to the simple installation process of this one. It includes all the components you would need to complete your installation on any 12-volt system. Simply remove the stock product and put this one following a set of instructions given upon purchase.
The kit comes with the heavy-duty 30 amp relay and the mounting bolt. Since it is a single unit, the installation will be fairly easy with a single bolt. No need for additional purchases. The instructions are given in either Spanish or English.
Pros
Great Chrome finish
Loud honk to let others hear you before they could actually see you
Ease of installation
Affordable unit
Cons
Durability is doubtful but the quality of honk guaranteed
Verdict
In spite of its questionable durability as experienced by some customers, this is an impressive product with a great sound. I would suggest you take care of it and not expose it to outside elements so as to preserve it for a long time. It is affordable while giving a sound level at 123.5 decibels. That's impressive, isn't it?
6. Stebel Nautilus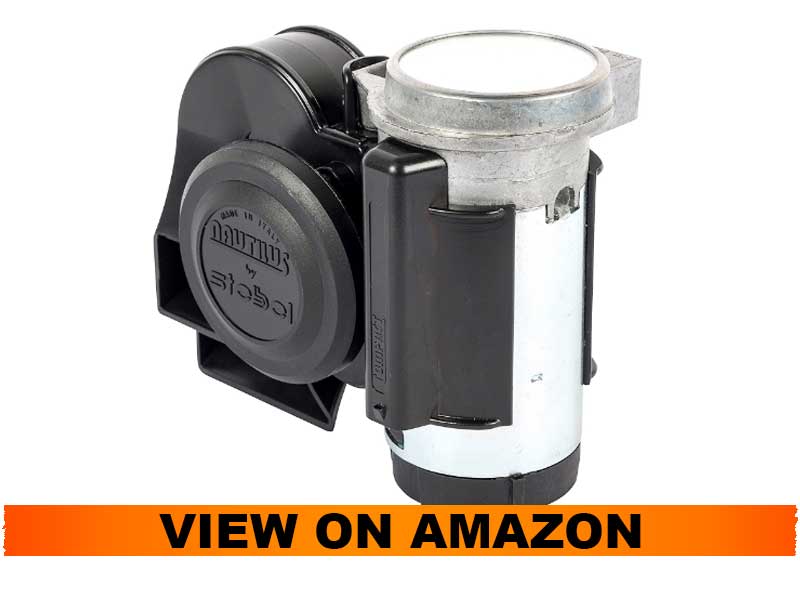 Whether you ride a bike or drive a car, this air horn could be the best product to get in order to get the attention of nuisance drivers on the road. I was impressed by its compact design which makes it quite a cinch to install.
Design
Stebel 11690019 Mini Air Horn is such a compact design you would love to have on your bike. A bike is a compact mode of transport that is susceptible to slagging if bulky components are installed with it. So, it's an advantage to have a compact design like this product. However, it should also not be too light otherwise it may be affected by strong winds.
The product is adorned with a black ABS finish which not makes it elegant but rust resistant if exposed to elements. It's highly likely of course on a motorcycle to be exposed to inclement weather conditions. With this corrosion-resistant finish, the horn will last long.
Performance
Performance is another feature synonymous with this product. At such a cheap price you would be convinced it's just one of those mediocre products. Well, it isn't…
Harmonized with twin tone sound ranging from 530Hz and 680Hz, I must attest this is an amazing product that could work for your motorcycle. It comes with a water-resistant compressor that draws 18 amps at 12 volts. For any 12-volt system, this product would excel in performance.
Sound level
The sound level of any horn matters a lot and is probably the single most important feature motorcyclists prioritize. Rated at 139 decibels, this is one of the loudest on the market. No driver can ignore such a blast sound no matter how entertaining their social media is while driving.
However, blasting this for a long time may be uncomfortable to your ears too. Normally, the ear can bear decibels up to 125 dB. More than that it is not advisable. But for the road, you can go hire when taking into account the risk associated with inattentive drivers.
Installation
On any 12 volt system: cars trucks, motorcycles, bus, or golf carts, this product has proven to be easily installable. It is compact in size, measuring 4 1/2″ x 3 1/2″ x 4 1/2″ tall, which makes it an absolute breeze to install. You do not need complicated components but to attach it in the space of the stock horn and get it going.
Pros
Very easy to install
Energy-efficient aftermarket horn
Loud at 139 decibels
Impressive design with ABS finish
Cons
Warranty info lacking
Available in one color
Verdict
This is an impressive product I would recommend to serious motorists wanting to replace their ineffective stock honks. The product is loud enough to never be ignored. Its design and performance are irresistible if you are into quality.
7. Screaming Banshee Mini – Electric Motorcycle Horn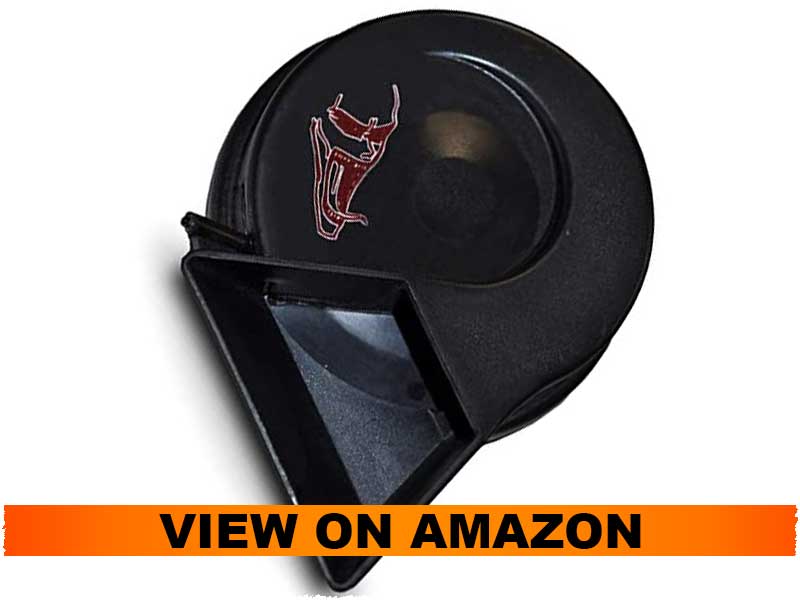 Screaming Banshee is a famous aftermarket brand among motorcycle enthusiasts. Its horns, in particular, are quite popular because of their impressive volume and unique design. This mini motorcycle horn has it all – lightweight, adjustable volume, and a standout design. What's most impressive about this product is its compact size. Unlike most motorcycle horns, this product does not take too much space and can fit most bikes without any hassle.
Versatility
The Screaming Banshee motorcycle horn is quite versatile. Its adjustable volume is quite impressive, allowing you to set your horn according to your preference. What's more, you can also use a wide range of horn sounds to alert drivers and pedestrians around you. You can create a friendly-tone by using the soft press feature and a louder tone by using the hard press button. This feature especially comes in handy for grabbing the attention of inattentive riders.
Quality
Unlike traditional motorcycle horns, this product comes with several wirings, connectors, and extra relays with its package to ensure the installation process is simple. Once you mount this horn on your bike, you can rest easy knowing that it won't wear and tear any time soon. All you need to do is maintain it every once in a while and you will be good to go.
Budget
While the Screaming Banshee motorcycle horn is a high budget product, it is well worth the investment. Its innovative design, durable materials, and easy installation make it an excellent choice for motorcycle owners, helping them ride safely. What's more, you can mount this horn on other bikes too, which proves that it offers great value for money.
8. Vixen Horns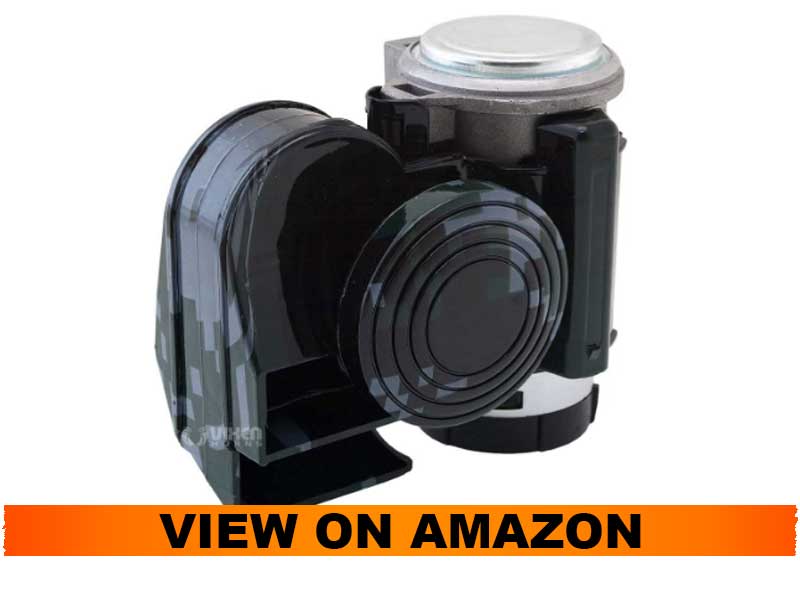 Marking the end of my review is the Vixen Horns Electric Air Horn which is also an impressive horn to reckon for enthusiast motorists who are tired of failing stock products. No matter how new your bike is, eventually its honk will fade and that will put you in danger. This Vixen product is built with quality materials that last long plus loud sound.
Design
At first sight, you would think it's a military horn with its camouflage appearance. That's the uniqueness I like about this product. Its design is eye-catching.
Designed for motorcyclists by motorcyclists, the design is exceptionally good with no funny additions such as air tubes or any external air supply. The electric air compressor does everything for you with minimal power consumption.
It's a one-piece design with dual-tone versatility. That makes it my favorite because I hate the burden of having to install two products with a low or high tone. If you are okay with that then go for it. Besides, it depends on your ultimate space on your bike.
Performance
Performance is worthy of praise in this device. It produces a louder noise at 139 decibels, which will surely awaken sleepy drivers on the road. Thanks to the electric air compressor included with this purchase for the impressive performance. The frequency ranges from 410Hz to 510Hz.
Sound level
As elaborated above, the honk produced by this device is pretty loud with a rating of 139 decibels. This is one of the highest decibels on the market. But I do not reckon pressing it for a prolonged time as it may seem uncomfortable to your ears.
Installation
Everything you need to install this product is included in the package. These include the 4-PIN 12V/30A relay, mounting hardware, and the 12V heavy duty compressor. The produce draws from 18 to 25A on any 12V DC power system.
There is no need to draw external air, and so no need for additional air tubes. Installing the product is an absolute breeze with a single bolt. It's a single unit, so you can simply remove the stock horn and replace it with this loud item.
Pros
Dual-tone compact design
The loud device at 139 decibels and frequency of 410Hz low and 510Hz high
Maintenance-free air compressor
Rust and water-resistant
Compatible with all 12V systems
Verdict
Customers are impressed with this compact camouflage design. Many praise its loudness versus a cheap price. One would expect it to break a bank but it does not. I like its ease of installation with no additional components needed because the mounting hardware is included. Included also is the electrical air compressor which negates the consideration of air tubes for an external air supply.
9. FIAMM Freeway Blaster – Loud Electric Motorcycle Horns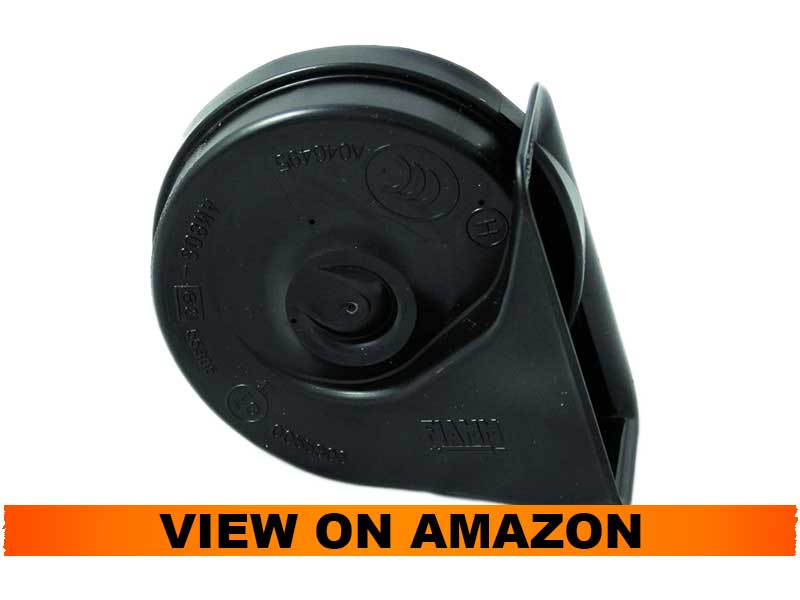 If you are looking for a great, powerful and compact horn without breaking your bank FIAMM 72112 is ideally the product of your choice. It's the cheapest product on my list. To add to that, the product is impressive from the design, performance, and sound level.
Design
Weighing just 8.8 ounces, this is one of the lightweight motorcycle horns you can find on the market. It comes with an aluminum coil motor, which is rust-resistant thus making the product usable even in extreme weather conditions. Riding a motorcycle exposes most components to weather and so a mediocre product may not last.
Furthermore, the product comes with corrosion-resistant steel housing and an engineering ABS plastic projector. Combining all these give you an unmatched quality yet at a reasonable price.
Performance
This horn performs greatly in alerting fellow motorists on the road. It saves you imminent collisions with inattentive drivers. Perhaps more notable is that it exceeds OEM and SAE specifications thus providing maximum performance.
Sound level
Sound level is an important feature for all the horns because it reassures us that indeed the aftermarket product surpasses the stock item. Otherwise, why would you consider an aftermarket product whereas the OEM one is available for replacement?
This horn emits 133 decibels at 4 inches while drawing a maximum of 6 amp at 12 volts. It's a great product that is compatible with any 12-volt system. That means it can be installed on vehicles as well.
Installation
This horn is a cinch to install. It comes with the universal mounting bracket, nut and female connectors, and a jumper wire. With the instructions provided, it shouldn't be that difficult at all to get it installed.
Pros
Compact and cheaper motorcycle horn
Comes with installation accessories such as the mounting bracket, nut and female connectors, and the jumper wire
Maximum performance that exceeds SAE and OEM specifications
Versatile applications on any 12-volt system
Cons
No impressive warranty information
Verdict
If you are allergic to overspending like I am, then this product could be your best buy. It is such a compact product that is affordable yet not compromising quality features. At 133 decibels, I must say it is one of the loudest horns on the market. I recommend the product to anyone who wants a budget-friendly aftermarket hoot.
10. Happy-motor CNC Motorcycle Horn For Harley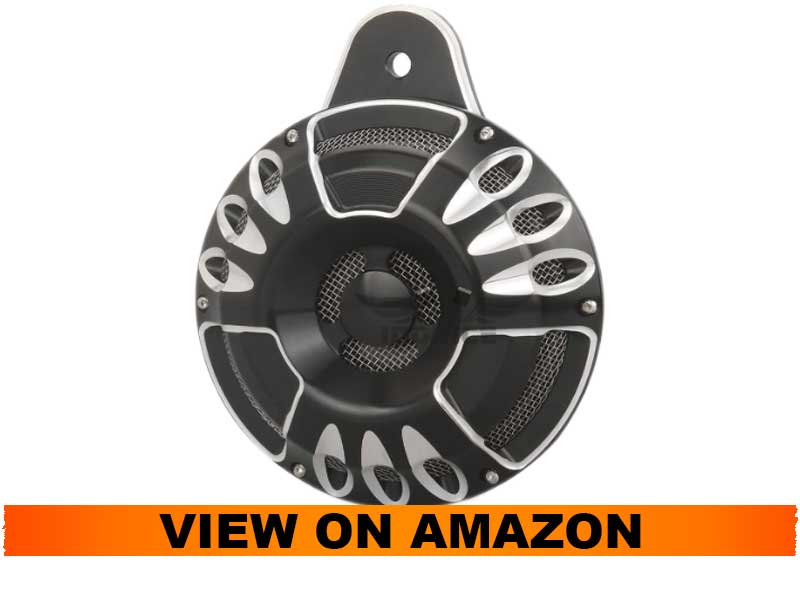 CNC horns are quickly becoming the go-to aftermarket accessory for thousands of bike riders. They are twice as loud as factory fit horn and can last significantly longer than traditional ones. Sure, there are thousands of similar products out there but this motorcycle horn stands out because of its easy adjustability and solid aluminum construction.
Whether you are just using your bike for commuting or for speed racing, you can breathe a sigh of relief knowing that these horns will alert your fellow riders as soon as you honk it.
Design
While there is no denying that the horn's overall functionality is important, you should also ensure that its design matches your bike's style. Fortunately, the CNC motorcycle horn's design is tremendous and blends well with a vast range of motorcycle models. It's modern, the aesthetically pleasing look stands out, especially when compared to the bike's factory fit horn.
Durability
The last thing you want to do is choose a good-looking, well-functioning horn that is not durable enough. If you want a product that offers everything along with tremendous durability, look no further than the CNC Black motorcycle horn. The manufacturer used premium grade aluminum for this product's construction, ensuring it does not wear and tear within weeks or months of buying it.
What's more, this horn's tough build can withstand crashes and collisions without losing its functionality, a quality that only a few other products may have.
Budget
This is a mid to high budget motorcycle horn, but its price is more than justified. Unlike traditional horns, this one is incredibly loud and one horn will be enough to alert pedestrians and other riders. What's more, this product can last for years with regular maintenance, making sure that you don't have to worry about investing in another one for a long time.
Tips and FAQs
Now that we've come to the end, let's unfold a comprehensive buyer's guide that will help you pick the best product. In this buyer's guide, I will be highlighting the important features to consider when buying these honk devices.
Types of Motorcycle Horns
If you noticed, my products were mainly air-based horns. The assortment goes beyond that. We have air devices, train, and novelty horns. So, how do they actually differ?
Air horns are what they reflect in the name. They basically need air to produce that much-needed honk to alert other motorists. You either get an electric one or a compressor that relies on external air.
These air devices can be very loud to 136 dB or more in some cases. Generally, they are compact and need no extra components to install them. The air compressor is often included with your purchase.
The train horns, on the other hand, sound like a freight train honk. They are small and come with a pump to help give a honk. The Novelty ones can be customized to your preference. So, if you want a unique sound you can opt for these ones.
Whichever option of these products you opt for, the functionality remains the same: that is alerting other drivers on the road. They pretty have great decibels, which is a measure of how deep the sound is. I would personally opt for the one that is easy to install.
What features to look for?
One would think that any horn could be picked up and installed on the bike then that is it. There are many considerations. Even after giving these top 8 products above, you would still struggle with the best one because all the features look so impressive with elegant designs.
One unit or two?
Oftentimes, you may find two-piece or one-piece devices. The two-piece devices include low and high notes. For instance, sometimes you may wish to greet a fellow motorist with a honk and so you need a soft sound and in that case, a low note will work. An inattentive driver is worth a full blast of sound hence the inclusion of high note devices too.
A one-piece device (my favorite), is often customizable with dual-tone. You can choose what kind of volume you need. A simple tab can give you the preferred volume. For instance, in other devices, a soft touch gives a soft sound while in some a long press gives a blast.
Which one is the best among these two? Well, I think it is a matter of preference. I prefer a single unit because of the ease of installation since I don't have to worry about two devices in a limited space.
Sound level
This feature is probably the single most important consideration when buyers opt for these aftermarket devices. I mean, if your stock horn is functional, why would you opt for aftermarket products? The sound level counts.
The sound level is rated in decibels. Most of these devices produce a sound of over 120 decibels which is loud enough to awaken inattentive riders. However, we should also take into account the comfort level for your ears lest we damage our own hearing. I often recommend avoiding prolonged exposure to such a high sound level.
Design
The design is also important to consider. This also translates into how portable and compact the device is. Motorcycles are compact transport modes and so they need compact parts. The best way would be to check your stock horn and buy an aftermarket product that emulates the design of your OEM product.
Also noteworthy is the design is how water-resistant and dustproof the cover is. Most come with an aluminum coil, steel housing, and ABS plastic materials. These are great features for corrosion and rust resistance.
When riding in inclement weather conditions, for example, the bike gets exposed to harsh elements. If your aftermarket product isn't armed with weather resistance, then you might return to the store anytime soon. Always prioritize water resistance, corrosion, and dustproof when making purchases.
Ease of installation
Installing these devices can be overwhelming to an amateur. However, the process seems so simple if you get used to it. I have been in this industry for so many years and I have noticed how easy it is to install them.
Take into account products that are easy to install. For example, you will get single-unit devices that install with just a single bolt. You remove the old product and use its wires to connect the aftermarket one. In other ways, it will consume the same power.
Other devices, however, can be burdensome to install. Especially those with two units. They nonetheless marvel to install once you master the art of handling them.
Final Thoughts
With ten of the best motorcycle horns discussed in this piece, you can easily choose one to match your vehicle. Each of these products has something unique to offer and will provide you excellent sound compared to traditional, factory fit horns.