Whether you are learning to ride a bike or are fully ready to ride it, you will need to get a license. In all states, a license to drive and ride certain vehicles is compulsory as it regulates laws and legality concerns. Similarly, if you are in Texas and want to ride a bike out in the sun or go for a short trip, you need to get licensed. This blog post tell you how to get a motorcycle license in texas.
There are other driver's licenses in Texas, ranging from Class A, B, and C. This is a plain license, and if you have this, then getting an M class license or motorcycle license should not be difficult. However, we have explained in detail what you can do or not do if you have a normal driving license and if you don't.
Why is a motorcycle license important?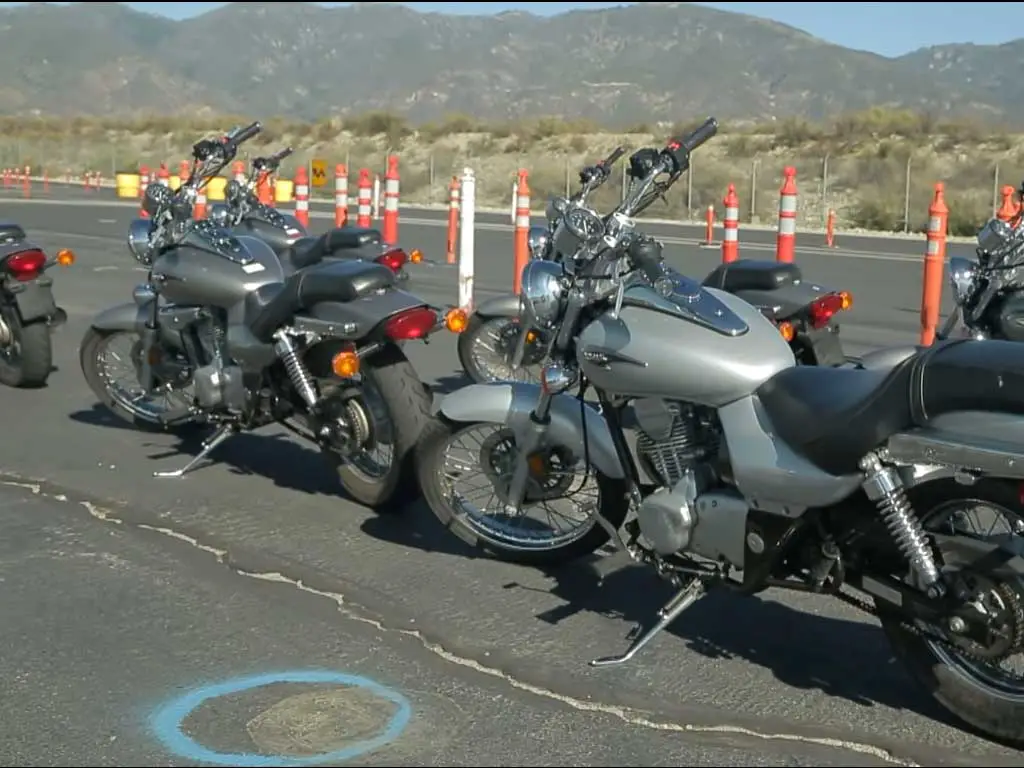 In Texas, the license that is given to motorcycle drivers is called the M class license. This kind of license is required by the driver or the rider, especially if they want to drive on the public highway.
There are certain short courses and age restrictions that regulate the process and ensure safety for all citizens. The license is important for ensuring not only your safety but that of others on the road with you. Therefore, to enable yourself to legally ride a motorcycle without any further complications, a motorcycle license in Texas is important. Here, we have listed some important questions that many people often have regarding a motorcycle license in Texas.
How to get a motorcycle license in Texas?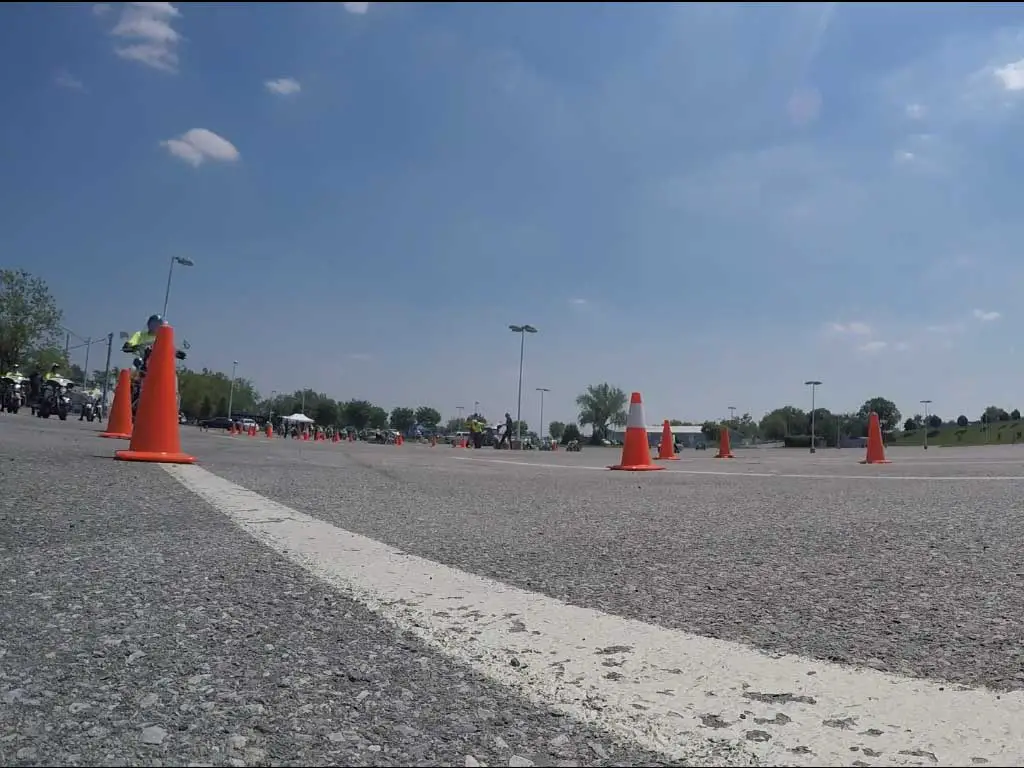 There are two situations that one might find himself in when trying for a motorcycle license in Texas. There are people who have a plain, normal driving license, while others don't. Let's take a look at both scenarios:
With a driver's license
Any adult above the age of 16 who has a driver's license of class A, B, or C will need to enroll themselves in a motorcycle safety course that is approved and certified by the Department of Public Safety in Texas. Once you complete the course with full satisfaction, you will be given a certificate. You will need to bring this certificate to the DPS when you are applying for the motorcycle license.
The procedure to get the license when you already have a plain driver's license is very straightforward, so you are lucky if you have one. Upon submission of the completion certificate and the license fee, you will be upgraded to a Class M license in Texas.
Without a driver's license
Without a license, you will have to enroll in a 32-hour motorcycle class approved by the DPS. The course completion will lead you to a motorcycle license. However, the course will change depending on the kind of vehicle you want to drive, such as the engine power and the engine CC. So, make sure you know what vehicle you want to ride and enroll in the appropriate course.
How old do you have to be to get a motorcycle license in Texas?
Typically, you have to be at least 16 to get a motorcycle license in Texas. However, to drive anything higher than 250CC, you need to be older than 15. Other than the age requirement, you also have to pass the Basic Motorcycle Operator Training Course provided by DPS to qualify for a motorcycle license.
Interestingly, passengers also have an age limit in Texas. Passengers below 5 are not allowed to ride on the bikes, so keep the little ones safe.
How much does it cost to get a motorcycle license in Texas?
The cost of getting a motorcycle license in Texas varies hugely on whether or not you have an existing driver's license, and also on the kind of vehicle you have. If you already have the driver's license, then getting an M class license will not cost more than $16.
Meanwhile, the courses that you will need to take from DPS will cost somewhere between $200 and $300, while the annual fee of registration will be $30. Overall, the total cost of getting your hands on the license in total is around $300 to $350.
How long does it take to get a motorcycle license in Texas?
The DPS course that every individual takes without a driving license will have to get lasts for 32 hours. This is for over a day. The whole process overall should not take more than 2-3 days.
What are the other requirements for driving a motorcycle in Texas?
You need to keep some other important things in mind. We have listed down these important considerations that will ensure that you obtain the license smoothly.
Helmet requirements
Now that you have learned how to get yourself a license to ride a bike, let's discuss an important step that you will need to take while actually driving the bike. In Texas, wearing a helmet as the driver of a motorcycle is compulsory. However, it is also compulsory for the passenger to wear a helmet while riding. Read more about the safest motorcycle helmets here.
You will also be required to make sure that the helmet is not from just any manufacturer, and rather should come from FMVSS (Federal Motor Vehicle Safety Standards) approved manufacturers. This will ensure that you face no legal complications and hindrances, and also remain safe and secure during the ride.
We recommend that you look for helmets that have a sturdy built and a thick protective lining. Do not go for cheaper ones as investing once generously will ensure greater safety.
Canadian license
The laws for attaining a motorcycle license in Texas for those with a driver's license are the same for those with Canadian license holders. Therefore, if you are not a minor and have a Canadian license for a motorcycle, you will be easily upgraded to a Class M license in no time.
License plate lamp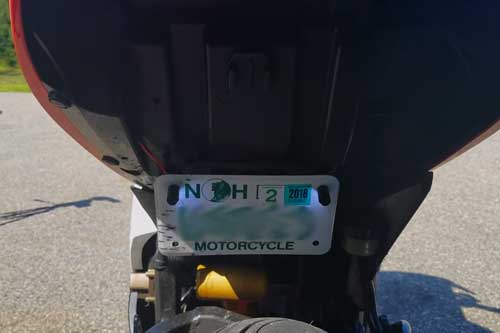 Other than carrying your class M license all the time when riding your bike, you also need to take care of other things such as a license plate lamp. To promote safety on the highway, Texas only approves of license plates that are made with reflective materials, so that they are easily visible.
Also, these plates must have some lamps or lamination for easy viewing. The visibility is beneficial for the highway/traffic police, other vehicle drivers, and for speed cameras as well.
Expiration
Like all other registrations, even the motorcycle license expires after some time. The expiration date will be provided to you. To avoid the costs of re-registrations and the hassle, you are given a grace time period in which you can simply get your license renewed without having to go through the whole process. If this time is not used wisely, you will end up having to go through the training and the DPS courses all over again.
Important tests to remember
There are some tests that are also taken by the state to ensure that only eligible riders and drivers are out on the road. Here are a few tests that you will have to give:
Vision test
Whether you are getting the license for the first time or for renewal purposes, you will need to give this vision test. It tests and examines your eyesight and how well you can see.
There are two ways to get this procedure done. You can either go to an eye specialist and get your tests done with a certificate or the results of the test, or you can simply go to DPS and get the eyesight tests done then and there.
Written-test
DPS provides you with a manual in which there are laws, situations, and answer techniques that you will use during this written exam. This test will set up a few hypothetical situations in front of you to which you will have to provide solutions that seem suitable according to your own understanding. The exam will test your knowledge of the road, the laws, and the functionality of the bike as well as your own responsibilities as the rider.
Road test
Your knowledge about the road will also be tested. This will be done by taking you out on the road and actually having you drive the motorcycle. A DMV Texas examiner will be present with you and will assess your performance in multiple situations. Your skills, such as your turning skills, staying in lane, understanding of lanes, and other such skills will be under observation.
Conclusion
Getting a license for driving a motorcycle in Texas is not the easiest thing to do. There are a number of things that you will have to take care of, even after the license is obtained.
Just remember to take care of your license's expiration grace period, and always be in line with the legal requirements. Licenses for minors are very hard to achieve, so it's better to spend your money and time on a license after 16 years of age. The documentation for your vehicle should also always be available.