Motorcycle helmets are available in a plethora of different designs. Some are flashy while on the other hand, some are made to be low-profile. But you can also customize the look of your helmet.
But how to wrap your own motorcycle helmet? Worry not, in today's post, we'll guide you step by step on how to give your helmet a unique look. 
Quick Summary
---
You can check the post for the following topics:
Guide to wrap a motorcycle helmet
Tools you need
Basic tips to keep in mind
Let's get you started. 
Guide to Wrap Your Motorcycle Helmet
Before we get into this guide, it is important to note that you don't need any prerequisite skills to wrap a motorcycle helmet. The only thing you'll need is confidence. 
Since this is an intricate process, you have to follow the steps carefully. Take your time and figure out what needs to be done in a specific order. 
With that out of the way, let's see what sort of tools you need to carry out this process. 
Tools You Need
Following is a list of tools you need to gather before you start the process. 
Screwdriver
Heat gun
Vinyl
Dry/clean cloth piece
Cleaning agent/rubbing alcohol
Edging tool 
Make sure that you don't skip the aforementioned tools because they are essential to the process. Moreover, we mentioned some tools to make your task easier. 
Once you gather all the tools, follow the guide below to apply wrap on your favorite helmet. Let's check out the steps. 
The first and foremost thing you need to do is thoroughly clean your helmet. The outer layer can have residual dust sediments or other agents that can interfere with the process. 
We must also mention that you only have to clean the outer surface of the helmet. If you don't wish to wrap the entire helmet, clean the areas you want to wrap. 
What should I use to clean the helmet?
Warm soapy water is the most viable option to clean your helmet. You can either use a sponge or cloth piece to wipe the surface. 
2. Remove Accessories
After you clean the helmet, remove the visor and the straps from your helmet. You'll need a screwdriver for this purpose. 
We must mention that removing the straps is completely optional. You can simply tuck it inside the helmet. 
Note: If your helmet has air vents, it is impossible to remove them. Instead, use heat-resistant tape and cover every vent. 
Is it necessary to remove the visor?
Visors are made from plastic materials and just like any plastic, they are susceptible to heat. As the process progresses, you'll need to use a heat gun. 
So, it is better to remove the visor beforehand and safely store it.
3. Apply Rubbing Alcohol
Once all the accessories are off, take some alcohol and rub it thoroughly on the outer layer. It'll remove any residual soap agents and make your helmet 100% ready for wrapping. 
4. Cut the Vinyl
This step differs according to the type of helmet you have. Some helmets are uniform without any vents while some are uneven with different cuts around the outer layer. 
So, if your helmet is simple, you can apply the vinyl in one go. However, if there are vents, you have to cut the vinyl accordingly. 
What should I use to cut the vinyl?
Razor blades are preferred by many experts because they are sharp and can easily slice through vinyl material. 
Moreover, they provide clean cuts so your vinyl doesn't look out of shape. 
5. Apply the Knifeless Tape
Now you have to make an outline with knifeless tape. Make sure the outline is precisely on the areas you wish to apply the wrap on. 
It'll give you a safe idea of where to put the vinyl and make it easier for you to make joints. 
Why is it necessary to use knifeless tape?
Once the vinyl is applied, the knifeless tape helps you to remove the excess vinyl with ease. If you use a blade or scissors, there's a risk you might scratch the surface. 
Moreover, if you use multiple vinyl colors, the joint made with different pieces of vinyl looks seamless. 
6. Apply the Wrap
This is the most important part of the process. Be extra careful because you'll only get one chance at it. 
Remove the sticky/protective layer off the vinyl. Gently place one side of the vinyl on the helmet and slide your hand over it to the other side. 
Note: The key to proper adhesion is gentle force and slow movement. Don't make haste, it'll only mess up the process.
Once both sides are evenly applied, remove the knifeless tape slowly. It'll remove the access vinyl from the helmet. 
Repeat the process for other vinyl pieces as well. 
7. Seal the Vinyl
Now it's time to use the edging tool. Simply place it over the fresh vinyl and drag it gently from one side to the other. 
What is the use of an edging tool?
It'll help you remove any air bubbles or uneven lines. Ultimately, your vinyl will have a smooth and seamless finish to it. 
Note: Make sure the edging tool is not sharp. Otherwise, it'll scrape the vinyl off the surface.
After all the bubbles are taken care of, take your heat gun and seal the edges of the vinyl. Set it to 80-degrees or above for a non-removable seal. 
What's the purpose of a heat gun?
A heat gun will make sure that the adhesive properly settles down. Moreover, it'll make sure the vinyl doesn't come off due to hot temperatures. 
You can also heat the vinyl before applying it to the helmet but it'll be rather tricky to handle. 
Once you have applied all the pieces of vinyl on your helmet and sealed them properly, it's time to put the visor back on. 
But before you do that, make sure to let the helmet sit for a couple of hours. 
This is all there is to know about wrapping a motorcycle helmet. With enough practice, you can customize your helmet like a professional.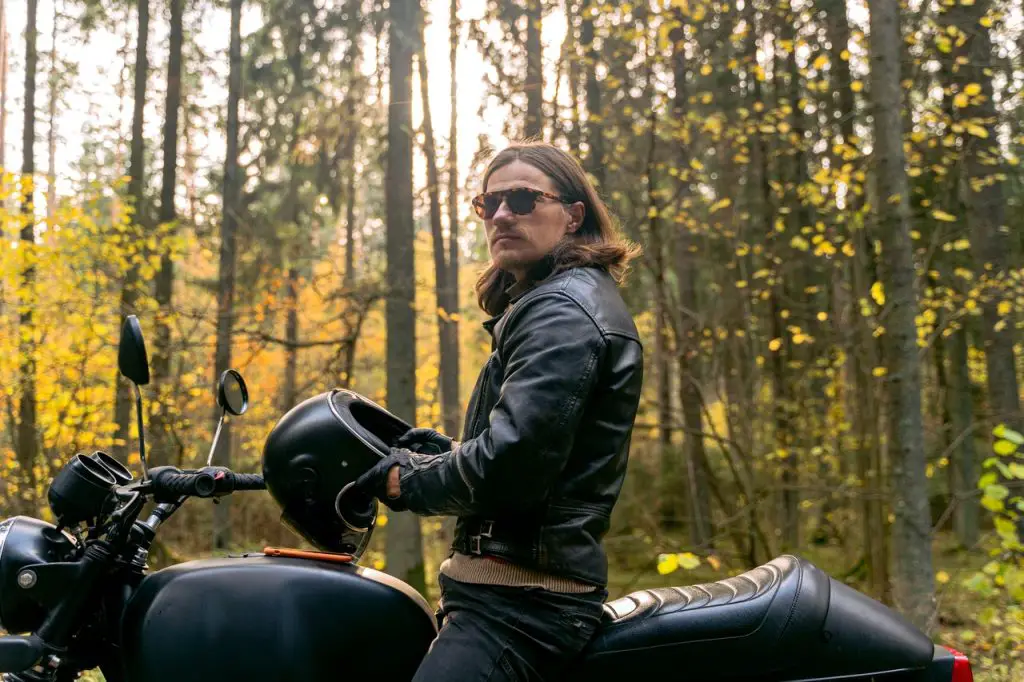 Important Tips to Keep in Mind
Even though the process of wrapping is pretty straightforward, there are some things you should keep in mind. 
Let's check them out. 
Always check for specific vinyl designs for your helmets. You might find a 100% compatible vinyl that doesn't require any cuts.
Make sure that you apply the vinyl in a closed environment. External factors like dust can mess with the quality of your vinyl.
Wear protective gloves to keep yourself safe from the heat gun.
Use the edging tools multiple times to make sure there are no bubbles. These bubbles can cause your vinyl to come off.
Wrapping Things Up…
(No pun intended)
Custom motorcycle helmet pieces of vinyl are a cool way to give your helmet a unique look. You can easily do that in your garage with the help of some basic tools. Just make sure that each step is followed with caution. 
This brings us to the finish line of our guide on how to wrap your motorcycle helmet. We hope this information proves beneficial for you.
Do let us know what sort of vinyl designs you prefer. CLICK HERE for more.