Commuting on four wheels instead of two can be incredibly thrilling. You'd be surprised to see the number of people ditching public transport, and replacing it with motorcycle rides. It gives you a sense of freedom that is hard to achieve with other vehicles. Traveling on motorcycles gives an adrenalin rush that a lot of people look forward to. In this post, we compare the 11 best motorcycle backpacks.
This post contains affiliate links. If you make a purchase, Motoprove.com may receive a small commission at no additional cost to you.
11 Top-rated motorcycle backpacks
Despite its various advantages, bikes don't offer you the ample space you'd get in a car. People especially need some extra space while commuting to store their essential belongings, which of course, most bikes cannot accommodate. Sure, some motorcycles have tiny compartments, but in most cases, they are not enough. However, this does not mean that you should ditch your motorcycle rides. Why? Because there is a simple solution, and that is a motorcycle backpack.
1. OGIO Mach 5 – Best Backpack for Motorcycle Riders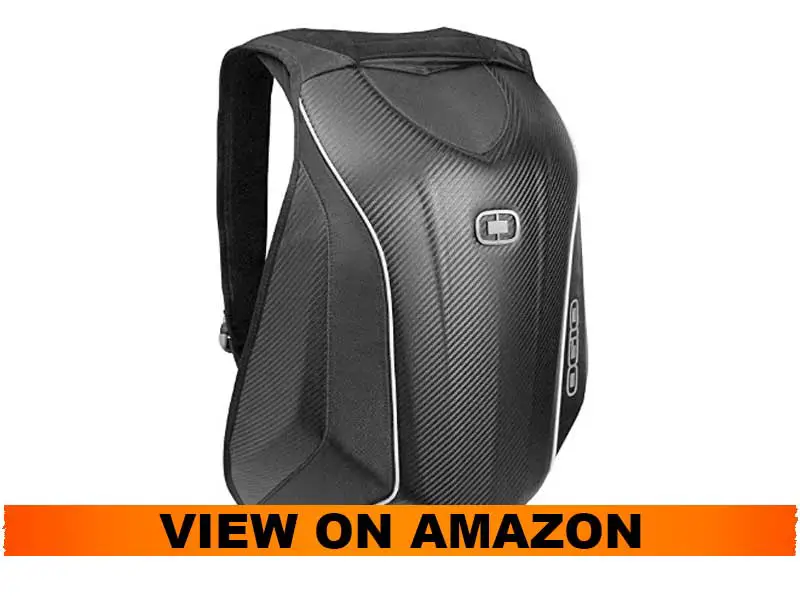 Starting off my list is the OGIO Mach 5 with a carbon fiber shell to sort out water resistance challenges. This design is aesthetically appealing and will match with most of the motorbikes. Nonetheless, it isn't about the elegant appearance only but the performance of the item when riding for long or short distances.
Main advantages
This model is renowned for its No Drag technology to enhance your riding experience. It's an improvement from the popular Mach 3 with extra features added on. You will be able to store your valuables in the main compartment with its adjustable partitions, and also add electronics in the detachable fleece-lined hip pouch. There is also the deluxe organizer panel with mesh dividers for more storage. The reason I have chosen is because of these impressive features to give you more storage in a waterproof shell.
Storage compartments
Included is the padded helmet visor sleeve in the main compartment to carry your helmet. What I like is that you can categorize your gear in each compartment. For example, there is a dedicated laptop sleeve to avoid scratches on your expensive laptop. Other gear like hiking boots or other tools can also be stored in their respective compartments.
Additional features
For your safety, the rucksack has a reflective logo plus safety piping at the back to alert motorists or other motorcyclists in low light conditions. And for a snug fit, the bag has adjustable straps to fit any size. The hip belts are removable, and the bolstered back foam provided air ventilation. This model is overall very comfortable with no scratches to your body or your helmet.
It has a volume capacity of 1475 cu. in. / 24.17L which is enough to store your laptops and other accessories for the trip. For a multiday trip, you might need a large volume than this one.
Pros
Reflective logo and safety piping
Durable and water-resistant carbon fiber shell
Multiple storage compartments
Cons
Small for a multiday adventurous trip
Relatively expensive
Verdict
This item for motorcyclists is undoubtedly one of the best accessories every motorbike owner should own. It comes with multiple storage pockets and adjustable compartments, the features I find rare in other models. For this reason, I would recommend the backpack for any avid motorcyclists wanting to store additional gear. However, the 24.17 liters of the volume is not really the most impressive.
2. SHOEI 2.0 – Motorcycle Backpack with Helmet Holder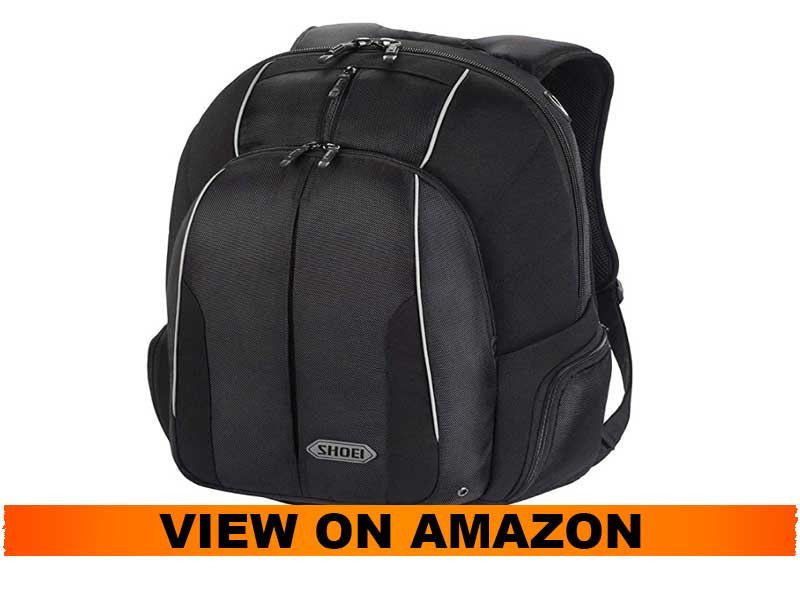 Shoei is a reputable brand and needs no introduction. It's quality backpacks are noticeable with a legit and visible logo at the back. The SHOEI 2.0 is the best value for money for anyone thinking of stuffing gear and hit the road with the motorcycle. From the design and performance, this model is worth the value of money.
Design and capacity
It comes with an aerodynamic design and appearance at least to catch the attention of your onlookers while making sure it accommodates your laptop up to 17 inches. That's actually spacious enough considering that many seldom accommodate more than 15" of laptops. Added to the features is the helmet holder in case you walk while carrying the rucksack on your back.
Straps
For a firm snug fit, it comes with the hip belt and the chest straps which are adjustable to fit a variety of body sizes. The padded shoulder straps are also adjustable to enhance your comfort while wearing them. The shoulder straps and back piping are all reflective to improve your safety when riding at night for others to notice your presence.
Storage compartments
The item comes with the main compartments to store large items such as hats or any gear. I find this model pretty cool especially with additional storage of side pockets with mesh to store additional items such as bottles. There are internal pockets as well to categorize your belongings especially the small electronics. The helmet is also easy to hold with the three-point buckle and flap system.
Pros
Reflective piping and shoulder straps
Multiple storage pockets and main storage compartment
Adjustable hip belt, chest strap, and shoulder straps
Cons
Not fully waterproof so beware when riding in heavy rains
Verdict
Given the plethora of features this backpack has, I rate it as the best value for money. It has a great design with adjustable straps to fit various sizes. Moreover, it has multiple storage pockets the feature that motorcyclists want to categorize their valuables.
3. Velomacchi Waterproof Hybrid Duffle Bag – Motorcycle Travel Backpack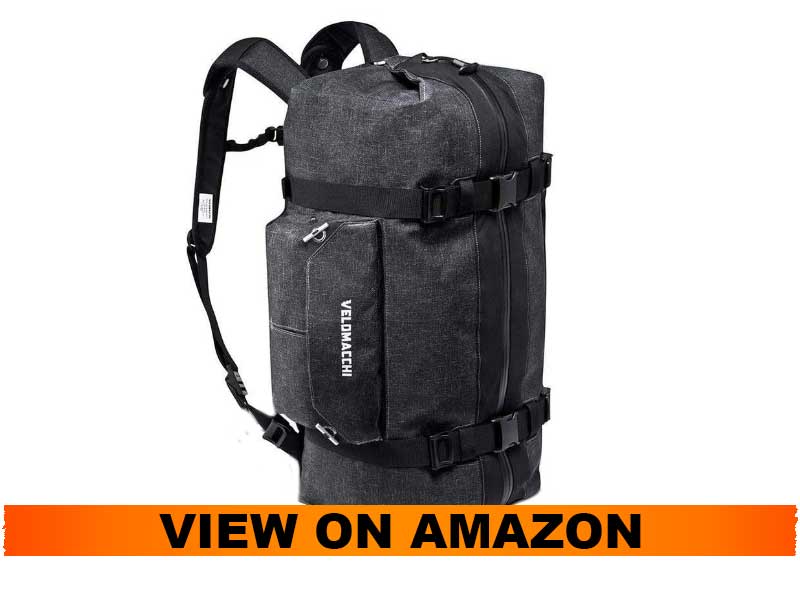 The Velomacchi Speedway Hybrid Duffle has a capacity of 50 liters, which are distributed to a 42-liter main compartment and eight liters to two side compartments. Velomacchi gear is specialized for being on the back of a rider. With that in mind, everything is optimized for the motorbike.
Main features
The harness system is designed to give the rider as much moveability as possible, but because this is called Hybrid Duffel, you can transform it from a backpack to a regular duffle bag. Therefore you won't find this awesome buckle mechanism that you can find on the 28-liter Speedway.
Nevertheless, the harness has a rotating hinge, which actually improves the moveability of your arms, especially with all the armor in your riding jacket. Even when fully loaded, the bag does not get in your way when you need to shoulder checks, for instance.
Capacity
The bag is very big on your back, but with 50 liters, you can obviously fit a lot of stuff into it.
All strap ends are neatly tucked away so nothing flutters in the wind or more importantly gets stuck somewhere whilst riding. Speaking for tucking away, you can tuck away the top handle when in backpack mode or tuck away the harness system when you want to use this as a duffle. In duffle mode, you can strap the whole bag to your bike.
Materials
This 1000D competition fabric is rather stiff by design to keep the bag stable at high speeds. Furthermore, it is abrasion resistant and waterproof. The YKK zipper with a big and practical zipper pull is waterproof as well. Everything inside the minimalistic but very big main compartment can be cinched tight with two compression straps.
Pros
Waterproof main compartment
Can be carried as a duffle or as a backpack
Can be strapped down to a motorcycle
Cons
Bulky, not for everyday use
Verdict
Velomacchi really knows how to make a great harness system. Of course, the bag is pretty big and if you want to take it on a road trip at highway speeds, you need to be careful with side winds, but I can say that at city speeds you wouldn't have any problems. So if you're looking for a great duffle bag that you can use on a motorcycle, then I can highly recommend the Velomacchi Hybrid Duffle.
4. Riderbag – High Visibility Backpack for Men
The last thing you want is to get involved in an accident just because a driver or passenger did not see you. Luckily, you can steer clear of this issue by wearing a backpack that is always visible no matter how dark or sunny it is. The reflective motorcycle backpack is quickly becoming a lot of bike riders' go-to product because of the amount of convenience it offers.
Besides reducing the chances of accidents, this bag also lets you store a variety of products.
This bag's design is perfect for people of different sizes, whether they are tall, short, broad, or thin. Its material reflects brightly at night, making sure passersby maintain their distance while you are driving. The reflective motorcycle backpack also has a detachable compartment for your helmet, ensuring users don't have to worry about losing it.
Robust Material
This products' manufacturer used waterproof polyester to make the motorcycle backpack, ensuring it lasts long. What's more, the backpack has large zipper pouches and smaller ones, allowing you to store your keys, textbooks, laptop, jackets, water bottles, mobile phone, etc. Users who bike to work or college will particularly like this backpack because of its even weight distribution and ergonomic design.
Tremendous Style
The main purpose of the Reflective backpack is to improve the wearer's visibility on the road, and it more than achieves this goal. That said, this bag's style is off the charts. Sure, it does not have any fancy patterns, but its bright Fluor Green color looks great at all times. Plus, the orange-colored buckles blend surprisingly well with the bag.
Budget
As you would expect, the Reflective Backpack for motorcycles is a high budget product, but it is worth each penny. Its high-quality material, stylish color, ergonomic design, etc. make it one of the most comfortable and convenient motorcycle backpacks on the market. In addition, its silver polyester also has multiple pouches on the outside, a feature that very few motorcycle bags offer.
Pros
This bag comes with extra padding for comfort
It has multiple straps, loops, an exterior pouches for extra convenience
The product contains slots for smaller objects like water bottles, flashlight, keys etc.
The Reflective motorcycle backpack offers excellent visibility
Cons
While this backpack is quite durable, it is not suitable for extreme biking
The product is not available in other colors and designs
5. Givi EA104B – Expandable Motorcycle Bag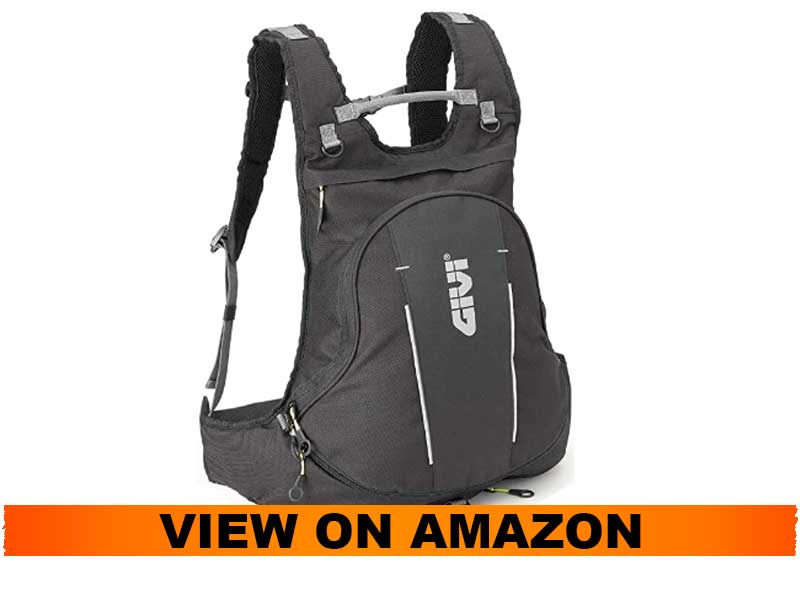 Givi EA104B is a versatile rucksack that can be expanded from 17 liters to 24 liters and then store more items for your road. If you want relief from the heaviness of your helmet then you can save it in the helmet holder of this product. It's more of a helper than a mere backpack.
Design
Design-wise the product is impressive. Its rain cover shields your expensive belongings against the inevitable rainfall. If not needed, the rain cover can be removed. You can also remove the helmet holder just to trim the total weight if not needed. The outer shell of this model is made durable by the 600D polyurethane polyester which exceeds international standards.
Usability
With this backpack, you won't have to deal with looseness because it has waist and chest straps to fasten it or adjust accordingly. But a woman with huge breasts may find it challenging to fasten the chest strap. There are inner pockets to store your valuables and separate them from items in the main compartment.
Pros
Removable helmet holder and rain cover
Waist, shoulder and chest straps for a snug fit
Made of durable polyester 600D PU
Cons
No waterproof of its own apart from the rain cover which may add more weight
Verdict
Very few models come with the rain cover and helmet holder. For this reason, I salute this product for these features because it helps you protect your gear from the rain while at the same time eases the helmet weight with the helmet holder. Anyone looking for a versatile item I would like to recommend this one.
7. Seibertron – Waterproof Motorcycle Backpack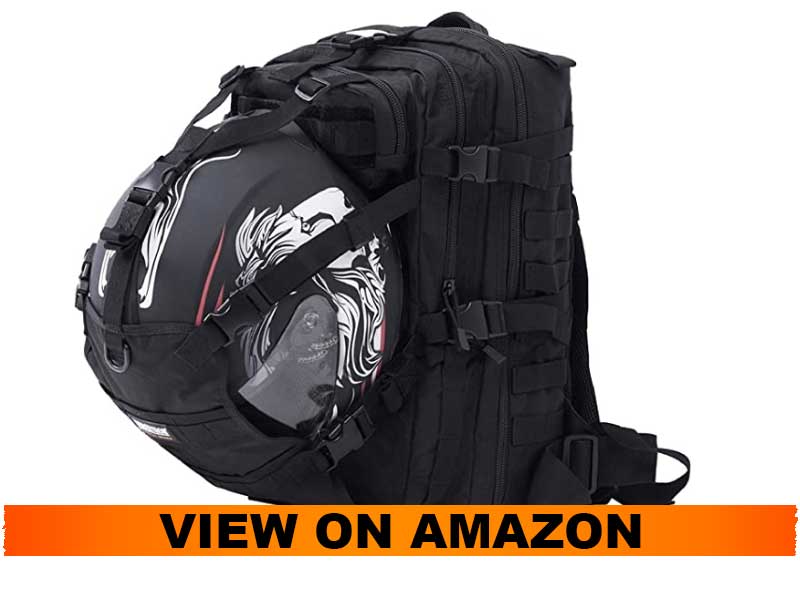 Seibertron is indeed a versatile motorcycle rucksack that can be used by hikers, motorcyclists, basketball players, footballers, and many more. The product is characterized by a large capacity, large enough to hold items for multiday camping with your motorbike. That is advantageous to negate the need for the inconvenient tank bags attached to your bike.
Materials
Its outer shell is made with a durable 900D waterproof fabric. Riding in the rain while the backpack is uncovered will not get your valuables soaked in rain, but only moderate rain. The downside is with the zippers, they are not adequately treated to repel water in heavy rains. A modest rain is not a threat. I would recommend a separate rain cover if you plan to ride amid heavy downpours.
Interior storage
Looking in the inside of the bag, it has several compartments to clearly separate your gear. There are zippered small pouches to store various items for ease of identification when you need one. The large compartment can be used to store laptops, tablets, and any other large item. You also get the interior mesh enclosures for the storage of small gear such as your eyeglasses.
Attacking the product is a cinch with its adjustable 45-inch waist belt and 60-inch chest belt. Additional gear can be stored using the side and top security straps in case the interior is filled to capacity. Despite the zippers not being waterproof, they are strong enough, made of heavy-duty thick alloy.
Pros
900D waterproof fabric
Numerous storage compartments including interior small pockets with mesh enclosures
The main compartment is expandable
Cons
Zippers are not waterproof
Verdict
This is a versatile item worth having if you want to use it beyond motorcycles. It can carry large items such as helmets, water bottles, soccer balls, and many more. What is impressive with it is an expandable main compartment combined with small storage pockets. They help you classify your items. I wish the zippers were fully waterproof so I can ride without worrying about rain soaking my items. Get the best motorcycle backpack with helmet holder at amazon now!
8. Arcenciel Tactical Motorcycle Backpack
Arcenciel is a well-recognized name in the world of tactical equipment and this motorcycle backpack is the perfect proof. While there is no shortage of similar products in the market, this particular motorcycle backpack stands out because of it excellent dimensions and storage capacity. This military-style bag has a tremendous waterproof coating. In addition, its leather material is scratch-resistant, breathable, and most importantly, durable.
Unlike most motorcycle backpacks, this one also has a robust zipped pocket, making sure they do not break easily. This bag can store a vast range of items like flashlights, tablets, cell phones, textbooks, jackets, etc.
Durability
When it comes to motorcycle backpacks, you must make sure the product you are planning to buy is durable. Fortunately, the Arcenciel tactical backpack is as durable as they come. Its authentic leather material can endure rough use without tearing or getting scratched.
Versatility
This product's versatility is off the charts. Besides being an excellent motorcycle backpack, this bag can also be ideal for camping, trekking, sports, cycling, and regular use. It can easily fit a 2-liter water bottle and ten T-shirts with ease, proving that it is heads and shoulders better than most backpacks on the market.
Budget
The Arcenciel motorcycle backpack is a mid to high budget product, and rightfully so. The quality it offers is miles better than most products and it can last incredibly long if you maintain it properly. While some individuals may think that this product is a bit costly, investing in it would be a wise choice for the long run, as its durability makes sure you don't need to invest in another one.
Pros
This bag has excellent capacity, and can store a large number of items
Zippered back pocket for added convenience
Breathable scratch resistant material
The backpack has a padded shoulder and back strap
Users can also use this backpack as a hang bag, kettle bag, hunting backpack etc.
Reduces spine pressure, a benefit offered by very few backpacks
Cons
May be a bit costly compared to most products
While the weight distribution is great, most of the weight goes towards the wearers hips, which could be inconvenient for some people
9. Alpinestars 3517-0403 City Hunter – Colorful Backpack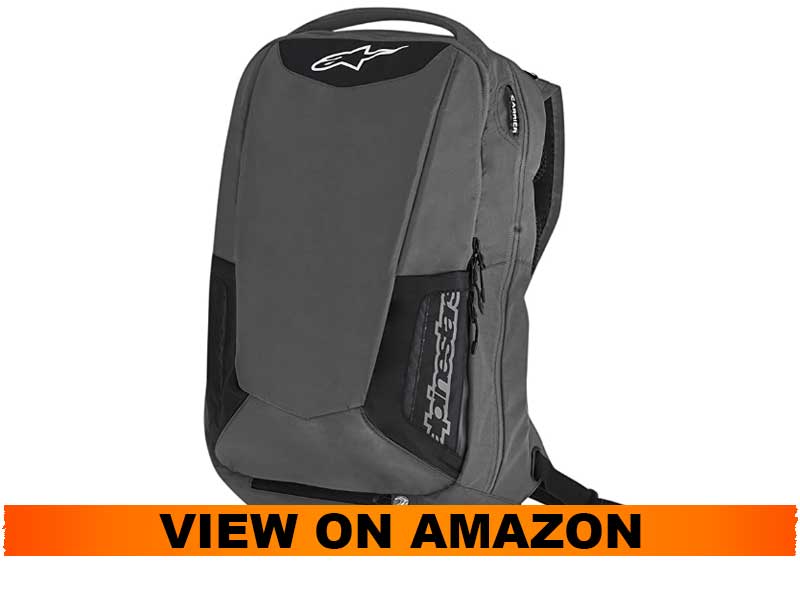 The outer shell is made of the lightweight 420D nylon and the other with the 420D ripstop nylon at the bottom. These materials are water repellent but not waterproof, so riding in heavy rain is a bad idea lest you soak your items in it.
Capacity
To store your electronics you have 2 external waterproof pockets on the front. They also make it simple to access your valuable electronic gadgets without having to open the main compartment. Meanwhile, in the main compartment, you can store a laptop up to 15 inches and then zip it to protect it from the elements. The overall capacity is 25 liters, which I find impressive for everyday use. But for multiday camping adventures, this capacity could be insufficient. There are still storage pouches in the main compartment.
Usability
This model is perfect for all motorcyclists for a wide variety of applications. It is lightweight weighing just 2.2 pounds to easily carry even if filled to capacity. Most products perform badly when coming to the lightweight feel. Also noteworthy with this rucksack is its design of adjustable shoulder and waist straps to distribute weight evenly and for a comfortable fit.
Pros
Multi-material outer shell made of 420D lightweight nylon and 420D ripstop nylon
2 external waterproof pockets
Multiple storage compartments
Cons
Not 100% waterproof so beware when riding in heavy rains
Verdict
If you're into colorful models, this could be your best choice. It combines black, red, and white to make it aesthetically pleasing. It still performs well to hold your items in their 25-liter capacity. The compartments make it easy to classify the valuables. I just wish it were 100% waterproof.
10. Nelson-Rigg CB-PK30 Black Compact – Budget-friendly Backpack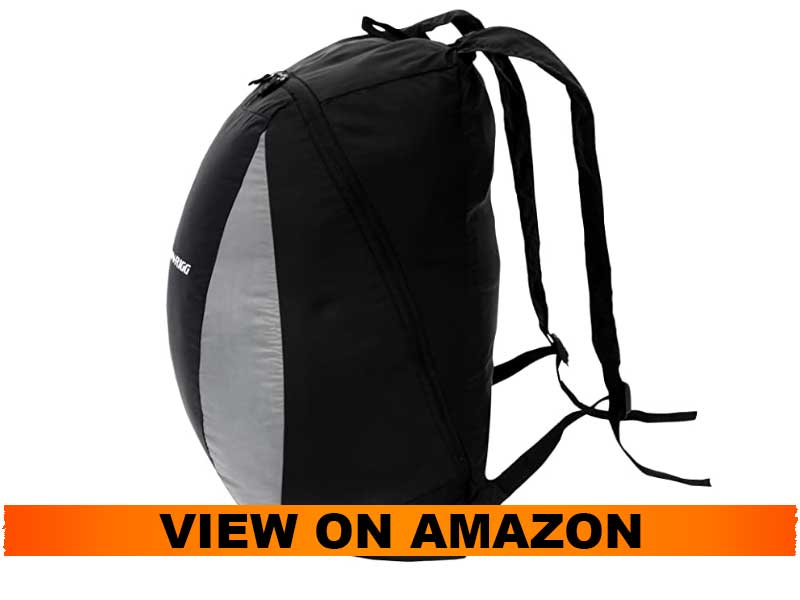 Nelson-Rigg CB-PK30 is more of a convertible day-to-day item usable for a wide variety of applications. Giving you a volume capacity of 30 liters, this is a backpack worth having if you have more items to stuff in. Although it has a relatively larger capacity, I still regard it as lightweight. You can lift it up with your one hand when filled to capacity.
Capacity
And traveling with this rucksack is not cumbersome. It is large enough to accommodate a full-face helmet, many clothes, or other packable large items. A sports fanatic can also find this product usable in his travel needs, for instance, to pack a basket or soccer ball.
Materials
The outer shell is made with the durable Tri-Max nylon and reinforced with embroidery style stitches to improve the strength. What I found missing is the reflective materials so you might need to invest in one. The overall design has no flaws to me apart from the lack of reflective material. As long you care for the backpack per instructions, you will enjoy a 1-year warranty from the manufacturer.
Pros
30 liters of capacity
Made of durable construction of Tri-Max nylon
Versatile bag
Cons
Lack of reflective materials
Not adequately waterproof
Verdict
If you still want to use this model even after getting off your bike, this is the best choice. It can be used by sports players or bicycle owners. To top it off, it comes with 30 liters of capacity. But, if you ride mostly at night, I reckon to get the reflective accessory.
11. Badass Motogear – Motorcycle Touring Backpack
If you've been looking for a heavy-duty motorcycle rucksack for your adventures, I suggest you look into the features of this Badass Motogear Backpack. Weighing just 1.25 pounds, it's a burden worth having for longer distances without causing much fatigue on your back. Whether you are an avid motorcycle rider, hiker, or camper, this could be your best option if you need an ultra-light item.
Stay safe with its reflective piping strip at the back to alert others of your presence. Then enjoy the comfort of adjustable straps at the shoulder and waist. This, in fact, fits almost everyone thus eliminating the sweats of online shopping with uncertain sizes.
Internal storage
There is a padded laptop sleeve for your expensive laptop, and it is combined with a vented compartment for other gear such as clothes. In addition to these compartments, you will find mesh and zipper pouches for your electronics and other small accessories such as sunglasses, goggles, and gloves. Thanks to the water-resistance of this model because you can now enjoy riding in moderate rainfalls without soaking your clothes in rain.
Additional features
Other features include the helmet holder which can also hold soccer balls or any other large items in this secure webbed holder. From the design, quality to the performance, this product redefines the comfort of motorcycle backpacks.
Pros
Heavy-duty build materials
Additional storage compartments with webbed helmet holder
Lightweight
Cons
Lack of reflective materials
Water-resistance not waterproof, meaning you have to beware of the amount of rainfall you expose the backpack too.
Verdict
Like other quality models on my list, this one is a must-have. It has sufficient storage capacity and it is made of durable build materials. Its expandable mesh pockets make it easy to store valuables of different sizes. Further, the rucksack is lightweight so it shouldn't be a problem at all riding with it for hundreds of miles. Get the best motorcycle backpack with helmet holder at amazon today
Tips and FAQs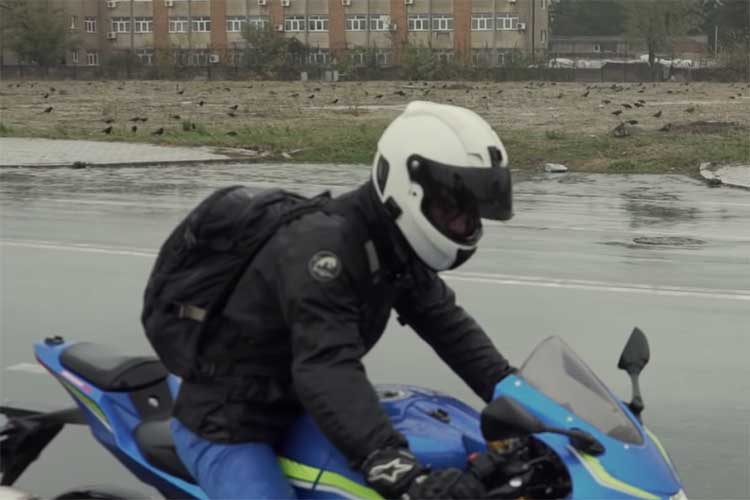 Yes, there are specialized backpacks made particularly for motorcycle riders. These bags have ample space that can accommodate a variety of items like mobile phones, books, clothes, etc. Many people wonder whether investing in a motorcycle backpack makes sense and what makes them different from traditional bags.
First off, backpacks made for motorcycles have more compartments than regular ones. More importantly, these backpacks have a special strap just for your helmet, making sure it does not fall when you are riding. What's more, most motorcycle backpacks are quite light in weight and their materials (mostly leather) are incredibly durable.
Dedicated backpacks for motorcycles are incredibly handy when commuting at high speeds. They don't fall off even if you are wearing a jacket. You will come across a wide range of backpacks in online and offline stores. Each product has something different to offer and has its own set of pros and cons.
Contrary to popular belief, using a regular backpack for motorcycles would not be a wise idea. Their design is not suitable for bike riding and may even cause discomfort. Another thing that makes motorcycle backpacks so great is that their weight distribution is tremendous.
If you compare a motorcycle bag's weight distribution with regular bags, you will notice a massive difference. You won't feel too much stress on your shoulders and neck. Instead, most of the weight will be around your hips, allowing you to ride with convenience. Motorcycle backpacks come in external or internal frames. Both have different advantages, but in the end, choosing one ultimately depends on your preference. Besides the various advantages that these backpacks offer, they are incredibly practical, especially if you have to pass through a lot of traffic.
Let's go through a comprehensive guide regarding the purchase of motorcycle backpacks. Like any other motorcycle accessories, you have to be vigilant when purchasing these products. They come in a plethora of features that could be overwhelming. Let's highlight some important features of hereunder.
What are important features to look for?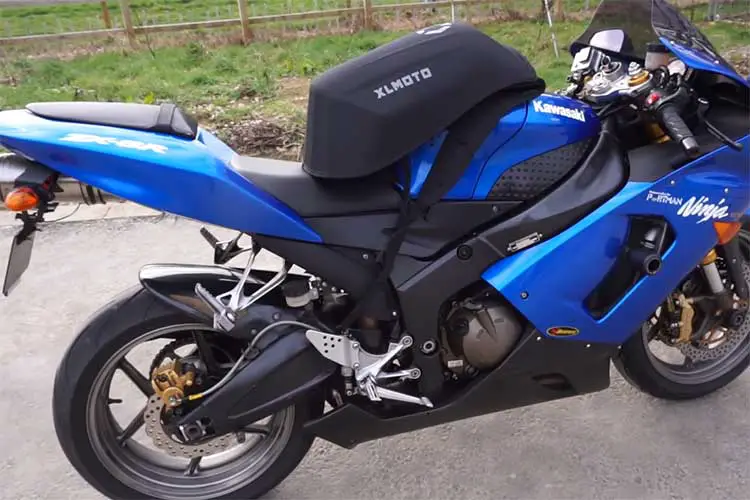 Among others, you have to look at the weight, capacity, build materials, carrying straps, and waterproof.
Carrying Straps
Because you have to carry the rucksack with straps for your short and long rides, it is important to examine the nature of straps before making a purchase. Because purchasing online is challenging, you have to check the description carefully or even ask for advice from previous customers.
Usually, there are chest, shoulder, and waist straps. These straps play an important role in distributing weight throughout your body particularly to the hips. Thus, you need to ensure that they fit tightly around those areas. To achieve this, you need padded adjustable straps. They will fit a variety of body sizes.
Build Materials
Backpack for motorcycles usually experiences abuse when riding in different terrains. You come across harsh weather conditions. It is the only superior fabric material that can withstand that. Always assess the quality of the fabric. Generally, the item comes with either nylon or polyester as durable and lightweight materials. The quality of the fabric goes hand in hand with the thickness of the material. Thick fabric will surely last long, but if you are into lightweight stuff then go for thinner materials.
Capacity
The capacity is of paramount importance too. For every product in my review, I have researched the capacity in volumes to help you make the right decision. The choice of capacity is inspired by personal preference. For instance, if you are planning a multiday riding or camping, you might opt for large capacities perhaps over 35 liters and if you are only short trips then a small capacity should suffice.
Some capacities are portioned into several compartments to categorize your gear. There are small pockets both inside and outside to aid you in picking the rucksacks. All these must be factored in when choosing the capacity.
Waterproof/water resistance
Motorcyclists are often exposed to treacherous weather conditions with heavy or moderate rainfalls. If you're not well-prepared then the rain may soak your valuables which could cost you a lot of money. The solution to this is to consider waterproof or water resistance when choosing these products.
Waterproof shells are superior over water resistance coatings which can wear out over time. The main purpose of the water-resistant backpack is that it repels water. A waterproof bag, on the other hand, lasts for a very long time while effectively block any kind of penetration.
Weight
The overall weight of your rucksack is important too. If you hold an empty bag and realize it feels so bulky, then you might get into trouble if it gets filled to capacity. Always look for light bags.
What should you carry in a motorcycle backpack?
You can carry anything valuable for your trip. Be it a laptop, clothes, boots, or any other gear, it can fit well in the backpack depending on the capacity. These models come in numerous compartments to be able to separate your gear. Beware of stuffing abrasive utensils with your laptops or other electronics with no scratch resistance. There is a reason there are interior and exterior compartments so you can prevent these scratches.
Final Thoughts
Motorcycle backpacks are a must-have for daily bike commuters. Now that you know why they are important along with the best motorcycle backpack recommendations, it would be ideal to get one for yourself to make your bike riding experiences hassle-free.