Wearing a high-quality helmet could save you from life-threatening accidents, months or years of recovery, and various calamities. Of course, wearing a helmet, no matter how robust it is, does not mean surviving a serious accident is a guarantee, but it significantly improves your odds. Are you an avid motorcycling enthusiast? You will most likely be searching for a safe low profile 3 4 helmet designed to endure the impact.
You will find plenty of helmets in the market, but not all of them fulfill the safety standards required. Sure, some options meet the necessary safety criteria, but they do not undergo rigorous third-party tests, making them an unreliable choice. It would be best not to choose an accessory that meets the bare minimum of various safety standards.
What is a low profile 3 4 Helmet?
Also referred to as open face helmets, 3/4 motorcycle helmets cover your head's sides and back but do not protect your face, leaving it exposed. Cruisers, tourers, café racers, and scooters often wear this accessory as it lets them feel the wind on their face while riding. The absence of a chin protecting bar is arguably the most distinguishing feature of an open face helmet.
Three-quarter helmets are structurally equal to helmets with maximum protection. You will notice that they are as robust as full-face helmets despite the lack of chin protection. In addition, ¾ helmets are lighter than ordinary helmets, but the reduction is not significant. The accessory does not shield your face from road debris and weather conditions. However, several brands provide full-face or partial visors to tackle this problem. The aftermarket shade protects your face and eyes from sunlight and other elements. Some brands offer visors with their open face helmets, but you will need to buy them separately in most cases.
Best Low Profile ¾ Helmets
Continue reading this guide if you are looking for a comfortable and safe helmet to ensure you can seek thrills while having maximum protection. We will also provide answers to some frequently asked questions regarding low profile ¾ helmets to ensure you choose the best option.
This post contains affiliate links. If you make a purchase, Motoprove.com may receive a small commission at no additional cost to you.
1. Bell Custom 500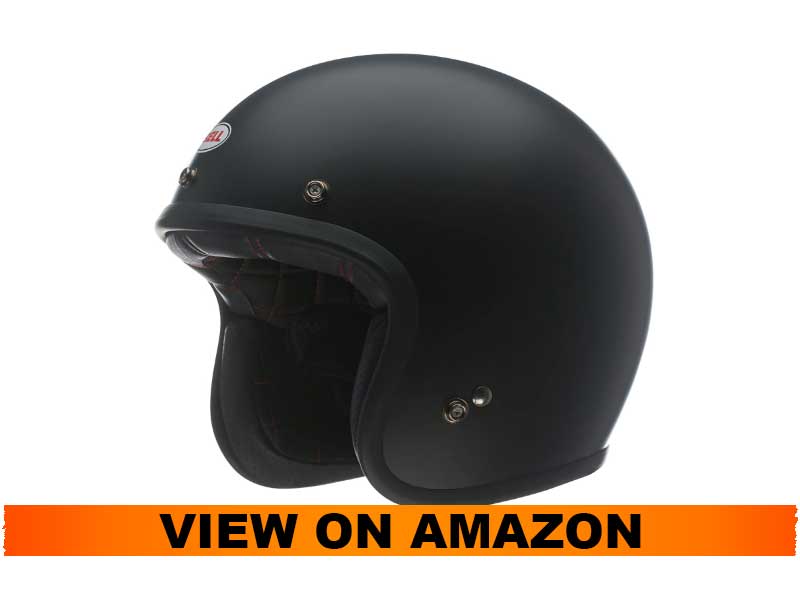 Bell is a well-recognized brand in the helmet industry. The Custom 500 by Bell contains a shell with multiple layers for excellent protection for bike riders. It also has anti-bacterial interior shielding riders from various infections and removes the sweat that gathers after riding for months.
Bell's Custom 500 is highly durable and has a plethora of sturdy features, and with approvals from ECE and DOT, this accessory is as safe as it gets. The helmet also fulfills safety standards provided in the FMVS 218, providing more protection guarantees. You will find a chinstrap attached to this helmet's thick inner padding; it offers closure, protecting you from rain, sunlight, and other unfavorable elements.
Bell combines the best of vintage and modern designs and features in this helmet, ensuring that it follows the necessary safety standards while looking visually appealing. The company designed this accessory in an oval shape. The Bell Custom open face helmet is available in ten attractive color combinations like pearl white, orange flake, matte black, gloss black, black/bronze, pulse gloss red/blue/black, matte grey, gloss silver.
Budget
This helmet costs around 125 Dollars. It is ideal for riders looking for high –quality protective gear without breaking the bank. It would be fair to say that this helmet has a justified price considering its sturdy build and versatility.
Materials
The company develops products with sturdy fiberglass shells with EPS liners to achieve a bold and stylish appearance. You will find the highly durable composite carbon shell in various sizes with thick polyurethane form for added safety.
Pros
Ultra-stylish helmet, suitable for any biker
The Bell Custom 500 helmet has an EPS liner to provide extra comfort while riding
Robust and sturdy build
The helmet is incredibly light and will let you drive without any discomfort
Cons
The helmet's graphics could have a better quality
2. HJC Helmets CS-5N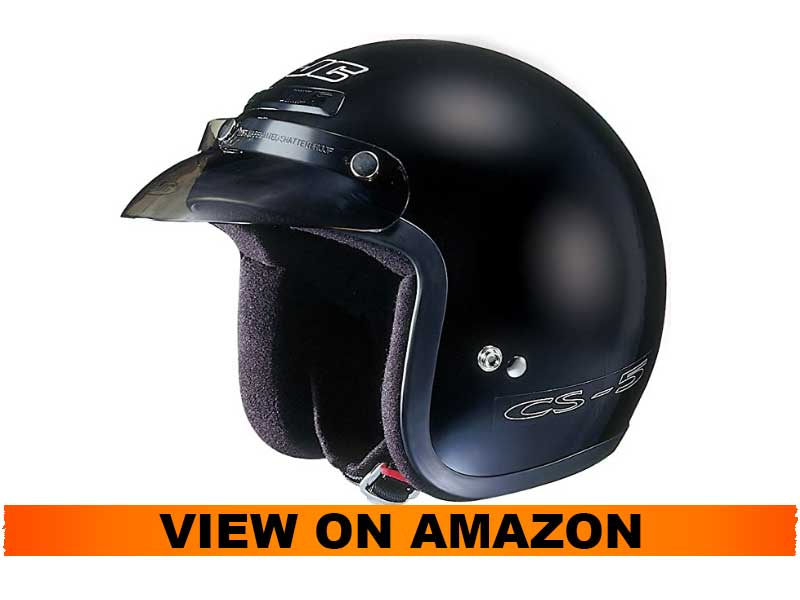 HJC is famous for designing open face helmets for the pop-culture community. The company particularly develops products from various franchises like Star Wars and Marvel. However, this model offers much more than appearance. Its unparalleled design is ideal for individuals despite their skill level.
You will also find a handy sun shield attached to this model. It will shield you from debris, ultraviolet rays, and other damaging elements. The anti-bacterial and moisture-wicking fabric is a massive plus for this product. It rapidly absorbs moisture and eliminates the need for frequent maintenance. Riders can also remove the helmet's cheek pads to wash it thoroughly.
What is most impressive about this accessory is that it will not hinder your peripheral vision, ensuring that you have a wide view range. The HJC 5N helmet is available in three sizes and comes with the same amount of snap visors for excellent fitting and extra versatility.
Budget
Riders with low-budgets should consider the HJC 5N helmet. It is available in the sixty to seventy Dollar ranges, depending on who is selling it. The helmet is surprisingly solid considering it is low price.
Materials
HJC uses polycarbonate shells to ensure these helmets remain lightweight. DOT officially approved this accessory, meaning that this helmet offers top-notch resistance against falls and crashes.
Pros
High-quality anti-bacterial material
Protective Sun Shield
The product comes with three snap visors
Cons
Some users complain about the lack of ventilation
The helmet doesn't let you equip facemasks
3. Biltwell Bonanza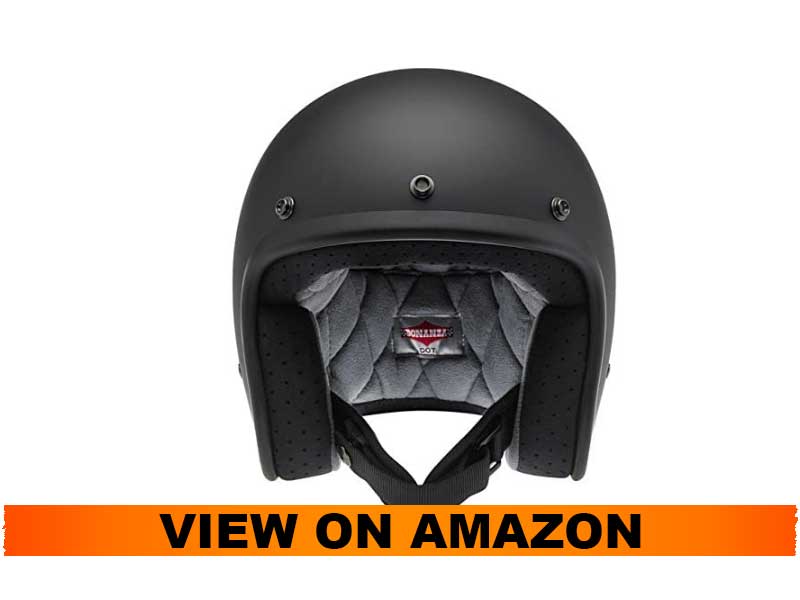 Biltwell's helmets are popular for their hand-painted designs, but they offer more than good-looking accessories. Users love this helmet model because of its flexible and ergonomic features. It feels incredibly light and lets you move your neck without hassle. The helmet surpasses DOT's various safety standards by a landslide.
Wearing a Biltwell Bonanza ¾ helmet is straightforward and does not cause discomfort. The company blended the classic looks and contemporary technology for this helmet, ensuring it is functional and stylish. You can easily remove this helmet's hand-stitched liner. It absorbs moisture and eliminates blurry vision-related issues.
Washing the liner is relatively straightforward, and you will not need to maintain it as frequently as open face helmets from other brands. Bitwell used open foam padding for this product to ensure comfortable breathing.
The product comes with a goggle strap retainer and D-rings that provide extra support while adding to the retro look. The chrome and rubber accent also offers a smooth look and suits almost every style. Bitwell Bonanza's ventilation is serviceable but not ideal. The helmet's enclosed portion does not have intake vents, but its durability remains excellent despite the lighter and lean modification.
Budget
The Biltwell Bonanza helmet is for people with a budget between $100 and $120. Sure, this helmet could use better ventilation but there is little to complain about considering its other features and economical price.
Materials
The helmet contains an EPS shell that guarantees superior protection. Few helmets are as secure as this one because of its robust outer shell, injection model, and interior polystyrene shell.
Pros
The helmet has lycra panels for absorbing sweat and moisture
Economical price
Maintaining this accessory is straightforward
Lightweight
Cons
Could have better ventilation
4. TORC T50 Route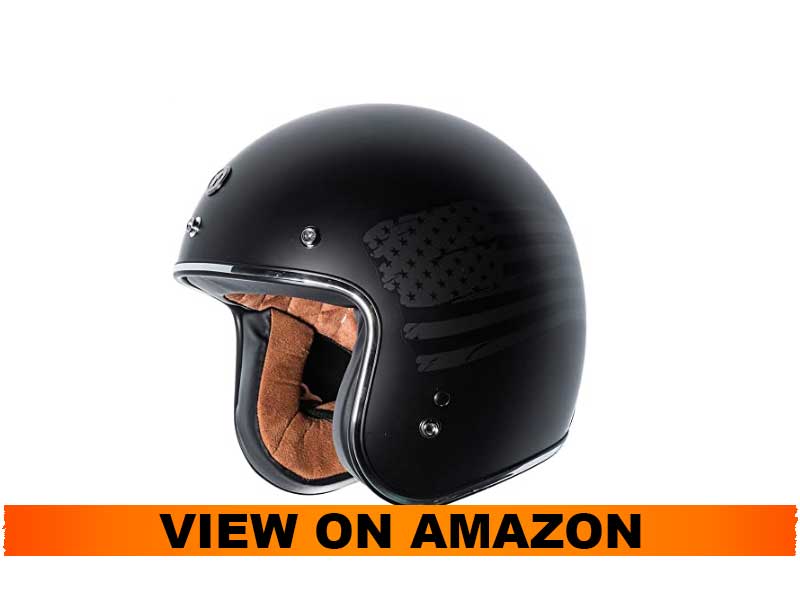 The TORC route 66 ¾ helmet boasts removable suede padding and lightweight construction. Removing this model's inner padding is especially easy. You can also replace it, making sure your helmet does not accumulate pungent smells. The company also incorporated a slick and removable sun visor with this helmet, allowing riders to drive their bikes on the sunniest days.
TORC went all in when designing this helmet. Its attractive black coloring and graphics are stylish and classy. Like most high-quality open face helmets, this one does not require regular maintenance. Cleaning it once or twice a month will do the trick.
Budget
Individuals seeking a classy yet robust helmet in the hundred dollar range could not go wrong by choosing the TORC three-quarter helmet. What is most surprising about this product is that it possesses most qualities of upper range helmets while not being as costly.
Materials
TORC utilizes a multi-density expanded polystyrene liner to improve this helmet's shock-absorbing capacity. It also contains removable suede padding for added protection and straightforward maintenance.
Pros
The TORC ¾ is an aesthetically-pleasing helmet
Certified by DOT
The helmet comes with a detachable sun visor
Washable suede padding
Cons
Some would argue this helmet is a bit pricey
5. LS2 Helmets Spitfire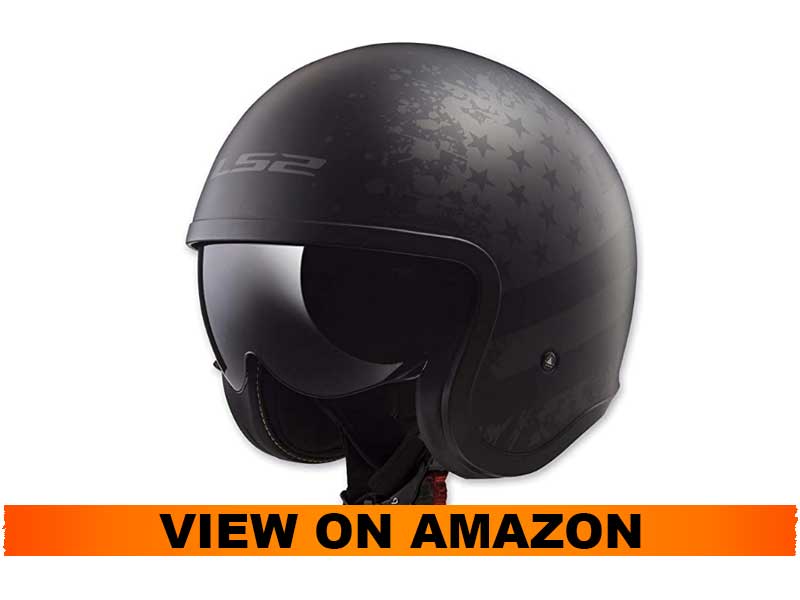 The LS2 track helmet is an incredible helmet for race lovers. It contains all the features preferred by sport bikers. Moreover, it offers a premium look and optimum safety for thrill-seekers. With safety certifications from ECE and DOT, this ¾ helmet promises to protect you from accidents.
Most ordinary sports helmets offer excellent protection but inferior visibility. However, this model eliminates that issue as it does not compromise your peripheral vision and protects your head from impact.
The Spitfire helmet by LS2 has adequate ventilation, guaranteeing that riders do not feel claustrophobic during long rides. You will also find a twin shielding system that offers excellent protection from dust, debris, and ultraviolet rays.
There is a handy buckle attached to this model from LS2. It provides extra flexibility and ensures you can adjust this helmet according to your driving speed and face size. The optical face-shield installed on this helmet prevents reverse winds and resists elements like dust and fog.
Budget
The LS2 Spitfire Helmet is a viable option for riders with a one hundred and twenty to thirty dollar budget. It contains almost every feature one would expect from an upper-midrange helmet, making it an economic yet valuable addition to every street racer's repertoire.
Materials
The company designed this helmet with lightweight kinetic polymer alloy. You will also find removable hypoallergenic padding inside this accessory. It provides extra comfort and allows riders to drive smoothly.
Pros
The helmet is incredibly light and enables swift neck movement
LS2 utilizes high-pressure thermoplastic technology to prevent pressure
Lever-controlled chin guard for added protection
The helmet's sun visor is scratch and glare resistant
Cons
Some users believe this helmet's proportions are not ideal
Buyer's Guide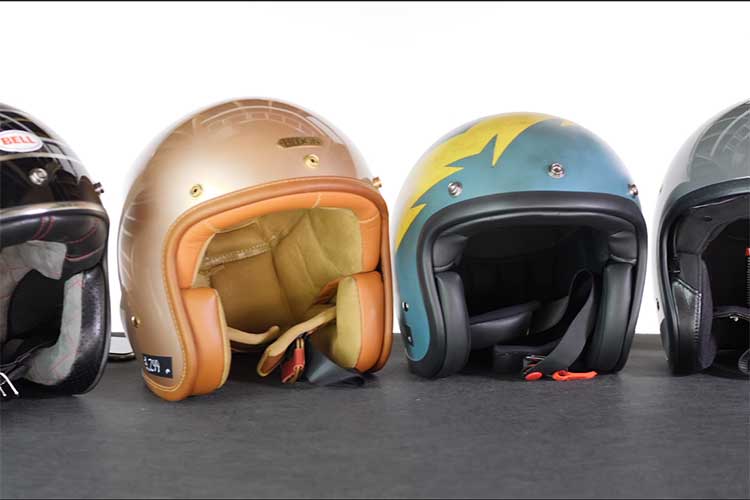 Selecting the safest open-faced lowest profile 3/4 helmet is more straightforward than it was a decade ago. Why? Because more and more manufacturers are beginning to realize the importance of meeting several safety standards. However, some manufacturers do not get their helmets tested by reputable third parties. Buying helmets without third party certifications are quite risky. Let us discuss essential considerations before you buy a ¾ helmet.
1. Check the Manufacturer's Label
You will find the manufacturer's label inside the helmet. It consists of the product's size, model, name, material, and other info. Ensure that your helmet contains a thick inner lining, robust rivets, and solid chinstrap.
2. Impact Absorption Liners are Critical
Your helmet must contain an impact absorption liner as it provides an extra layer of protection during crashes. Experts consider the liner as a second defense line after the shell. It can save you from serious injuries.
3. Snell Labels
Check your helmet for a Snell label. It indicates that the manufacturer meets the organization's strict safety standards.
4. Third-Party Testing
While Snell testing is excellent, it does not hold a candle to third party testing. Why? Because third-party agencies have lengthy, scientific procedures to ensure the helmets are safe. Experts conduct various impact tests designed to determine how helmets endure different accident scenarios, particularly. You would be surprised to learn the number of helmets third-party labs reject annually.
5. Chinstrap
Helmets are only as good as the chinstraps they use. Avoid getting accessories with excessively large straps as adjusting and tightening them is quite complicated. Choose one that fits your face's size and shape to ensure the helmet remains secure while you are driving.
6. Design
Look for a well-built and ergonomic helmet design. The outer shell provides the first defense line and safeguards your head from direct contact. It would be best to choose a 3/4 helmet with a tough composite shell, such as thermoplastic or polycarbonate.
7. Check for the DOT Sticker
Extensive helmet testing is mandatory in the United States. It determines if these products meet federal safety requirements. Wearing helmets without authentic DOT stickers is not legal and could get you into trouble. Check the accessory's packaging to ensure it has a DOT sticker. Don't apply a separately sold DOT sticker on your helmet. You would be endangering your life and risking heavy fines.
Watch out for fake DOT labels and stickers on helmets. In most cases, you will face no trouble determining whether a helmet is unsafe by feeling its materials and judging its price. Be wary of shops selling low-quality knock-offs.
Frequently Asked Questions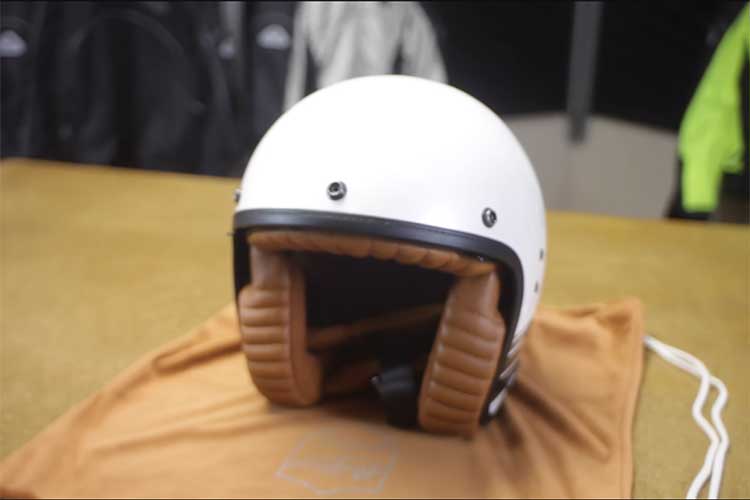 How Much Does A Good Helmet Cost?
Full-faced helmets are costlier than half shell helmets. However, higher prices don't always indicate a helmet's safety. Manufacturers have several standards, such as fulfilling DOT and Snell requirements. Meeting those specifications requires expensive materials, meaning that high-quality open face helmets are slightly costly. With that said, low-profile ¾ helmet prices range from sixty dollars to two hundred dollars (could be higher in some cases.)
What Are The Benefits Of ¾ Helmets?
Every bike rider must own a high-quality helmet and wear it every time they drive. Depending on where you live, the law might require you always to wear your helmet. Wearing a helmet will save you from irreparable injury if you encounter an accident. Since you will find numerous helmet options in the market, what makes ¾ helmets the best? Here are some reasons:
Visibility
You must invest in an open face helmet for better visibility. These helmets do not have obstructions, allowing you to see everything. Most well-recognized brands provide visors or goggles for protection against debris, sun, and other harmful elements.
Convenience
Open face helmets are extraordinarily convenient, particularly if you want to drink or eat without taking off your helmet. You can enjoy a quick meal during long rides and enjoy the wind with low profile ¾ helmets.
Ventilation
Every rider prioritizes ventilation. Open-faced helmets are excellent because they provide you plenty of breathing room. These accessories are particularly helpful during the sweltering, hot summer months. Wearing a ¾ helmet will also minimize sweating, offering you an enjoyable riding experience.
Are Carbon Fiber Helmets Better?
Companies started using carbon fiber technology in the late 1950s. Carbon fiber is remarkably lightweight because it mostly contains atoms. The unique composition of this technology is excellent for making robust and virtually unbreakable helmets. Other materials like steel also contain atoms but carbon fiber stands out because of its atoms' alignment.
Carbon fiber measures about five micrometers and contains carbon atoms. They (atoms) blend in a crystal-like alignment running parallel to the fiber's long axis. It is a remarkably unique composition and develops a highly durable fiber, especially for its size. Many companies combine this material with polymer and plastic resin when designing helmets. Companies produce massive carbon fiber pieces by creating bundles of thousands of smaller fibers and weaving them. Here are some advantages of carbon fiber.
Weather Management
2/4 helmets made with carbon fiber are ideal for all weather conditions. In particular, warm weather riders will appreciate this material because of its reduced stress, excellent mobility, and lightweight. However, carbon fiber helmets are equally useful during cold weather. Why? Because they do not compromise your vision and ensure fog does not obstruct your vision. Most brands incorporate anti-fog systems in their helmets to reduce visibility issues.
Shock Distribution
Carbon fiber helmets are considerably better than those made with ordinary materials. Companies also combine it with Kevlar and other robust materials to develop a sturdier helmet shell. These helmets provide unparalleled shock deflection by equally distributing impact force across the surface instead of centralizing it.
Durability
You will instantly notice a carbon fiber helmet's durability after wearing it. The material is vastly superior to other helmets and possesses crack and scratch resistance qualities. Accessories made from carbon fiber are strong but surprisingly light, and wearing them is incredibly easy.
How Often Should Riders Replace Their Helmets?
Like the ones mentioned in this guide, high-quality helmets last for five to seven years if you maintain them regularly. However, most enthusiasts will tell you to replace your helmet every four to five years. It would be best to replace your helmet right away if you encountered a serious accident, even if your protective accessory does not have obvious damage or cracks. It is better to err on the side of caution in such cases as your helmet, no matter how solid it is, could break if the second impact is more serious.
Final Thoughts
Now that you know everything to buy the correct low profile ¾ helmet, equip yourself with one now. Every option we discussed in this article has excellent styling, protection, features, and construction. They belong to well-recognized brands making protective accessories for a while. You will find several other options too. However, it would be best to remember the considerations mentioned above and be particularly careful about their safety certifications.