Bell helmets are widely regarded as top-of-the-shelf products in the motorcycle community. They are stylish, sturdy, and designed for all sorts of outdoor adventures. 
But what are the origins of Bell motorcycle helmets? Where are they manufactured? In today's post, we'll discuss various topics around the Bell motorcycle helmets. 
Quick Summary
---
You can find the following topics by the end of this post:
Interesting Facts about Bell Helmets
Alternatives for Bell Helmet
Frequently Asked Questions
Without further ado, let's get started. 
Bell Sports originally started in a small city with the same name. It is a part of Los Angeles County, California. 
Over time, Bell Sports spread its business all over America with numerous manufacturing and R&D plants. These plants are responsible for the production of different types of sports helmets. 
Does Bell still operate in America?
As their business grew and the cost of labor/production went up, Bell decided to move their business out of America. Currently, Bell operates its plants from different locations around the world. 
The production plants are located in China, Bahrain, and Quebec. Whereas, the R&D department still operates inside the United States. 
Interesting Fact: Bell was founded in 1933 by Roy Ritcher. The company started as Bell Auto Parts.
Did that impact the prices of Bell products?
Bell helmets were known for their durability from the start. Their prices were slightly higher than the average helmet available in the market. 
As of now, Bell products reside within the affordable and expensive range. To ensure that its customer base grows steadily, Bell decided to make more affordable products over the years. 
Are Bell products still of the same quality?
During the early years, Bell saw a minor decline in its product quality due to logistics and other matters. However, they have gained their place back as a top-quality helmet manufacturer in no time. 
Interesting Fact: Bell helmets are used by many athletes in racing sports like Formula1, MotoGP, NASCAR, and Rally racing.
Why did Bell helmets gain popularity in the first place?
The reason for Bell's popularity goes way back to 1968. This was the first time a full-face helmet was introduced in the market. At the time, it was revolutionary. 
It blew their competition out of the water and positioned them at the top of the market. Since then, Bell helmets are a household name in the United States. 
Interesting Fact: Roy Ritcher, the founder of Bell Helmets, was a former professional race driver. He acquired a store called Bell Auto Parts and turned it into a multi-million dollar company now known as Bell Helmets.
Products by Bell Helmets
The vision of Bell Helmets has always been to create premium quality helmets that can be used for casual purposes as well. 
Currently, Bell Helmets specializes in motorcycle and bicycle helmets. Other than that, Bell also produces helmets solely for racing purposes. 
What sort of helmet designs are produced by Bell?
Bell excels in full-face, modular, and visor-less helmets. You can choose a helmet to fit your outdoor adventures from a wide variety. 
However, the main product line consists of full-face helmets. It includes 4 different designs and a wide array of vibrant colors. 
Can I purchase different attachments for Bell helmets?
Another perk of Bell helmets comes in the form of reusable attachments. You can buy every minor and major attachment for your helmet. 
For example, if your helmet straps are old and worn out, you can simply order new ones from their website. Or if your visor has a lot of scratches, you can get the same one at a cheap price. 
Interesting Fact: Bell helmets were the top choice of Micheal Schumacher, a multi-world champion of Formula1. 
Development of Bell as a Company
Bell was first acquired as an auto parts store at a mere price of $1000 in 1945. This auto parts store turned into a full-fledged company by the year 1954. 
Roy released the first-ever Bell helmet known as the Bell 500 in the same year. The Bell 500 has a design that makes it perfect for race tracks and the streets alike. 
Who acquired Bell Helmets?
In the year 1980, Bell merged with a Football helmet maker known as Riddell. Together they formed a company known as Bell-Riddell.
As time went on, this company was split into two parts. By the year 1991, the motorcycle division was sold under the name of Bell Helmets. Bell Sports was the new name of the remaining half. 
What happened to Bell Helmets?
Bell Helmets was reacquired by Bell Sports in 2002. Both companies combined under the banner of Bell Powersports.
Currently, this company is owned by a parent company known as Vista Outdoor. This change happened back in 2015. 
Interesting Fact: Bell's first full-face helmet was made in the Long Beach facility. It is located in the state of California. 
Moreover, Bell also moved their business to Europe under the name of Bell Racing. However, the American and European wings work individually.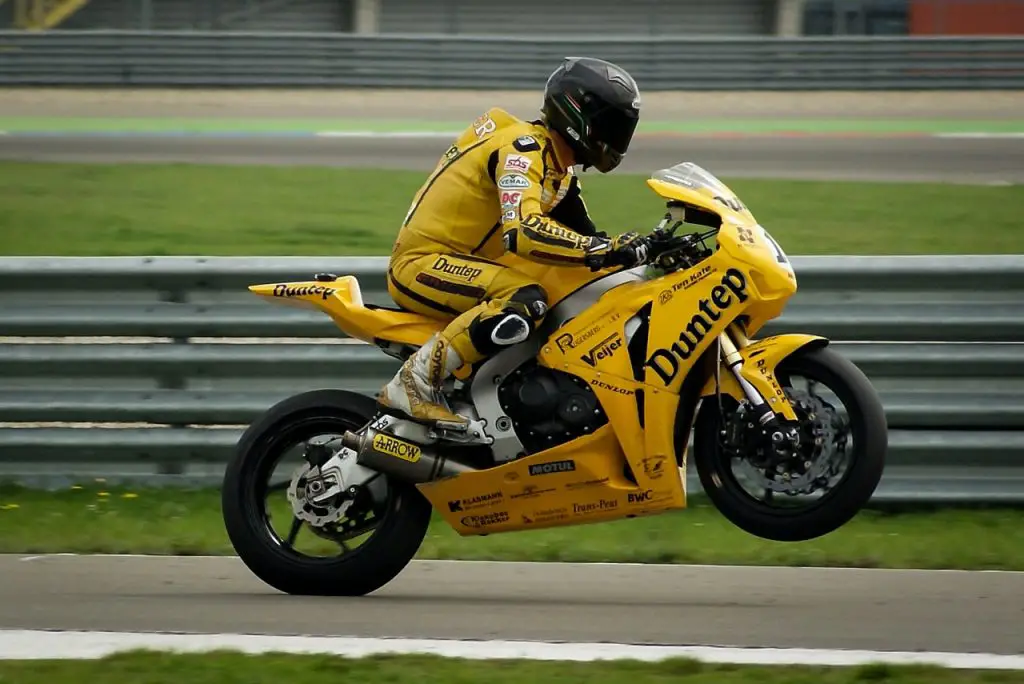 Competitors of Bell Helmets
When a business becomes successful, it is only natural that others want to get in the same pool. After their monopoly for several decades, some competitors appeared in the market in the early 90s.
To this day, these brands go head to head with Bell in terms of quality and unique designs. Let's see what these brands are:
Accell Group
Scott Sports
Dynamic Sports
Interesting Fact: Bell Helmets earns around $65 million in revenue every year. 
This is all you need to know about Bell Helmets. Now, let's take a look at some of the commonly asked questions about Bell Helmets. 
Frequently Asked Questions (FAQs)
How many facilities do Bell helmets currently have in America?
As of now, Bell only has one single facility in America. It is their headquarters and it is located in Miami, Florida. Besides that, their production plants are outside of the United States. 
What is the best Bell helmet?
Bell specializes in full-face helmets. You can buy full-face helmets for motorcycles, bicycles, and dirt bikes. Moreover, Bell also has modular face helmets for dual utility. 
what is the Use of bell helmets in Formula 1?
Bell has been a provider of helmets in different motorsports. Currently, the Bell helmets used by athletes in F1 are the FIA8860 with slight variations. 
Which famous F1 driver uses Bell helmets?
Sir Lewis Hamilton, a 7-time F1 world champion, has worn Bell helmets since the start of his career. Bell also designed an exclusive helmet for Hamilton under the tag Bell HP7.
Wrapping Things Up…
This brings us to the finish line of today's post. We hope you can find all the relevant information about Bell Helmets in this post. 
Bell helmets are top-tier products with high durability and modern designs. You can choose from a variety of designs to fit your outdoor adventures. 
Do let us know which Bell helmet is your favorite. For more information about everything motorcycle, CLICK HERE.