Your bike's engine needs to breathe for optimal performance properly. Making adjustments to its capacity is an ideal way to enhance its performance and power. Upgrading your bike's air intake system is arguably the best way to achieve this goal. Your vehicle's airbox and filter let clean air enter your engine, providing power to your bike.
Improving airflow inside the engine will also help the airflow out of it. Adding an air intake system is arguably the most cost-effective and efficient upgrade to your vehicle. Why? Most fuel injections or stock carburetors present inside a bike cannot handle the unusually high airflow inside their engines. Installing an air filter can help eliminate that problem and improve your bike's performance by tenfold.
What is the Best Air Intake for Harley Davidson?
Are you looking for an best air intake for harley davidson system? If yes, you're in luck. There are a plethora of options available in the market. However, the abundance of these products can be overwhelming for some people when choosing one for their motorcycle. Besides helping your bike breathe better, air intakes can also make it look aesthetically pleasing.
So without further ado, let us discuss the best aftermarket air intake products for Harley Davidson, helping you choose an ideal option for your motorcycle.
This post contains affiliate links. If you make a purchase, Motoprove.com may receive a small commission at no additional cost to you.
1. Vance & Hines – Best Air Intake for Harley Davidson
If you want an air filter that allows you to maintain your Harley Davidson's stock appearance, this aftermarket product could do the trick. What's more, it will significantly enhance your motorcycle's performance, making it run efficiently.
Vance and Hines use smooth venturi, which the company creates by combining high flow filter element (washable) and billet aluminum. The VO2 air intake kit can produce excellent performance across the power curve when you pair it with the right exhaust and fuel management system. Moreover, you have plenty of cover options for this air intake product by Vance and Hines.
You can either utilize the stock cover or use a high-quality aftermarket air cleaning cover, which also includes the Vance and Hines Skull Cap.
Pros
Comes with a billet venture
There is an inlet backing plate in this product
Includes a high-flow filtering element (High-Flow)
Available "Naked," allowing you to choose a cover that you prefer
Easy installation
2. Krator – Harley Davidson Sportster Air Intake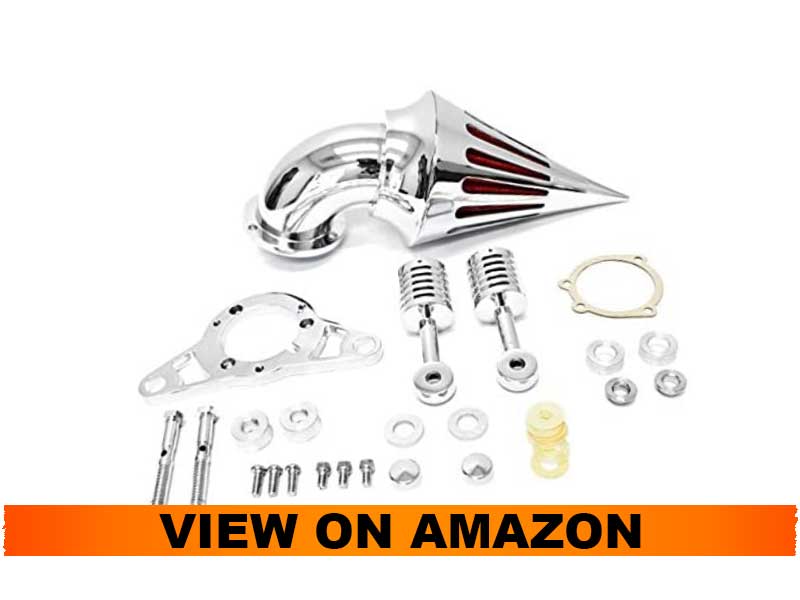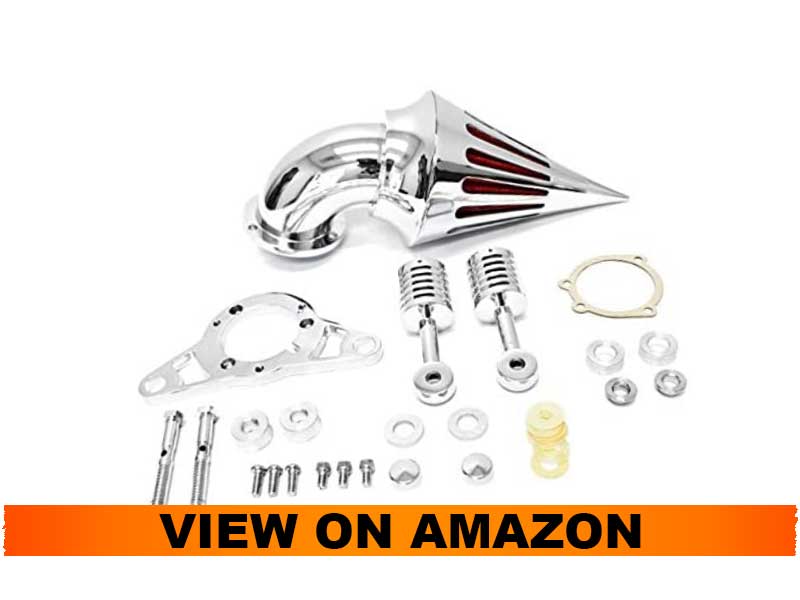 Are you searching for a high-quality air cleaning kit that provides excellent airflow and styling for your Harley Davidson? Krator's filter might be the solution. The company designed this spike-filter for increasing your motorcycle's aesthetic appeal and enhancing its performance. Installing it is not complicated. Although, you will need to entirely remove your stock housing and air filter, which could require professional assistance.
As for this product's style, it is miles better than the stock filter housing. While this filter is not the cheapest air intake product in the market, it's not that expensive. It is more affordable compared to the previous product on this list. Therefore, there will be no need to worry about breaking the bank.
Pros
Highly distinctive and bold styling
Excellent airflow
The product's price is reasonable
Cons
Quality could be a bit better
Inexperienced users could require a professional for installation.
3. K&N – High Flow Air Intake for Harley Davidson
K&N is a highly reputable brand in the vehicle aftermarket product landscape. Quite a lot of people rely on its performance air filters, particularly for their Harley Davidson bikes. What's best about this product is that it is suitable for various motorcycle types, whether it's a tourer, adventure bike, sports bike, or cruiser.
According to K&N, this air filter can go over fifty-thousand miles in between the cleanings. What's more, it also provides outstanding airflow, particularly when you compare it to your bike's stock filter. Therefore, your motor will perform significantly better, and the motorcycle's fuel efficiency will also improve. Most, if not all, of this company's filters, work exceptionally well with stage one tuning. So, if you own a touring model, it would be best to try this product and reap its various benefits.
Pros
Top-notch quality
Excellent airflow rate
The filter's service life is exceptionally long
4. Kuryakyn – Custom Air Intake for Harley Davidson
Are you a hardcore motorcycle fan? If the answer is yes, then you are most likely looking for performance upgrades. Aftermarket products can significantly improve your bike's performance and what better than a high-quality best harley air cleaner. While the market is full of plenty of such products, few are as good as this product by Kuryakin. Installing this hyper charger will boost your bike's performance and add some style to it.
You will also see a noticeable improvement in its fuel economy. What's most impressive regarding this air cleaner model by Kuryakin is that it supports engine build-up up to 130 horsepower. Installing this product will not diminish your motor vehicle's drivability or longevity.
With that said, it would be best to acquire a professional's help when installing this air cleaner on your valued Harley. Excellent functionality aside, this product's beautiful chrome cases come with butterflies and trap doors and are separately available in a variety of colors.
Pros
Your bike's throttle response will get better after you install this air cleaner
You will immediately notice a performance boost
Stylish design
High-quality re-jet components
Cons
The air cleaners slightly protrude outside the bike's factory outer housing
You may need to keep your legs on top of the charger housing if your bike does not have highway pegs
5. XMT Moto – Performance Air Intake for Harley Davidson
Are you searching for an excellent best harley air cleaner that has an exposed filter for enhancing airflow? Well, the XMTs Moto air cleaner kit could provide an adequate solution for your motorcycle. Installing this aftermarket product will drastically improve your machine's overall performance and appearance. Also, its backing plates are revolutionary and help promote excellent airflow into the throttle/carburetor. Furthermore, it also provides much-needed crankcase ventilation.
XMT Moto used high-grade aluminum to develop this product, making sure that it is durable and lasts for years. It can withstand damage without diminishing your bike's performance.
Pros
Flawless airflow
Robust aluminum faceplate
The product's exposed filter design drastically enhances airflow while improving your machine's look
Cons
You may require a professional's help to install this air cleaner.
6. K&N High-Flow Air Filter – Modern Look and Increased Airflow
K&N's air intake systems are quite popular among Harley Davidson users. If you happen to be one of them, try this high flow air filter model. It will effectively replace your restrictive stock with a high-profile air filter with adequate volume and cast aluminum housing. Any user who wants an aggressive appearance paired with an outstanding airflow increase resulting in improved power should try this air intake kit.
Installing this high flow air filter by K&N is quite simple. An hour or two is all you will need to complete this filter's installation. What's more, the K&N filter is reusable, washable, and pre-oiled. It has a modern and updated appearance with a matte black housing shaped like an oval. The sanded fins and silver details improve the product's highly streamlined look, making it ideal for people who want to make their Harley Davidson stand out from the rest.
Also, this filter's internal breathers will make your motorcycle look clean and sleek. Most states permit using K&Ns air filter. Be cautious if you are a California resident as this state and others that follow similar emission standards do not allow air filters.
Pros
The product has a machined exterior.
Excellent durability
Modern filtration media could improve acceleration and power by tenfold.
Eco-friendly
Cons
The filter's threads are slightly small for some bikes.
Guideline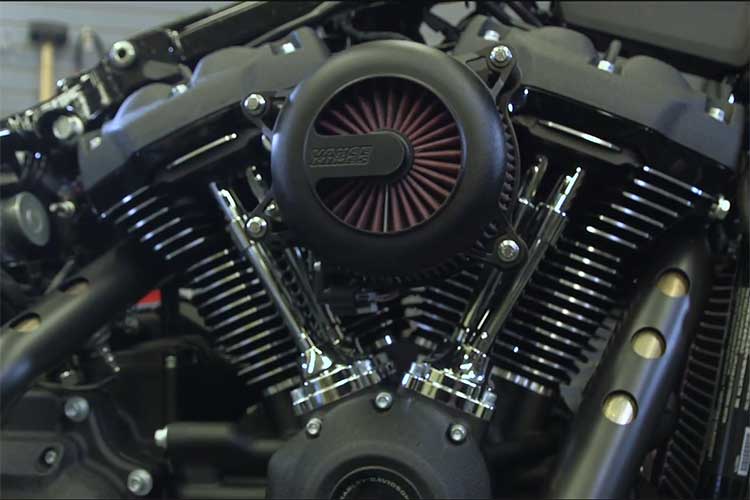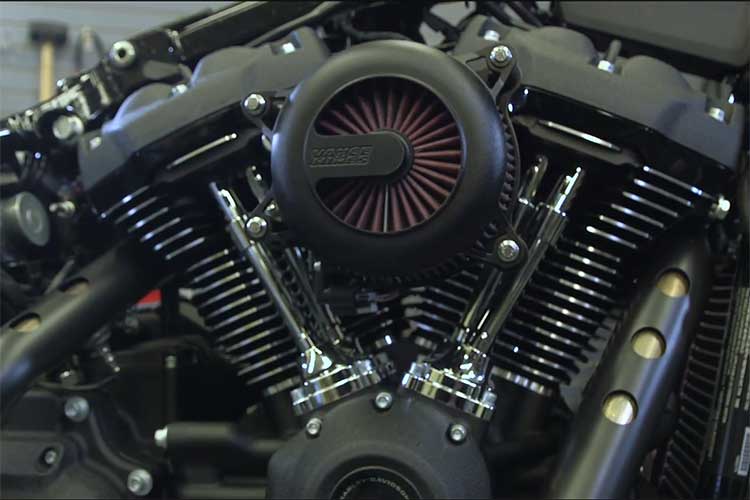 Fundamental Function of an Air Filter
An air filter or cleaner does just what its name suggests. The device filters and cleans the air entering your bike. You may be wondering why it's essential to clean the air anyway. Well, traveling in dusty or polluted environments can be quite harmful to your motorcycle. Dust, debris, dirt, and grime can enter your engine and cause severe damage.
Quite a lot of people face issues with their bikes' piston walls as it radically decreases their motor's efficiency and life. Air filters trap these particles and prevent them from going inside our engine, keeping its air uncontaminated and clean.
Different Types of Air Filters
Usually, there are two air filter variants available in the market. One of them is for single-time use. Users have to discard them and replace the filter with another. The second type is reusable – all you need to do is wash them, and you will be free to use it repeatedly.
Companies mostly create single-use air filters from paper. They are usually the cheapest air intake products in the market. That said, their performance is not as bad as you would think. Reusable filters, on the other hand, are mostly available in foam or cotton materials. Users have to wash and re-oil them before using these variants again. Companies primarily design reusable air filters for dirt bikes or similar machines that often operate in dusty environments.
That said, cotton filters are more expensive than any other option. However, they make up for the high prices by providing excellent airflow, especially when comparing it to foam and different restrictive variants.
FAQ
Is It Possible to Improve Your Bike's Performance without an Air Filter?
Most of your reading this will be wondering might be wondering if installing an airflow filter is essential. After all, why bother adding an air intake device when airflow is all you need to improve your machine's efficiency and performance. Wouldn't it be better to remove the device altogether? You could do that, but it would wreck your bike after a couple of thousand miles.
What's more, you will not see any improvements in your vehicle's performance without installing a filter. Instead, your engine will deteriorate and eventually become useless. Talk to any long time biking aficionado, and they will tell you that running your motor without a high-quality air filter is like a death sentence for your bike.
Can I Clean Harley Davidson Air Filters?
Do you plan to stick with your motorcycle's stock filters and do not want to upgrade your bike with performance filters? If yes, you can clean and reuse them. Remember to use lukewarm water and a mild detergent whenever you clean your bike's stock filter. Steer clear from using harsh chemicals and never use air compressors either. Both of these things can cause irreversible damage to the air filler of your Harley Davidson.
It would be best if you stayed away from carb cleaners, chrome washers, and other conventional cleaning products. Use gentle hands when washing your stock filter and use light air pressure when blowing out the debris. If you want to see whether your air filter is clean, hold it against a bright light source. If the sun shines evenly through each area of the device, you did an excellent job.
With that said, do not hesitate to replace the dirty if it's too messy. You should also consider changing it if there is too much damage or clogging. Keep checking your Harley Davidson's stock filter after every five to six thousand miles, especially if you frequently ride in polluted or dusty environments.
How to Wash Your Motorcycle's Air Cleaner?
The technique to clean your bike's filter will depend on the type inside your vehicle. Cleaning paper air filters are not useful, and replacing them is the only option. However, if your bike contains a foam filter, use some lukewarm water and a mild detergent. Cleaning this could take some time as you will need multiple washes to remove the dirt altogether.  Be careful while washing a foam filter as it is quite fragile. Use gentle hands to avoid tearing it. Air-dry your bike's filter and use some air filter oil for re-oiling.
If your vehicle contains a cotton filter, use a cleaning spray specially designed for cleaning this filter variant. Most brands will provide you the spray when you buy their cotton filter. Just shower some of the liquid onto your bike's air filter and soak it for ten to fifteen minutes. After that, keep rinsing the motorcycle filter until you notice clean water.
Leave the device to dry somewhere for five to six hours. Ideally, it would be best to dry your filter overnight. Re-oil your cotton filter with a thin oil coating. Most cotton filter brands provide oils especially developed for their products – it would be best to use them instead of other oils.
How to Check for Air Intake Leak on Harley Davidson?
Intake leaks often occur whenever there is some fissure in the fuel delivery system's intake tract. The spill can take place anywhere between the carburetor slide and the cylinder head. Unmetered air enters your motor's engine whenever there is a leak. Luckily, you can do a few things to check for leaks in your Harley Davidson.
Firstly, start your motorcycle and let it stay idle for a few minutes. Take some probing spray oil and propane torch and switch the latter open without lighting it. Changes in the RPM are a clear indicator of leakage in your motorbike. Here are some leakage symptoms in a Harley Davidson:
Low oil pressure
Power loss
Overheated engine
Poor oil viscosity
You might be surprised to learn that a Harley Davidson's leakage symptoms are often similar to diagnosing someone who has yellow fever. From low pressure to lean issues, air intake leaks show up in various subtle and noticeable ways. Usually, when such problems occur, there is an unbalanced ratio of fuel and air inside your motorbike's engine. It often increases the temperatures of the machine and impacts engine performance. Some people also notice readability issues.
That said, checking leaks is quite complicated, mainly if you are a beginner. Save yourself time and effort by enlisting a professional to check for leakage so that you can promptly fix the issue.
How Much Does Air Intake for a Harley Davidson Cost?
Air Intake products for Harley Davidson motorcycles are available at various prices. Several brands create aftermarket products, and their rates are quite different. The air intake's material, production, and overall quality are also a few critical factors behind its price. Luckily, more and more companies are competing against each other and creating high-quality air intakes.
The abundance of variety means that you will find budget-friendly variants as well as expensive ones. It's advisable to opt for the best air intake for harley davidson you can find even if you need to break the bank. It will improve your bike's performance, add some style, and improve its life. Generally, these products range from 150 Dollars to 600 Dollars, and sometimes even more.
Final Thoughts
Now that you know some of the best air intake products to choose from, it is time to install one on your precious bike. It will become energy efficient, and its performance will drastically improve. Choose a reusable option to get the most bang for your back. However, make sure that you clean it frequently so that it lasts long. Also, never hesitate to use a professional's help if you are new to bikes or their aftermarket products. It certainly beats damaging your vehicle.